We love Appellation before we've even set foot on the site. We've heard rumours of chef Ryan Edwards' insistence on using seasonal, fresh, local ingredients and his play with the "rhythm of the seasons." Upon further investigation we learn too that the team harvest from their own kitchen garden, bake all of their own breads and even butcher and cure their own meats! Without question, wine (of which they hold numerous prizes for) and food are viewed as logical bedfellows. As I said, we love it already.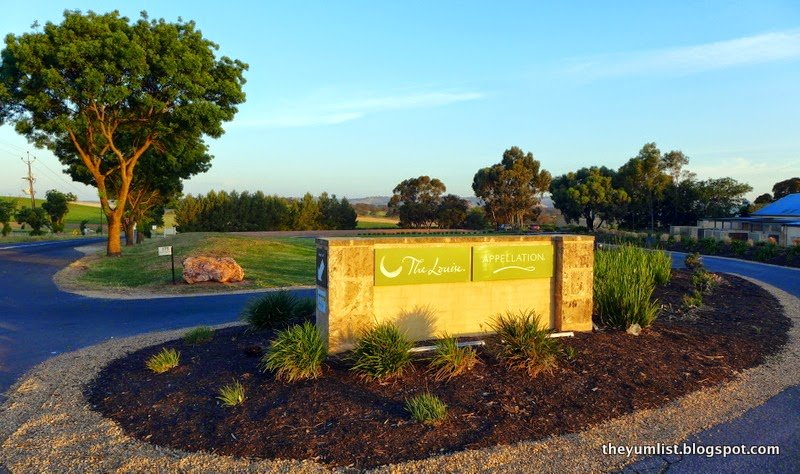 Appellation at The Louise
Vegetable Gardens
Arriving at sundown, the valley of vineyards are kissed by the final rays of the sun, the air begins to crisp, and the sounds of birds bidding farewell to the day sing from wildly majestic ghost gums. There's something magical about the Aussie bush. It's harsh and unforgiving but enchanting in its untamed beauty. Life thrives despite an unforgivable climate, and I think it's here, in the persistence to carry on, to survive, that the inspiration of all that experience it, it is captured.
Sunset
Appellation is settled on the peak of a small hill, elevated just enough to seize the breathtaking views, but low enough to feel connected to the adjoining scene. We're greeted by a friendly but professional maître d' and asked if we'd like to go directly to our table or savour a drink on the patio. It's an easy decision.
Beautiful Light at Dusk
The drink list and petite bowls of smoked almonds and olives are presented, but it's damn hard to divert our focus from the stunning surrounds. Magpies are trilling, sulphur-crested cockatoos caw, and galahs soar to high branches to take shelter for the night. We watch a happy couple with a big camera. They can't but help take scores of photos in this metamorphosis of day to night.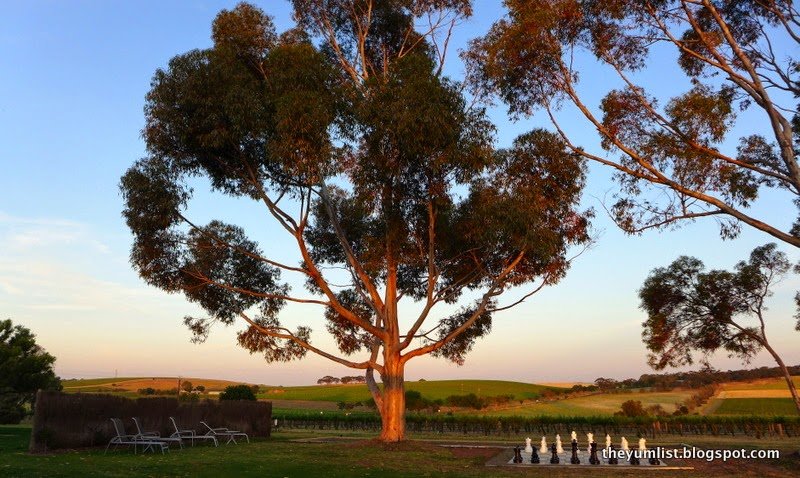 Gorgeous Gum Trees
Our drinks arrive. Hubby's Wild Iris Chardonnay from the Barossa smells of white peaches and lime. Fruit is carried through to the palate with suggestions of nuts and butter in the middle, ending with a gentle zing. From vines just over the hills, a lovely Barossa Valley Caillard Mataro exhibits a mild spice and ripe berries to the nose, while unveiling a hint of pepper and vibrancy in the mouth. Both are superb and we dreamily sip until dark is upon us and a hush has encompassed the undulating hills.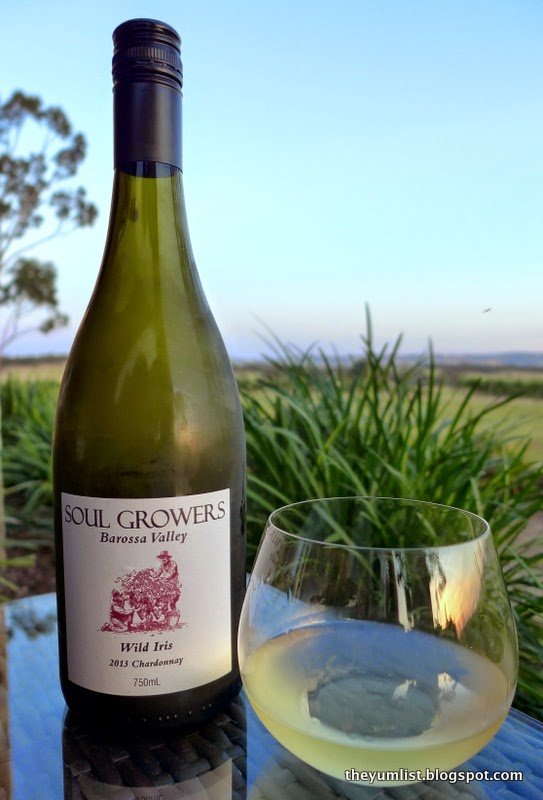 Wild Iris Chardonnay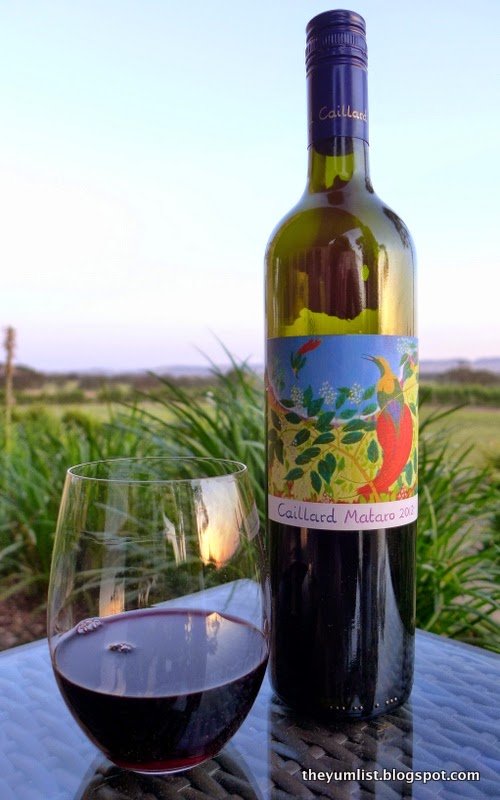 Barossa Valley Caillard Mataro
Taking our table indoors, we have a choice of ordering from the a la carte menu, or the Chef's Tasting Menu. I'm all for trusting the decision of the chef, but hubby is spellbound by the place and wants to try more – so we end up with a mixture of both.
Appellation
The Chef's Tasting Menu varies daily and is dependent on collaboration between the chef and sommelier. First five wines are selected, which could feature something from their own cellar, a classic vintage from iconic Barossa producers, or beautifully composed drops from a boutique winemaker. The kitchen then matches the line-up with the best produce and decides on the finishing of the dishes. It's done in this order for the very simple reason that the wine can't be changed, but food can easily be adapted with an almost infinite combination of spices, seasonings and cooking techniques. With such precision, and the use of local produce from some of the best farming land and vineyards in the country, guests are guaranteed a memorable experience.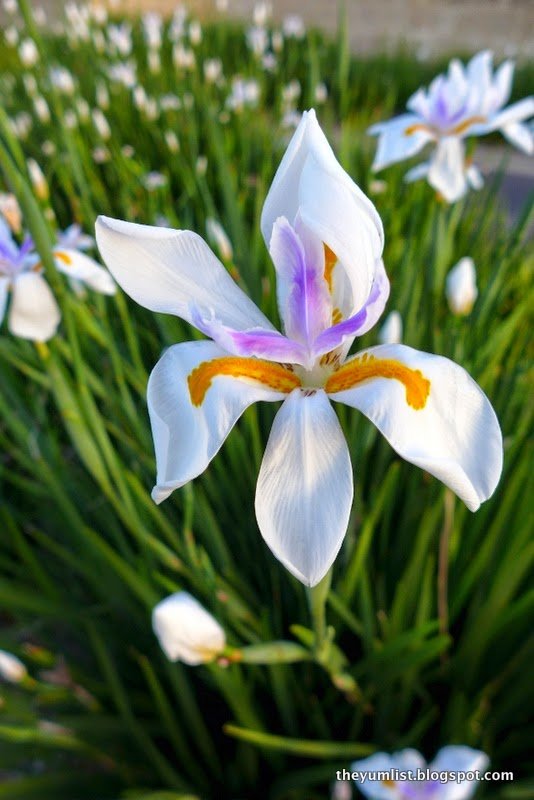 From the Garden
The charming owner Jim Carreker, joins us for dinner and we discover that himself and his wife Helen searched for two years across the globe to find the perfect property to set up their dream retirement. Originally from San Francisco, they had spent many pleasurable visits to the Napa Valley, staying in boutique lodges and dining in world-class restaurants. They knew they wanted a wine property with rooms. Eventually coming to the Barossa, the view at The Louise won them over, and as they say the rest is history.
Sustainable practices and celebration of local produce has already won us over, but when water is served we learn it's rainwater, harvested from the roof, and I'm ready to jump up and kiss the man who has orchestrated this all. Falling from some of the cleanest skies in the world, and passing through four stages of filtration, there is no purer water than this. Available as both still and sparkling, there's no plastic waste and no carbon transport miles polluting our earth. Even if your values are not as socially focused as mine, everyone will appreciate that this also means no separate charge for the blue liquid gold.
Water is great, but the wine list is fabulous! Organized to show wines first within walking distance of Apellation, then branching out to Barossa and further afield, we truly can drink locally. And… 'wine list' really does not do justice to what is presented to us. It's more of a database than a list. Over 60 attributes are recorded describing each wine – not just tasting notes, but information on the winery, terrain, awards, type of processing and so on produce a rather valuable piece of intellectual property. Not all 60 characteristics are listed, but useful symbols denoting such things as cork, screw cap, and organic, provide a quick and useful reference.
An impressive selection of wines by the glass is enabled with the latest in technology. A fine needle is inserted through the cork dispensing argon gas which forces wine out without exposing the remains to any oxygen. When the medical grade needle is removed a perfect seal is created leaving the rest untainted. Fine wines that you might never be able to afford an entire bottle of suddenly become accessible as you can purchase just one glass. Appellation is the second restaurant in Australia to have technology, and that accompanied with their extensive data base and a selection of over 600 choices of wine, have won them Top Wine List in South Australia for the last seven years, and a prized two goblets by Wine Spectator – the only restaurant in South Australia to receive such recognition and one of eight in all of Australia.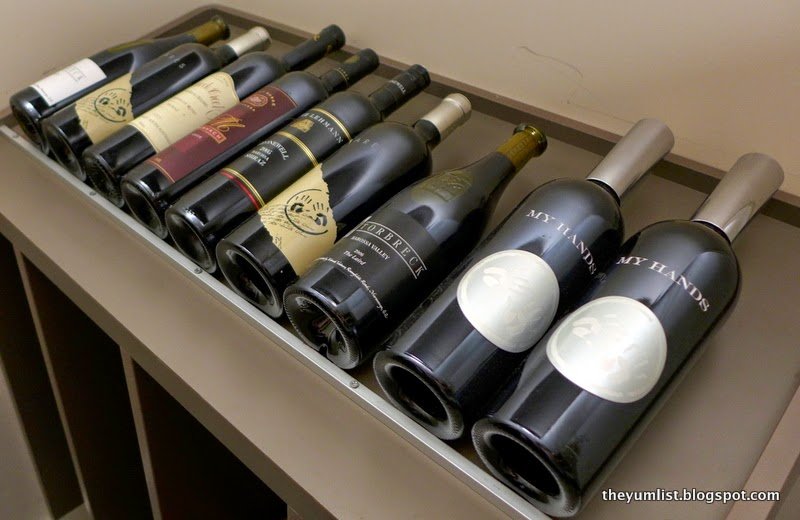 Fine Wines from a Superb Wine Collection
A bit of bubbly is always a fine way to begin a meal and we start with a 2012 Chateau Tanunda Blanc de Blancs. We visited the winery earlier today so it's particularly fun remembering our experience as we sip. Made from 100% chardonnay, it showcases apple and citrus on the nose, a lively palate, and a clean, crisp finish.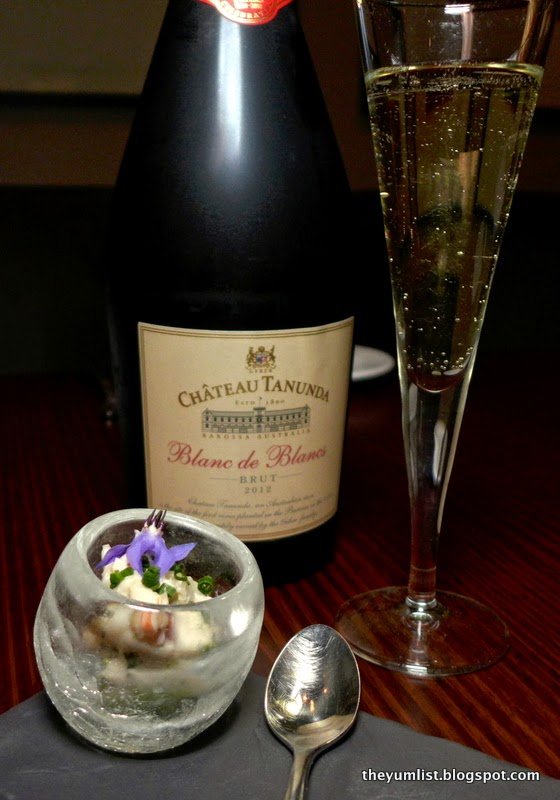 2012 Chatueau Tanunda Blanc de Blancs
The Amuse Bouche of King Prawn, Apple and Avocado is served on a mini rectangle of black slate in a petite hand blown glass bowl. Details are faultless with each glass being unique and commissioned from the Jam Factory Studios (which just happen to be at the end of the road). A sole edible flower provides all the adornment necessary atop the seafood and fruit, which are lubricated in a thin mayonnaise. A light floral savour combined with the sparkling provide the perfect appetite opener.
House baked sourdough takes the edge off hunger pangs. It's wonderfully spongy within and crusty around the edges. Spread with a sliver of olive oil butter and a sprinkling of rosemary salt, it divine, but we're cautious of eating too much as we've seen the list of what's to come.
Tender pieces of Pan Fried Gawler River Quail comes with a mix of bitter leaves, halved quail egg, soft white onion slices and a roastedHazelnut dressing. Savoury, bitter, nutty and sweet perform gloriously  together, and we can see why it was chosen to pair with the 2014 Turkey Flat Grenache, Shiraz, Cabernet, Dolcetto Rosé.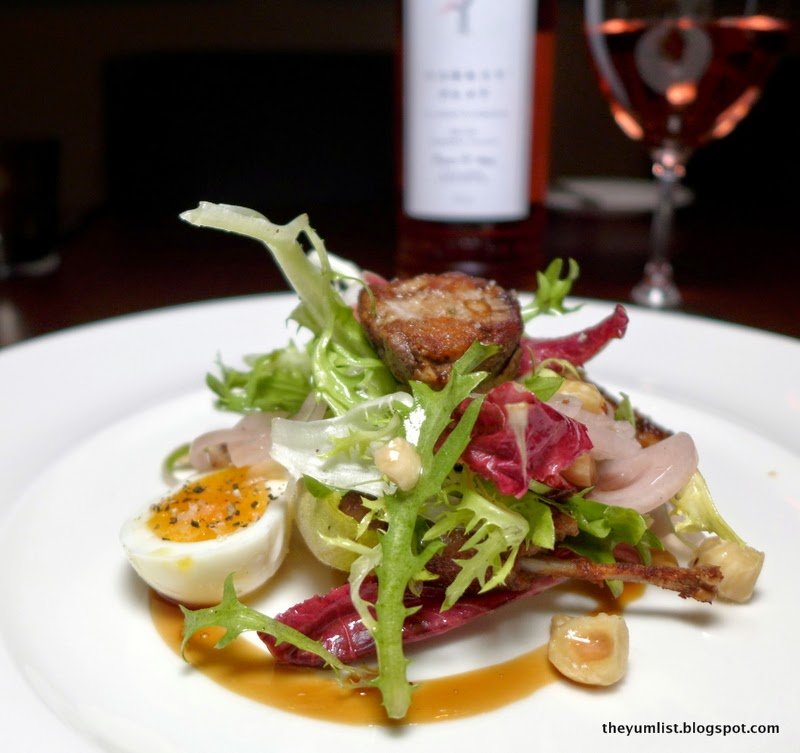 Pan Fried Gawler River Quail
The wine is spring pink in colour and the waitress humours that she needs a pretty floral dress to match the wine (now that's an idea that could take off – wine and dress pairing – hee hee!). A lovely perfume tickles our nostrils and we find it has nice weight and structure. The slight spice in the quail and bitter garden leaves bring the fruitiness of the wine to the forefront.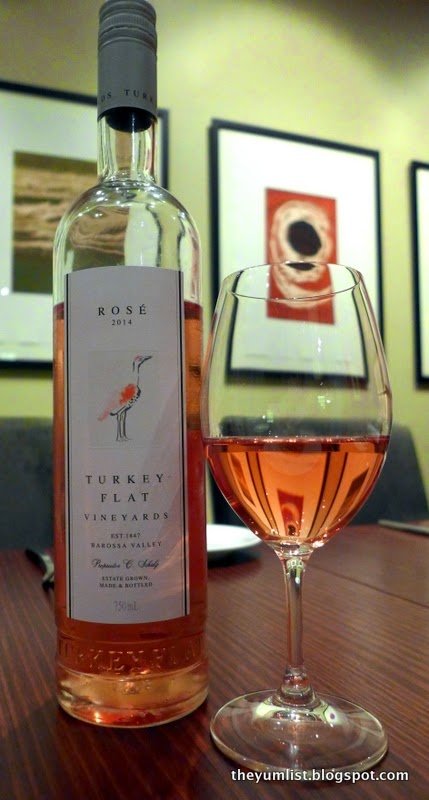 2014 Turkey Flat Grenache, Shiraz, Cabernet, Dolcetto Rosé
Diverging from our degustation menu, we try three different dishes from the a la carte selection. They all mimic the season – freshness in taste and, vibrant in colour with edible blossoms and miniature greens.
King Fish is a "wow" dish as hubby would say. Citrus cured, and tossed with blood orange and avocado, it's superb.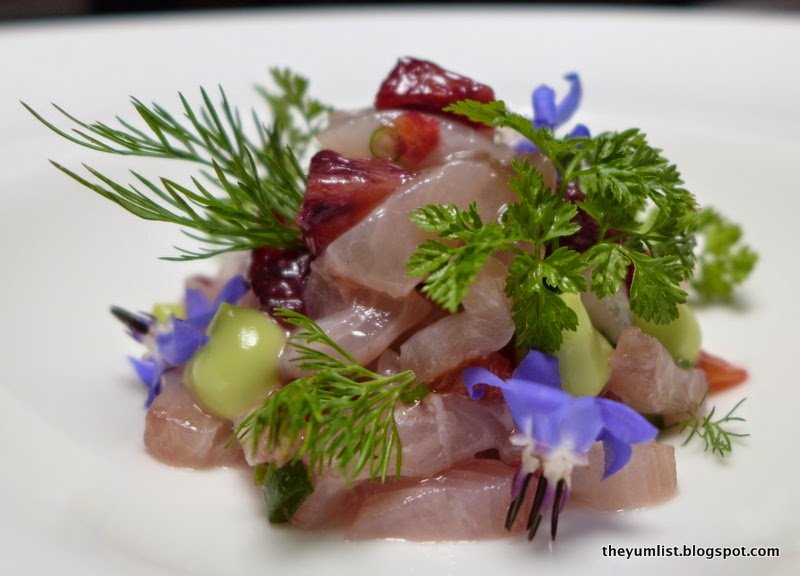 King Fish
A mouthful of flavours is presented in the Duck Breast and Sausage. Pistachio salt, English spinach and raspberries, add layers of tincture and seasoning. Slightly tart berries, bitter chalky spinach and salty  nuts complement the savoury dominance of the poultry.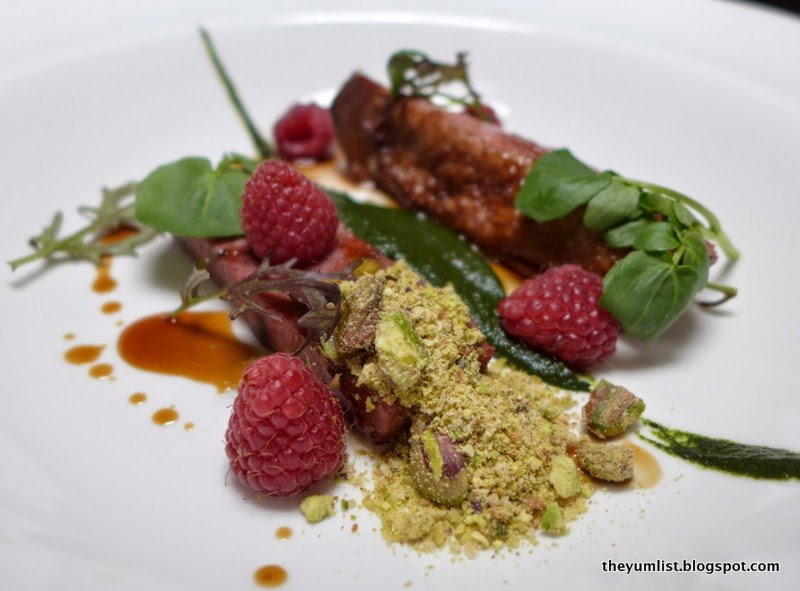 Duck Breast and Sausage
Barossa Chicken is complemented with red pepper and a trio of corn preparations. At first we don't recognize the triangular wedge of white as chicken, but upon mouthing we find it's moist and tender and nothing but chicken perfection. Chicken skin crackling surprises with its richness and, corn done as a purée, kernels and popcorn, provide complexity in texture and a bit of entertainment on the plate too.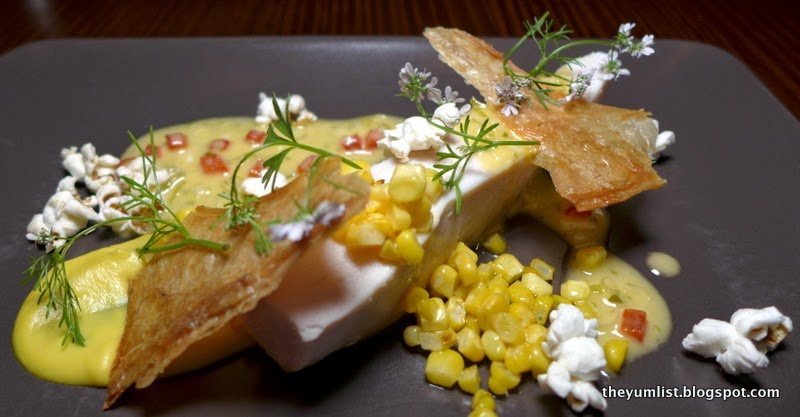 Barossa Chicken
Back to Chef's Tasting Menu, we delight in Twice Cooked Belly of Berkshire Pork accompanied with abalone, pickled carrot, sesame and soy. Aromas of this dish have us salivating before it arrives. Asian seasonings round off the succulent local meat, and wafer thin shavings of cucumber and radish act as palate cleansers, much like pickled ginger.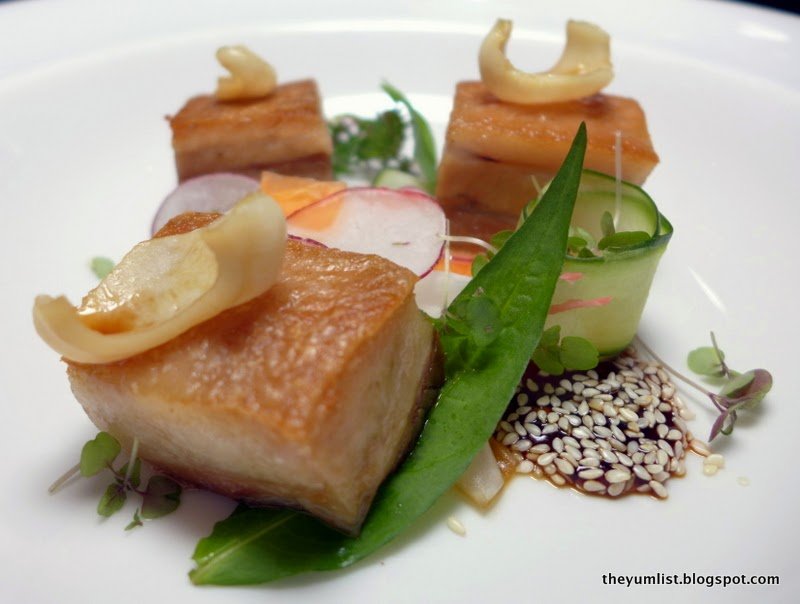 Twice Cooked Belly of Berkshire Pork
TBM (The Baby Maker) Riesling 2010 hails from Murray Street Vineyards, less than a few kilometres from Appellation. The tasting room at this winery is beautiful so do make time for a visit during your stay in the Barossa. This off dry Riesling works well with Asian foods. It's a little minerally on the nose, but quite the opposite in the mouth, smoothing over with a touch of fruit in its closure.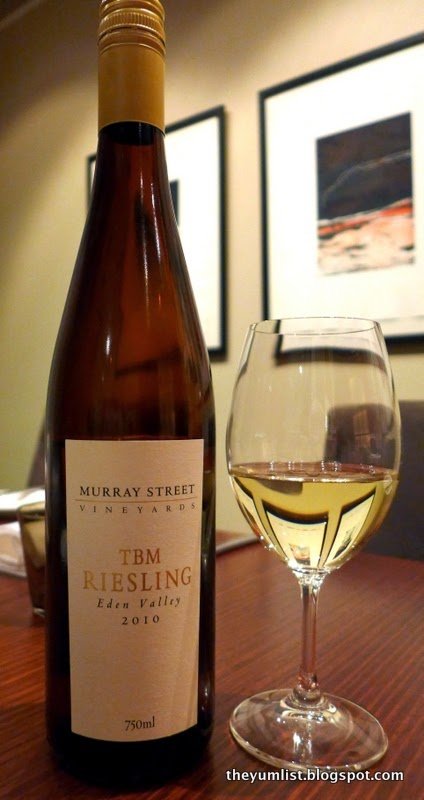 TBM Riesling 2010 Murray Street Vineyards
A rare Fillet of Coorong Angus Beef has hubby gasping at its lusciousness. Rich pancetta fills the mouth with salt and fat, lingering on and providing savour to every bite. Quartered caramelized onions, native thyme, Brussels sprouts leaves and a sumptuous Shiraz jus augment the high quality cut of meat.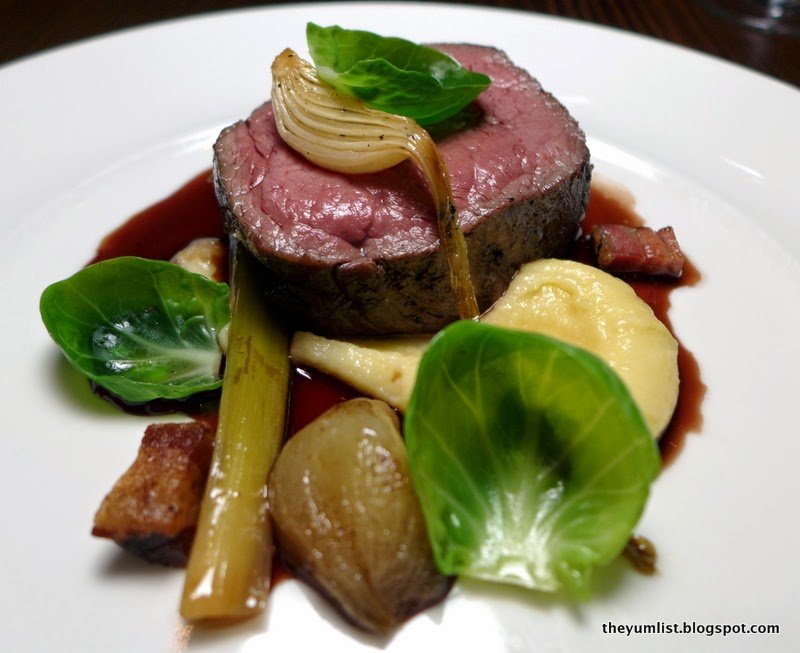 Fillet of Coorong Angus Beef
2012 Hobbs "The Gregor" Shiraz is a beautiful wine from the Eden Valley, made in a similar manner to the famous Italian Amarone. Impeccably balanced, it's at first dry in the mouth, however when combined with the meat, dried fruit characteristics such as fig and prune come to the forefront. The salt from bacon and lard bring fresh bursts of dark berry.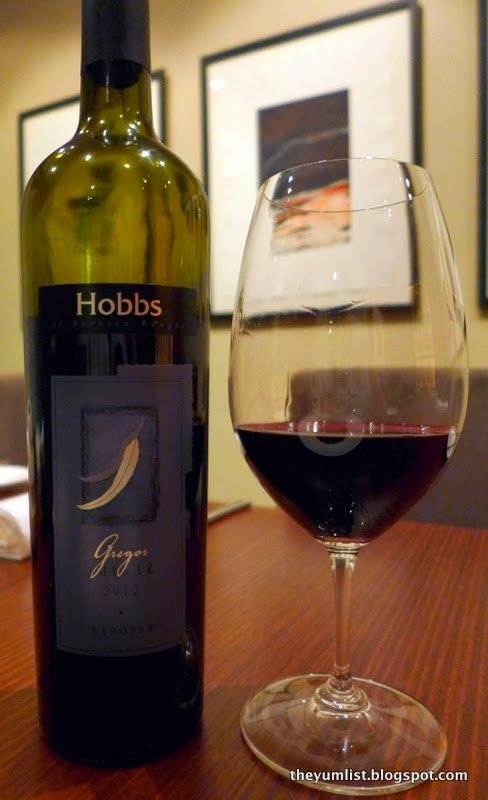 2012 Hobbs "The Gregor" Shiraz
A creamy snake of Lemon Meringue Cheesecake plays with a fairground mix of meringue: petite creamy Italian style cones; Aussie hard on the outside and chewy within sort; and an intriguing page of skin thin meringue. A crunchy crumble on the side and a sorbet of lemon contrast the sweet velvety smoothness.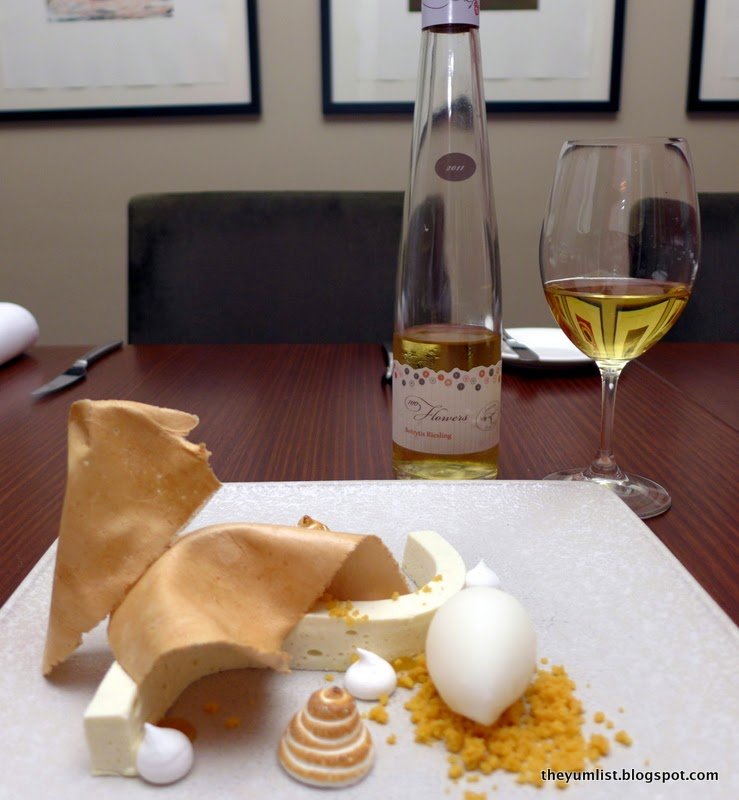 Lemon Meringue Cheesecake
I do delight in a good dessert wine and the 2011 Teusner 100 Flowers Botrytis Riesling doesn't disappoint. You can almost smell 100 blooms in the glass and the flavours mirror the dessert. It's weighty at the beginning much like the cheesecake but lifts in the finish reflecting the effect of the sorbet. Although it's sweet, it's not cloying, but rather refreshing in completion.
We end the evening on a high note and, without hesitation, recommend putting Appellation on your own personal Yum List.
The Chef's Tasting Menu is priced at $115 AUD per person, and Wine Pairing is an additional $55 AUD.
Reasons to visit: stunning location; commitment to local produce and wines; opportunity to sample fine wines by the glass; Chef's Tasting Menu with Wine Pairing.
Appellation at The Louise
Corner Seppeltsfield and Stonewell Roads
Marananga, Barossa Valley
South Australia 5352
Australia
+61 (08) 8562 2722
[email protected]
www.thelouise.com.au