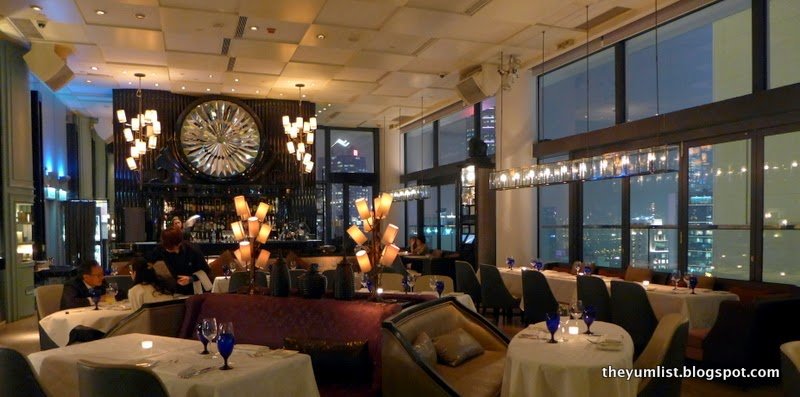 Azure Restaurant Slash Bar
Azure Restaurant Slash Bar, Rooftop Bar in Lan Kwai Fong
Positioned on a rooftop at the top of the happening party district of Lan Kwai Fong, Azure Restaurant Slash Bar renders a fashionable place to dine in the evenings, and a hip spot to linger longer into the night soaking up the cityscape views and bopping to the cool hip hop and R&B sounds of the DJ.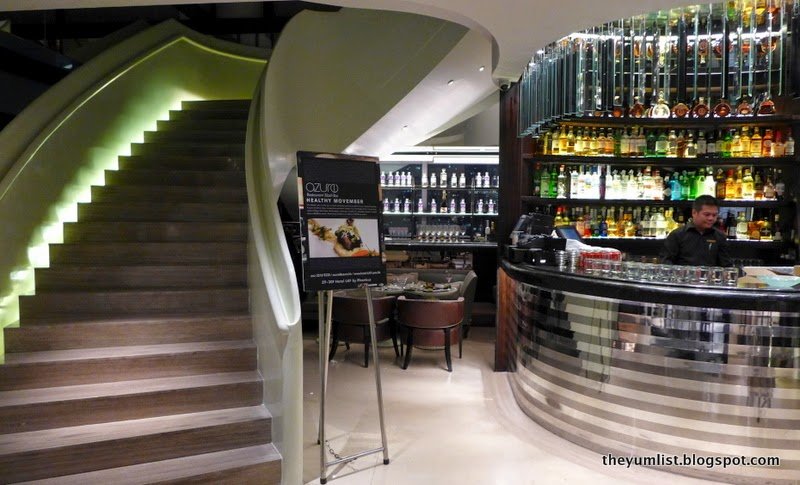 Bar and Stairway Leading to Azure
Sunset hosts a crowd from 5:30pm to 8pm for specially discounted drinks, with some of the stream dispersing and others staying onto dine, and yet more arriving for the later night club feel.  Around 10pm tables are shifted aside, DJ console fires up and the dance floor is revealed.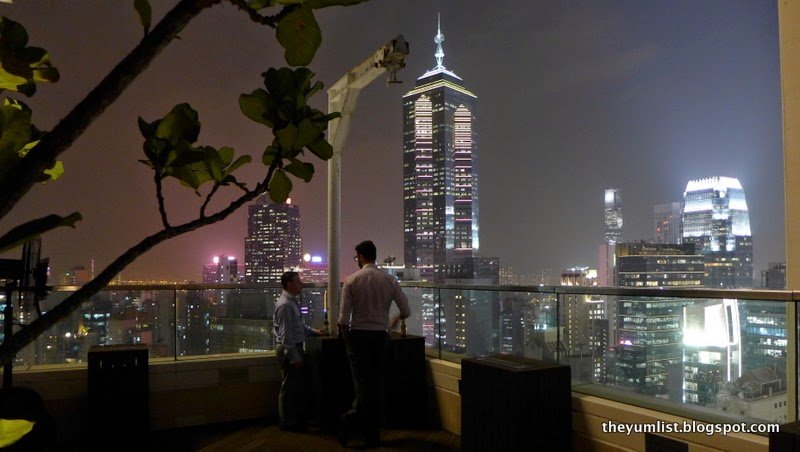 Outdoor Patio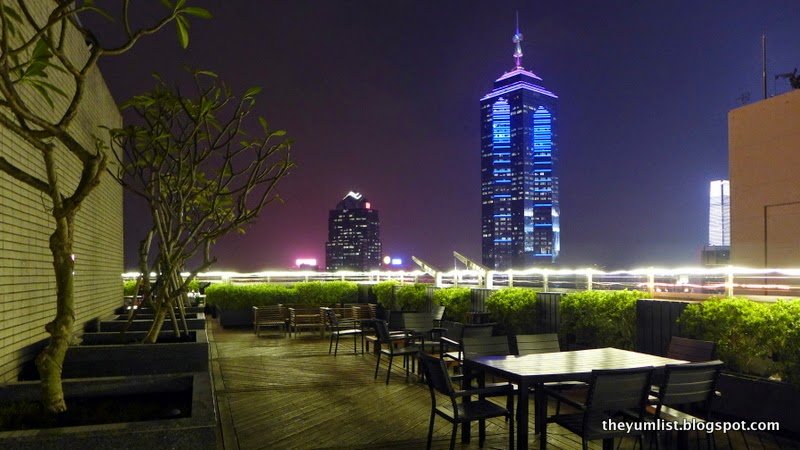 Rooftop Bar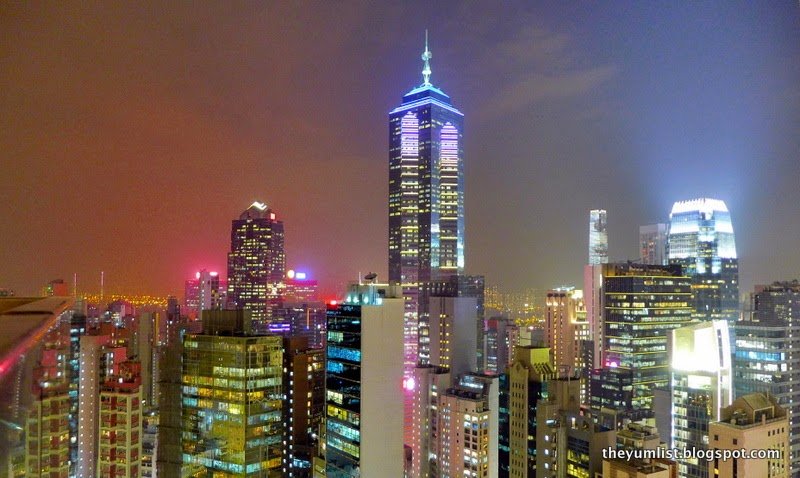 View from Azure Restaurant and Bar
The top floors of Hotel LKF by Rhombus house the stylish restaurant slash bar. Glass walls frame glittery vistas, and outdoor patios encourage guests to immerse themselves in the cooler evening air. The restaurant seats approximately 70 people, and is an intimate space rousing an elegant gentleman's club feel. Masculine leather lounges and metallic shades of bronze and copper, lead up to the centerpiece, the bar. Backed by a towering wall of shiny bottles and lustrous design pieces, the bar acts as a grand stage and hub of activity.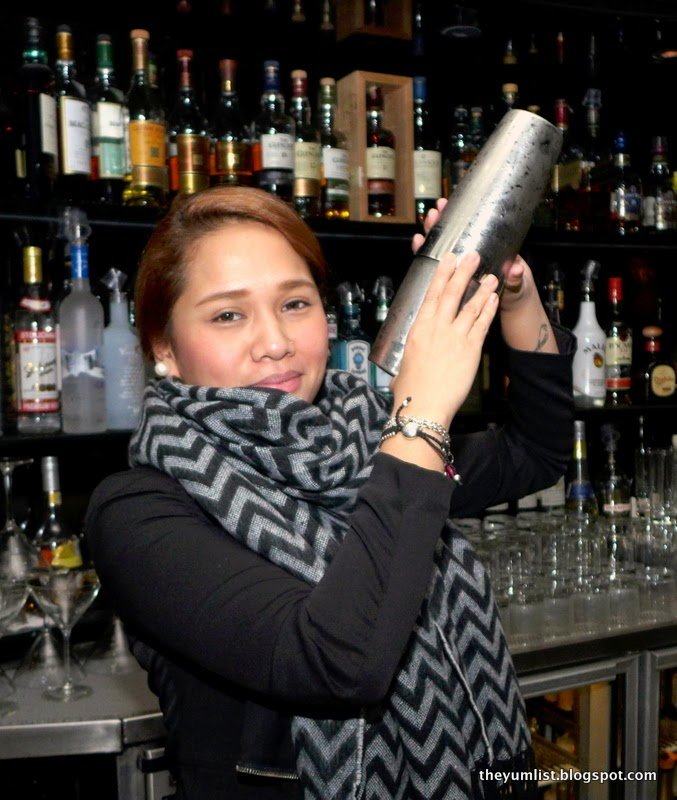 Mixologist
The largest selection of rose wine in LKF district, and two whole pages of original signature cocktails(HK$130) are the must tries on the drink list.
We kick off the night with a Crystal Jade and Hong Kong Mule. Grey Goose vodka, ginger liquor, blue Curacao, mint, mango juice and a dash of lemon, make a refreshing burst in the mouth, almost equivalent to that of a breath freshener. This is the one to down before chatting up that handsome guy at the end of the bar. The latter, has a dark rum base of both Myers and Havana Bay labels. Fresh strawberries are blended with ginger, crème de fraise and lemon juice. Topped up with ginger ale, it too is a thirst-quenching concoction.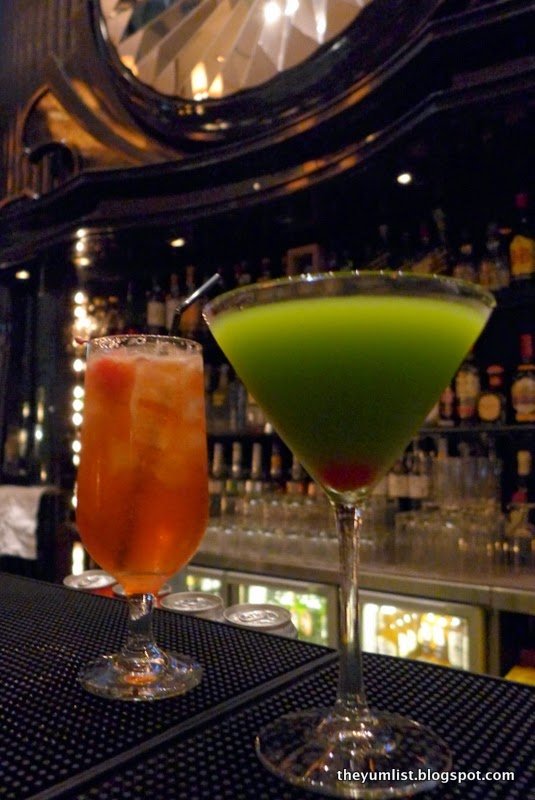 Signature Cocktails
A breadbasket, holding soft rolls and grissini sticks, arrives while we're considering the menu. Tiny rolls of garlic, sun-dried tomato and mushroom butters are for the spreading.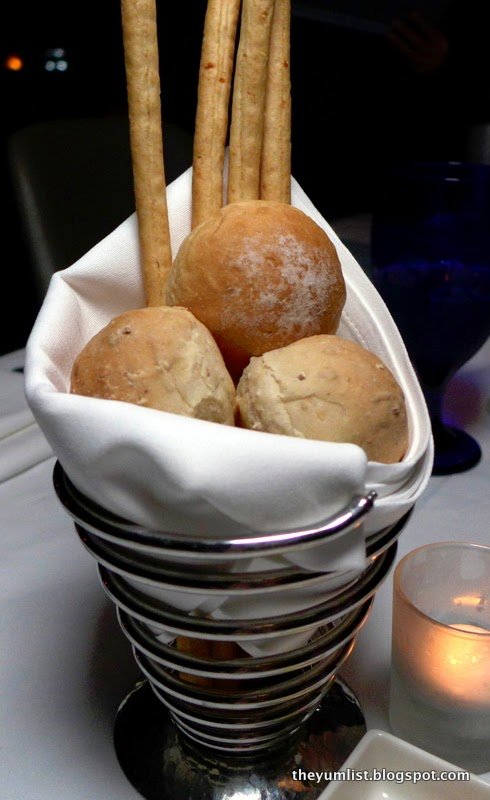 Warm Bread
Executive chef Joe Chu has put together an internationally themed menu with some favourites unable to be removed from the list, but there's a monthly changing menu too. November celebrates men's health, while December will have a chocolate motif.
We order from the a la carte list menu: seafood grabbing our attention as a light beginning. Sea Scallops (HK$198) are recommended by our waiter as popular amongst repeat customers. Soft and fleshy scallops are pan seared 'til golden, and mated with slow cooked pork belly and apple. It gets the table's approval as an upbeat start.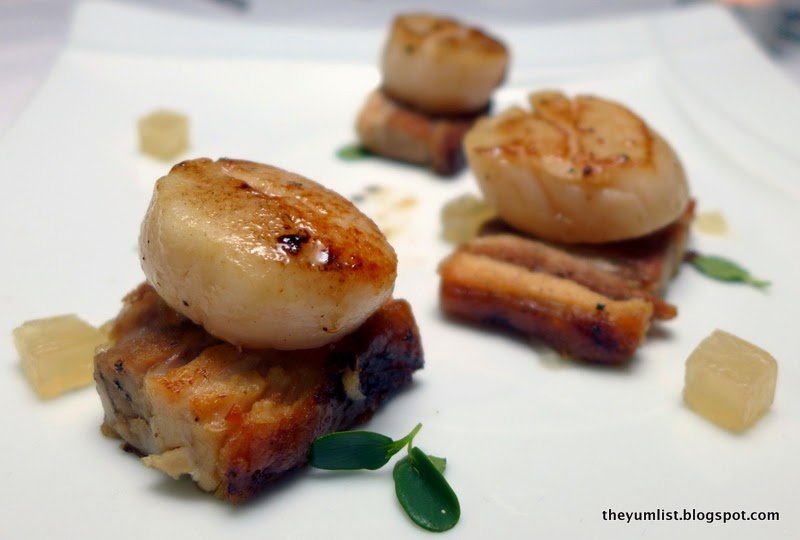 Sea Scallops
Soup blends Morel Mushrooms (HK$168) into a full-bodied rich thick broth. A wild mushroom relish provides additional intensity of flavour and white truffle oil takes our taste buds to the peak of happiness.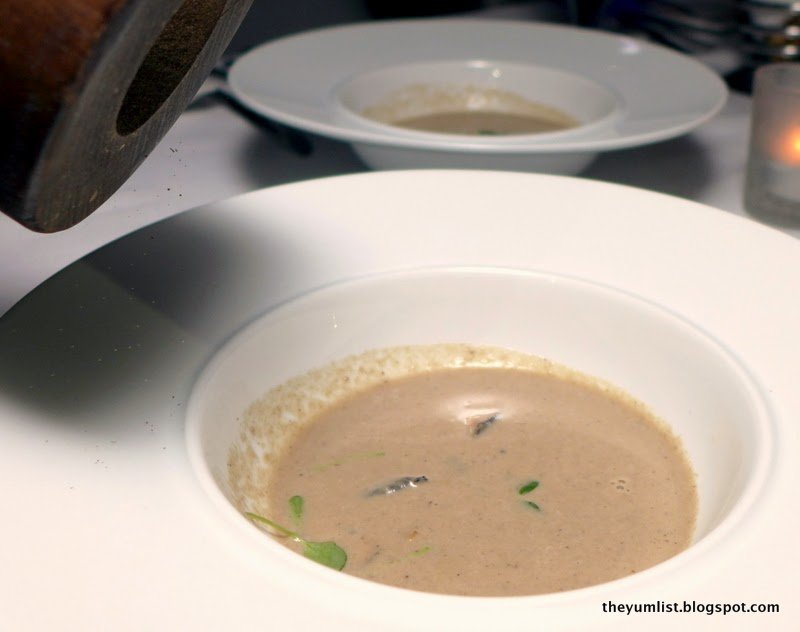 Morel Mushroom Soup
Following the rosé trend, we opt for a Crazy Tropez (HK$98 per glass) from Saint Tropez, France. Resembling a flushed pink dress, it's dainty in the glass, and slides down our throats all too easily.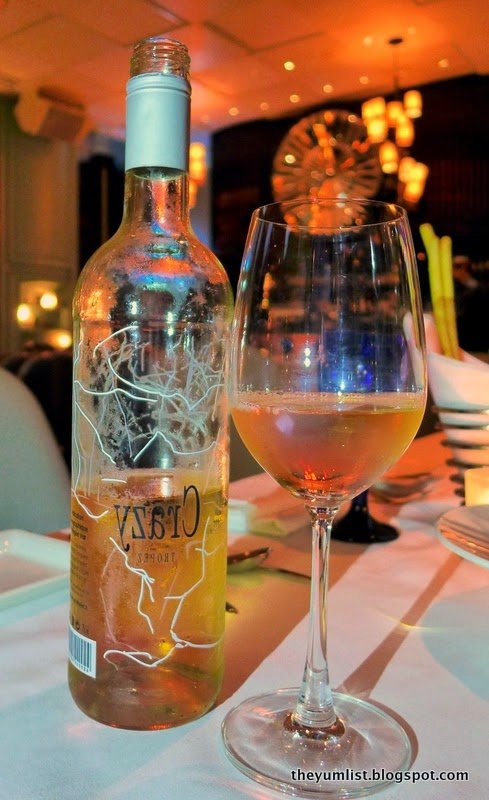 Crazy Tropez Rosé
Lobster Linguine (small HK$288) sees al dente strings of pasta tossed in a cream and lobster bisque sauce, and crowned with shaved Parmesan cheese and bitter rocket leaves. A butterflied tail and claw of half a lobster add a lavish 'garnish.' While a generous portion, hubby clearly has a fondness for this dish and it seems to disappear before I've gone back in for a second forkful.
Lobster Linguine
Speaking of the devil, he insists on a steak (as he's "worked out today"), so the Wagyu Beef Tenderloin of 8oz (HK$688) is ordered. It's cooked medium with the edges charred and the middle pink and fleshy. A  redwine sauce brings out the flavour of the beef. Roasted Sweet Potato and Grilled Italian Veggies are our side dish choices (steaks come with two sides and one sauce), and validate an excellent decision. Fabulous on all accounts: they're perfectly cooked and supply mouthfuls of delicious savoury flavour.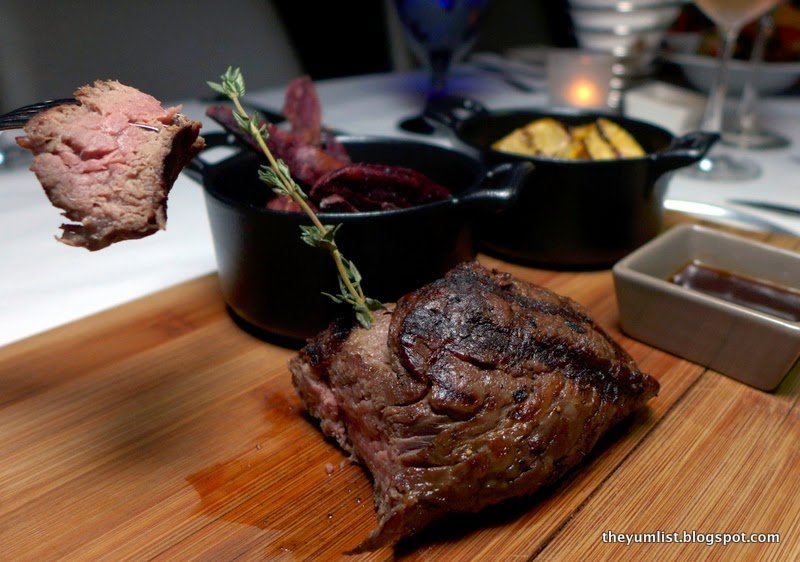 Wagyu Beef Tenderloin
I do my best to counteract hubby's carnivorous tendencies with a vegetarian option. Our waiter's eyes twinkle when I ask for a recommendation and he suggests Carrot Madness (HK$138). He tells it's a well-received item and is pretty to boot. Essentially ratatouille is stuffed in a carrot shaped dough and presented with an organic green salad. Chocolate soil bases the two fat long 'carrots,' a sticky balsamic vinegar and olive oil provide dipping sauces, and a cheeky terracotta pot of leaves sides the wooden chopping board. The cacao base goes all melty in the mouth lifting the overall profile with a brazenly sweet surprise. Phenomenal! Please order this dish.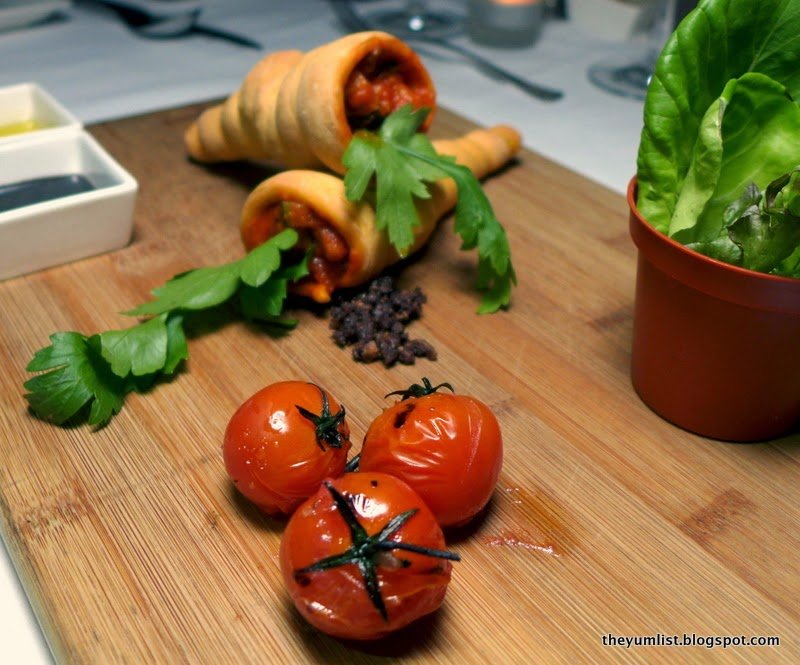 Carrot Madness
Not only does the item live up to it's reputation of being handsome and tasty, but too I read on the menu that the restaurant has partnered with Green Monday to promote healthy and environmentally friendly living by encouraging meat-free diets on Mondays. It's an effective way to reduce our carbon footprint and slow down global warming, as well as being a more nourishing choice for our bodies. This dish is so good though – it's worthy of an order any day of the week. Following on with this 'do-good' action, all food remaining in the restaurant at the end of each day is packed and distributed around the island to feed the poor. We give Azure Restaurant Slash Bar a thumbs-up for the socially responsible efforts.
Onto dessert… Chocolate Trio (HK$98) is a chef special, showcasing milk chocolate mousse, dark chocolate and Amaretto terrine, and a white chocolate sorbet. It's a real treat, but our final evening's indulgence steals the show.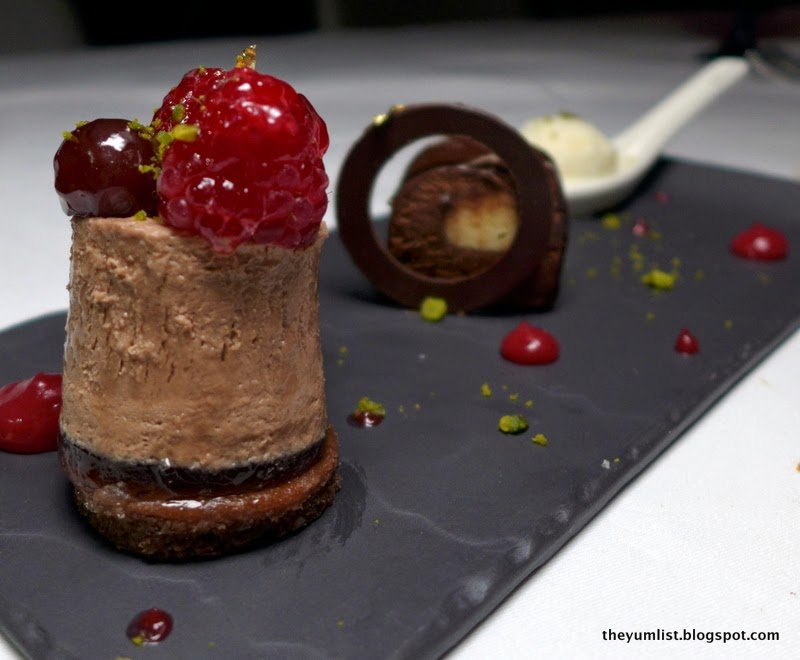 Chocolate Trio
Subzero Liquid Nitro Ice Cream (HK$168) is prepared tableside in swirls of cooling mist. Chef mixes his signature flavour of rosewater and raspberry, certifying a light, yet decadent finish. The ending is gorgeous – light, sweet refreshing and most definitely entertaining.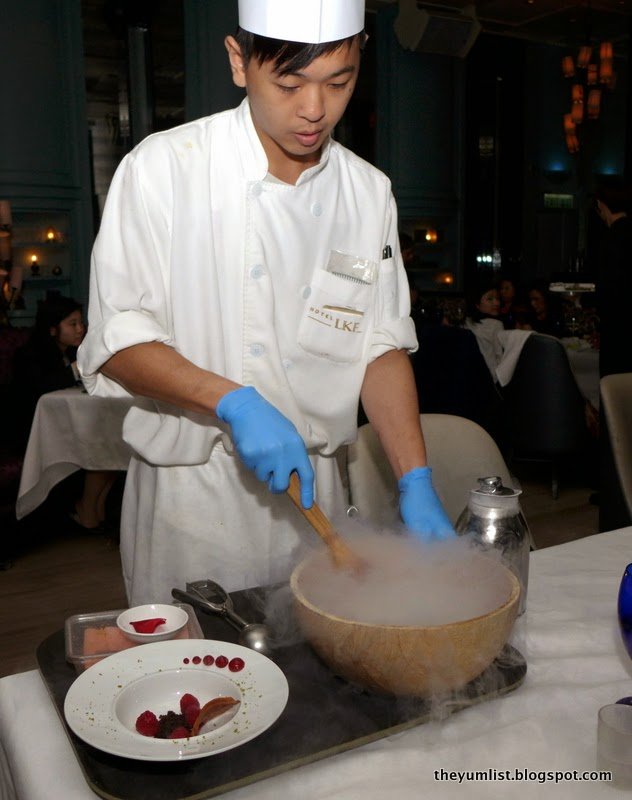 Chef Making Dessert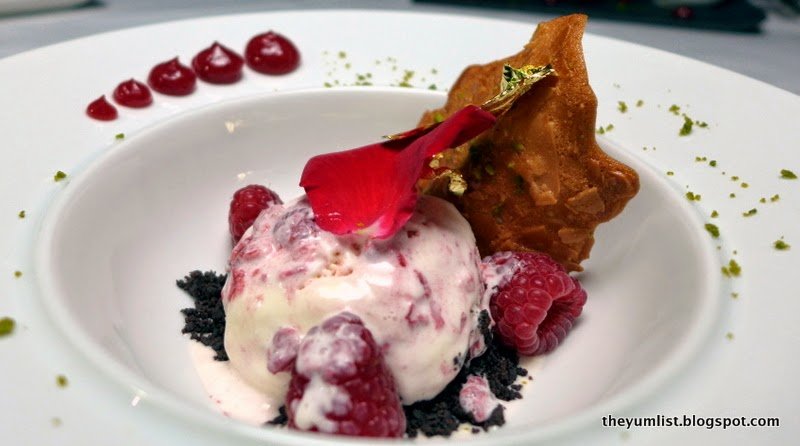 Subzero Liquid Nitro Ice Cream
Reasons to visit: city views, stylish and contemporary ambience, large selection of rosé wines by the glass, Wagyu Beef Tenderloin, Carrot Madness (MUST), Subzero Liquid Nitro Ice Cream.
Azure Restaurant Slash Bar
Hotel LKF by Rhombus
33 Wyndham Street
Lan Kwai Fong
Central Hong Kong
+
852 3518 9688