Once a traveling food stall bringing delicious South American pastelitos – deep-fried pastries with sweet and savoury fillings- to the mobile masses, Fritangas has recently decided to plant some roots with a permanent location in Goodwood, Adelaide, expanding their menu and drawing the crowds to the them instead.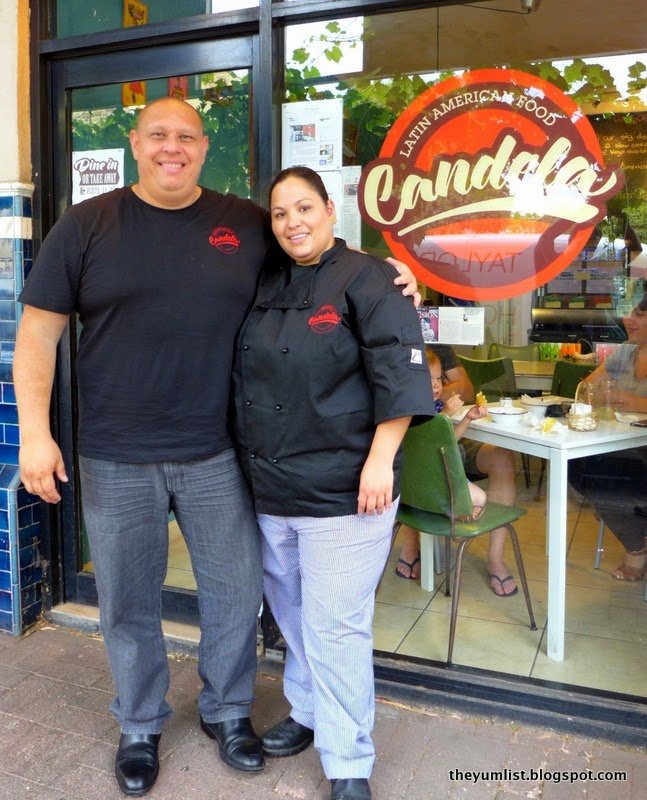 Owners Oglidis and Mijail
Taking over the popular Venezuelan arepa outlet, Candela, the vibe is upbeat and cheery, carrying through the Latin American energy and positive enthusiasm for life. Fritanga is often used in Nicaragua to describe a restaurant that makes home-style food. But frita also means 'fried' in Spanish, and is a typical style of preparation for many street foods across Central and South America. Owners, husband and wife team, Oglidis and Mijail, bring their family recipes already shared at Fritangas and add them to the menu at Candela. No matter what is served, we're guaranteed it has been made with love and passion.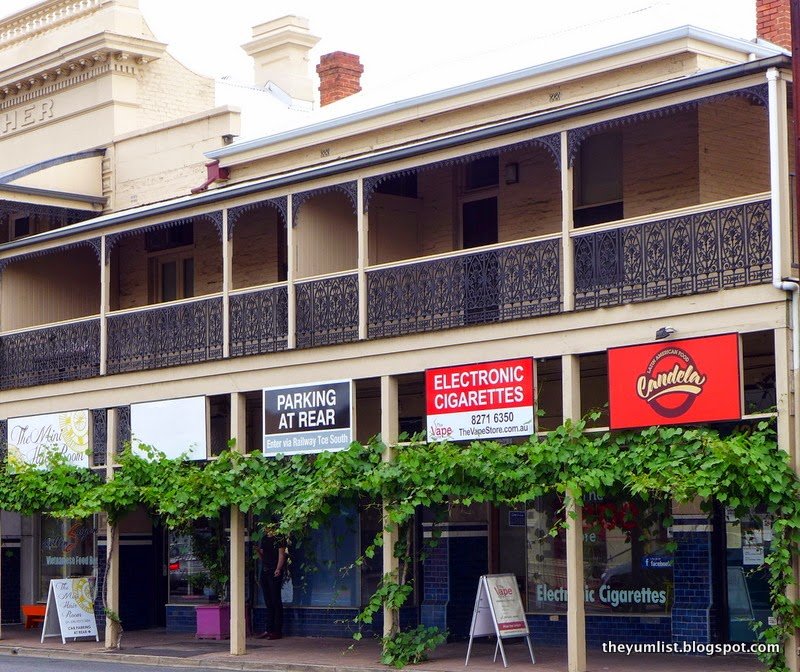 Candela on Goodwood Road
Using natural ingredients, all from Australia, with no preservatives or artificial colours, we're happy to get a Latin culinary experience, without the nasties of modern fast food preparation. Hubby is in raptures as he drools over the menu. While many of the items are common throughout Latin American, he spies numerous specialties that are specific to his beloved birthplace, Venezuela. Both savouries and sweets make up the menu and we're delighted to sample a number of them both.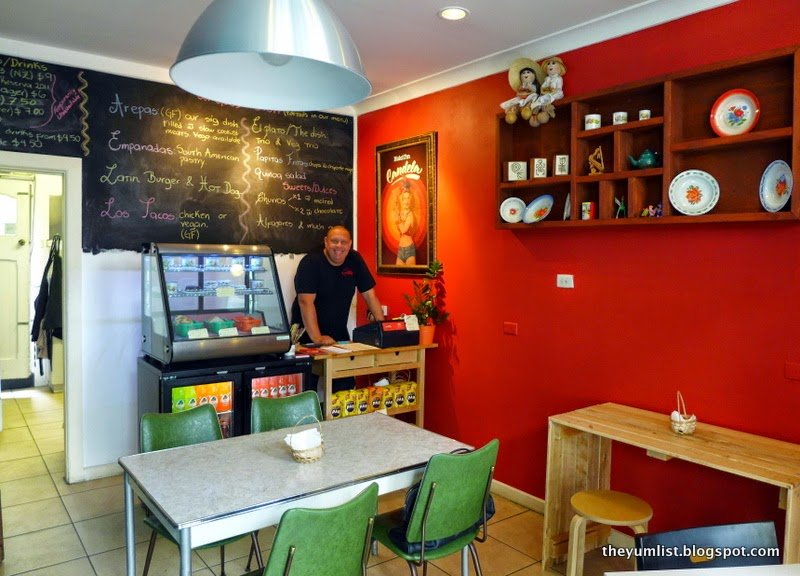 Candela – with only a small dining space, take-away is a popular option
Bebidas / Beverages
Papelón con Limón is a refreshing beverage made from sugar cane paste, water and a good dose of lime juice. I remember drinking it fondly after long hikes in El Avila (mountain bordering Venezuela's capital Caracas), and hubby chirps away recalling his mum making it for him when he was just a small niño. Candela's recipe is mildly sweet and tart, perfect for a warm afternoon, and a great introductory refreshment.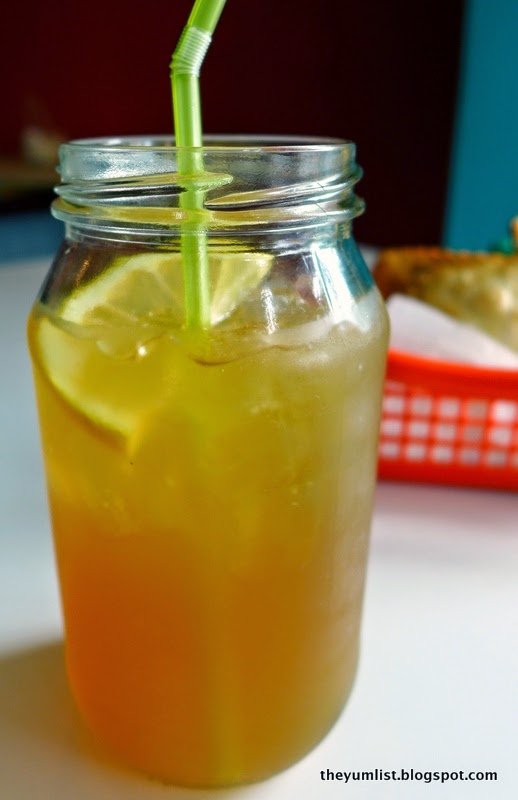 Papelón con Limón
Pastelitos
Pastelitos are a street food favourite found across the Southern continent. Little parcels of wheat dough are filled with any number of stuffings, and deep-fried until golden and crisp. The square shape of the pastelito is a family tradition, and we learn that Oglidis' family, five children, were supported through university and marriages through the selling of this snack via a small street food stall run by their father in Venezuela.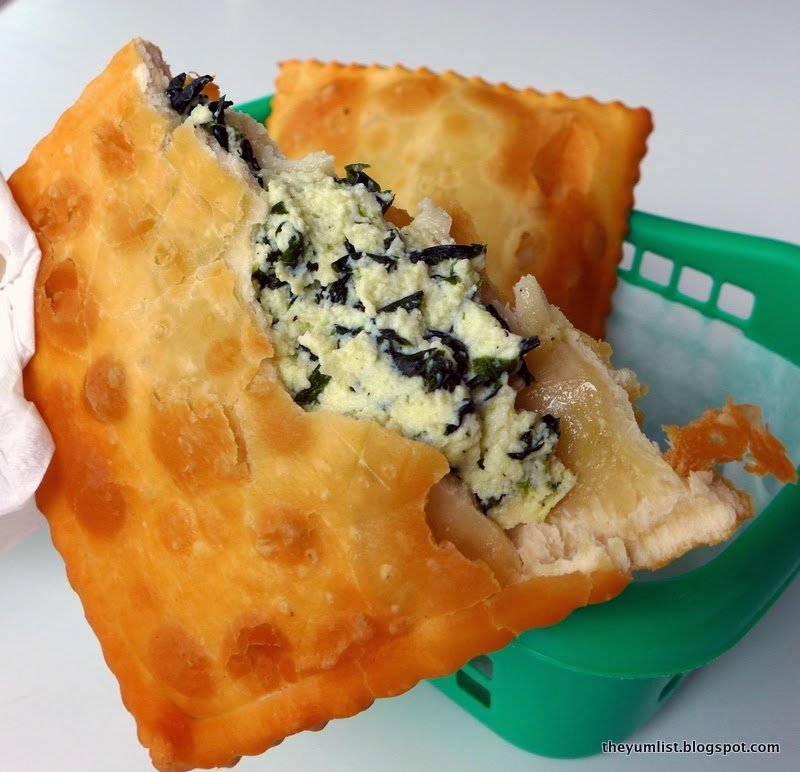 Ricotta and Spinach Pastelito
Candela sells both sweet and savoury versions. Today we sample Ricotta and Spinach, and Minced Beef. The vegetarian option is divine with a hint of sweetness in the mix, while the meaty choice is filling and luscious. Guasacaca (Venezuelan combo of avocado, herbs and lime juice) and chimichurri (Argentinian blend of parsley, garlic and olive oil) sauces are optional condiments.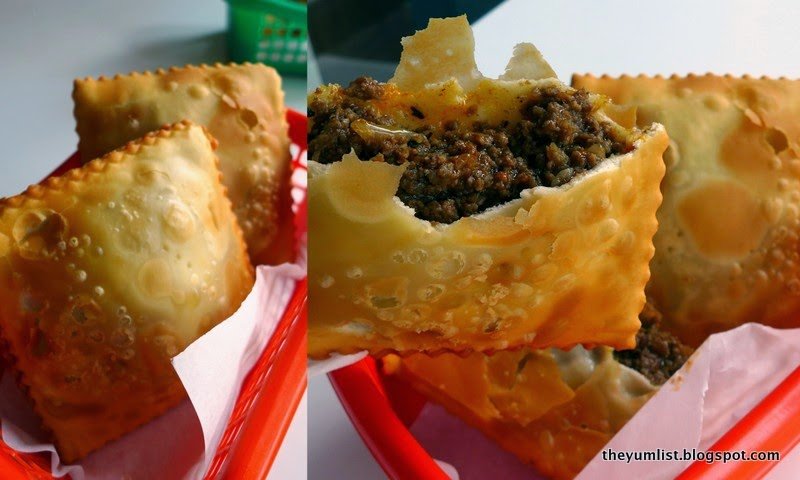 Minced Beef Pastelito
Yuka Frita
Yuka Frita is presented as sticks of the root vegetable, cassava, deep-fried until perfectly crisp on the outside and moist and soft within. Guasacaca again accompanies for extra flavour, and a wonderful corn mayonnaise is a hit too. These are gorgeous and could easily replace any popular snack eaten alongside a cold beer.
Yuka Frita
Empanadas
Empanadas are another classic street food found on Venezuelan streets and beaches. A corn dough is used to encase a variety of stuffings, which is then folded over into a crescent shape and quickly deep fried. Made primarily from maize, it's a low gluten option for those trying to lower their intake.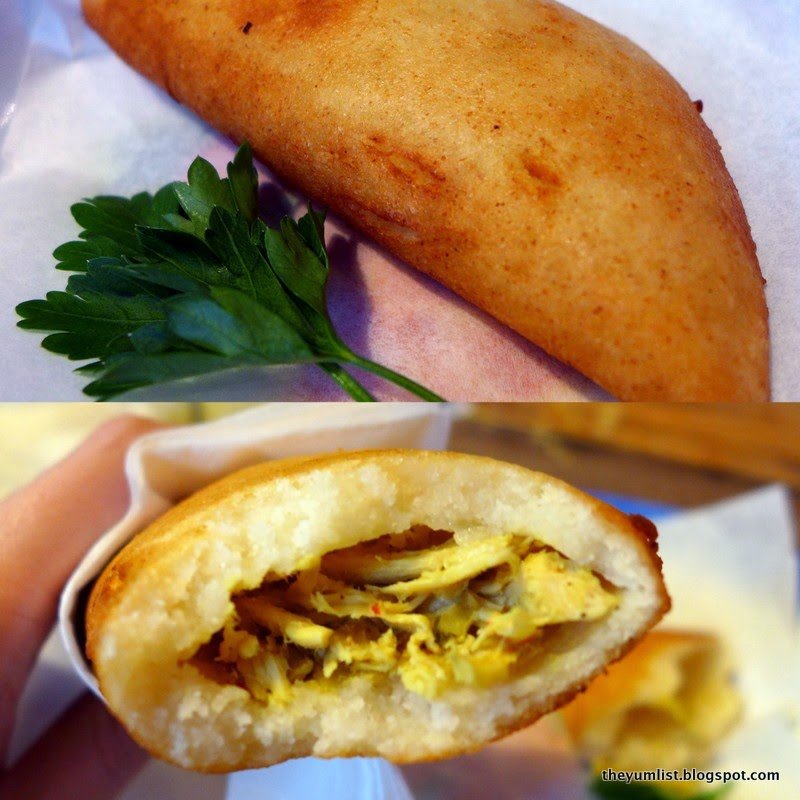 Chicken Empanada
We try beef, chicken and lamb and find all three worthy of a second order. Lamb is not common in Venezuela, but is rather an attempt at a little local infusion. It gets a thumbs-up from the four of us dining, and once more the sauces are tasty complements.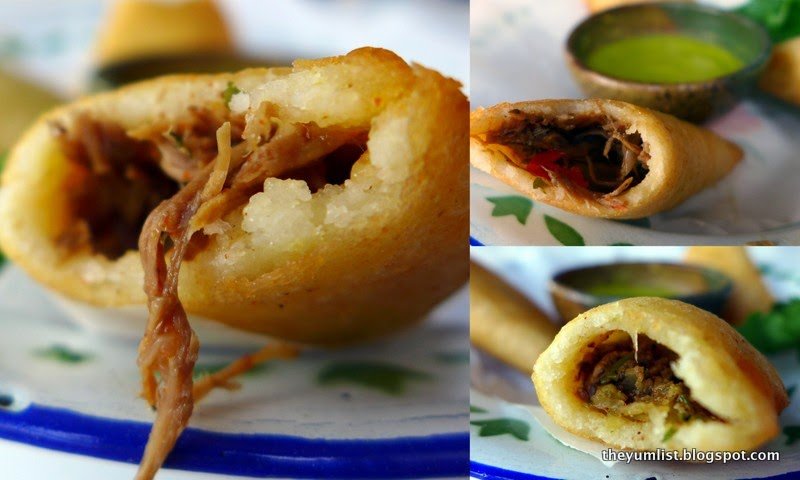 Empanadas
Arepas
Hubby's enthusiasm and ramblings about his native land are only mushrooming with each appearance of a dish from home. Nobody can get a word in. But that's okay – as long as his lips are moving we stand a chance at getting a taste of the food before he dives in and devours it all.
A well-loved daily staple in Venezuela is the arepa. Made from corn flour, this dense unleavened pocket is often eaten as an accompaniment to a main dish, or served as a meal in itself stuffed with any number of ingredients. We get a tasting platter and adore every single bite: black beans and shredded yellow cheese; shredded beef; chicken and avocado; chicken; and pork. Even the non-Venezuelans at the table give them a seal of approval. Do be sure to order arepas when visiting Candela – they are the most popular item on the menu for good reason.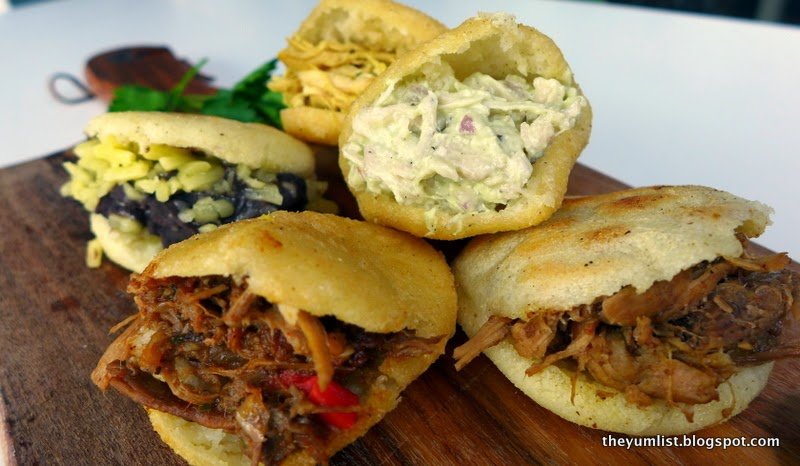 Mixed Plate of Arepas
Postres / Desserts
By the time we reach the Quesillo, I'm positive hubby is going to explode with excitement, leave an embarrassing puddle of drool on the floor, burst the eardrums of fellow diners with his unabated retelling of childhood memories, or all three!
Quesillo is present at just about any memorable feast in Venezuela, and is often called the Venezuelan version of Spanish flan. It's quite similar to crème brûlée in taste and texture, except that it uses whole eggs in the recipe, is generally much thicker, and is often covered with delicate caramel syrup. Candela's rendition is memorable and a faultless way to end the meal.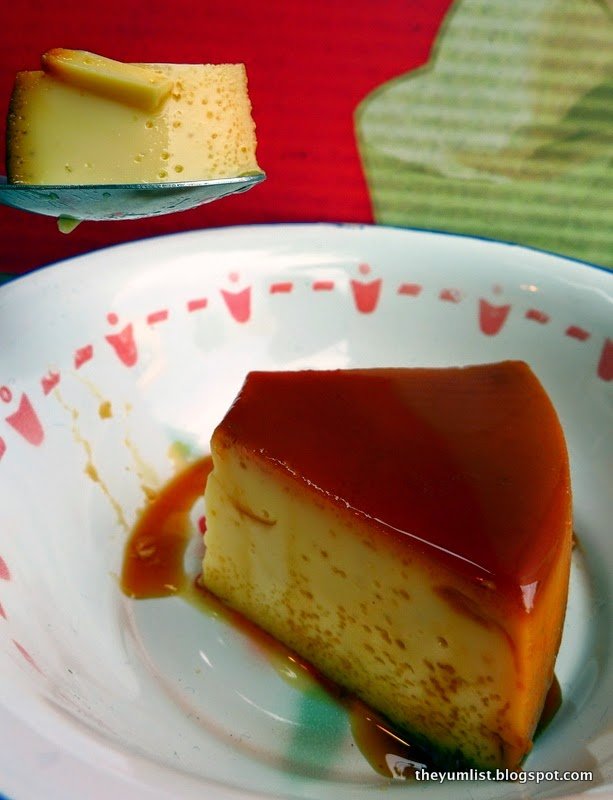 Quesillo
Free parking is available directly behind the restaurant in a small lot. Tell the staff you have parked there and they will give you a token for free exit. After 5pm, parking is readily available in the street in front of Candela.
The food at Candela proves an authentic taste of Venezuela, and is good value too. The owners aim to fill your tummies for between $12 and $16, which is a great deal in the land Down Under.
Reasons to visit: a real taste of Latin America without having to travel to the other side of the world, Ricotta and Spinach Pastelitos, Lamb Empanada, all of the Arepas, Quesillo.
Candela Latin American Food
120 Goodwood Rd
Goodwood SA 5034
Australia
+61 8 8271 1132