Brooke Keel and Monica Tindall
If a getaway with the family is what you're after, then the Shangri-La's Rasa Sentosa Resort and Spa on Sentosa Island in Singapore has what you need to keep the kids busy while you get in some time at the spa and explore the island and neighboring Singapore city. With well over 450 rooms and seven dining options, hospitality lounge, a fantastic kids club, a spa, outdoor water sports for both adults and kids, a full gym, and beachside grounds to explore, this makes a great family getaway. The resort also provides complimentary shuttle service to and from VivoCity, Singapore's largest shopping mall.(Sentosa Island also offers a free bus and tram service to other attractions such as Universal Studios, MegaZip, iFly, The Flying Trapeze, Madame Tussauds, casinos and more. Any guest on this island can hop on and off the bus, tram or light rail within this island to explore various attractions that dot its 3.2km coast. That means a stay at Shangri-La's Rasa Sentosa Resort and Spa is hassle free!)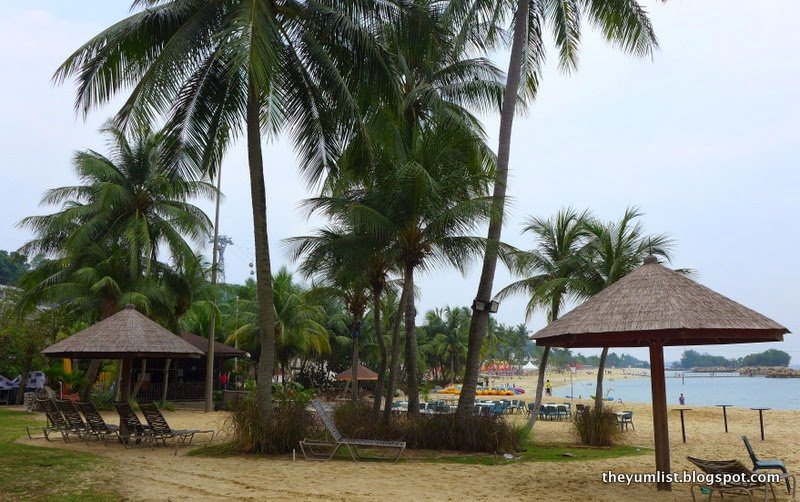 Siloso Beach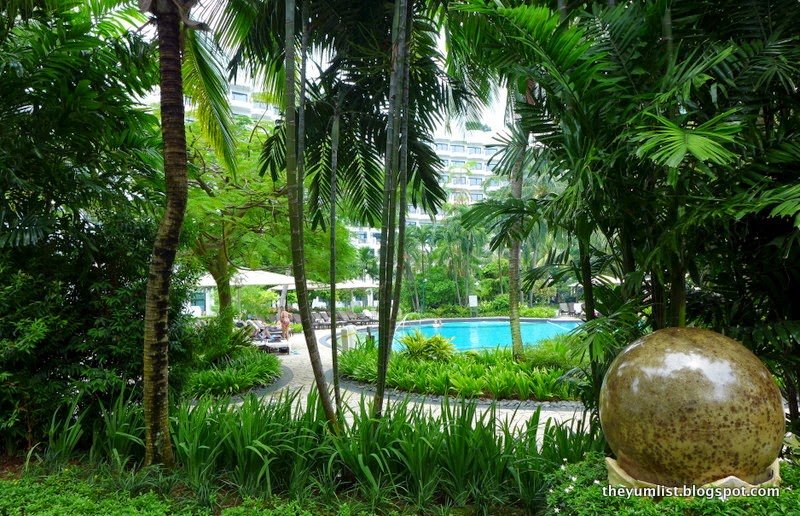 Pool and Gardens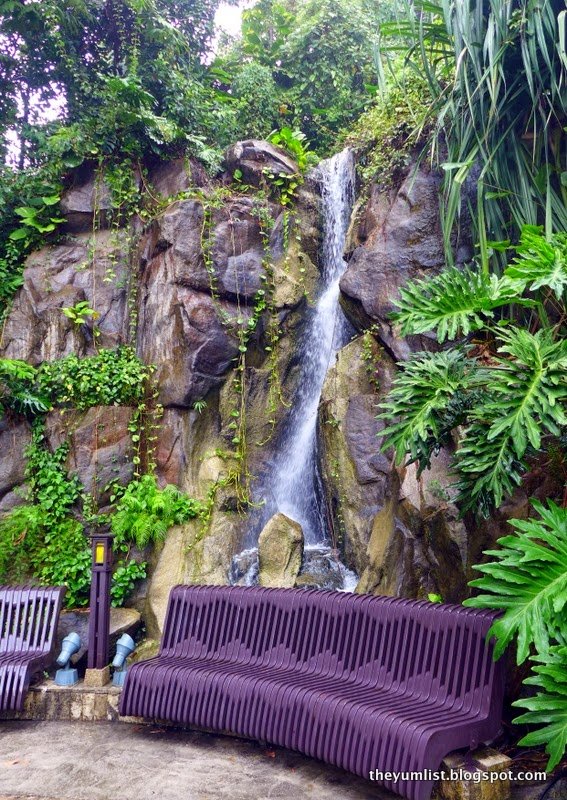 Waterfall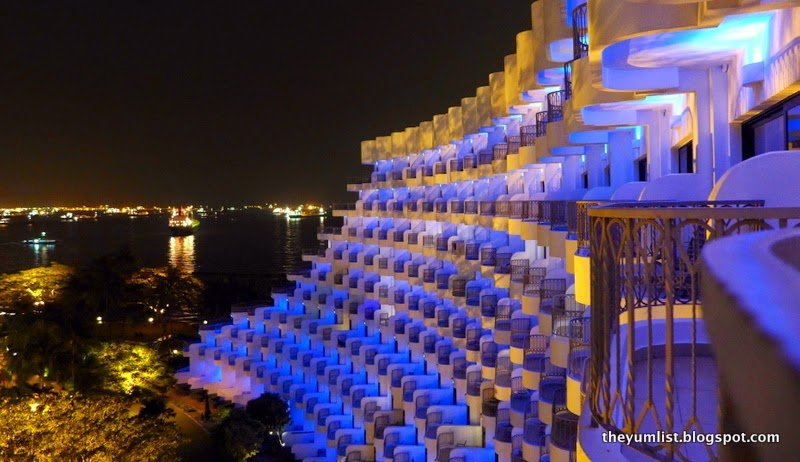 At Night
Peacock – Some friends wandering the grounds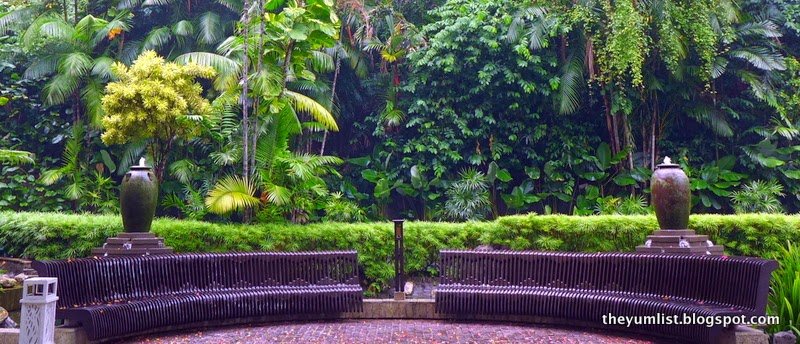 Lots of Green
If going for work and the family tags along, rest assured that the resort supplies all the amenities necessary to stay in touch and keep up with any obligations. The hospitality lounge, much like an airport executive lounge, is equipped with computers, lounge chairs, televisions, free coffee and a small library. If checking in early and you are in need of some refreshing, there is a 'refresh room' down the hall with a shower. So, in the case that you arrive in the morning before check in is available, you can catch up on emails, grab some coffee, hit the gym, and shower up all before even getting into your room.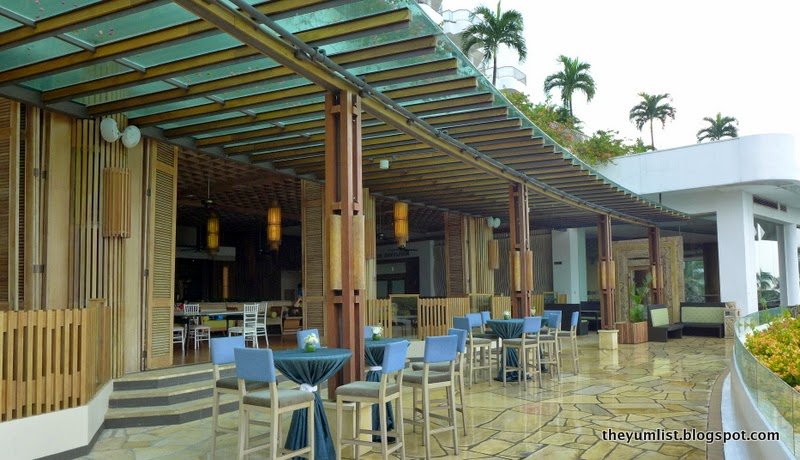 Chill on 5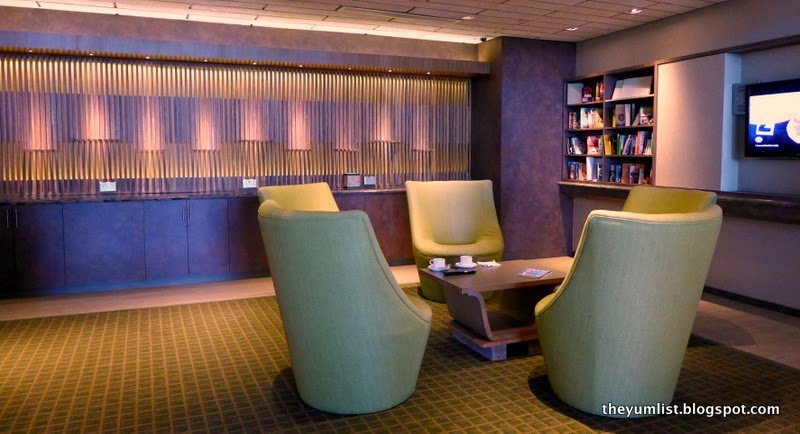 Hospitality Lounge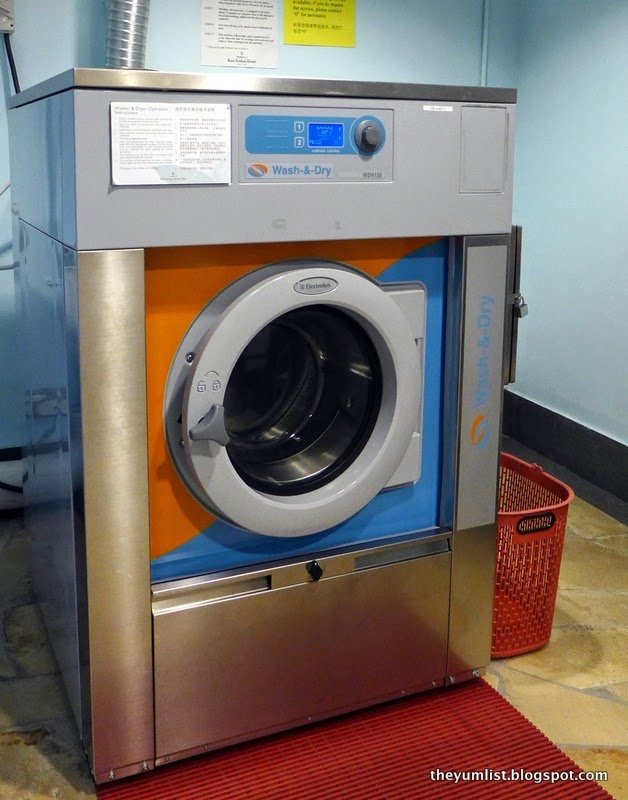 Laundromat – very handy when traveling for more than a few days or with children
For kids, the hotel offers a real treat in the form of the 'Cool Zone' kids club. Here you will find a multi-level tree house (complete with slides) to climb around, a nicely stocked art room to make kid-friendly creations (kids can visit with or without parents), an arcade with almost a dozen games on offer, and a toddler's room with a mini carousel, a ball pit and tumbling area with toys. If you choose to send your kids, ages 5-12, for the day to attend the 'Toots' Club' they will be watched over and attended to by team members and you can enjoy some adult time. Here they will play in the garden, learn about Sentosa, play beach and pool games, and enjoy free meals during the day (lunch and dinner). Welcome time is 9:30am and closing is 9:00pm – a full day of fun. The toddler room is offered to younger children with the accompaniment of their parents/caregivers, no drop-off here, for obvious reasons of separation anxiety and toileting. This kids club is a real perk for families needing some fun and a break.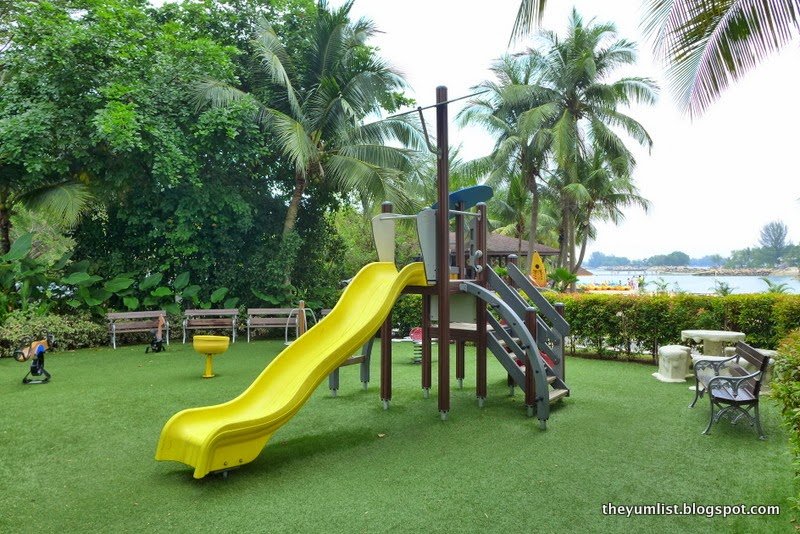 Playground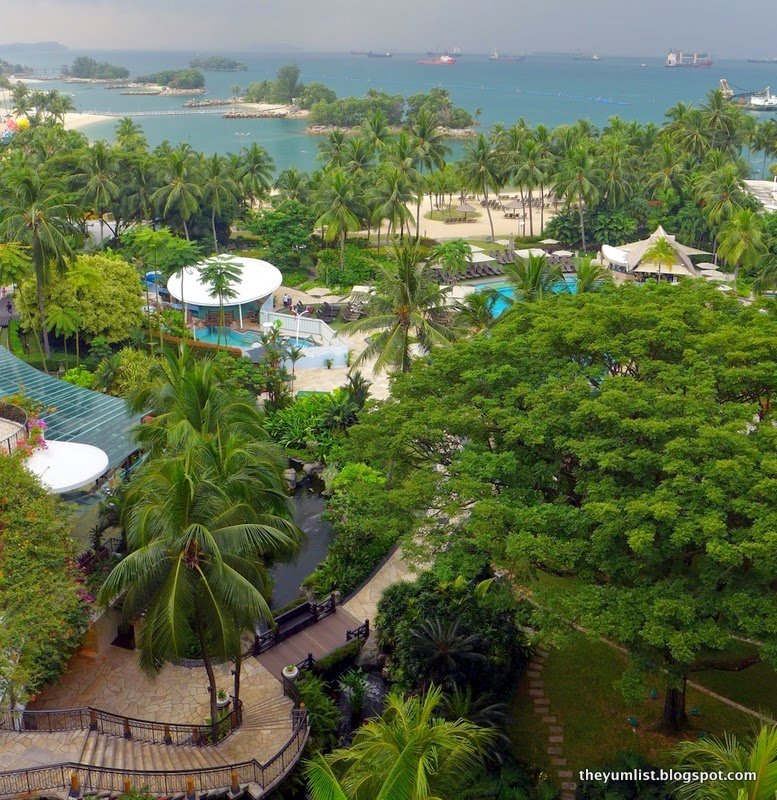 Pool and Recreation Area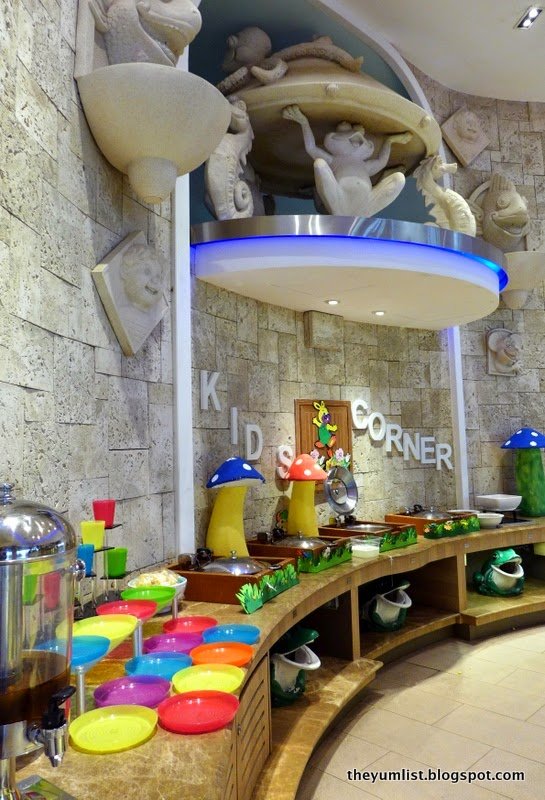 Kids' Buffet
While the kids are having fun in the Cool Zone, adults will certainly want to spend some time in the spa. CHI, The Spa at Shangri-La's Rasa Sentosa Resort and Spa, is a lovely, relaxing space within the resort. Choose from a variety of services and treatment packages, such as massage, facials, wraps, scrubs, soaks and a steam. The spa caters to men and women alike, and there is an option of choosing a couples room for joint therapy. CHI products are luxurious and the setting is tranquil and cozy. Moms and dads will definitely enjoy some down time while the kids are busy with their own brand of fun nearby.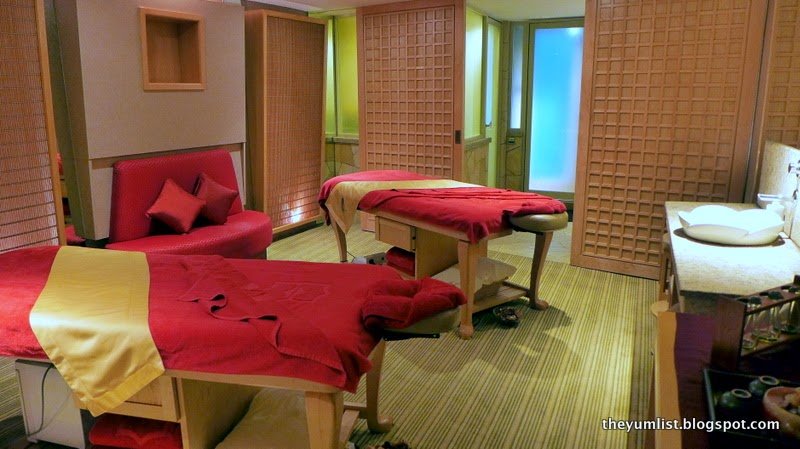 CHI, The Spa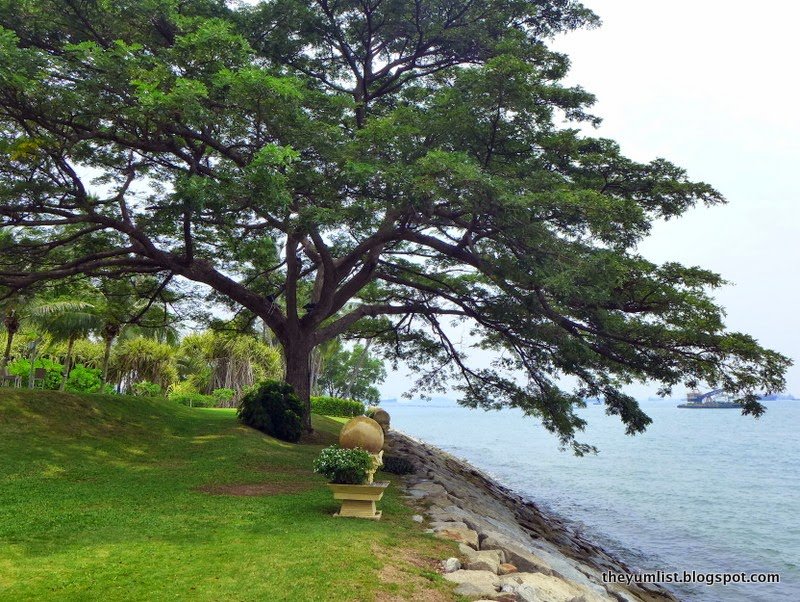 Gardens by the Sea
In terms of dining options, the variety you will find here at the resort is abundant and varied. If a bowl of steaming noodles is what you're after, look no further than 8 Noodles, a sweet corner spot fashioned after a 1960's noodle house. 8 Noodles serves up simple, traditional dishes in an informal, colorful and trendy atmosphere. The restaurant is open for lunch and dinner, and while we suggest any of the offerings, we especially liked the duck and pork which was honey roasted and very succulent.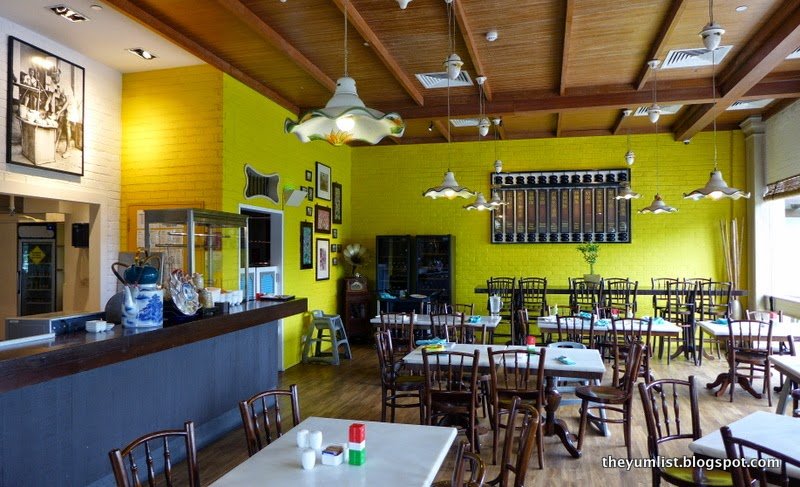 8 Noodles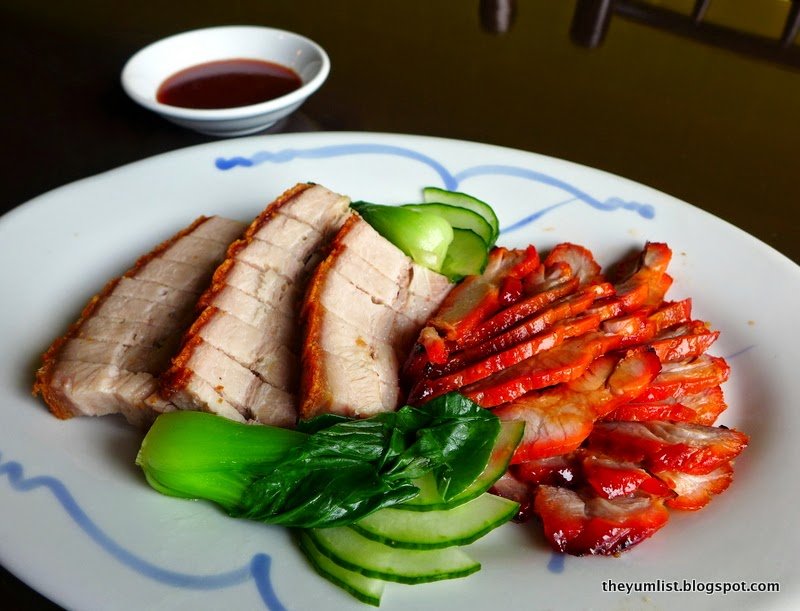 Pork and Duck
Dine On 3 is a dining space with an amazing array of meal options from around the globe. The chef from Casablanca makes fresh couscous daily, for example, and we sampled freshly made Indian curries and out-of-the-oven naan, as well as the favorite garlic cheese naan served with a lovely sauce. One can find a salad bar, sushi section, a dessert and gelato bar, a Western food station among others. Unique to this hotel, and in keeping with the family-friendly environment, there is a separate Kids' Corner buffet area, as well as a section with offerings for babies in the Baby Zone (refrigerated food, a sterilizer, bottle warmer, microwave, even diapers and wipes). Dinner buffet runs around $58++ Singapore dollars, and there are different themes for each evening, such as South American, Singaporean, Italian, Seafood Lovers, and Chef's Signature, among others. A nice coffee and tea corner is available throughout the day, and one of two casual bars (the other poolside) serves up delicious cocktails and mocktails, often using herbs from the garden found on the resort grounds.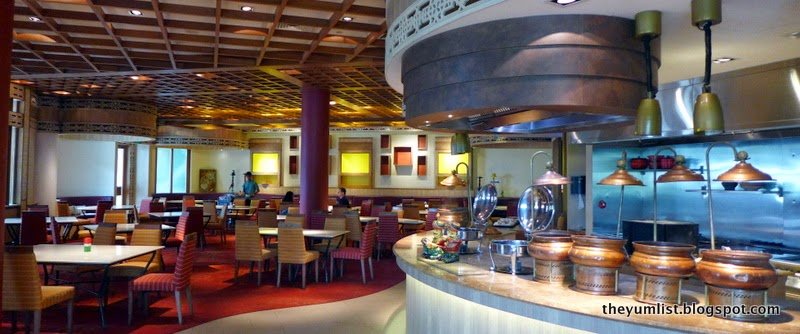 Dine On 3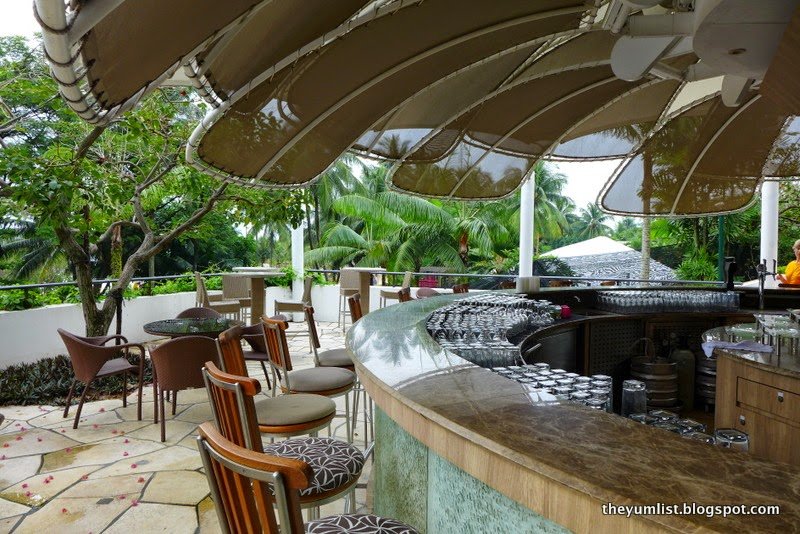 The Bubble Bar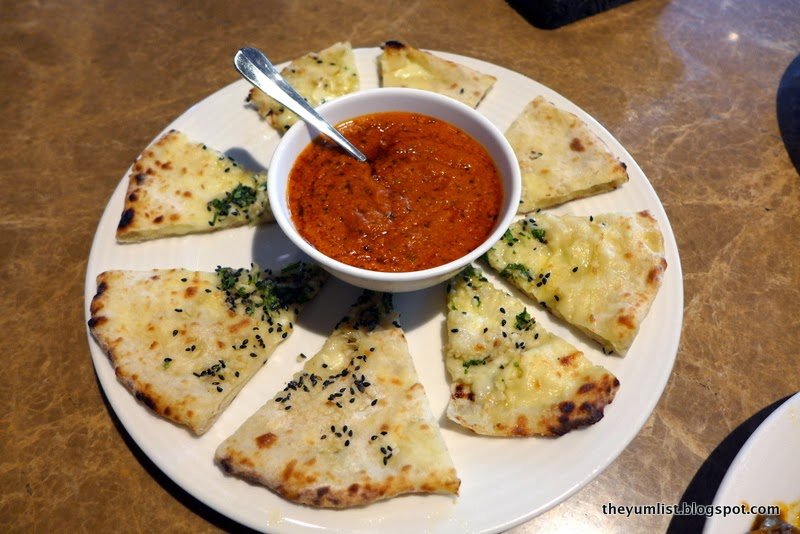 Cheese and Garlic Naan – Yummmmmyyy!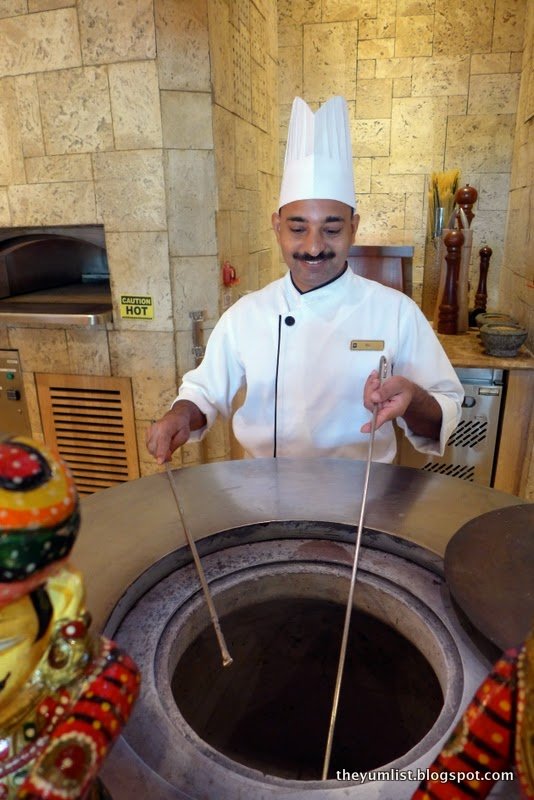 The Tandoor Oven at Silver Shell Cafe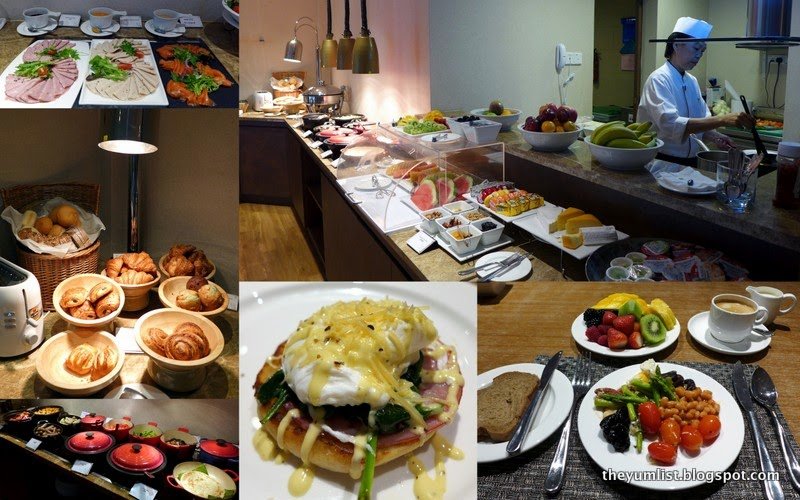 Breakfast in the Business Lounge – A quiet adult's only option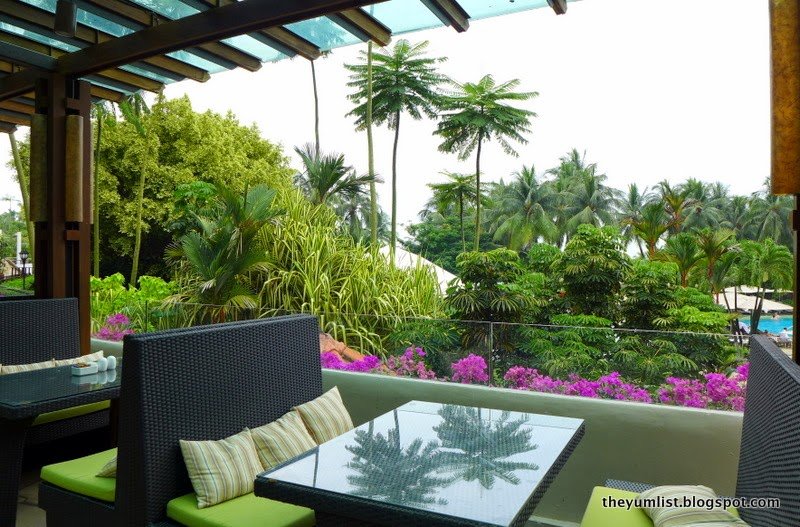 Dine On 3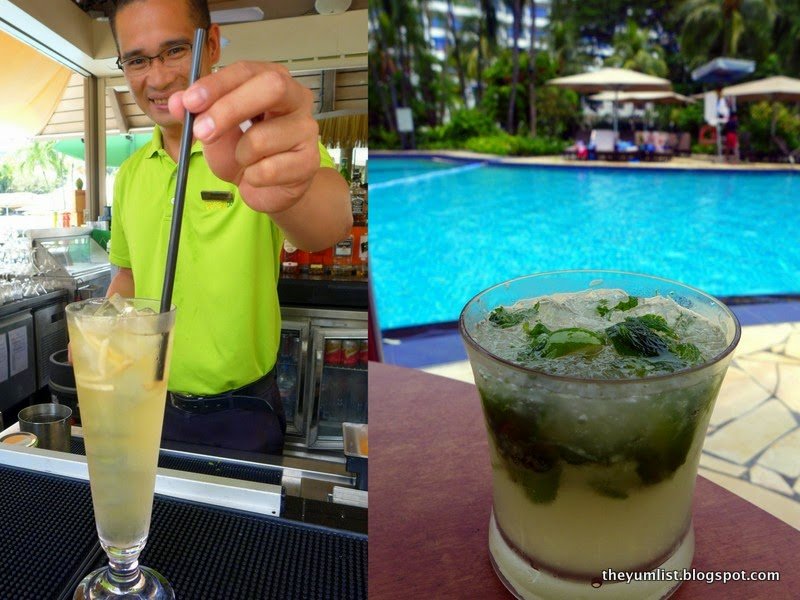 Rasa Cooler and Mojito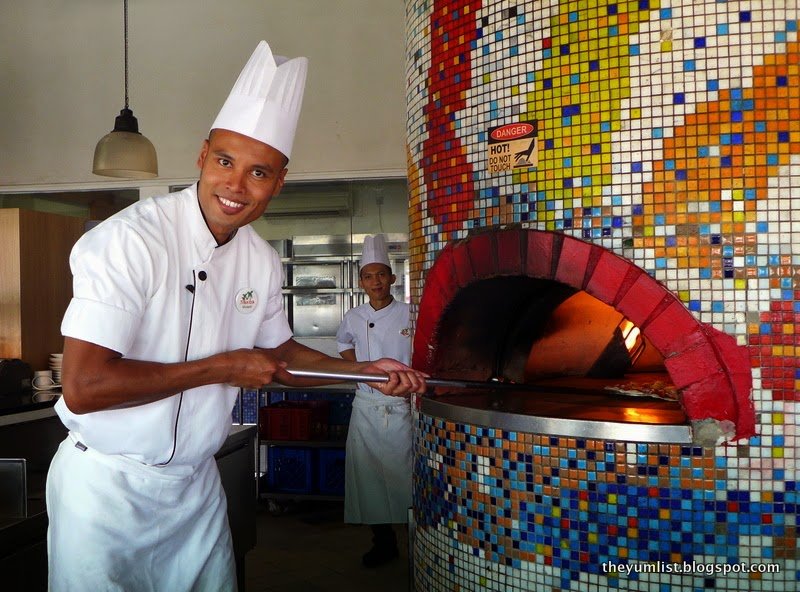 Trapizza – Beach Bar and Restaurant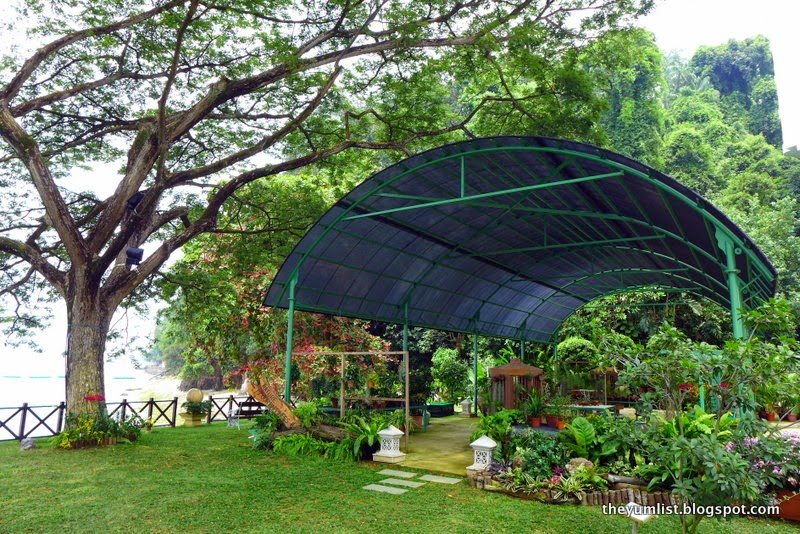 Herb and Fruit Garden
Accommodations are varied within the resort, and we viewed a lovely Panorama Suite with a wrap-around deck, perfect for more space for a family or to hold a small event. This suite comes with a retractable murphy bed in the main lounge area and a separate bedroom with a large bed and patio doors. A covered jacuzzi and outdoor seating area are steps outside off of the deck area and, as is the case with all rooms in the hotel, the first mini bar selection is free of charge. Enjoy some snacks and drinks on the house upon arrival. If interested in a smaller, more modest room that can still accommodate a family, the Deluxe Garden Room offers a king or two twin beds with a double sized pull-out couch. Patio doors are child-safe and open out to the main grounds/garden area.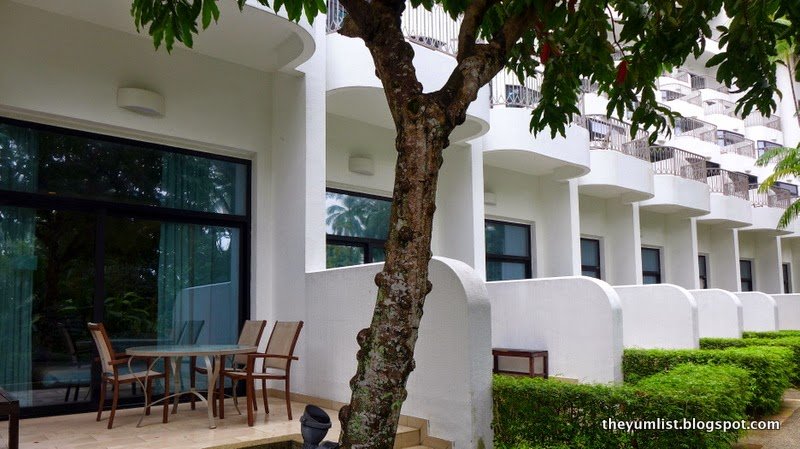 Garden Rooms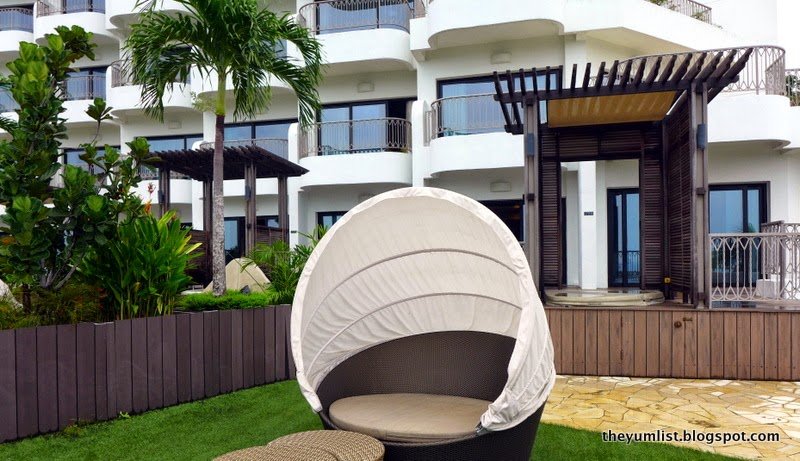 Deluxe Sea View Suite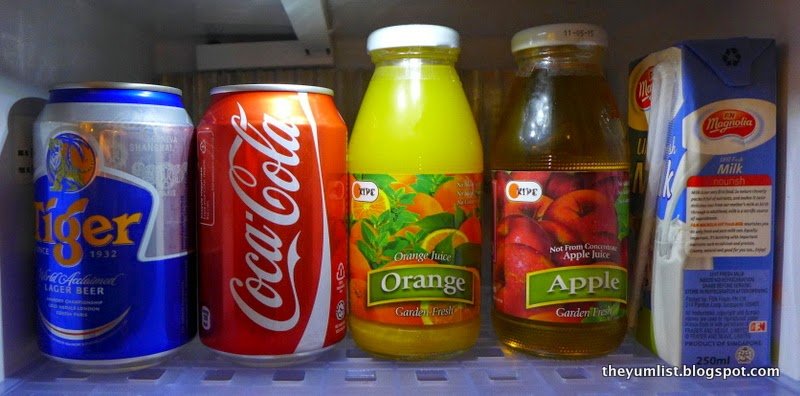 Complimentary Mini Bar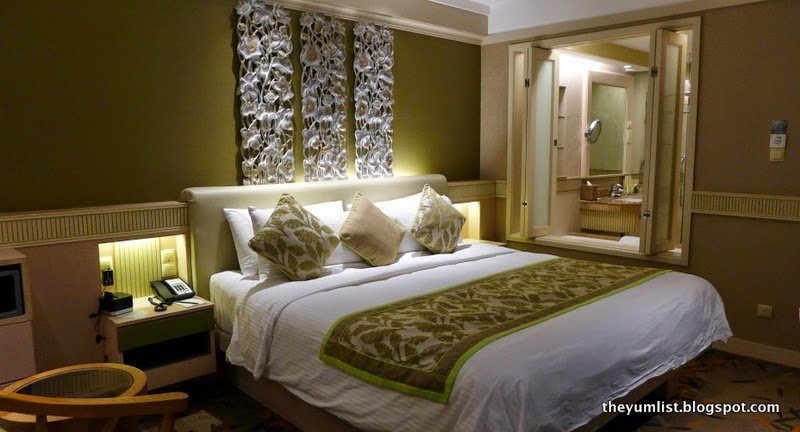 Deluxe Seaview Room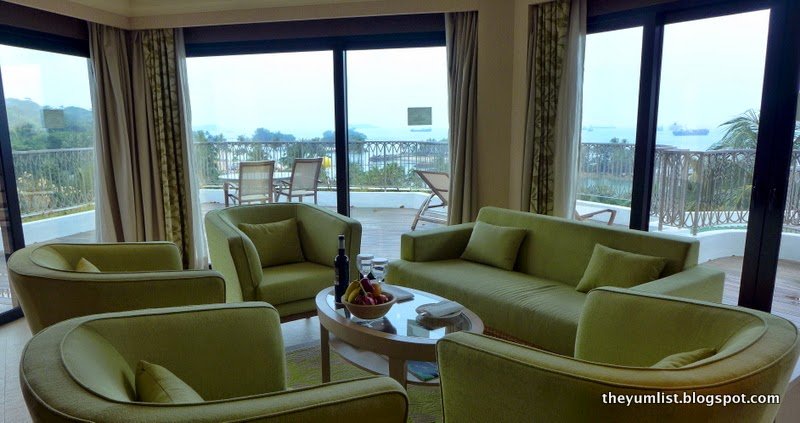 Living Room of Panorama Suite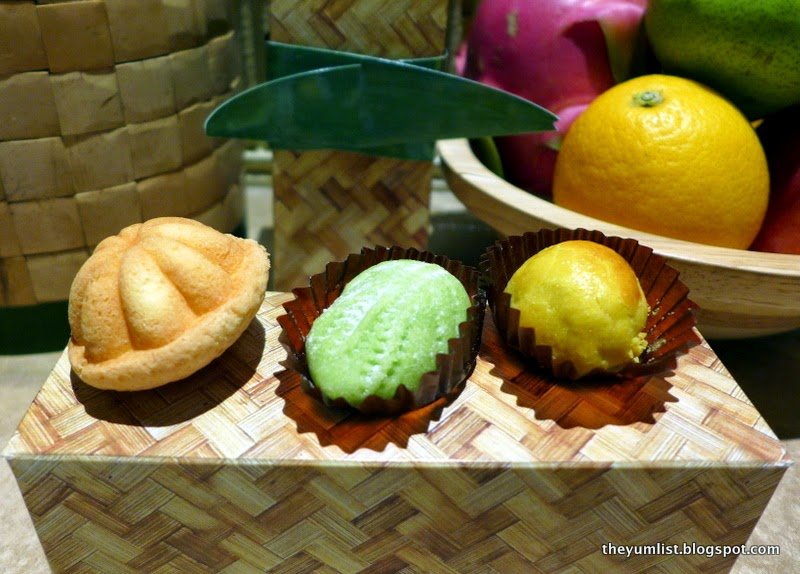 Local Sweets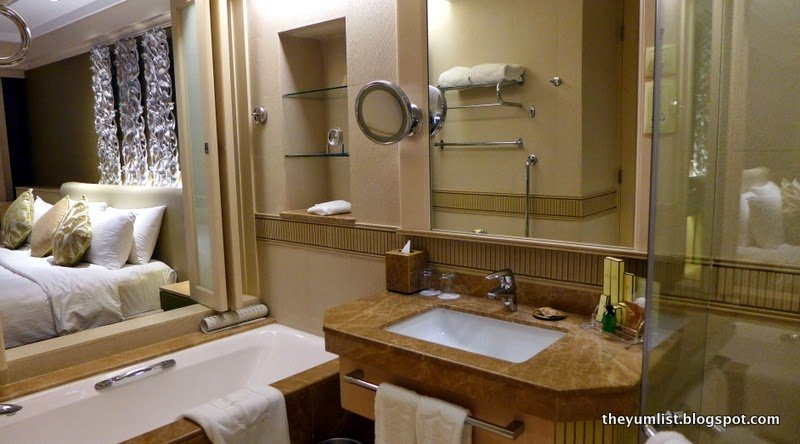 Bathroom
Not much time will likely be spent in the room, as there are outdoor options aplenty. Services are available for beach and water excursions, such as kayaking, paddle boating, bicycling, outdoor play for kids, beach volleyball, handball, and even flying trapeze (lessons included). The pool offers an adults-only portion, and a kids-only pool features water slides and a splash pad.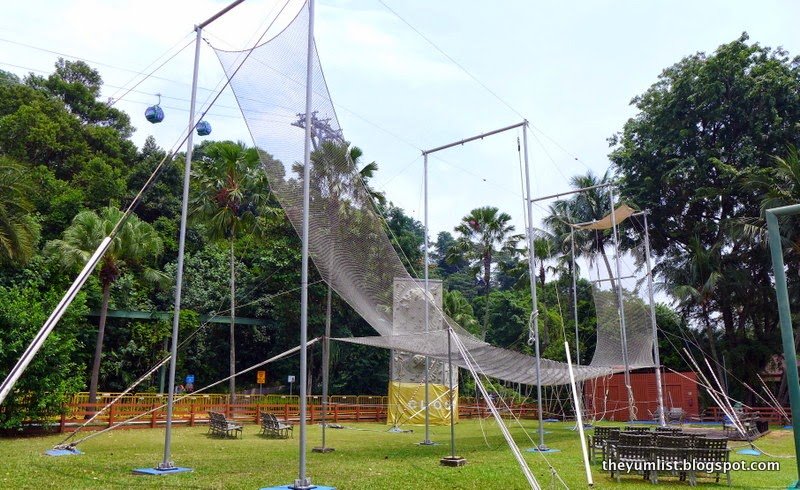 Trapeze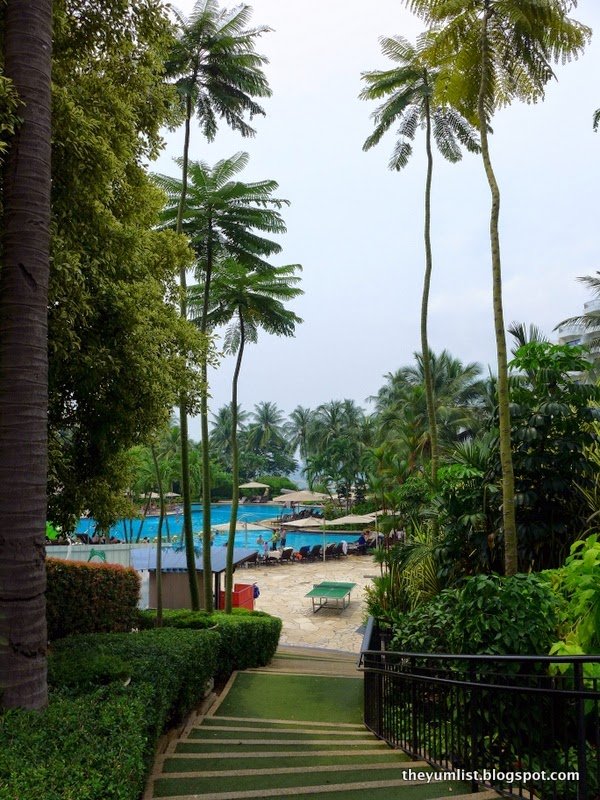 Stairs to Pools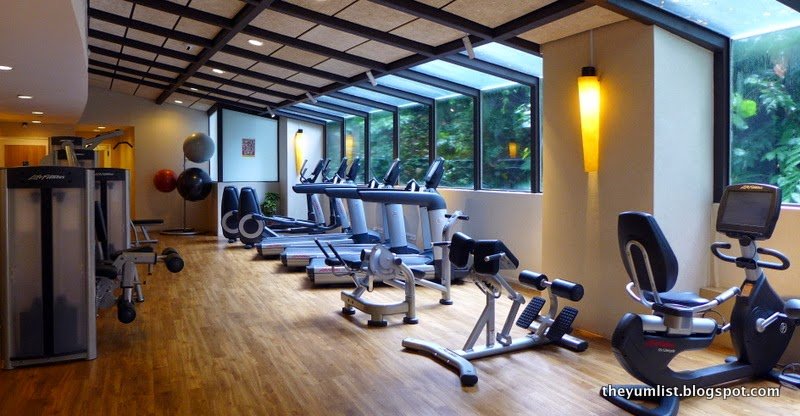 Well Equipped Gymnasium
Shangri-La's Rasa Sentosa is definitely a great option for families who want a quick getaway and to keep everyone happy during a holiday away from home. Here, guests can enjoy some good food, get in some spa time, plan excursions in and outside of the resort, and keep the kids happy and active all the while.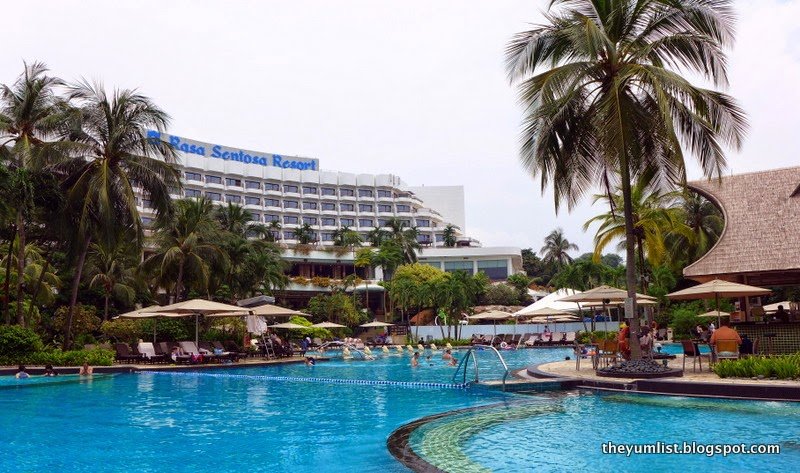 Shangri-La's Rasa Sentosa Resort and Spa
Reasons to visit: Family holiday, kids club, activities, spa, variety of dining options
Shangri-La's Rasa Sentosa Resort & Spa
101 Siloso Road, Sentosa, Singapore 098970
Tel: (65) 62750100
www.shangri-la.com