Often thought as an excellent choice as a business hotel, the Sheraton Imperial Kuala Lumpur surprises us with some deals and services that also position the property as a fine option for leisure travellers or a staycation.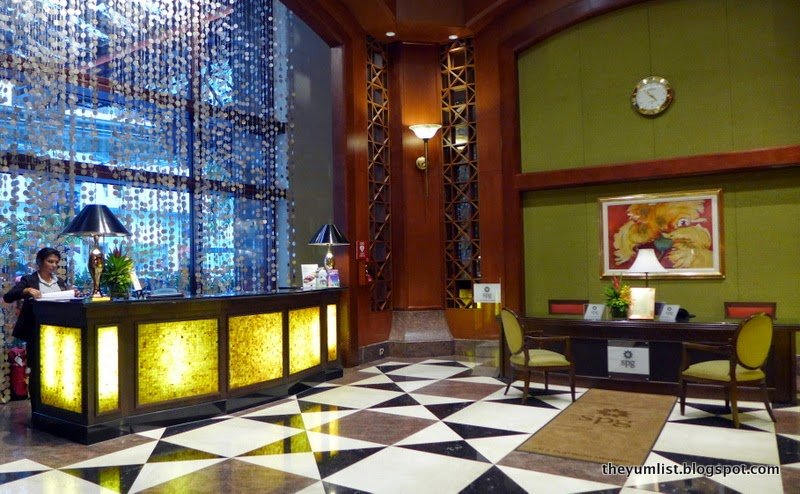 Reception
Location
On the edge of the Golden Triangle, Sheraton Imperial Kuala Lumpur is ideally located for business and pleasure. The monorail stop is less than five minutes walk away and the brand new shopping centre, Quill City Mall, is directly across the road. The nightlife and party district of Heritage Row runs up one side of the hotel, with many entertainment facilities, housed in pre-war shop houses, open until all hours of the morning. Masjid India, where fabrics, markets and an endless array of local food can be savoured, is only a few blocks away. All of this is within walking distance of the hotel.
Only a few minutes further afield by taxi, on the LRT or via monorail, are the rest of the sights that Kuala Lumpur is known for such as the KL Tower, Petronas Towers, Chinatown, Brickfields (Little India), the restaurant and bar strip of Changkat Bukit Bintang, and numerous and enormous shopping malls.
Engaging the hotel for a weekend staycation however, might see you never leaving the property, as the food and beverage outlets, entertainment options and facilities furnish more than enough to occupy a few days. Many guests find the prices here too of good value especially compared with other 5 star hotels in the city centre. Those with a Starwood Preferred Guest card (free membership) are often delighted with various promotions providing discounts ranging from 15 – 50% off meals and activities.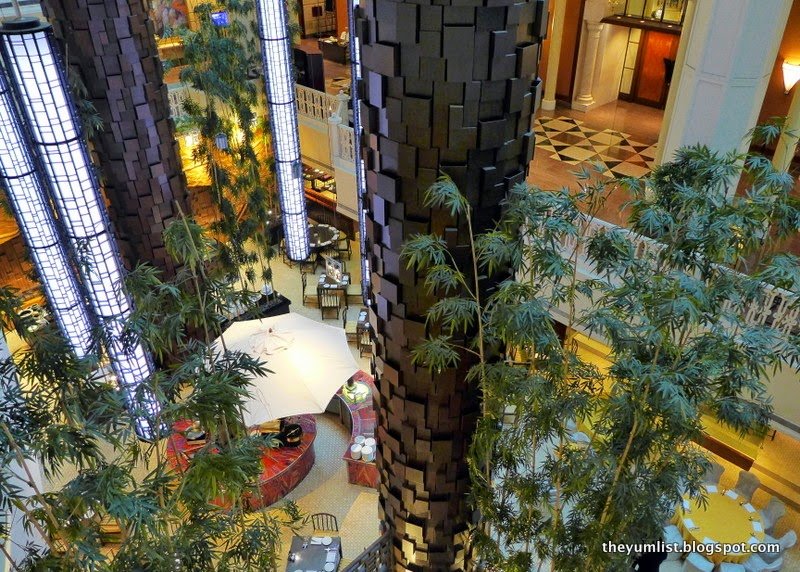 Sheraton Imperial Kuala Lumpur Hotel
Facilities
Sheraton Club Lounge
Club Rooms and Suites come with access to the Sheraton Club Lounge where breakfast, cocktails and beverages are served over different periods of the day. Located on the top floor it offers splendid views of the city and in particular, a postcard perfect vista of the KL Tower and lush verdant base.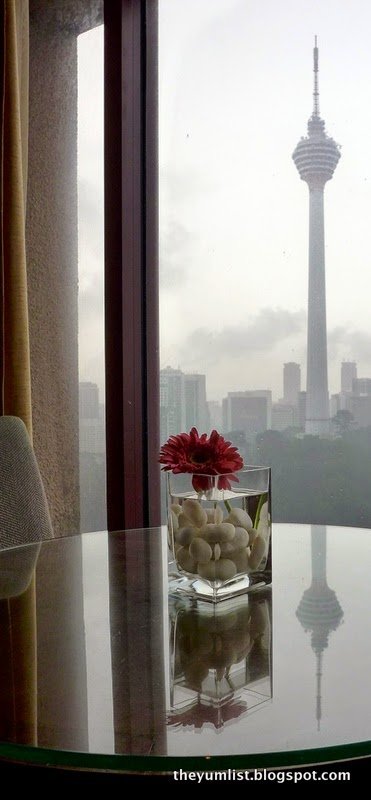 Sheraton Club Lounge – our favourite table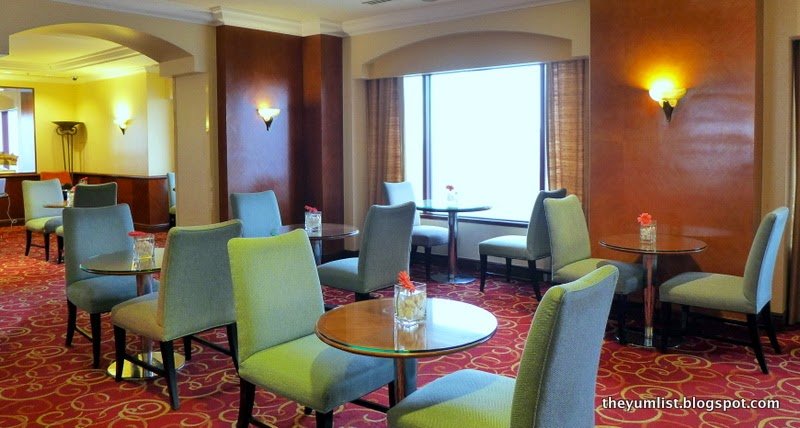 Sheraton Club Lounge
The morning offerings are a light mix of continental and local options with eggs made to order. During the day, hot and cold non-alcoholic beverages are served with a few small snacks such as biscuits and nuts. The evening cocktail runs for a generous two and a half hours and serves a free flow of wine, beer and bottom shelf spirits accompanied by a spread of finger foods of both Asian and Western inspiration. If you've been out on a culinary tour of Malaysia's local street food scene during the day, you might find it's all you need to end the day very pleasantly.
Fitness and Relaxation

The lagoon shaped swimming pool on level five is shaded by umbrellas and lush tropical vegetation. Fountains spurt into the pool at one end and the KL Tower ascends above the resort-feel space reminding guests that they really are still in the city centre. Light refreshments and sun-lounger service is supplied by the poolside bar.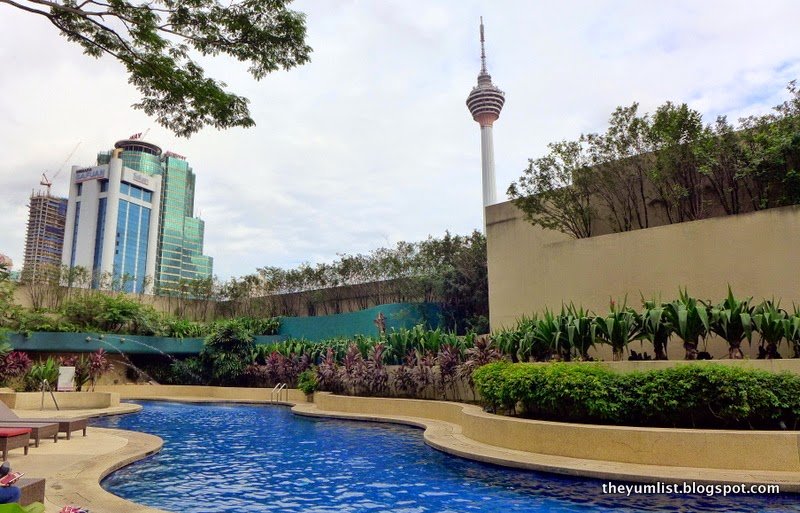 Pool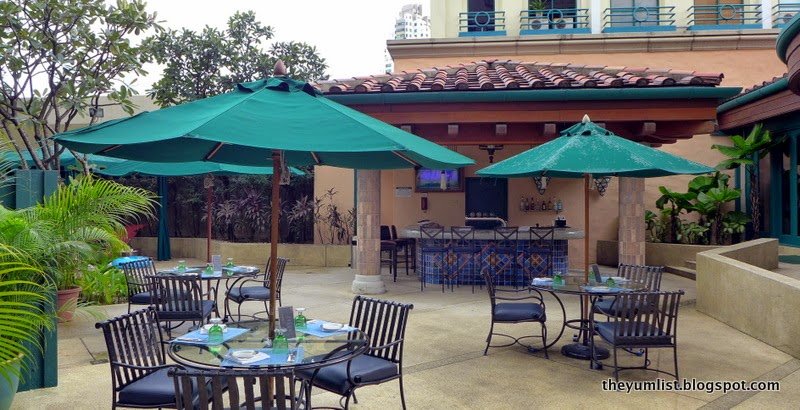 Pool Bar
The gymnasium is of good size with all the equipment we need to get in a solid workout. Cardio machines by Technogym include steppers, cross trainers, bikes and treadmills. A variety of free weights and strength machines, along with mats, balls and a dedicated stretching area, round out our training sessions. TV screens (controlled by separate remote controls – none of those annoying touch screen devices that never seem to react to my touch) were in good functioning condition as were the headphones, which seems to be the exception not the rule in many of the "5 star" hotels we've written about in Asia. The area is paved with light gym flooring, and that combined with a wall length window and mirrors gift the gym a bright cheery feel.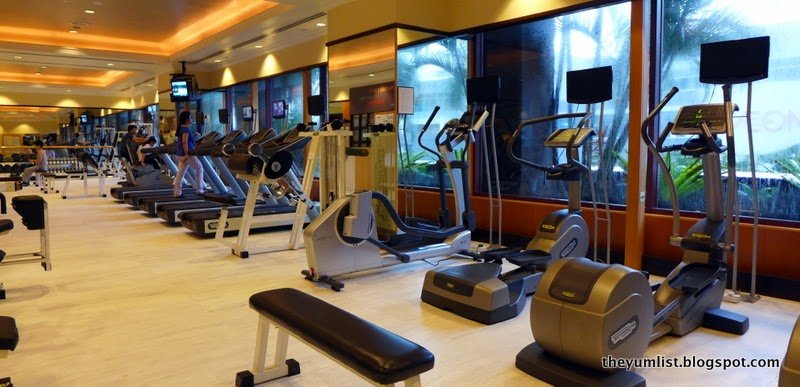 Gymnasium
Relaxation facilities shared with the spa are in top condition. Lockers, showers, a steam room, Jacuzzi and lounges make for an overall rejuvenating experience.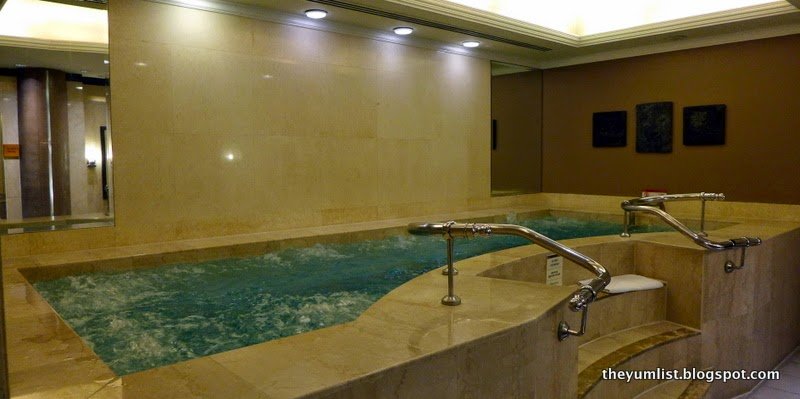 Jacuzzi
Celestial music, grand spherical ceilings and delicate floral wall patterns set the scene for the Sheraton Imperial Kuala Lumpur's spa, Mandara Spa. Once inside, we're gently ushered to the lounge and refreshed with cool scented towels and chilled ginger tea. Influenced by traditional health and beauty routines from Indonesia, Thailand and Hawaii, a range of treatments include massage, scrubs and wraps, facials, foot and hand care, herbal steam showers and aromatherapy baths.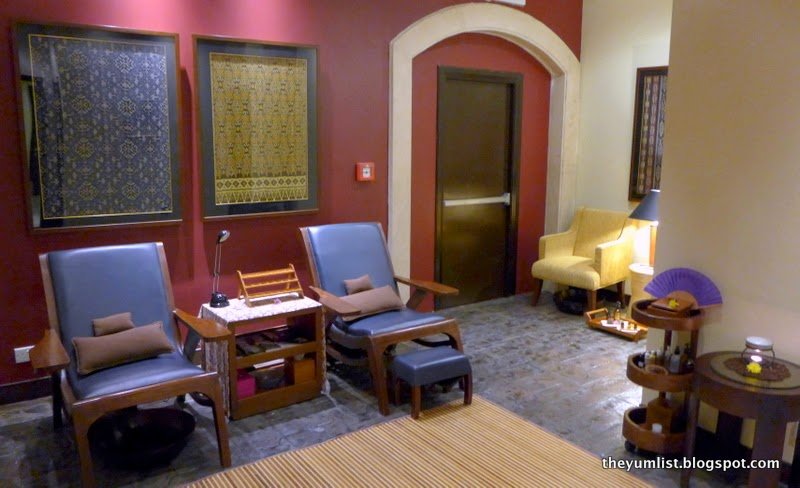 Beauty Treatment Area
Claimed to be the most relaxing massage on the menu, the Balinese Massage (RM195 – 50 minutes) sounds like just what we need after a long purposeful week of work. Using 100% pure essential oils our bodies are stretched and pounded with long strokes from the palm of the hand and thumbs. Our therapists dig deep into our tight muscles and manage to work out knots and relieve tension.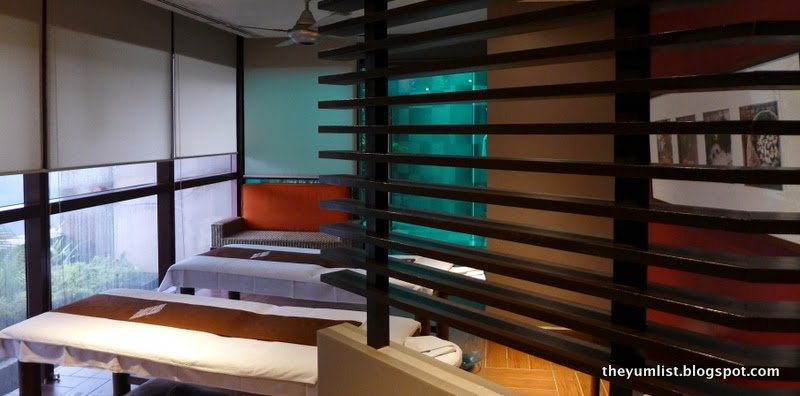 Couple's Treatment Room Mandara Spa
Afterwards we rinse off the extra oil in the outdoor shower. Surrounded by greenery it's hard to believe we're in the heart of Malaysia's capital. In inclement weather there's an indoor facility too, but we take advantage of the sun and rare blue sky and luxuriate in the chance to bath al fresco.
Food and Beverage
Villa Danieli
When we first arrived to Kuala Lumpur over a decade ago, Villa Danieli was the name whispered by expat friends as the best Italian restaurant in the city. While the kitchen has seen some magnificent chefs come and go, the permanent local staff here seem to have such a passion for cooking and service that Villa Danieli has managed to maintain a consistently strong reputation this whole time.
Design transports you to the rolling hills of countryside Florence. Mimicking a spacious Tuscan villa, walls are painted with frescoes, high arches draw the eyes toward tall ceilings, and the flames of a wood-fired oven toast the edges of their contents sending saliva-inducing aromas to the noses of diners. We've enjoyed more than our fair share of wine-paired dinners here and they have certainly been some of the highlights of our culinary adventures in Kuala Lumpur.
Follow this link to find a recent food and grape matching experienceat Villa Danieli.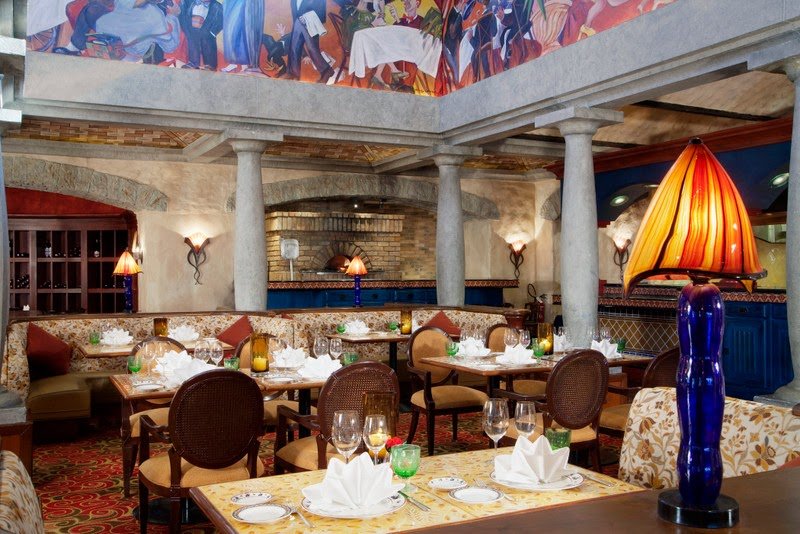 Villa Danieli
Pavilions Lounge
Pavilions Lounge occupies a grand area. It's hard not to feel regal in such a majestic space. Towering ceilings, winding striking staircases and soft lounge chairs upholstered in royal blues and purples set the stage for a refined afternoon or evening of cultivated conversation and supping. It's a fine spot to sip on a Wine of the World, or TWG Tea and listen to the cascading water feature or elegant live music.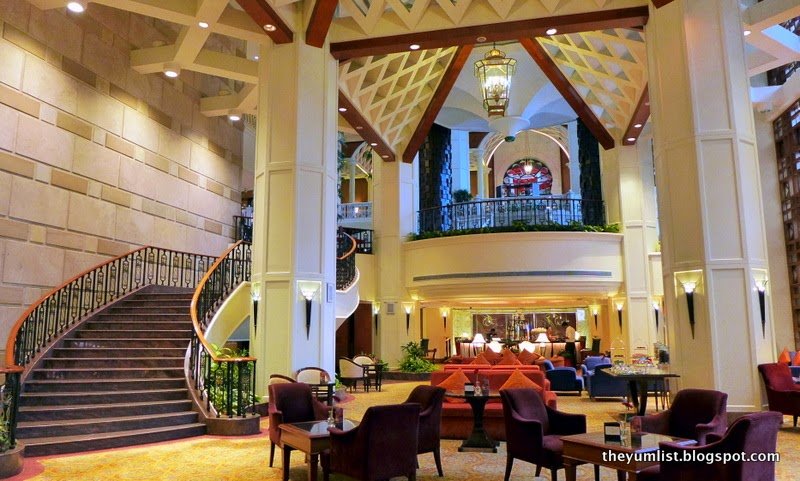 Pavilions Lounge
Essence
Essence is the Sheraton Imperial Kuala Lumpur's all day dining venue. A fiery red and orange mosaic backs the open kitchens, and a glass roof lets in natural light. The vibrant design joins forces with colourful displays of food forming an overall cheerful climate. Serving breakfast, lunch and dinner buffet style, and in between a la carte options, the food exiting the kitchen here hails from around the world. Regularly changing internationally themed menus, festive season promotions and some great deals such as free flow wine for an additional RM50++ keep guests returning.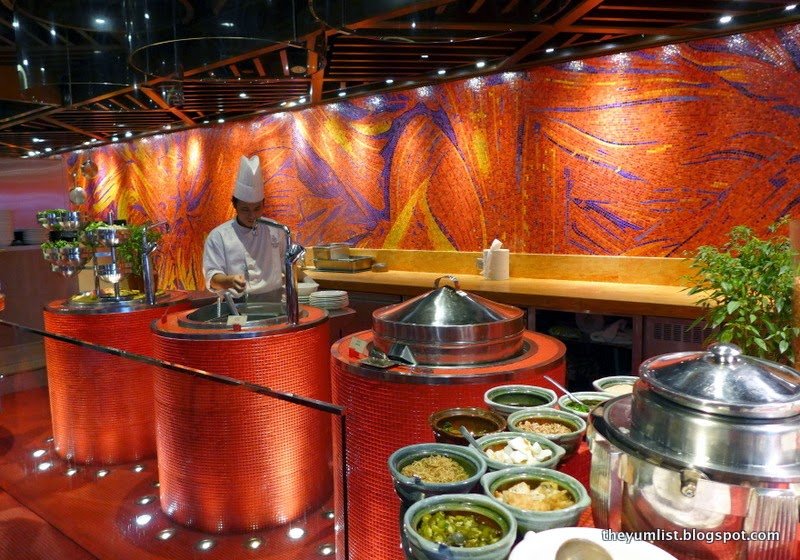 Essence
Celestial Court
The chef at Celestial Court has achieved near celebrity status in the taste buds of KL-ites who love dim sum. Shaping beautiful edible artworks, Chef Ken has enchanted many a fusser eater over the years. A real treat is the weekend All You Can Eat Dim Sum offer. Over 70 delicacies are up for the sampling –
read about the latest deal here.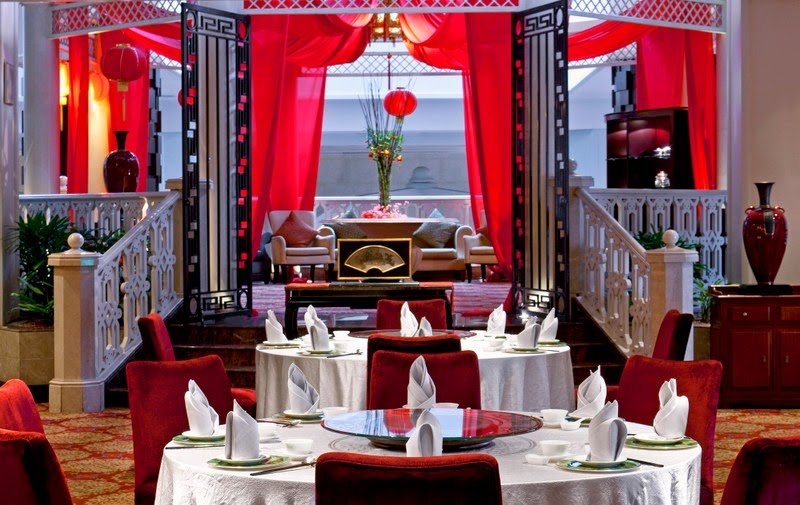 Celestial Court
Rooms
Deluxe Rooms make up well over 200 of the 385 rooms available at the Sheraton Imperial Kuala Lumpur. All have floor to ceiling windows, which open up to views of the city's skyline, and compose a standard 42 square metres of space. A palette of orange and pale olive green washes the décor with hues reminiscent of those found in traditional Thai design. Solid wooden furnishings and warm glowing lamps add character and an impression of long-lasting quality. Sheraton Sweet Sleeper Beds, lavish Indian silk linens, big soft pillows and black out curtains, provision all rooms with excellent conditions for a sound night's sleep.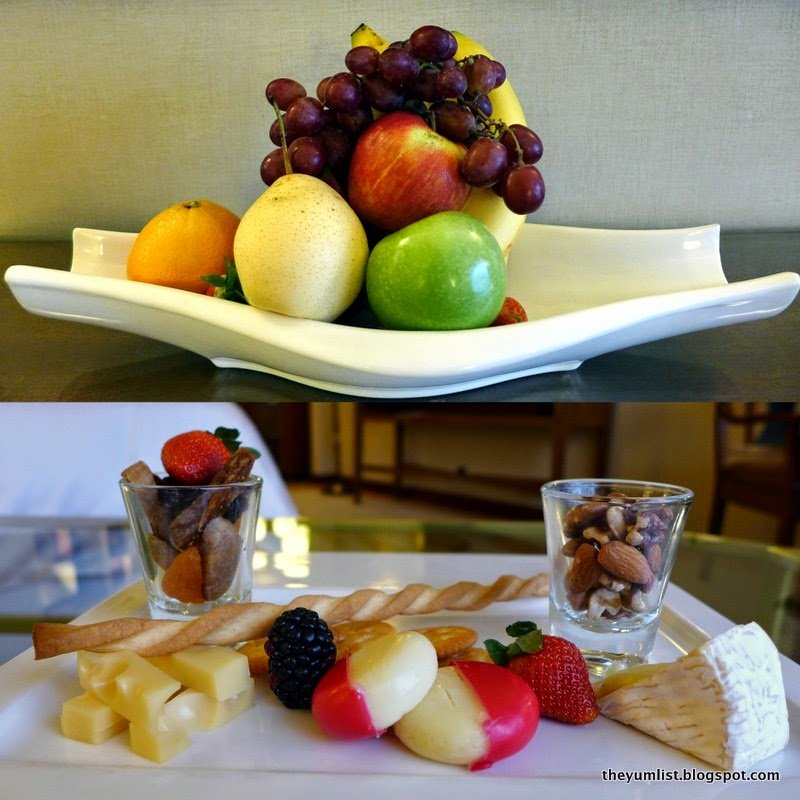 Fruit Bowl and Welcome Treats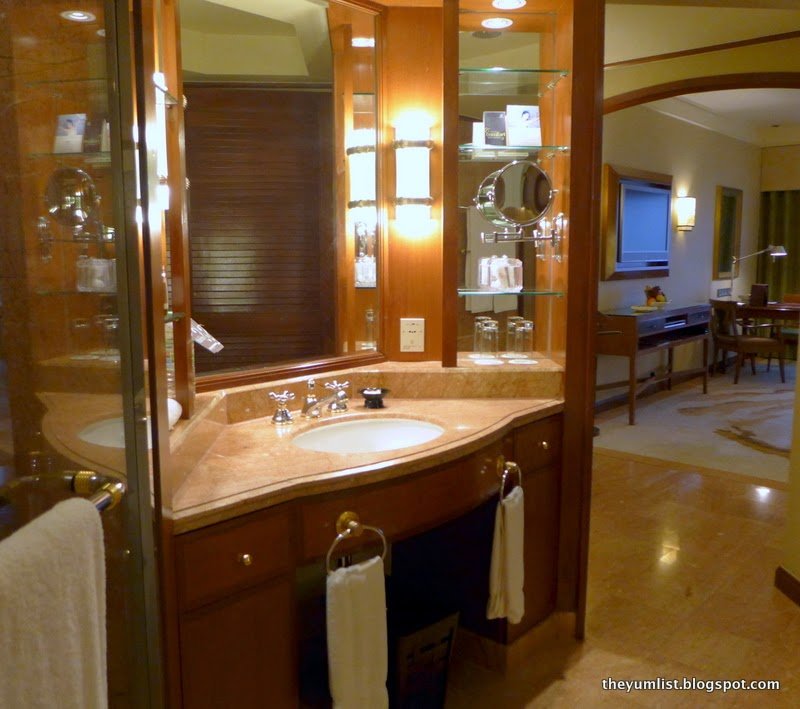 Bathroom in Deluxe Suite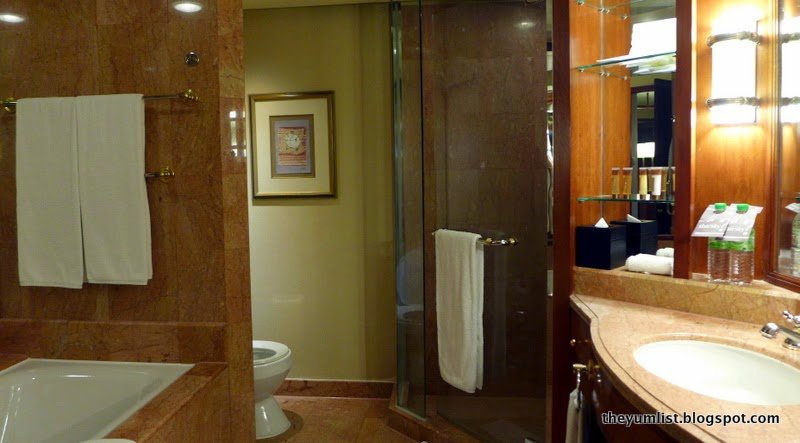 Bathroom Sheraton Suite
A step up are the Deluxe Suites, which are decked out with thoughtful consideration of the business traveller in mind. An expanded space and state-of-the-art technology facilitate a comfortable work environment. This combined with access to the Sheraton Club Lounge makes it easy to arrange meetings, or work from the desk and amenities in room. Club and Suite rooms come with complimentary high speed Internet. WiFi however is available in all common areas throughout the hotel, and the
[email protected]
provides business facilities and computer stations for those who prefer to travel light.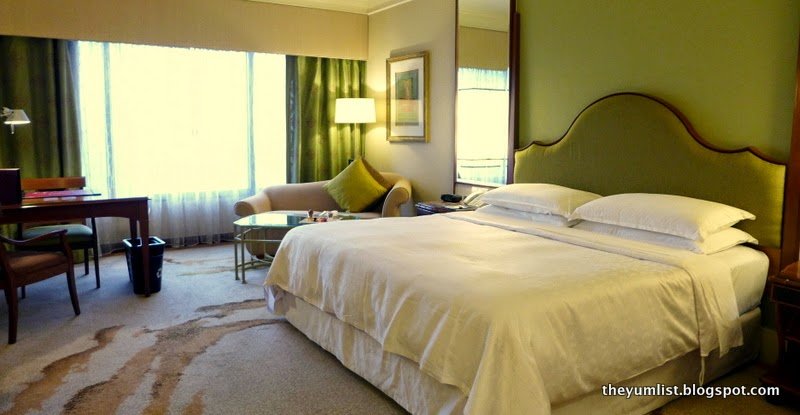 Love This Bed!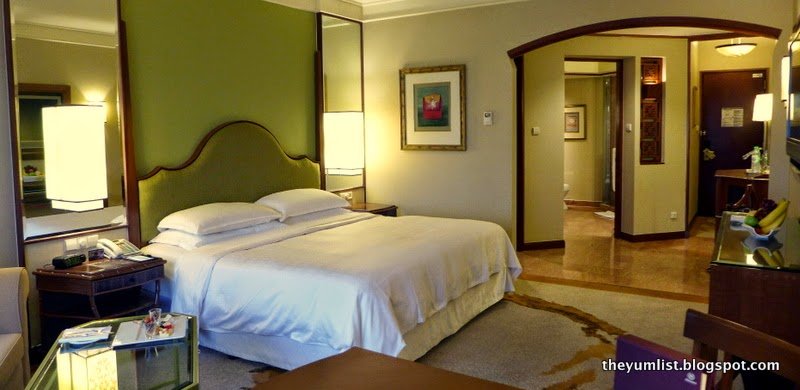 Sheraton Imperial Kuala Lumpur Deluxe Suite
For those wanting an opulence of space, the Ambassador Suite and Imperial Suite cover 168 and 336 square metres respectively. With the increased price comes augmented elegance and luxuriousness in fittings. Kitchenettes, dining rooms, high-end entertainment systems and a magnificent Jacuzzi (in the Imperial Suite) make for a rather lavish stay.
There are some great weekend deals for those looking for a staycation, including attractive offers for families with children, and fun entertainment packages – such as children under the age of 12 dining for free at Essence, complimentary parking, tickets to Mama Mia and a host of other benefits. Check out the current
Best Deals here
.
Reasons to visit: excellent hotel for business and leisure within the Golden Triangle, great spa facilities, the lovely Italian restaurant Villa Danieli, yummy dim sum at Celestial Court.
Sheraton Imperial Kuala Lumpur
Jalan Sultan Ismail
Kuala Lumpur, 50250
Malaysia
+6 03 2717 9900