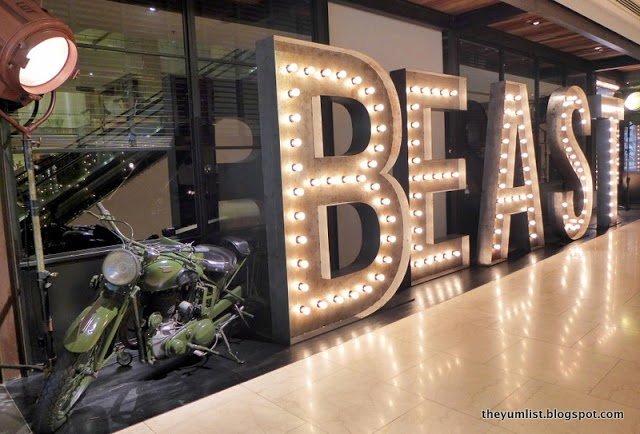 Beast, The Intermark
New A La Carte Lunch Menu at Beast
_________________________________________________________
Words by Monica Clear
Photos by Kristin Cosgrove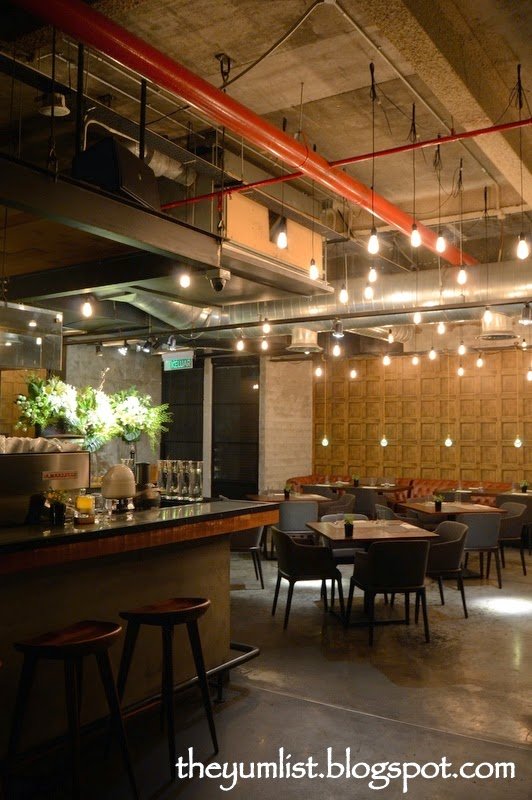 Dining Room and Bar at Beast
Walking past the oversized and staggered neon letters spelling out the name B-E-A-S-T, you sense you are entering less a restaurant for your next meal, and more a location for a Hollywood movie set.
Inside, there are stage lights, atmospheric background music, and a walk-in wine cellar.  There is a private function room with large, upright chairs around a rectangular table and a grand piano.  And now, there is a new bar and grill a la carte menu for lunch, with Starters, Mains, and Desserts.
Part of The BIG Group which includes restaurants, cafes, bars, retail food stores, and a concept supermarket, BEAST prides itself on high quality steaks from grass-fed cows, as well as signature burgers, and other decadent comfort foods with a sophisticated twist (we will get to the Truffle Mac-n-Cheese in just a bit!).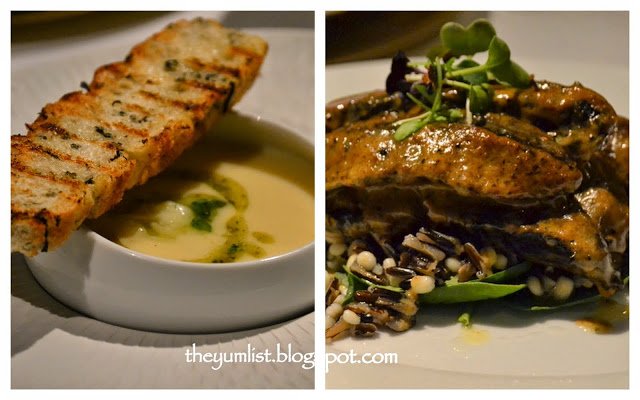 Roasted Cauliflower Soup (left), Miso Dressed Portobello Mushroom Salad (right)
ACT I
 We began with a variety of Starters, served family-style.  The soup was a rich and buttery Roasted Cauliflower served with toasted herbal focaccia bread, just the right texture to sip slowly and indulge.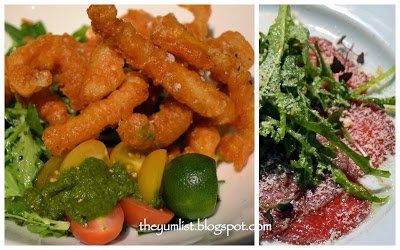 Calamari Salad, Beef Carpaccio
Next, we sampled the Miso Dressed Portobello Mushroom Salad, with giant slices of glistening Portobello mushrooms stacked one on top of another over a bed of wild rice: a tasty, hearty starter for any mushroom lover out there.
The Spicy Calamansi Beer Battered Calamari Salad will make you tongue-tied when trying to order, but well worth the blush.  Calamansi is a well-known local fruit used in many Southeast Asian dishes, particularly in the Philippines and Indonesia.  It resembles a small mandarin when fully ripe, but the flesh is quite sour.  In this dish, the calamari tasted fresh, was a generous size, heavily battered with a slight spicy kick, and orange-golden in color.
 Moving on to the Thinly Sliced Beef Carpaccio with Arugula Salad, we each sampled the delicate and paper-thin slice of fresh and delicious meat, looking forward to more of BEAST's specialty during the Mains.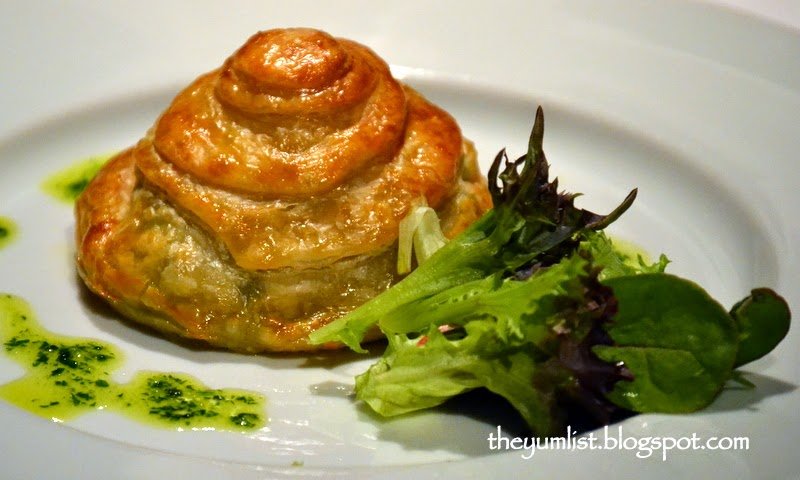 Escargot in Flaky Puff Pastry
When the Escargot Wrapped in Flaky Puff Pastry with Buttery Parsley Sauce was passed to me, I paused to appreciate the impressively high and round pastry the snail was encased in, rather than its own shell.  The first bite was surprisingly pleasing – flaky buttery pastry on the outside and soft texture on the inside; the escargot produced a perfect melt-in-your-mouth sensation, and the combination resulted in an indulgent and courageous Starter success.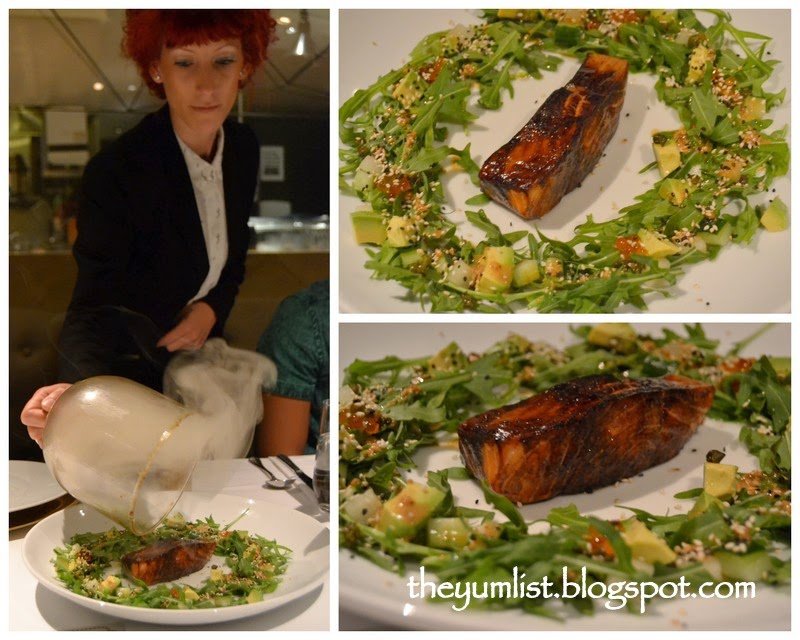 Hot Smoked Salmon Salad
From start to finish, the final appetizer was a multi-sensory experience and my favorite beginning dish.  The Hot Smoked Salmon Salad with Tangy Korean Dressing and Fresh Salmon Roe was placed on the table in a large round dish, with a tall, cylindrical glass dome sitting over the salmon steak, encapsulating the smoke swirling inside.  The second the server lifted the dome up and over our heads, the smell of a wood-burning stove overtook the room and I was brought back to a cold winter day in Maine.  The salmon itself was fresh, flaky and juicy, and a perfect combination with the pungent fish roe and dressing.
ACT II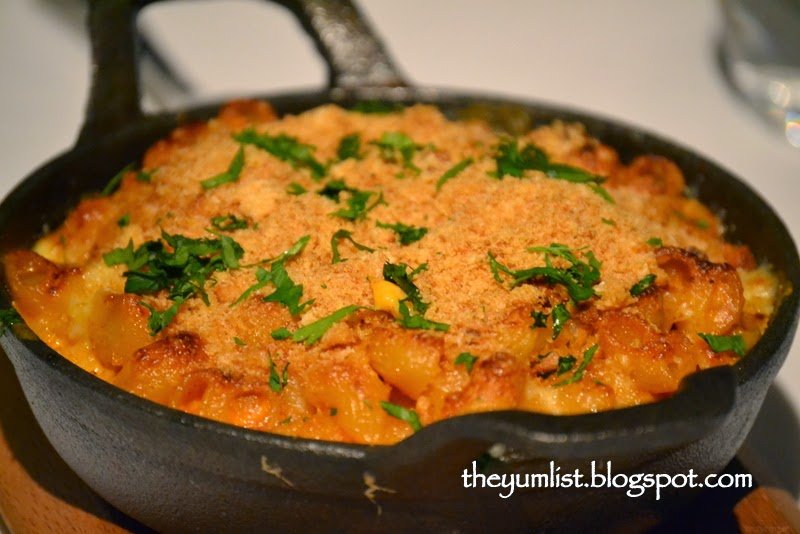 Truffle Mac N Cheese
The Mains stepped it up a notch, beginning with Truffle Mac 'n' Cheese.  This is not your grandmother's recipe.  Served in a black iron cast crock-pot, with roasted cheese and breadcrumbs on top, this dish was simply delicious.  The subtle but present taste of truffles gave it a flavor like no other mac –n-cheese I've eaten, and I mentally bookmarked a "must-return when craving comfort food" note-to-self.
Not to be outdone, the Half-a-Lobster Pappardelle was visually impressive in a large, deep pasta bowl piled high with half shelled lobster chunks and wide, flat noodles.  Tossed in a rich lobster bisque reduction sauce, the seafood was fresh and savory, and the serving size impressive.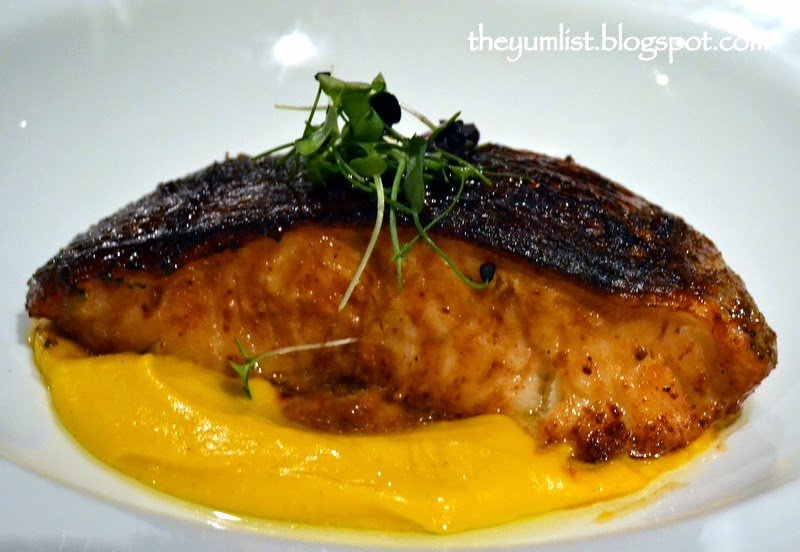 Cod with Pumpkin Cream Sauce
Onto the mainstay of BEAST, the Pan Seared Grass-Fed
Tenderloin was a delightful cut of meat cooked to perfection.  Encircled in a ring of mashed potatoes and gravy, and served with three small roasted shallots, this was a top quality steak that did not disappoint in any way. I prefer my mashed potatoes a bit more fluffy and less starchy, but that would not preclude me from indulging in this tenderloin again.
The final three Mains – Roasted Miso Cod, Six Hours Sous Vide Grilled Rack of Lamb ("under vacuum"; a method of cooking by sealing meat in a bag and dipping it in a water or steam bath to cook evenly and retain moisture), and Quarter Roasted Beer Brined Chicken were equally delicious, depending on your preferences.  The Cod was served with a savory pumpkin cream sauce; the lamb, a touch of rosemary and lemongrass on a bed of wild rice with cauliflower; and the roasted chicken, tender with a slightly sour but savory au jus.
True to the consistent quality served with boldness and style, each Dessert was made to linger over and delight in, bite after bite.
The Dark Chocolate Fondant Filled with Peanut Butter was expectedly divine, with an egg-shaped dome of ice cream atop a crispy lattice of chocolate, decorating the warm and oozing molten lava decadence of cake underneath.  If you have never tasted fondant, this would be the one to try, although others may pale in comparison from then on.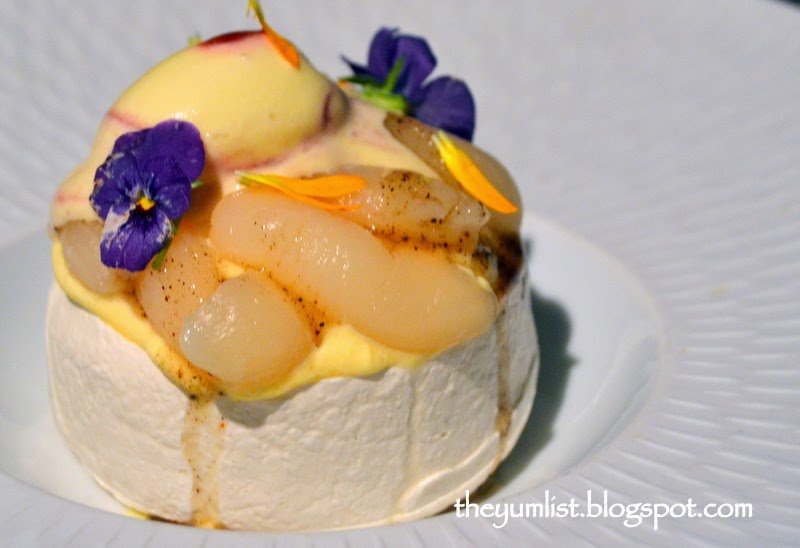 Pavlova with Fresh Seasoned Fruits
Next we tried the Pavlova with Fresh Seasoned Fruits.  A meringue-based dessert with a soft inside and brittle outside, this delight was decorated with fresh fruit, vibrant flowers, and a custardy topping.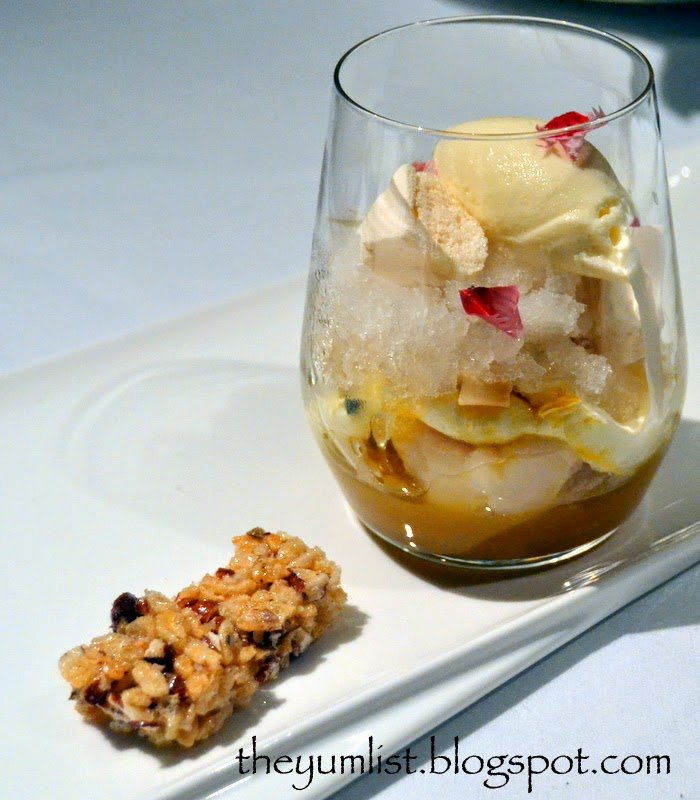 Passionfruit and Mango Trifle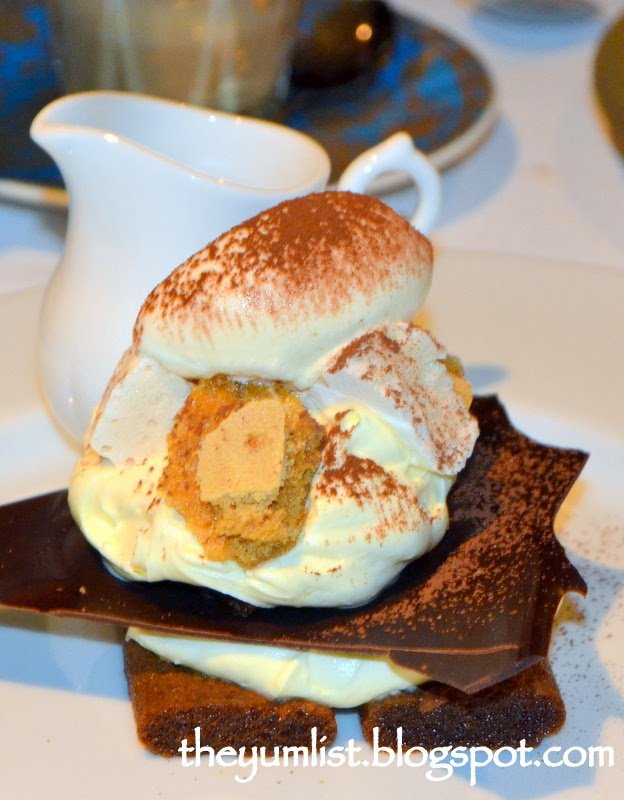 BeastyTiramisu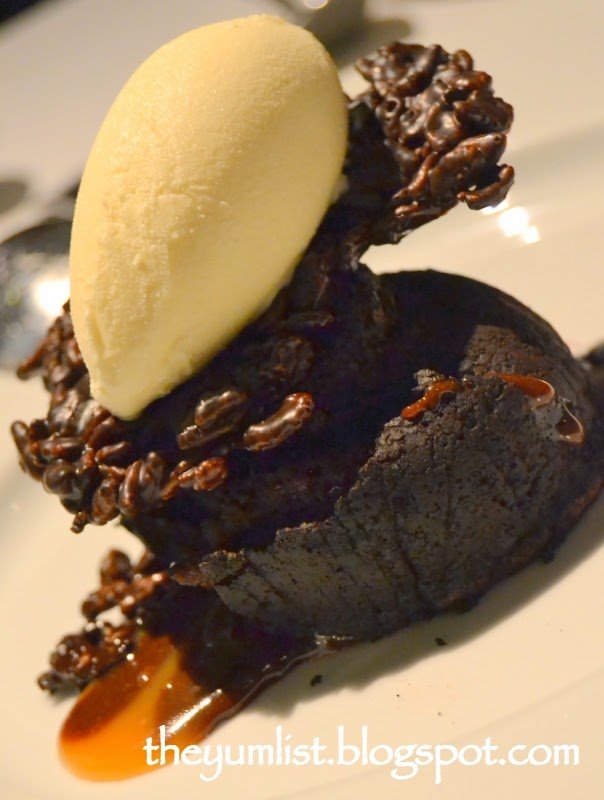 Dark Choco Fondant
with Peanut Butter
All jackfruit and mango lovers should try the Tangy Passion Fruit and Mango Trifle with Tropical Accents.  Served in a stem-less wine glass with multiple fruits and cream, this dessert was light and sweet, and serves as a nice palette cleanser.
Lastly we dipped our spoons into the high-tiered, multiple-layered Beasty Tiramisu.  The most creative tiramisu I've ever seen, I understand why it is has the namesake of the restaurant — it is a one of a kind dessert.  With a combination of coffee, ladyfingers, cocoa, and mascarpone cheese, this classic Italian dessert has fans all over the world.  The Beasty version – with its extravagant translation from a compact layer cake to a flamboyant dessert– will win you over as well.
As if to reinforce the flair of the food, at some point towards the end of our menu sampling, two dashing young acrobats appeared from the kitchen and entertained us with a mix of hip hop dancing, gymnastics, and mime acting around the table.  Just like the cuisine at BEAST, memorable is the word that comes to mind.  As if following the final act of a stellar performance, I wanted to give a standing ovation — to the dancers, to the hostess, to the chef, and of course, to the BEAST.
Reason to visit:  new a la carte lunch menu, stylish décor and service, Truffle Mac 'n' Cheese, Half-a-Lobster Pappardelle, Dark Chocolate Fondant Filled with Peanut Butter
BEAST
Ground Floor, The Intermark
Jalan Tun Razak
50450 Kuala Lumpur
Malaysia
+6 03 2163 5732