Words: Brooke Keel    Photos:  Monica Tindall
If you're staying at the Shangri-La's Rasa Sentosa Resort and Spa with the family, you might just have a midday hankering for some light comfort food on the beach. Trapizza (specializing in pizza and just next to the flying trapeze area) is a very casual, outdoor, beachfront restaurant. To keep kids happy, there is an adjoining playground just in front of the restaurant, as well as a very sweet and smart pizza dough making station off of the kitchen and within eyesight and earshot of the dining tables. Here young ones can roll out their own dough and keep entertained while learning about cooking.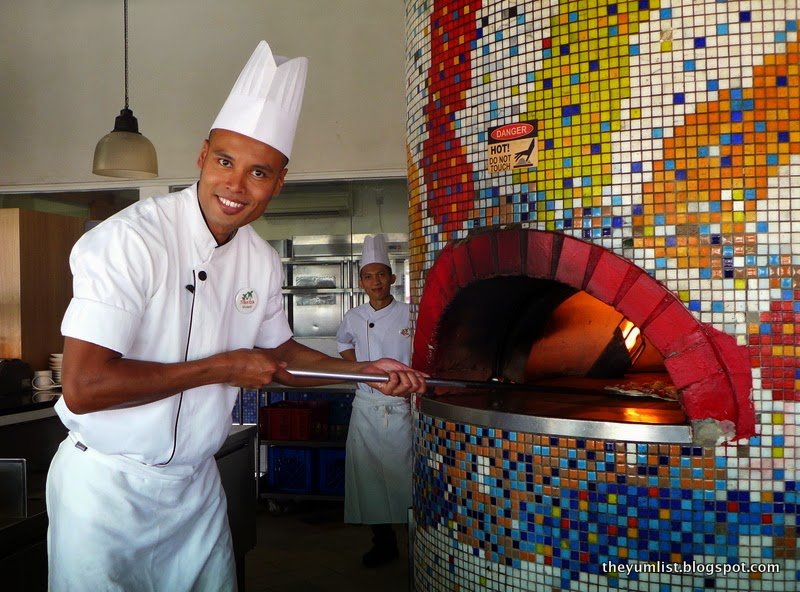 Pizza in the Oven
Food is tasty, simple and perfect for a very laid back lunch or dinner. For the grown-ups, we suggest the Trapizza Linguini ($22.90 SGD), a saffron infused pasta with creamy tomato paste, pieces of various fresh seafood intermingled with colored linguini noodles. It's colorful and flavorful, with a unique flavor that only saffron can offer. The Spaghetti Aglio Olio with Prawns ($20.90 SGD) was slightly spicy and peppery with plenty of garlic and chili flakes.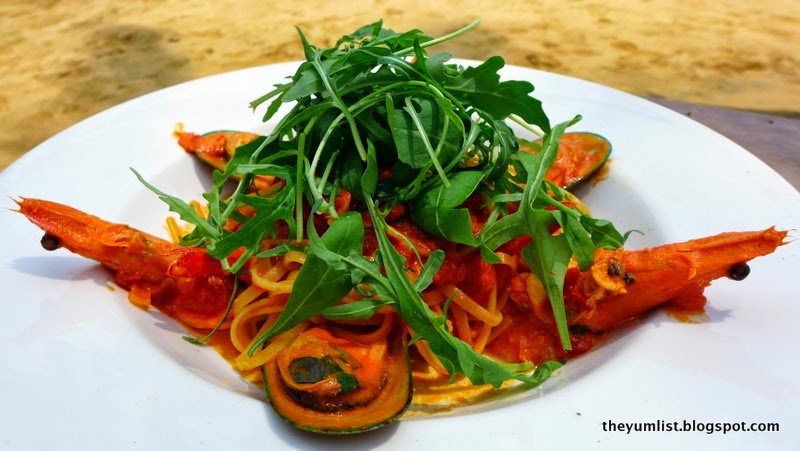 Trapizza Linguini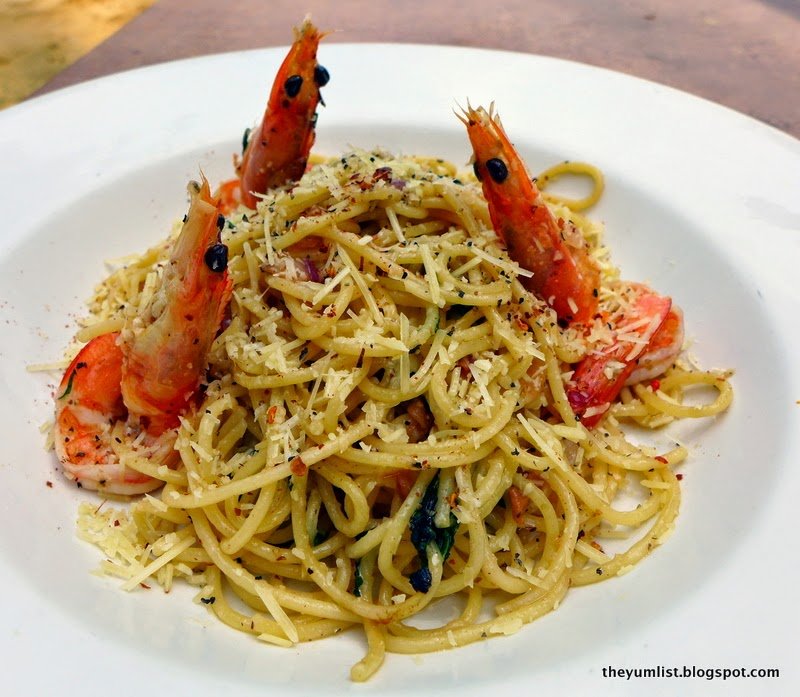 Spaghetti Aglio Olio with Prawns
On the lighter side, or for a starter, the Siloso Prawn Salad ($16.80 SGD) was fresh, with delicious prawns in a bed of greens with walnuts, and the Greek Village Salad ($14.80 SGD) was beautiful and mutli-hued with juicy sweet peppers.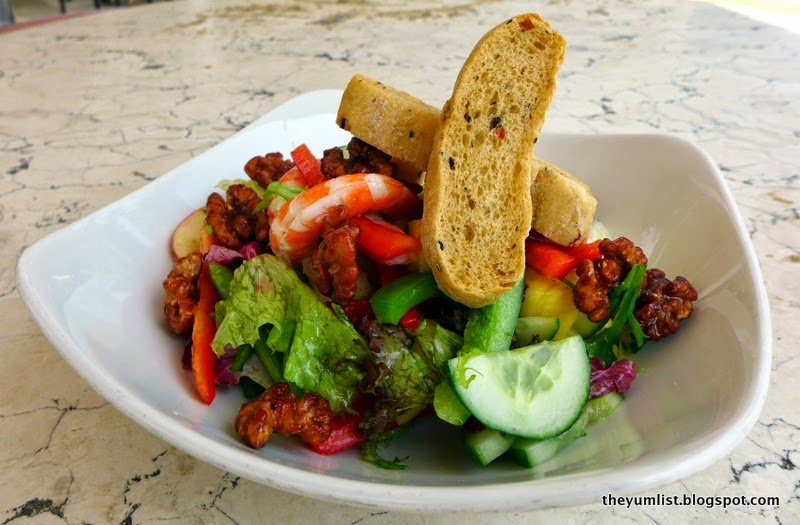 Siloso Prawn Salad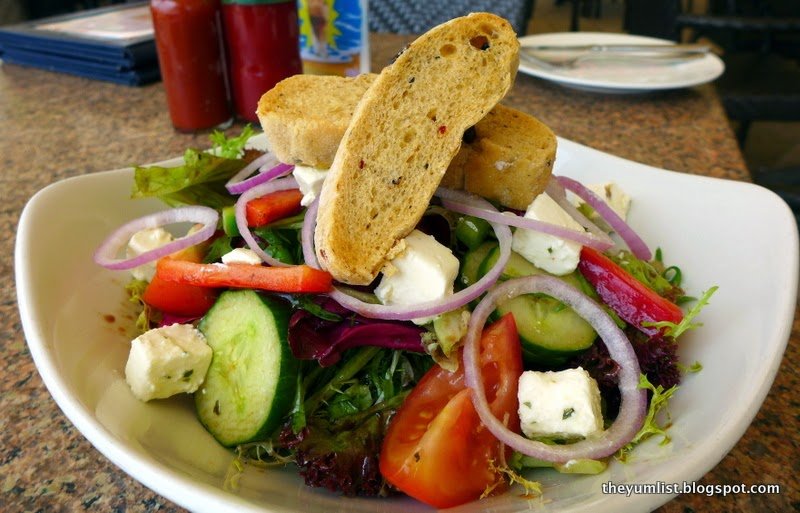 Greek Village Salad
If you're after the main event, the Pizza Siciliana ($23.90 SGD) is a multicolored delight, filled with traditional Sicilian pork sausages, salami, herbs, vegetables and mozzarella on a light and thin crust. The Pizza di Mare ($25 SGD) was perfectly light and salty, with prawns, mussels, smoked salmon, crab meat on light tomato paste and mozzarella over the crispy thin crust. These woodfire oven baked pizzas hit the spot, and are perfectly paired with a glass of wine or a spritzer. Try the sparking Rasa Cooler or the tropical Flying Trapeze – the kids might enjoy a coke float for a cold beachside treat, and their menu offers various pizzas or chicken and, comes with a juice and ice cream for $13.50 SGD.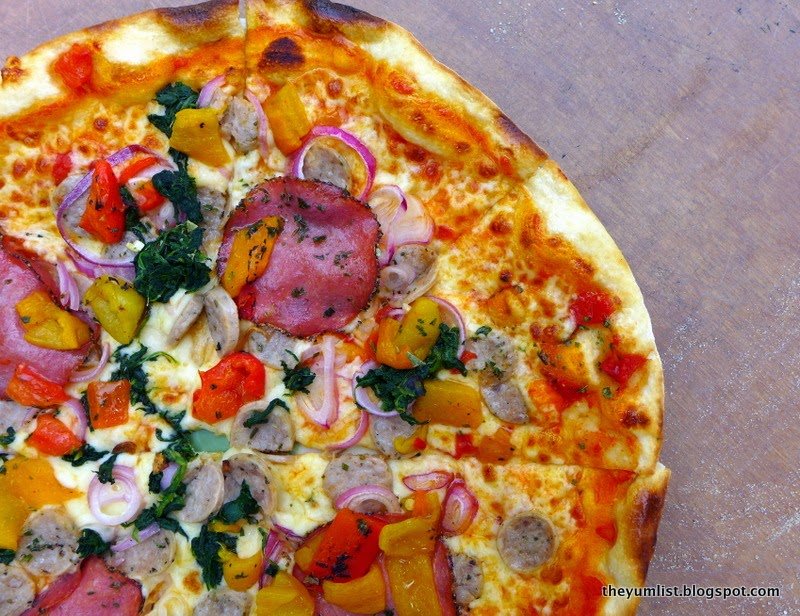 Pizza Siciliana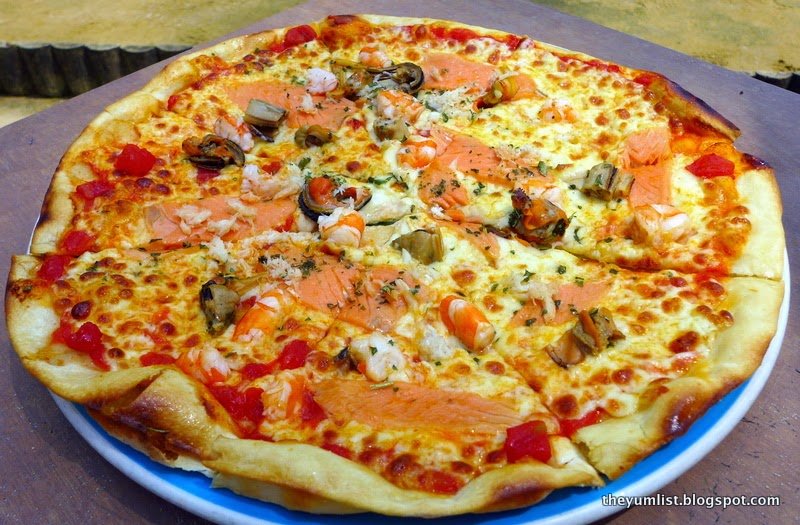 Pizza di Mare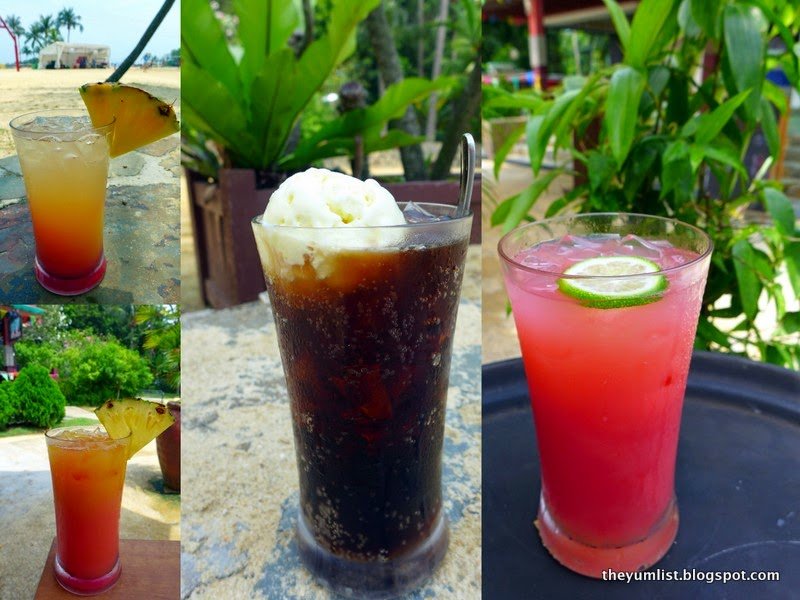 Signature Mocktails
Wine and Prosecco by the Glass
Reasons to visit: Casual atmosphere, yummy pizzas/pastas, playground and dough-making for kids
Trapizza 
Beachside at the Shangri-La's Rasa Sentosa Resort & Spa
101 Siloso Road, Sentosa, Singapore 098970
(65) 62750100
Hours: 11.30am – 9.30pm daily