words by Kristin Cosgrove
photos by Jennifer de la Montana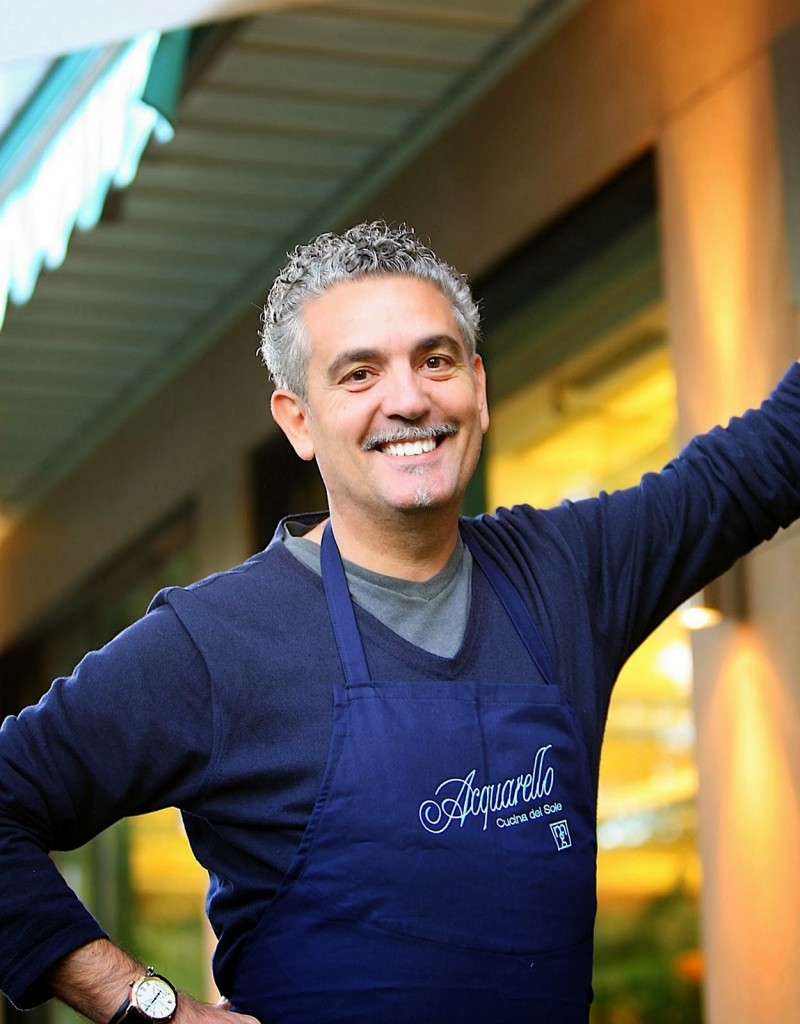 "My food, it is like a postcard of a region.  When you eat, you should be able to close your
eyes and see the countryside."  — Chef Mario
Gamba
A leader in luxury and exclusive experiences, Mandarin Oriental has once again impressed as they host Michelin-starred Chef Mario Gamba in Kuala Lumpur for a limited engagement.  "We share a taste for quality and ethics," compliments Gamba of the hotel.
Chef Gamba is showcasing the earthy flavour of truffles in his five and seven-course dinners from 19-22 November at the MO Grill. If you hurry, you may still be able to book a table for Saturday's wine pairing dinner featuring the fine wines of Chateau Cantermerle.
Chef Gamba, originally from Northern Italy, is owner of  Michelin-starred restaurant, Acquarello, in Munich.  Considered one of the top 100 in Europe, Acquarello was also named one of the top 100 restaurants in the world
by Forbes in 2006.
"To truly enjoy food, we have to open our hearts," says Chef Gamba, his accent thick.  He is full of inspirational
one-liners, thrown like pepper between his instructions for cooking risotto at a cooking demonstration on Wednesday.  His enthusiasm is contagious, and his quick smile and easy manner make him a truly likable character.  "When you are relaxed, you are a better chef," he muses, intently stirring the nine-year aged risotto.  Based on the taste of the risotto, I'd say this is one easy-breezy guy.
Following the demonstration, we were lucky enough to be guests for the amazing five-course menu,
but in typical MO style, five courses generously became seven and we settled in for a gastronomic journey into Gamba's world of fine, fresh ingredients and simple dishes with distinct flavours in each.  Gamba believes you should be able to taste the ingredients in every dish, appreciating how each  compliments the next.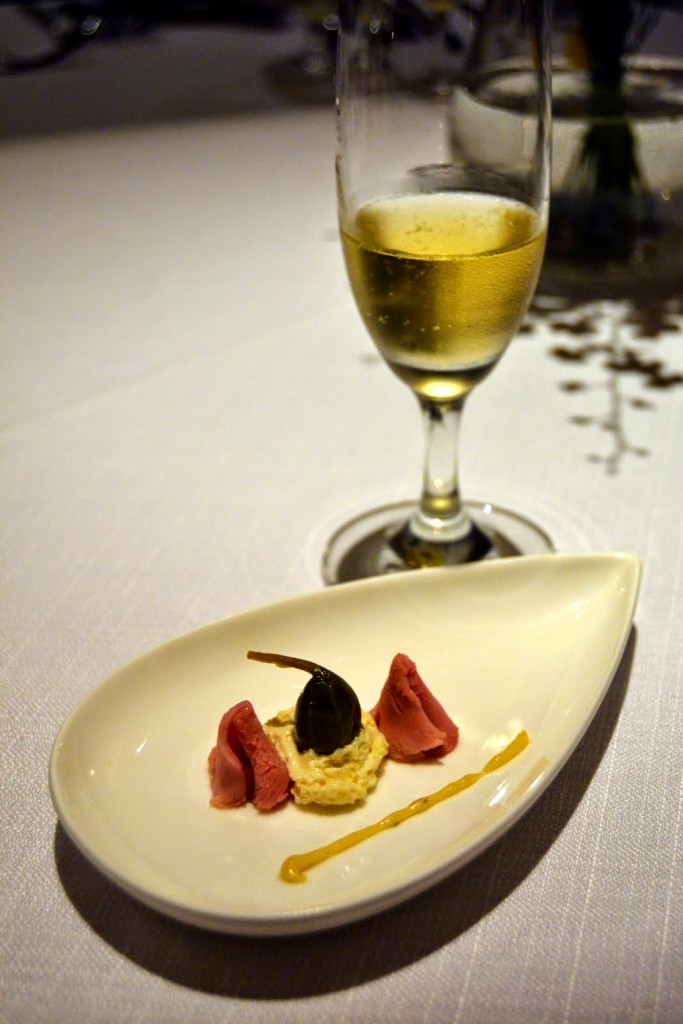 Amuse bouche of veal and tuna whetted the appetite for more.  The tuna mousse was soft and light, the flavours subtle.  A drizzle of mustard gave a tiny bite to the mild veal.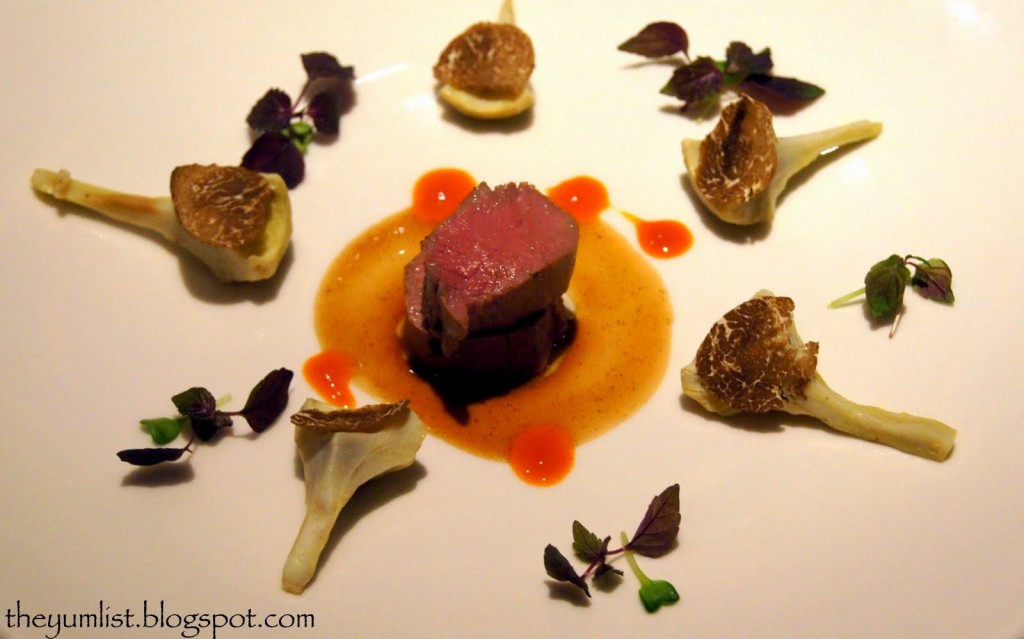 Warm Veal Fillet with Artichoke Salad and Basil Oil
Warm Veal Fillet Salad with Artichoke and Basil Oil was delightful.  The veal sang in my mouth along with the zesty reduction of orange and carrot, which brought out a lemony tang in the crunchy artichoke.  Floral flavours were balanced with the earthiness of the black truffle shavings.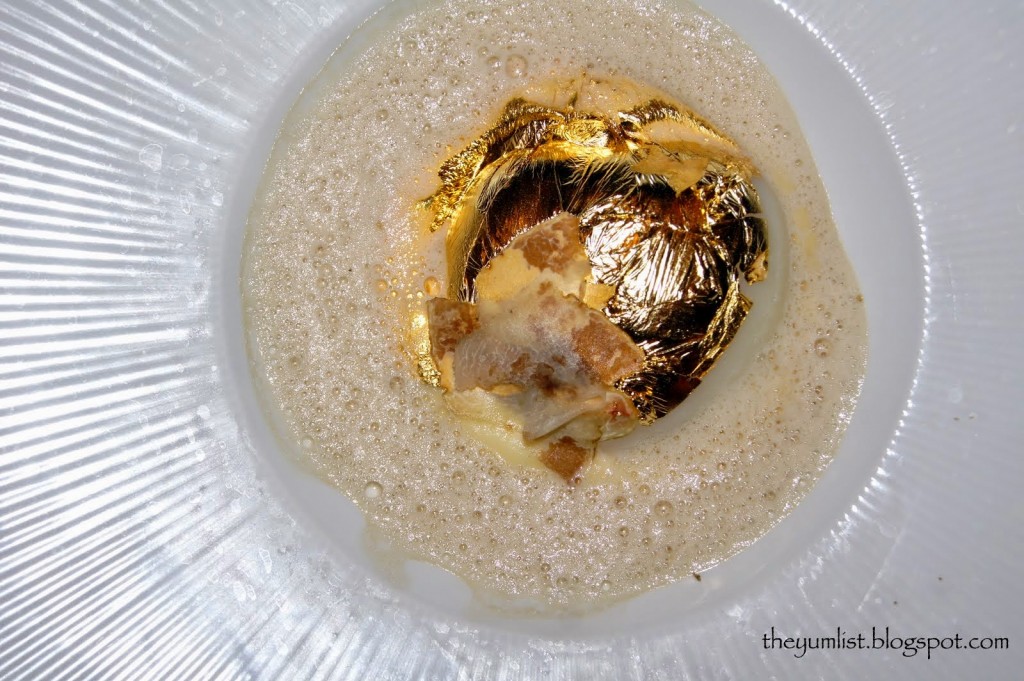 Truffled Egg
The Truffled Egg burst from the plate like a glowing sun.  Gold leaf adorned the center, surrounded with a light but very creamy and delectable foam of Madeira and shavings of white truffle.  Later, Gamba would explain that the eggs are kept in a box with truffles for several days, allowing the flavour to permeate the shell and into the egg.  The egg is then cooked for several hours at a very low temperature to get just the right flavour and texture.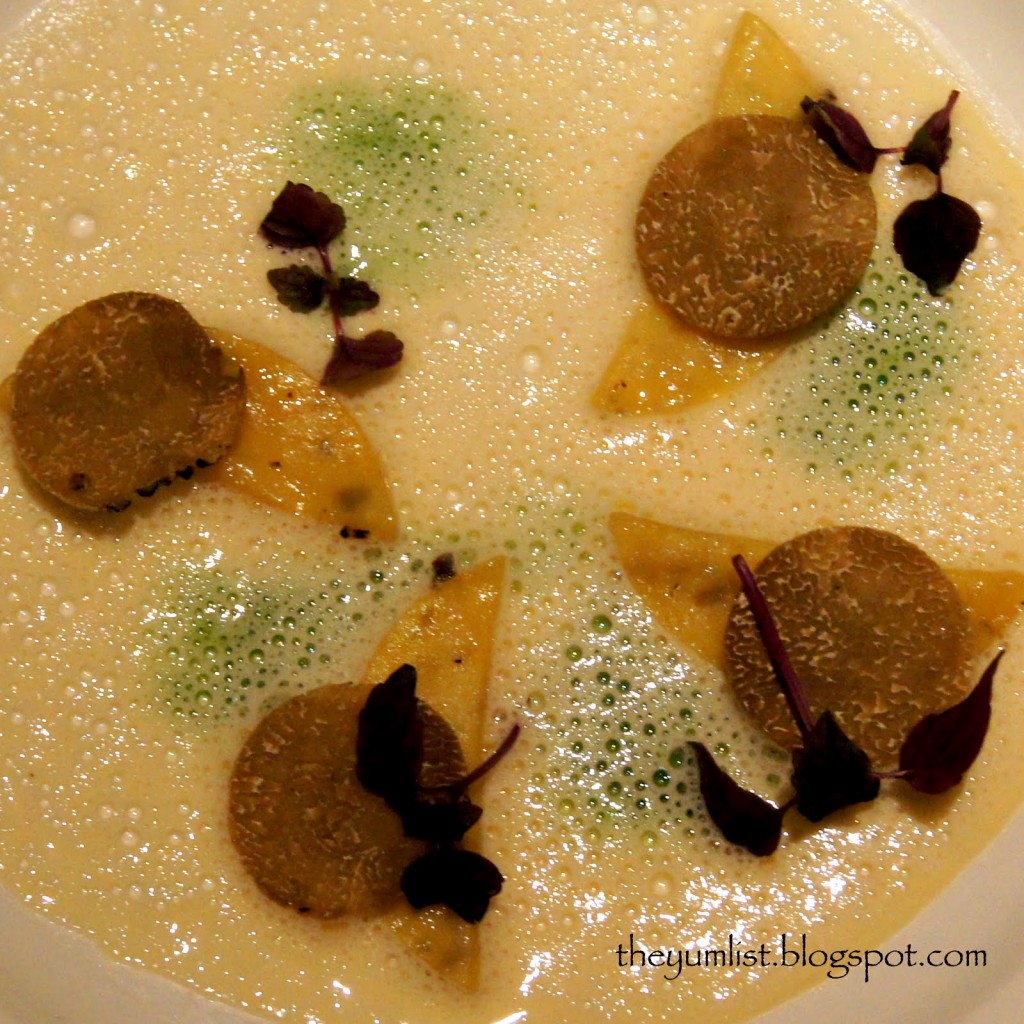 Potato Ravioli with Sherry Foam and White Truffle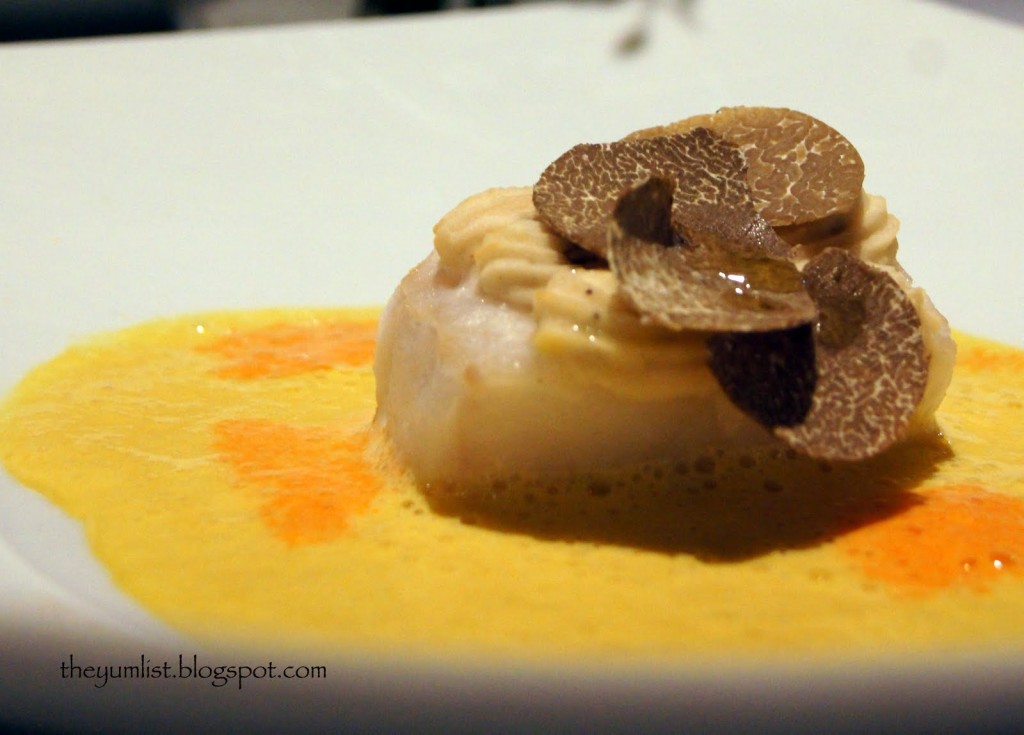 Filet of Cod with Cannellini Beans and Bell Pepper Coulis
The fillet of cod topped with a piping of cannellini beans has a bitter bite, which is pleasantly offset by the duet of bell pepper coulis.  The bloom of truffle shavings on top ties the tastes together.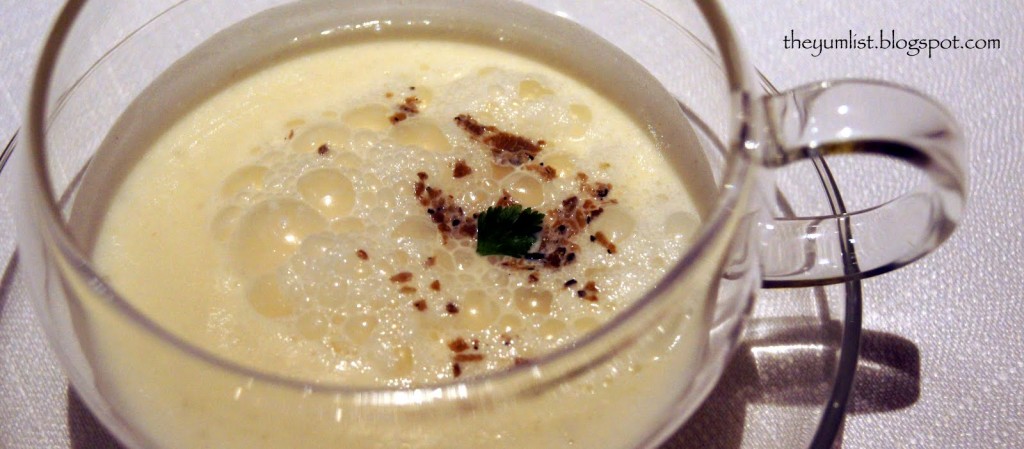 The Cappuccino of Potato Foam is extremely light but fully flavoured, with scattered black truffle specks.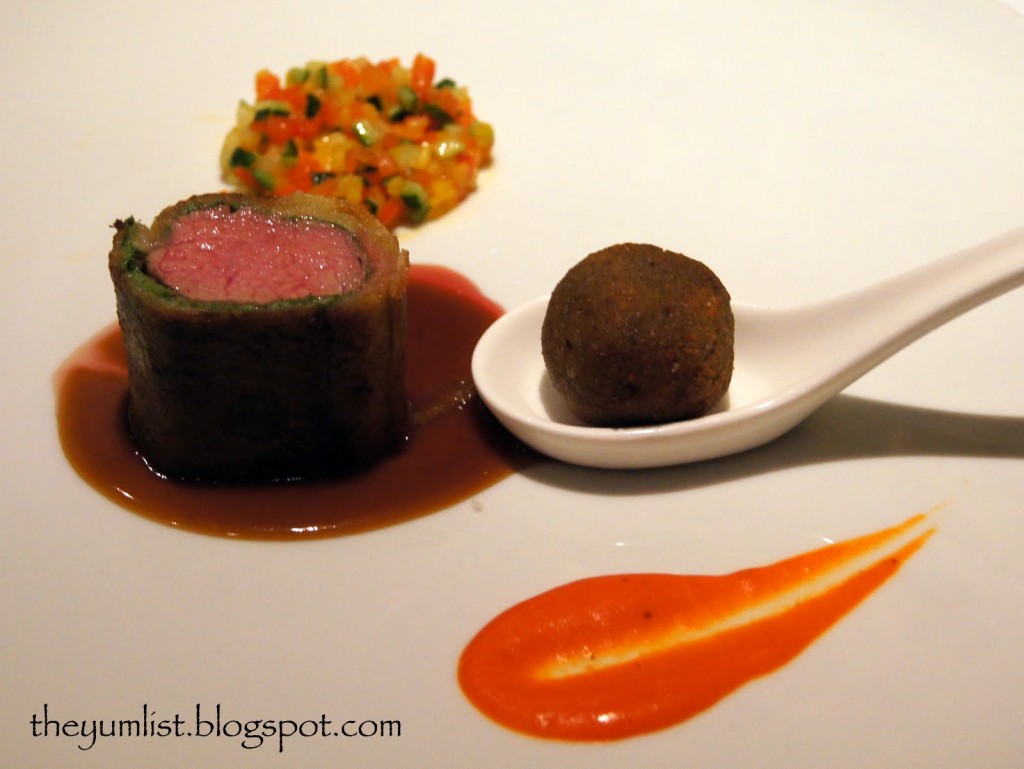 Lamb Loin in Bread Crust
My favourite dish of the evening had to be the Lamb Loin in Bread Crust.  The herbs used to coat the lamb were impeccable, highlighted with the salty sweetness of the rosemary jus.  Baked eggplant praline artfully balanced on the plate was art even the tongue could enjoy.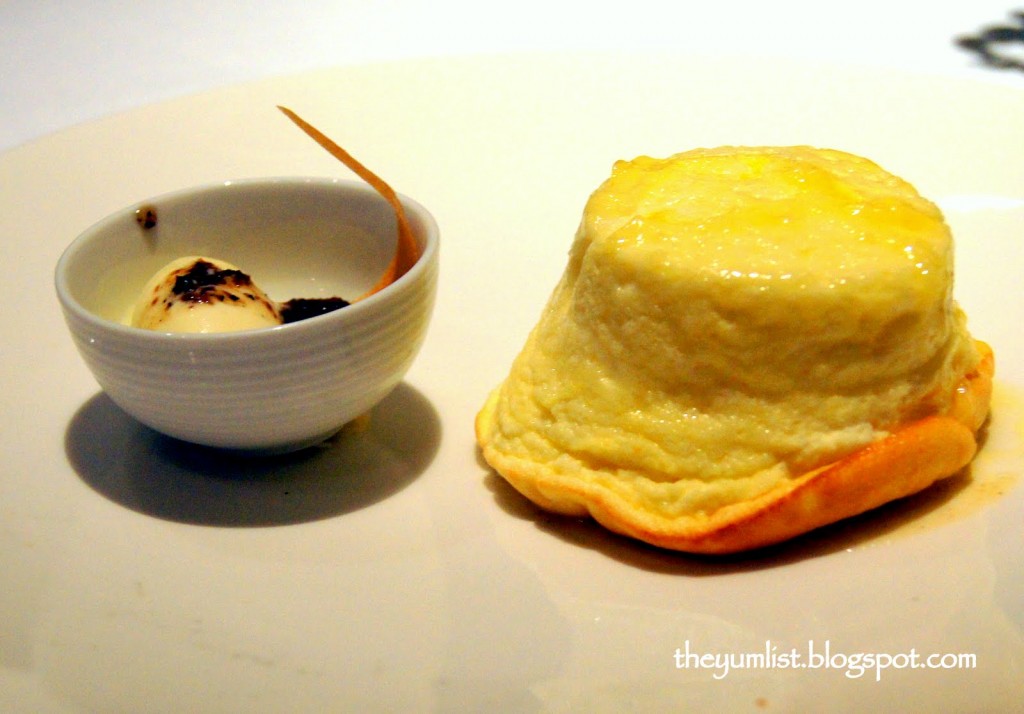 Ricotta Souffle with Pear Couli and Truffle Ice Cream
Not to be left out of the truffle theme, the dessert was a surprising and faultless Ricotta Souffle with Pear Coulis and White Alba Truffle Ice-Cream.  The souffle was understated, the sugar lining the bottom gave it a hint of sweetness and a tiny crunch, while the pear coulis added zing.  It worked perfectly with the sweetness of the ice cream and the intense flavour of the truffle.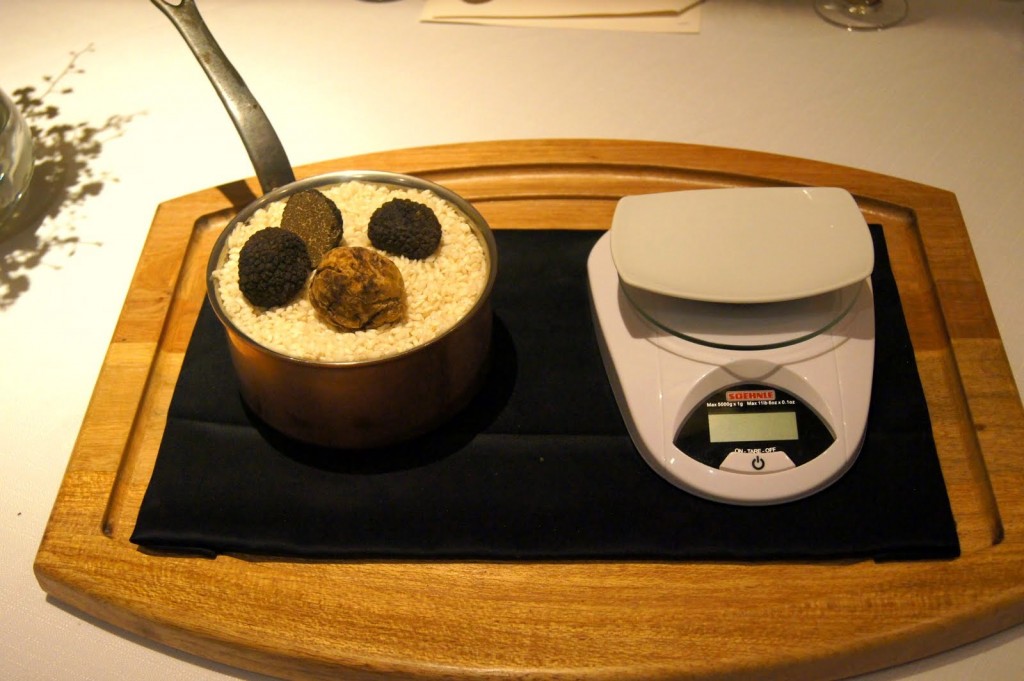 Truffles for sale by the gram
Mandarin Oriental Grill is also selling truffles by weight. Cost is RM180/gram for black, RM90/gram for white.
Chef Gamba visits our table after the meal, asking each of us our favourite dish with sincerity, and eagerly answering questions.  As he left he said, smiling, "Be sure to dream with your eyes open, that way you can see them come true."
I'm thankful to have shared his dream for an evening.
Reason to Visit:  Exclusive 5 and 7-course dinners by Michelin-starred Chef Mario Gamba, truffles!, and an always-remarkable dinner at MO Grill.
Available 19-21 November, Mario Gamba's special 5-course dinner is priced at RM498++ per person while the 7-course is priced at RM698++.  Enjoy a 6 course menu paired with wines of Chateau Cantemerle on 22 November – 7pm for RM598++ per person.
Mandarin Oriental
Mandarin Oriental, Kuala Lumpur
Kuala Lumpur City Centre
50088 Kuala Lumpur
Malaysia