Words and Photos by Kristin Cosgrove
Cake is often the centerpiece of celebratory occasions, from holiday dessert tables, to birthdays and weddings. When we share one with friends, we want it to be good!  A delicious cake is always in demand, and a frequent question that comes up among expats is, "Where can I find a good cake?" I'm happy to have added Bisque to my list of great cakes, AND they deliver! We recently had two delivered to try, the Elvis and Creamy Cookie.
Both cakes were pretty to look at, and I'd be proud to serve them.  The frosting is elegantly piped into the middle and on top, allowing one to enjoy the moist cake bases and flavors still with ample frosting, but with a more sophisticated presentation. Bisque prides themselves on premium ingredients, and I can taste the difference.  These cakes and desserts are homemade with no artificial flavour, preservatives, cake stabilizers (ie ovalette) or enhancers.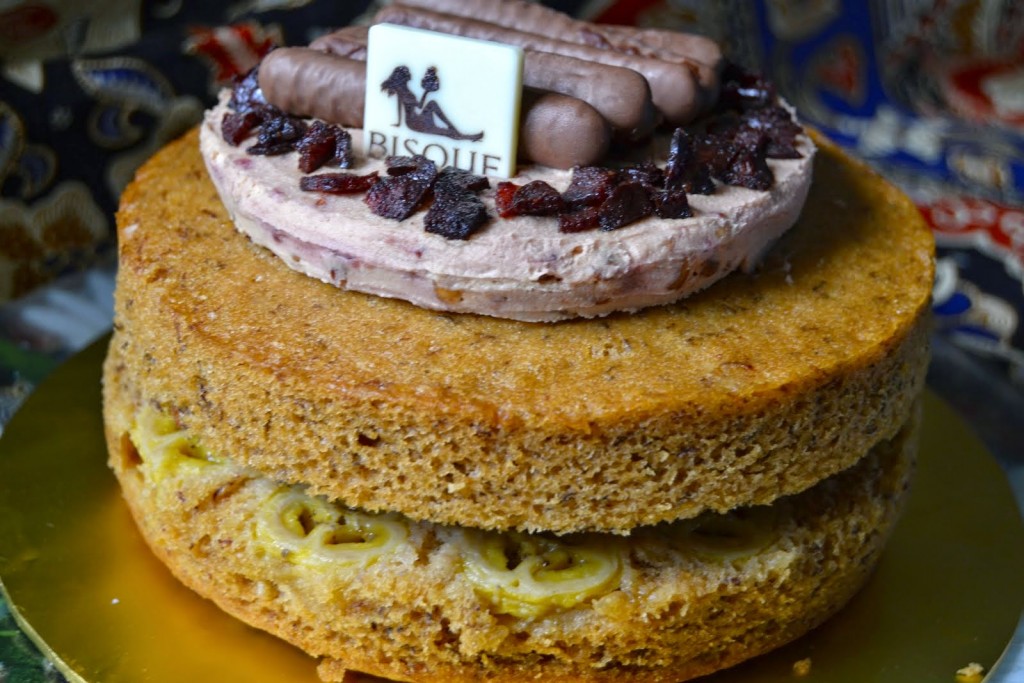 The "Elvis", Banana Cake with Peanut Butter and Jelly Frosting, topped with Maple Syrup Beef Bacon Bits
I tasted The Elvis before I was privy to the name, so I my taste experience wasn't preconceived, but a delightful surprise. The cake itself has understated banana sweetness, with a rich peanut butter frosting that has a zing of raspberry jam added. The frosting isn't at all cloying, but adds a complexity to the simple banana cake.To my surprise, I would occasionally bite into a chewy bit with a smoky, salty punch.  Upon closer inspection, what I at first thought were dried fruit bits are rather bits of beef bacon sprinkled on top of the frosting. In fact, these bits are maple syrup beef bacon bits!  The saltiness teases the tastebuds just the right amount to keep the cake interesting, but doesn't overpower.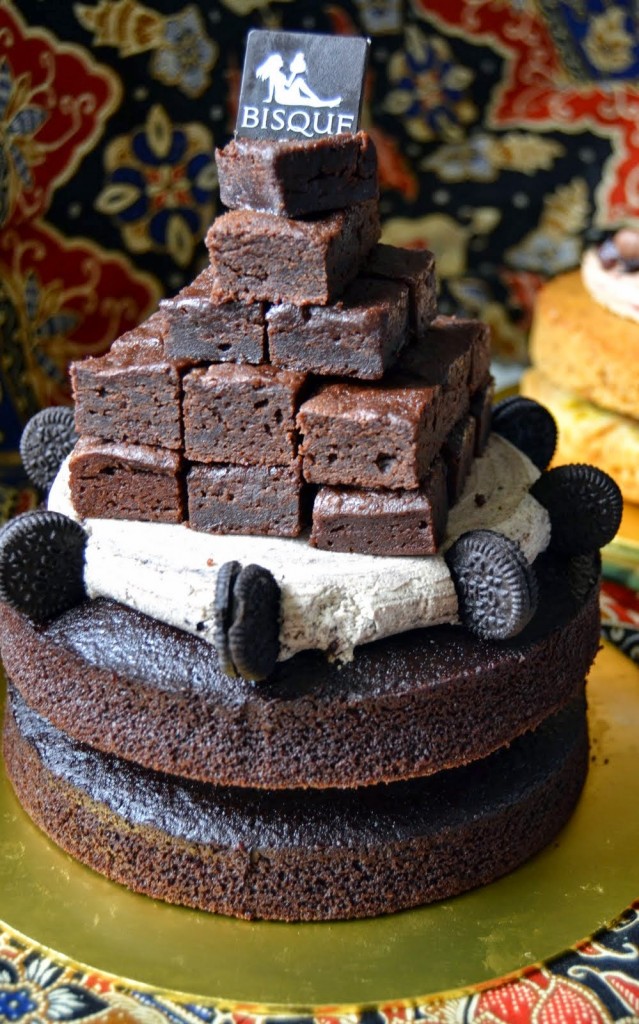 Creamy Cookies Cake
The Creamy Cookies cake is a chocolate lover's dream, especially when topped with the impressive tower of optional Valrhona brownies. The brownies are so lusciously moist and sticky they are nearer to fudge than American-style brownies. The cake itself is also made with Valrhona chocolate, and is impossibly moist and fluffy. The Oreo cookies mixed with white ganache makes for a fantastic frosting that left me licking the knife after cutting.
Bisque cakes come in 7" or 9" sizes and in varying flavours including classics like Red Velvet and Valrhona Chocolate Couture, as well as Lamington, Maverick Mint, Butterscotch Bliss and Opulent Ocha among several other yummy options.
Prices start at RM108, with add-ons like an extra layer, Valrhona Brownies and seasonal fresh fruit.  Delivery is RM30 for W. Persekutuan, Selangor, Johor Bahru and P.Pinang, or you can collect at LG 08 Emerald Plaza North, Jalan PJU 8/3A, Bandar Damansara Perdana, 47820 Petaling Jaya, Selangor, Malaysia. Order three days or more in advance.
Reason To Visit: Quality ingredients for quality cakes, delivery service or pick-up, pretty to look at and a delight to eat, many interesting flavours along with standard favourites.
Bisque
LG 08, Emerald Plaza North
Jalan PJU 8/3A
Damansara Perdana, Petaling Jaya
47820 Selangor
Telephone: +603-74965608
Website: CLICK HERE