The chic and compact boutique property, Hotel Pennington by Rhombus, lies in the heart of the buzzing shopping, business and dining district of Causeway Bay. Contemporary design, high-tech amenities and convenient location, make it a great choice of stay for guests wanting to get out and see the city, or business travelers needing a suitable base for work.
Jardine's Crescent (street market) is literally at its doorstep, endless local and international eateries line the surrounding streets, and the MTR is less than a five minute walk away taking you to just about anywhere in the city without fuss.  The Hong Kong Convention and Exhibition Centre are just down the road, as too are iconic shopping centres such as Times Square, SOGO, Lee Gardens and Hysan Place.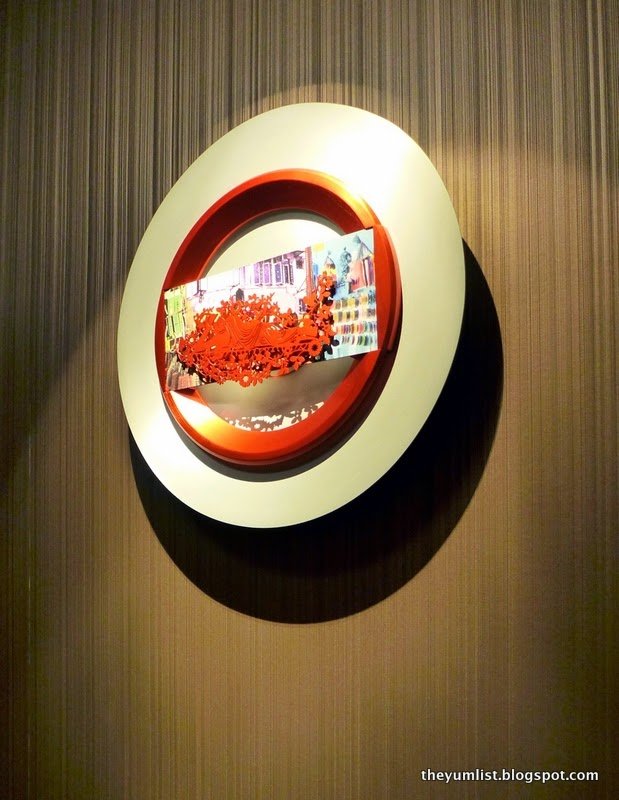 Hallway Decor
Our initial and final experiences take place at the guard station on the ground floor. The hotel lobby is on the fourth floor, so it's the bellboys and guards who make the first impression. And… it's nothing but positive to say the least. They can't seem to be any friendlier or more helpful. Right up to the moment we leave, one of the ground crew waits out on the streets, heralding our shuttle bus, ensuring our bags are on securely and waving us goodbye.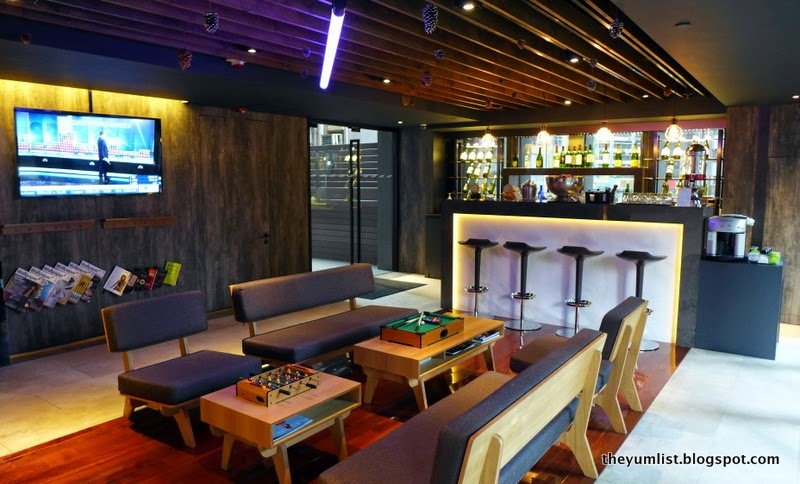 Lobby
Escorted to the main reception, we find a petite yet modern space, offering both indoor and outdoor seating and a small bar. Check-in is speedy, which seems to be the very pleasing norm in Hong Kong, and we're in the lift on the way to our room without delay. Funky music plays in the elevators, making us believe we're a little groovy and hip, and we note the control panel is sterilized every two hours – seems hygiene is taken seriously.
Outdoor Patio
Superior, Deluxe, Premium and Executive Rooms offer an ascending scale of space and price, with the Studio Suite being the largest available. All 79 rooms are cosy chambers, but area is well utilized with streamlined furnishings and efficient use of space. Our Executive King Room sports a firm and supportive king-size bed dressed with quality cottons, a desk, bathroom, and wardrobe.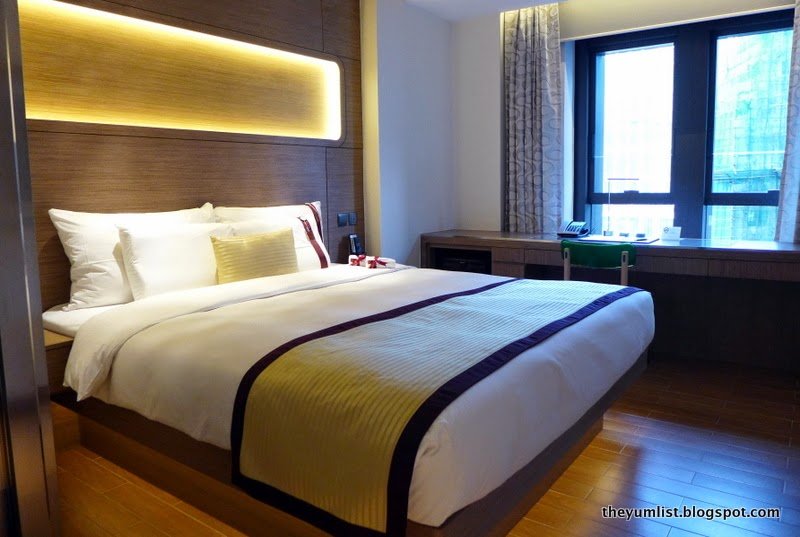 Executive King Room
While the room is compact, the inclusion of plush comforts is not. There's a choice of soft or firm pillows, THANN bath products, Grohe shower with multiple settings and a powerful massage jet, mini bar, safe and hair dryer. Dark tiles are broken with pebbled mosaics, and glass enclosures cloth the bathroom with fashionable appeal. Automated curtains and black out blinds are a nice touch too.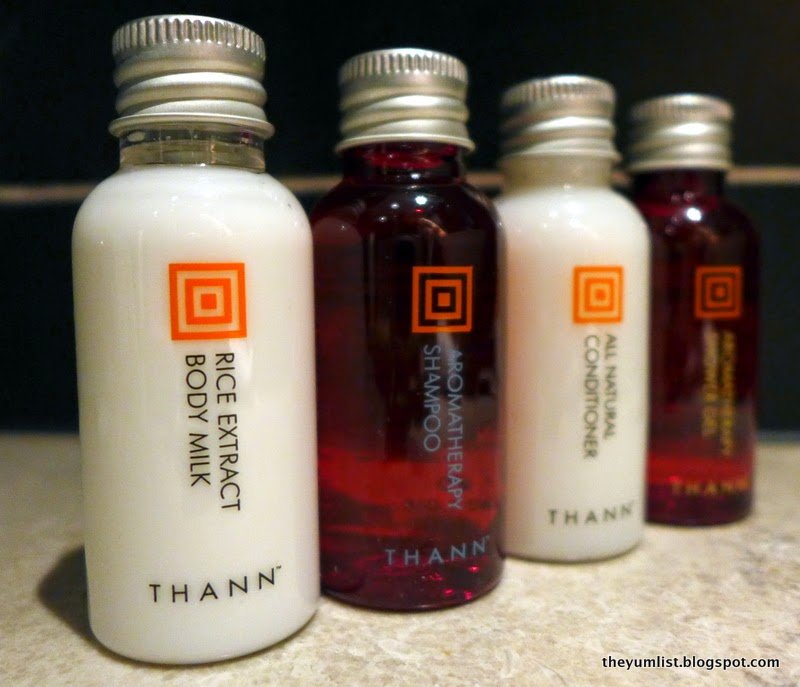 THANN Sanctuary Bath Products
Staying connected is easy with complimentary wireless Internet access, hi-tech power tracks with USB-charging and sliding power sockets, and a 40-inch LED TV using a top-quality surround sound system.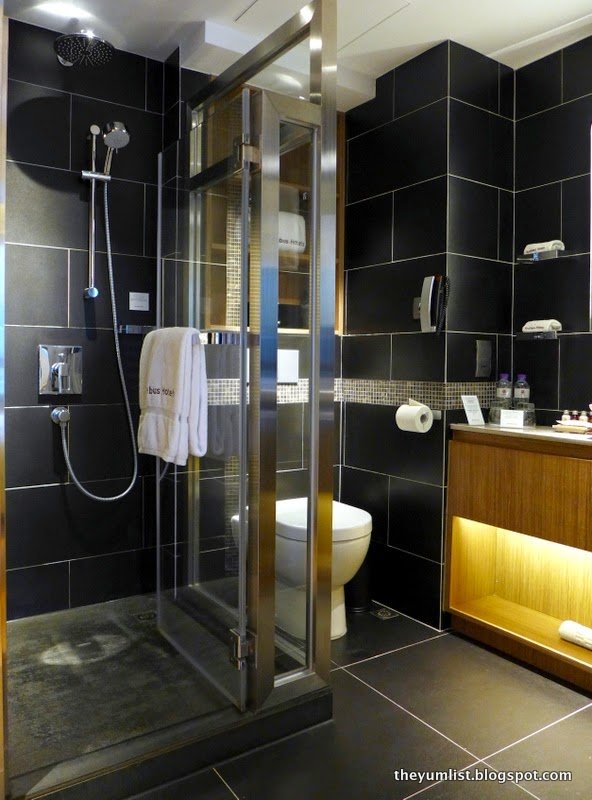 Bathroom
An interesting feature that we have not come across in many hotels, is the permission to bring pets. They must be small creatures, less than 25lbs, and a maximum of two are allowed in a separate chargeable guestroom. Exclusive pet care amenities are provided so your loved dogs and cats can be pampered while you work or play.
Complimentary daily set breakfast at Casa Pennington comes with most room rates. Awash with dark lustrous colours, warm leather seating, steel, and exposed filament light bulbs, Hotel Pennington by Rhombus' all-day-dining restaurant is a rather trendy affair. Breakfast is a simple choice of eggs, cereal or dim sum. While it's not gourmet fare, it's a quick and convenient way to start the day.
Reasons to visit: clean chic boutique hotel in the heart of buzzing Causeway Bay; facilities provided
for small pets.
Hotel Pennington by Rhombus
13-15 Pennington Street
Causeway Bay
Hong Kong
+852 3970 0688