Words: Kirsten Durward     Photos: Monica Tindall
Readers will know that there is a plethora of brunches around KL that we Yum Listers love to munch at.  Relatively new on the brunch beat is Bubblylicious Brunch at El Cerdo, which really should be renamed Porkylicious Brunch, although I suppose the alliteration is not quite as good. On the website El Cerdo promises perfected pork cooking with flavours from all over the world, and we're hanging out to try them all. Sitting outside the ambience is definitely upbeat Mediterranean or Latin style and with the salsa rhythms drumming over the speakers you can easily feel yourself on holiday.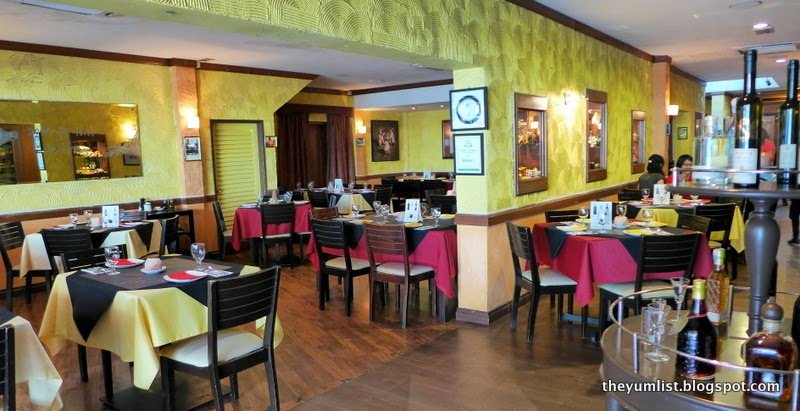 El Cerdo
We begin with a cold appetizer buffet, which proves to be a table groaning with cold cuts: really taking advantage of the porky theme. We pile on everything from black peppered ham to jellied terrine, through roast pork salad with a nip of dill pickle and salchicha slices. With a little salad on the side, herbed mantequilla, and two types of pâté, suddenly I'm wondering where we're going to put the rest of the meal. All the appetisers are seriously scrummy but my personal picks are the French Rilletes and the Duck Liver Pâté.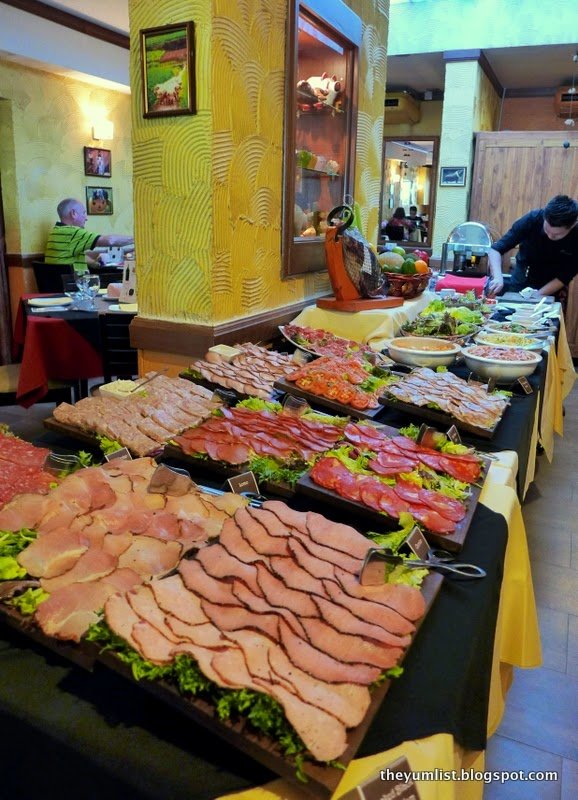 Appetizer Buffet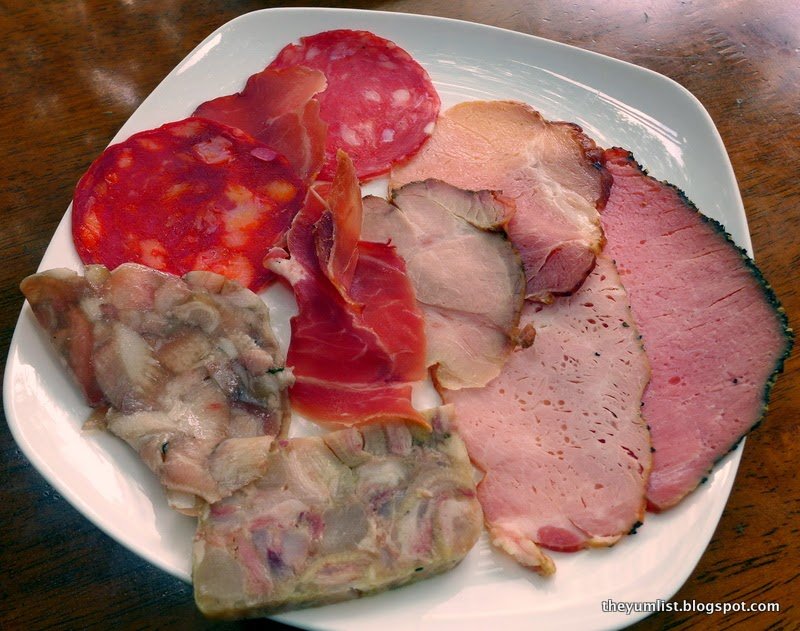 Cold Cuts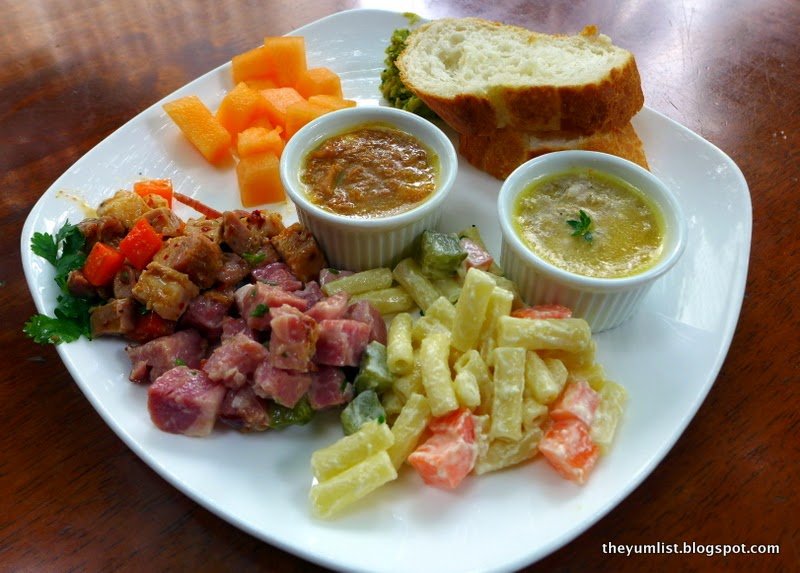 From the Appetizer Buffet
A cold Tiger would definitely complement these savoury delights, but as we have free flow Cava on offer, that seems to be the way to go. The Noche y Dia is a bright pale yellow colour, fresh and dry to taste with fine constant bubbles that leaves a pleasant lasting finish.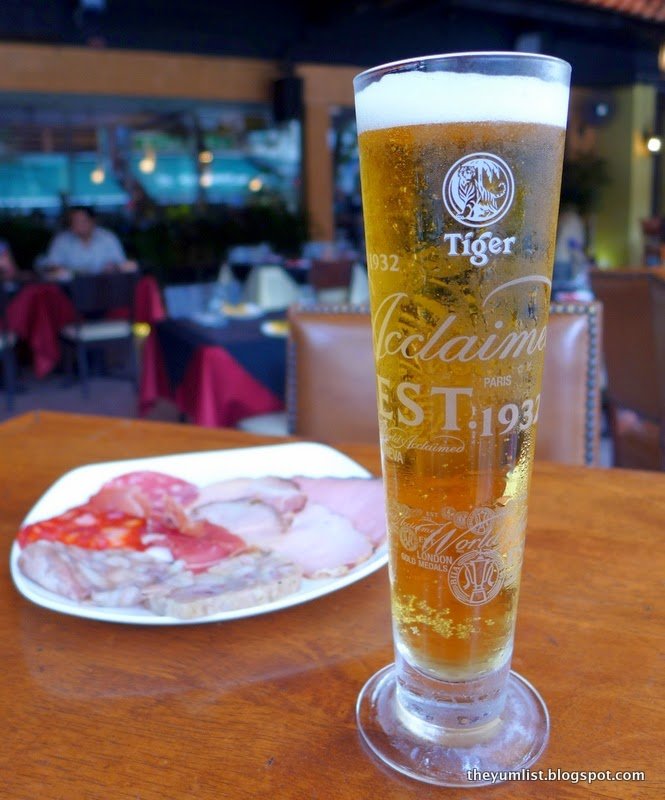 Free Flow Tiger Beer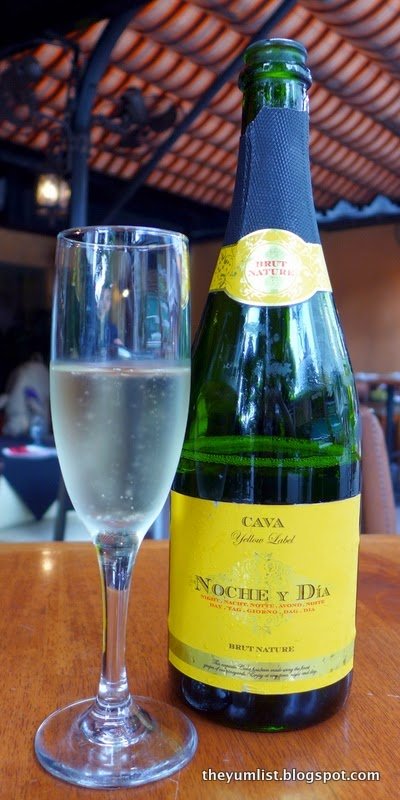 Noche y Dia Cava
A hearty platter of sausages with mash appears in front of us. We ask about the making of the sausages and are told that they are made to order to El Cerdo's specification on cuts and marinades. Monica and I particularly enjoy the 'pigs in a blanket' – teeny mouthfuls wrapped in crisp salty bacon, scooped up with a forkful of mellow sauerkraut.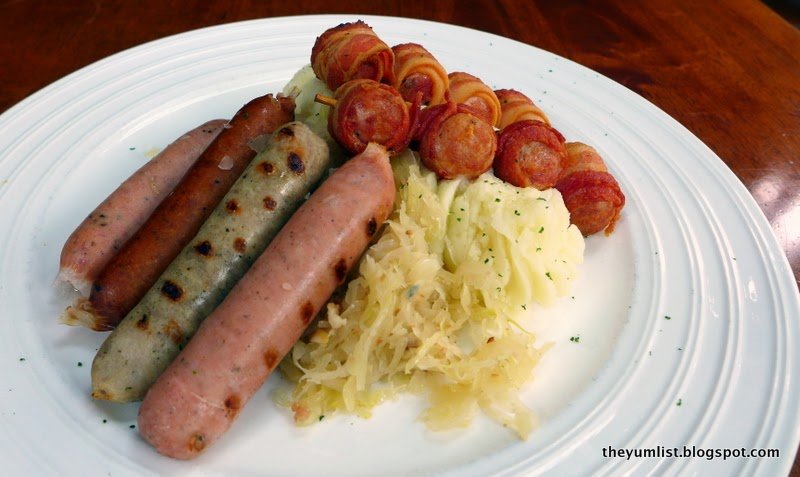 Sausage Platter
The next course would be pasta, and diners can select from a choice of four. We try only one as we have our eyes on all of the dishes in the next 'Meat' course. Spaetzle with Cheese and Ham is what catches our eye and we're glad that it did as we fork up the tiny sticky dumplings with their gooey rich coating. Not something you'll find anywhere else in town methinks.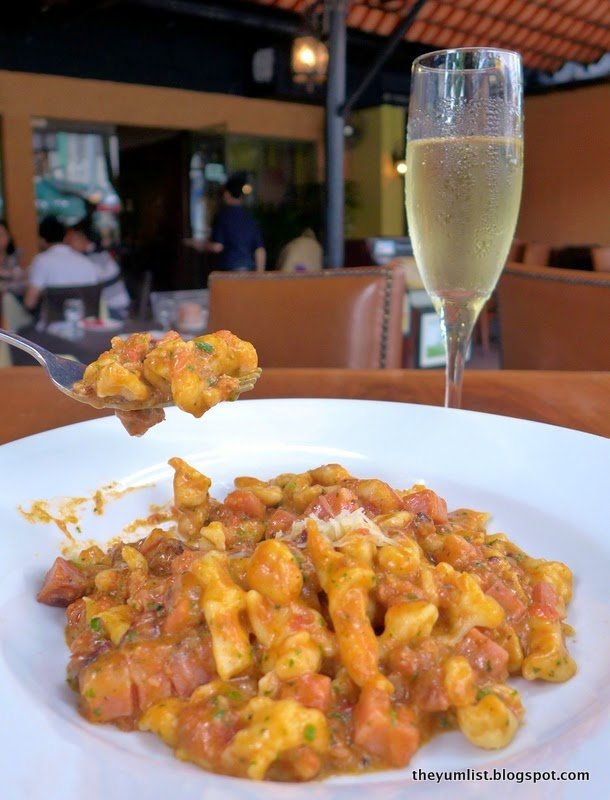 Spaetzle with Cheese and Ham
Monica and I are doing due diligence checking out the house wine, which comes as part of the full free flow package. The white is a Serres Rioja Viura 2012 with a slightly pithy citrusy aroma. We enjoy its pleasant light fruity taste with just a hint of green to add interest.
After a short digestion break our meaty plates continue to flow. Next up are some Hickory smoked baby ribs, very sticky and juicy with soft meat and a lip-smacking slightly spicy sauce.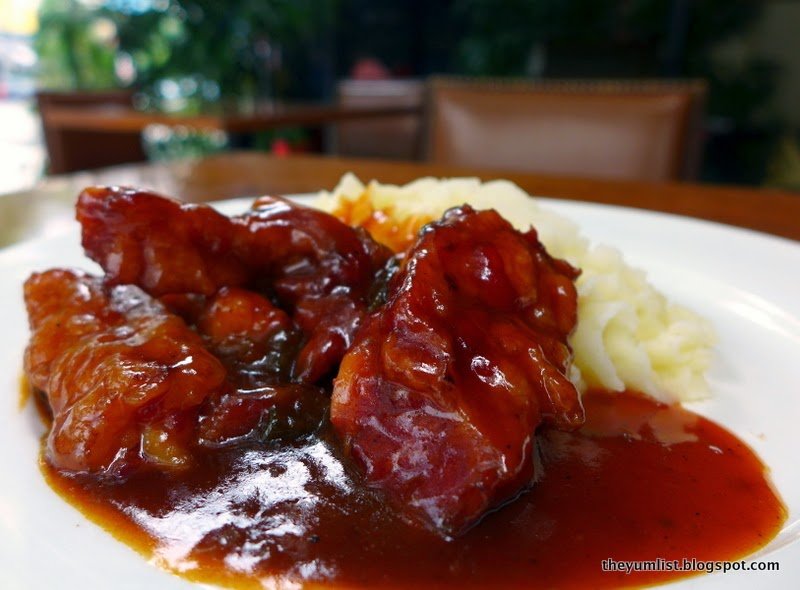 Hickory Smoked Iberico Soft Ribs
I've always liked Schnitzel since ski holidays in Austria, but I haven't had it for a long time. I'm intrigued by this version, the meat has definitely been battered soft before being encased in a very flavoursome crumb.  It's a tasty serving, but what gives it some oomph is the fresh blueberry compote on the side. Yum scrum.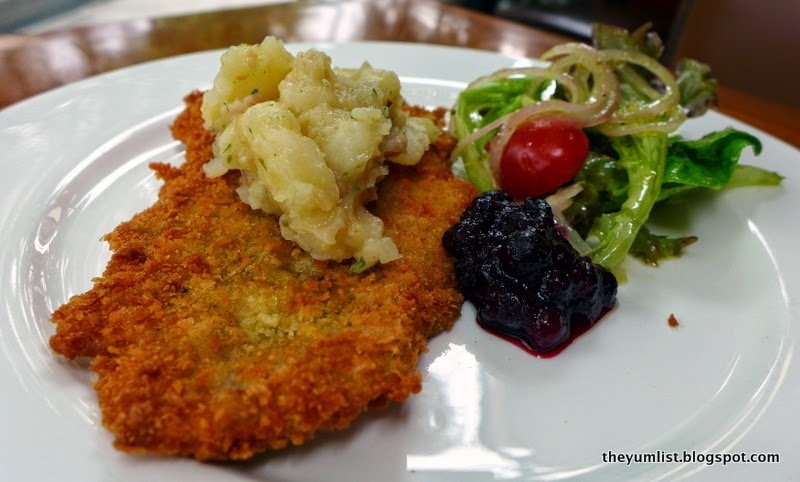 Wiener Schnitzel
Seared pork steak from the grill is juicy and moreish with the contrasting textures of crispy shredded crispy leek, and a soft apply mash. Plenty here to delight hearty meat eaters for sure.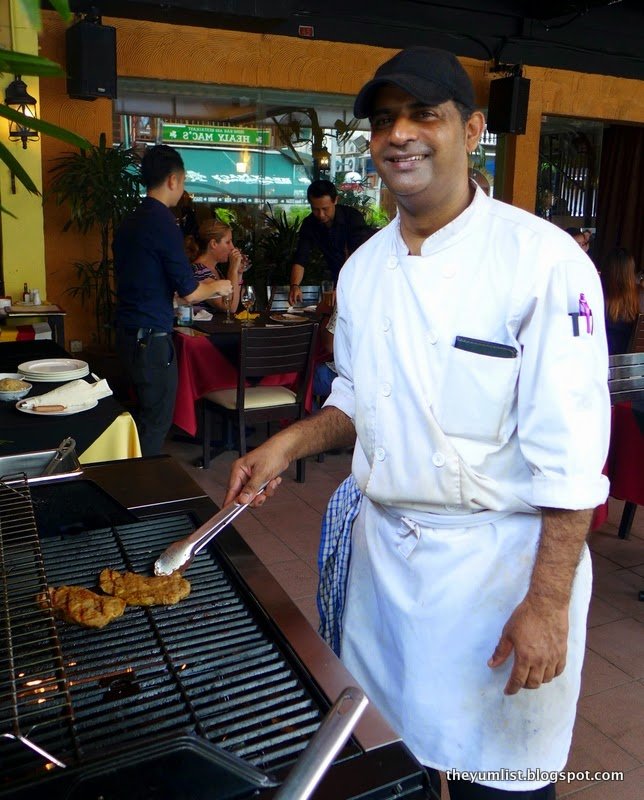 Chef at the Grill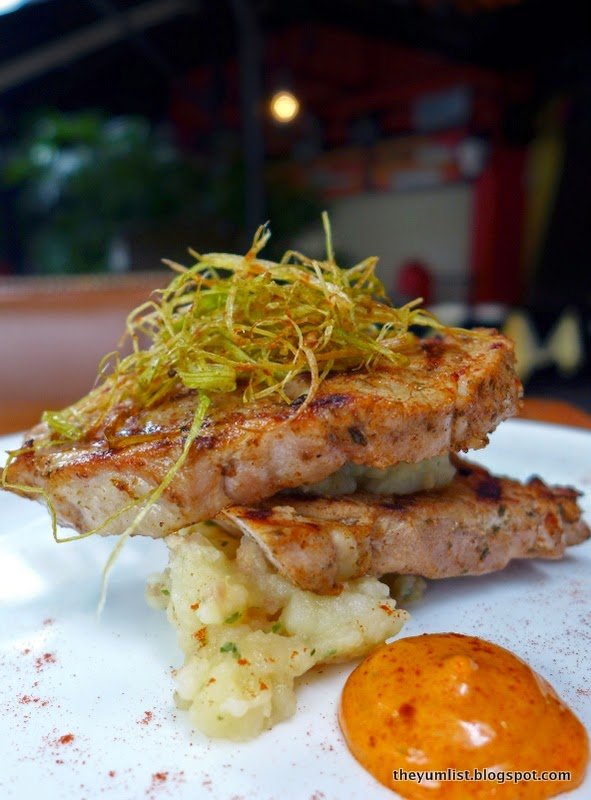 Pork Steak
The most unctuous and comforting dish we taste is a deep red Iberico Ribs Stew flavoured with slices of Spanish sausage. I love the thick beany texture and the richness of the sauce, and call the dish rustic, yet 'suave.'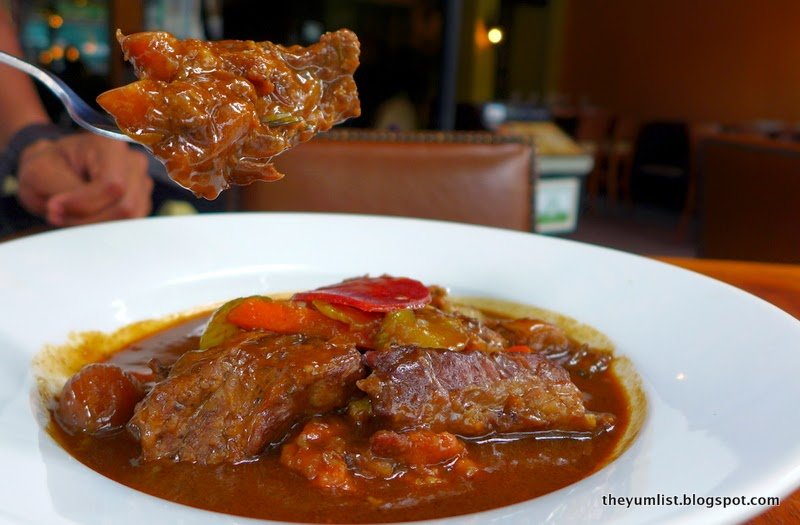 Iberico Ribs Stew
Super sipping with this last dish is the house red – the Serres Tempranillo Rioja. A medium bodied red with some plum and berry flavours, this wine has a slightly dusky undertone that makes me think of the hot dusty summer in central Spain.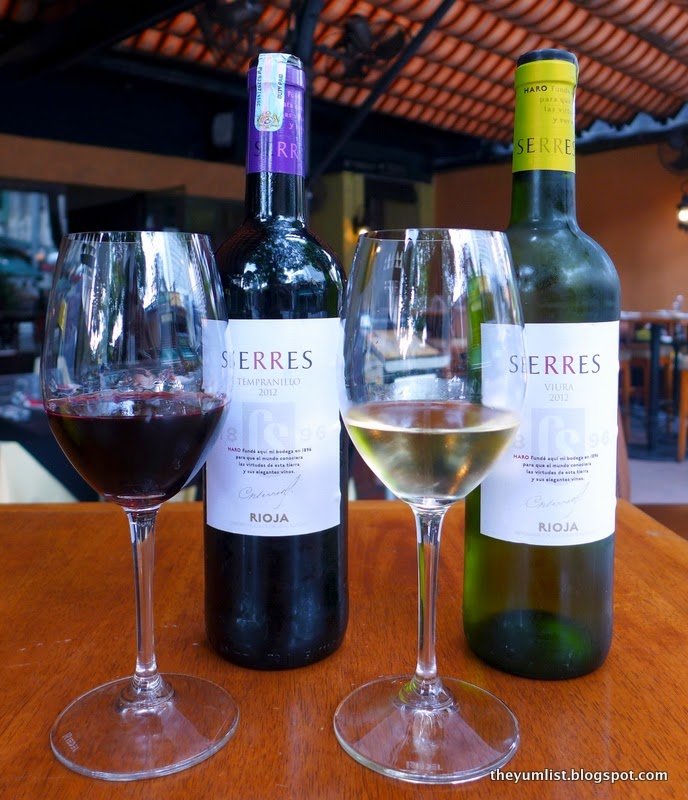 Free Flow Red and White Wine
Although we're pretty much already stuffed, we owe it to our readers to report on the full menu. A choice of three desserts plus in-house ice-cream or sorbet is on offer.  Spanish chocolate cake we think may be a flourless version, it is dense and slightly bitter, a set custard dollop and a little crumble setting it off. Tiramisu is prettily presented and the classic taste is only slightly localized with a drizzle of mango puree.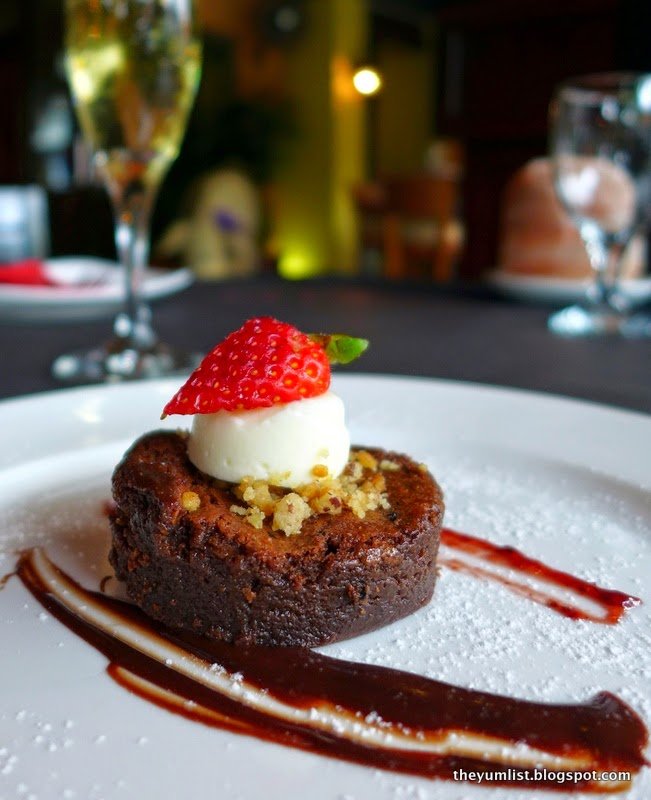 Spanish Chocolate Cake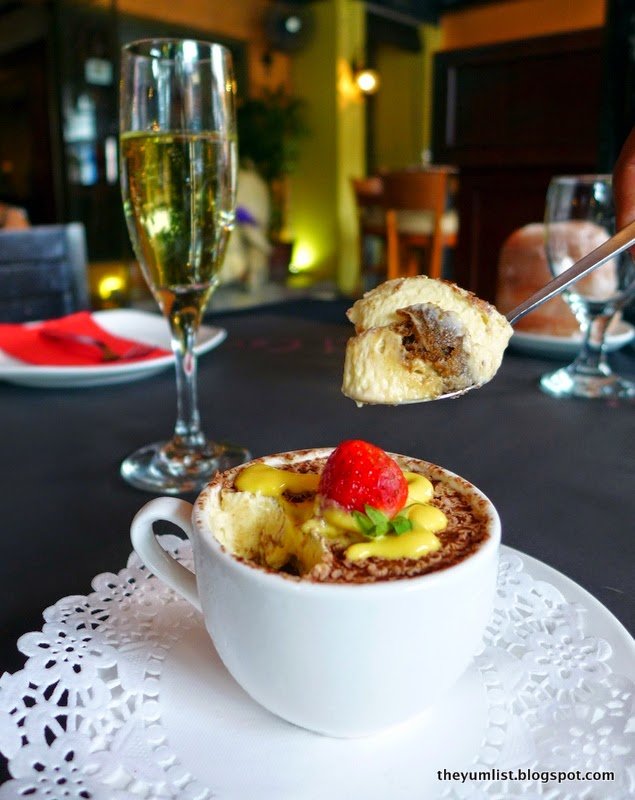 Mango Tiramisu
Perhaps it was to do with the mountain of meat we consumed but the sorbets were our pick of the desserts. Sticky and goeey Italian style sorbet that holds its texture even in the warm of KL atmosphere is a blessing in deed. The Mango is smooth and sensuous with a full tropical flavour, while the Raspberry is deeper and slightly gritty, dark red and powerful. Simply served, a decent portion and made with real fruit, it's a great end to a fulsome meal.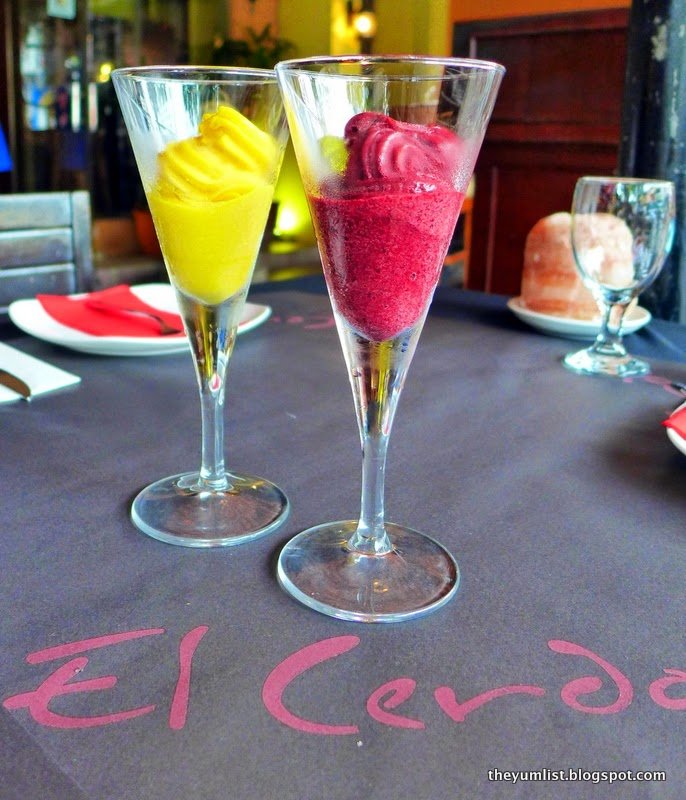 Mango and Raspberry Home Made Sorbets
Reasons to visit:  Pork, pork and more pork! (Did I mention the pork?) Free-flow Cava. Lively Atmosphere. All round great value Brunch.
Porky Brunch is available at El Cerdo from 12 – 2:30pm on Sundays .
RM148++ Free Flow Cava (Noche Y Dia Brute Nature Sparkling Wine) + Tiger Draft, Red/White House Wine Soft Drinks + Chilled Juices
RM99++ Soft Drinks + Chilled Juices
RM49++ For Children 6-12 Years Old
El Cerdo
43 and 45 Changkat Bukit Bintang
50200 Kuala Lumpur
Malaysia
+60 3-2145 0511