Words: Louise Miller    Photos: Monica Tindall
Book a table at El Meson to treat your tastebuds to a truly hispanic flavour fiesta! The restaurant's decor and ambience are evocative of a bustling Spanish eatery with diners sitting both inside and al fresco at ceramic topped tables amongst enormous wooden barrel plant pots and boldly vibrant artwork. This, combined with the Spanish music and flavours might well have you thinking you are closer to Bilbao than Bangsar!

El Meson, Spanish Restaurant, Bangsar
As one might expect, we opened proceedings with cocktails: the El Meson Sangria's combination of fruit, red wine, orange liqueur and rum packed a heady yet delicious punch. The El Meson Star was equally refreshing as the flavour of pineapple juice cut through vodka and blue curacao and the Agua de Valencia pleased us all with its simple yet decadent blend of orange juice, Cointreau and cava reminiscent of Mimosas or Buck's Fizz.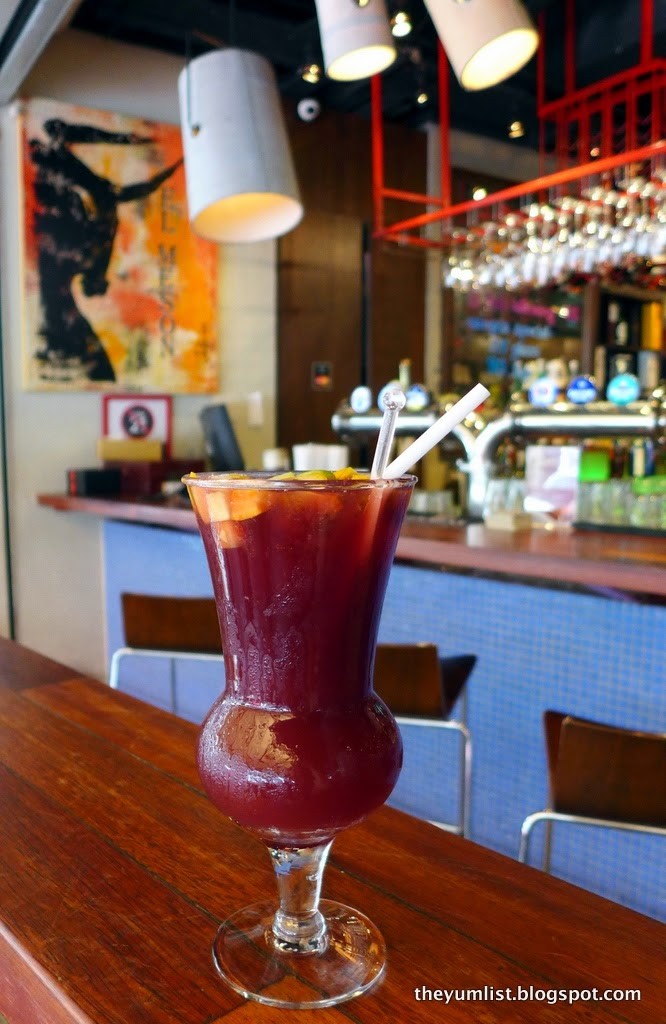 El Meson's Sangria – huge glass!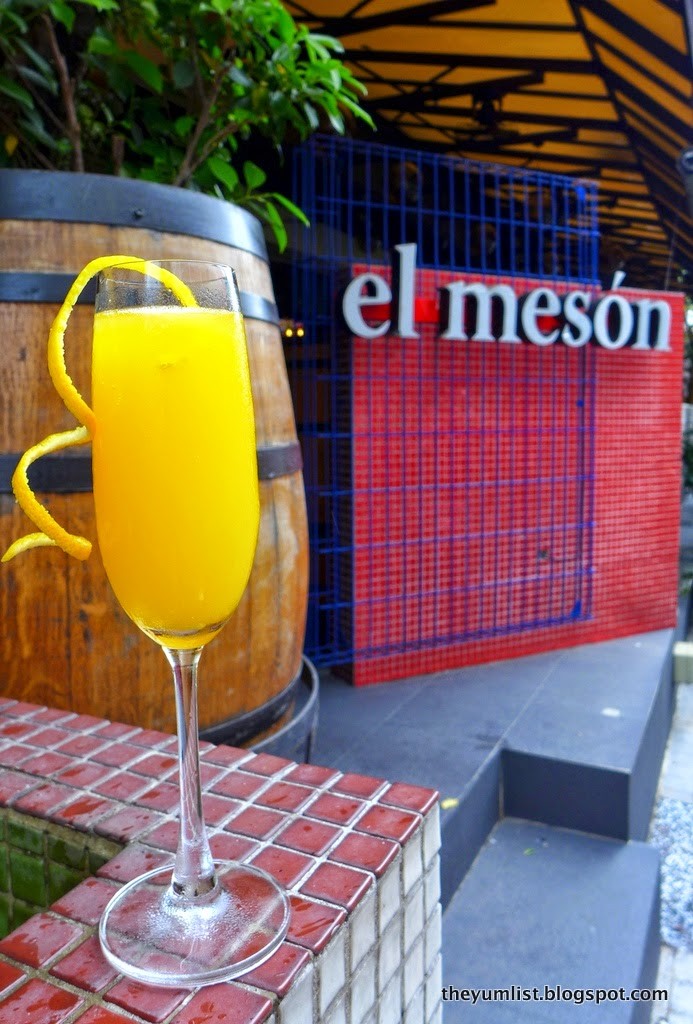 Agua de Valencia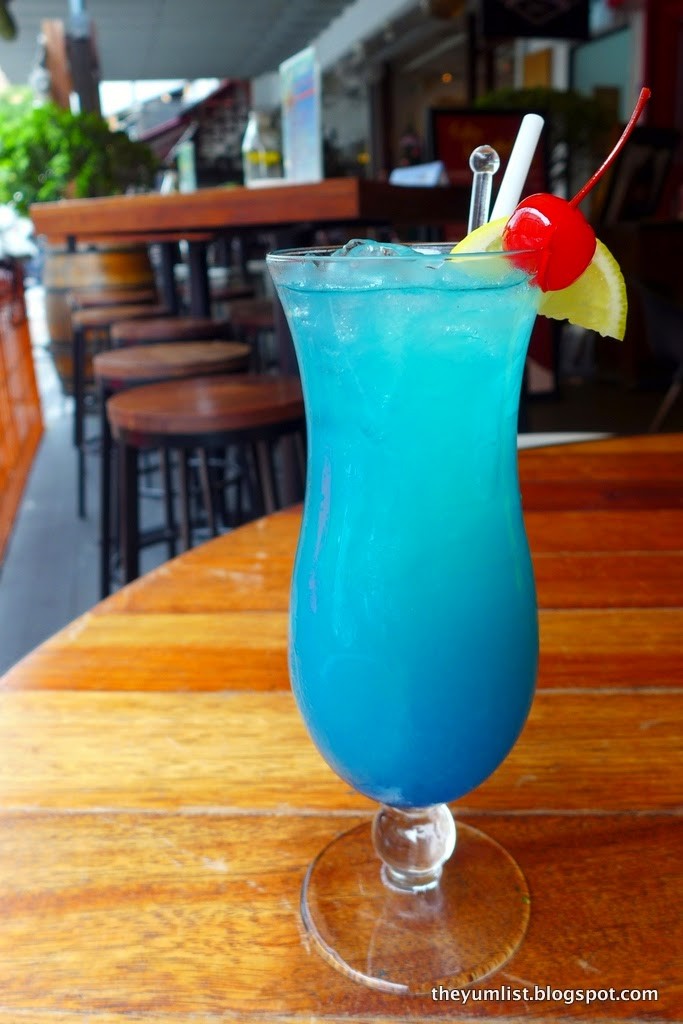 El Meson Star
To accompany the cocktails, we were served a plate of tasty tapas. The delicious bite sized morsels or Pinchos meaning spike or thorn, are especially popular in the Basque country in Northern Spain and are so named due to the fact that they are traditionally impaled by cocktail sticks to hold them together. We sampled four different kinds: artichoke and prawn; chorizo and egg with Mahon cheese; anchovy and Manchego cheese;  and jamon Iberico with Ideazabal, a smoked cheese from the Basque country. All were utterly delicious and will be sure to tempt those visiting El Meson from the middle of December as Chef Pedro informed us that he will be serving a range of Pinchos at the bar in the tradition of the Basque Country taverns, starting with a range of 6 or 7 and building up to a plethora of 25 different variations by the end of the month.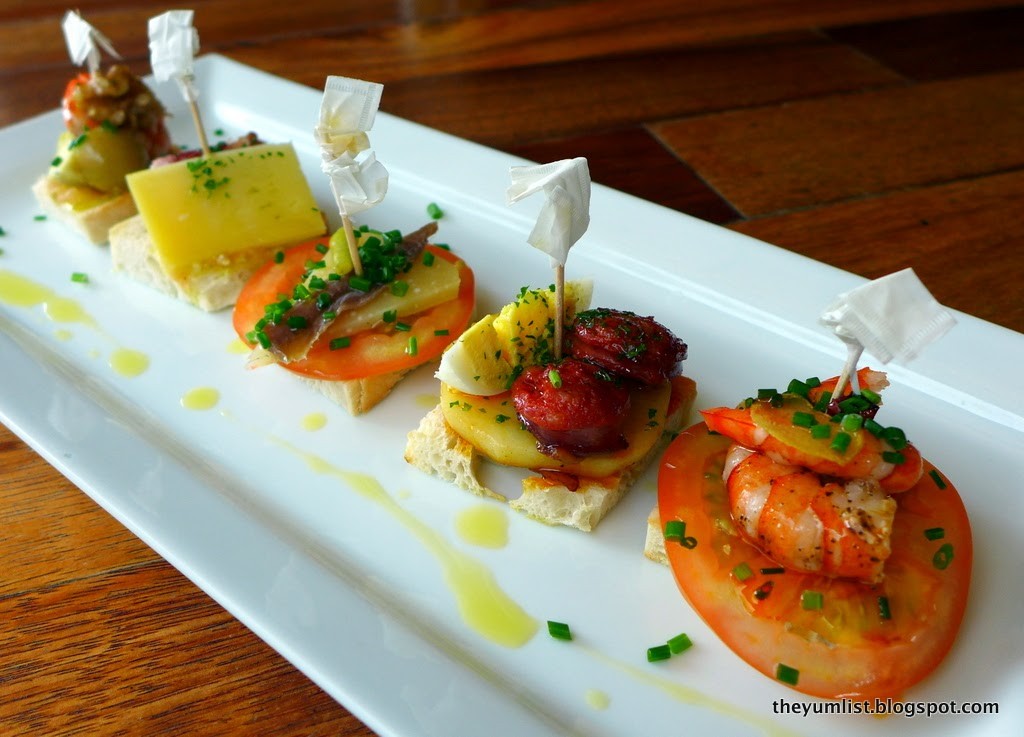 Mixed Tapas
Having polished off the cocktails, we moved on to sample some of the wines. The wine list at El Meson offers good variety both in options by the glass and by the bottle. We enjoyed sipping the Torres San Valentin Parellada, the Torres De Casta Rosado and the Torres San Valentin Garnacha. The Parellada had enticing fruity aromas and was voluptuous and slightly sweet on the palate; the rosé had fresh notes of redcurrant, apple and banana; and the red was smooth on the palate with a pleasant jammy fruitiness – very drinkable indeed!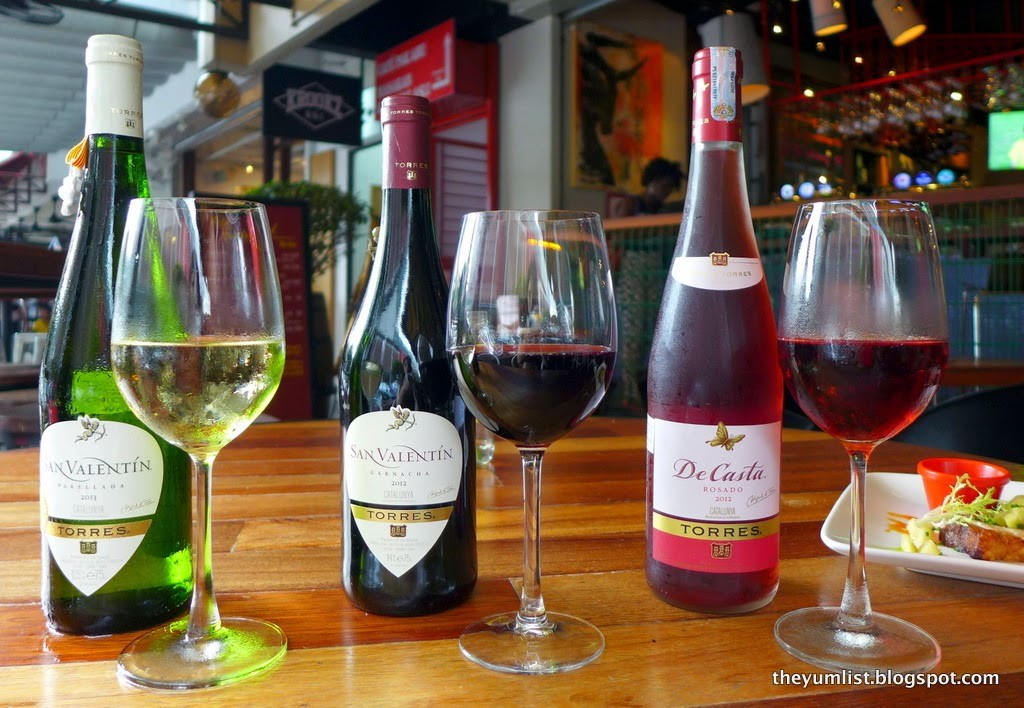 Spanish White, Red and Rose Wines
Next before us was the Ensalada de Espinacas: so much more than a spinach salad, this was composed of caramelised goats' cheese, mango, walnuts and crispy bacon and was dressed with a tasty vinaigrette made from reductions of both balsamic vinegar and grape juice with olive oil.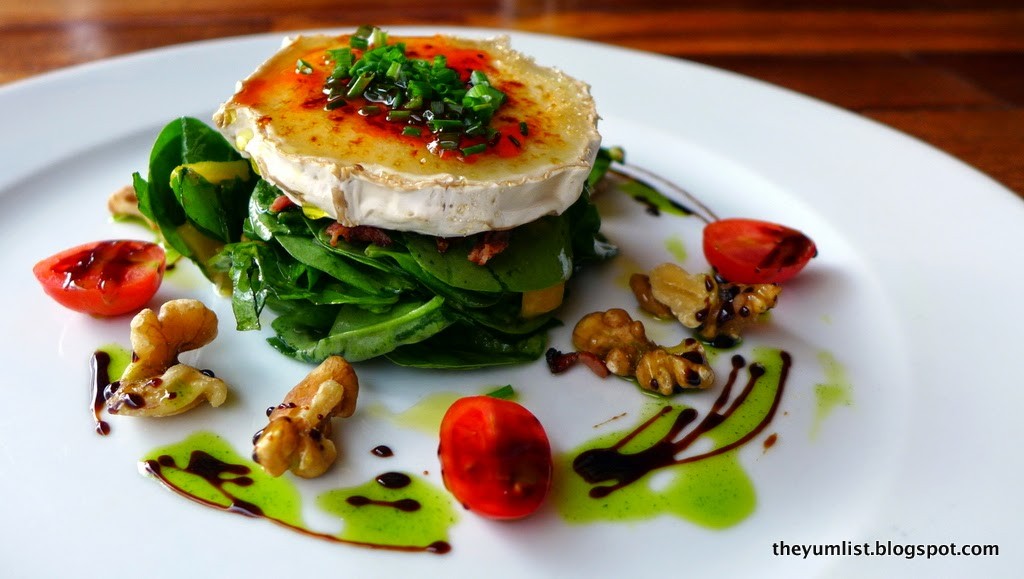 Ensalada de Espinacas
The salad was followed by the first of three pork dishes which set us on a culinary path paved with porky delights. The pork meat favoured at El Meson is the Duroc breed which, due to its acorn diet and superior marbling, produces mouthwatering richly flavoured meat with superior tenderness and juiciness.
The first dish was Piggy in a Blanket: a delicious herby and juicy pork sausage wrapped in bacon and served with a sauce made with honey, mustard and caramelised onions.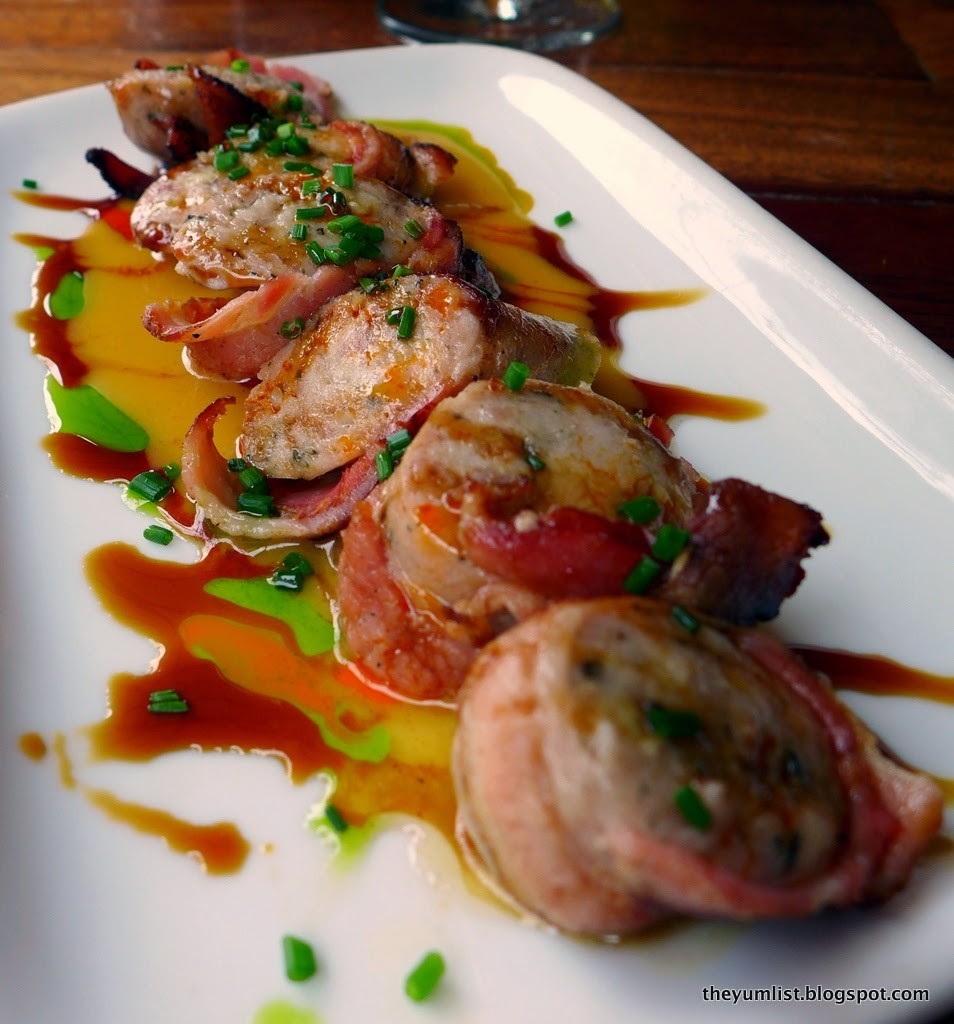 Piggy in a Blanket – Bacon Wrapped Sausages
Next was Panceta de Cerdo Crujiente: Spanish crispy pork belly with an apple sauce. The first taste of this dish had us all silently nodding and smiling our approval: the pork was so tender and flavoursome, the crackling satisfyingly crunchy and the sauce, an absolutely perfect accompaniment, made from the juice of roasted apples and the exact right amount of tanginess to complement the full fat flavour of the meat.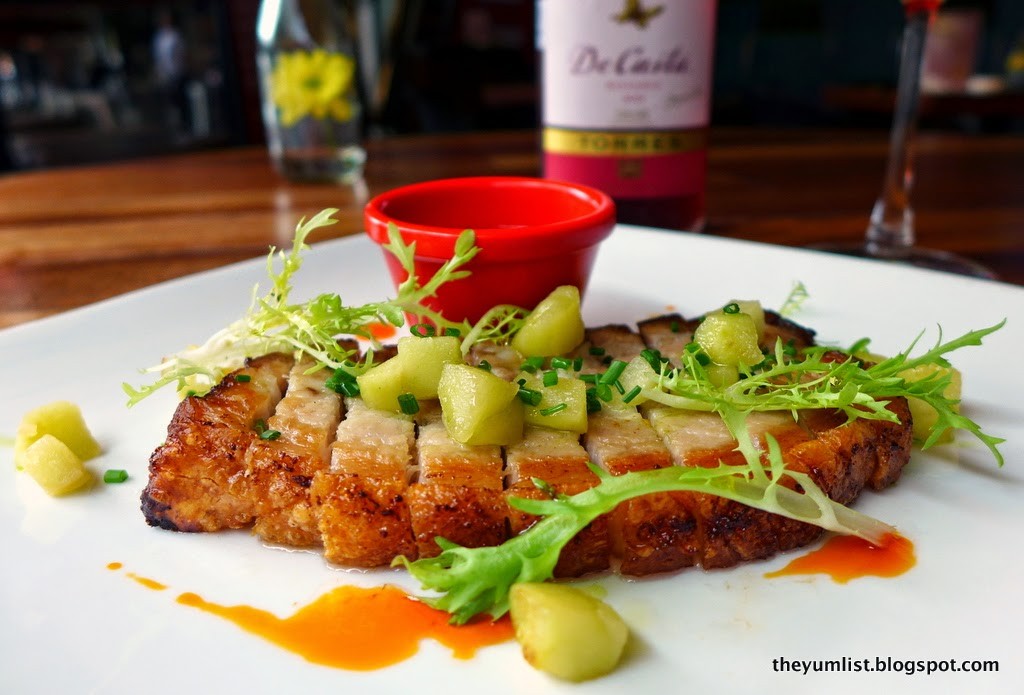 Panceta de Cerdo Crujiente
The final dish in this series was the Cochinillo: The Roast Suckling Pig was flavourful, succulent and so tender that the gentlest of fork proddings had the meat falling apart into juicy strands. It was topped with a glossy and perfectly brittle amber skin created by the chef's painstaking preparation which consists of 4 to 5 hours of soaking with water and salting in alternation and then finally drying in the refrigerator to draw out all the remaining excess moisture. The result was sublime and quite possibly the most delicious Suckling Pig I have ever tasted!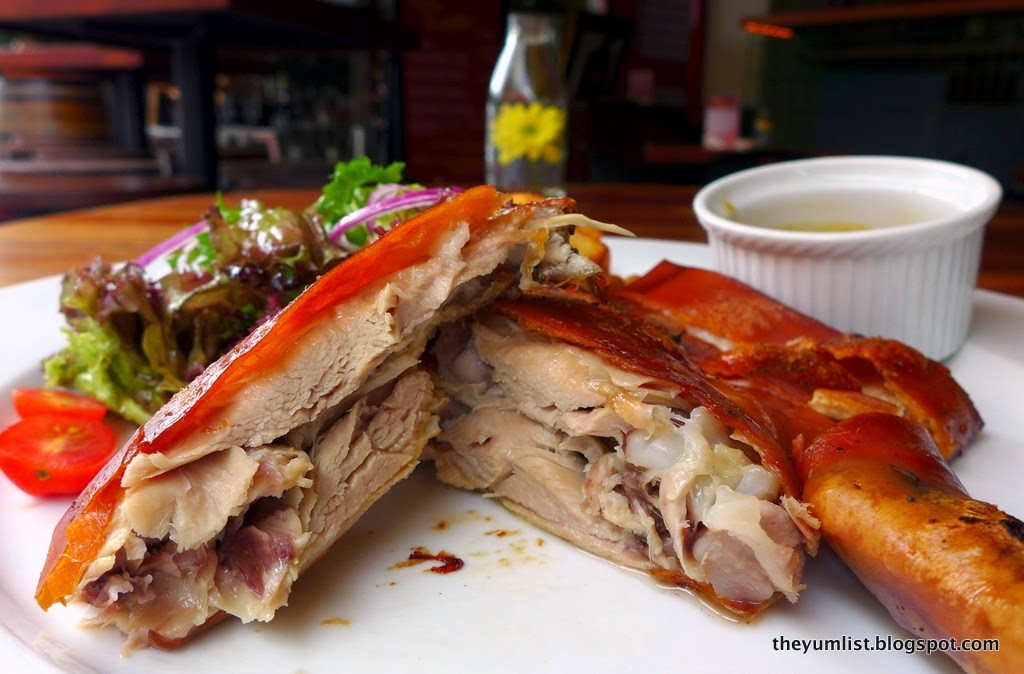 Roast Suckling Pig
Another highlight of our feast was the Paella de Langosta: the imported Spanish rice is cooked in a lobster stock made fresh on the day from the same lobster that features in the dish. The rice was semi wet, slightly al dente and, intensely flavoured by the sweet lobster, gambas and golden saffron. We were in raptures as we served up spoonful upon spoonful of this heavenly dish and agreed unanimously that this dish alone would warrant a return visit.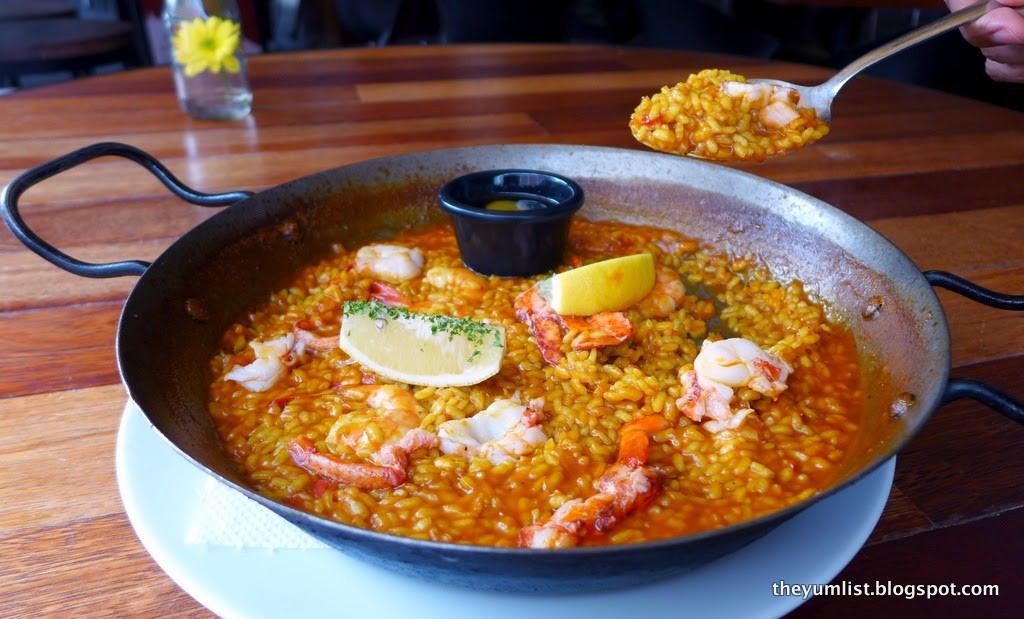 Lobster Paella
After this seafood interlude, we returned to pork. This time we sampled a range of cuts of Iberico pork. Like the Duroc breed, this is darker in colour than you might expect of pork meat, this being one of the indications of its superior quality. We started with Solomillo: lean, grilled tenderloin, progressed to Presa: Grilled Top Neck with 30% marbling and, finally to Secreto: a special cut from the bottom of the belly containing 50% marbling. All were delicious! The simplicity with which they were served befitted the fine quality of the meat. The pork slices were drizzled with only a little olive oil and lightly seasoned with sea salt, a garnish that enhanced the naturally rich flavour of the meat. We enjoyed all cuts, however we unanimously named the Presa as our favourite.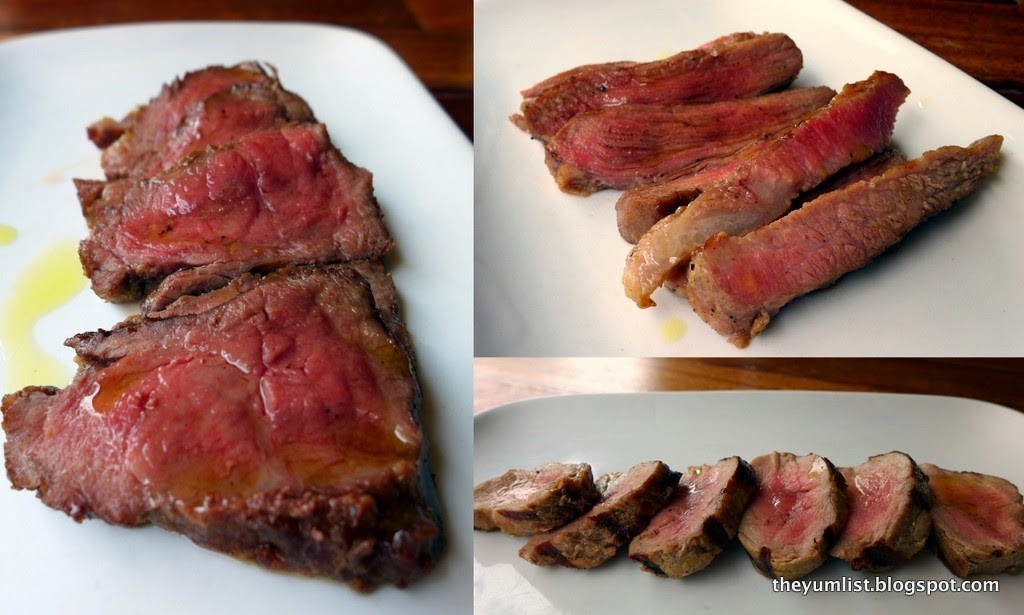 Three Different Cuts of Pork – Lean, 30% fat, 50% fat
Now, contentedly replete and still waxing lyrical about all that had gone before, we were further treated by the arrival the Ultimate Chocolate Molten Lava. Monica delved in with the spoon to see the dense sponge yield its unctuous sauce but the demolition of this dessert was a team effort! Served with vanilla ice cream and fruit coulis, this was everything that chocoholics dream about.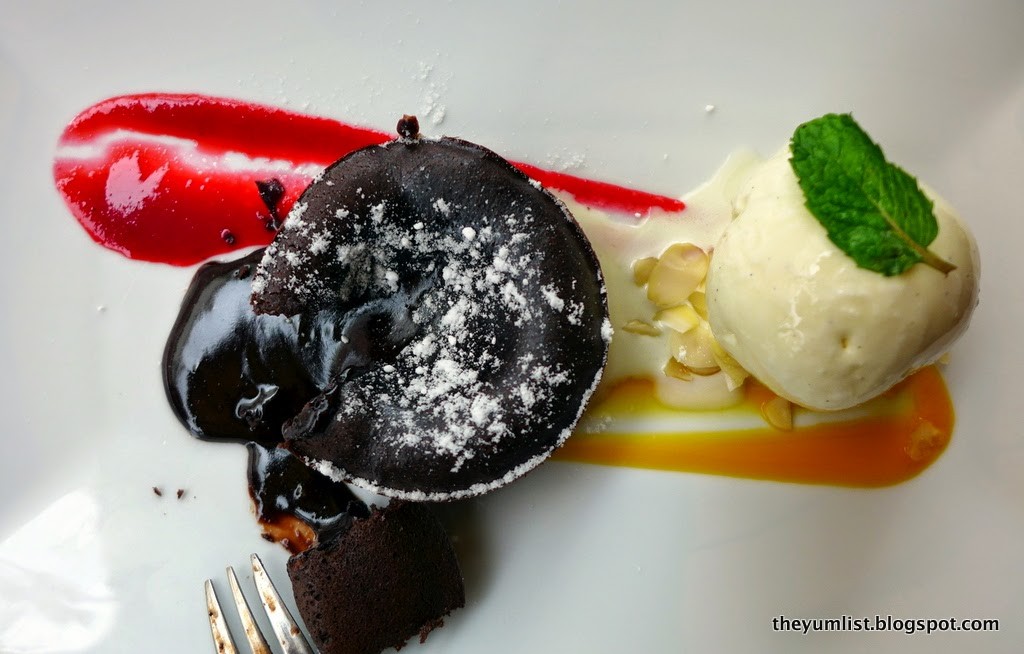 Ultimate Chocolate Molten Lava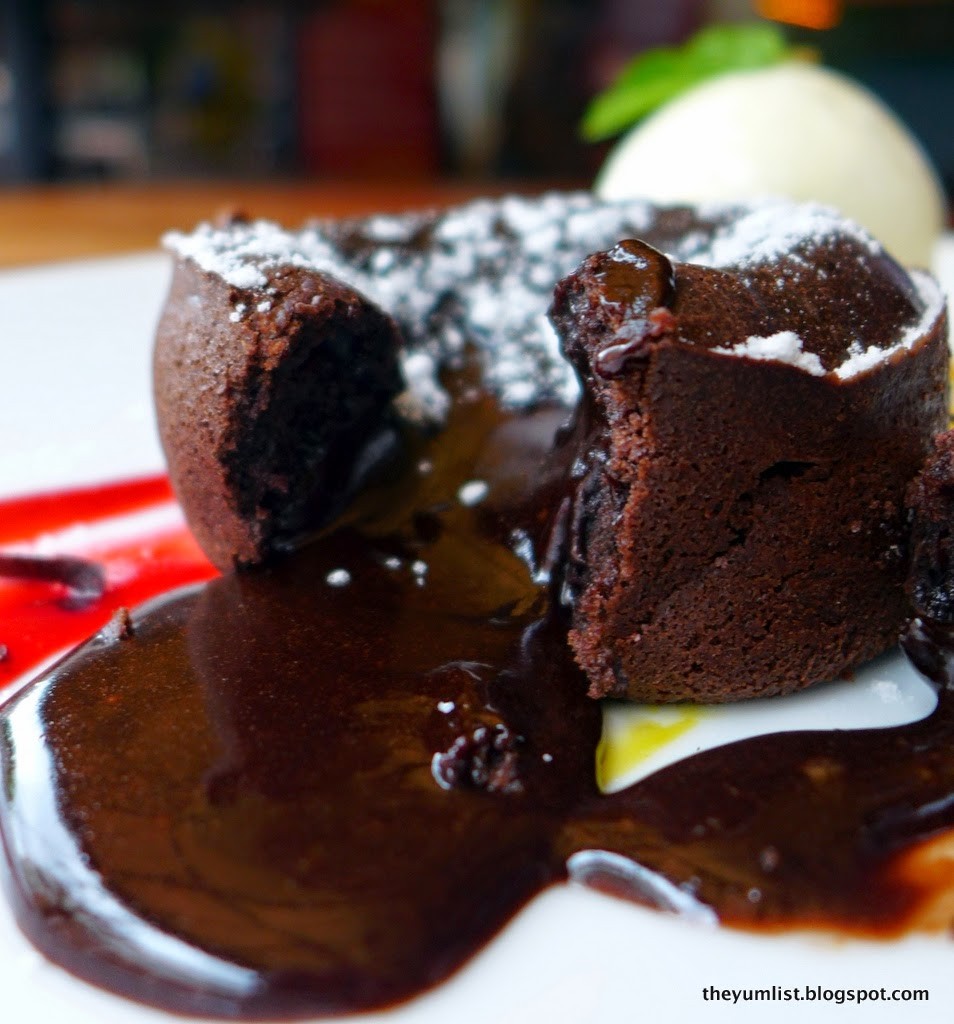 Ultimate Chocolate Molten Lava
At this point, we decided to test whether or not we were still able to move ourselves from the table and on exploring the restaurant, we spotted a glass cabinet displaying a generous range of impressive looking cakes. Amongst those on offer were a Snickers Cake, Pavlova, Mochachino Cake, Red Velvet and the Salted Caramel Apple Cheesecake – the sighting of which had us promptly ordering a slice to share. And what better to wash this down than a great coffee! We discovered to Monica's delight, that the coffee served here is the Social group's own blend of Rubra – a Western Australian company known for sourcing only the highest-grade green beans so we opted for both a Cappuccino and a Spanish Coffee.
Spanish Coffee and Palmeritas
The Salted Caramel Apple Cheesecake was creamy and dense but lightened with the sweet cinnamon flavoured apple and moist, biscuity base. Served with delicious light and flaky home baked palmeritas, the coffees were very good indeed! My first sip of the cappuccino gave me an instant understanding of why Monica holds the Rubra brand in such high esteem and the Spanish Coffee provided a memorable finale to the evening as the potent blend of Rum, Tia Maria, cream and coffee really hit and warmed the spot!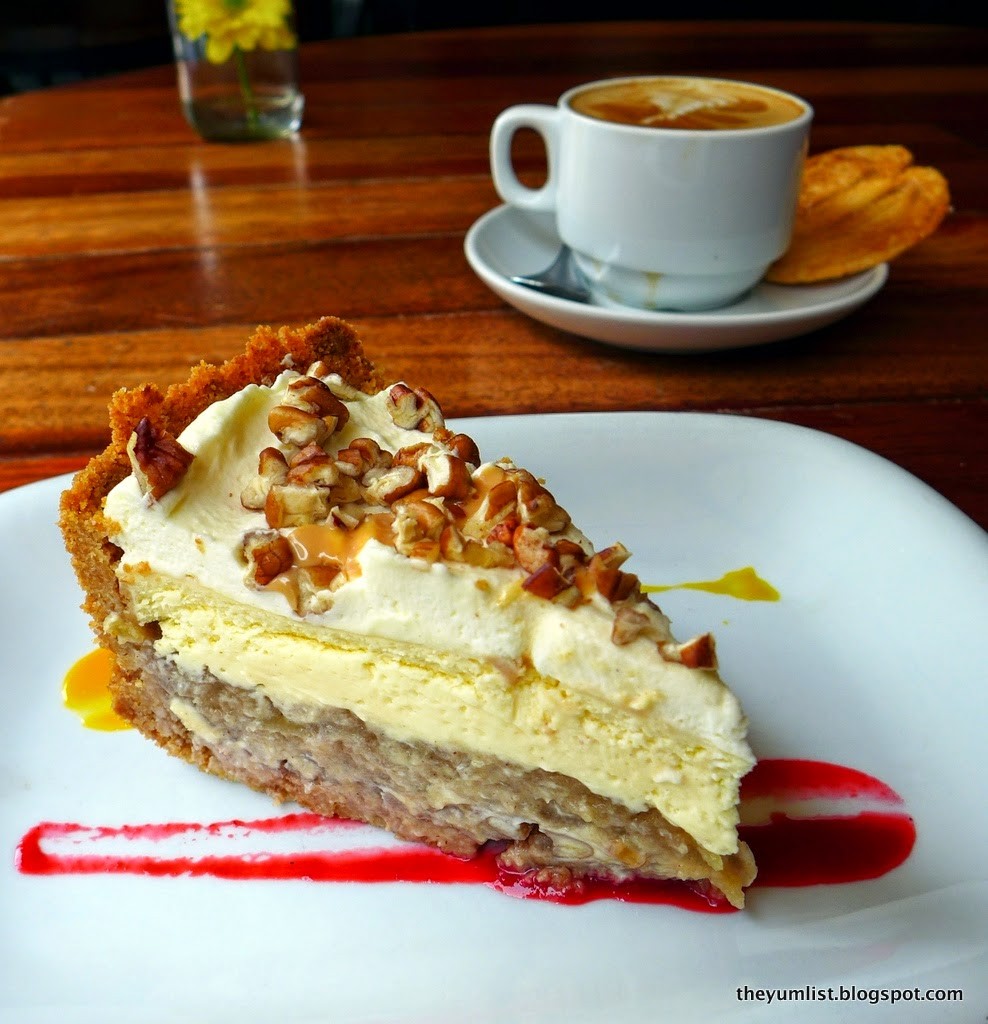 Salted Caramel Apple Cheesecake
Clearly, we sampled an extensive range of what El Meson has to offer and we highly recommend that you do the same – the convivial atmosphere and fantastic food make it a great place for lunching or dining with friends. It is well worth noting however, that the restaurant is also a great place for breaking up a shopping trip with a cake and coffee or even propping up to the bar with a glass of wine and a plate of pinchos.
Reasons to visit: I'm tempted to say 'all of the fantastic food' made with painstakingly sourced top quality ingredients but if I had to name the three stand-out most delicious dishes on offer, I'd go for the Cochinillo, the Panceta de Cerdo Crujiente and the Paella de Langosta.  Other reasons include the great cocktails, atmosphere and service.
El Meson
61, Jalan Telawi 3,
Bangsar Baru,
59100 Kuala Lumpur
Malaysia
+60 3-2282 8290