The Felix experience begins on the ground floor in the elevator. Walled with a curvy wood design, the lift zooms directly up to the 30th floor. As the ascent progresses, the lights gradually dim, serving to change mood and expectations, within a matter of seconds. A catwalk like walkway leads diners to the front desk, and it's from this viewpoint that we begin to get a sense of the possibilities this location holds.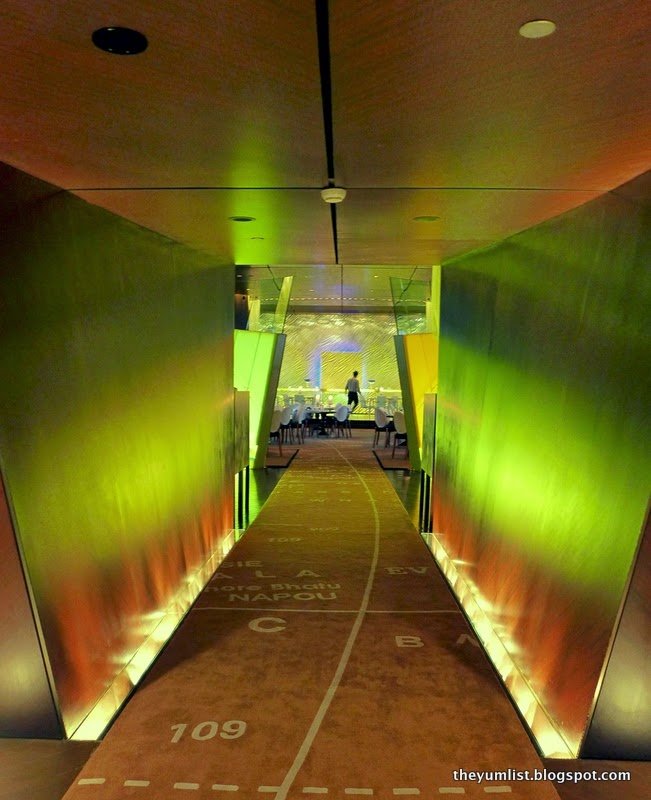 Runway to Reception
Two swirling staircases act as modern pillars, framing the entrance, which opens up to a room of dining tables, backed by what appears to be a stage, slightly elevated at the head. The staircases host hidden rooms: one conceals a Champagne bar, the other a padded wall dance floor. Above there's a bar, with possibly the best views in the city.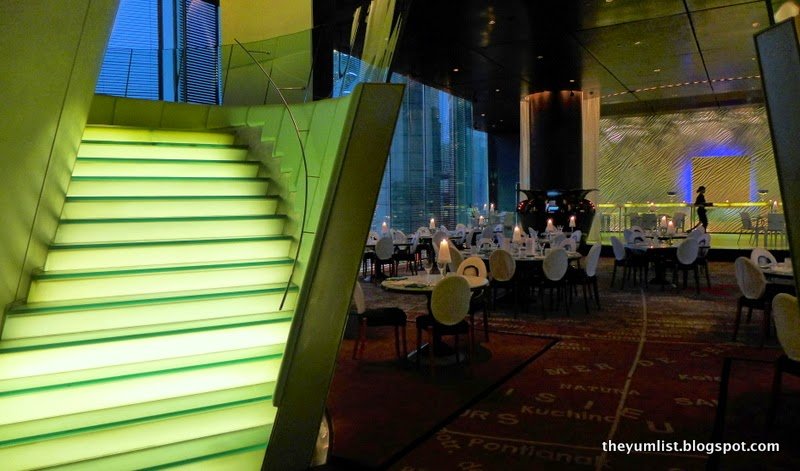 Stairway
White flowing curtains, textured walls, play with moving lights, and seat covers with a face of a long-term staff member printed on the back of each, keep our eyes in motion, and our minds inspired. We find a portrait of the chef on a chair, and also a bartender who has been with the hotel for over 50 years!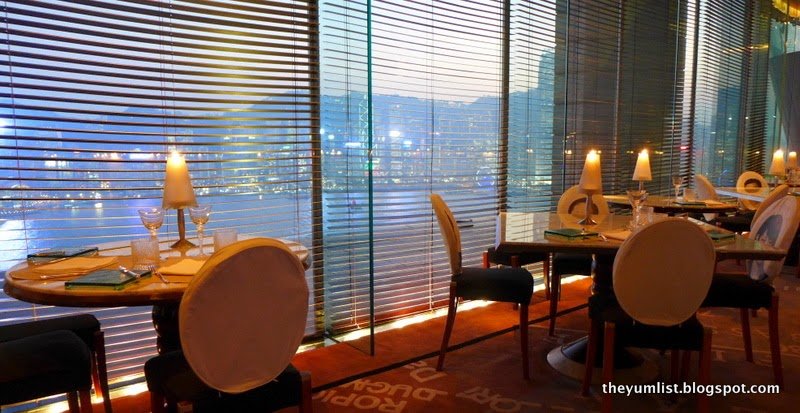 Table by the Window
There's so much glass and twinkly lights that we feel as if we might be in an enormous fish bowl, with Victoria Harbour to one side and Kowloon on the other. The designer, a tad egocentric, doesn't want guests however to lose focus and gaze all night upon the dazzling views. As such he has shaded the windows with horizontal shutters: we can only peep through in between panels. It's still spectacular, but serves it's purpose: our eyes are brought back to the food, wine and design of the restaurant, and the Hong Kong skyline fades to a pretty backdrop, rather than an all-engrossing attention snatcher.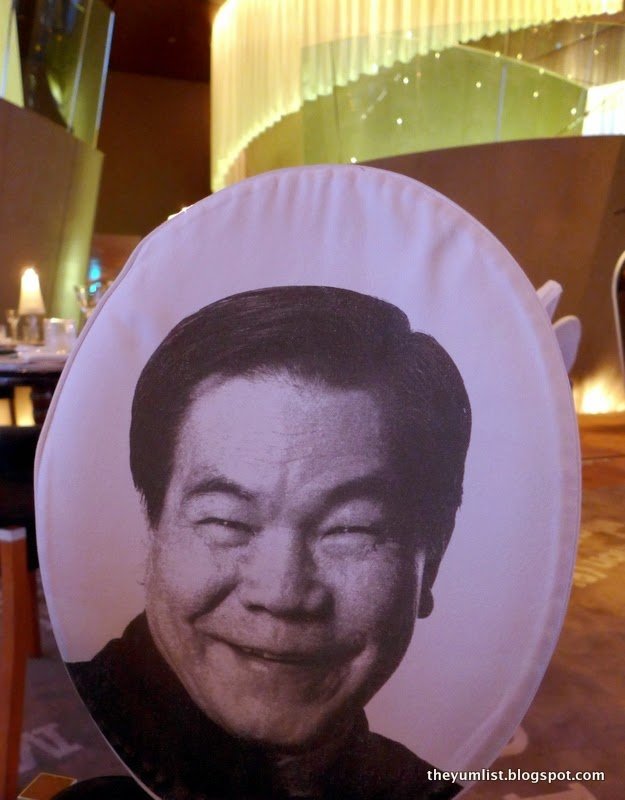 Chair Covers – Oldest Hotel Employee
Rosemary focaccia and a hard wheat roll are served with butter, olive oil and hummus sauce, as we consider our culinary route. The menu is presented on an i-Pad where a photo of each dish can be viewed by clicking on its name. There are tasting notes and information about wineries too. We leave our taste buds in the hands of the chef by choosing The Felix Experience, a set menu consisting of six courses with wine pairing.
The Felix Experience
Japanese Hamachi Tartar with Piment d'Espelette Cream, Eggplant Puree, Chorizo and Eggplant Chips sit in a coned shaped glass bowl above a stack of red chilies (please note the peppers are for decoration purposes only). It's a sophisticated start with multiple textures and delicate flavours intermingling with each other. At first we taste the fresh fish, but then the sausage adds an attractive strength, which is smoothed over again with the puree and cream.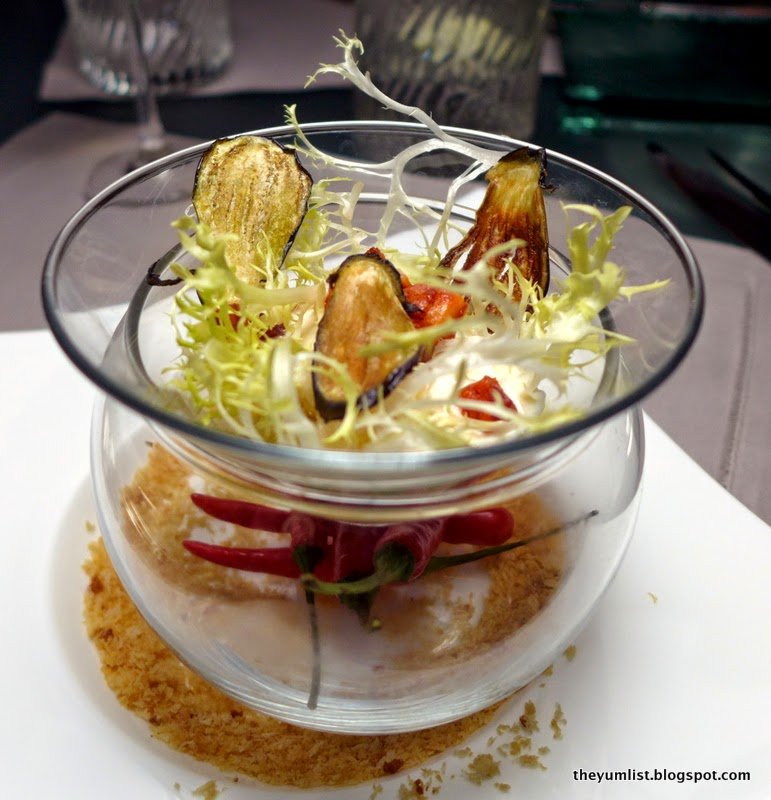 Japanese Hamachi Tartar
NV Bad Girl Sparkling, Cremant de Bordeaux by Jean-Luc Thunevin, proves a playful mate. Unlike its name, this dry sparkling blend of semillon, cabernet franc and muscadelle grapes is rather well behaved, refreshing the palate of the cream and readying the mouth for another spoonful. Citrus, flint, and granny smith apple are buttressed in character with the cabernet franc adding some mid palate structure.
NV Bad Girl Sparkling, Cremant de Bordeaux by Jean-Luc Thunevin
Pan-seared French Duck Liver with Teriyaki Sauce, Shansho Pepper, a creamy Quinoa Salad, Brioche Croutons and Treviso Salad holds our attention from start to finish. The crisp tiny croutons are held on a wooden spoon to the side above a sticky sweet sauce. Don't dismiss them: they're a vital part of the experience. Sprinkle them atop the liver however, don't put the whole spoon in your mouth otherwise you'll get the full wallop of pepper that's hiding underneath without diffusion. Sweet, savoury and buttery – mix them all together and eat with a strip of bitter radicchio leaf.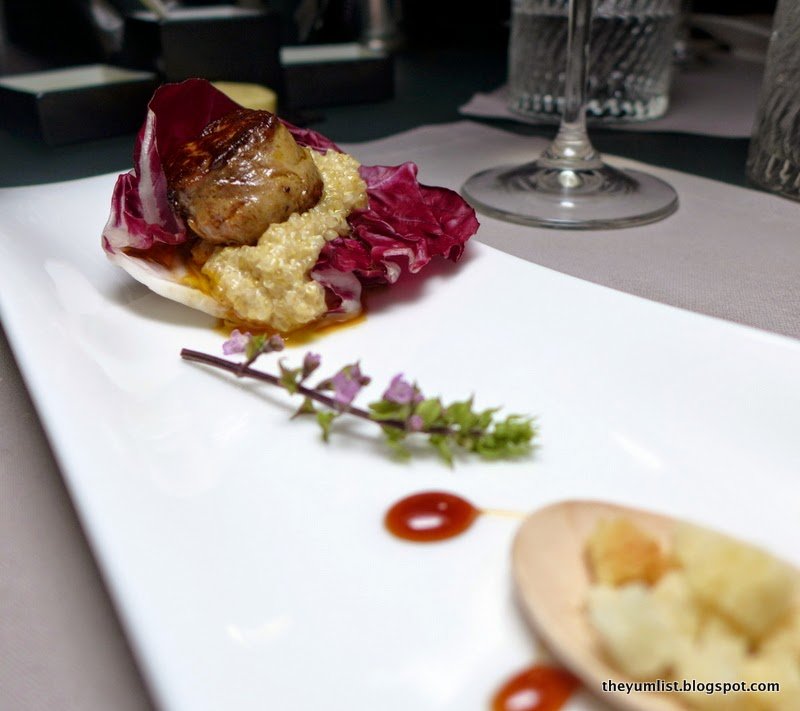 Pan-seared French Duck Liver
Aromas of pale fruits such as lychee and honeydew melon tickle the nose with the Arista, Ferrington Vineyard Gewurztraminer from Anderson Valley. In the mouth it's like a good spring cleaning, with a light acidity and stone fruit basing a multi-layered structure, with soil and minerals contributing to the complexity. An elegant long finish sees through the richness of the liver, demonstrating a respectable match.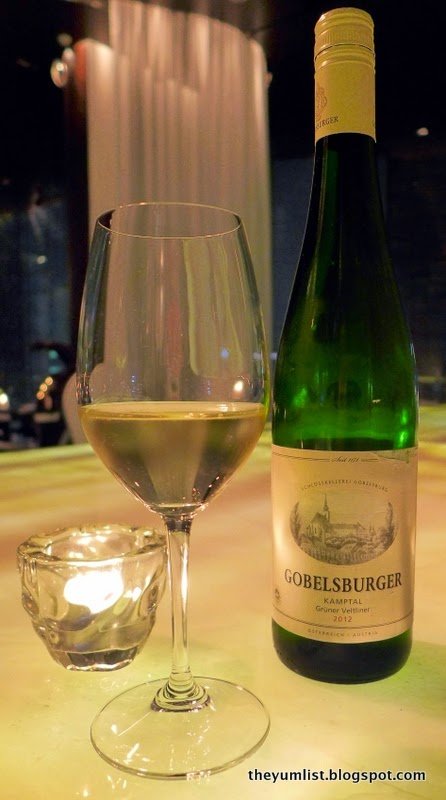 Arista, Ferrington Vineyard Gewurztraminer, Anderson Valley
A long, almost flat, shell holds an Onion and Garlic Coated Deep-Fried Pen-shell Scallop. The mollusk is held to the plate with Mashed Potato and decorated with Myogo Salad. A Tom Yam Gon Emulsion awaits apart in a gravy boat, ready to drench the solids. The batter reminds us of hot summer days on the beach, and the broth is much more than a sauce. We find it hard to refrain from picking up the shell and draining the remains into our mouths.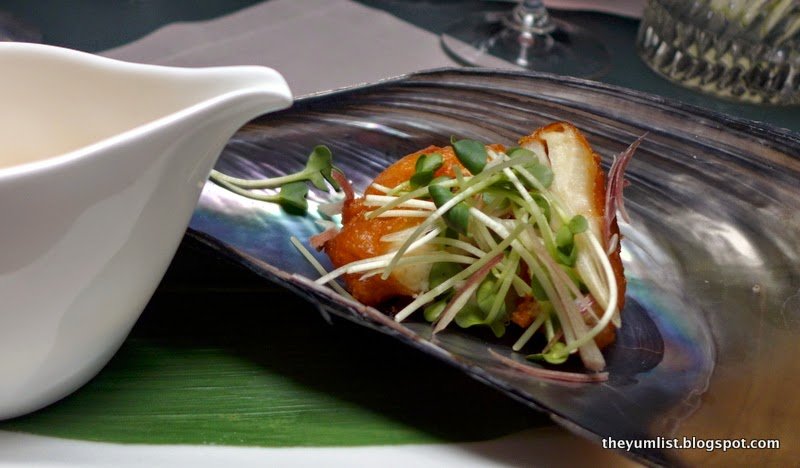 Onion and Garlic Coated Deep-Fried Pen-shell Scallop
A pretty pink liquid fills the glass with the Chateau de Trinquevedel, Rose Tavel. An ambrosial bouquet of pink petals, and strawberries and cream, excite the nose, with more berries on the palate alongside citrus and stone. Crisp, with an extended spirited finish, it brings the score to three out of three for an excellent wine match.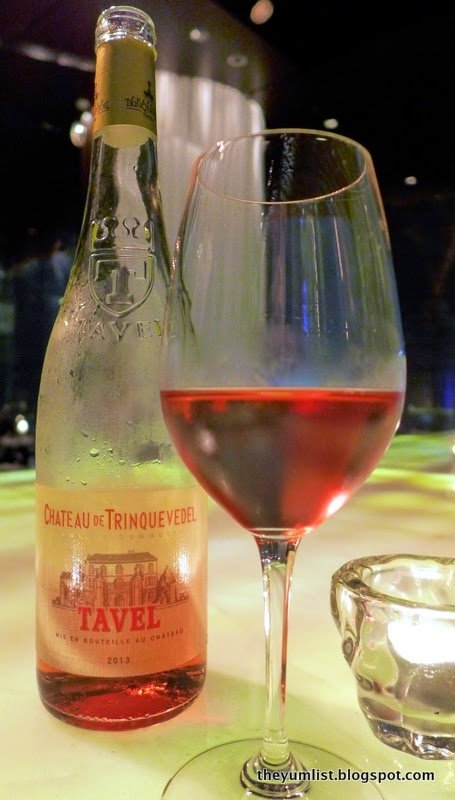 Chateau de Trinquevedel, Rose Tavel
Kimchee and Cheese Crusted Cod sports a crunchy top and moist flaky bottom. Cooked perfectly it has no need for any addition seasoning. The Creamy Braised Mushrooms and Pumpkin Gnocchi however are superb, and the Black Olive Crumble and Garlic Chips have us sopping up their very last crumbs.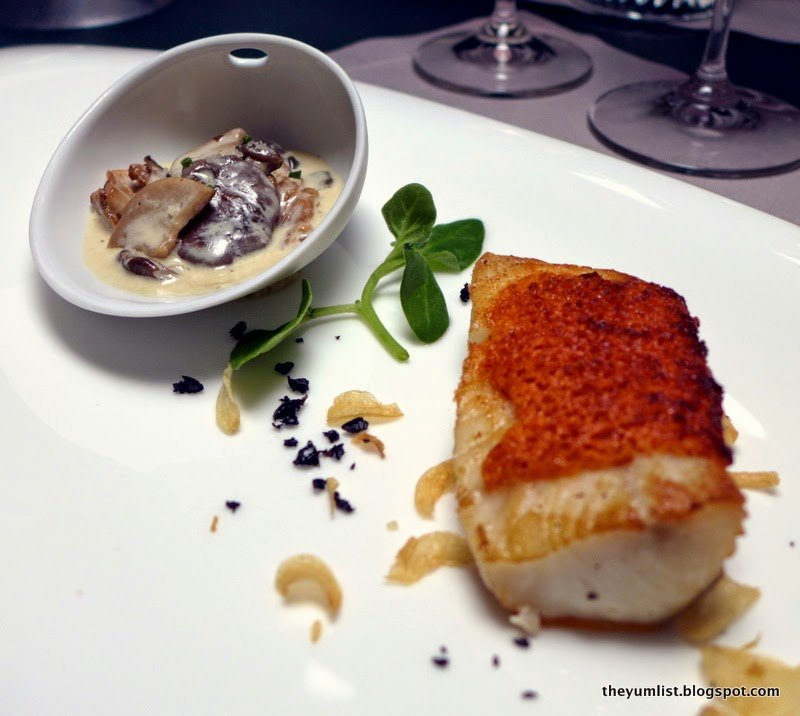 Kimchee and Cheese Crusted Cod
A bone crosses the plate from edge to edge with the presentation of the American Beef Tenderloin. A tasty Braised Beef and Barley Risotto comes in a tin can and is criss-crossed with vibrant green asparagus. Mushroom Duxelles are a comforting side. The Miso Powder topped Curry Sabayon halts us in our exploration. It's not bad, but it doesn't have the immediate we-love-it reaction. It has us talking though, and proves an intriguing part of the dish. We keep slicing and dipping back in, until it's all gone, still undecided at the end however as to our level of fondness of the sauce. Despite our indecisiveness, the meat is cooked well: tender and moist, with a lightly caramelized crust.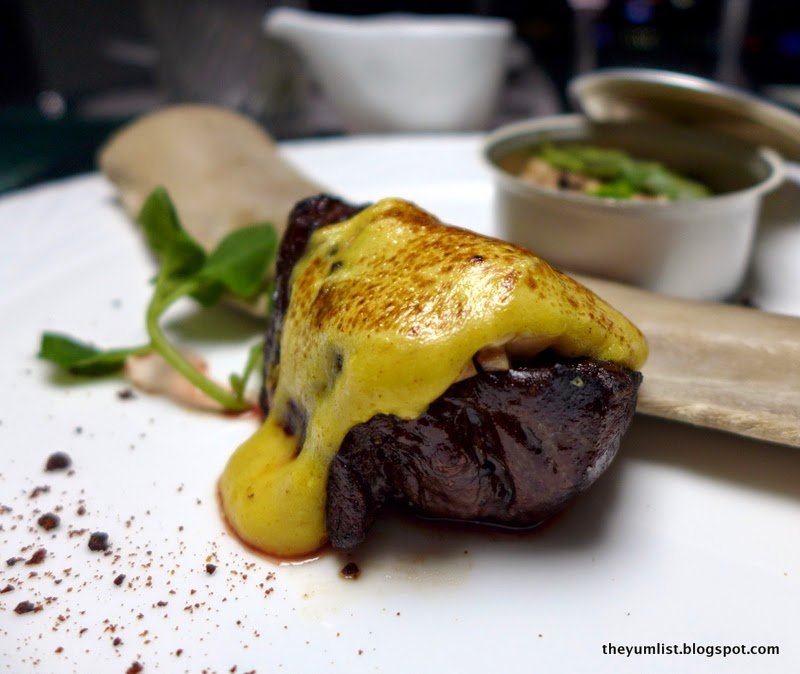 American Beef Tenderloin
We've just returned from South Australia so are loving the Domaine Yangarra Old Vine Grenache from McLaren Vale. This full-bodied wine offers dark berries and suggestions of anis to the nose. In the mouth it's concentrated with chewy tannins and stands well alongside the meat.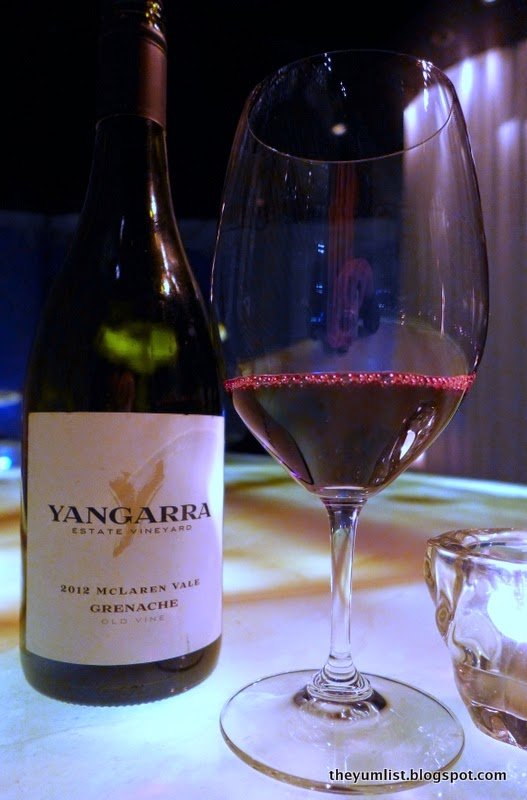 Domaine Yangarra Old Vine Grenache, McLaren Vale
We sink back a perky ending with Armagnac Liqueur poured over ice and garnished with a twist of orange peel. Citrus complements the sugar and spice dominating the dessert, a Meringue Tart. Layered flaky pastry, stewed apple and vanilla cream have us oohing with delight. Cinnamon Sorbet tops a soft leaf-shaped Christmas spice cookie, which softens and begs to be scraped off the base of the plate. A shot of eggnog means there's no going back – the festive season is here and restaurants and diners are jumping into it.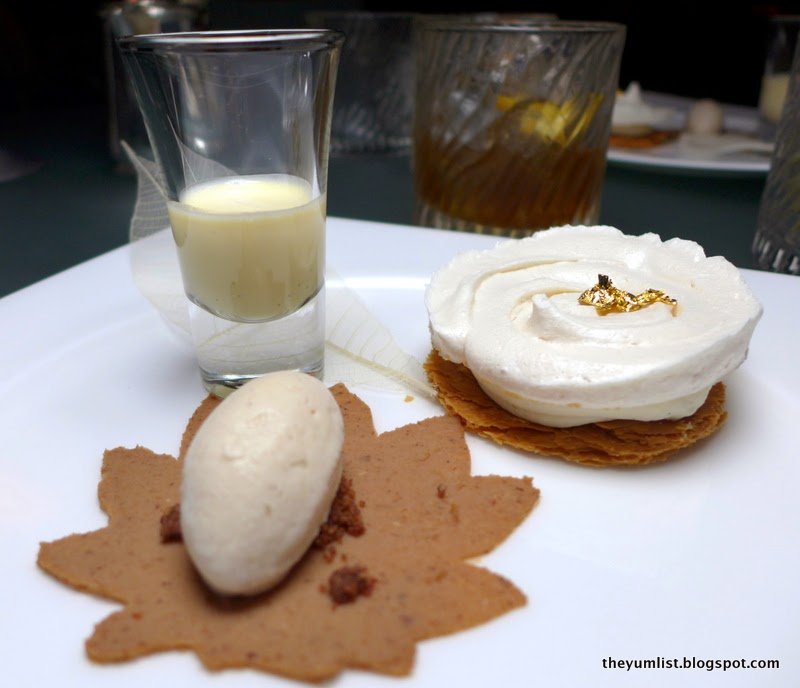 Meringue Tart
Reasons to visit: some of the most stunning views in the city; quirky, modern design; excellent wine pairings; inventive cuisine; don't miss – Japanese Hamachi Tartar and Meringue Tart.
The Peninsula
Salisbury Road
Kowloon, Hong Kong