Chef Richard Ekkebus' career had nowhere to go but up with his apprenticeship beginning under the tutelage of Michelin-star chefs Hans Snijders and Robert Kranenborg. Meticulous selection of ingredients and a passion for giving traditional French cuisine a contemporary twist has earned his own culinary leadership a prestigious two Michelin stars at the helm of Amber, Hong Kong. It's not just Michelin stars that have kept Amber and Chef Ekeebus in the news either. A coveted place on S. Pellegrino "World's 50 Best Restaurants," and fourth spot in "Asia's 50 Best Restaurants" affirm Amber's status as one of the most acclaimed restaurants in the region.
With such international plaudits most lunch and dinner sessions are fully booked. Use of a mix of booth-like tables and giant floral arrangements as dividers however, assist in keeping the dining experience intimate. The dominant hue in the space is indeed, 'amber,' in many shades from a golden yellow, to alloy orange through to a deeper amaranth red. Tall slender black vases, taper in at the middle, and open up to a bloom of yellow and orange orchids. Rich wood panels cover the walls complementing the gemstone shades, and an installation art piece, of 100s of copper-toned shafts dropping down from the ceiling, forms a stimulating visual effect on the eyes.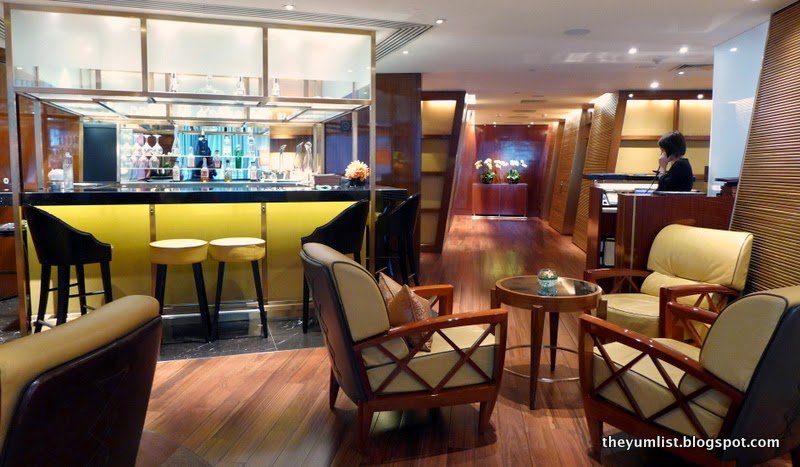 Amber, The Landmark Mandarin Oriental, Hong Kong
Service is exceptional. The staff has found that fine balance between professional delivery and friendliness. Efficiency and elegance are balanced with warm smiles and accommodation of almost any desire. English levels are excellent, as well as numerous other languages too. Our waiters know each dish and give detailed explanation upon request, and too recommendations as to how to proceed for the best culinary experience.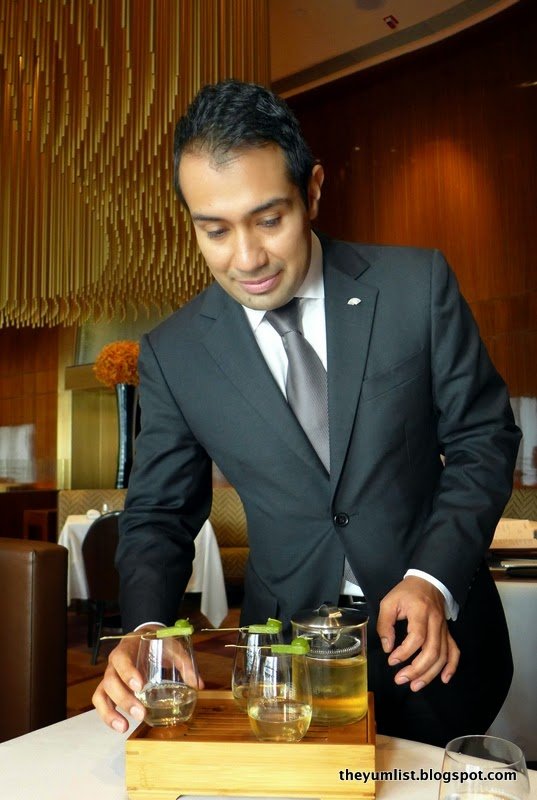 Gracious Service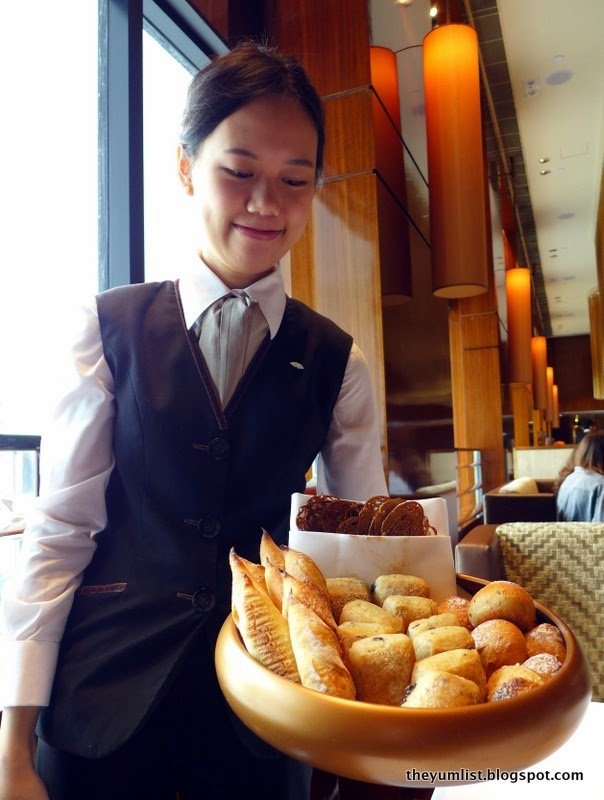 Friendly and Professional Service
We begin.
A welcome drink is topped with a skewer of cucumber poached in tonic water and combined with green apple, celery and lemon zest. It crosses a glass of white tea infusion. Cucumber and tea serve to refresh the palate, while the hints of flavour from the citrus and apple awaken the senses for what's to come.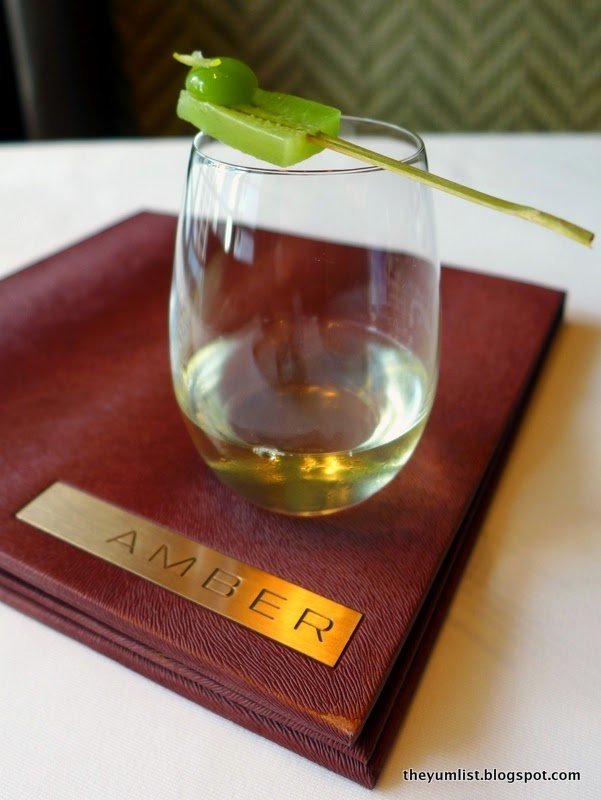 Welcome Drink
Head sommelier, John Chan, introduces himself and presents a selection of four wines he's chosen for the lunch degustation menu, along with the wine list (in the case we'd like to do the choosing ourselves). In our pre-investigation into Amber we learned a little about John, noting his training under leading French sommeliers, first place in a Hong Kong Sommelier Competition, and high regard for his knowledge amongst the most passionate of oenophiles. We decide it best to leave the decisions in the hands of the experts, and so opt for the wine paired degustation lunch menu.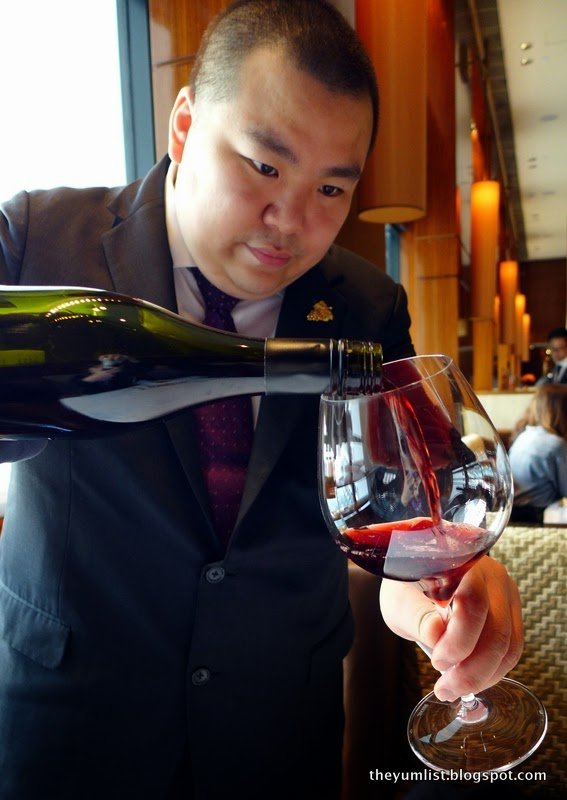 Head Sommelier, John Chan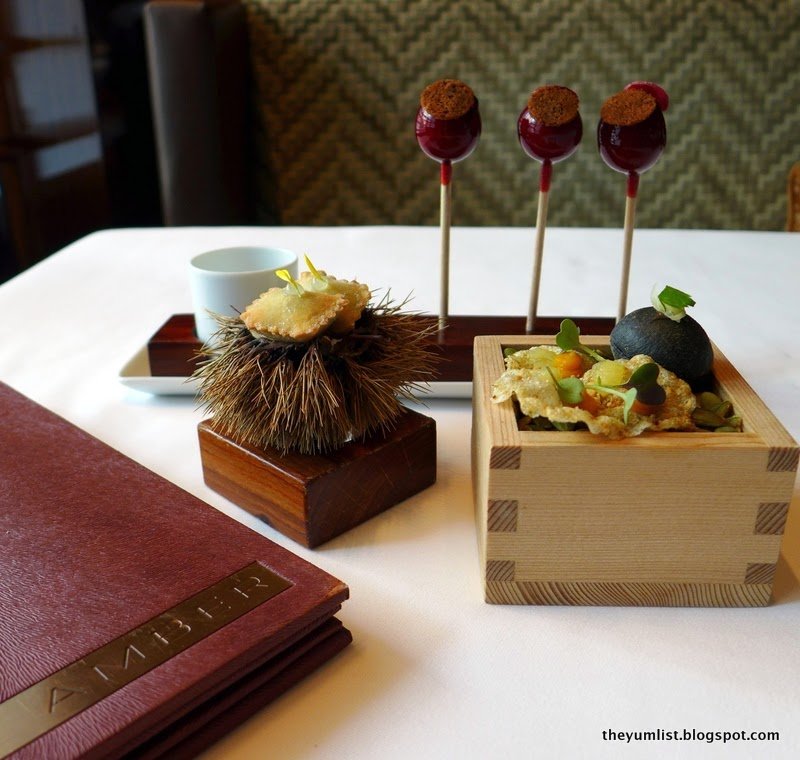 First Round of Amuse Bouche
The amuse bouche is not only 'amusing' for the mouth, but too for the eyes. Arriving in a trio of unusual packages, we're intrigued from the get go. The first sees a crisp sphere of squid ink coloured pita bread stuffed with a celeriac pure served atop a wooden box filled with pumpkin seeds. Upon biting, the cool filling eases into the mouth. A sprinkling of seeds, pumpkin pure and apple flavour a crisp rice cracker, which sides the black sphere. Textures are interesting, but flavours mild. It steers our interests forward, enthused to try more.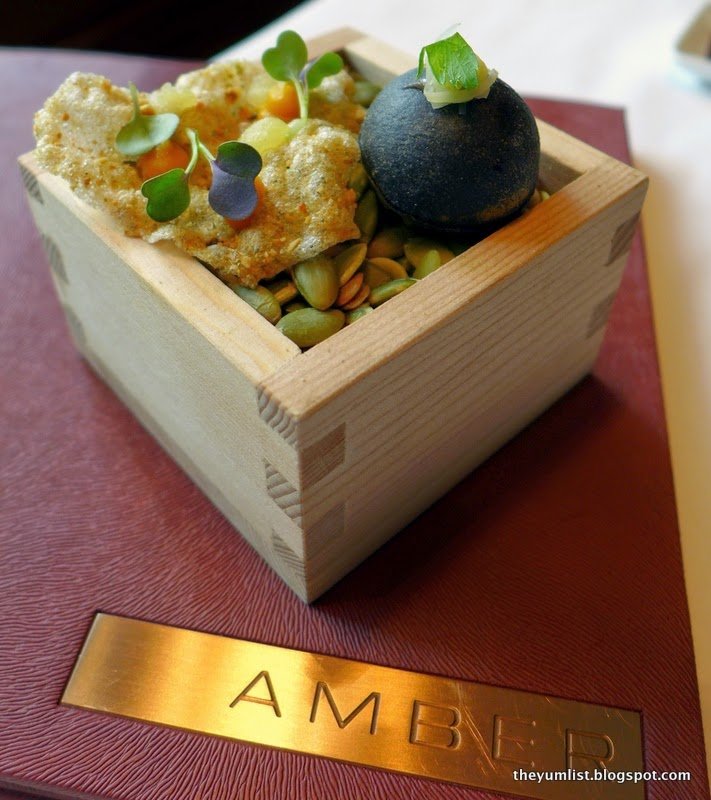 Squid Ink Pita Bread Ball
Part two consists of warm chestnut ravioli mixed with black trumpet mushrooms and apple puree. Micro petals crown the pastry and a hairy chestnut shell musters a serving dish. Flavours are gradually building in intensity, and reach a peak in the first round of amuse bouche with foie gras lollipops. A velvety ball of duck liver is coated in a beetroot and berry glace producing a shiny crimson, mini toffee-apple replica. A suggestion of sharpness from the berry, and crispness of miniature gingerbread and beetroot, contrast and lift the rich filling.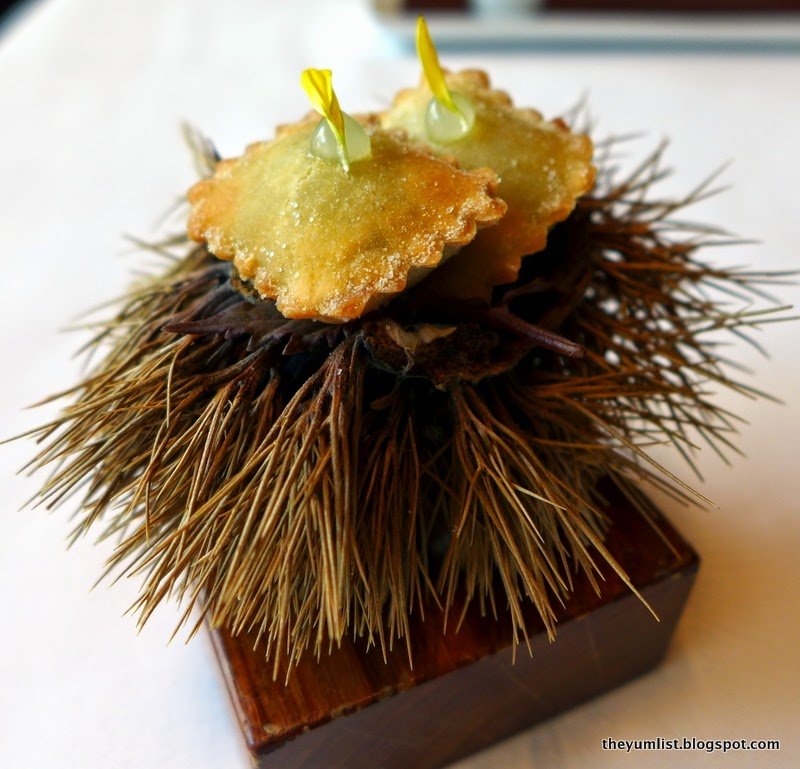 Chestnut Ravioli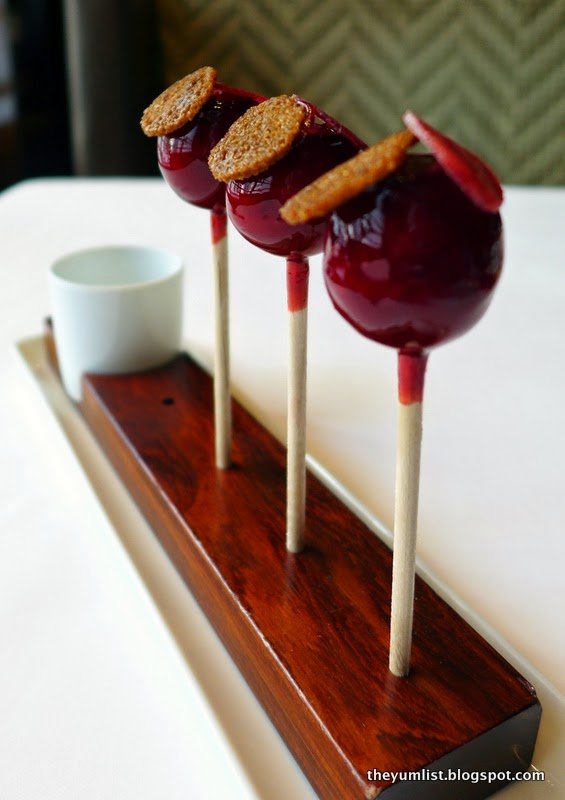 Foie Gras Lollipops
A second course of amuse bouche sits on a pebbly grain surfaced plate with a broad rim, almost as if mimicking an overturned sombrero. Holding the treasure is a small opening in the middle. Jerusalem artichokes bask in a pond of aerated mushroom sabayon. Finely shaven toasted artichoke chips muddle the surface. It's warm and wonderful, and tests my self-restraint to not reach to the bottom of the dish to scrape up the last drops with my fingertips.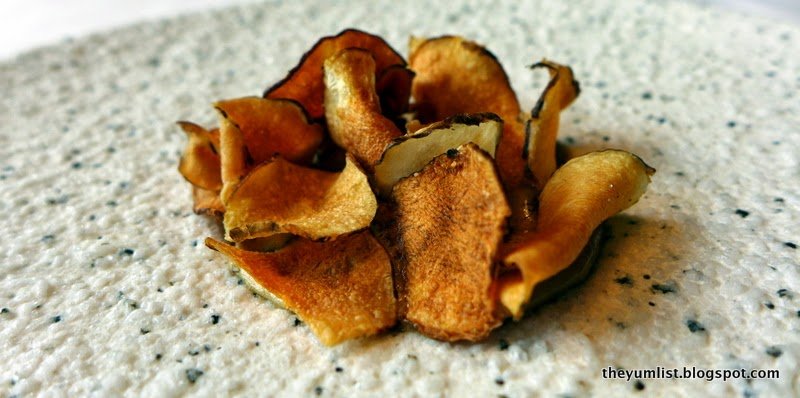 Jerusalem Artichokes
Chef's signature dish, Hokkaido Sea Urchin, sustains our mushrooming interest in presentation. A flattened white stone plate furnishes the foundation for a hollow white shell, containing this popular creation. Cauliflower panna cotta bases the bowl, encasing the pieces of seafood, while a lobster jelly seals the top. A generous blob of black caviar with a large gold flake finishes the petite composition. Crispy seaweed waffles come in a trio and are meant for alternating nibbles with the custardy star. It's superb! – Creamy, fresh and delicate.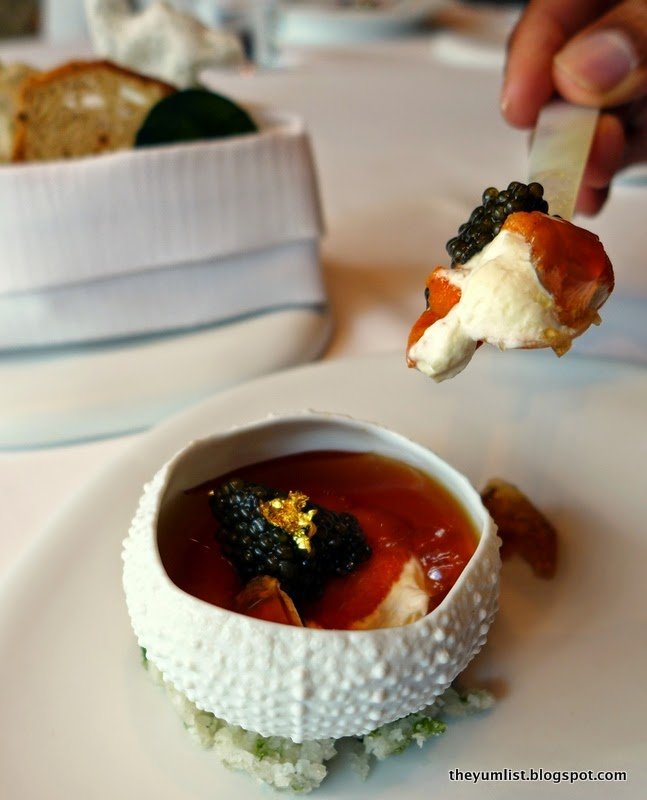 Hokkaido Sea Urchin
A 2012 Pascal & Nicolas Reverdy, Sancerre from Loire, France makes an elegant partner. This sauvignon blanc displays an oceanic minerality that works well with seafood. It serves as a pleasant partner for the sea urchin, but too cleanses the palate of the preceding amuse bouche.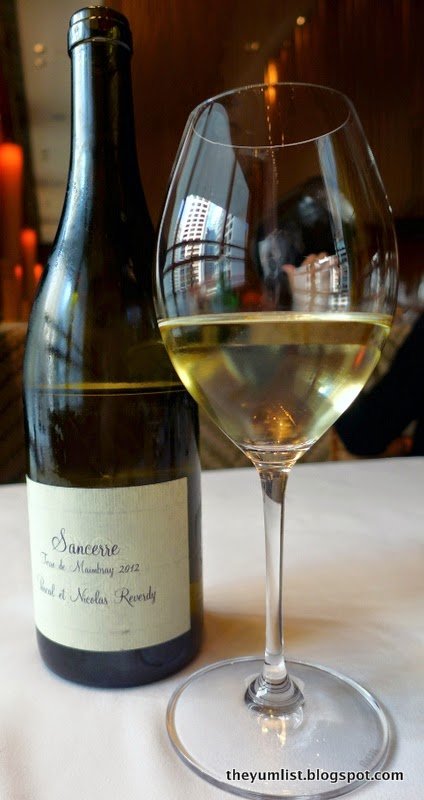 2012 Pascal & Nicolas Reverdy, Sancerre, Loire, France
A clear blown glass plate holds the Normandy Diver Scallop. It's seared with maco artichokes, and crested with a layer of tomato paste before being topped with a tangle of shredded black autumn truffle. 'Tete de veau' (veal head poached and soaked in veal jus) forms a ring around the plate establishing a barrier to contain the parsley bouillon that is poured on last minute tableside. Central Otago, New Zealand provides a mate with a 2009 Nevis Bluff, Pinot Noir. The scallop alone would not handle the light red wine, however the earthiness of the truffles and the richness from the veal, bolster the flavours, bringing its strength up to match the medium body and elegant dark fruits in the wine.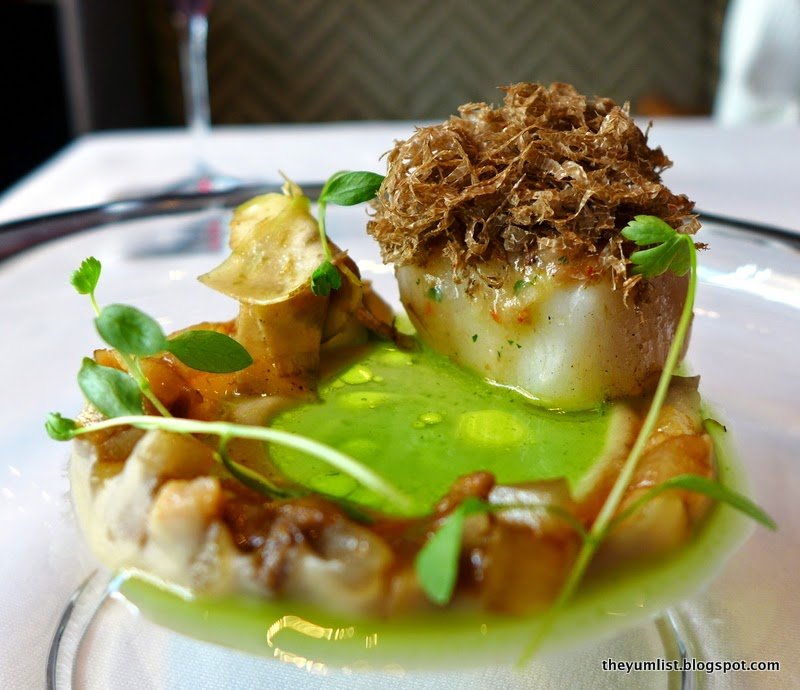 Normandy Diver Scallop
A strip loin of Omi Wagyu Beef still bares the scars of the char-grill around the edges but is lusciously pink in the centre. Ideally eaten medium rare, it's rich with fattiness and to jump on an overused cliché, 'melts as does butter in the mouth.' Brown al braised short ribs further strengthen the plate with full meaty robustness. Cereals including quinoa and seeds add a crispy mantle. While the wagyu is fatty and melty, the ribs are intensely flavourful.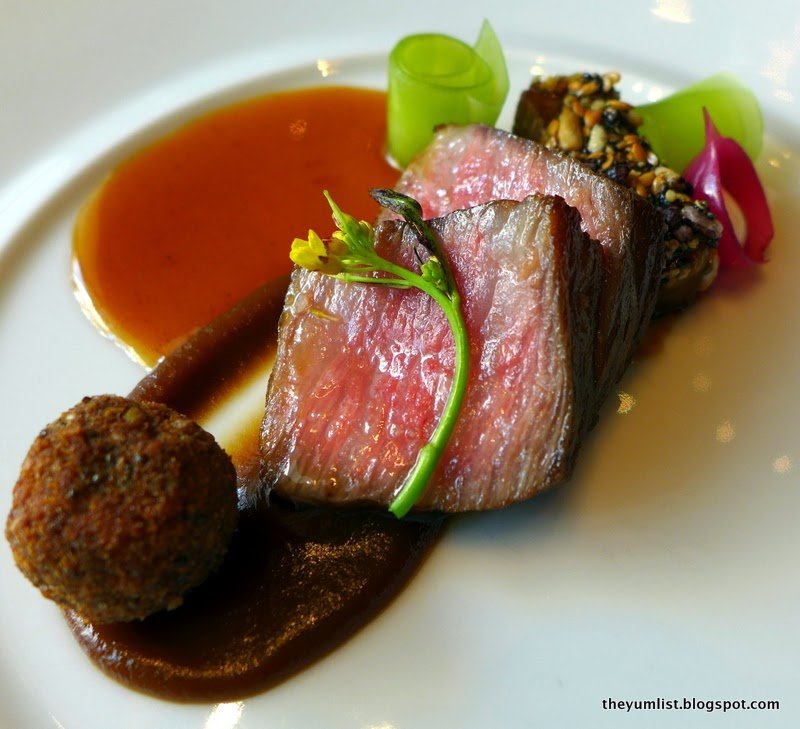 Omi Wagyu Beef and Braised Short Ribs
Dainty accompaniments break the intensity of the meat: celtus (stem lettuce – common in Chinese cooking), onion and malt vinegar puree, red pickled onion filled with sour cream, and a brittle ball carrying yellow grainy mustard. These little pit stops in between bites slice through the fat, allowing us to continue to the end of the plush plate. The wine comrade, Chateau Moulinet 2008 from Pomerol, Bordeaux France, enlivens the palate with aromatic fruit and a fleshy texture. Long slender legs swirl the glass, ash rises to the nose, and it carves through the fat of the sirloin, at the same time standing up to the strength of the ribs.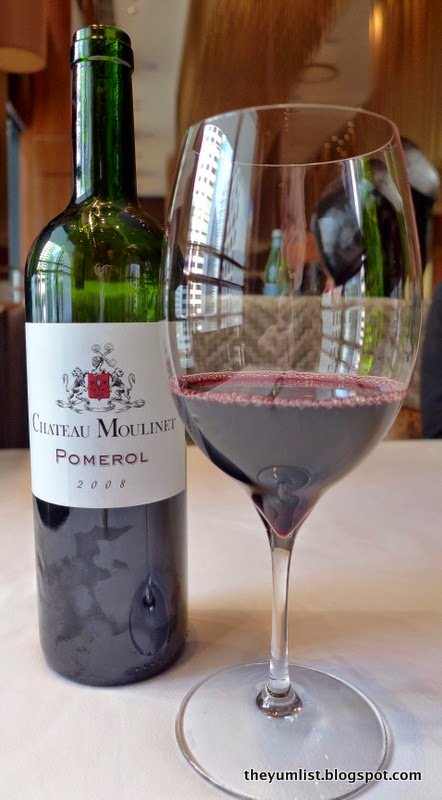 Chateau Moulinet 2008, Pomerol, Bordeaux France
A sumptuous finale is found with Dulcey Chocolate. Spheres of manjari (Madagascar 64%) chocolate coat a white creamy ganache. Salted and caramelized macadamia nuts dance around the edges, and a cocoa sorbet brings our sweet libido to full satisfaction. A fabulous pairing is found in the 2011 Domaine du Grangeon, Cuvee Mon Coeur from Rhone France. It mirrors the dessert impeccably with rich chocolate overtones, yet offers fresh red fruits in the mouth and a clean finish.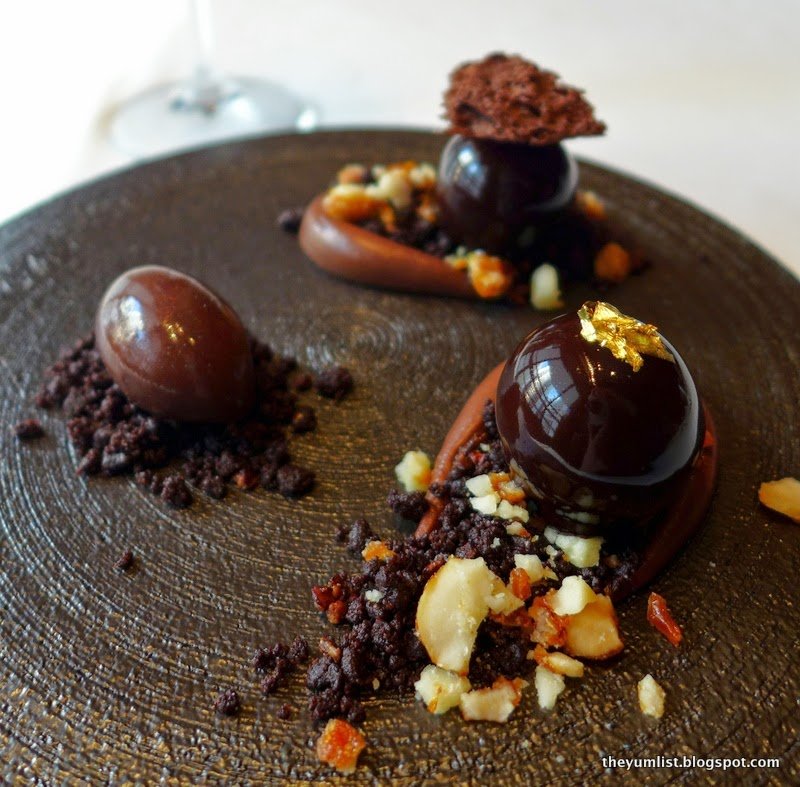 Dulcey Chocolate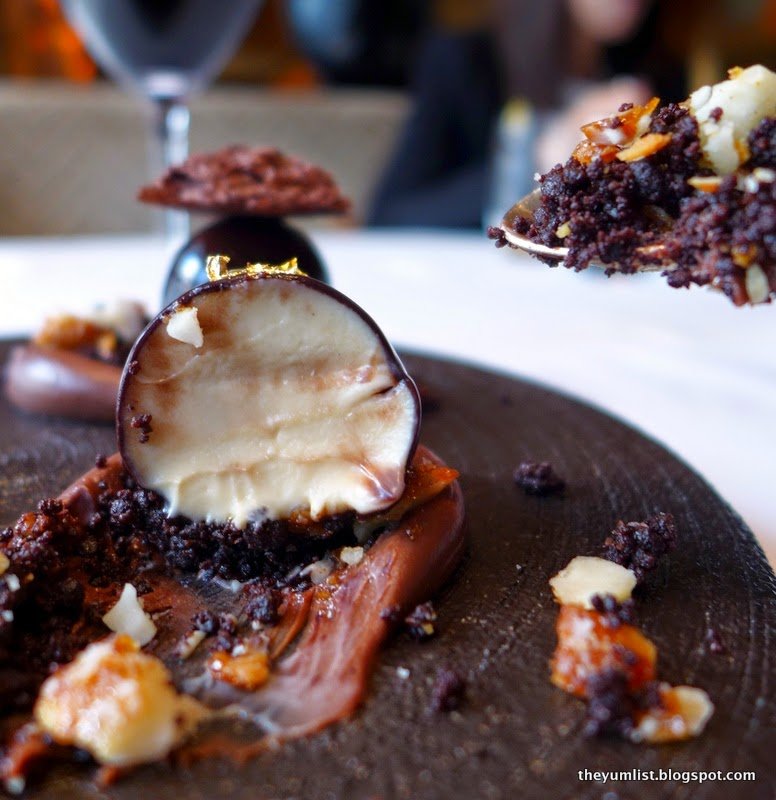 Dulcey Chocolate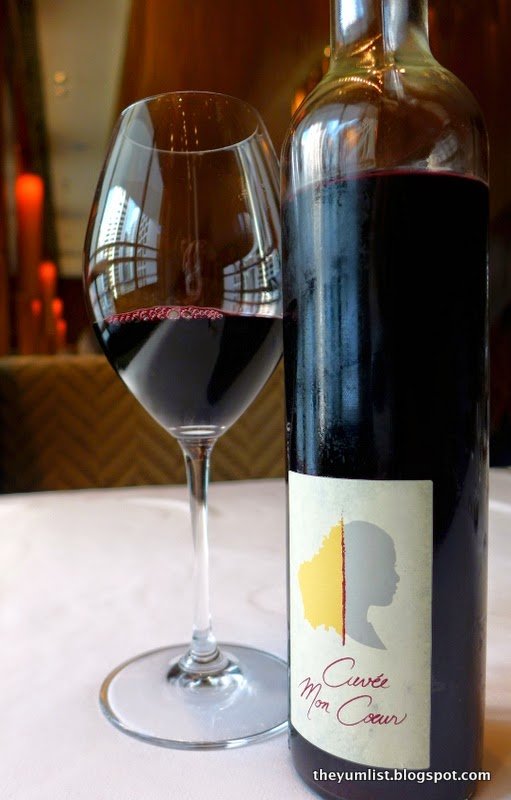 2011 Domaine du Grangeon, Cuvee Mon Coeur
This four course lunch degustation is priced at HK$1118 person, and an additional HK$694 can be added for wine pairing.
Reasons to visit: to taste for yourself the substance behind the accolades; superb wine pairings; gracious service; Foie Gras Lollipops; Hokkaido Sea Urchin; Dulcey Chocolate.
Amber
The Landmark Mandarin Oriental
15 Queen's Road Central
Hong Kong
+852 2132 0188