French tunes always hum from the speakers at Croisette Café, but we're especially enjoying today's playlist. Folk accordion tunes send our thoughts to riding bikes through the French countryside, stopping off in a small town to pick up warm baguettes and coffee, and continuing on to picnic in a park. We're sitting on the covered patio outside in the Penang outlet, surrounded by leafy potted plants and cooled by a gentle breeze from the fan. The nasal sing-song of French language flows from the kitchen further enhancing these images. We're here for the excellent value set lunch menu promising three courses of authentic French cuisine with tea or coffee for only RM30. (You can choose from a handful of options from each section.)
Starters
Sardine in Olive Oil Rilletes is a pretty arrangement with the fish fanned in a central circle on the plate, and surrounded by crumbled boiled egg and small wedges of lemon and tomato. The citrus is not purely decoration. It serves to cleanse the palate and adds freshness to the oily sardine crush. Pork Pâté comes in two styles: pistachio and liver. The former has moments of crunch with the nuts and a little lighter feel in the mouth, while the latter is full flavoured, and just as delicious. Both are rustic, and not overly processed, allowing us to identify the base ingredients – always a good sign in our opinions. A small tower of toasted baguette slices sides the sardines, and crusty toasted sourdough is the mate for the pork. Both have us smiling with their European crunch and hearty density.
Sardine in Olive Oil Rilletes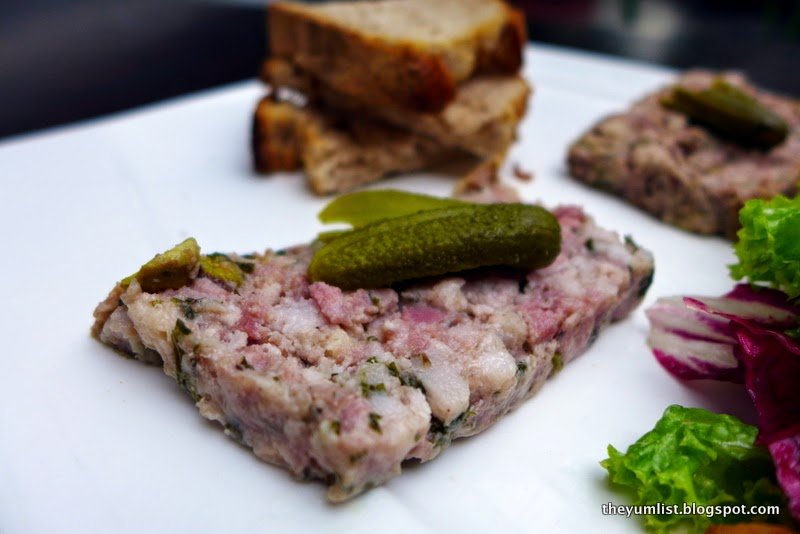 Pork Pâté
Mains
When the mains arrive, we have to check again that the price is indeed only RM30. The servings bring generous portions of quality meat (skinless boneless breast and chop), a huge column of potato gratin and a salad. The Chicken Breast is pan-fried producing golden edges and a moist interior. A creamy Roquefort sauce has just enough tang from the blue cheese to make it interesting, but enough dairy to make it suitable to palates not accustomed to strong cheeses. The Grilled Pork Chop is an ample piece of meat coated with a grainy Dijon Mustard. It's a filling plate. We still can't believe the low price for this meal.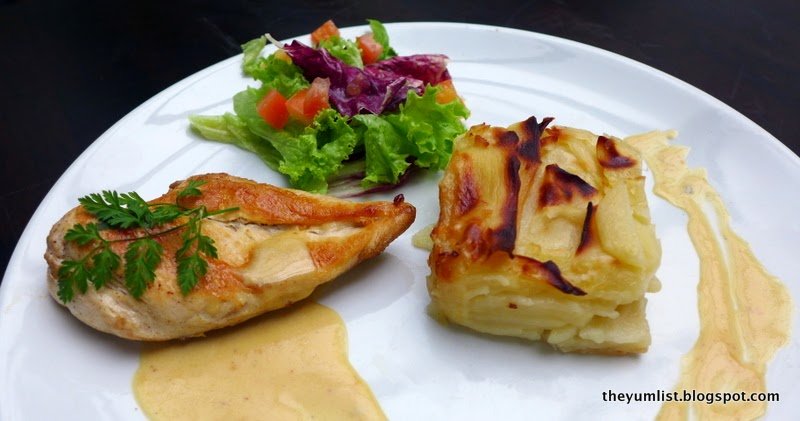 Chicken Breast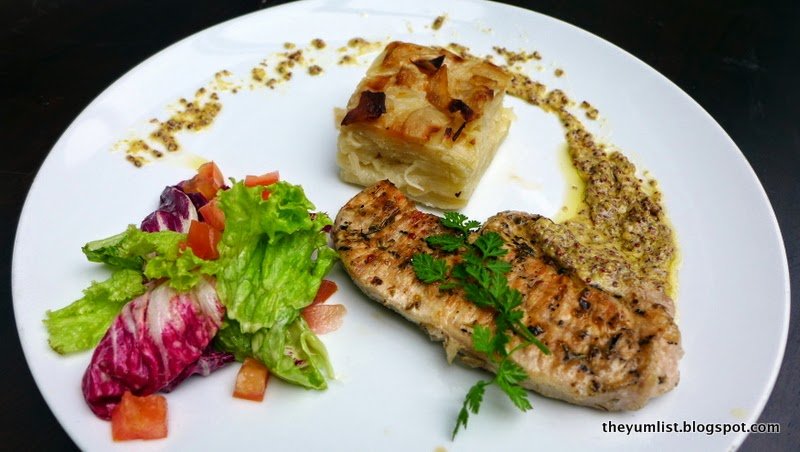 Grilled Pork Chop
Desserts
Chef Pierre has a reputation for wooing taste buds with his fabulous sweets and today he doesn't disappoint. Tap tap goes the roof of the Crème Brûlée – the sound of a positive entry. The caramelized sugar breaks way to a vanilla cream custard just firm enough to hold its place on a spoon, but runny enough to glide down our throats with ease. There's a surprise underneath- orange peel confit. Decorated with a single strawberry and mint leaf, it's a well-executed dish.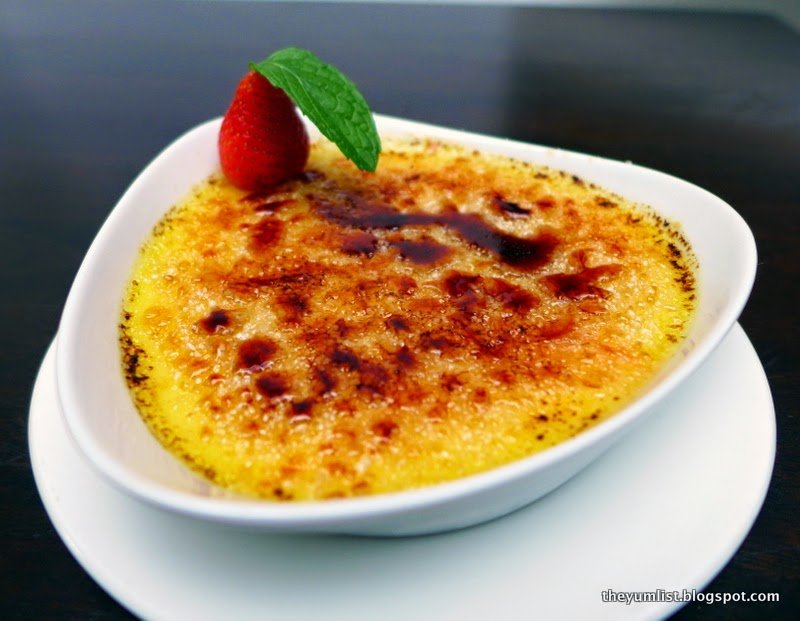 Crème Brûlée
Cake Morello Cherry Clafoutis has hubby mumbling something about his mother, bready cakes and adoring childhood memories. It's dense in texture and spotted with tangy dark red fruits. It does well with the hot beverage ending: a choice of tea or coffee.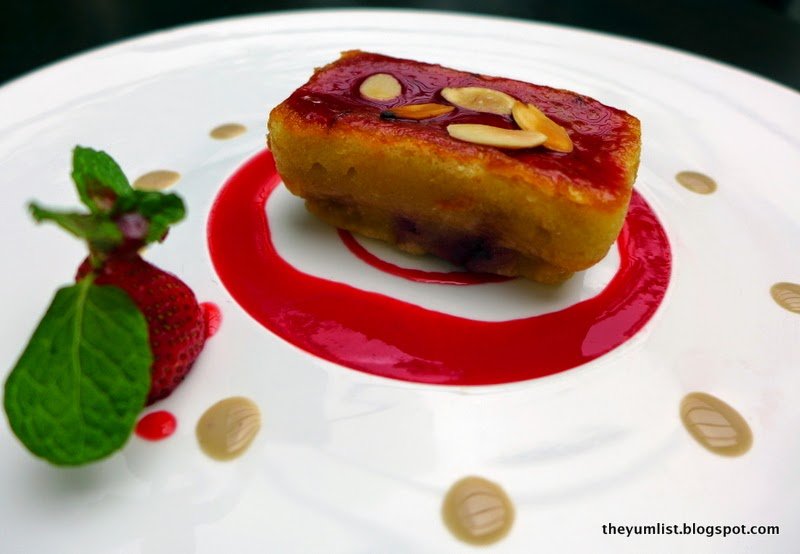 Cake Morello Cherry Clafoutis
House wine is only RM16 per glass. That means two people can eat a three course meal each, with a hot beverage and a glass of wine for less than RM100! What an incredible deal for French cuisine.
The set lunch menu is available at both Croisette Café Penang and Kuala Lumpur from Tuesday to Friday from 11am to 3pm. If you have five persons or more wishing to partake in the set lunch however on the weekend, that can be pre-arranged with a quick call to the owners.
Reasons to visit: incredibly good value set lunch menu; well-priced house wine; home style, honest-to-goodness French cuisine
Croisette Cafe
Croisette Villa
546E Medan Tanjung Bungah
11200 Tanjung Bungah, Penang
Malaysia
+61 (0)16 330 4477
+61 (0)14 665 7944