Marco Polo Hongkong Hotel will have shopping addicts swooning with delight. Located in the biggest mall in all of Hong Kong, Harbour City, bargain hunters, fashion freaks, and gourmet hunters staying in the property have an endless choice of boutiques, restaurants, and entertainment options literally on their doorstep.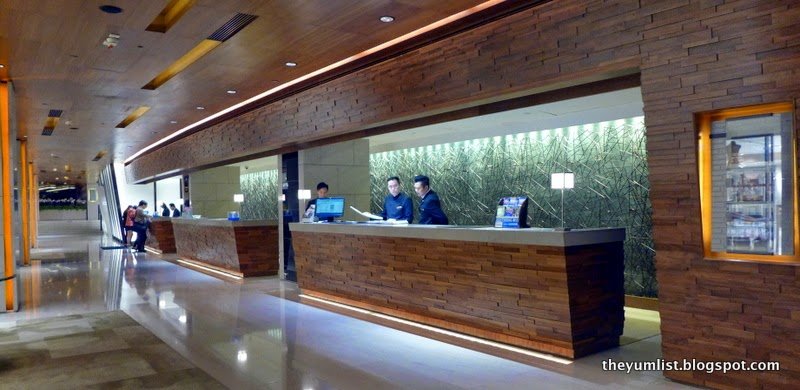 Lobby
Location, Location, Location!
With: rooftop views of the spectacular Victoria Harbour; the Star Ferry and Hong Kong cruise terminals a minutes' walk away; major tourist attractions such as Kowloon Park, Hong Kong Museums of Art, and Space, and the Culture Centre nearby; and the buzzing shopping and dining Tsim Sha Tsui district surrounding the hotel, you couldn't dream up a more convenient address.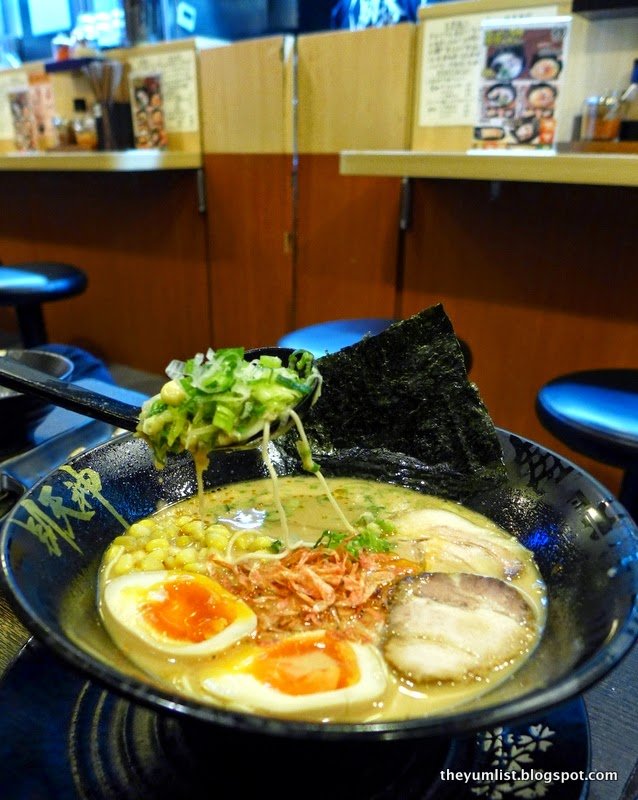 Delights from nearby Ashley Road
Rooms
This huge hotel houses 665 guestrooms and suites. Ranging between 45 square metres and 52 square metres, entry level Superior and Deluxe rooms are surprisingly well-sized for the city renowned for having 'space issues.' Suites of course are much bigger and can cover an area up to that of a modest apartment in Hong Kong – 150 square metres. Continental Club and Harbour View Rooms move to the higher end of what's provided showing, there's something for a variety of budgets and needs.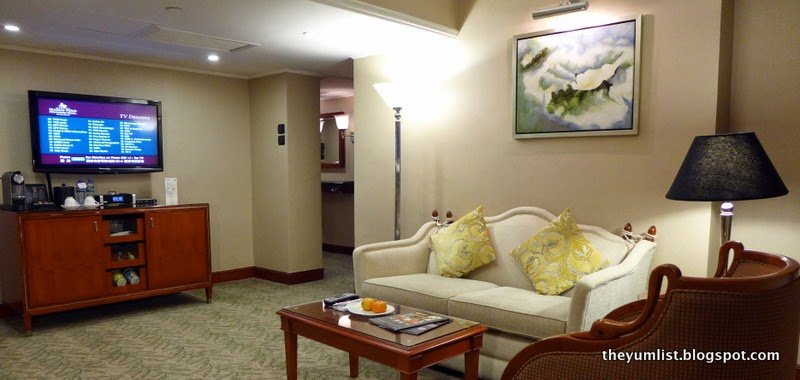 Living Room – Continental Club Suite
Both smoking and non-smoking rooms are available, so be sure to note your preference upon reservation. All rooms are hooked up with complimentary high speed Wi-Fi, and the latest blockbuster movies run through the in-room entertainment system. While rooms are of an older design, fittings are of top quality and no detail has been left without thought.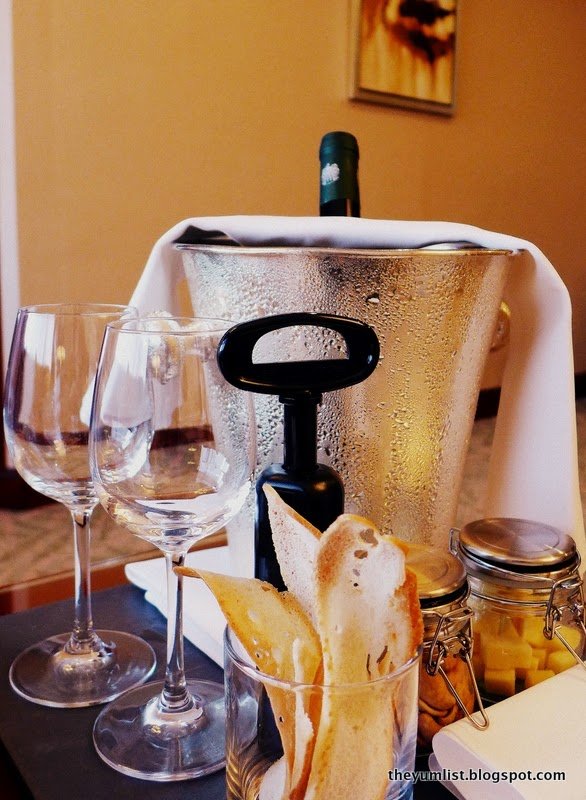 In Room Dining
Lush bath products including little extras such as potpourri and bath salts are provided, in our Continental Club corner suite room. The mini-bar includes a Nespresso coffee machine and fancy teas by Ronneldfelt. A set of scales, magnifying mirror with light, quality hair dryer, and more – all are there, making us want for nothing.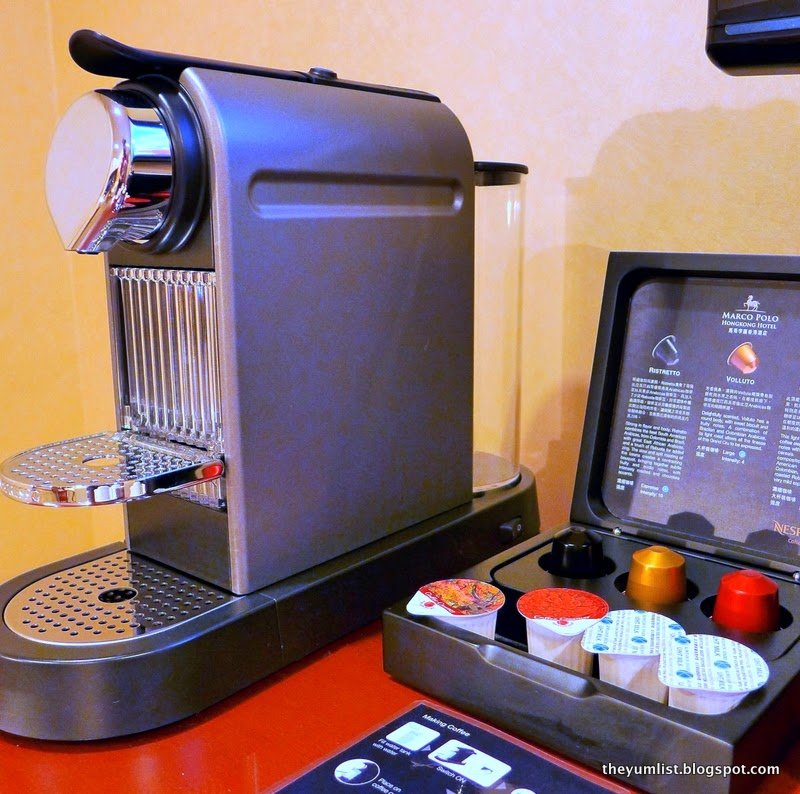 Nespresso Machine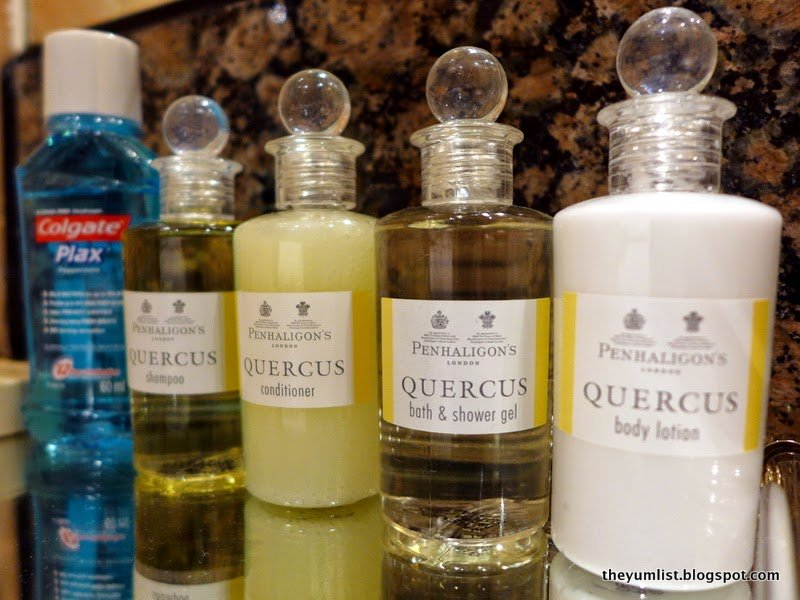 Quercus Bath Products
The Marco Polo Hongkong Hotel is one of the older hotels in the city, gifting the rooms with a generosity of space not found in newer properties, but too defining the layout of rooms with an old school infrastructure. A palette of gold and rich browns respects the historical past of the hotel, imbuing an ambience of elegance and prestige. Partial harbour views enhance the grandness.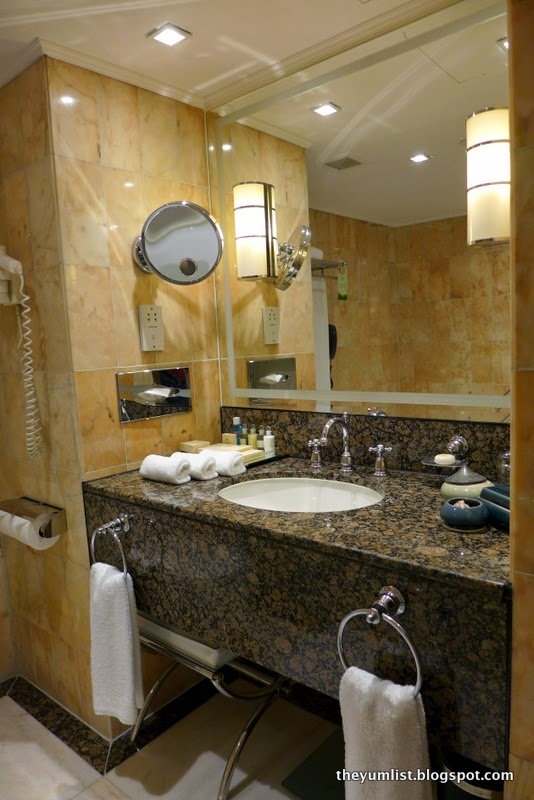 Bathroom
Separate living, bathing, dressing and bedroom areas – all divided by solid timber doors – give privacy and allow me an early undisturbed night while hubby stays up to catch the latest game on TV, and hubby a sleep in while I get up early for a morning workout. Black out curtains and high-quality bedding further enhance our slumber.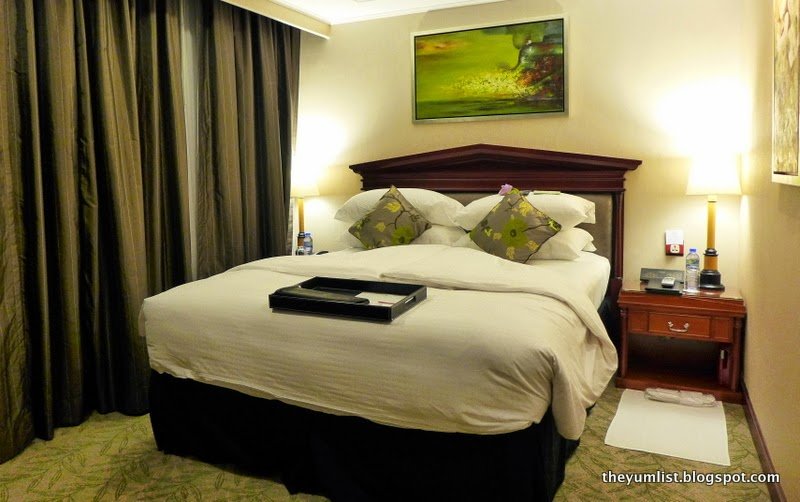 Suite Bedroom
Continental Club suites come with some great benefits including breakfast, afternoon tea and evening cocktails, all boasting a quality spread of both Western and Asian delights. Hot beverages and soft drinks are available throughout the day, and various discounts on things such as laundry and dining are too passed onto members.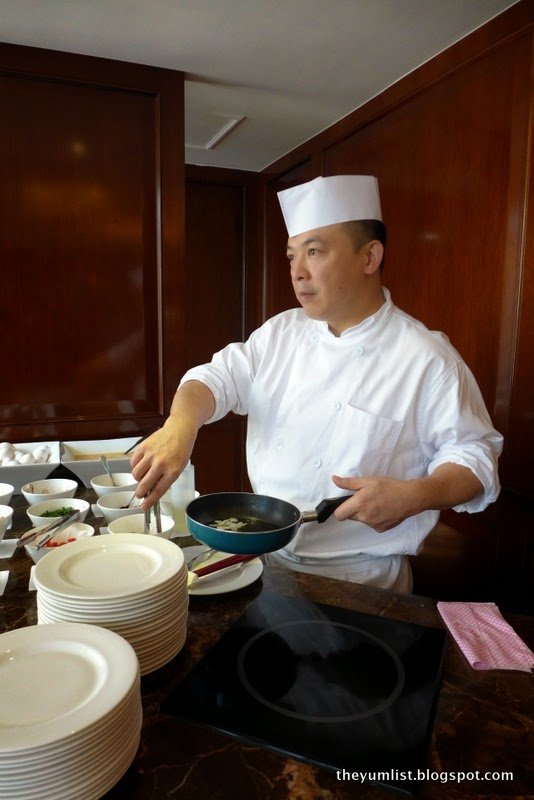 Chef in Continental Club
Complimentary benefits aside, it's the quieter more refined atmosphere that we appreciate the most. Natural light streams through the windows reflecting off fine china and shiny silverware. Both dining tables, and leather lounges hemming in low coffee tables, furnish comfortable seating. Staff, dressed in tuxedos, foresee every desire, and glasses are refilled, coffee mugs topped and the day's newspaper offered without delay. Check in and check out can be done here too, meaning queues are skipped and the minimal wait time is spent sipping a beverage in an armchair.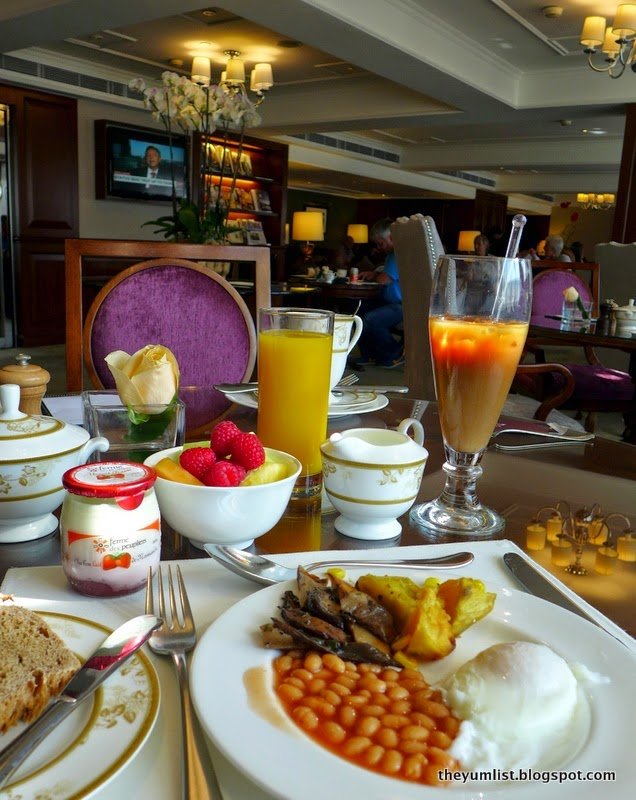 Continental Club – Marco Polo Hongkong Hotel
Facilities
A spa, outdoor swimming pool and gymnasium provide plenty for health and relaxation. We test out the gym both days and find the cardio and strength equipment to be in excellent condition. Not one single screen or headphone set is out of order and all machines operate smoothly. Towels, water and sanitizer are all provided and a good air-conditioning system makes for a very pleasant workout temperature.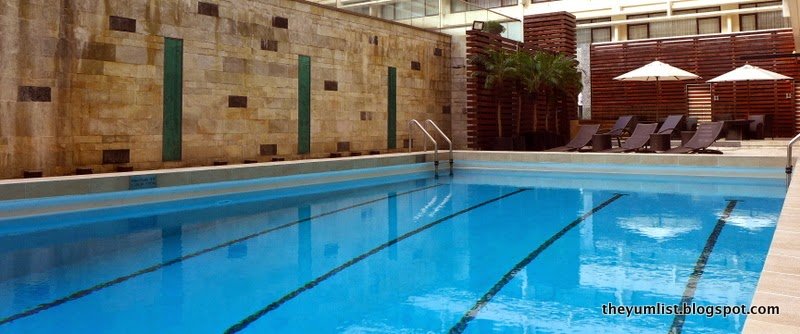 Pool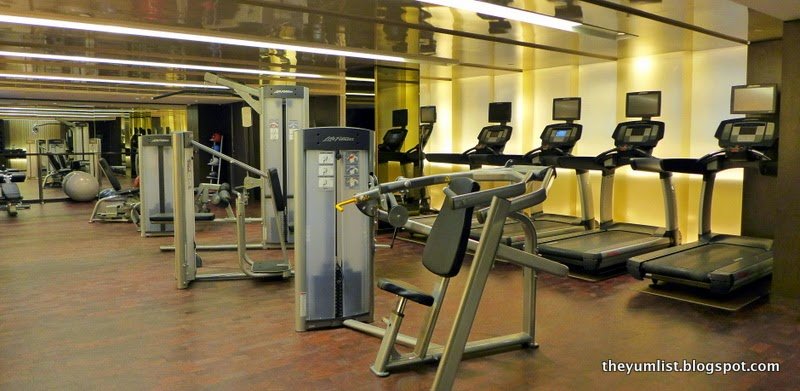 Gymnasium
Food and Beverage
Being situated in what easily competes for the title of "Eating Capital of the World", food and beverage have to be pretty top-notch to make it in this metropolis. Marco Polo Hongkong Hotel features three high-quality outlets, all of which are mighty contenders, rivaling the best of restaurants in terms of service and standard of food and beverage.

View from Cucina Italian Restaurant
Cucina
Delicious Italian fare is found at Cucina, and the breathtaking backdrop of Victoria Harbour, viewed from its glass walls and al fresco patio, place it firmly at the upper end of the list of restaurants with some of the finest views in Kowloon. 'Pure Italian' cuisine and expert wine pairings are things to be excited about. Read about our recommendations for the best dishes via this link.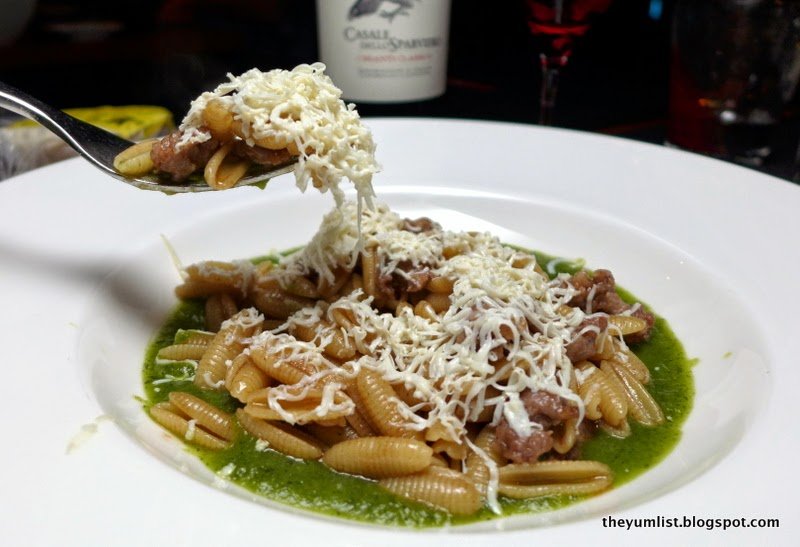 Cucina, Italian Restaurant
Café Marco
Café Marco is the property's all-day-dining restaurant, with buffet breakfast here included in many room packages. The first item I noticed in the morning spread was the display of fat triangles of golden French toast. Piled high and glistening under the heat lamp, any thoughts of a low carb brekkie were quickly dismissed. Coupled with an entire counter of house baked breads and pastries, there was no choice but to load up. Apart from these tempting goodies, a solid variety of local and western dishes keep even the fussiest of eaters happy. Both a la carte and smorgasbord options continue over the rest of the day.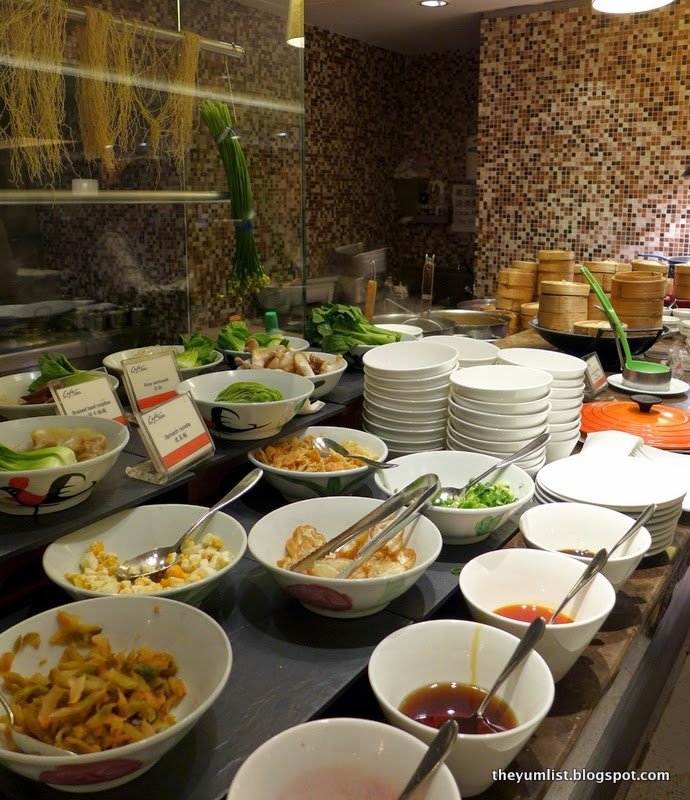 Café Marco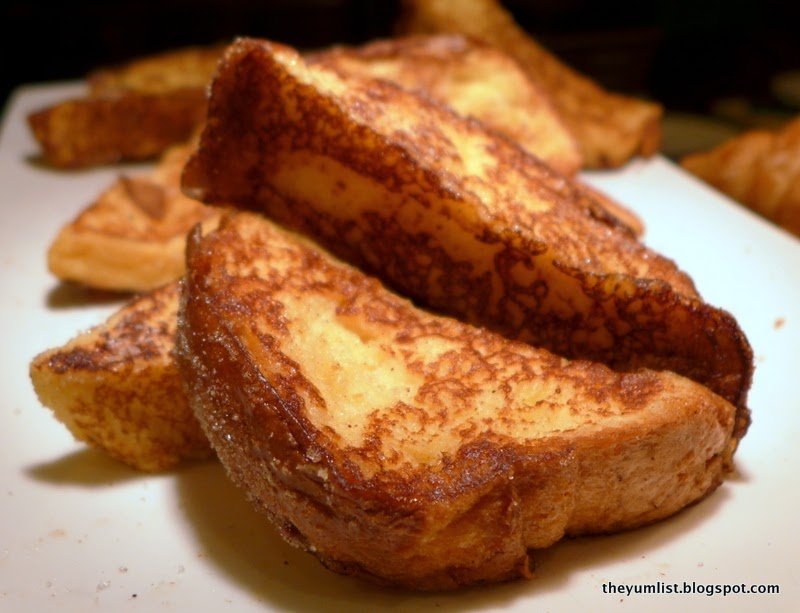 French Toast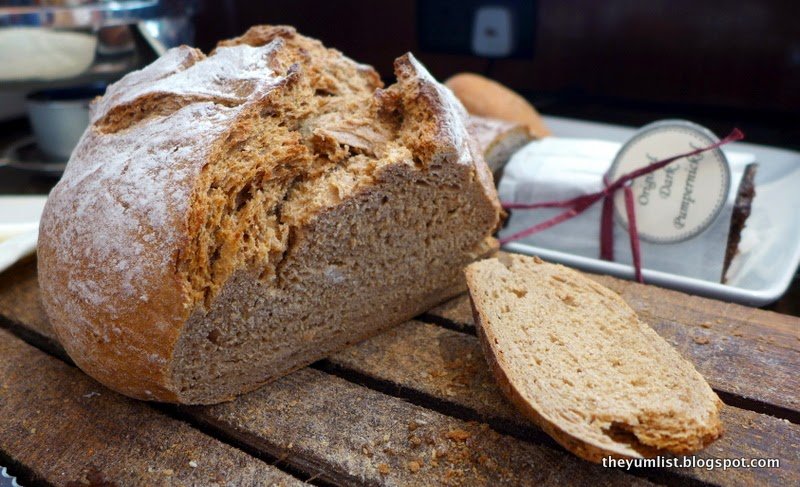 House Baked Bread
Lobby Lounge and Rum Bar
Holding the Guinness World Record for "Bar with the World's Largest Selection of Commercially Available Rums," the Lobby Lounge's Rum Bar is of high interest! A seat at the bar is the only place for a snifter of rum or rum based cocktail: conversation with the bartender is essential for getting the best tips and tales in town. Read about our rum adventure here.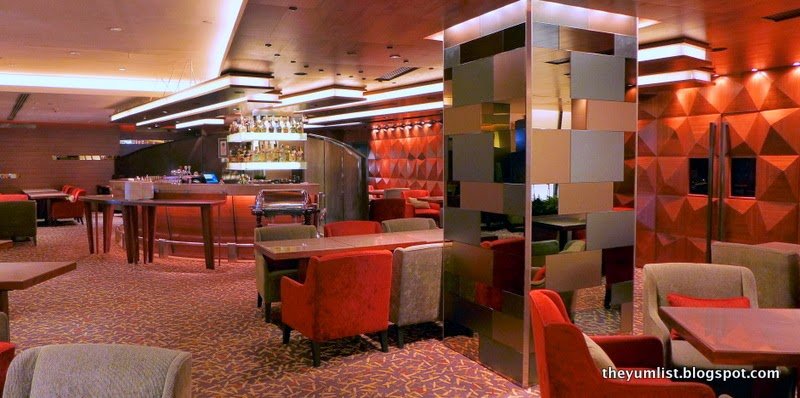 Lobby Lounge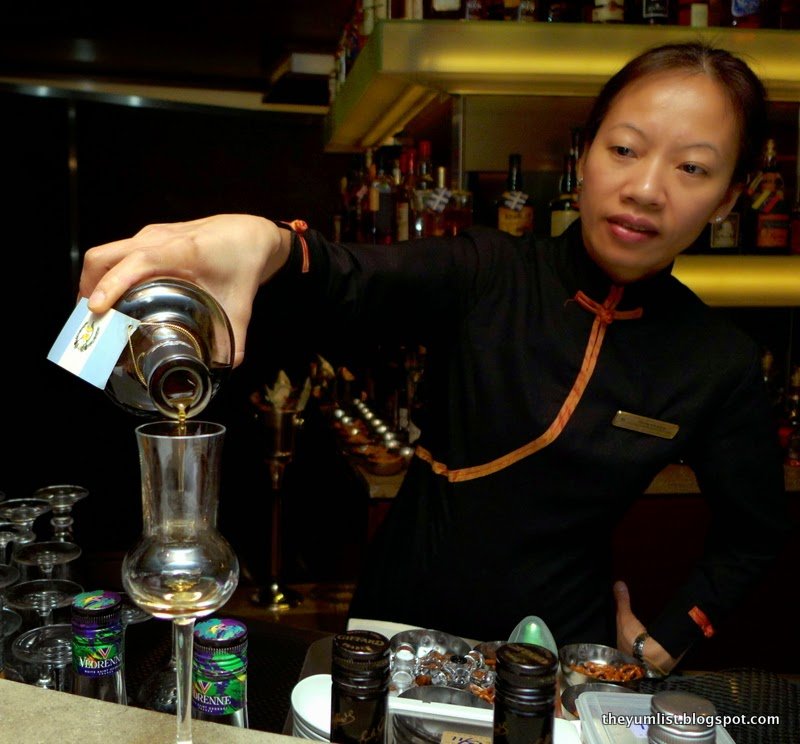 Lobby Lounge Bar
Marco Polo Gateway Hotel Three on Canton
Three on Canton is housed in a sister hotel, Marco Polo Gateway Hotel, just a few minutes' walk away. We're fortunate to have the opportunity to check out this restaurant too and take a look at a room. Contemporary design is done incredibly well in this recently renovated property. Smoothclean lines and  modern art pieces command the space, yet a warm cozy ambience is maintained.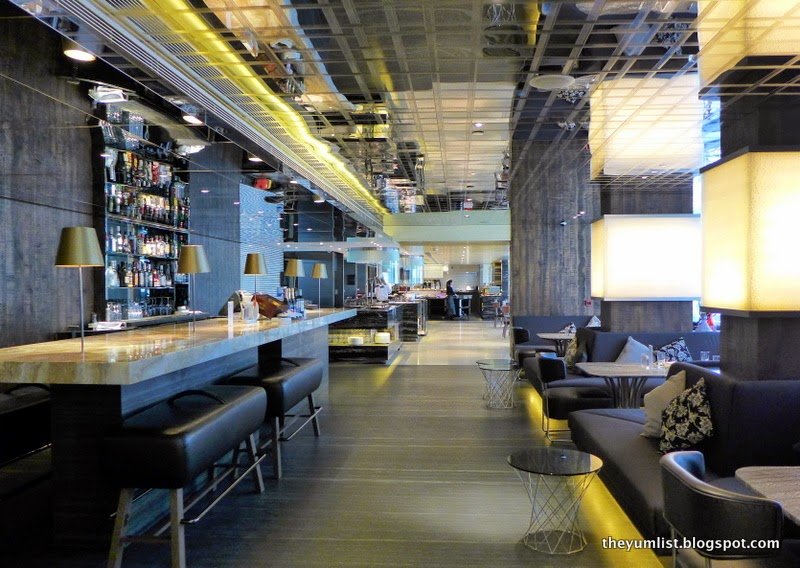 Three On Canton – Gateway Hotel
The breakfast buffet menu at Three on Canton resembles that of Café Marco with everything made in house showcasing a great selection of both local and Western cuisine. Highlights for me are the healthy section featuring fresh fruits, homemade Bircher muesli, and a solid variety of crusty grainy breads. Hubby on the other hand, eyes the dim sum section and live cooking stations for the design-your-own noodle bowl.
Besides the food and beverage outlets in the Marco Polohotels themselves, as mentioned earlier, the  properties are located within the largest shopping mall in the city, Harbour City, making dining options just about endless.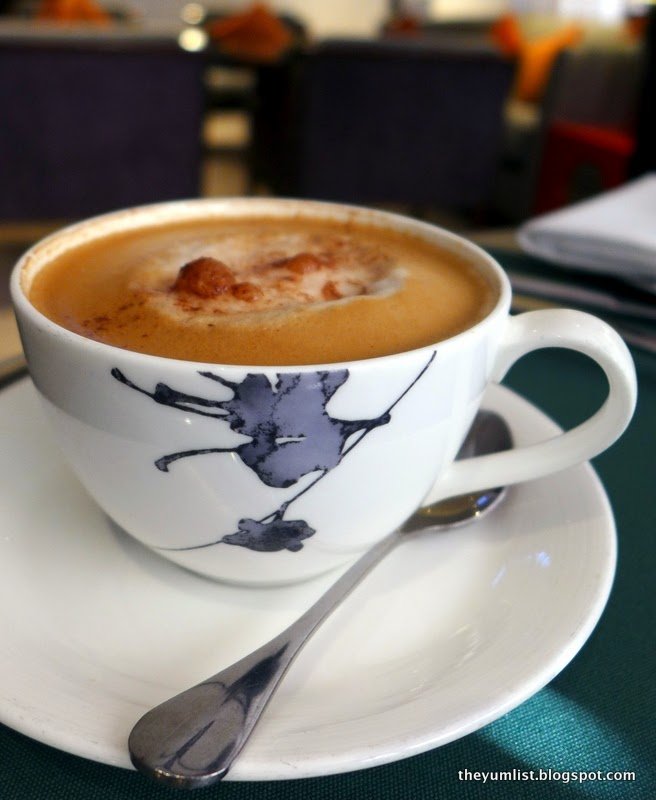 Continental Club – Gateway Hotel
All of this "hardware" is only as good as the "software" that goes with it however, and I can't end without giving due credit to the laudable service and hospitality bestowed upon us at Marco Polo Hongkong Hotel. I've never seen people work with such speed and efficiency, while at the same time embracing guests with warmth and friendliness as we've witnessed in Hong Kong, but more specifically at this hotel.
It seems staff here are able to predict our needs before we even know we have them. Bags are whisked away, taxis called, restaurants recommended, directions given, water topped up and glasses refilled. This team has been trained in the fine art of reading body language and they do indeed seemto know what we  want before we do.
Combining service, facilities and location, Marco Polo Hongkong Hotel has struck the perfect combination for a wonderful stay in the magical city of Hong Kong.
Reasons to visit: superb location for shoppers, diners and sight-seers; large rooms; excellent choices; highly commendable service.
Marco Polo Hong kong Hotel
Harbour City
Tsim Sha Tsui
Kowloon
Hong Kong
+ 852 2113 0088