Michelin stars have a funny way of grabbing our attention, especially when there's a trio of them awarded. L'Atelier de Joël Robuchon has gained this prestigious honour in both locations in Hong Kong andMacau.  Building on the high standard of food and service, the concept has spread further afield, making the brand more accessible to the average diner in the more casual (and affordable) version, LE CAFÉ de Joël Robuchon.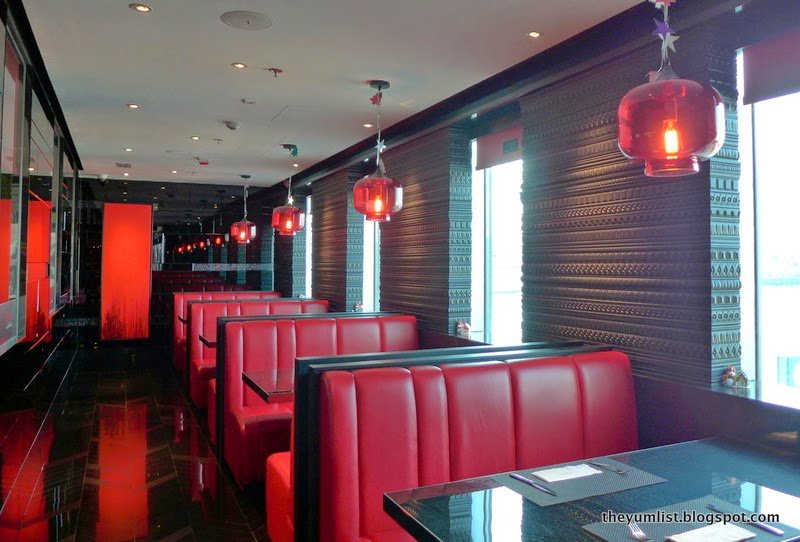 Red and Black Decor
This French café couldn't be more perfectly situated in the heart of Harbour City. With a menu catering to all desires, from hearty meals to sandwiches, coffee and cake available for dining-in or takeaway,  shoppers can make a stop anytime of the day and be satisfied. Those on the run might grab some refueling to go, others might take longer to rest weary feet after some energetic shopping, while others still might visit for a few hours of pleasure with friends and family tucking into more robust fare.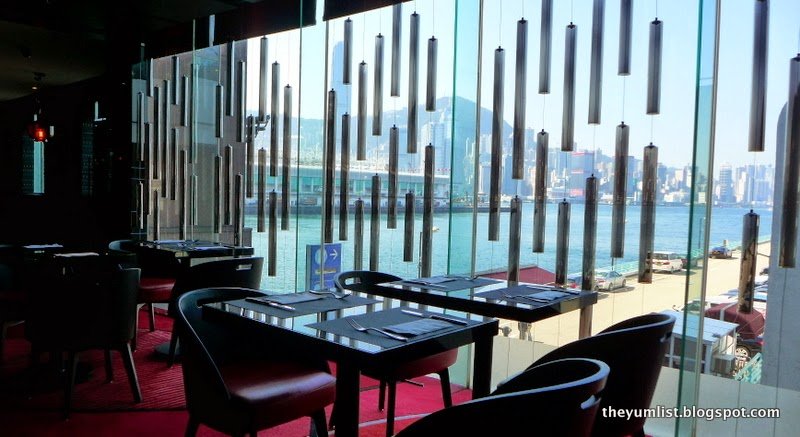 Table by the Window
The shop front display is filled with meticulously molded treats and has us drooling before we've even seen the a la carte menu. A cherry red La Marzorco coffee machine proudly claims a spot on the counter promising quality cups of coffee made from Italian hardware. A range of sweet dishes in the form of Afternoon Tea, Crepes, Waffles and Desserts, make a prominent appearance, but, Suggestions of the Day, Cold Dishes and Crispy Pocket choices seem an attempt to balance out a potential sugar overload.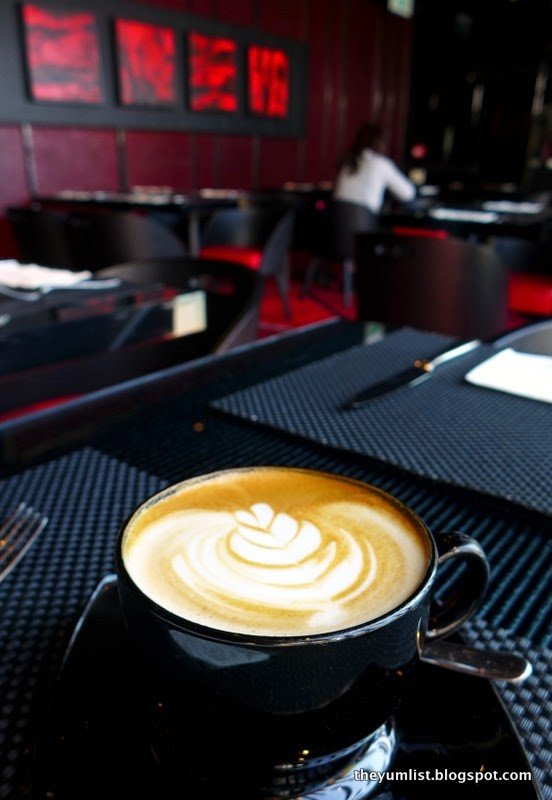 Flat White
We settle in to catch up with friends over a substantial meal, and a line-up of prettily presented dishes has our eyes feasting well before our tongues get a taste.
A Trio of Appetizers features: a shot glass of vivid green zucchini soup; a flat patty of risotto crowned with a yellow fried egg; and a slice of eggplant topped with finely shaved ham, mozzarella cheese and bell pepper sauce. Red and green micro leaves adorn the white rectangular plate with a reminder of the festive season, and each bite proves a mouthful of delicious satisfaction.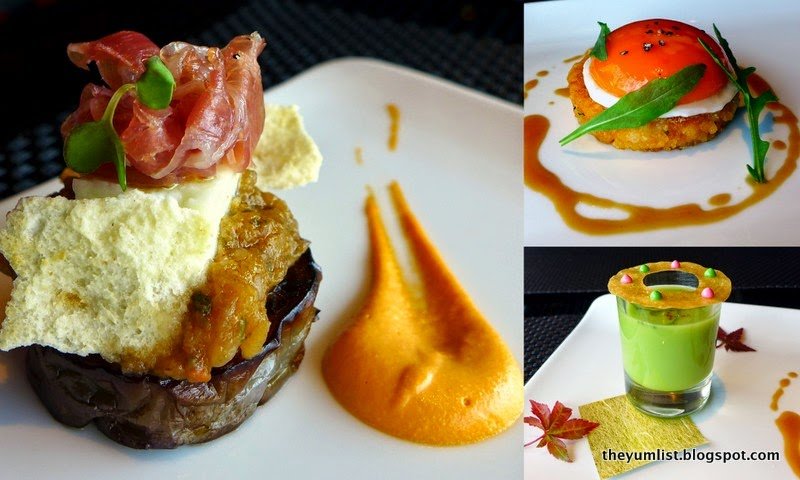 Trio of Starters
A transparent plate covering cinnamon sticks and fresh flowers form a decorative spring garden base for Seared Hokkaido Scallops (HK$210). Baby vegetables and an orange dressing play well with the golden edged mollusks generating an agreed upon opinion of "yum" across the table.
Hokkaido Scallops
Wine must be combined with this lovely food and a compact list proposes a decent array by the glass. The 2011 Cloudy Bay Pinot Noir (HK$150) from Marlborough, New Zealand satiates my desires. Hubby can't resist some bubbly so orders a Mateus Brut Rose from Portugal, NV (HK$75), which quenches his proclivity just as well.
Cloudy Bay Pinot Noir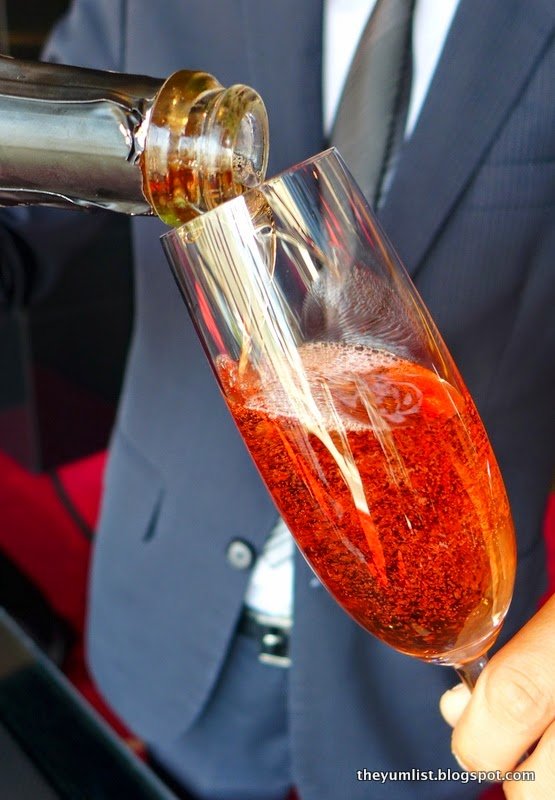 Sparkling Rose
The seafood soup, Bouillabaisse a la Marseillaise (HK$280) is foamy on top just like when the sea hits the shore. Brimming with big chunks of seafood, this is a luxurious brew composed of a rich broth with a peppery finish.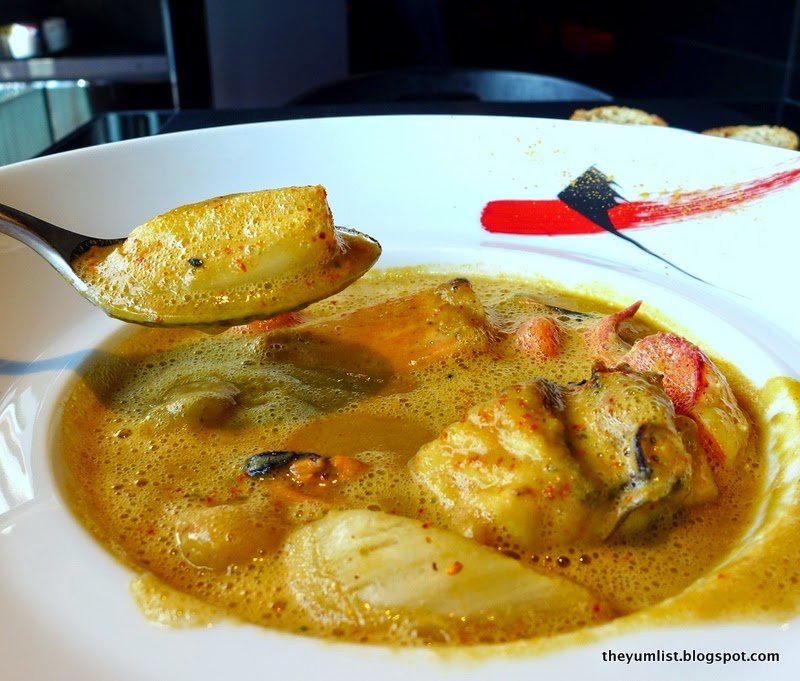 Bouillabaisse a la Marseillaise
The signature Crispy Duck Confit with fresh figs and cabbage (HK$290) is wonderfully tender and moist, and the velvety potato mash on the side an amiable partner.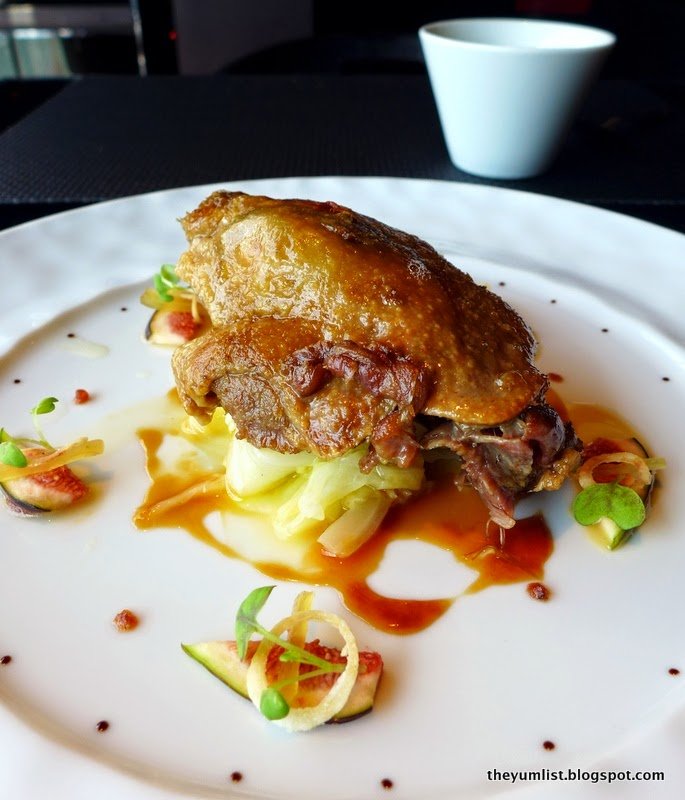 Duck Confit
A more liquid version than we're accustomed, is found in the Sea Urchin Risotto (HK$300). Rice is still al dente however, and diced artichokes and shaved Parmesan add delicate flavours. Rather mild in taste, I add a little salt and pepper for an extra boost.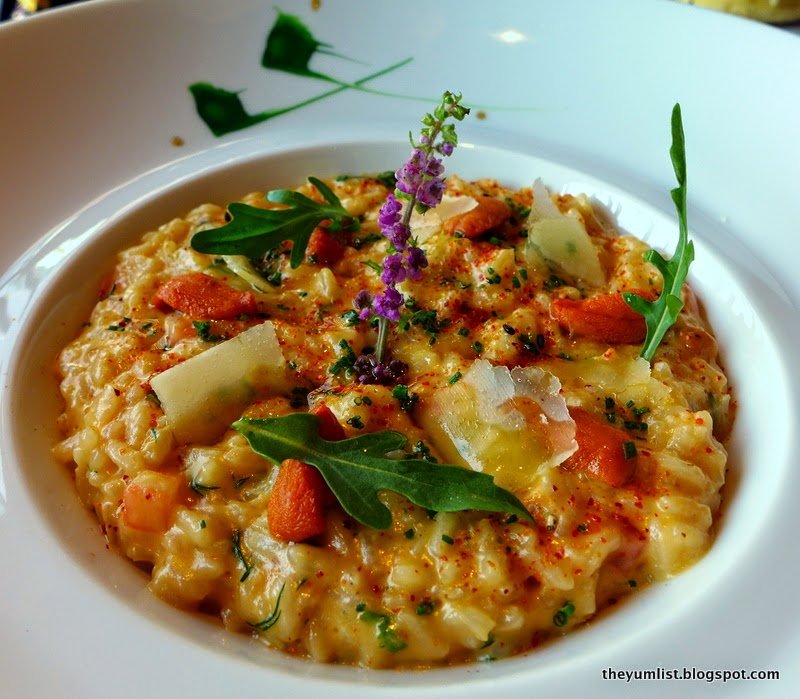 Sea Urchin Risotto
The Crab Crepe (HK$148) might be the prettiest crepe we've ever seen. A large thin tanned egg batter is folded around the edges leaving an opening that reveals fresh pieces of crab, egg, gruyere cheese, tomato and spinach. It's an all round favourite at our table.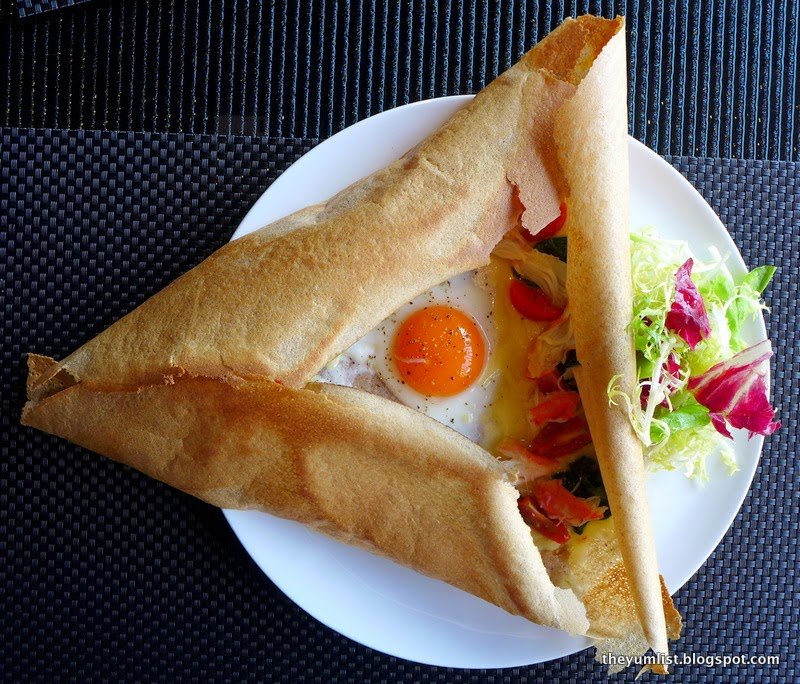 Crab Crepe
Salmon and Sea Urchin Burger (HK$230) continues the oceanic theme proving a mouthful of deep-fried richness wedged between a soft white sesame bun. Wasabi honey mustard makes a yummy dip for the side of crisp French fries.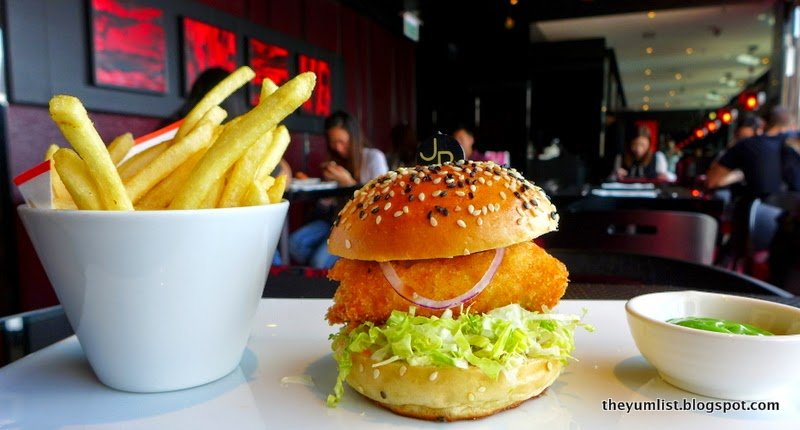 Salmon and Sea Urchin Burger
French Toast Waffles (HK$98) with a variety of fruit sauces – Mango and Mandarin, Mixed Berries, and Caramelized Bananas – end the meal on a sweet note.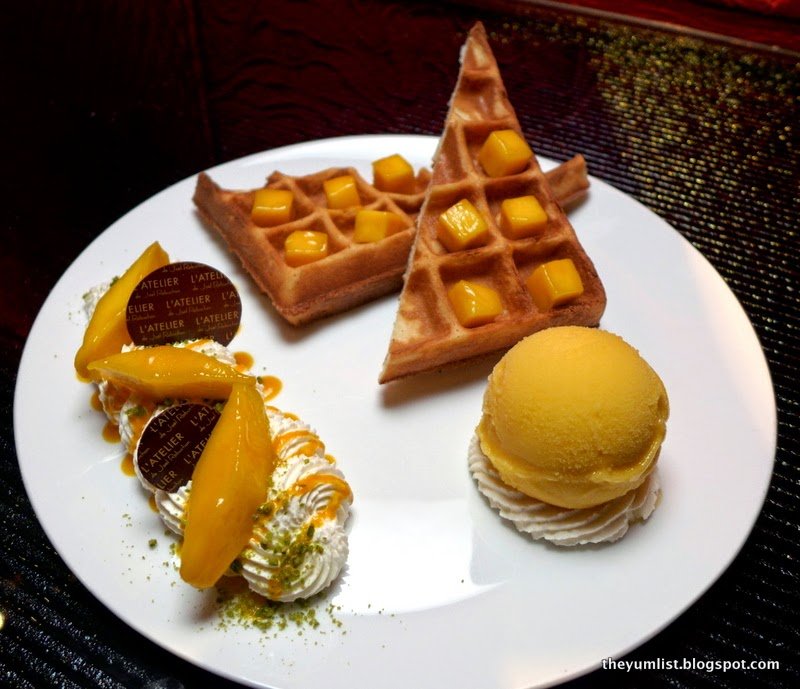 French Toast Waffles
Reasons to visit: prettily presented dishes, Seared Hokkaido Scallops, Bouillabaisse a la Marseillaise, Crab Crepe, convenient location right in Harbour City.
LE CAFÉ de Joël Robuchon
Harbour City Gateway Arcade
Level 2, Shop 2608
+ 852 2327 5711
Open daily: 9:00– 22:00