Words: Kirsten Durward      Photos: Monica Tindall
SIX friends band together to create a place that joins everything they love about an evening experience: exemplary service, friendly welcome, a feel good vibe and reasonable prices (nett). The SIX owners use a buzz phrase for their brain child 'adult play6round' and as you know, we Yum Listers like to play in style so here we are. I'm loving the simple silvery grey ambience with the Daliesque drawings on the wall. Although we're seated at the bar, better to view the cocktail mixing, my eyes are tugged towards the lounging area, and I envisage relaxing there with friends as we share some good times in this unashamed cocktail heaven.
We are here to try new signature cocktails, lovingly created by award winning mixologist Imran, already a favourite on the Bangsar scene. I hear that if you tell him what you like to drink and how you're feeling on the day, he'll whip you up an original drink just for you. Something I will surely come back to taste.
But today we are here for his newly invented beverages, and I'm happy to find that cocktail drinking is taken seriously in this bar. It's my considered opinion that cocktails are often terribly misunderstood. People forget that original cocktails were all about clever blends of alcohol, and meant to give you a good old buzz (quite the opposite of some of the sugary concoctions currently found on the scene).
6 Hit Wonder (RM36)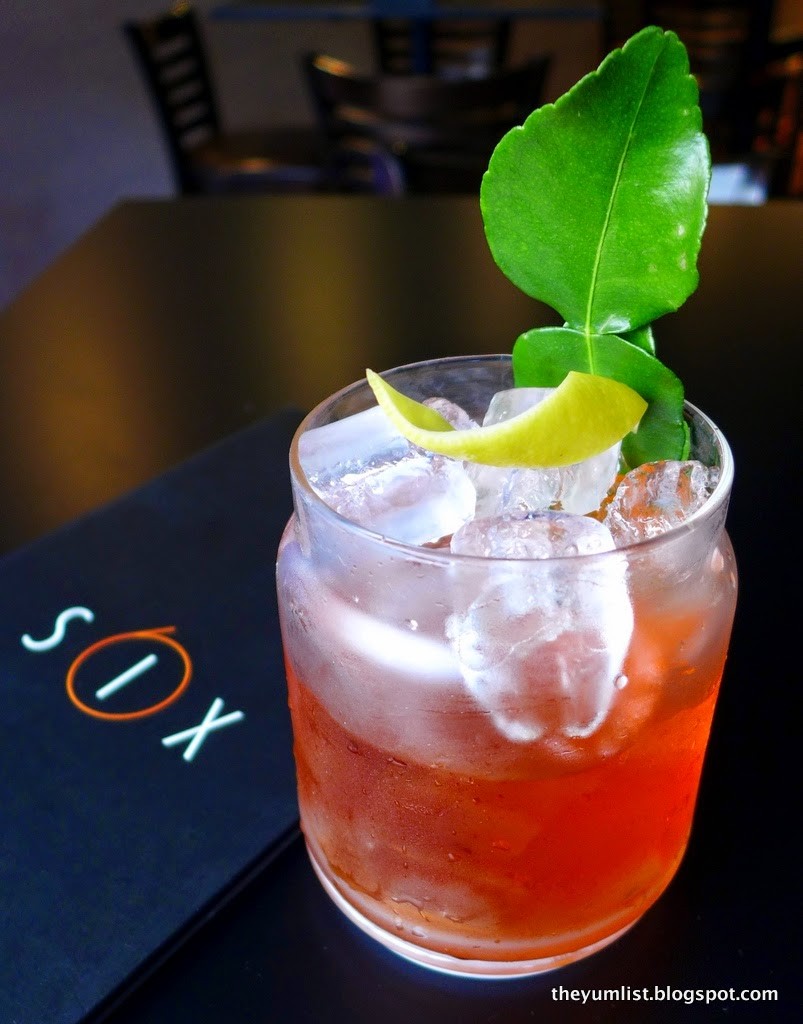 6 Hit Wonder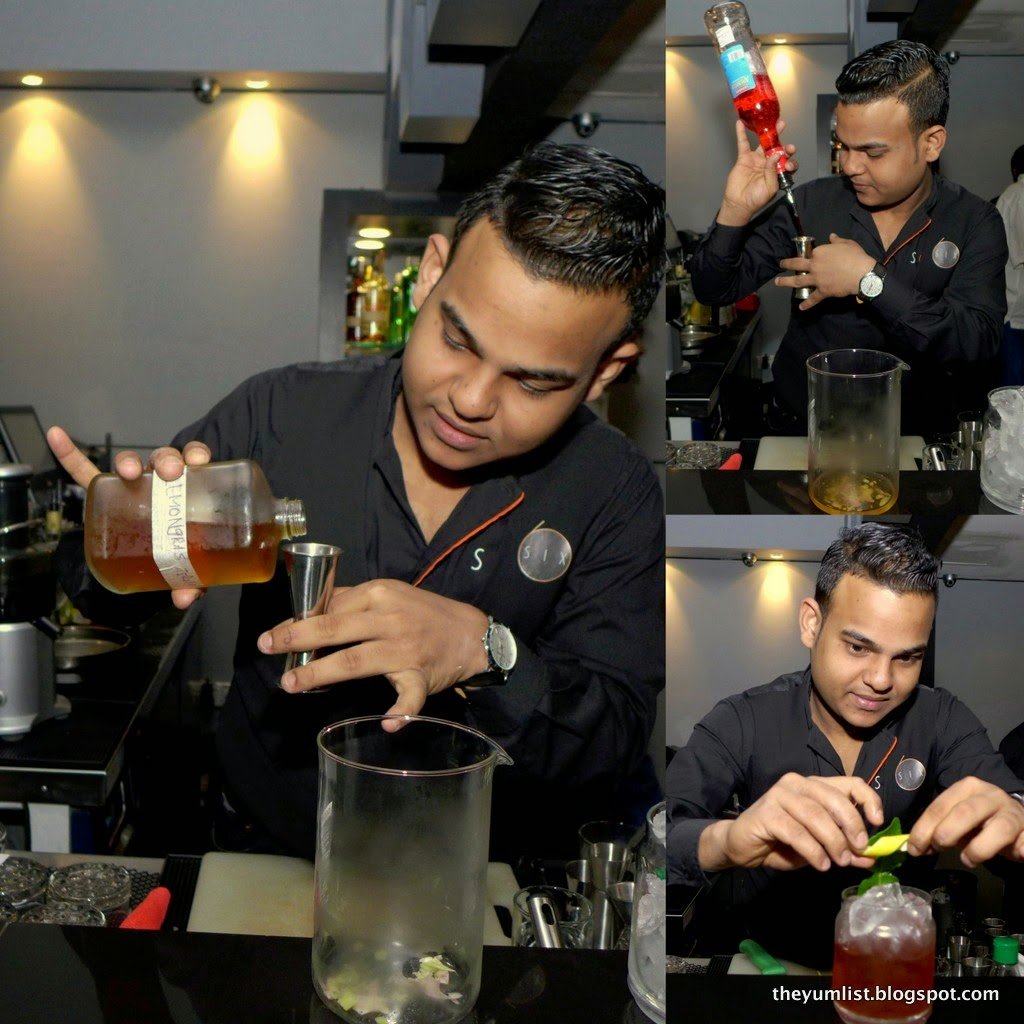 Master Mixologist at Work
Wonder indeed! We're awestruck by Imran's technicality and powers of display. First pour is an aged Tequila infused with lemongrass, followed by a sweetening with organic agave nectar and a balancing of the SIX house bitters. In goes the Aperol, now the Campari, topped by sweet vermouth in the form of Martini Rosso. Fresh kaffir lime leaf is broken and ice heaped on top, immediately stimulating the olfactory senses with a distinct smell. Then stirred to 'the right dilution' before being strange and poured into a chunky jar stuffed with ice. A sprig of lime leaf and a twist of lemon finishes this incredible concoction that our tongues are hanging out to taste. Fully aromatic, a light perfumed drink with subtle infusions, similar to an italian aperitif but more subtle and with welcoming oriental overtones.
6 Times a Lady (RM36)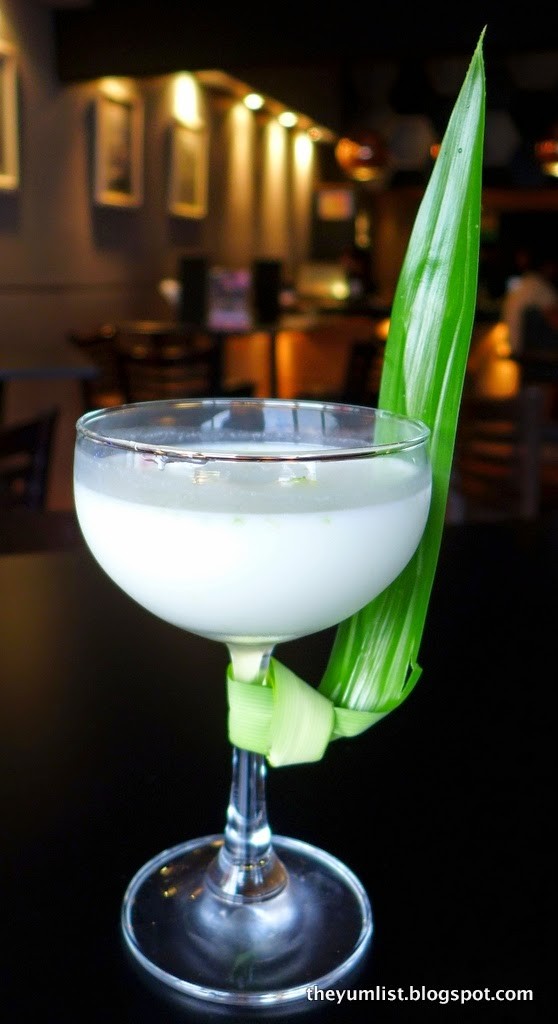 6 Times a Lady
Havana Rum infused with pandan, Reposada Don Julio Tequila, a shaving of ginger, coconut milk, slithers of lime citrus… oh so many of my favourite flavours are going into this drink. Whereas the Six Hit Wonder is stirred slowly, this lady is shaken with a smile before being strained into an elegant pandan leaf wrapped glass.  I love the deceptively simple decorations that perfectly echo the tastes of the drinks. We're told it should be sipped slowly like a Martini. The thought crosses my mind that you've never actually seen me drink a Martini, and I rarely sip them… hee hee hee! But following our bartender's bidding, we dutifully sip. Ooh says Mon as the sour citrus notes hit her in front of the creamy coconut. It has a long finish as pandan leaf subtleties begin to infuse the throat. We're told they like to think of it as the 'Asian Mojito', although it reminds me more of a citrus Asian style dessert without the sweetness and with an alcoholic boost.
Back to Square 6 (RM42)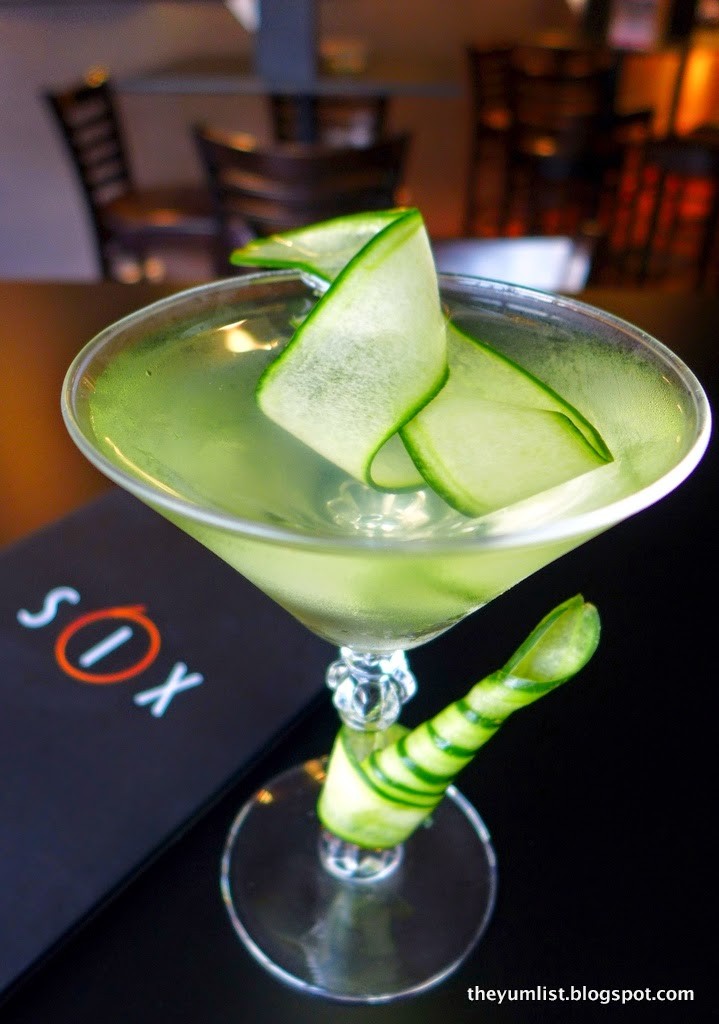 Back to Square 6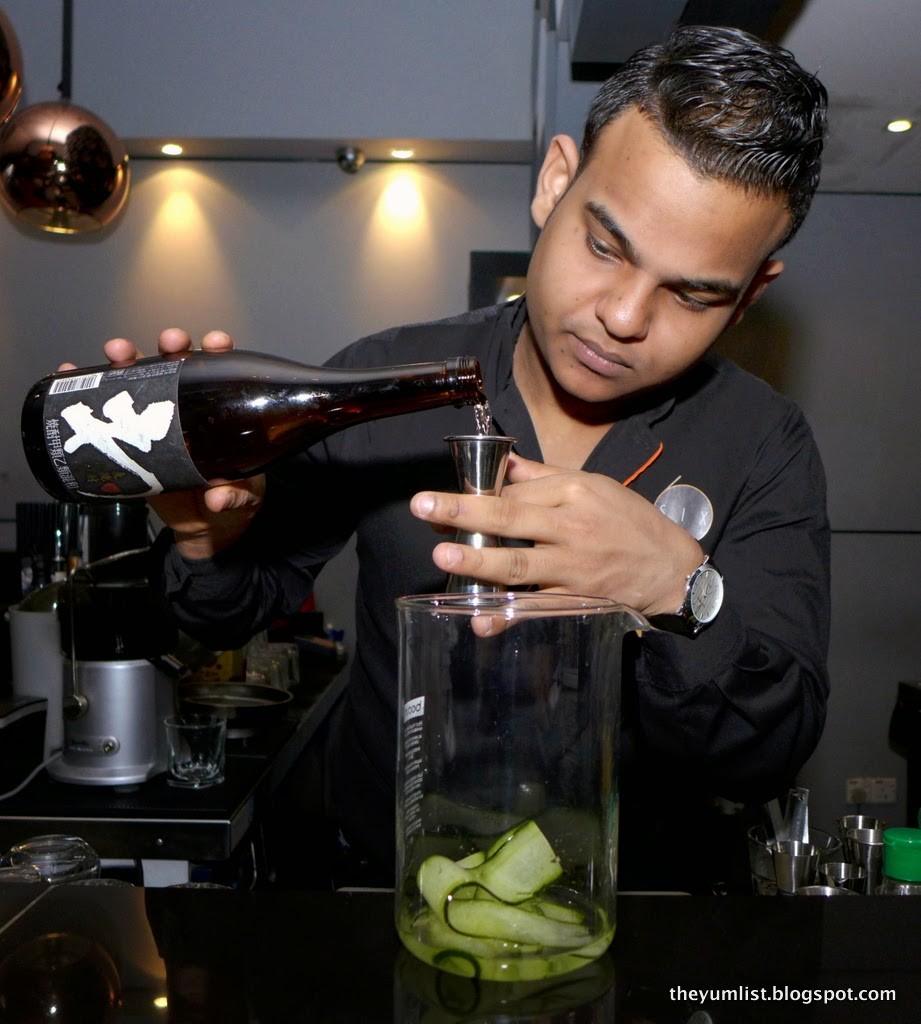 Concentration
Gin is the classic colonial drink sipped by expatriates from Singapore to Senegal, and Imran has played with this perennial favourite to bring a more regional flavour flavour. It's claimed that this is a manly drink with the salty undertones, cucumber bitters and generous splash of Shochu Wanko. Slender cucumber strips slink into the beaker with the Hendricks gin and a splash of bitters. It's a smooth, but full drink with sweet salty aromatic overtones that hit different parts of the mouth with multiple flavours. Co-owner Daniel's face lights up with this one and he says it is his favourite. It's definitely for a walk on the wilder side this one, and I say meaningfully – imbibe with caution!
The Lesser of 6 Evils (RM38)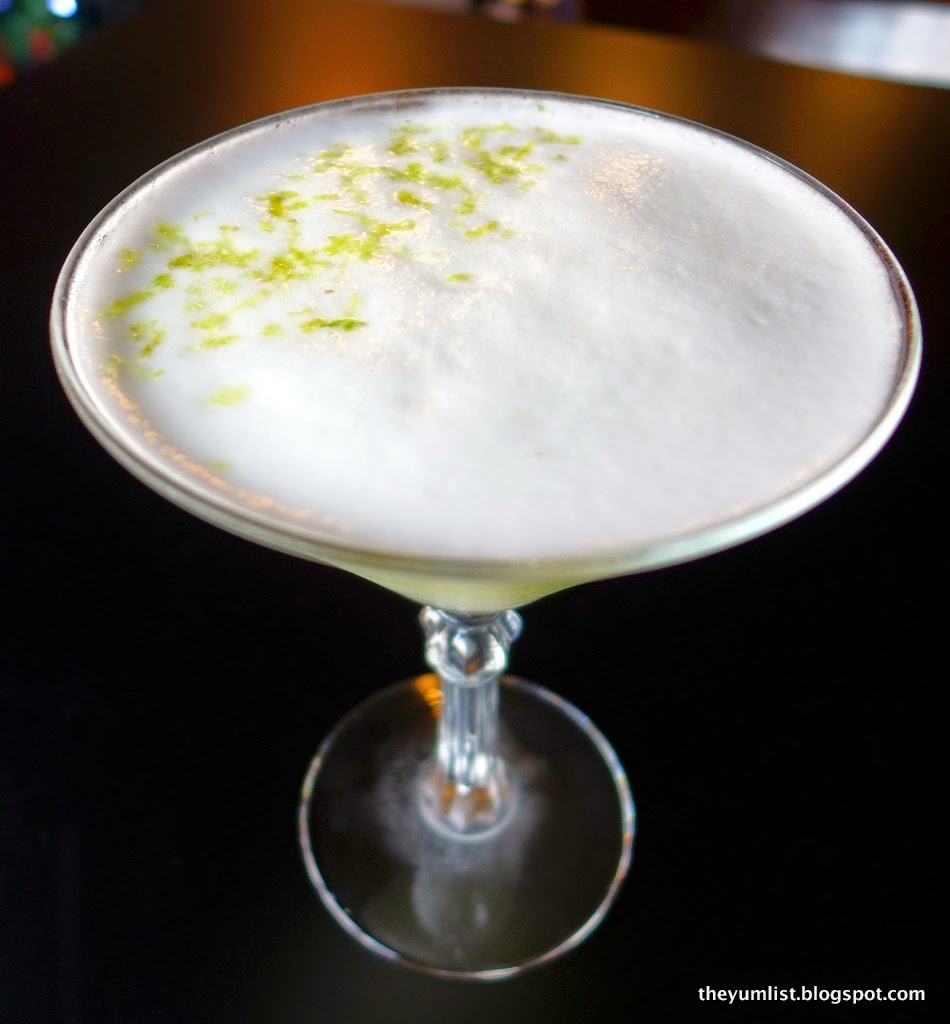 The Lesser of 6 Evils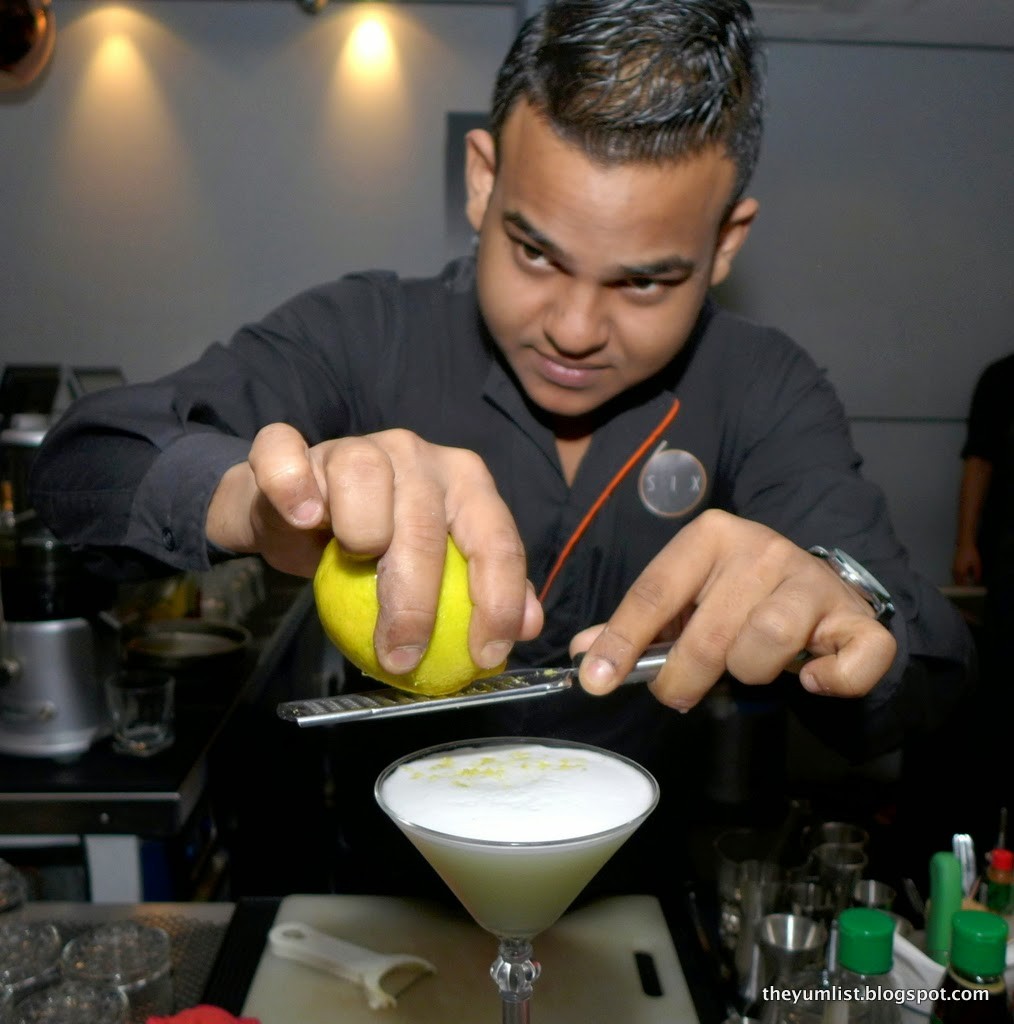 A Little Bit of Lemon Zest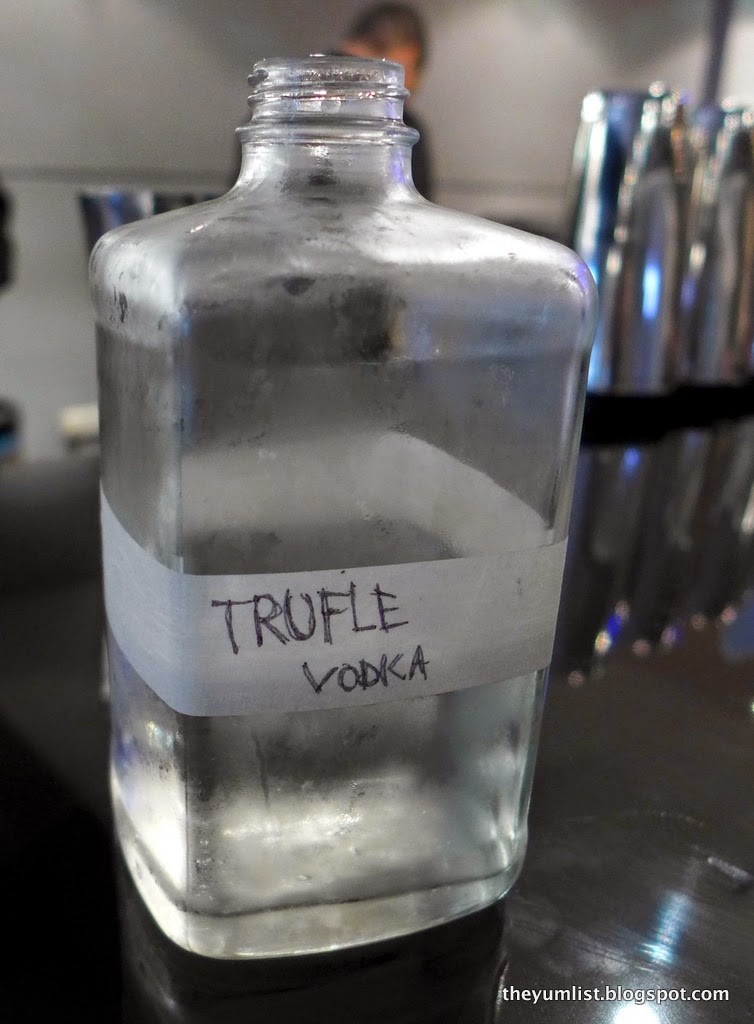 Truffle Vodka
The silky drink is cleverly made with truffle infused vodka, enhanced with lime and lemon zest blended into fluffy egg white. The sensational secret is the double flavour, drink from one side to get more of the truffle flavour sip from the second to taste more citrus notes. Like so many of the drinks, the aromas hit first, slightly intriguing. Foamy perfection with citrus boost this is my favourite of the evening so far. Minutes later we are still getting the light notes of truffles lingering on the tongue. Brilliant!
Cloud 6 (RM38)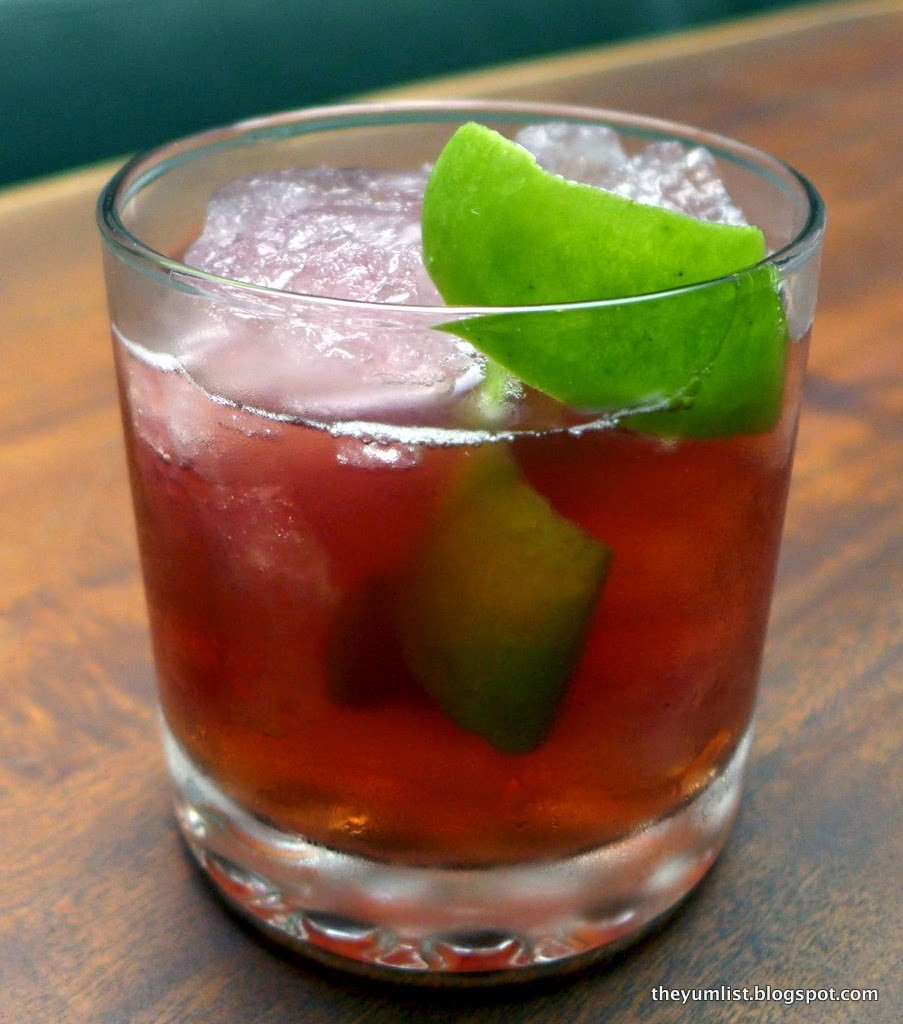 Cloud 6
The chunky beakers and careful measuring I'm watching makes me think of being in a old style apothecary. It's an extremely stylish approach. Whisky purists may balk at this next innovation. Toasted lavender is delicately pummelled with a pestle in the glass to give an aroma before a good tot of Singleton Single Malt is poured in. Then ice and a dash of lemon syrup are added before stirring and straining. Then pale purple crystalline lavender and apple infused ice chunks are added with a slither of apple peel. An aromatic and imaginative drink, not for everyone but worth a venture.
As it is heading for Christmas, we're compelled to try this seasonal special. 6 Eggs Short Of A Basket (RM25) is SIX's take on eggnog. I find this creamy but light, with more wonderful citrus undertones. The house made custard is infused with gentle cinnamon, nutmeg and cloves, which blends delightfully with a lightly spiced rum. Everything is done with typical care and consistency, and I enjoy this more than a traditional style eggnog.
6 Eggs Short of a Basket
As part of the Christmas Spirit SIX has a great offer for you. Join in and be a Secret Santa – sponsor RM30 for a christmas present for an orphan, and get a free Christmas Cocktail. Scrooge himself couldn't say no to that!
SIX is definitely a place for grown up fun. The concept is an original twist on a classic cocktail bar. It's sophisticated, yet relaxed. I feel it's a fresh place for those seeking something more than sweetened froth with a waft of alcohol. We were told 'when you have a signature 6 cocktail you know you are drinking alcohol', and I can absolutely confirm that this is the case. Although there are options for those of you who are less alcofrolic, and a range of regular drinks too, the SIX 'vibe' is definitely updating classic style cocktails, and we certainly enjoyed the buzz!
SIX hosts a Girl's Nite Out every Wednesday, three free original cocktails are offered to the lucky ladies who arrive in time. Plus additionally for happy drinkers, a one-for-one deal is on for their sumptuous classics. Mmmhmm!
Thursdays begin to warm up with a live acoustic band, and the party night happens on Friday with a resident DJ playing old school R&B tunes.
And… in case you need something to line your stomach with, food can be ordered from the delightful Creperie de Caroline, located just downstairs.
Reasons to visit: Quality concept; sophisticated yet fun ambience, innovative and alcoholic cocktails, nett pricing!
SIX Cocktail Bar
33A, Jalan Telawi 3
Bangsar, Kuala Lumpur
Malaysiaa
+603-2202 0029
Open Tuesday – Sunday, 5pm – late.