Our quest continues for ways to fulfill our New Year's resolution of healthier eating, serving both our bodies and planet in doing so…
A couple of year's back we came across a nutritious catering service, Culinary Capers, and quickly became enamored with the variety and presentation of the delicious options available. Retrieving fond memories of Edamame Pestos, Wheat Berry Salads and a whole array of colours and textures perfectly in balance with flavour and nutrition, when we learned of the new development of a lunch box delivery solution added to the list of offerings, we called immediately to try them out.
Lunch Boxes
To begin we sample three lunch boxes, conveniently delivered to our doorstep with a quick order before 10pm the day before.
Greek Style Lamb Balls with Roasted Red Pepper Coulis is the first we try. OMG! It's so delicious! A quartet of meatballs sit in a pond of rich pepper sauce. The meat and seasoning are perfectly balanced providing a complete experience in the mouth. A multigrain salad featuring couscous, wheat berries, pumpkin seeds and black sesame makes a substantial side, and is presented bursts of juice and vibrancy with pomegranate, finely chopped capsicum and scallions. One of Culinary Capers' popular dips comes in the lunch box too: this one is the edamame pesto. A hint of spice in the finish, it's a great topping for the bag of thin lavosh crisps also accompanying the meal.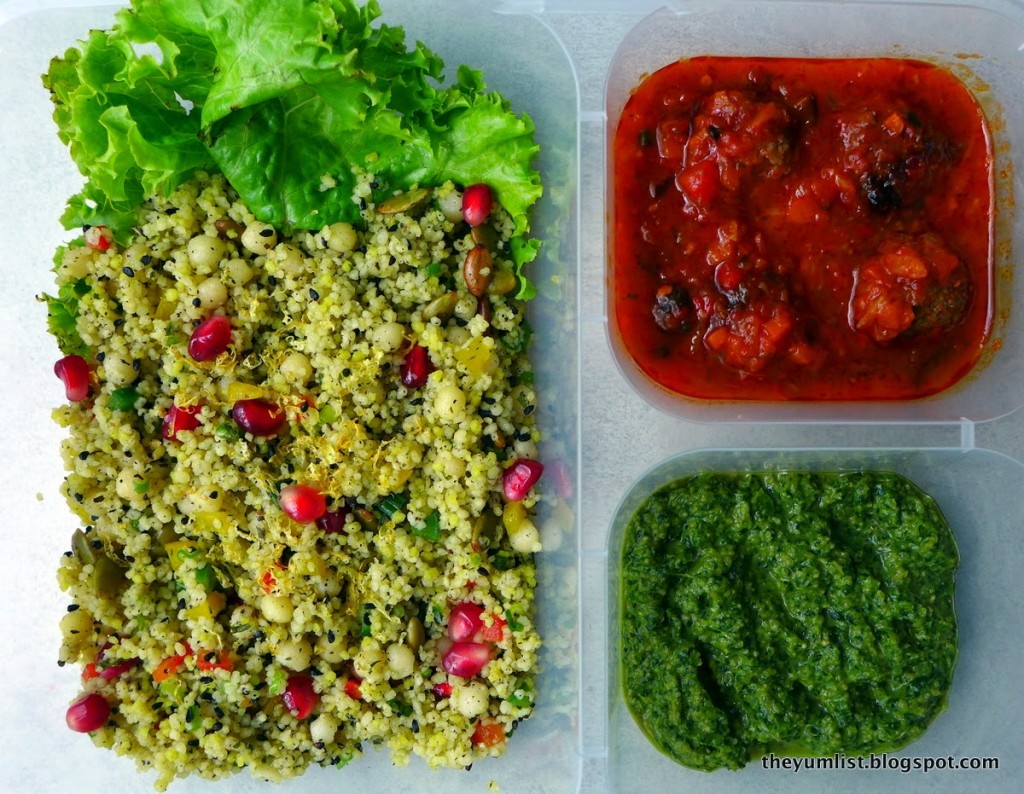 Greek Style Lamb Balls with Roasted Red Pepper Coulis- Yum!!!
Lemon Grass and Tumeric Chicken Set is next and we're equally impressed. A mélange of long-grained rices – brown, red and wild – are interwined with red quinoa, scallions, shitake mushrooms and goji berries, basing a whole breast of sliced chicken. The poultry is all white meat and unbelievably moist for this part of the bird. Black olive tapenade comes also with this meal and the garnish of citrus zest not only adorns the dip, but furnishes a lovely zip in the palate as well. Falafels, chickpea cutlets, provide further tummy filling and are creamed up with a yoghurt tahini sauce.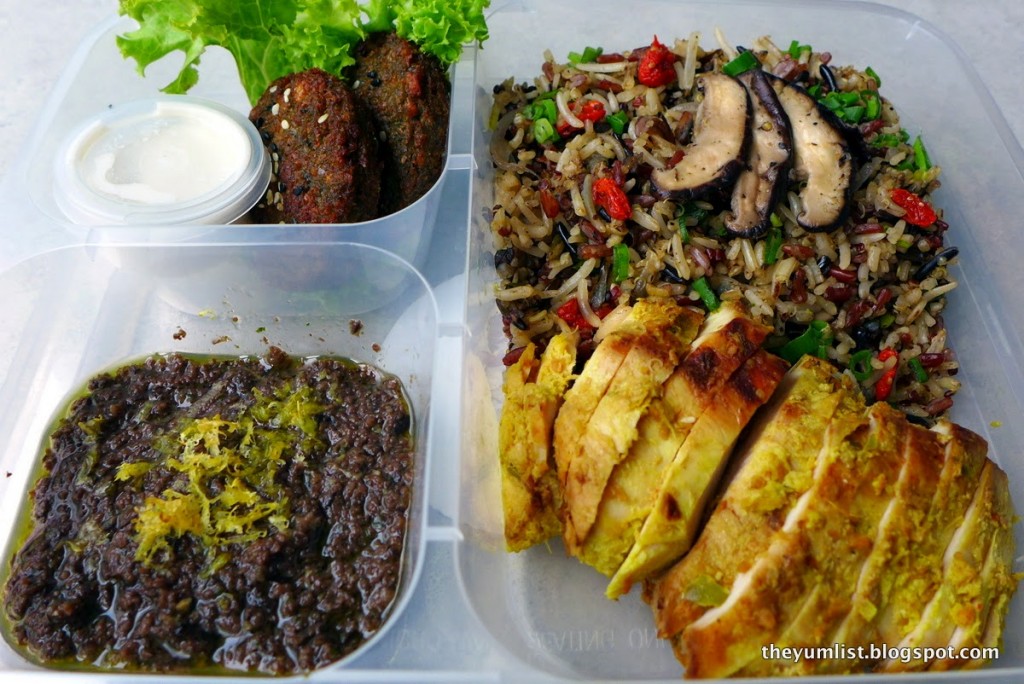 Lemon Grass and Tumeric Chicken Set
Meal three continues to please with the Soba Noodle and Herbed Chicken Set. An edamame pesto lightly coats the green noodles and a sprinkling of chili leaves a light tingle on the tip of the tongue. Shredded red cabbage and carrot contribute depth of texture, and again the sliced chicken breast atop surprises us with its moistness. Crustless vegetarian quiche with harissa paste makes sure there are no empty pockets left in our stomachs, and a bean salad with canawa (a grain from the same family as quinoa) and mesclun greens makes the meal a complete picture of wholesomeness. Even though the salad is packed with ingredients and so flavourful in itself that a dressing is really not needed, don't miss dipping your fork in the little tub of goodness provided to garb the side – it has a wonderful kick to it.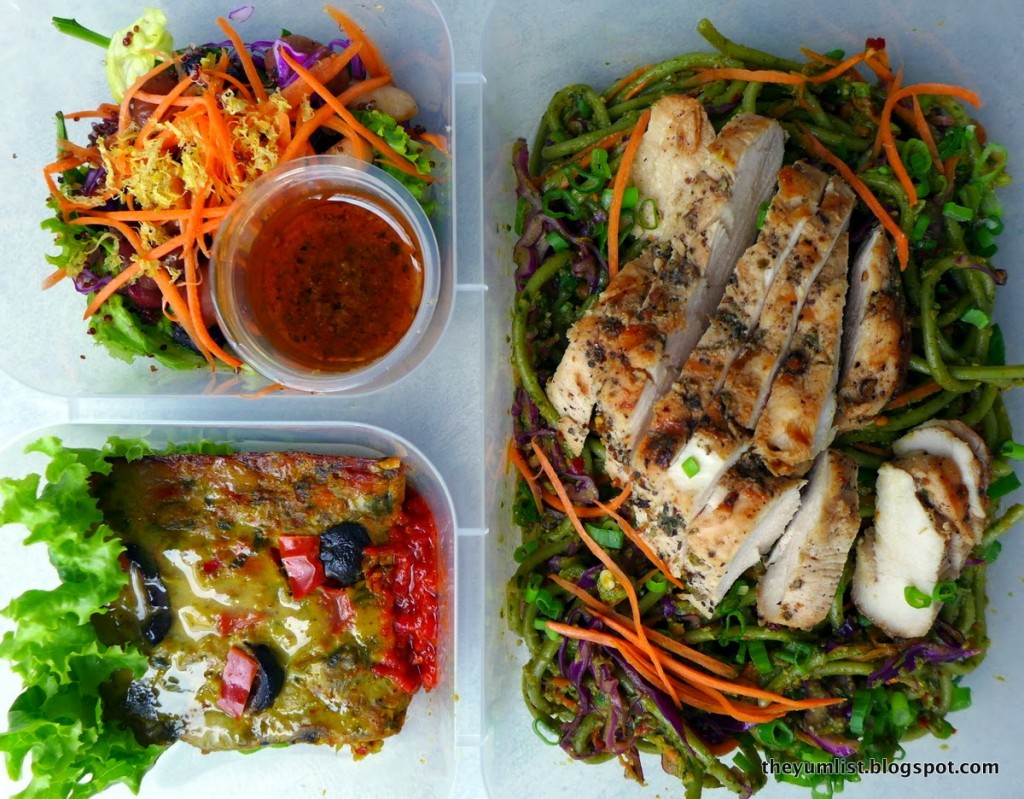 Soba Noodle and Herbed Chicken Set
Lunch boxes generally range from RM14 – RM20, and we think that is extraordinary value considering the quality and amount of ingredients that are parceled into each set. Actually many people might be satisfied with eating just a portion of the box for lunch and spreading out the other sections as healthy snacks over the afternoon.
While the lunch boxes have been a hit, Salads in a Jar (RM12) have proved a sensation! Cleverly packed in layers so the grains are on the bottom and the leaves are on the top, these inventive dishes can last up to five days in the refrigerator. When you're ready to eat them, give them a shake (or pour onto a plate) so as to toss up the ingredients, and voila, lunch is served.
Two of the most popular styles are: Quinoa and Wheatberry; and Cous Cous and Mograbieh. We try both and find it very hard to pick a favourite. Both are mixed with a variety of grains and a host of finally chopped ingredients including capsicums and pomegranate. Rocket leaves and alfalfa couldn't be fresher, and the dressings are light yet rich in pizzaz.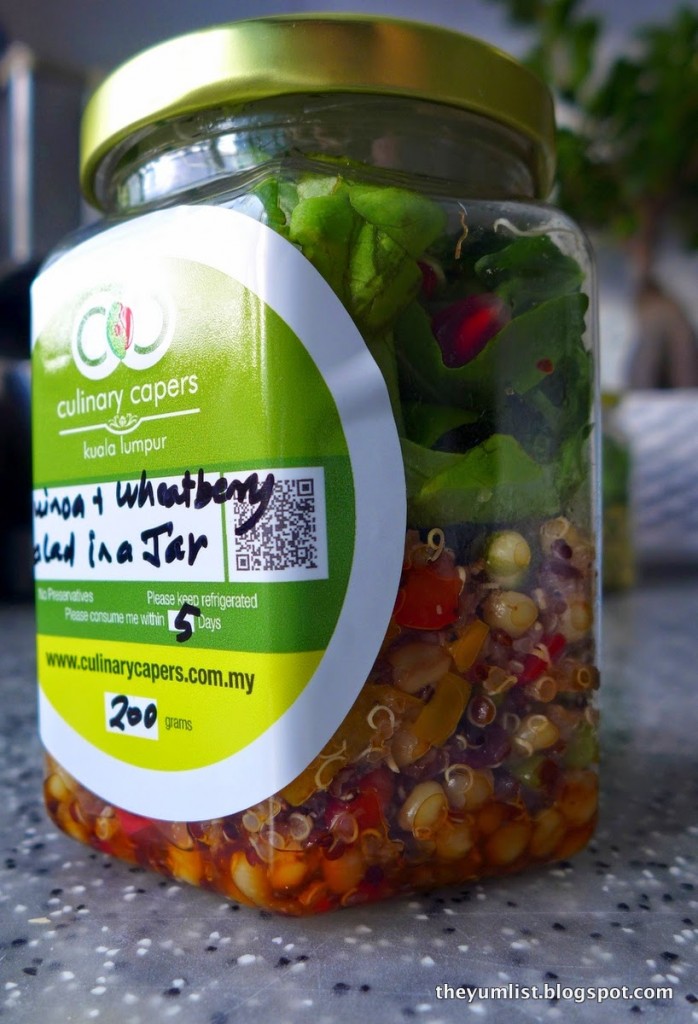 Quinoa and Wheatberry – Salad in a Jar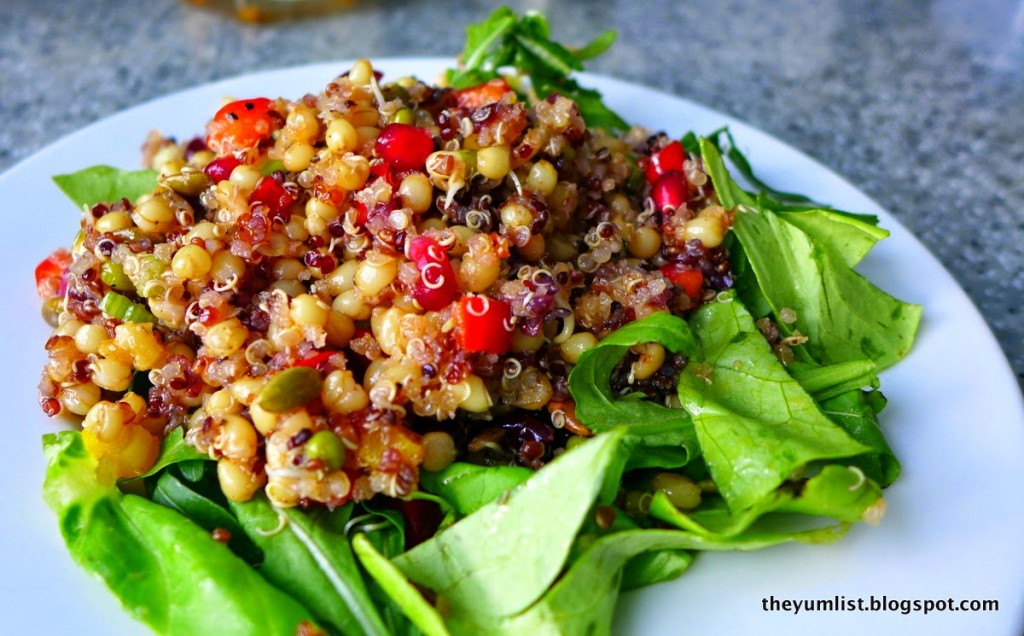 Quinoa and Wheatberry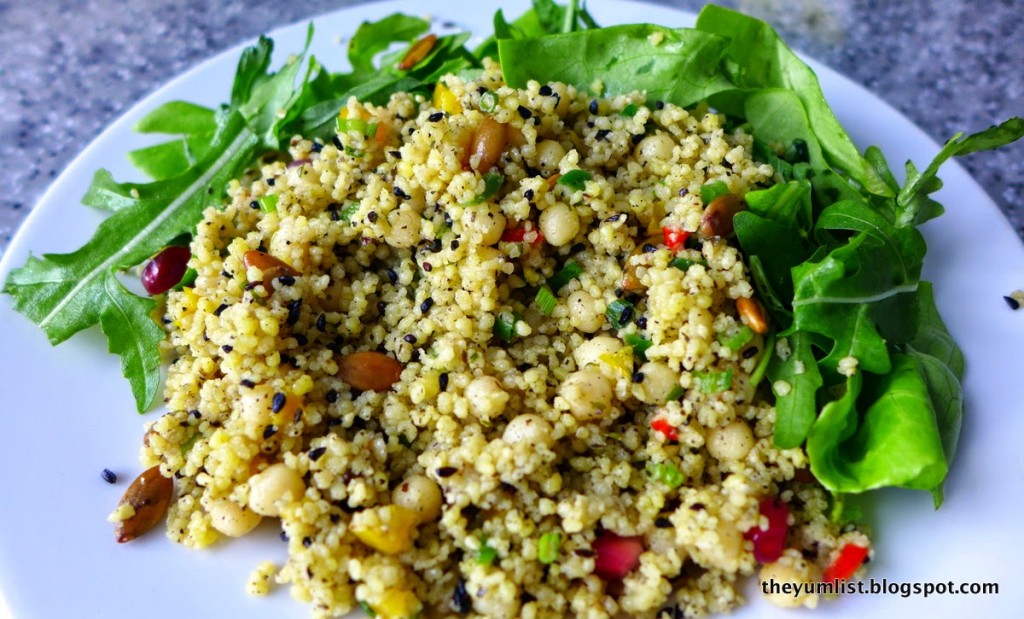 Cous Cous and Mograbieh
Parties, Catering and Other Goodies
As mentioned earlier, Culinary Capers originally began as a catering service, so if you enjoy your lunch box, you'll be pleased to know there are a whole host of other goodies that can be delivered to your door.
Dips and Spreads are one of the reasons we remember our first encounter with Culinary Capers so fondly. Packed in resealable and reusable jars, they're convenient to keep in the fridge as a snack or a delightful option for party platters. Hummus, made primarily from chickpeas, is the most popular amongst clients, combined with sesame seed paste, garlic, lime juice and drop of extra virgin olive oil. We love the hummus as it tastes extremely fresh and home made, but we highly encourage you to venture out and try some other dips too as they are just as equally tasty and far more intriguing. How about Butternut Squash, Edamame or Beetroot spreads to start with?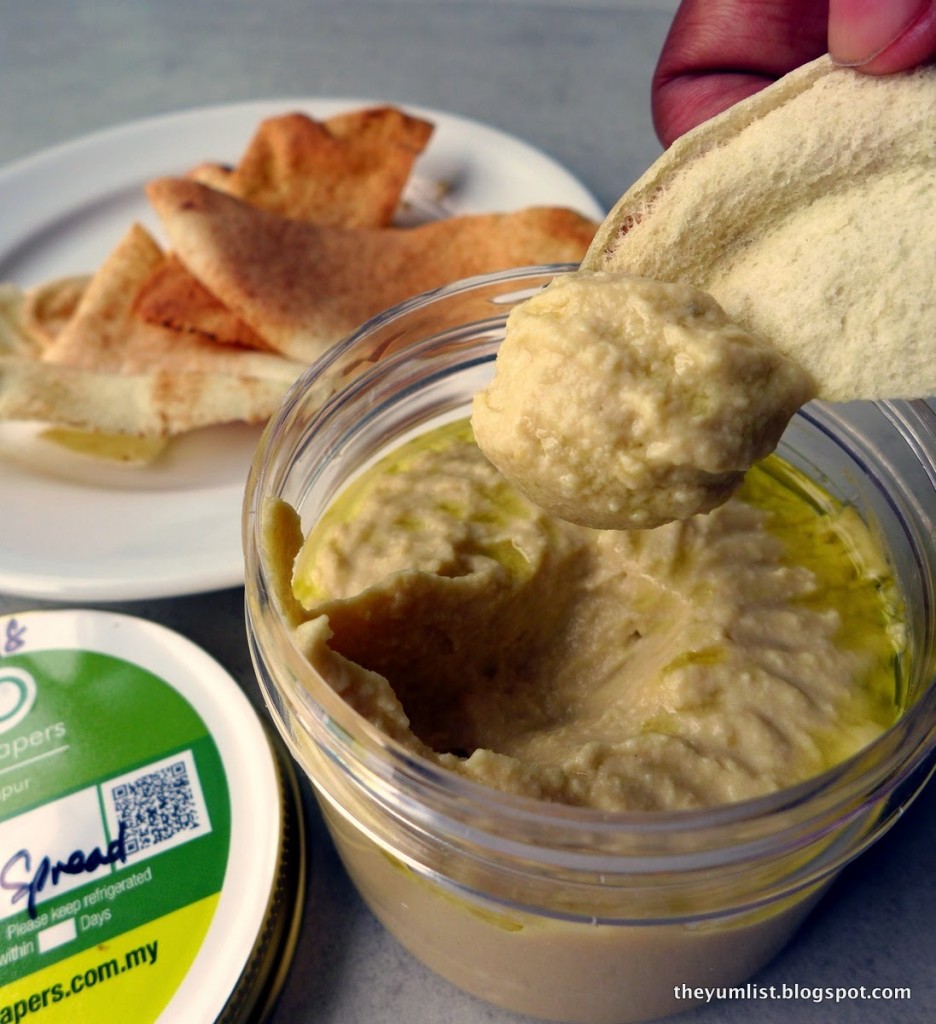 Hummus and Lavosh Chips
Other smashing party foods are the Greek Dolmades (RM7 for 3 pieces) and Lamb Kibbeh with Harissa Paste (RM9 for 3 pieces). These make scrummy platters, but could equally become appetizers in a sit down meal too. The former are wrapped with soft, nicely marinated leaves, and the latter boast a thin crust and soft centre.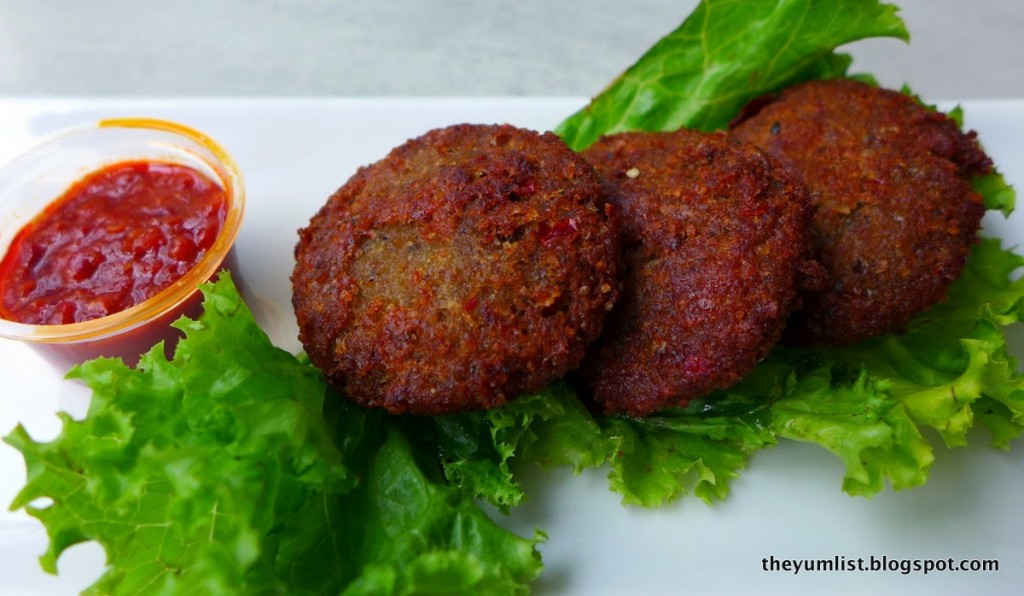 Lamb Kibbeh with Harissa Paste
Gift Sets and Sweet Treats
I don't know how this gal gets her brittle so thin, but the Pumpkin Seed Brittle (RM15), in labour-saving gift box packaging, are almost as slight as a sheet of paper. Just as well, because these squares are addictive. Wafer like sheets of sweet toffee are baked with lightly salted seeds balancing sugar with saline.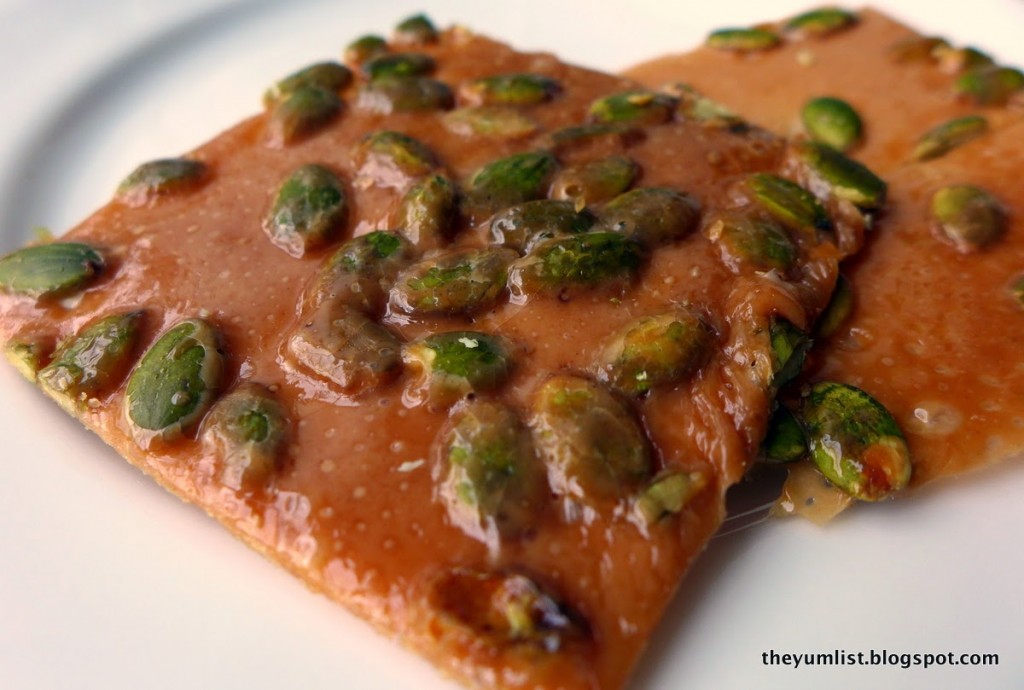 Pumpkin Seed Brittle
Banana Breakfast Cups with Quinoa are medium sized muffins, dense, spongy and full of goodness. Eaten with a smoothie or a cup of coffee, they make a convenient and healthy start to the day.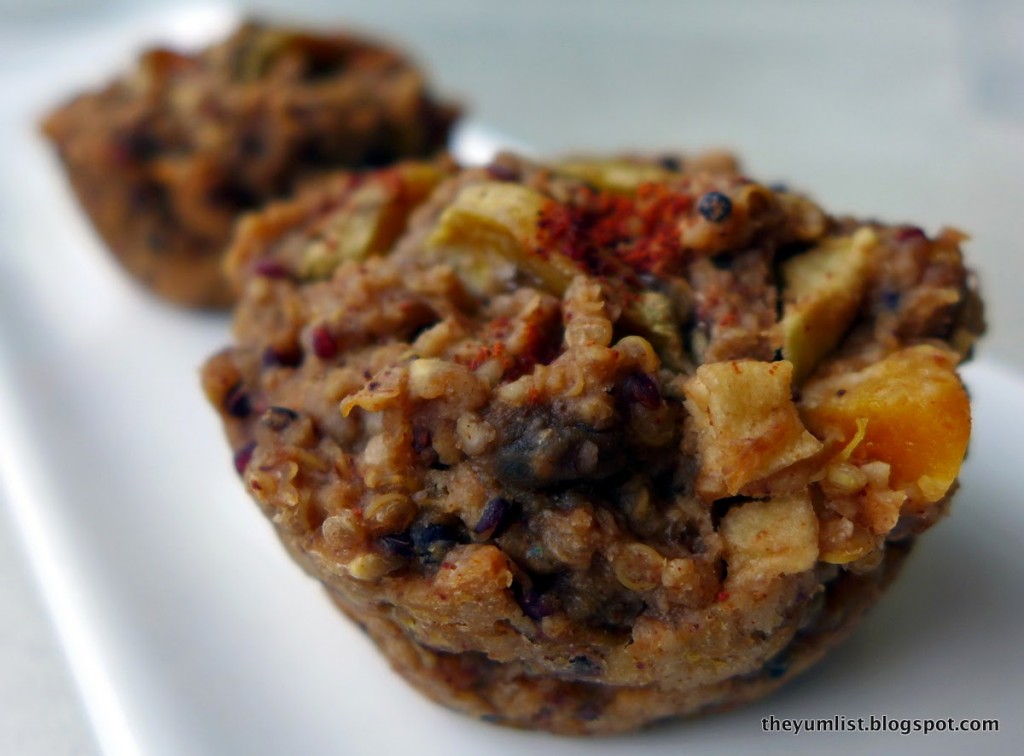 Banana Breakfast Cups with Quinoa
Gluten Free Banana Bread (RM22 350g) is faintly sweet in the entrance and curiously savoury in the finish. Reading the ingredients – bananas, honey, eggs, coconut milk, vanilla, almond flour and sea salt – we soon discover honey and sea salt as the characters teasing our palates. We imagine a caramelized butter or wild honey would make a magnificent spread. Superbly moist, this loaf is not to be missed.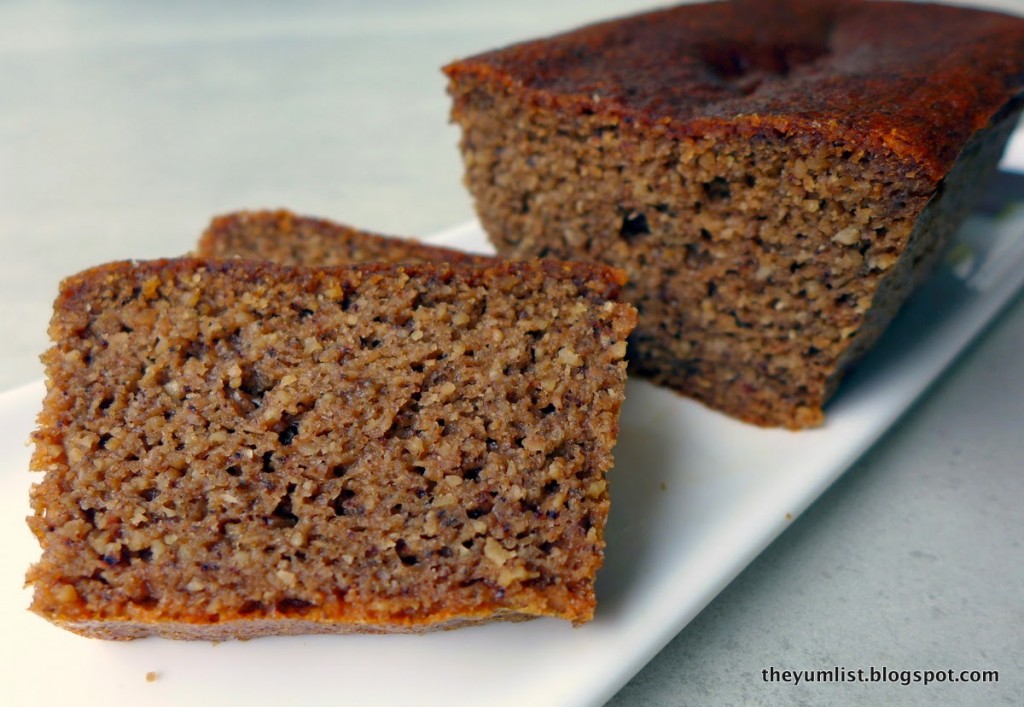 Gluten Free Banana Bread
The Carrot and Coconut Breakfast Loaf (RM 22) is another delicious bread we put to the test which is extraordinarily moist. Bananas, dates, carrots, coconut, almond meal, pistachios and cranberries all make a noteworthy contribution to this delightful baked good. It's not written on the label, but we suspect that this may too be a gluten-free option, and possibly dairy-free as well.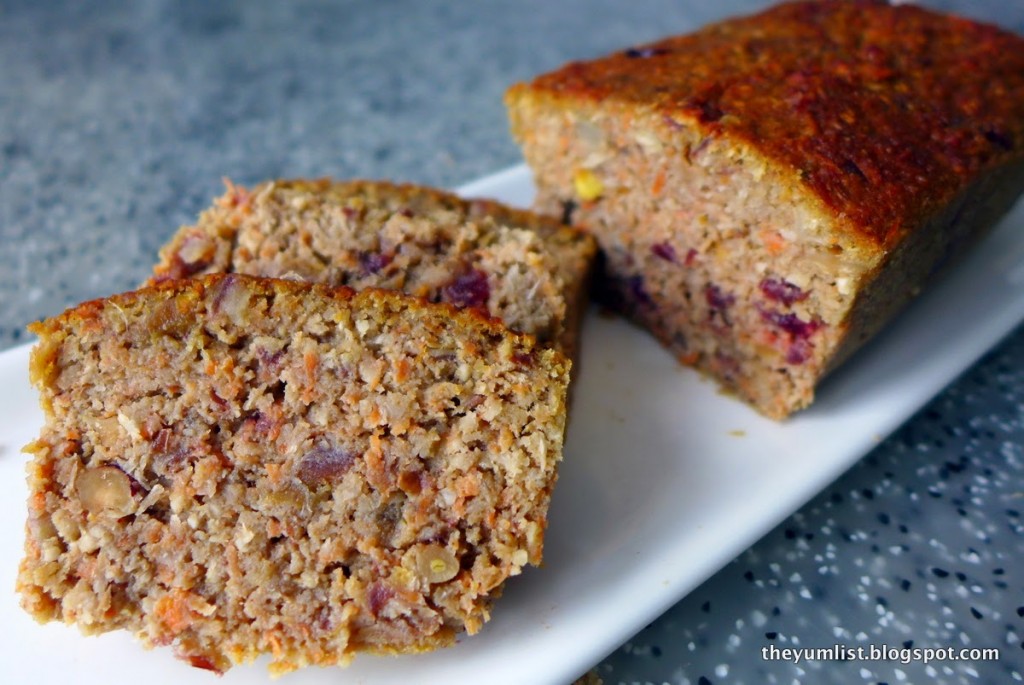 Carrot and Coconut Breakfast Loaf
This is just a sampling of what Culinary Capers has to offer. A comprehensive range of dishes and services can be found on the website. We highly suggest a browse.
Orders for each day should be in prior to 10pm the day before delivery. Email or text Geeta on 012 218 6656 to place requests. Delivery areas cover parts of KL, TTDI, PJ, Mont Kiara, Taman Duta, Kenny Hills, Bangsar, Bangsar South, KL Sentral and Damansara Heights. With a minimum of four boxes purchased, delivery is free to one address. A RM10 surcharge is incurred for less than four boxes.
Culinary Capers offers a fantastic variety of scrumptious dishes and range of services. They will be hearing from us a lot more this year.
Reasons to order: comprehensive range of delicious and nutritious meals and snacks; gluten-free, dairy-free, vegan and vegetarian options aplenty; perfect for lunches, but also convenient for parties, dinners, office meetings or any type of get together.
Culinary Capers
Geeta: 012 218
6656