Boasting North Indian cuisine including Punjabi, Kashimire, Awadhi and Rajashtani, alongside famous Nepali delicacies, Kakori is the place to satisfy your rich and spicy cravings. The show kitchen gives guests a peek into the 'behind the scenes' food preparation, with blazing tandoor ovens a real highlight.
The interior is beautiful. Tall white leather chairs frame solid wooden tables with carved wood and tile adornments. Ornate wooden pillars, and beaded chains divide the restaurant into cosy spaces, and tables are laid with white napkins, crystal glasses and fresh floral arrangements.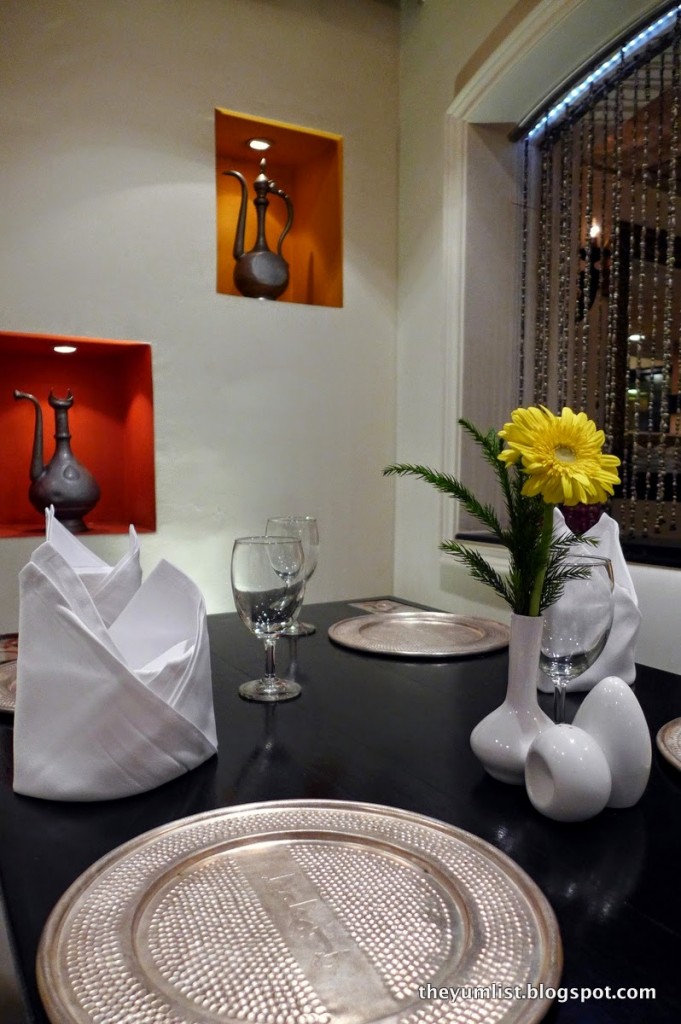 Table Setting
Drinks
We're both visual people, so when the drinks list is presented alongside a rolling trolley of fine wines and liquors, we're easily enticed. Local brandy, Golden Grape, is hubby's preference. Viscous in the glass, with a mildly sweet and fruity aroma it's light and makes a good aperitif, but I also imagine would do equally well as a digestive.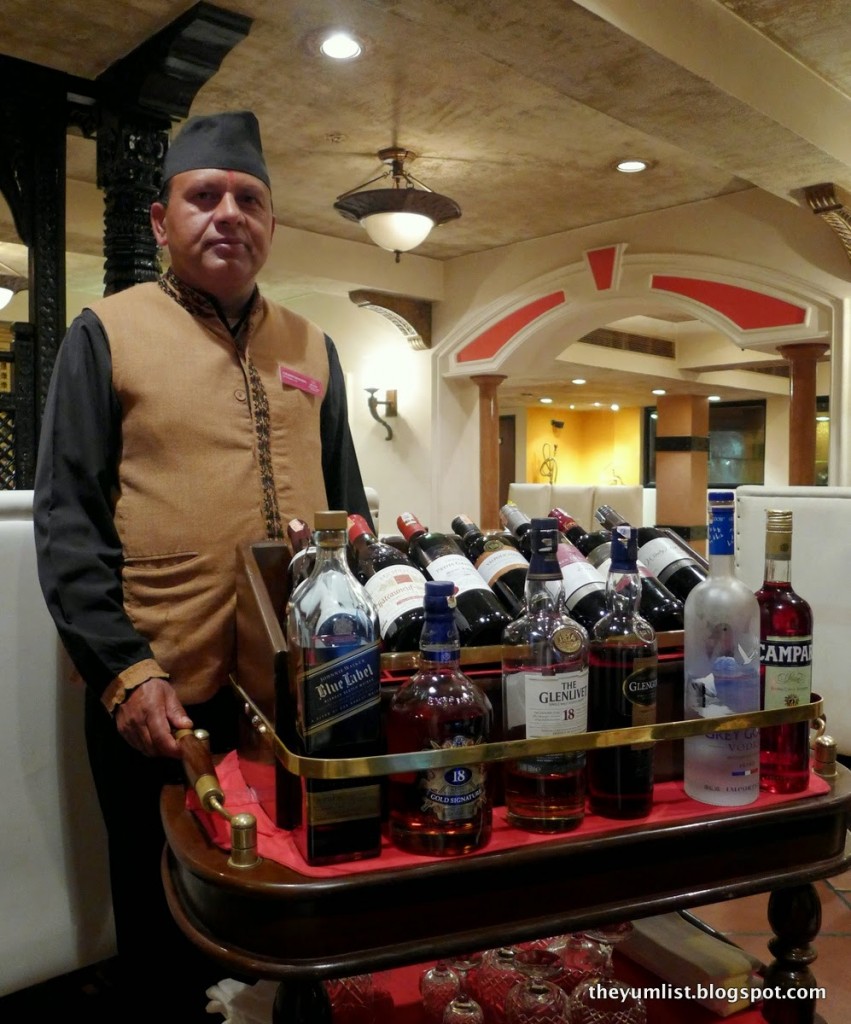 Drink Trolley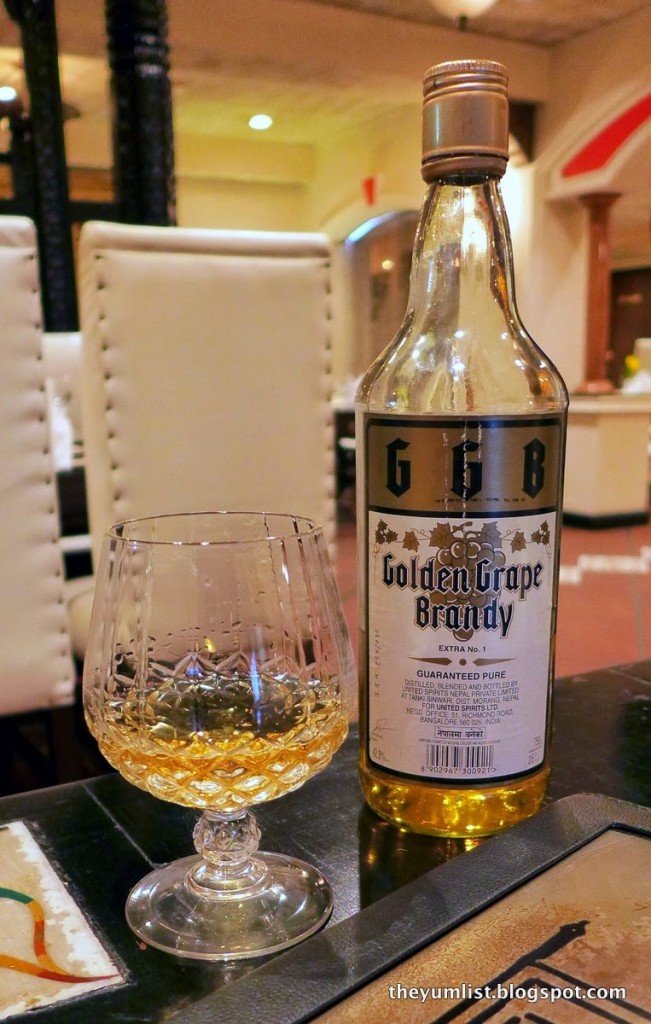 Golden Grape Brandy
Red and white wine from Chile and Australia are available by the glass, or a decent list of vintages by the bottle is on offer as well. I try the Ventisquero 2013 Sauvignon Blanc (800) and find it a nice entrance, but finish off the last drops before making too much progress on our starters as we find the spicy food too much for wine.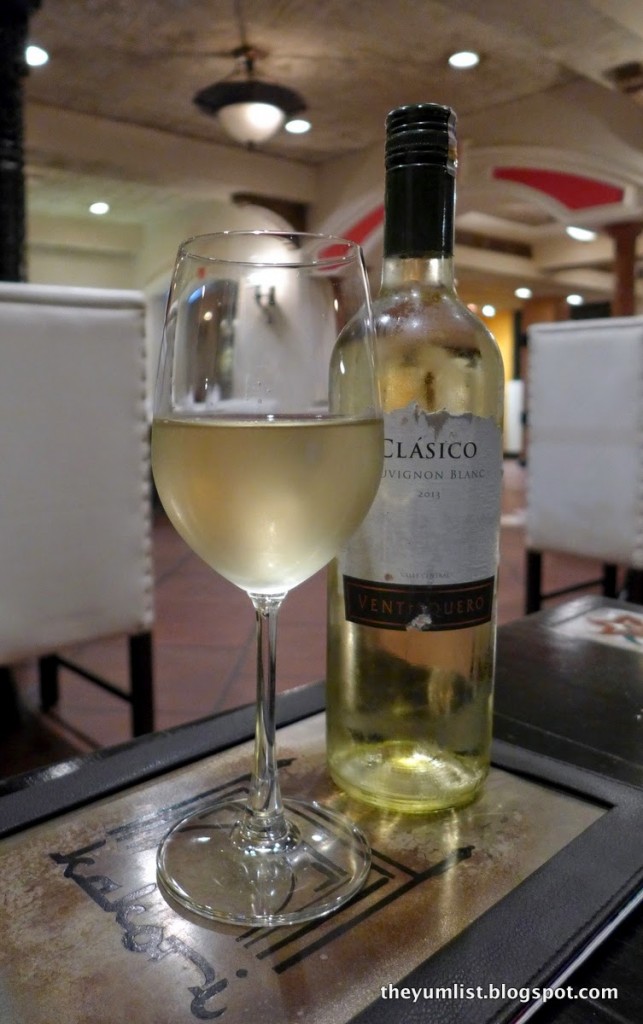 Sauvignon Blanc
Appetizers
In place of Continental style bread, a variety of crisp bread, salad, and tray of chutneys open the meal. Papadums are super crisp. Made from lentil and chickpea flour, they're seasoned with pepper, salt and other spices, rolled extremely thin and then roasted in charcoal. Red onion salad features finely sliced onion rings, sided with fresh lime, green chillies and sprinkled with a fine black seasoning mix. A delightful line up of petite ceramic bowls hold six different chutneys showcasing sweet, salty, sour and tangy themes: fresh mint chutney; garlic pickle (hot); whole red chili pickle (very hot); sweet mango pickle (turns out to be our favourite); hot mango pickle mix (spicy); and homemade local tomato based chutney often used as a condiment with momos (Nepalese dumplings).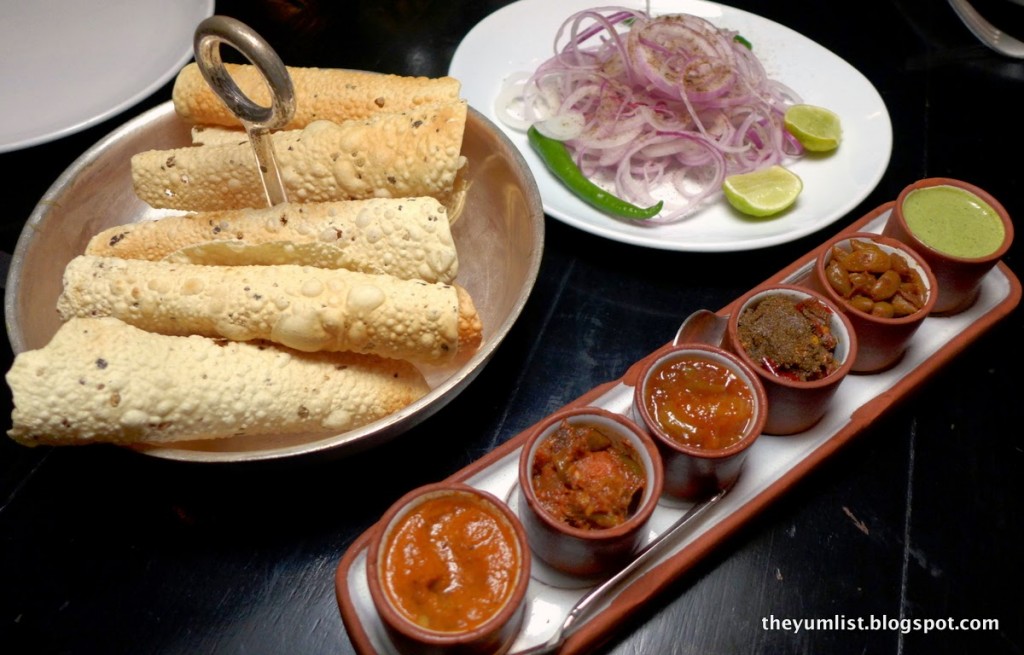 Complimentary Appetizers
Kakori Sheekh (Rs. 975) are silky minced lamb kebabs infused with spices.  Resembling long thin sausages, they're packed with fresh herbs and surprisingly soft in the centre. Mint chutney goes well with these. We detect clove, cinnamon, cardamom and bay leaf in the seasoning. We can't believe how supple the centre is and with a little quizzing of the staff, learn the secret of finely ground lamb combined with a good measure of cream. The manager jokes (although we're not sure if it may actually be true), saying that Kakori Sheekh are made especially for people who have no teeth, as they melt in the mouth without the need to chew.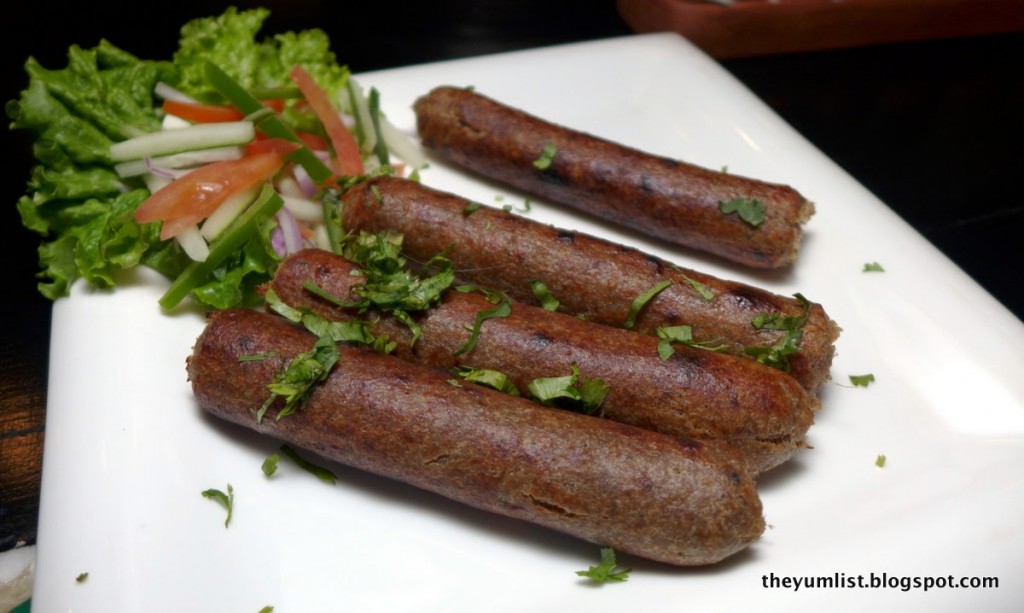 Kakori Sheekh
Kesari Paneer Tikka (Rs. 875) brings tender pieces of cottage cheese marinated with Indian spices and yoghurt. Roasted in the charcoal oven, the cheese cubes are golden brown on the edges, and firm yet tender within. Topped with a generous sprinkling of fresh herbs, the richness of the dairy is lightened, and we're nothing less than impressed with our introduction to Kokari.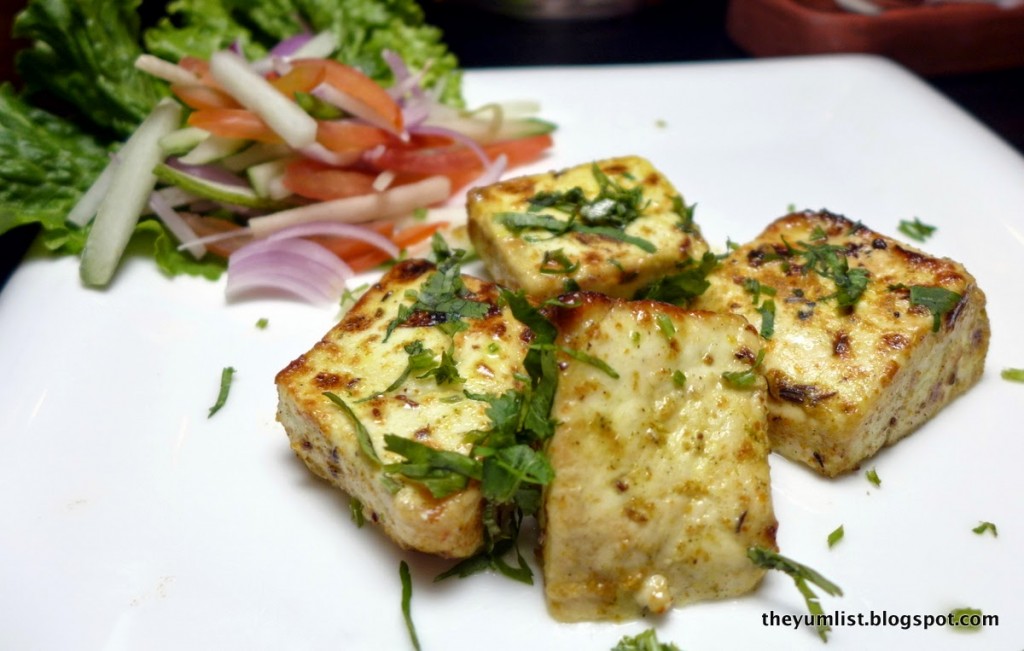 Kesari Paneer Tikka
Mains
All the mains arrive at once, bringing a rainbow of colours to our table. After I've got my shots, the staff serve each dish to our plates, naming every one as it's elegantly placed on our enormous white platters.
A rich orange stew is found in the Murgh Tikka Makhani (Rs. 900). Succulent (really tender!) pieces of tandoor-roasted chicken are simmered in a rich cashew tomato gravy, and flavoured with fenugreek and butter. It's mildly piquant and we soak up every drop of sauce with the hot naan bread not wanting to waste a splash.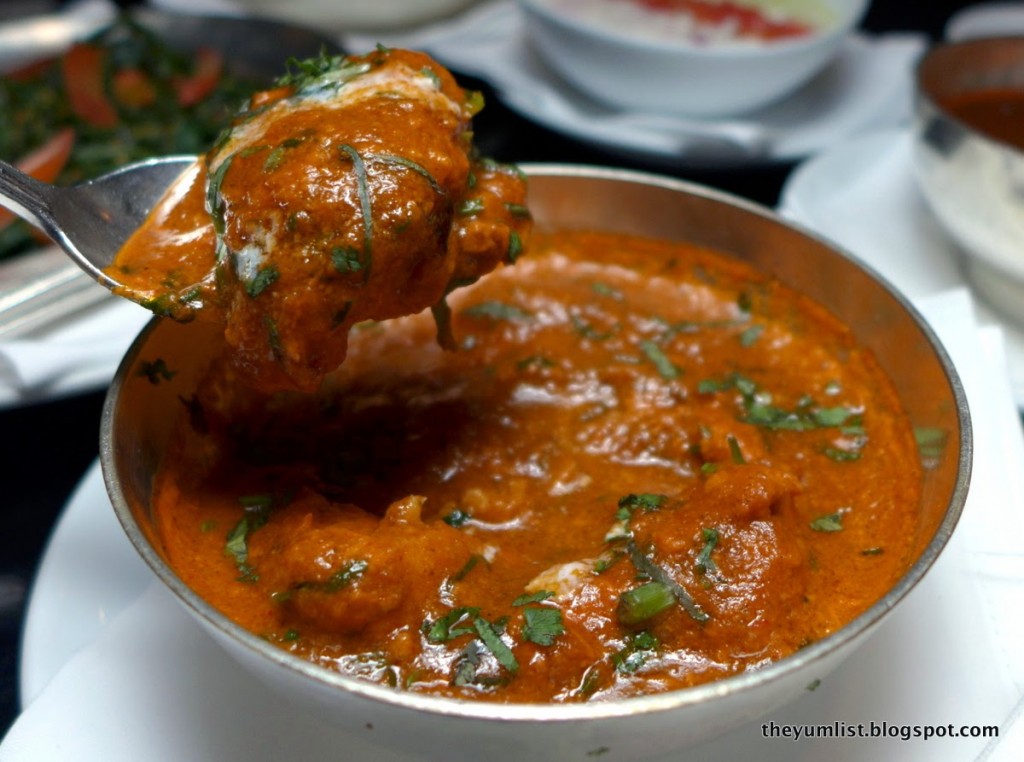 Murgh Tikka Makhani
My vegetarian choice, Do Din Ki Dal (Rs. 750), is slow cooked whole black lentils finished with cream and white butter. Just as you might expect something that's slow cooked for eight to nine hours with 60% lentils, 10% water the rest all butter – it's rich, decadent and even though every single spoon is a heavenly mouthful we have trouble finishing the whole bowl.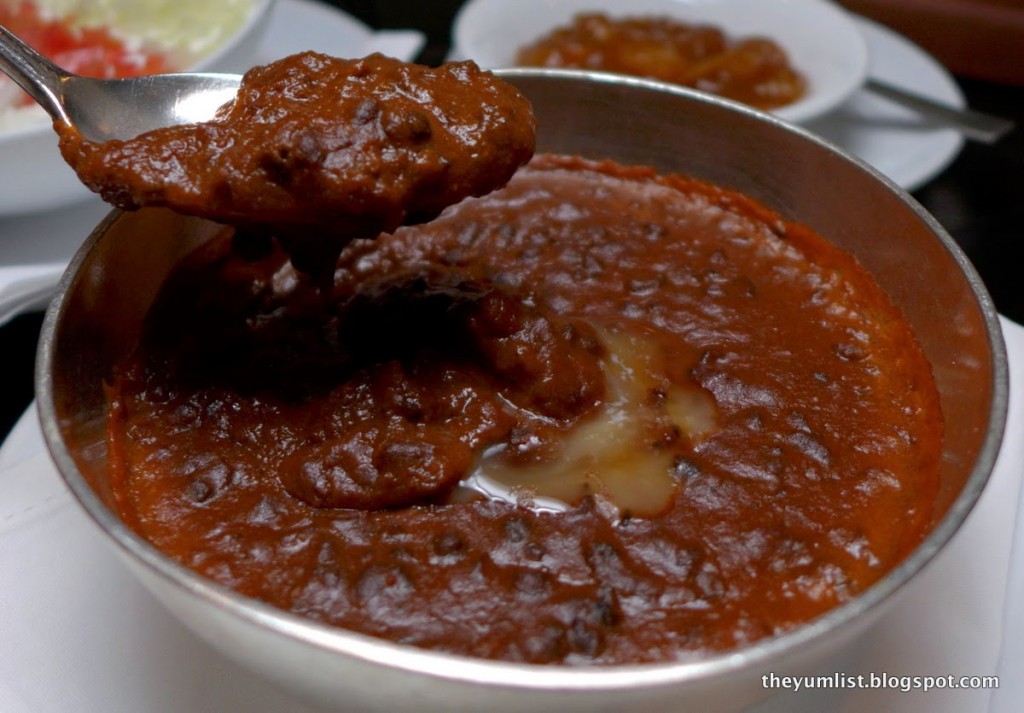 Do Din Ki Dal
A taste of local Nepalese is established in the Saag Jhaneko (Rs. 750), where seasonal green leaves are tossed in clarified butter and seasoned with local spices. We can't believe how full flavoured the spinach is. I guess this fresh mountain air does the veggies good, but butter and dairy seem to be a common secret to achieving luscious meals at Kokari too.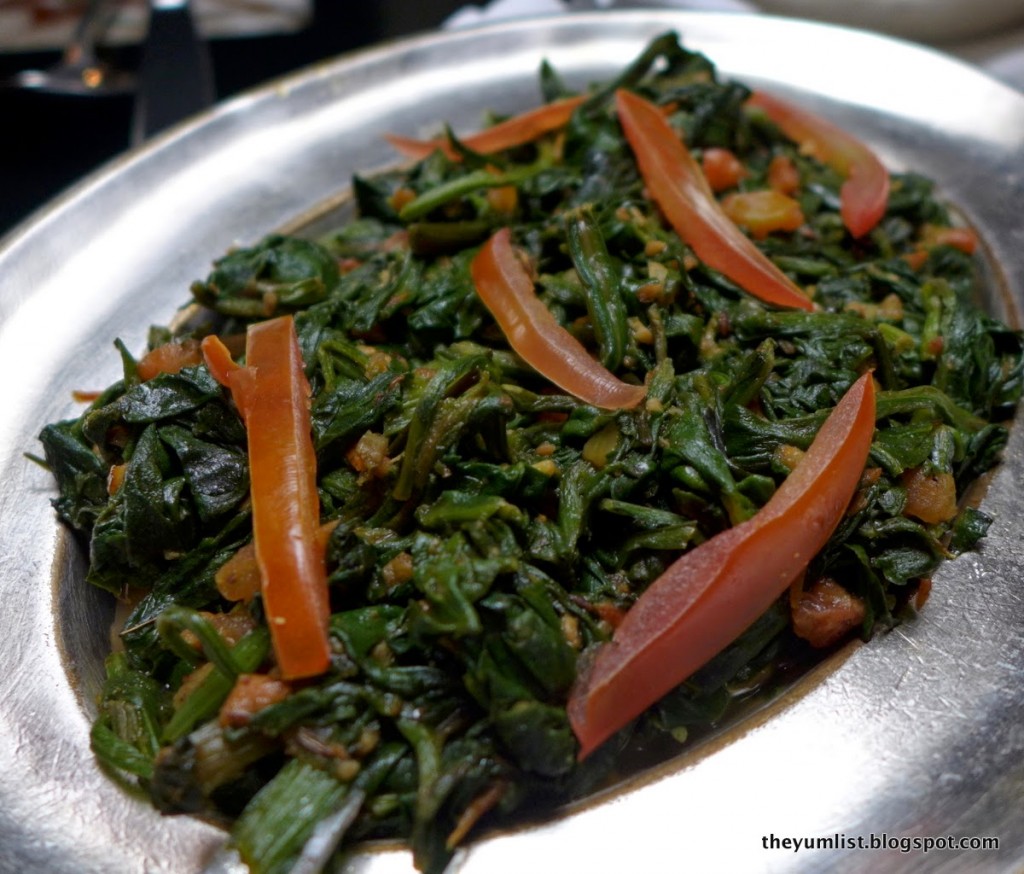 Saag Jhaneko
Raita (yoghurt dip) is topped with finely chopped veggies, which are mixed in when served. Our waiter tells us that part of the process of making the raita is to hang fresh dairy in a muslin cloth, which he says is the trick to making it thick and creamy.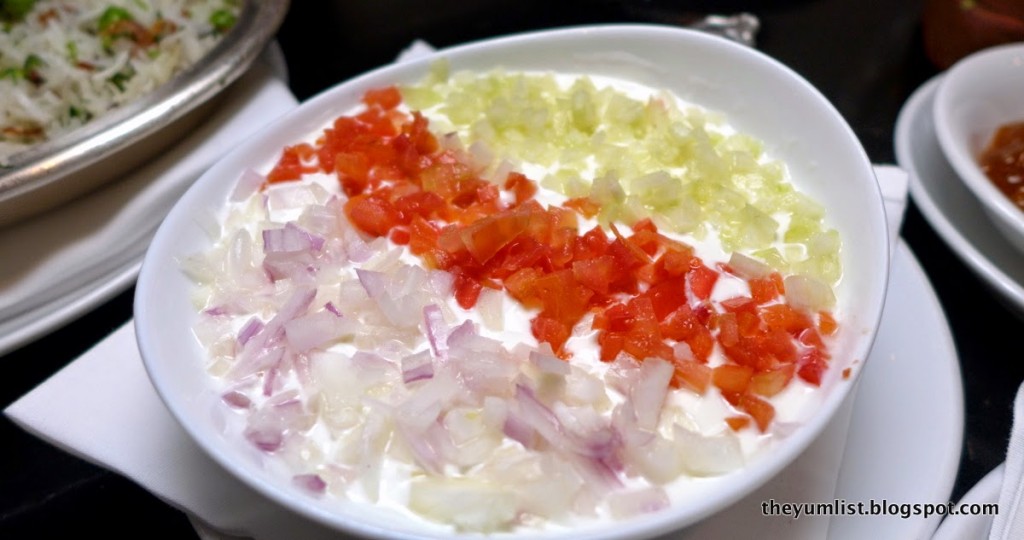 Raita
Rice
Jeera or Mutter Pulao (Rs. 650) is a long grain Basmati rice cooked with green peas and seasoned with cumin seed, coriander leaves and roasted onion, butter and salt. The dish is clean and simply flavoured making it a great side for the gravy based mains.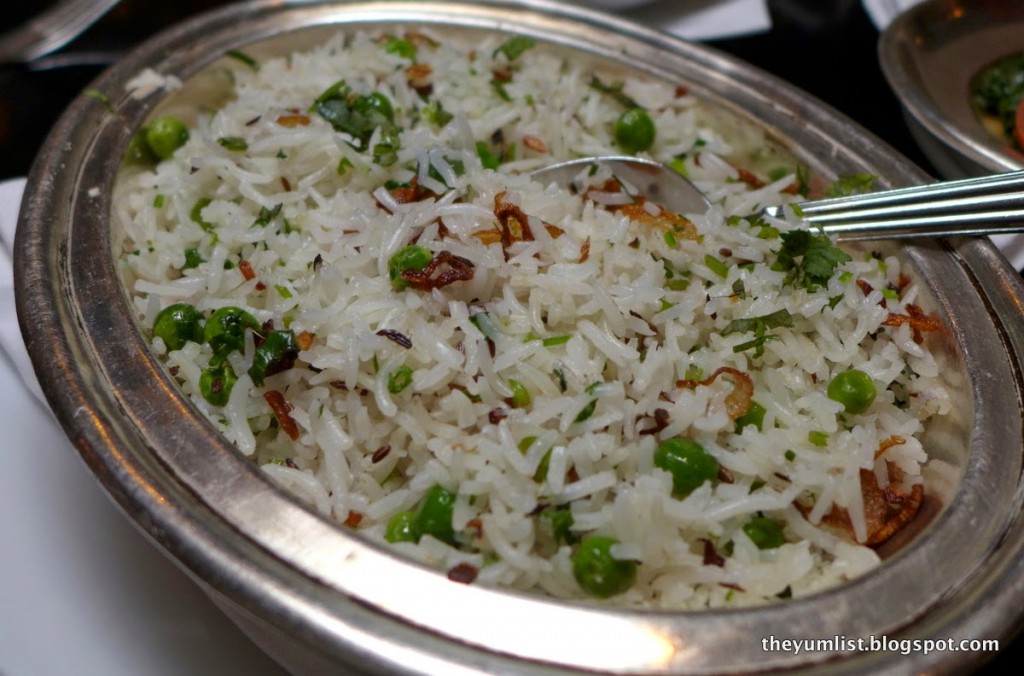 Jeera or Mutter Pulao
Naan/ Roti
The show kitchen provides us with live entertainment as the skillful chefs work the various tandoor ovens. We soon discover there's more than one type – copper based, clay based, one for vegetarian dishes, another for meat. The natural materials of the kitchen, ceramics, copper and grand cooking utensils and pots, make an attractive stage.
Chef at Work in the Show Kitchen
Ulte Tawa Parantha (Rs. 140) is more than just bread. It's pounded and rolled and cooked on a convex pan. Pushed round and round the hot metal, it develops layers making it a lighter style of unleavened bread with complexity in texture.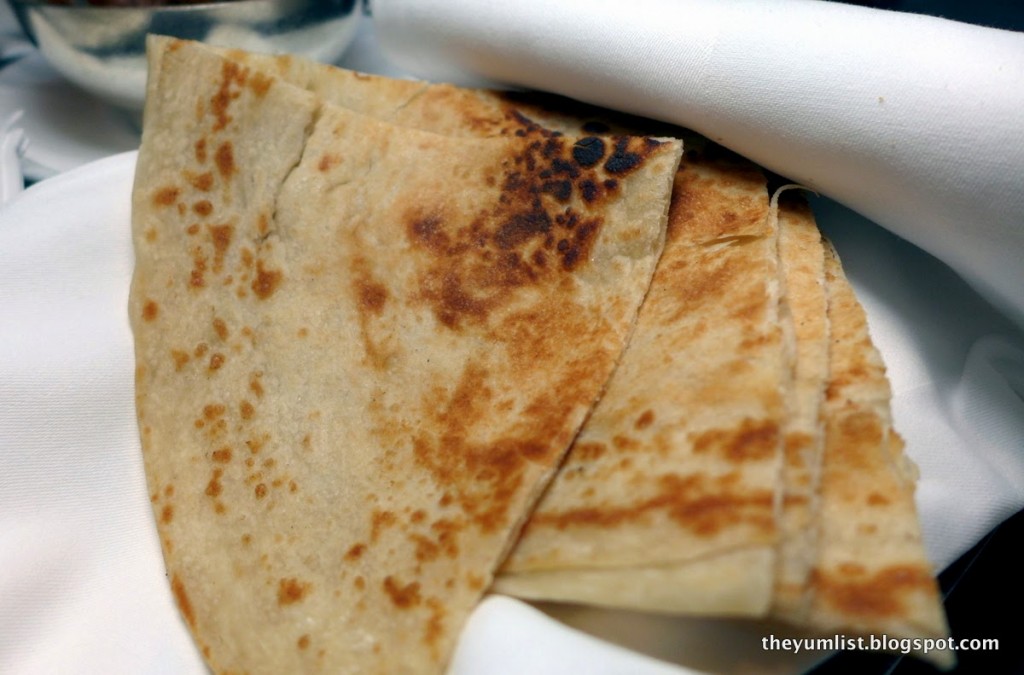 Ulte Tawa Parantha
Garlic Kulcha (Rs.140), as you might guess, is packed with finely chopped garlic. It's also pressed with mint before being cooked in the tandoor oven. The dough is folded back and forth like a paper fan, then rolled, then pressed flat so that it's layered. Both breads are wonderfully fresh and come piping hot to our table.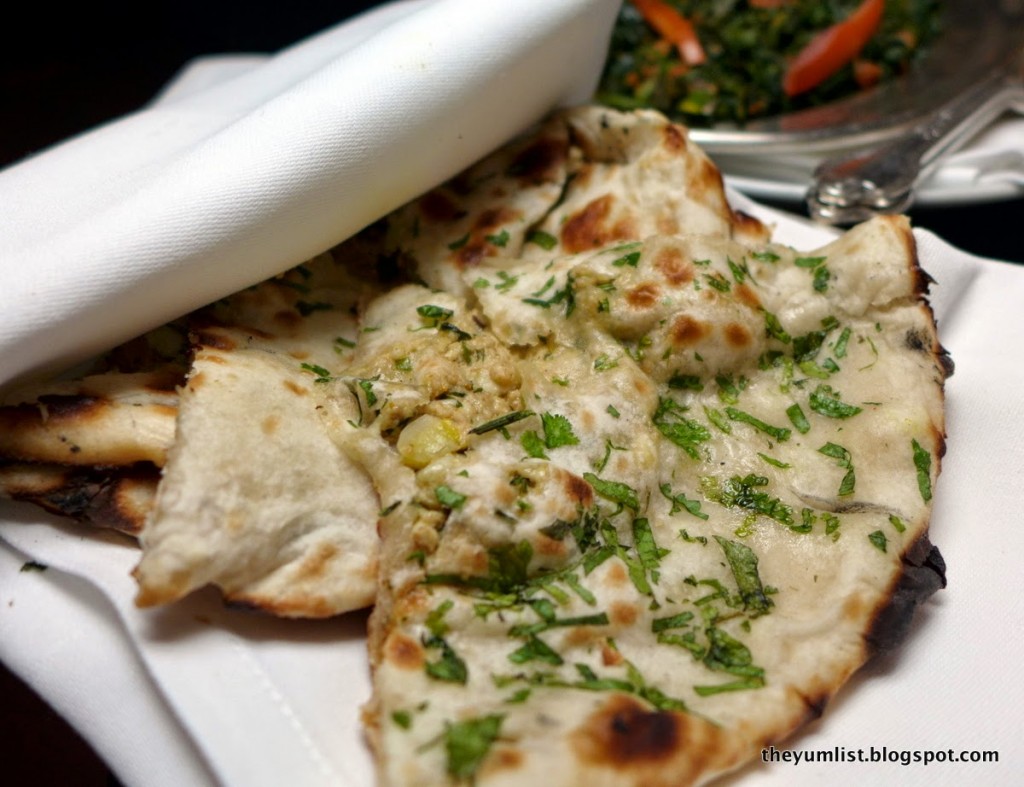 Garlic Kulcha
Desserts
We truly have no room for dessert but we're convinced to try the Purane Kille Ki Kulfi (Rp.560) anyway. Housemade Indian style ice cream comes in
three flavours: fig, pistachio and saffron. The texture is denser than Western style gelato, and incredibly satisfying. For tummies that just declared 'no space remaining' a few minutes earlier, we certainly do a good job of polishing off this sweet ending.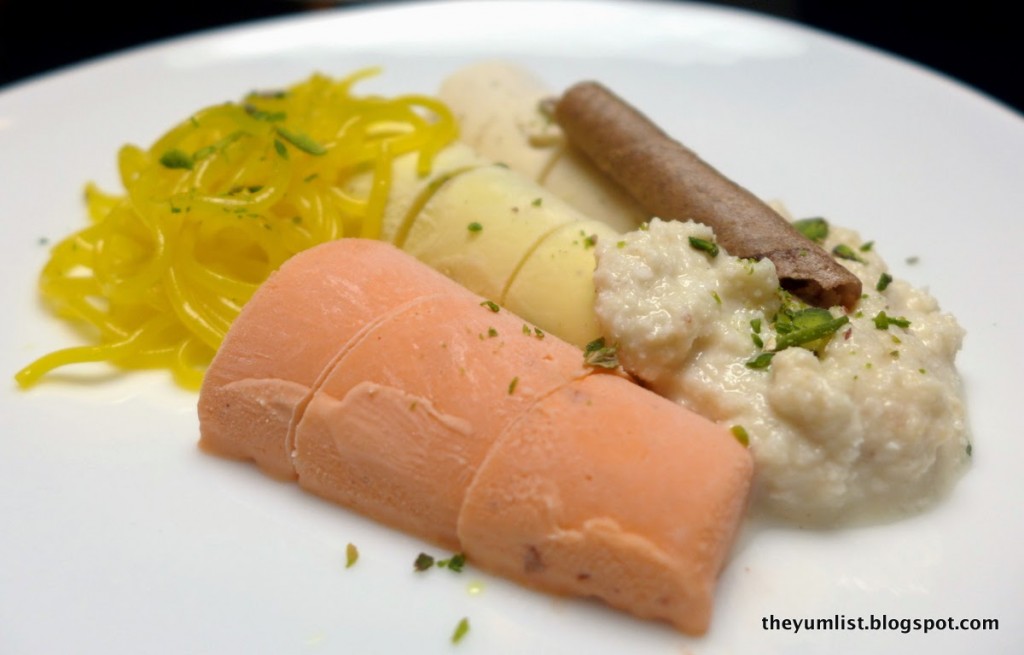 Purane Kille Ki Kulfi
It's been superb experience all round at Kokari. Ambience, service and cuisine are all top-notch. For an elegant dining experience, and robust yet elegant Indian flavours, Kokari at Crowne Plaza Kathmandu-Soaltee is a splendid choice.
Reasons to visit: authentic North Indian cuisine, beautiful ambience, superb service
Kakori
Indian Restaurant
Crowne Plaza Kathmandu-Soaltee
PO Box 97
Tahachal Kathmandu Kathma
Nepal
On the Regal Suite complex near
swimming pool
977-1-4273999(6520)
Dinner, Dessert
Hours:  7:00 PM-10:45 PM