And… our third foray into the healthy food delivery scene rewards us with a wonderful selection of hot meals, a step up in nutrition information provided to customers, and the convenience of vacuum packing.
The Lean Canteen team has created a fabulous range of hot dishes with the goals of deliciousness, weight control and a healthy lifestyle at the forefront of design. Contemporary cuisine sees a mix of Western and Asian seasonings flavouring hearty servings of comfort food. I imagine when most think of "calorie controlled," they don't come close to even fathoming what the line-up is like from this vendor. There's certainly no stereotyped "rabbit food" found in the selection we try. These plates are substantial and overwhelmingly satisfying: hubby is greatly enthused. Meat, rice, veggies, fish, pasta and huge tortilla wraps guarantee no one leaves the lunchroom hungry.
With the guidance of a nutritionist and chef, meals are well balanced and most hover around 500 calories. Not only are the calories clearly marked on the menu, but the protein, carbohydrate and fat contents are too. It's simple labeling, that makes quick selections easy.
As if delivering a ready-made wholesome calorie-controlled meal to our doorstep wasn't enough convenience, The Lean Canteen takes it up a notch with vacuum packing! Meals are made fresh but then stored in airtight vacuum-sealed containers. This method keeps food fresh for longer periods: clients could actually order a week's worth of lunches or dinners and not worry about having to consume them quickly. Stored in the refrigerator, the recipes last up to seven days. Use-by dates are marked anyway, so there's no need to guess. Clients have even reported ordering meals for a month and keeping them in the freezer without adverse effect to taste or quality.
Loving the idea of not having to think about meals for a week, we go ahead and order a full supply. Clear directions inform us how to heat our food when we're ready to consume, and the first we taste is the Taj Mahal (RM16).
Taj Mahal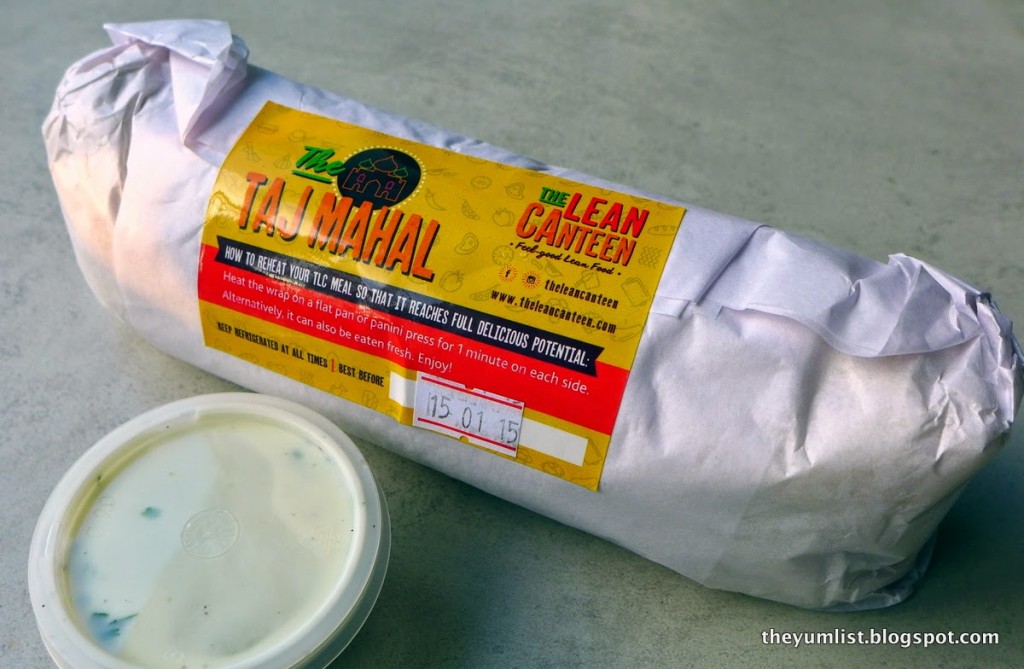 Taj Mahal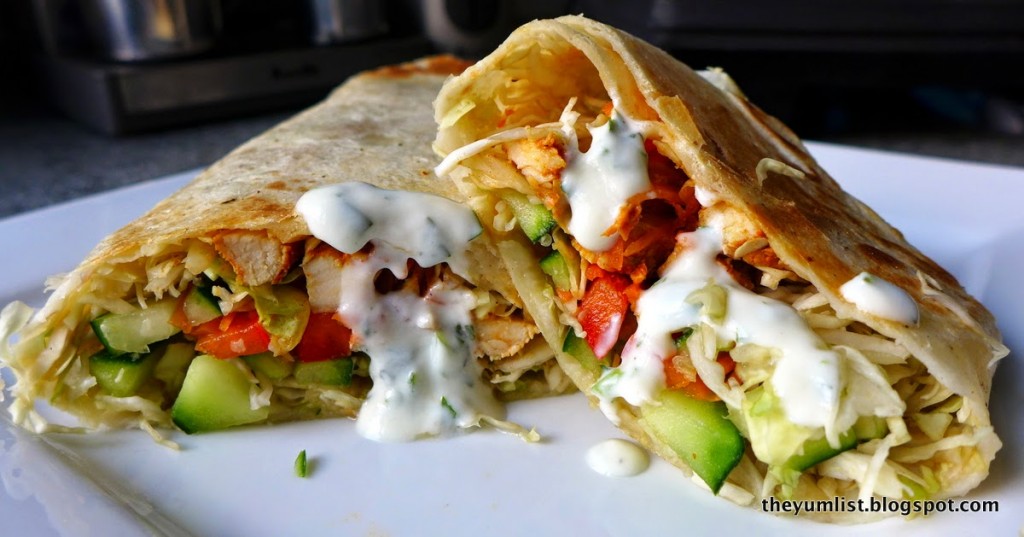 Taj Mahal
Resembling its namesake, the Taj Majal, in grandness in size as well as taste, this 12 inch tortilla wrap bursts at the seams with strips of tandoori chicken breast, julienned carrots, roasted peppers, Japanese cucumbers and cabbage. This beauty can be eaten fresh or toasted in a flat pan or Panini press. We choose the hot option, heating ours until golden on the outside and warm in the middle. Yoghurt mixed with garlic and cilantro makes a fitting playmate for the chicken. Yum!
Calories: 570  Carbs
63g   Protein 50g  Fat 14g
Bangkok Beef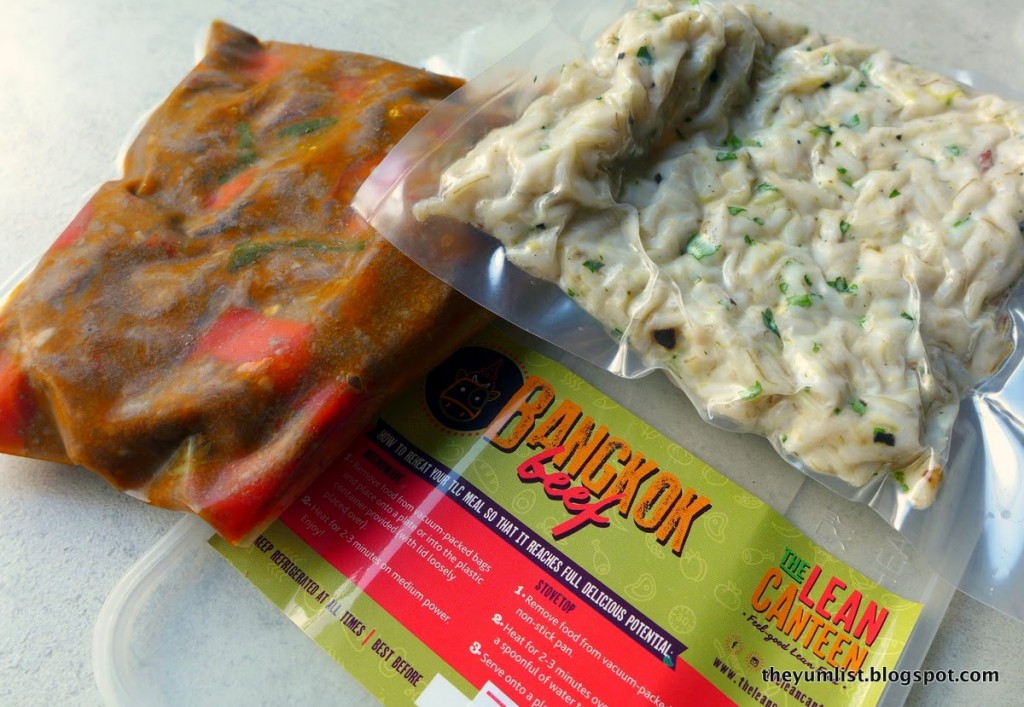 Bangkok Beef
Bangkok Beef
Honey glazed beef tenderloin stir-fried with bell peppers, onion, ginger and tomatoes makes up the Bangkok Beef (RM17). The thin slices of meat are soft and moist, and their sweet and spicy sauce is perfect soaking up material for the bed of garlic cilantro organic brown rice. Hubby is very pleased with this dish awarding it the high acclaim of tasting just like something he would make (he considers himself rather suave in the kitchen so this is quite the compliment).
Calories: 560  Carbs
45g   Protein  56g
Fat 15g
Don Aglio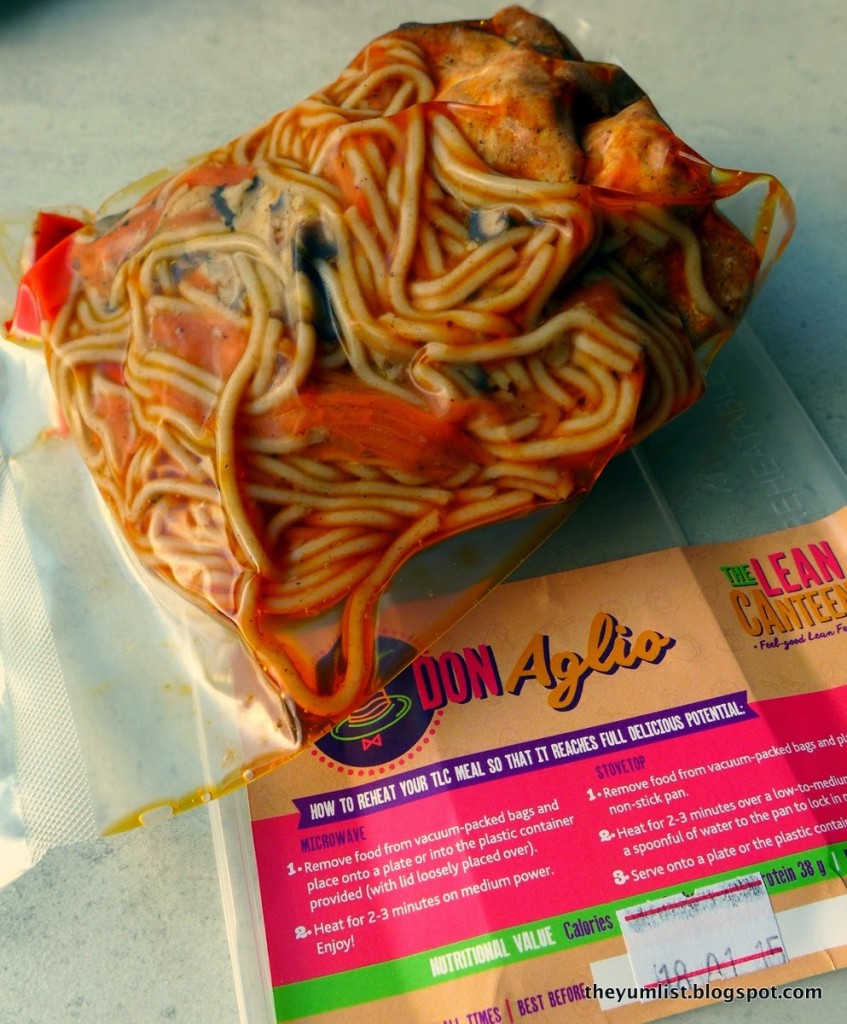 Don Aglio
Don Aglio (RM15) is a delight with whole-wheat spaghetti tossed in garlic and olive oil and sautéed bell peppers, mushrooms and carrots. Grilled portions of fajita-seasoned chicken top the dish with some lean protein, and the wholegrain keeps us satisfied all afternoon.
Calories:  524  Carbs 32g
Protein 38g  Fat  29g
Salmon Khan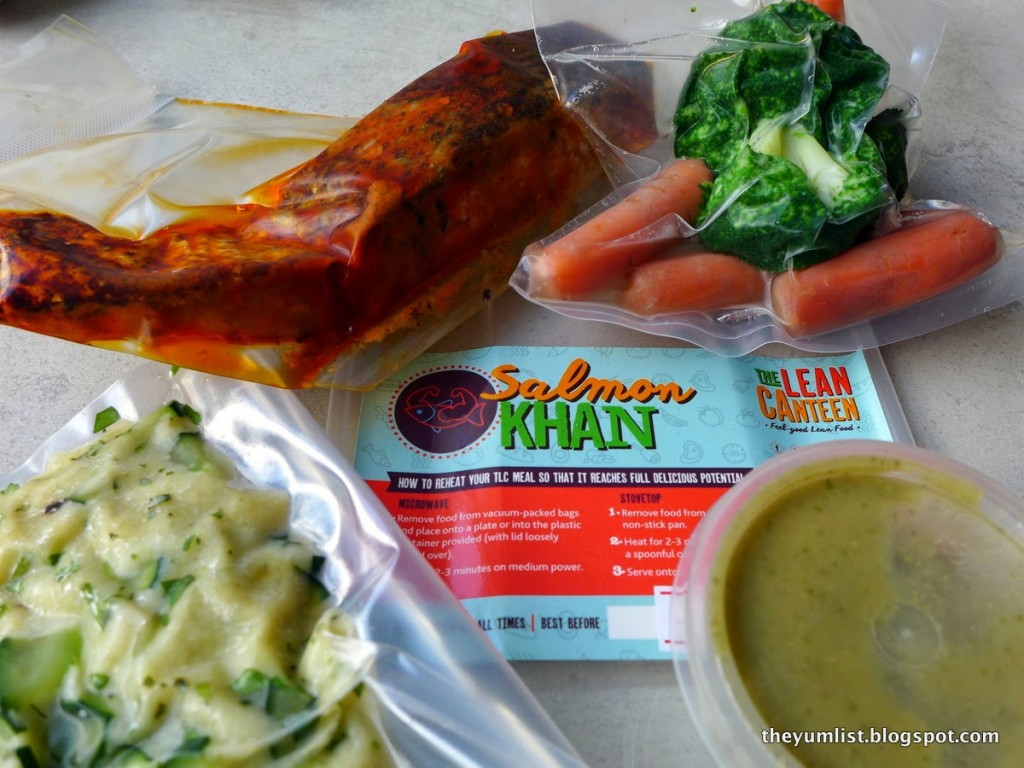 Salmon Khan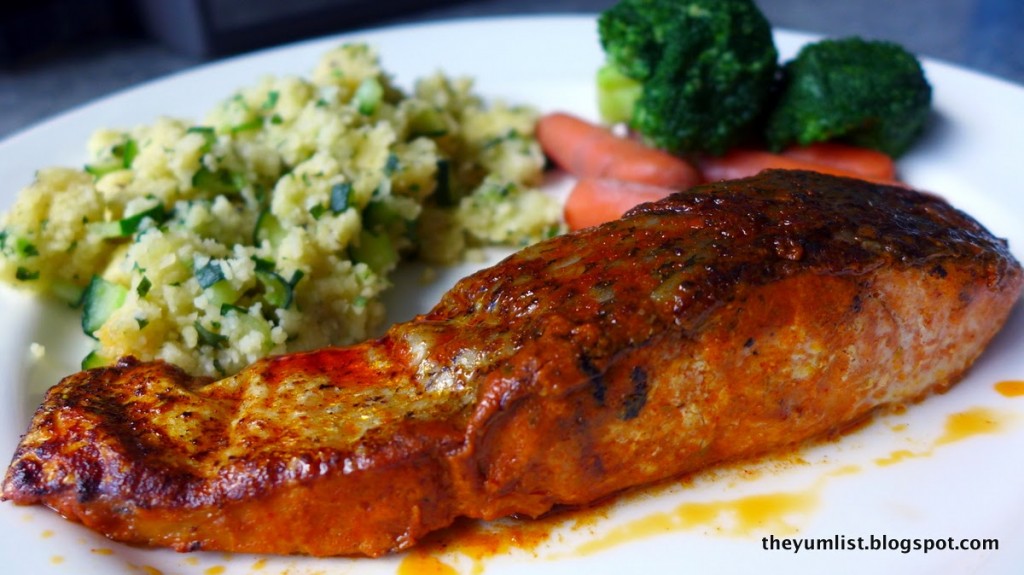 Salmon Khan
Salmon Khan (RM19) showcases a tandoori salmon fillet, grilled until moist and flaky, and refreshed with a cucumber cilantro cous cous. At first I'm surprised at just how succulent the fish is, but guess that an added bonus of vacuum packing is probably retention of moisture. With no exposure to air, it can't dry out. A tangy mint sauce brightens the oily fish, lifting it to feel light and lean.
Calories: 360   Carbs
37g   Protein 30g  Fat 8g
Koh Padprik
Koh Padprik
Koh Padprik (RM17) promises succulent chicken breast cooked in a healthy blend of chillies, tomatoes, ginger, lemongrass and kaffir lime leaves. Herbed organic brown rice proves a flavourful side and lovely accompaniment for the well-seasoned poultry.
Calories: 481  Carbs:
56g   Protein 34g   Fat 12g
Ordering details can be found on both their Facebook and Instagram pages, for both the KL and Klang Valley areas. We've found it to be a great service and good value for money. We'll definitely be calling on The Lean Canteen again.
Reasons to order: vacuum packing makes easy ordering for an entire week's worth of meals; nutritional value available for every dish; delicious wholesome comfort cuisine.
The Lean Canteen
Aina (012 208 6440)