Featuring cuisine from Italy with regional specialties from Sardinia, Tuscany, Emilia, Sicily, Veneto and Lombardy, Al Fresco in Crowne Plaza Kathmandu-Soaltee gifts guests with a little piece of Europe.
Located poolside, the restaurant showcases an open pizza kitchen and caters to both smokers and non-smokers. It's a charming ambience and even though the space provides for up to 72 guests, the atmosphere is intimate. Arches and beams divide the area into cosy zones for tables. Ceramics and paintings of Italian city and seaside scenes adorn the walls, alongside ornate lanterns. Soft contemporary European tunes hum from the speakers
Al Fresco, Italian Restaurant, Crowne Plaza Kathmandu-Soaltee
Tables are dressed elegantly with white linens, delicate crystal glasses and shiny silverware. A single white candle flickers on the table reflecting off a slender blue bottle holding olive oil. Our waiters are uniformed with white suites and grey vests and serve us wearing white gloves. All combined, make for a sophisticated dining experience.
Hubby begins with an Aussie Colombard Chardonnay Cranswick 2011 (Rp.850), and I, a Chilean Merlot Classico Ventisquero 2011 (Rp.850). The white displays both fruit and oak aromas, with summer fruits mimicked in the mouth. It smooth, easy drinking. Tobacco, ash and cherries are found on the nose in the red, followed by a nice round body and lingering finish.
The menu is rather extensive for this region, and we appreciate its division into vegetarian and non-vegetarian options. Appetizers, soups, pastas, risottos, mains and desserts reveal a good cross-section of Italian cuisine.
Garlic bread and grissini are served with freshly made garlic and eggplant dips. Both relishes are aerated and smooth. Before we know it, our bread and wine have soon disappeared, but we refrain from requesting more in anticipation of the meal to come.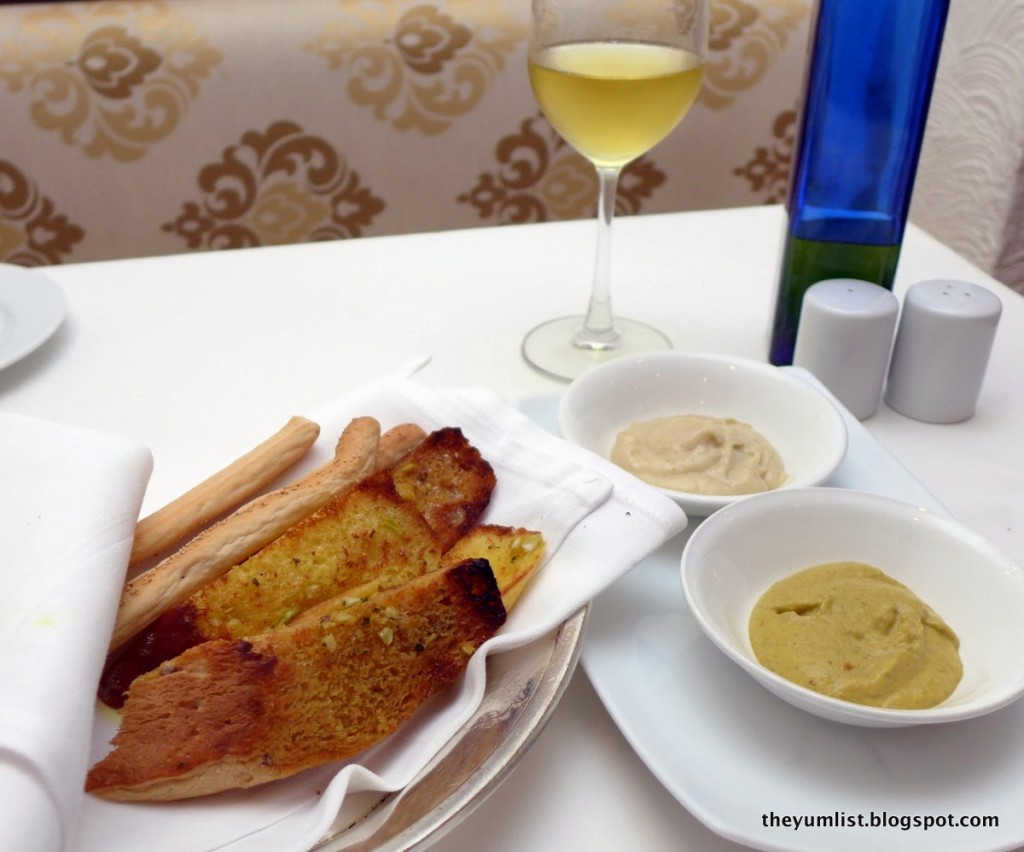 Bread and Dips
Appetizers
Hubby's Salmone Norvegese all' Aglio e all Erbe (Rp.1200) is the first to arrive and gives a great initial impression. Coral pink slices of smoked salmon fill the plate with a border of crispy lettuce, Parmesan flakes, capers, thin red onion rings, black olives and fresh Italian herbs. The dish goes particularly well with the Australian chardonnay, buttery characteristics of vintage and seafood mirroring one another.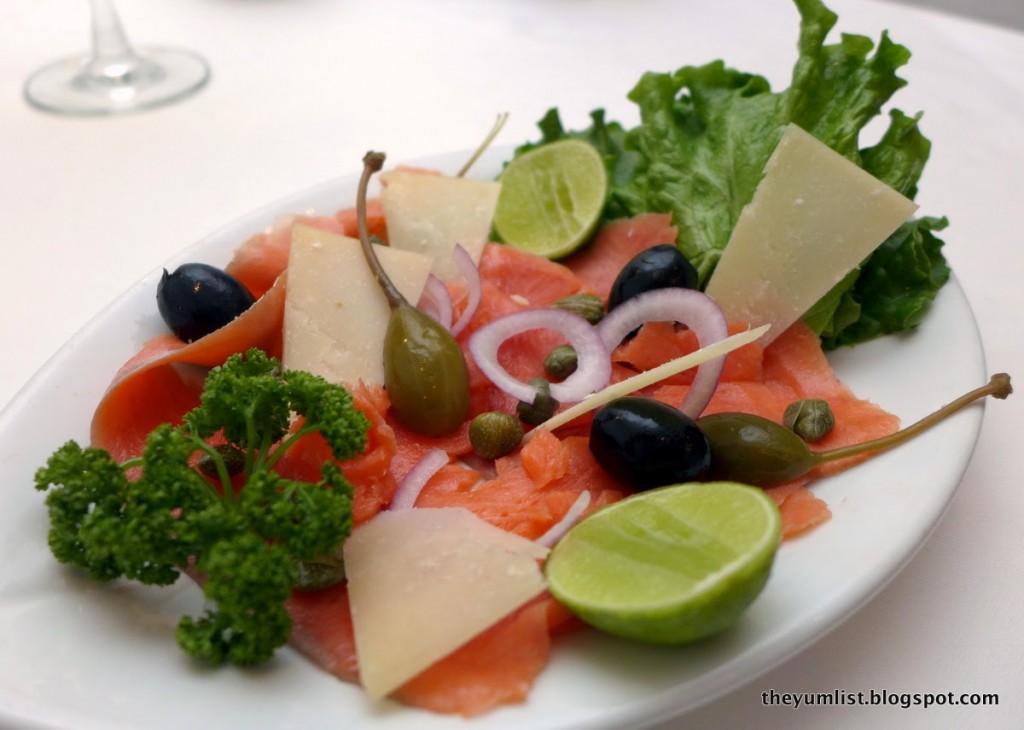 Salmone Norvegese all' Aglio e all Erbe
Soups
Soups are next with cream and clear versions both on order. Vellutata di Asparagi (Rp.675), cream of asparagus, is rich and smooth. The Zuppa Casereccia con Verdure (Rp. 625), a farmhouse vegetable broth with sun-dried tomato and sweet basil leaves, is also full-flavoured. Both seem to be 'life-giving' stocks, especially after a day on the streets in the cold.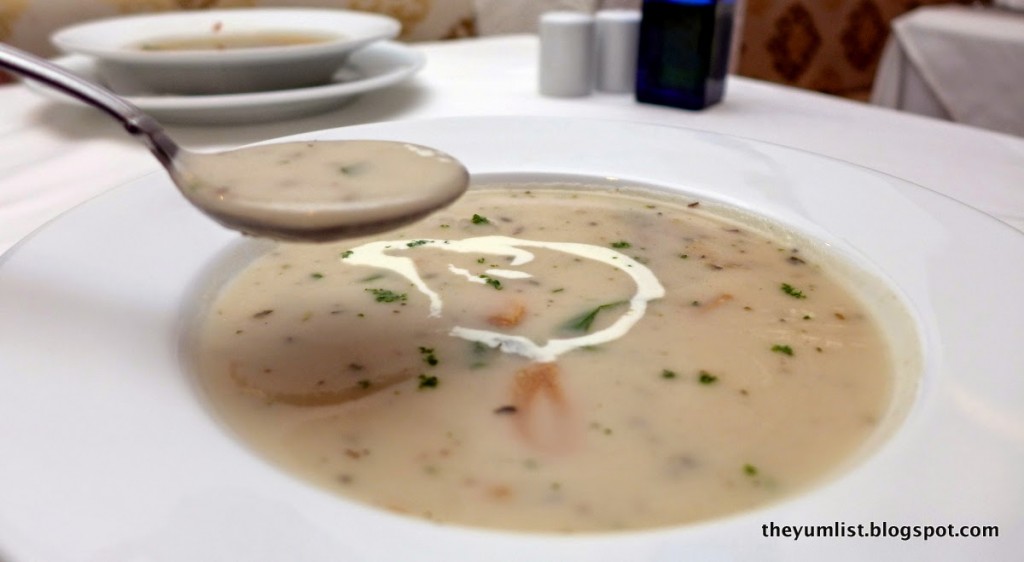 Vellutata di Asparagi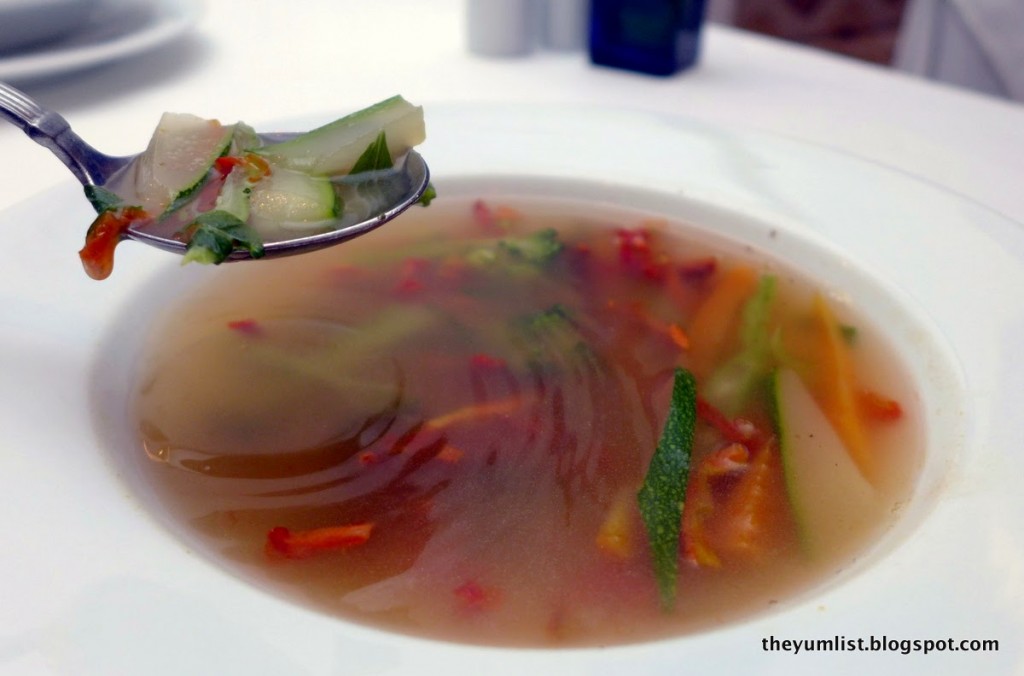 Zuppa Casereccia con Verdure
Mains
Bistecca di Manzo con Ratatouille di Verdure (Rp.1125), beef tenderloin with vegetable ratatouille, mushroom scallops and pimento butter rice, is a hearty meal. Hubby mmms and aaahs throughout, with the occasional 'delightful' thrown in. The steak is pink in the middle and extremely juicy. It's a cut that requires a few chews before swallowing, making us feel as though we're dining on a real piece of meat. The veggie swirl is creamier than expected and we learn chef has thrown in some cream and cheese to get this effect.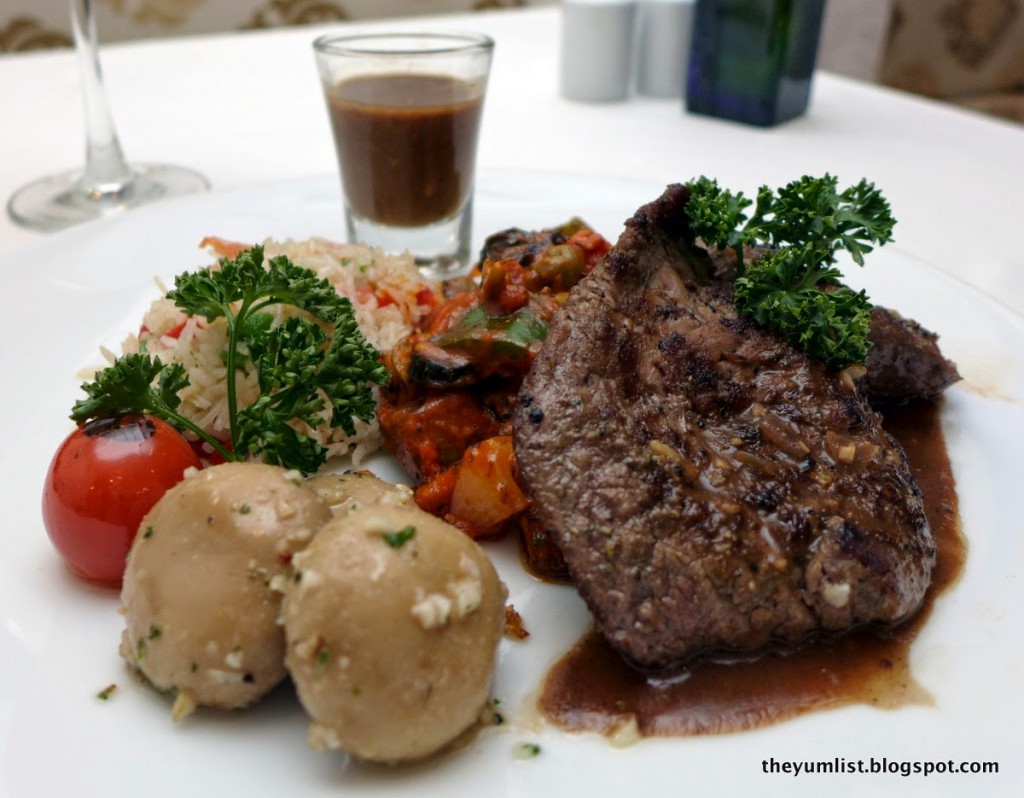 Bistecca di Manzo con Ratatouille di Verdure
Parmiggiana di Melanzane (Rp. 875) features grilled chunks of eggplant tossed together with tomato, bell peppers, onion, cheese and plenty of fresh herbs. Baked in a ceramic bowl, the crust is toasted until golden and the underneath moist and buttery. Soft cubes of polenta adorn the top, and I smile at the side dish of extra grated cheese – it's really an over-the-top suggestion as the dish is brimming with dairy already, with each forkful producing a string from plate to mouth. Yum.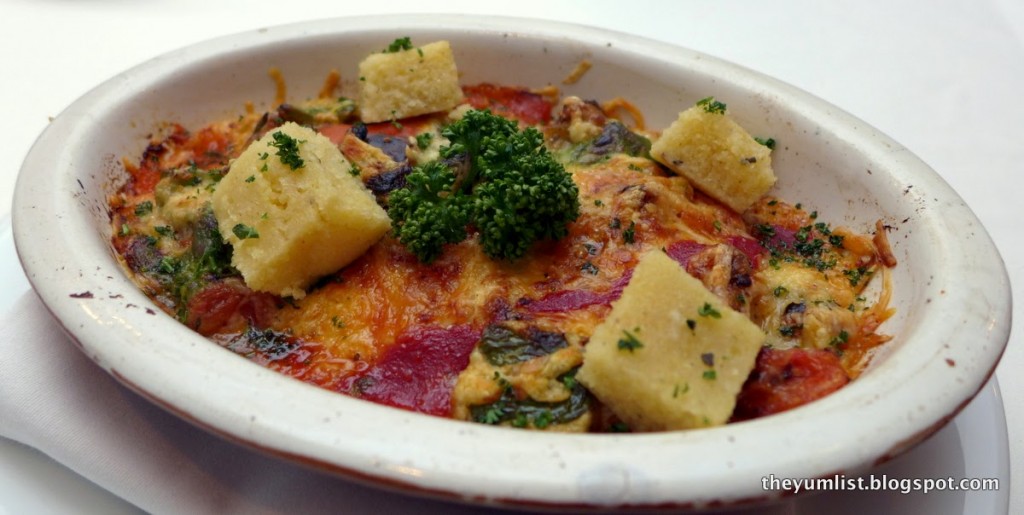 Parmiggiana di Melanzane
Desserts
Hubby predictably orders the creamiest item on offer, Pannacotta (Rp.630). Al Fresco's version is cream cheese, of even consistency, layered with a thin stripe of grape jelly, and capped with finely chopped melons and apple. The fruit presents a nice balance, lightening the potentially heavy ending.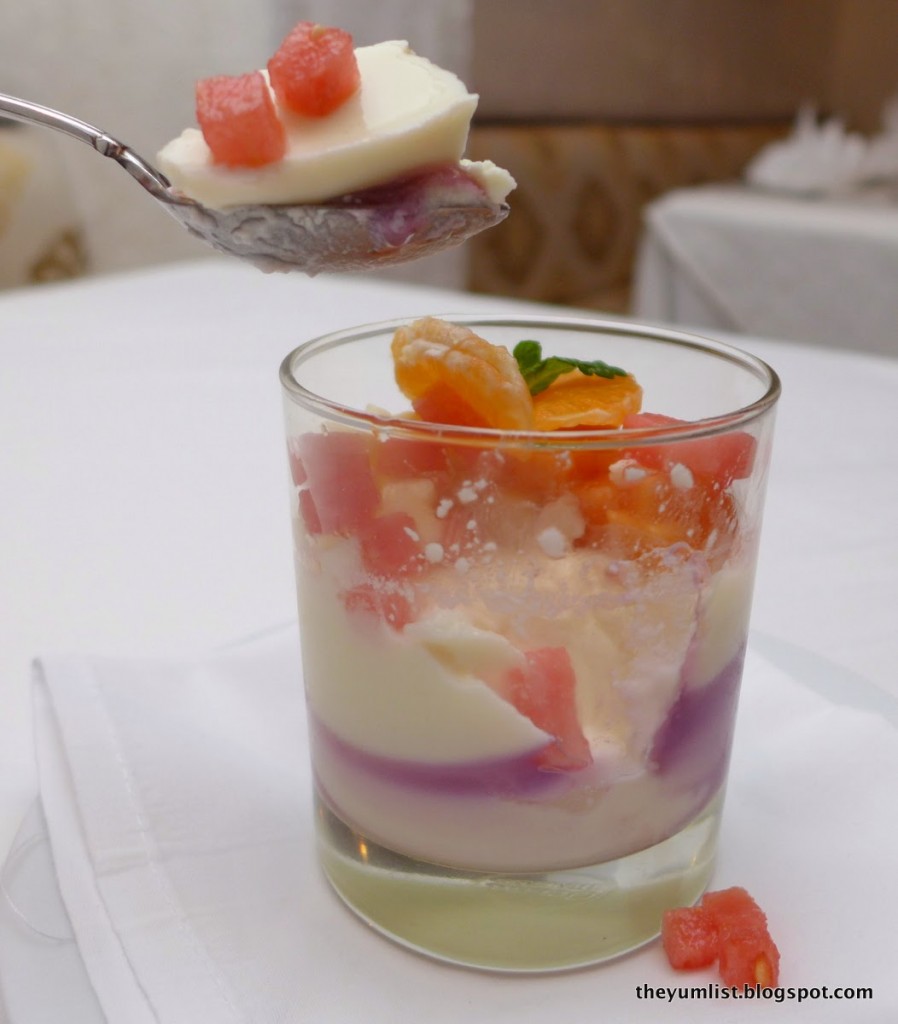 Pannacotta
Reasons to visit: a little taste of Italy in Kathmandu, delightful ambience, excellent service.
Al Fresco
Italian Restaurant
Crowne Plaza Kathmandu-Soaltee
PO Box 97
Tahachal Kathmandu Kathma
Nepal
On the Regal Suite complex near swimming pool
977-1-4273999(6510)
Dinner, Dessert
Hours:  7:00 PM-10:45 PM