An unforgettable experience with Nepalese cuisine and hospitality is found at Krishnarpan restaurant in the beautiful heritage property of the Dwarika's Hotel. As if participating in a ritual feast of Kathmandu Valley's Newari community, guests dine on six to twenty courses served on traditional brass and earthenware, taking a culinary journey through the terrains and cuisines of Nepal. If you splash out on one meal in Kathmandu, this should be the one.
With a focus on fresh, local and organic, many of the ingredients come from Dwarika's own farms. Food is of superbly high quality, bursting with flavour and nutrition, and we're delighted to partake in such a unique opportunity.
But, wanting to prolong the evening, we stop first in the hotel's Fusion Bar for a signature beverage. Dark wooden exposed ceiling beams, ebony whisky barrels, wine racks, black and white photographs, and antique music paraphernalia (there's even a music box that used to belong to Mao!) keep the ambience intimate and intriguing.
On a chilly evening, such as this, Hot Rum Punch (Rs. 800) is a suitable soul warmer. Cinnamon, black and white cardamom, cloves and star anise are infused in the nation's own Khukuri rum. Served hot, it resembles mulled wine, but with more pronounced flavours and a marked kick. One more please! Gorkha, one of the local beers, is hubby's choice, and even though it's served in a giant-sized bottle, disappears very quickly. Popcorn, peanuts and furandana (a Nepalese snack mix of puffed rice, lentils, peanuts, spices and other bits and pieces) are yummy bar bites.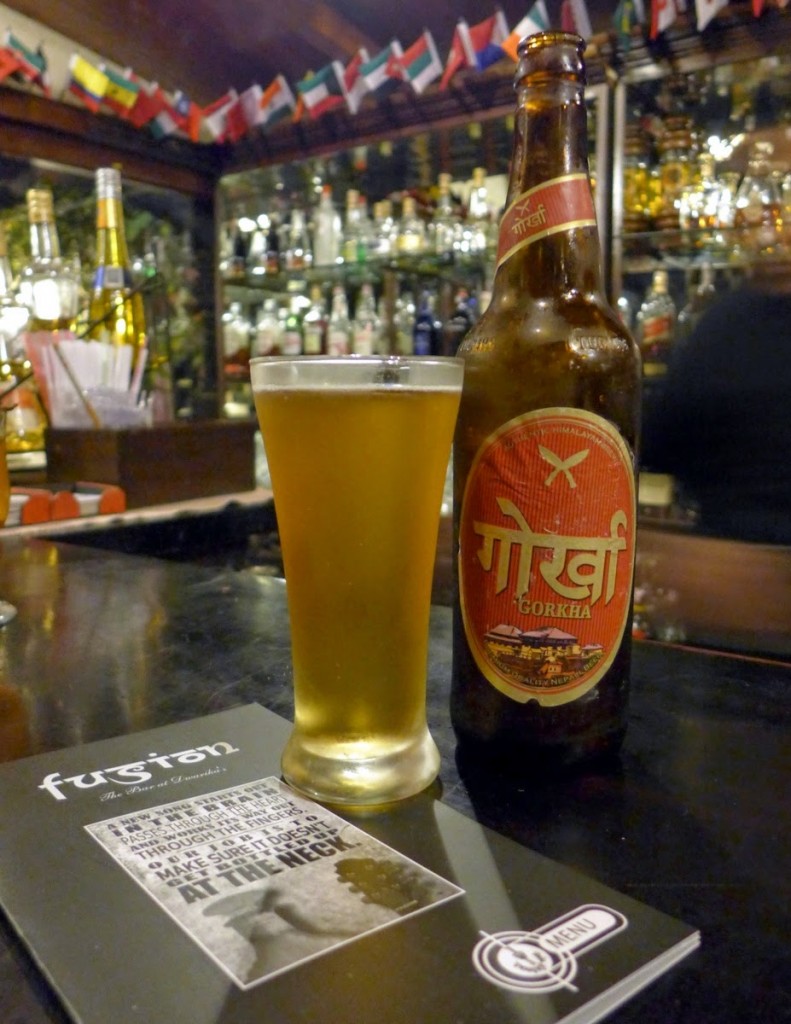 Gorkha Beer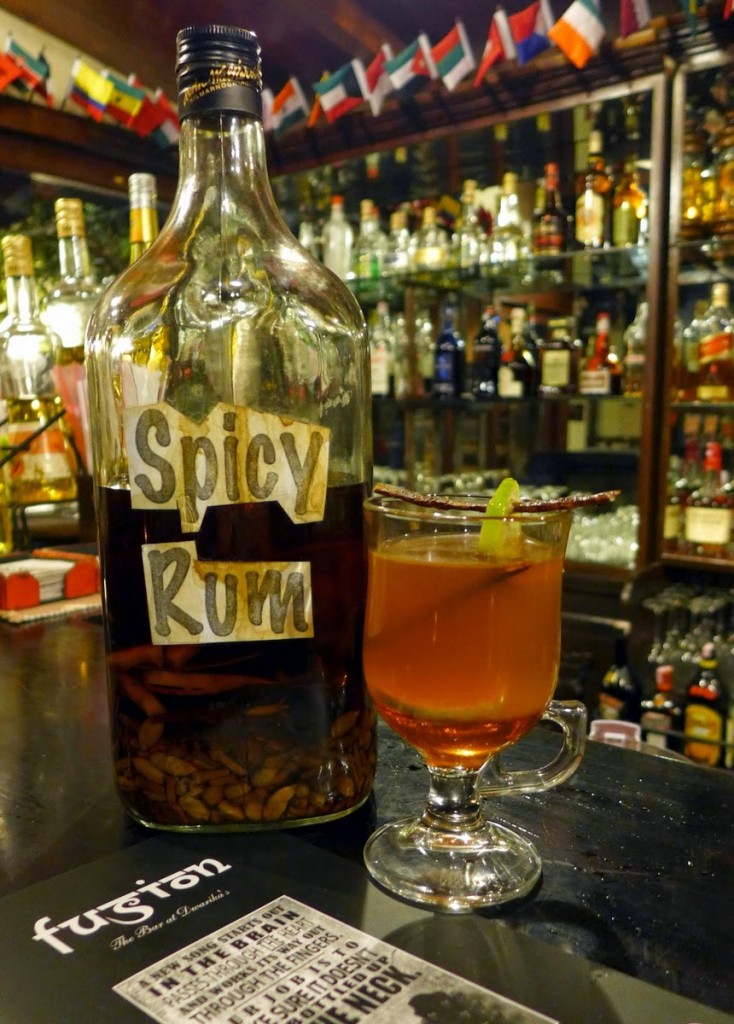 Spicy Rum
Appetites whet and the day's stories told, we cross the courtyard to Dwarika's Nepalese restaurant, Krishnarpan. When I said earlier that a visit here is a not-to-be-missed experience, I truly meant it. It's not just about the food, but about sharing a whole way of life, from rituals, to clothing, to the décor.
Traditionally dressed staff greet with warm smiles and welcoming Namastes. We remove our shoes, wash our hands and follow our chaperone to our table where we're donned with aprons and asked if we'd like the vegetarian or non-vegetarian menu.
Reflecting traditional Newari practices, where feasting is central to all celebrations and ceremonies, tables are set up in long rows low to the floor. Beautiful ancient carvings frame doorways, and hand made covers shade lighting. Every piece of furniture, crockery, cutlery and article of adornment is made by local artisans. Brassware in the shape of twigs comes from Patan. Placemats are sewn in-house in the national colours of white, red and black. Ceramics hail from Thimi, and serving platters are in the shape of leaves mirroring the traditional practice of using them as plates.
Krishnarpan
Rice spirit accompanies the meal and is poured in dramatic display, where the pot starts low and is lifted high in the finish, testing the dexterity and aim of the server, in making every drop reach the tiny shallow receptacle. This is a special home brew from Bhaktapur. It's not permitted to be sold commercially, so is given away to guests in this unique tasting.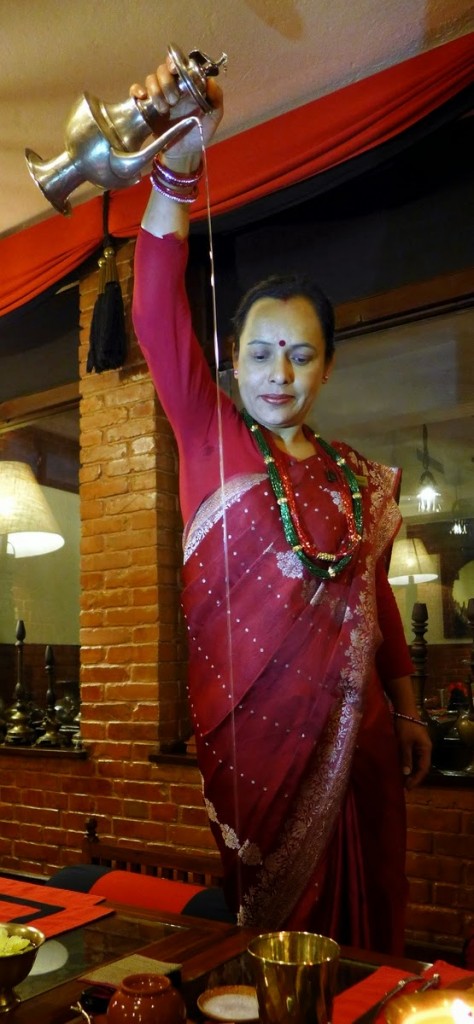 Rice Spirit Pouring
Shortly after the spirit is poured, the starter arrives and we're instructed to give an offering by taking a small portion of each item on our plate and placing it on the special dish in front of us. It honours Lord Krishna and too is a way of remembering ancestors.
Starters
We begin with Samaya Baji, an authentic assortment of Newari starters served during religious ceremonies. Puffed rice, tomato wedge, garlic, beans, soya beans, lentil pancakes (bara) and potato pickle
make a ring around the plate. Hubby, taking the non-vegetarian menu, has buffalo meat too, which he reports is "rico!" Utensils are provided, but in embracing the tradition, we eat with our right hand.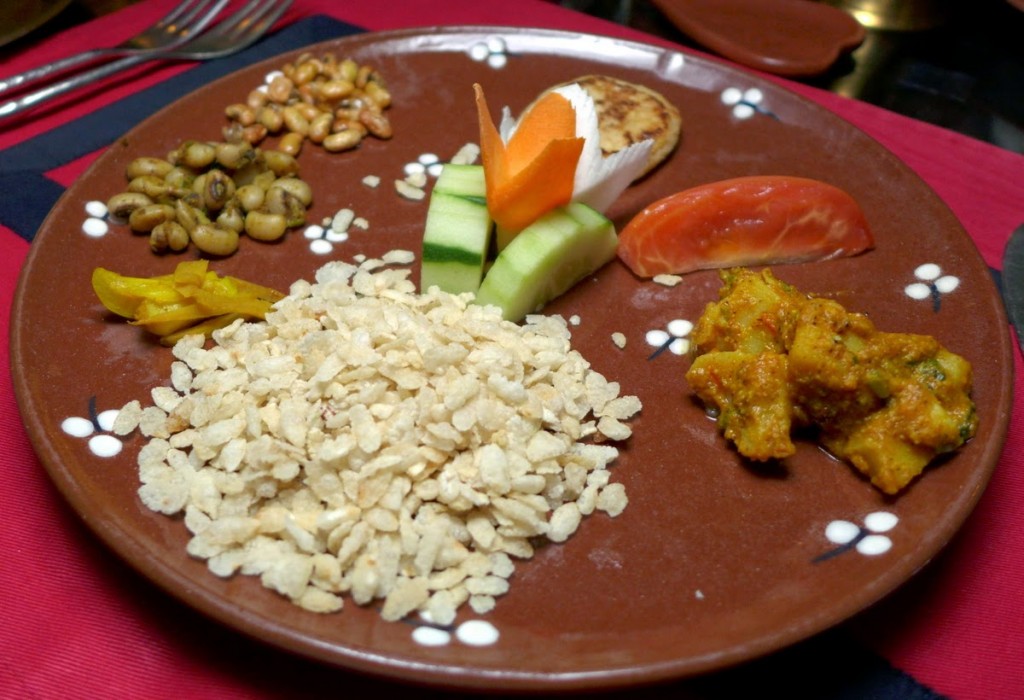 Samaya Baji
From the southern part of Nepal we have a trio of appetizers: bread, mushrooms and chickpeas. We break off small pieces of the Puri, a fried unleavened Nepali bread made from soft fine flour, and use it to scoop up the Chyau Ko Sekuwa, roasted mushrooms marinated in cream, and the Chana Ko Tarkari, chickpea curry. Hot bread plus flavourful toppings – yum!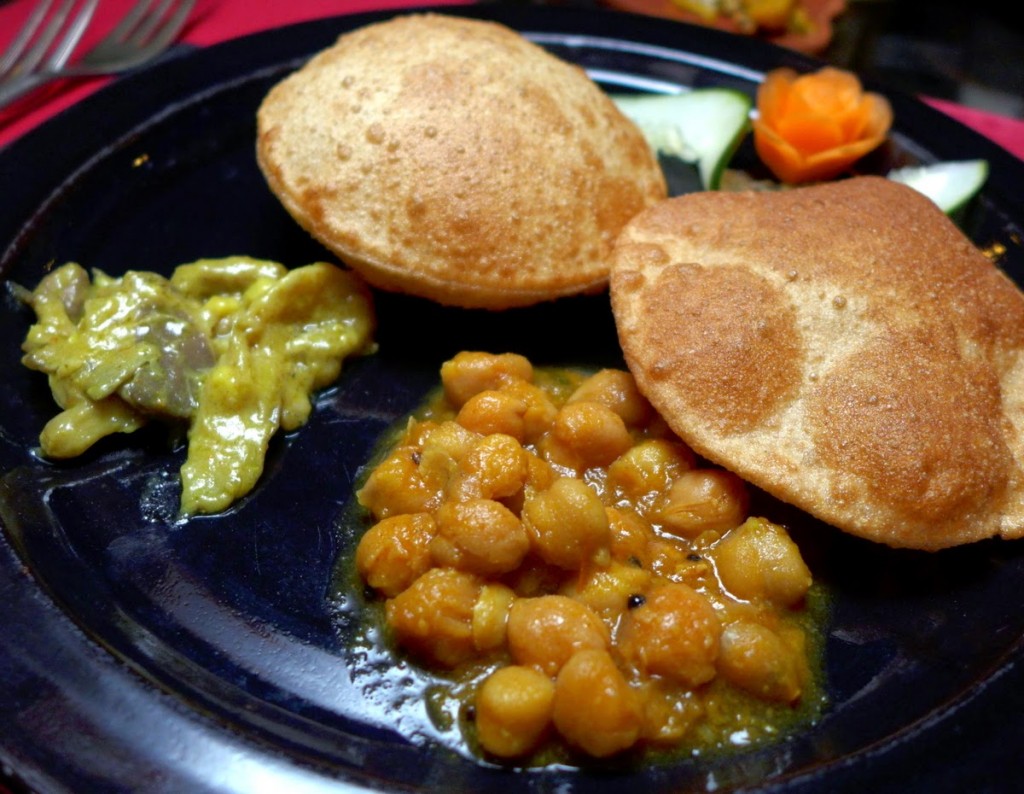 Appetizers
Momo, displaying influence from China, are widely reported as the national snack/meal. These steamed
dumplings are stuffed with minced meat (or vegetables) and served with a mildly spicy tomato chutney. Sometimes they are also deep fried, leaning towards Tibetan preferences. If they're found in soup, you can just about guarantee it's a dish from Kathmandu, particularly wonderful on a cold foggy day. Either way, we love them and can see why they've grown to be the food symbol of the nation.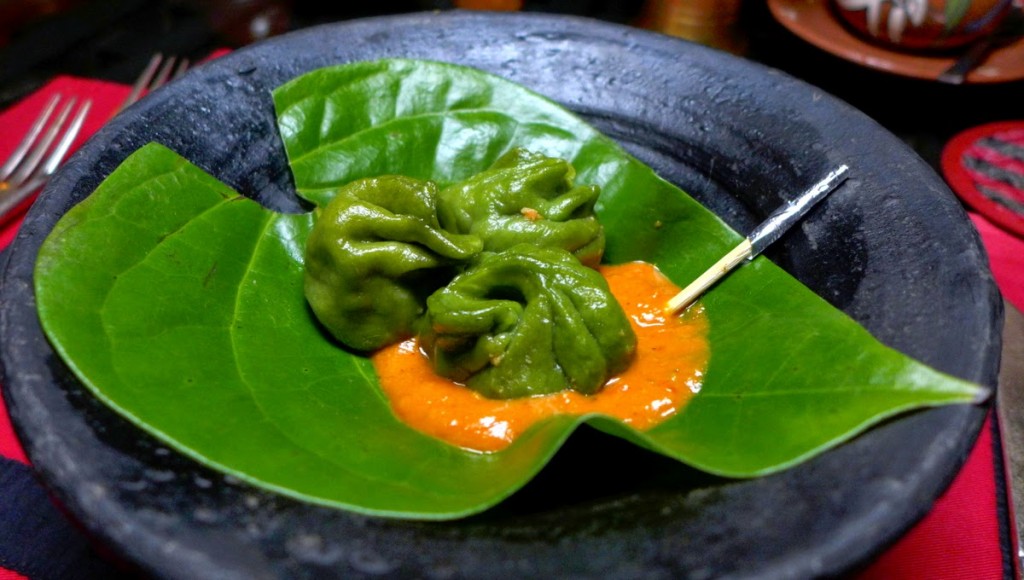 Vegetarian Momo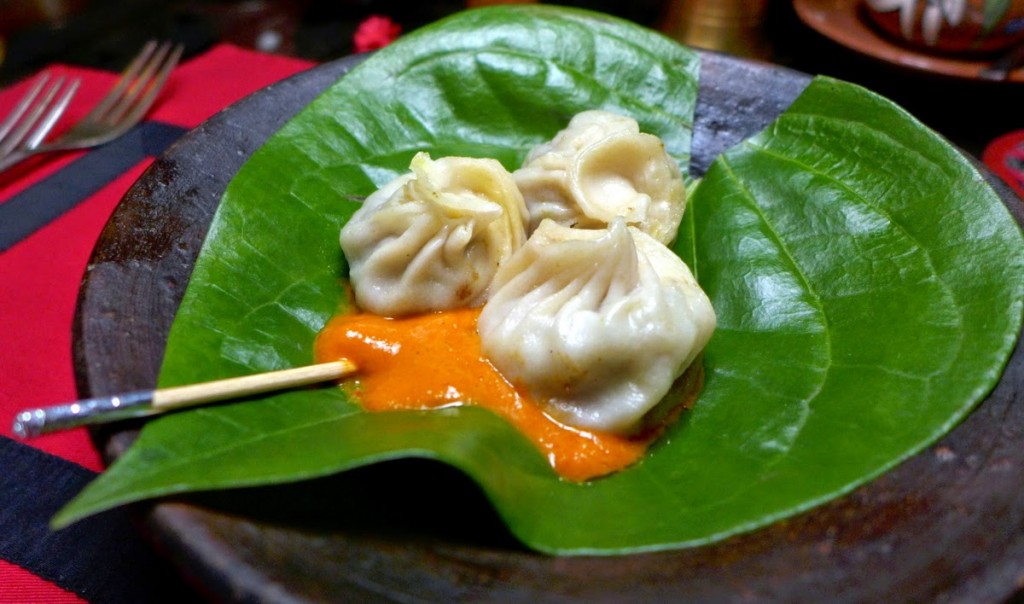 Momo
Soup
A Nepali vegetable soup is next, Tarkari Ko Jhol. Made from vegetables direct from Dwarika's organic farm, the cream is thick and full-flavoured, tasting superbly garden-fresh. It highlights how unnecessary excessive seasoning is when produce is organic and local. We both scrape the bottoms of our bowls scooping up every last drop.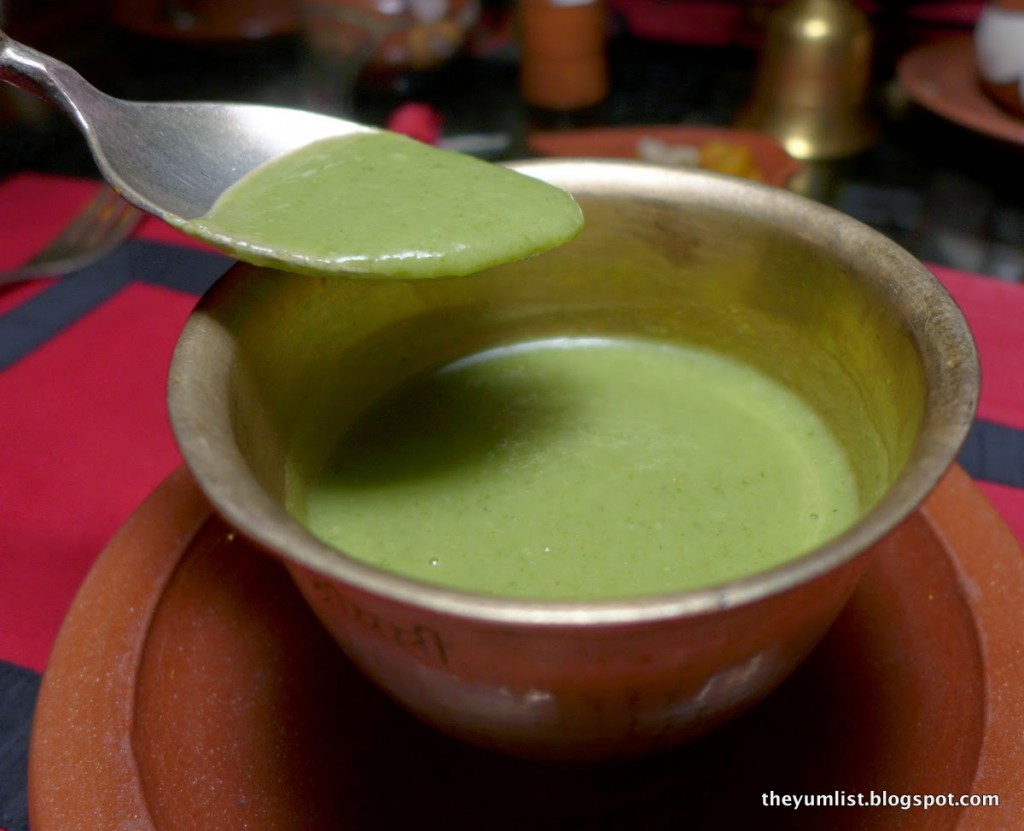 Tarkari Ko Jhol
Mains
Considered the main dish of Nepal, rice, lentils and vegetables are served together from separate bowls on our plates. Steamed organic Himalayan long-grain rice, known as Sada Bhuja, grows in the southern part of Nepal in Dwarika's own farm. Both white and brown rice is available.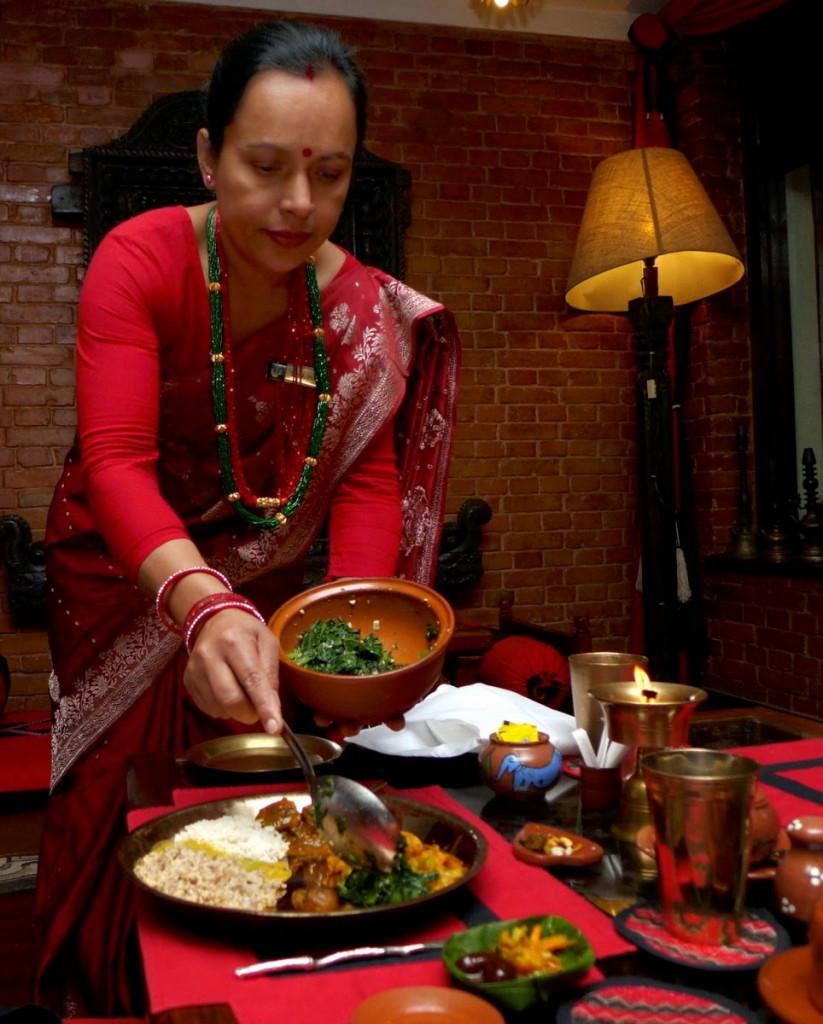 Dinner is Served
The assortment of dishes consist of: Dal Jhaneko, lentils flash fried with Himalayan herbs; Paneer Ko Tarkari, paneer curry cooked with Nepali spices; Lauka ra Bhatmas Ko Ledro, bottle gourd and soybean cooked in thick curry gravy; stir-fried potato and cauliflower seasoned with local flavours, Aloo Ra Kauli Tareko; and Rayo ko Sang Jhaneko, stir fried organic mustard leaf. Combined they bestow a nice range of textures and subtle changes in flavour. Hubby finds the potato rather appealing, while I develop a speedy fondness for the lentils.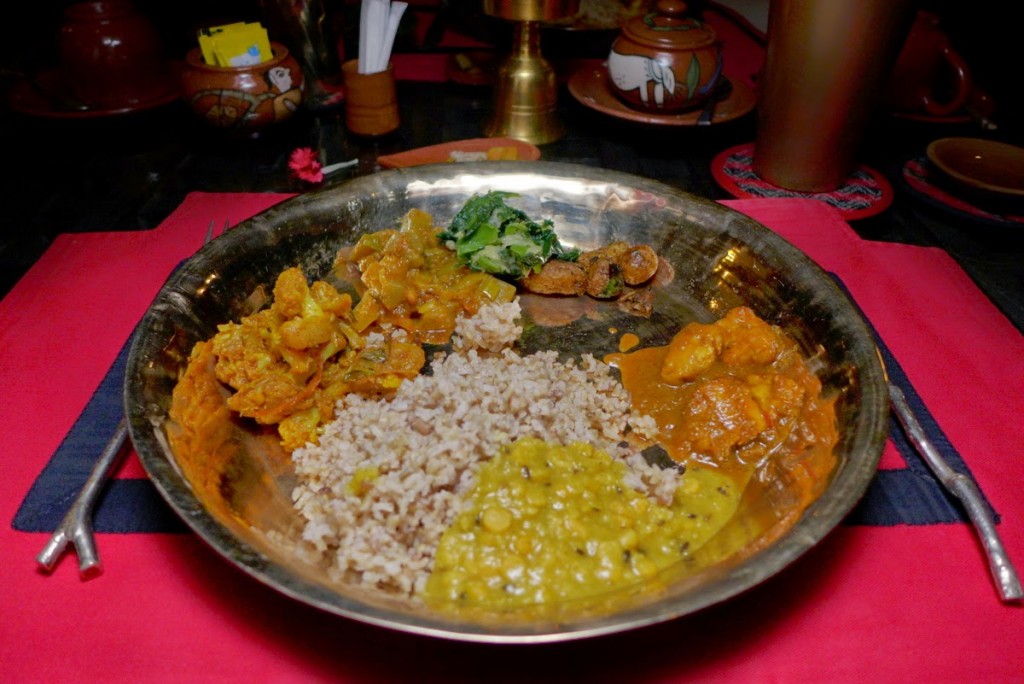 Nepalese Main Dish
Homemade vegetable pickles, Mismas Achar and hug-plum pickles, Lapsi Ko Achar, side the main giving various levels of wallop with their addition. Mustard, sesame, salt and turmeric gift the pickles an addictive flavour, while the plums are sweet, salty and tangy at the same time. We find similarities with Japanese salted plums, umeboshi, only these are much more moist, akin to having been poached.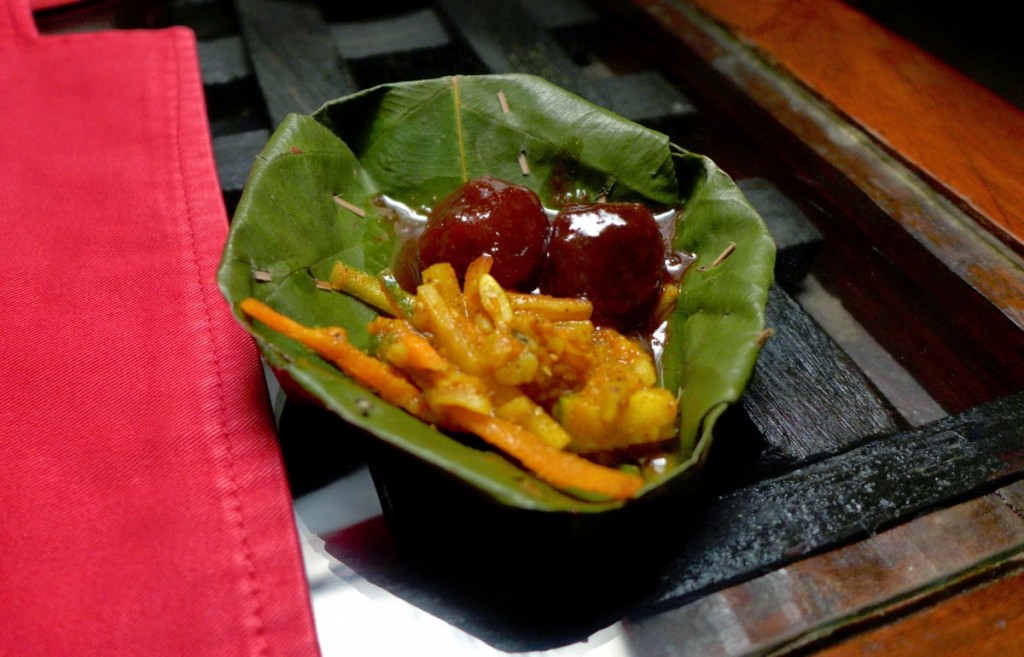 Pickles
Dessert
Served jointly on one plate, a trio of desserts offers fresh, sweet and tangy as a delicious ending. Creamy yoghurt flavoured with cinnamon and sweetened with honey, Sikarni, we learn is a local favourite. Phalphul sees a duo of rockmelon and honeydew melon topped with a ripe strawberry. Sakharkhanda Ko Haluwa, sweet potato pudding, has hubby in a predictable rhapsody over the marvels of Nepal and how great this country's cuisine is. I attempt to disguise an eye-roll as hubby, who has only minutes ago leaned back on his low chair, stomach protruding, making a sizeable display of how full he is with this "magnificent food" and declared that with this meal he now "won't eat again for two days," is now sitting upright at full attention polishing off every last drop of cream and sugar, beaming from ear to ear like a milk-drunk baby.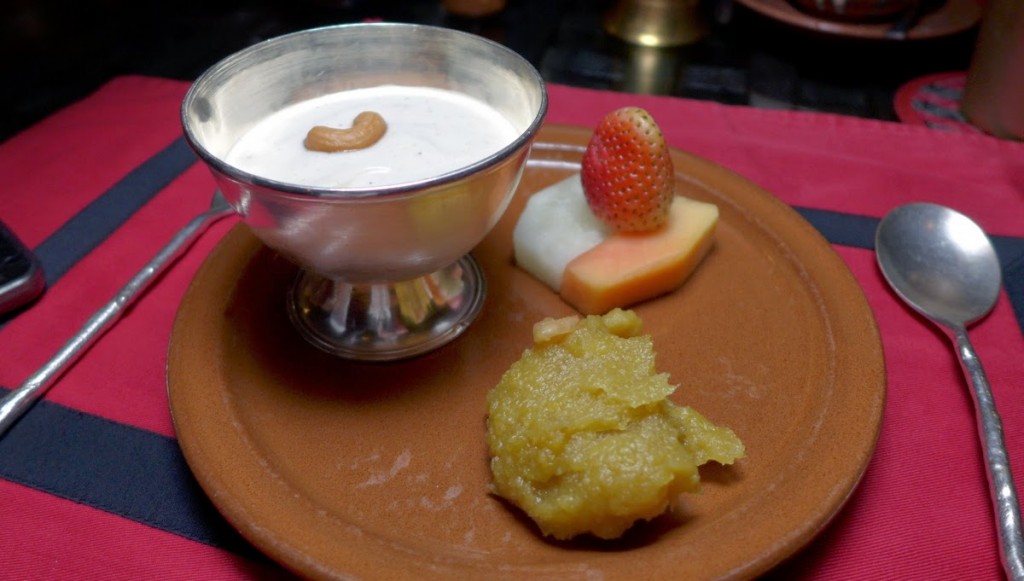 Trio of Desserts
Hot Beverage
The meal ends with Chiya Wa Kafi, tea or coffee.
We think the six course set menu is a steal at $38++. We've been treated like royalty, devoured a feast usually reserved for special celebrations, luxuriated in the beautiful environment of Krishnarpan, and learned a great deal about Nepalese culture on this culinary journey. Many others think the same way, so be sure to make an advance reservation to guarantee a chance to partake in this gourmet adventure.
Reasons to visit: authentic Newari experience; beautiful setting; superb service; a unique 'must do' in Kathmandu
Krishnarpan
The Dwarika's Hotel
P.O. Box 459, Battisputali
Kathmandu, Nepal
+977 1 4479488/4470770