Dwarika's Resort is more than luxury accommodation in the lovely mountainside community of Dhulikhel. It is in itself a destination. Utilizing time honoured traditions and knowledge of the Himalayan culture, the property embraces a philosophy of wellness, care for self and nature: sharing with guests a complete approach to wellbeing, in what is more of a holistic lifestyle retreat, than solely a beautiful place to stay.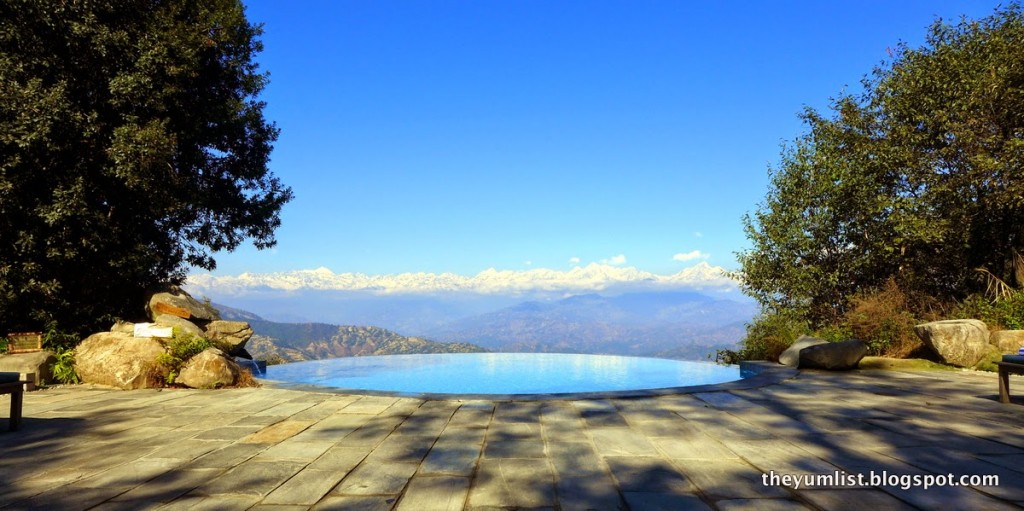 Pool, Dwarika's Resort Dhulikhel
Philosophy and Practices
Natural and traditional materials such as stone, wood, earth, lime and brick dust were primarily used in the construction of the property. Bathroom fittings were custom made avoiding the use of chemicals, and interiors are splashed with natural fibres and colours. A host of environmental systems such as rainwater collection, water recycling, solar lighting and composting of organic materials further attune the structure to perform sustainably, impacting the surrounds as little as possible.
Reception Lounge
It's not only an organic, zero-waste lifestyle Dwarika's aims for, but to make a positive difference for people, society and economy too. By respecting people and place, and preserving and celebrating Nepali crafts and culture, the group aims to strengthen its contribution to the vital tourism sector by placing Nepal on the map as a luxury and eco-friendly destination.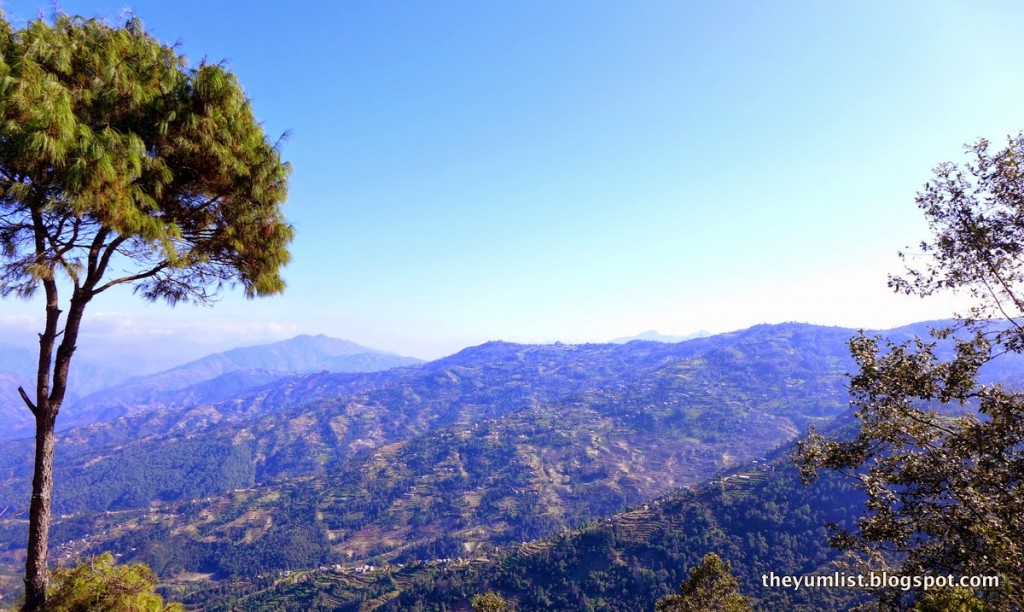 Views from All Angles
Pathway
Rooms
Once we regain our breaths – apprehended unashamedly by the incredible sweeping views of the snow-capped Himalayas, we feel immediately at peace in our room. There are no harsh lines. Forms are natural and while it's extremely clean, there's a rusticity to it that causes our respiration to slow and our minds to clear. We're protected inside from the elements, but can step out and fuse with the environment in our outdoor rooftop living area when weather is good. And… the weather is great!
View of the Himalayas
View from Room
Arriving early January, it is winter, but it's also the dry season and a time when skies are most often at their clearest. From our patio we inhale blue and white and a luxuriousness of space. From the Dhulikhel hilltop we're offered expansive vistas of the surrounding valleys and spectacular Nepalese mountain ranges beyond. Pristinely crisp air fills our lungs and a feeling of wellbeing and tranquility is swept over us with every eye full.
Private Rooftop Patio
Private Rooftop Patio
Two floors of living area provide the ultimate in comfort. A colossal tub promises to ease tired muscles after a day of hiking, and an extraordinary supply of bathroom products by the Himalaya brand are at our disposal, supplying anything we might have possibly forgotten to pack. An assortment of teas and ground coffee are sided with jars of cookies and local crisps. The welcome gift spread of wine, nuts and seeds, and a basket of fruit from Dwarika's gardens has not gone astray either. Turn down service sees fancy hand woven slippers and water laid by our bed, and a hot water bottle placed under the covers. The bed is dressed with organic cotton and boy do we notice a difference in our sleep – so much so that we desire to purchase some of these sheets for ourselves.
Welcome Wine, Nuts and Dried Fruit
Living Area
Bathroom
Bath Products
Luxuriously Comfortable Bed
Cuisine
Most packages at the resort include breakfast and lunch or dinner. And, for a small boutique resort, the number of options is more than pleasing. With great importance placed on balanced and nutritious eating, organic produce is sourced from Dwarika's own farm just a few kilometres away. Guests can even walk to the garden and pick their own veggies for dinner.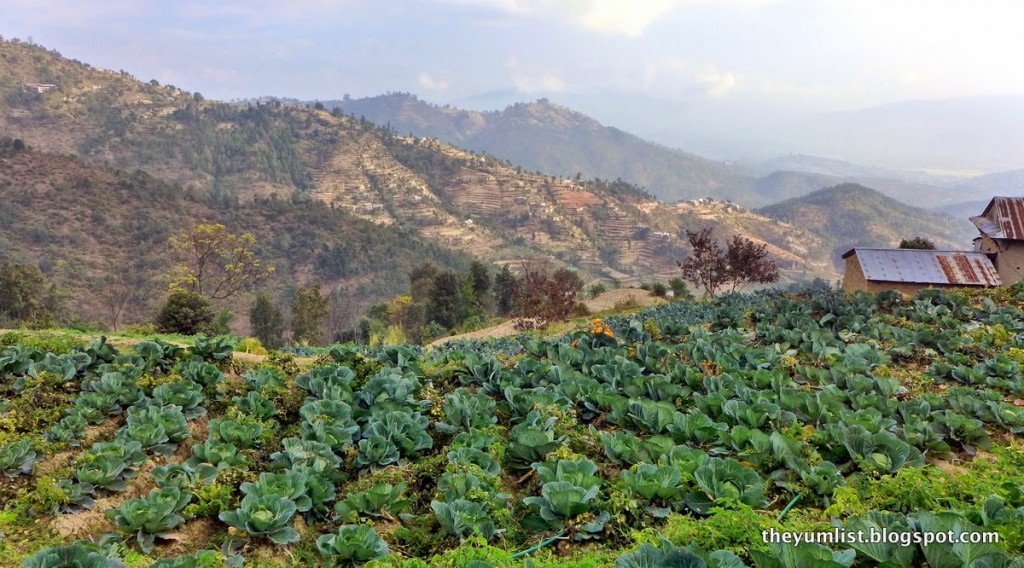 Organic Farm
Nature's Flavours Patio
Nature's Flavours promises fresh nutritious meals using the culinary techniques of both the Himalayan and Continental regions. Breakfast is taken here daily, and we find more than enough to keep both hubby and I happy: poached eggs, veggies, fruit and yoghurt for me; while the hubster is in raptures with bacon, omelets and pancakes. Later in the day we dine on the set lunch. More than content with the beautiful line up of creations, lunch deserves an article all on its own,
so follow this link to see more.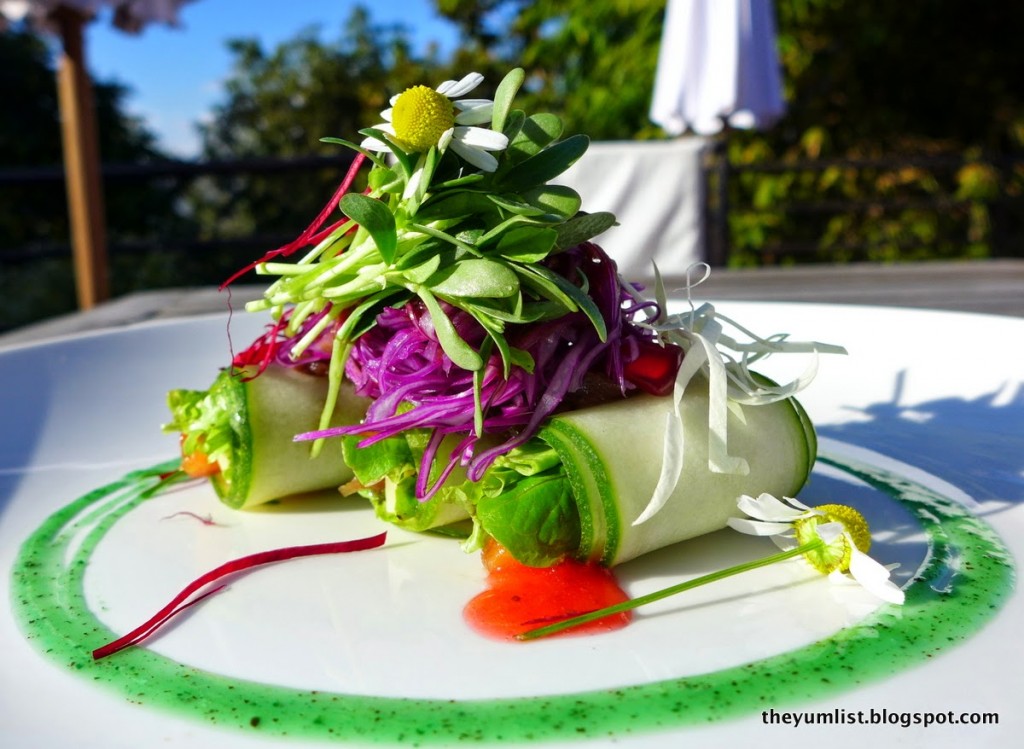 Organic Cuisine at Nature's Flavours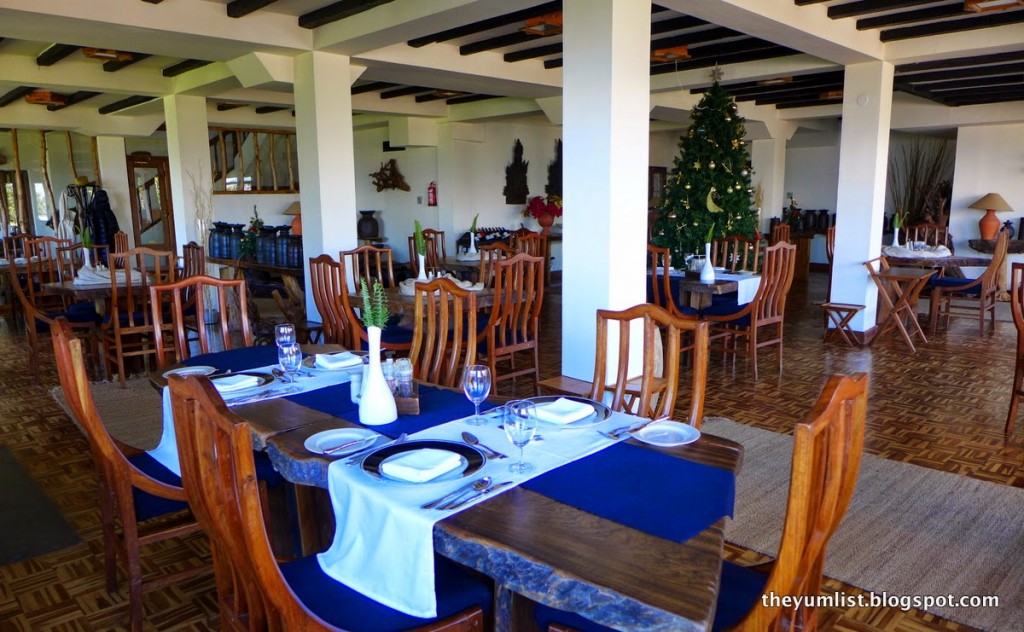 Nature's Flavours
Mako's Zen offers creative vegetarian Japanese cuisine based on the Zen Buddhist diet of monks in training. The five tastes of hot, sour, sweet, bitter and salty play alongside the five colours (red, white, black, green and yellow) and five cooking methods of fresh, boiling, roasting, steaming and frying, fashioning a unique, healthy and very pretty experience. Even my veggie-loving self was surprised at just how satisfying a meal of this style could be. Still elated with our delicious line-up, this one too merits a separate article,
so click on this link to see our recommendations.
Two more food and beverage outlets are also available, but with our limited time and tummy space, we don't have a chance to personally experience them, other than a poke around of their layout and menus. Half way up the hill, and encased in wood and glass panels, the Poolside Restaurant provides a break for those not accustomed to eating so salubriously at every meal. This is the locale for international cuisine and a spot of dessert. Back down the mountain, on the same level as reception, stone and solid wood compose the sturdy and intimate Fusion Bar. With the fireplace alight, and beverage in hand, it's appears a superb perch to conclude a day.

Himalayas at Sunset as viewed from Zero Lounge
Wellness
The Pancha Kosha Himalayan Spa is just as integral to the resort as are the rooms and cuisine. Blending Vedic philosophy with Buddhist medicine, treatments and the setting focus on the holistic health of an individual. Experts in their fields – an ayurvedic doctor, naturopathy practitioner, yoga and astrology masters, a priest and visiting monk – consult with guests encouraging "harmony, renewal and growth."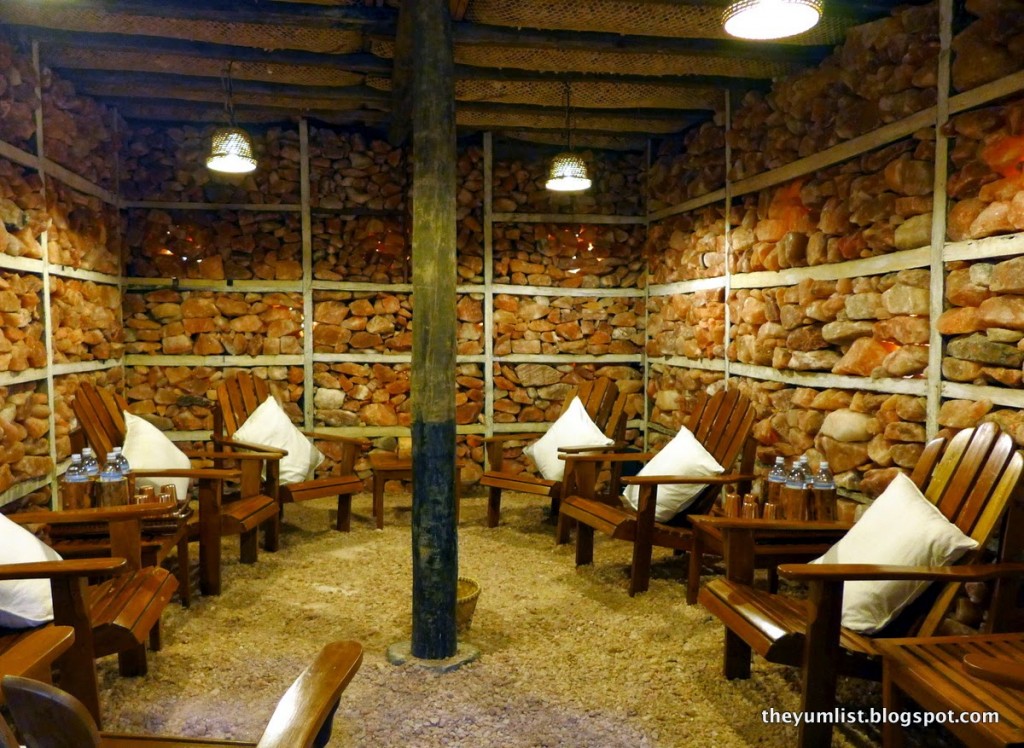 Himalayan Salt Chamber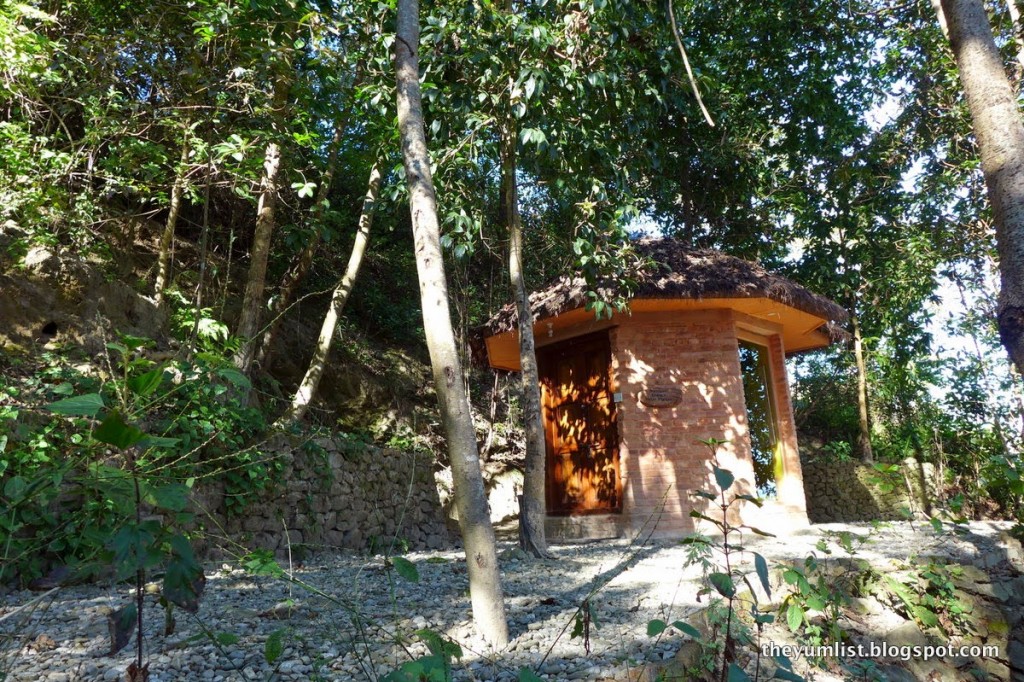 Sound Chamber
Facilities are unique. In the 100s of spa reviews I've done, Dwarika's Dhulikhel is one of the very few that truly amaze. A Himalayan Salt Room walled with rock crystals particularly beneficial to the respiratory system, a Meditation Maze enclosed by eighty-four cosmic pillars, Chakra Sound Chambers and the Navagraha Vana or garden of the nine planets, which helps to counteract difficulties that have arisen from the influence of the planets, are all firsts for me. Each can be experienced alone or in consultation with a master.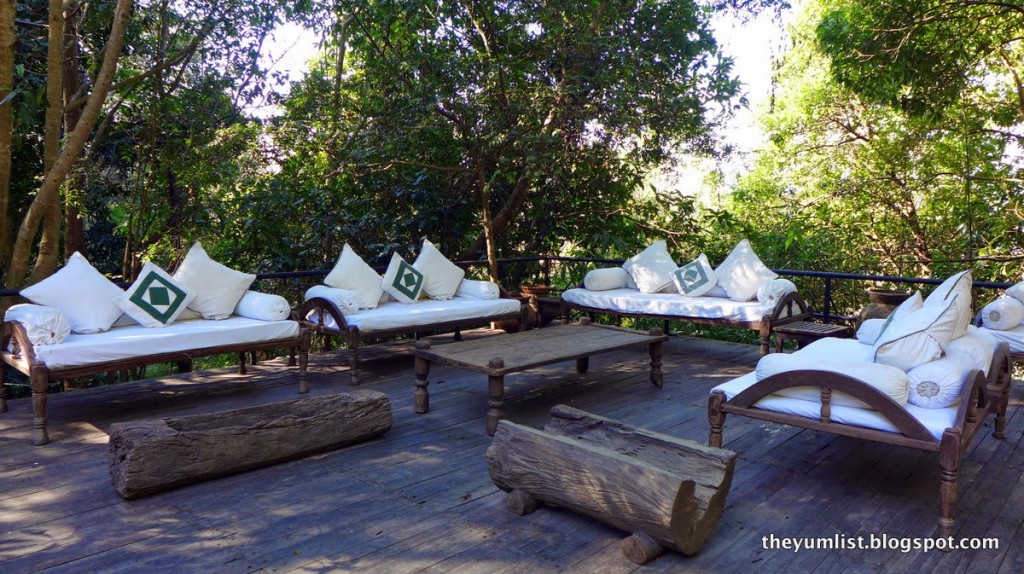 Spa Deck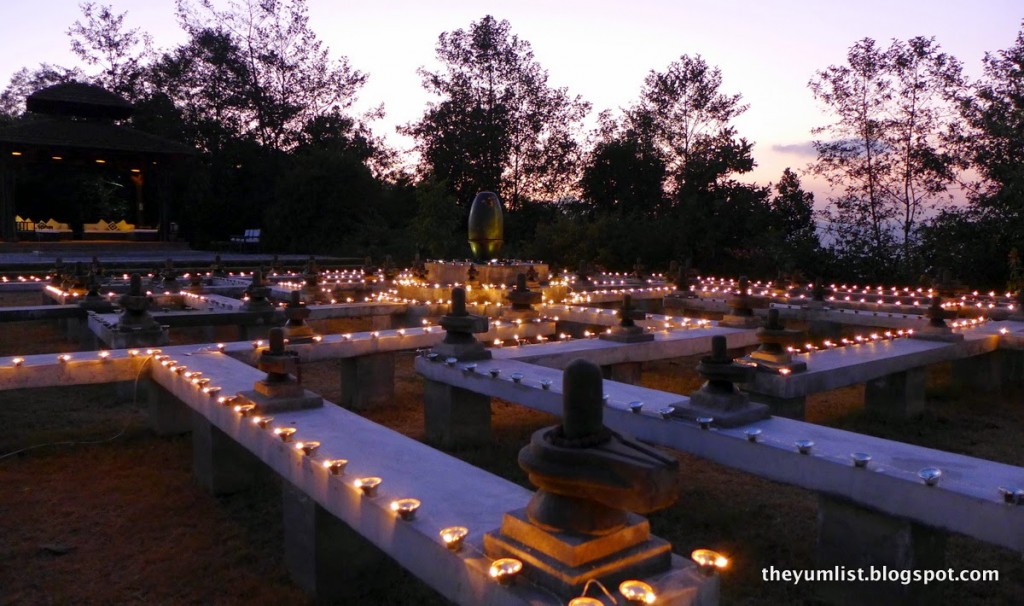 Meditation Labyrinthe
Pool
Activities
Activities at the resort encourage guests to address the Koshas, enhancing the relationships between nature, body, mind and spirit. All seem calming and therapeutic in nature. Pottery and painting bestow creative outlets, while yoga and meditation assist inner quiet and deeper awareness. Cookery, hiking and nature walks hearten connections with the local environment, and the library and Zero Lounge provide spaces for peaceful contemplation of the magical habitat.

Rooftop of Zero Lounge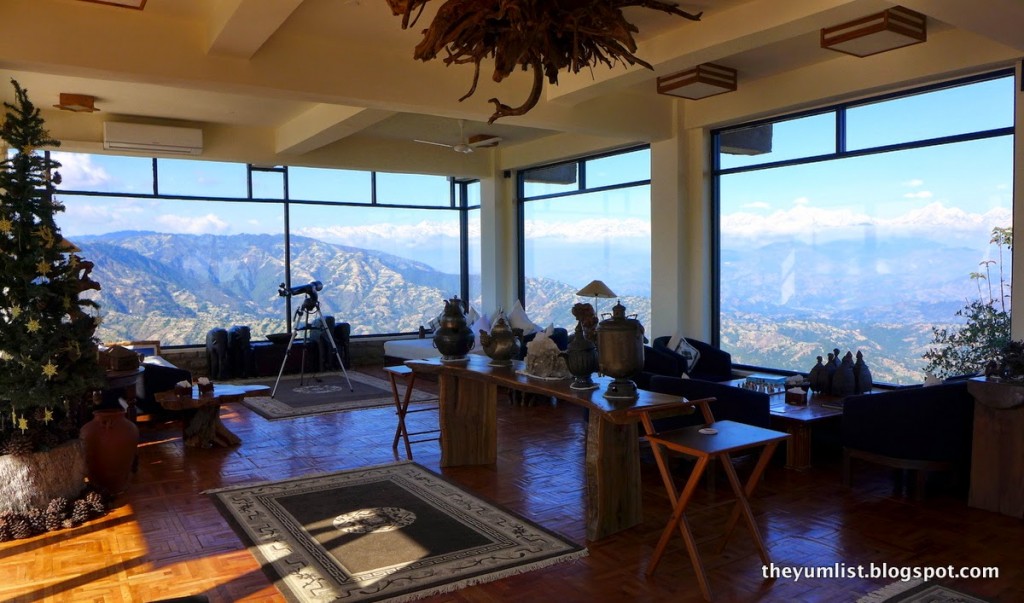 Zero Lounge
Library
Zero Lounge
Pottery Studio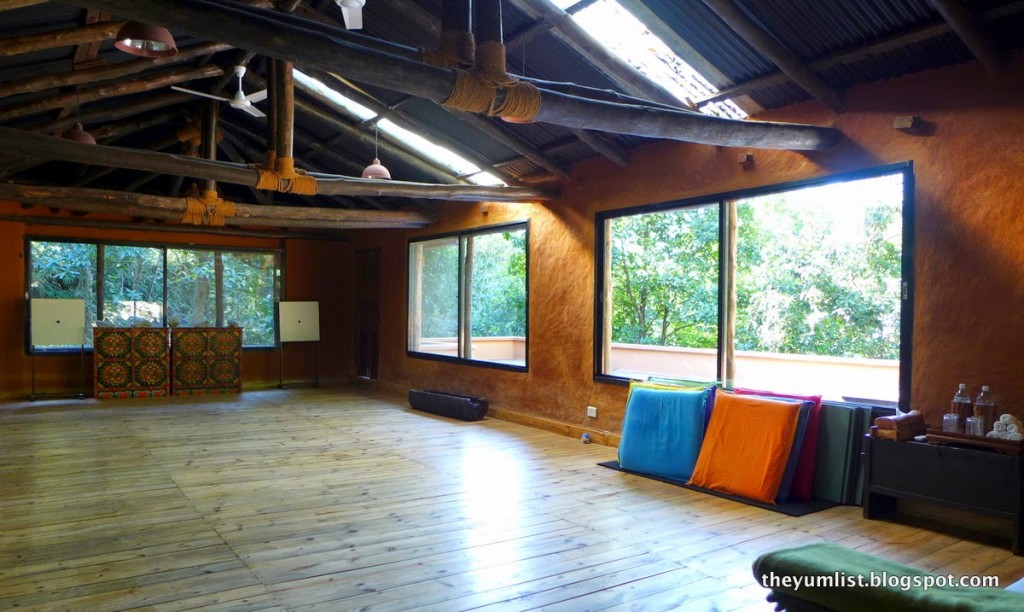 Yoga Studio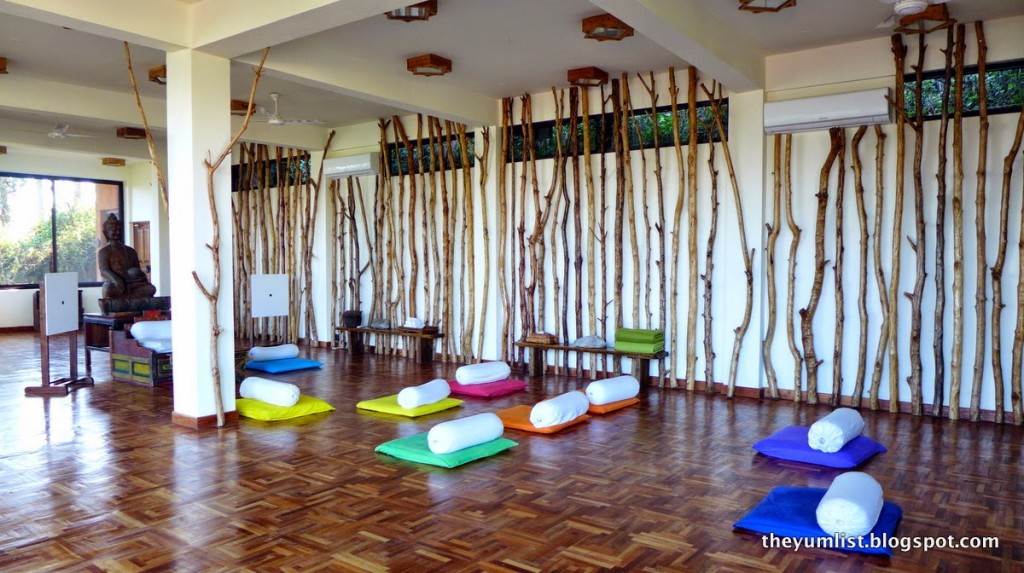 Meditation Room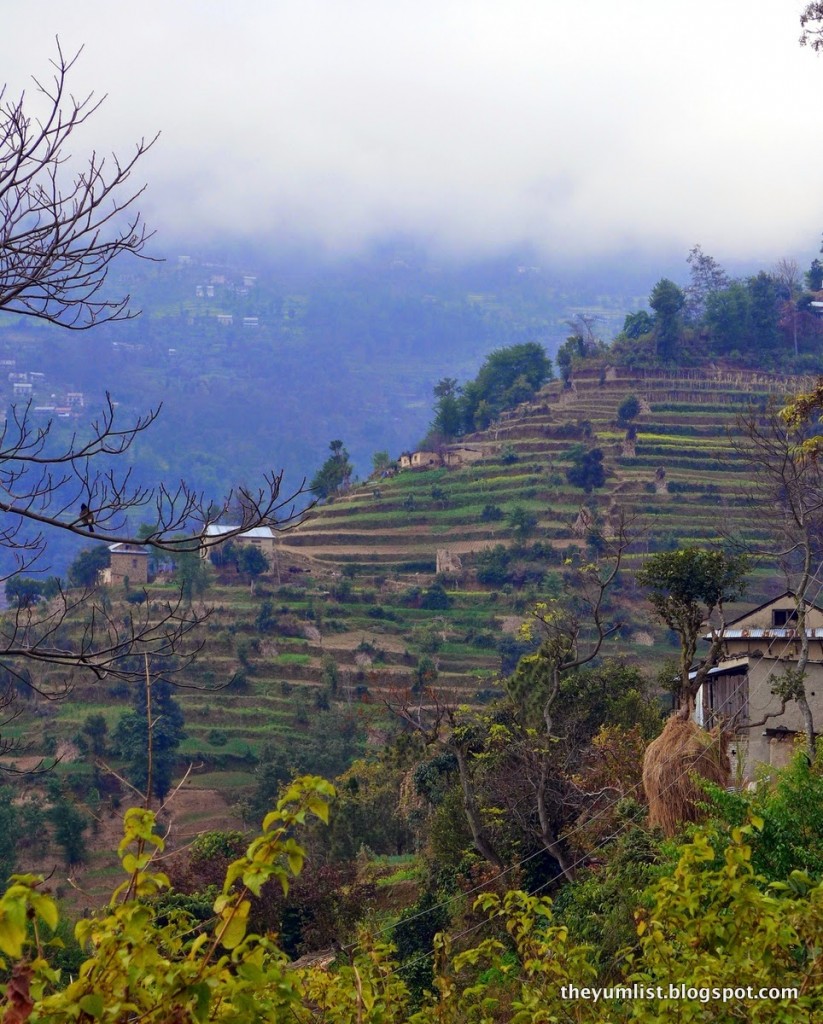 Walk to the Organic Farm
One night is definitely not enough. Once the magic of Dwarikia's Resort Dhulikhel has begun to permeate mind, body and spirit, even two will seem insufficient. Hopefully we can carry a little piece of Dwarika's home with us, and while not physically present, perhaps we can inspire our daily routine with some of the wisdom and practice of the harmonious Himalayan culture.

Sunset
Reasons to visit: stunning location; eco-friendly resort; holistic retreat; sensational food; property, practice and people working together in harmony for a better Nepal
Dwarika's Resort
Dhulikhel, Kavre
Nepal
977 11 490 612