How could you possibly find a more stunning setting for a restaurant than this?!
View of Himalayas from Dwarika's Dhulikhel
The snow-capped peaks of the majestic Himalayan ranges in Nepal, as viewed from the tranquil hilltops of Dhulikhel, are all the décor needed to entice diners to this beautiful restaurant. Add to that spa cuisine made from 100% organic produce, mostly sourced from the resort's very own gardens, and you've got an unbeatable location for an unforgettable meal.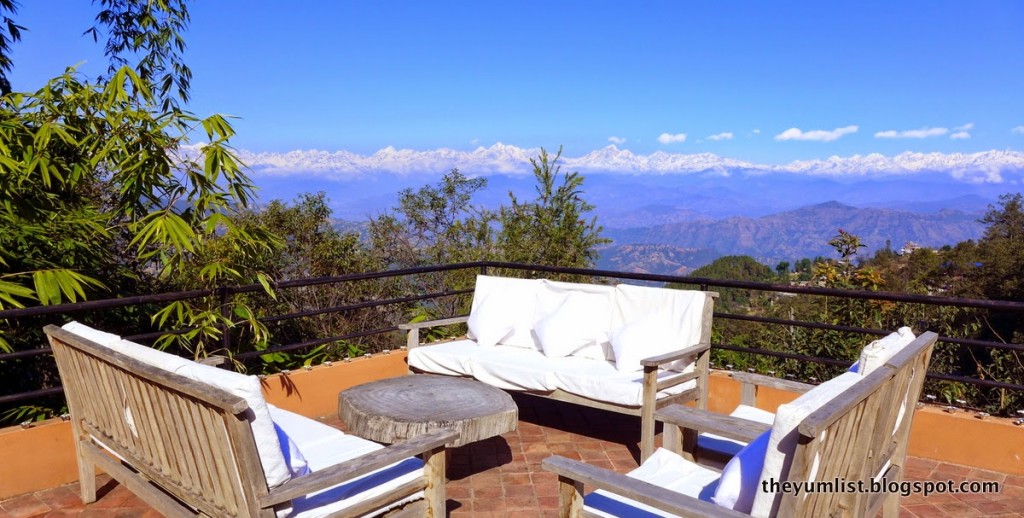 Patio with a View
We try the set lunch and find it extremely difficult to focus on the food, as gorgeous as it is, as those mountain-tops draw our eyes and breaths constantly to the horizon. As the dishes begin to arrive however, the tastes and presentation put up solid competition.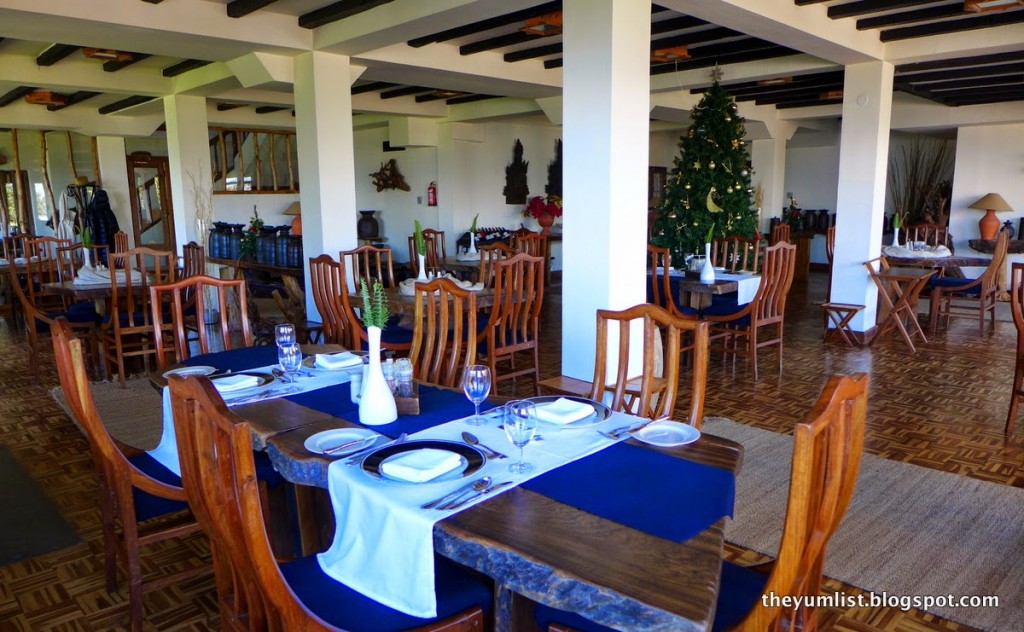 Nature's Flavours, Dwarika's Resort Dhulikhel, Nepal
Warm pumpkin seed, beetroot and spinach bread rolls come with parsley and chopped garlic. We drizzle some olive oil on our bread and then dip it in the herbs. Yum!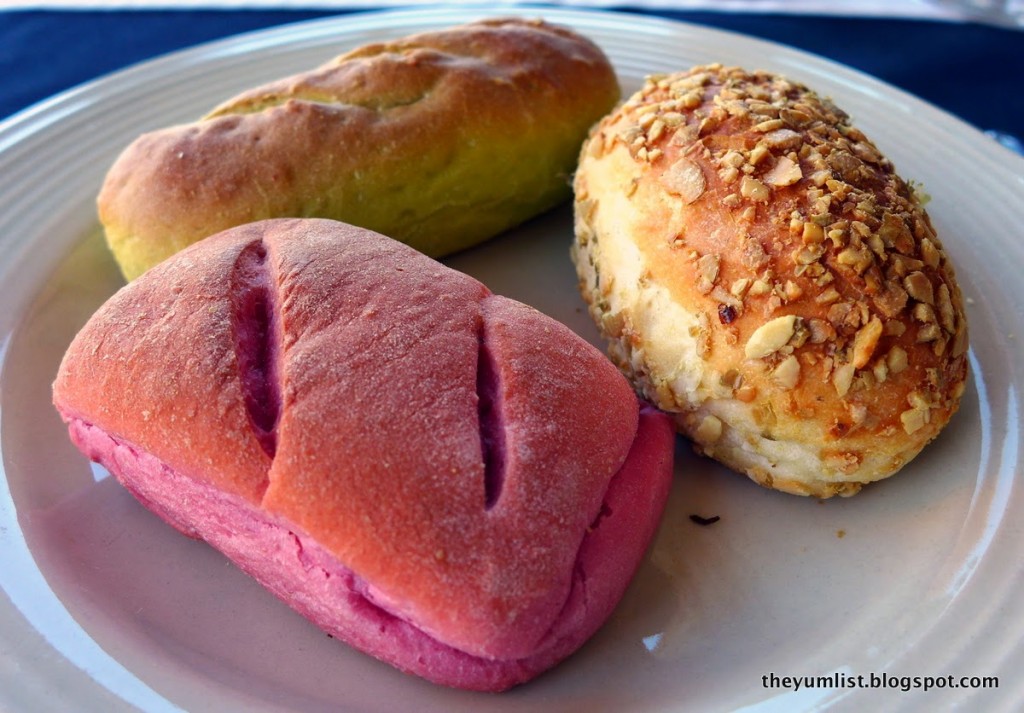 Trio of Warm Breads
Appetizer
Gratin of Shitake sees a large mushroom stuffed with a mix of sultanas, apricot and oregano infused goats' cheese. Served on an enormous white plate, a simple criss-cross of a stripe of beetroot sauce and a single green shallot give elegant adornment. A sweet tang hits the nose before our eyes feast on the delight, and I suspect some type of vinegar is in the herb sauce that bases the mushroom. As I bite in, I taste balsamic vinegar, which serves to bring out the sweet and tangy savour of the cheese. Delicious beginning.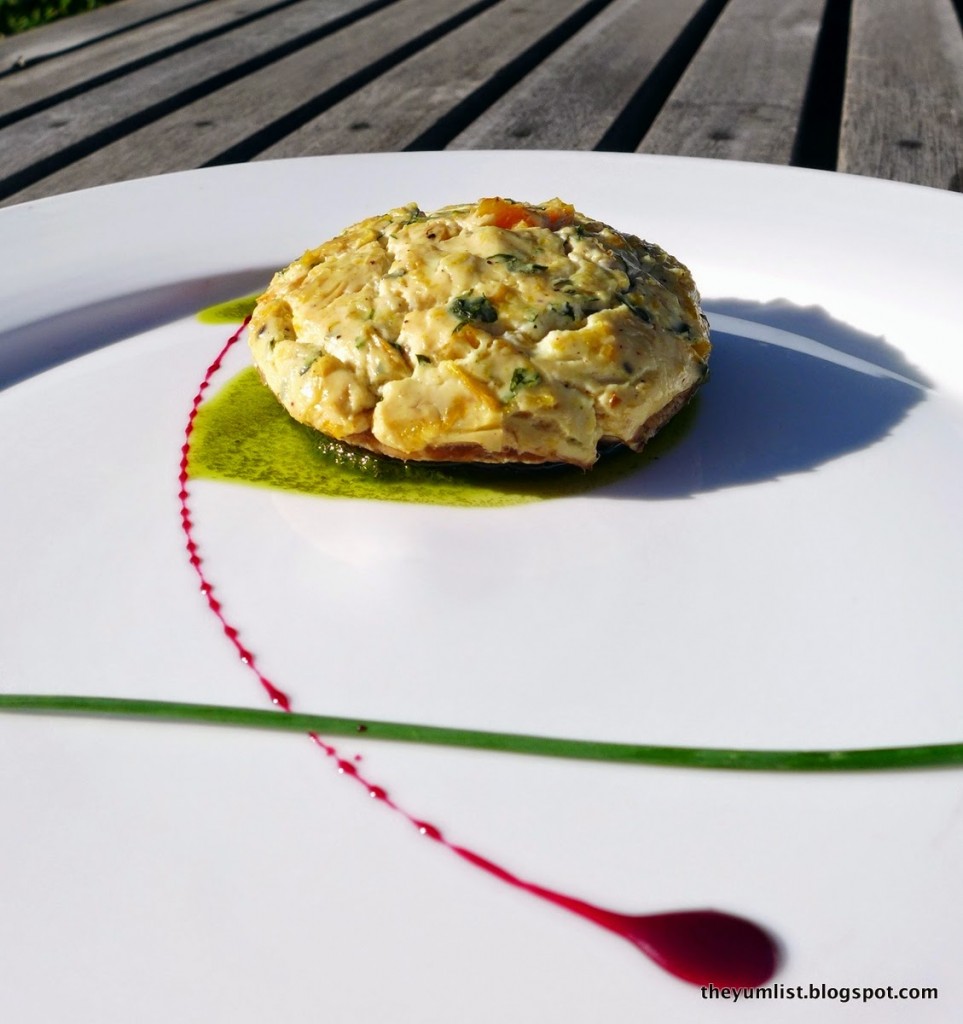 Gratin of Shitake
Salad
To say the next plate, Dwarika's Salad, is a 'salad' is rather deceiving. It's much more akin to an art piece deserving centre stage in a gallery. Taking advantage of the garden greens picked daily from the nearby Dwarika's farm, cheese pieces, tomato and leaves are rolled in thin shavings of cucumber forming three rolls. Atop, sprouts, edible flowers, pomegranate pips and finely shredded red cabbage are tossed in a tangy vinaigrette and caramelized onions. A ring of pesto frames the masterpiece.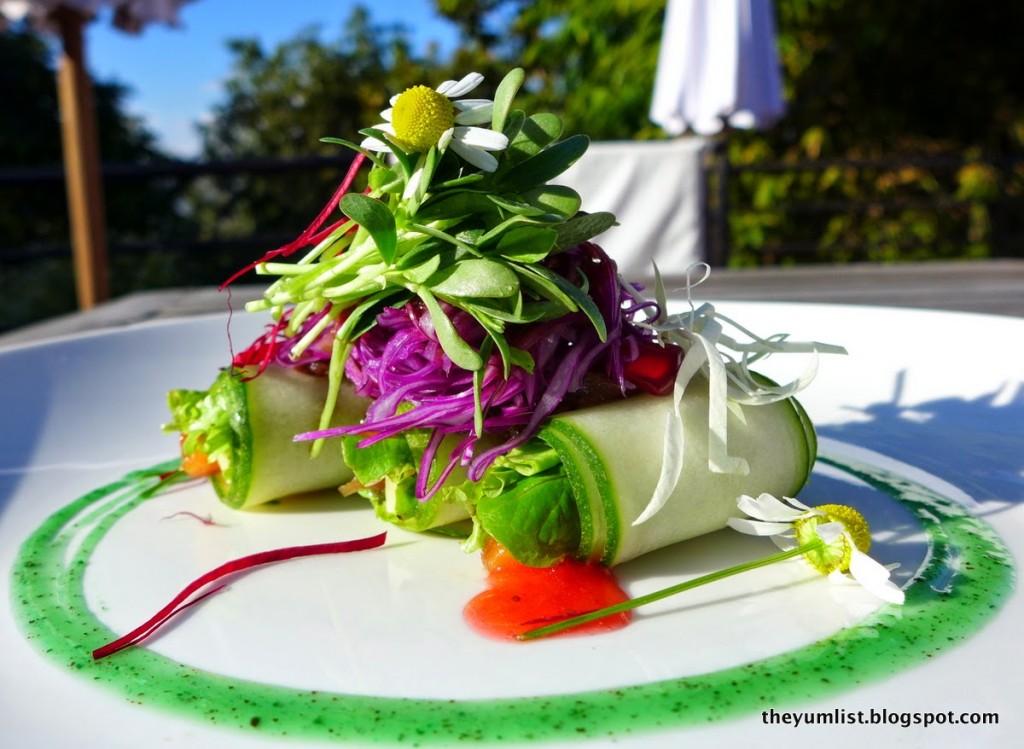 Dwarika's Salad
Soup
Green Pea and Herb Soup is a lovely creamy brew with the fresh distinctive taste of garden peas. Slightly warmed cherry tomato halves bestow a vibrant contrast on top, but also a valuable flavour addition. Finally a fresh sprig of dill marks the peak. It's both filling and delicious.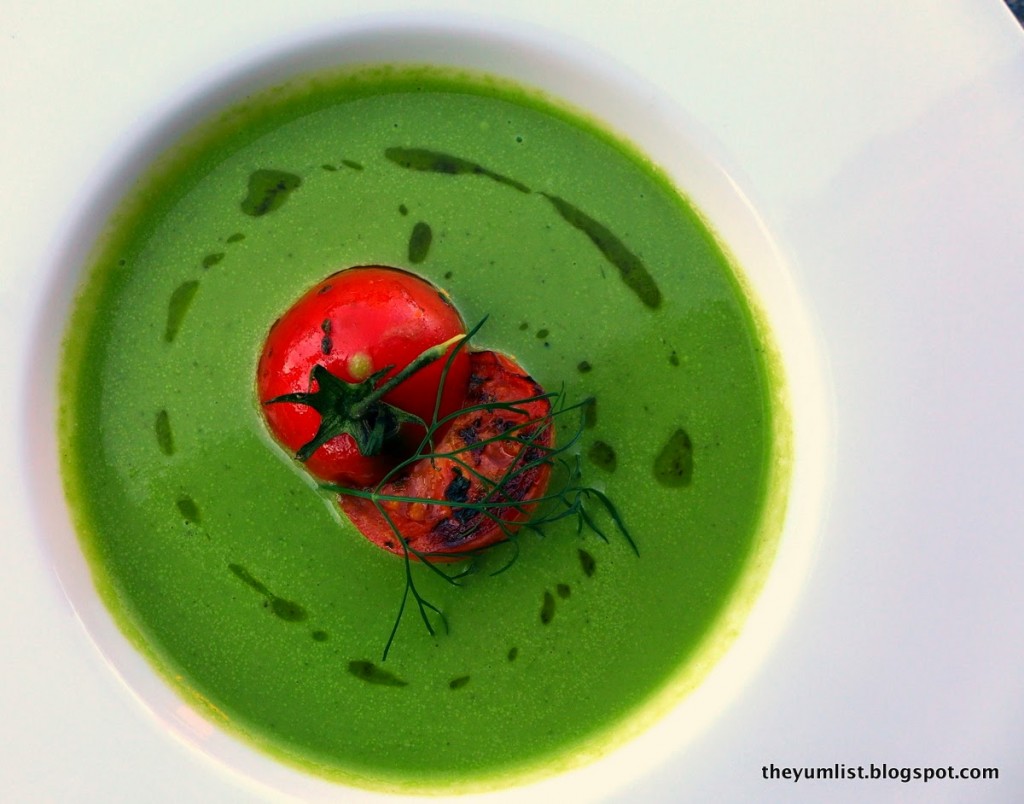 Green Pea and Herb Soup
Mains
A chicken or vegetarian option is available. Hubby takes the bird and I take the veggies.
A duo of beautiful creations comes out so pretty that they're difficult to slice into. You'd be forgiven for thinking we were at an art show and not a restaurant. Each canvas is vibrant in hue with multi-layers of movement and interest provided by colour, line and texture. The festival for our eyes continues in our palates with superbly fresh and well-balanced flavour profiles.
Chicken Involtini brings a moist breast rolled with spinach, and seasoned with tarragon and a touch of Nepali spices. Farm romanesco broccoli, zucchini and mushroom slices, a beetroot skinned tortellini and orange mustard sauce, provide wonderful companions.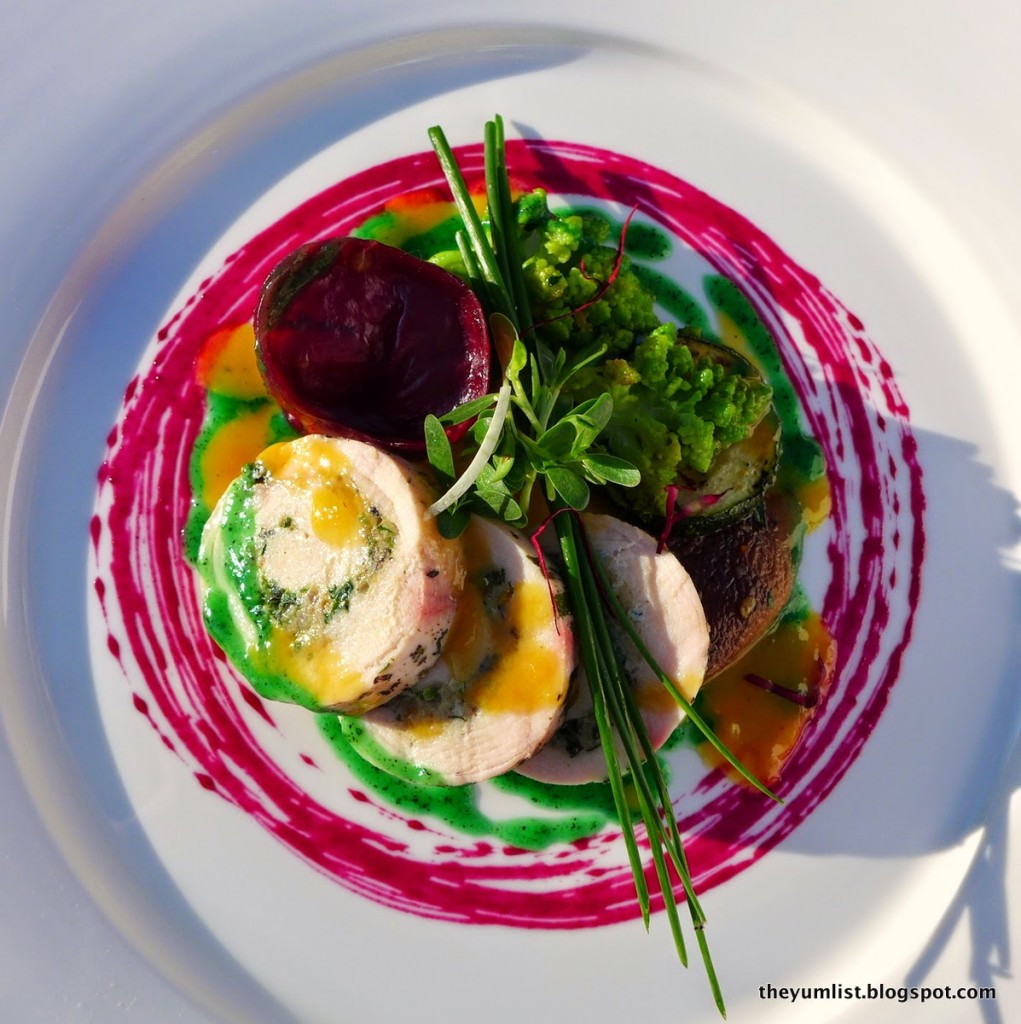 Chicken Involtini
Homemade cheese marinated in a herb sauce is presented in the Cottage Cheese Timbale. Carrot and spinach dough tortellini, shitake mushroom, salsa and vine tomatoes brighten the sides and too add delicious support.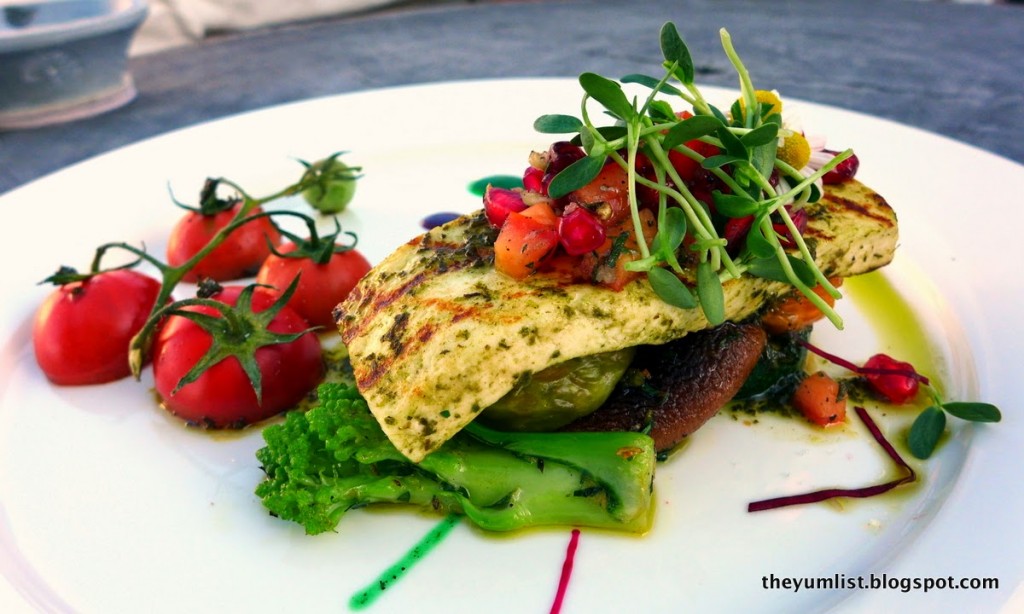 Cottage Cheese Timbale
Dessert
Dwarika's specialty Chocolate Cake is a perfect rendition of the wide spread favourite, lava cake. Spongy pudding holds an abundant filling of smooth liquid chocolate that oozes freely on the plate upon breaking. A ball of green tea ice cream bedded with a crumble of biscuit and dripped with a sweet strawberry sauce charms even hubby who is not traditionally a chocolate loving chap. After a meal packed with nutritious goodness, it's a slightly naughty and well-deserved ending.
Dwarika's Chocolate Cake
Reasons to visit: beautiful artistic dishes, superbly fresh ingredients hailing from Dwarika's very own organic farm, unbeatable Himalayan views.
Nature's Flavours Dwarika's Resort
Dhulikhel, Kavre
Nepal
977 11 490 612