Mako's Zen offers creative Japanese vegetarian cuisine based on the Zen Buddhist diet of monks in training. The five tastes of hot, sour, sweet, bitter and salty play alongside the five colours (red, white, black, green and yellow) and five cooking methods of fresh, boiling, roasting, steaming and frying, fashioning a unique, healthy and very pretty experience.
In line with Zen practices no onion or garlic are served in the restaurant.  A set menu changes nightly based on the produce harvested each day. We're up for seven courses tonight, beginning with some hot Japanese green tea to warm us up.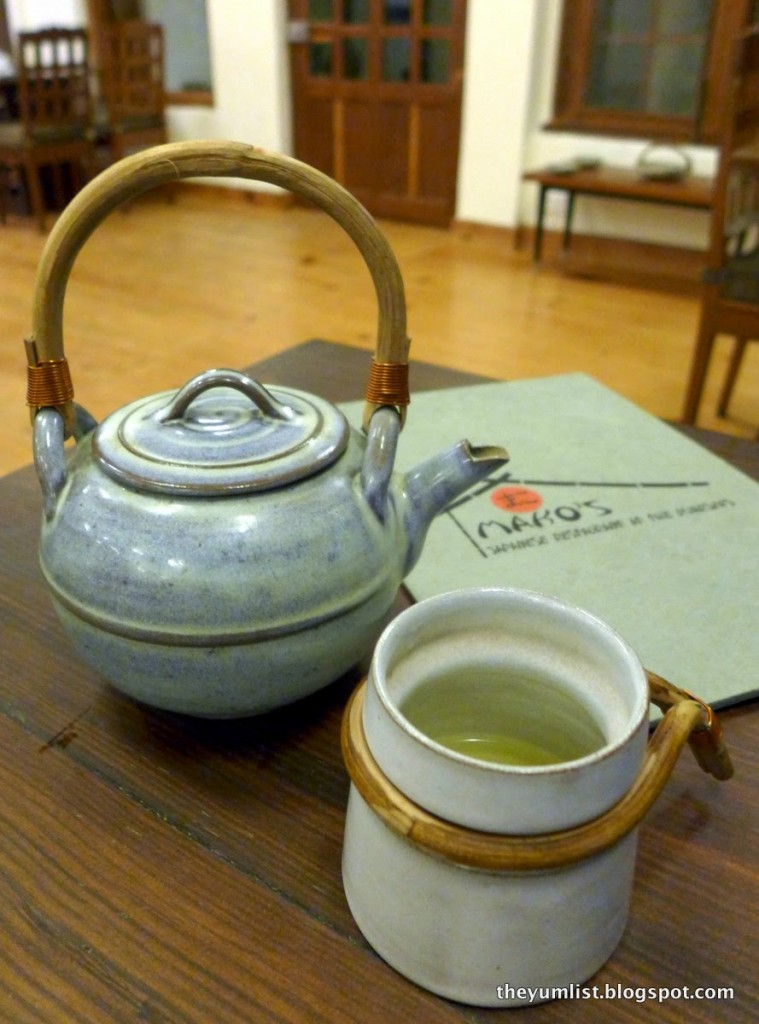 Japanese Green Tea
The appetizer brings three kinds of chef's special vegetables. In the first, carrot and chayote are sliced thinly and rolled together with seaweed to form crunchy and fresh mouthfuls of garden goodness. The second sees thin strips of Chinese cabbage coated in a Gomaya sesame sauce. In the third, deep fried tofu rolls have an unexpected texture. Their centres are similar to soft polenta, but with that distinctive soya taste. A few drops of sweet sauce complement the flavours nicely.

Appetizer
Miso Soup is next made to the traditional recipe with soybean paste. Delicate cubes of tofu, seaweed and fresh chives add texture to the cloudy broth. It's particularly warming on this chilly evening.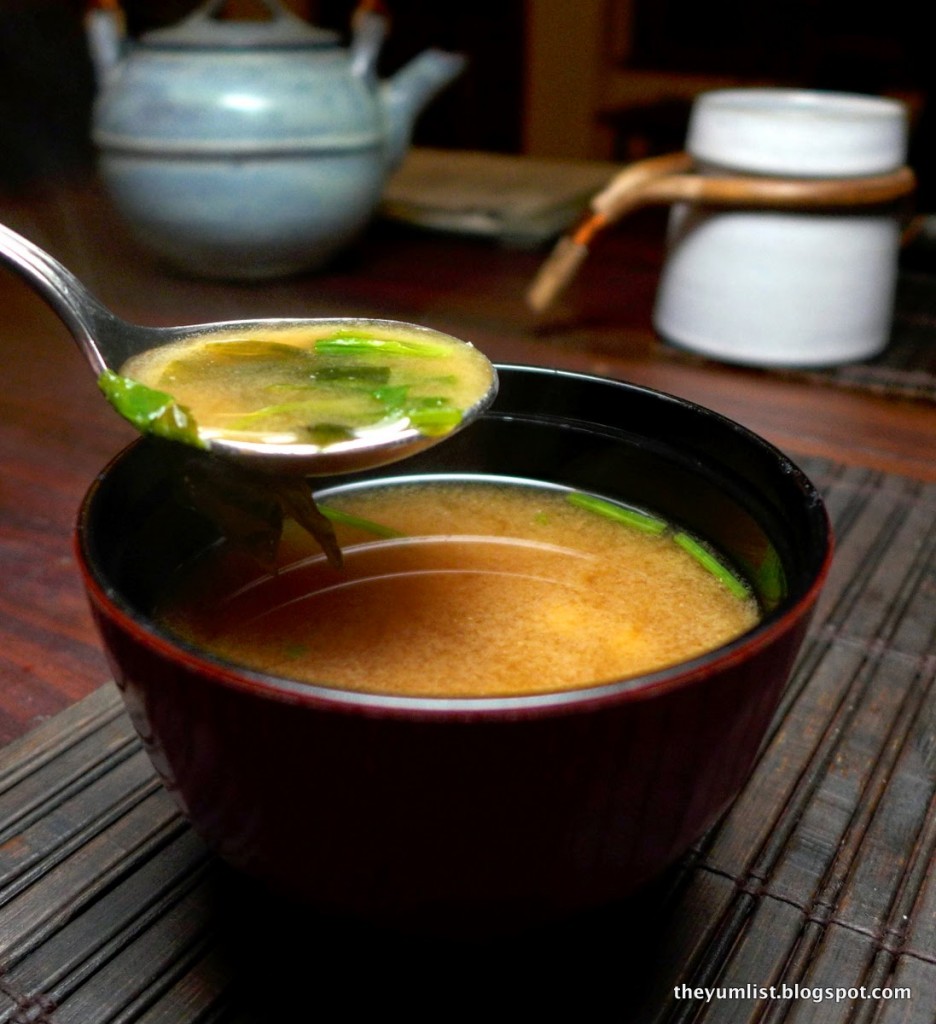 Miso Soup
The Mixed Nigiri Sushi Platter showcases a pretty platter of vegetarian toppings. Sticky rice oblongs are crowned with strips of: carrot; shitake mushroom; radish; chayote; and baby spinach. Maki rolls wrap carrot, tofu and cucumber in a seaweed jacket. Wasabi and marinated ginger as optional additions lift the flavours, but in reality the vegetables and rice are sufficiently satisfying on their own. Even my veggie loving self is surprised at just how gratifying this plate is.
Yasai Nimomo is a mix of steamed vegetables cooked in a sweet sauce. French beans, sweet potato, carrot, radish and shitake mushroom all make an appearance in the mini bowl.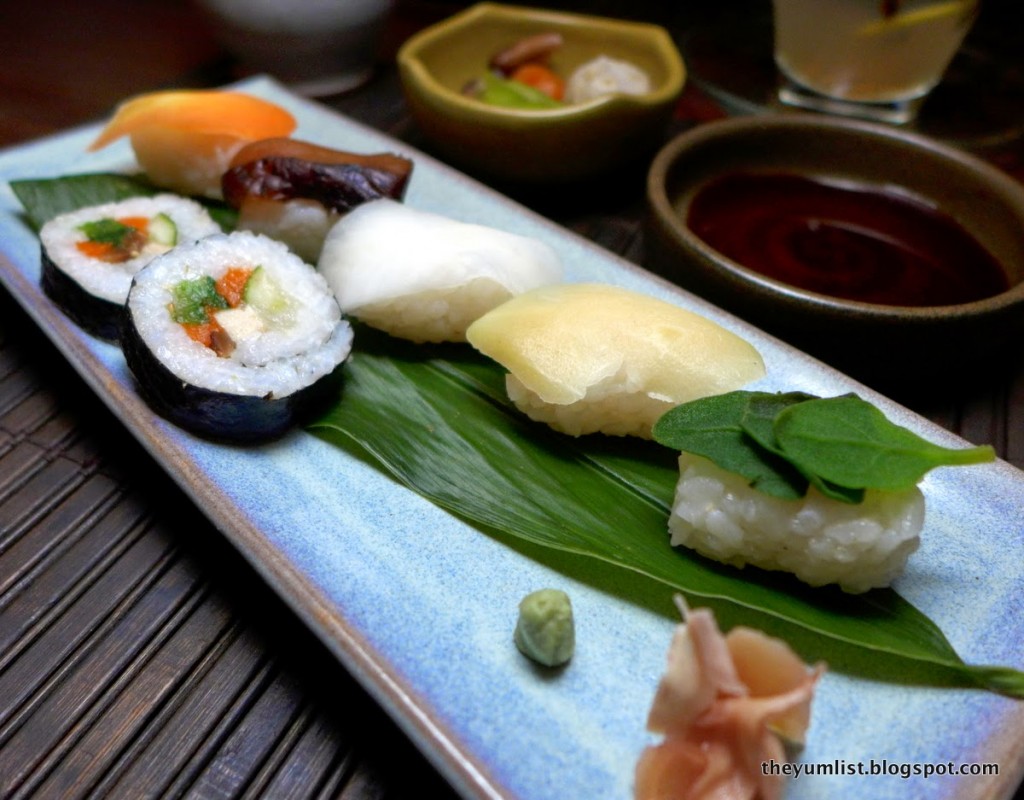 Mixed Nigiri Sushi Platter and Yasai Nimomo
Mixed vegetables and starch sauce join house-made fried tofu in Tofu Ankake for the main plate. Cauliflower, French beans, flat mushrooms, carrot, spinach stems and seaweed are finely chopped and provide all the flavour needed to season this dish. The plates served so far seem to be proof that organic and local, produce much better taste than industrialized and imported.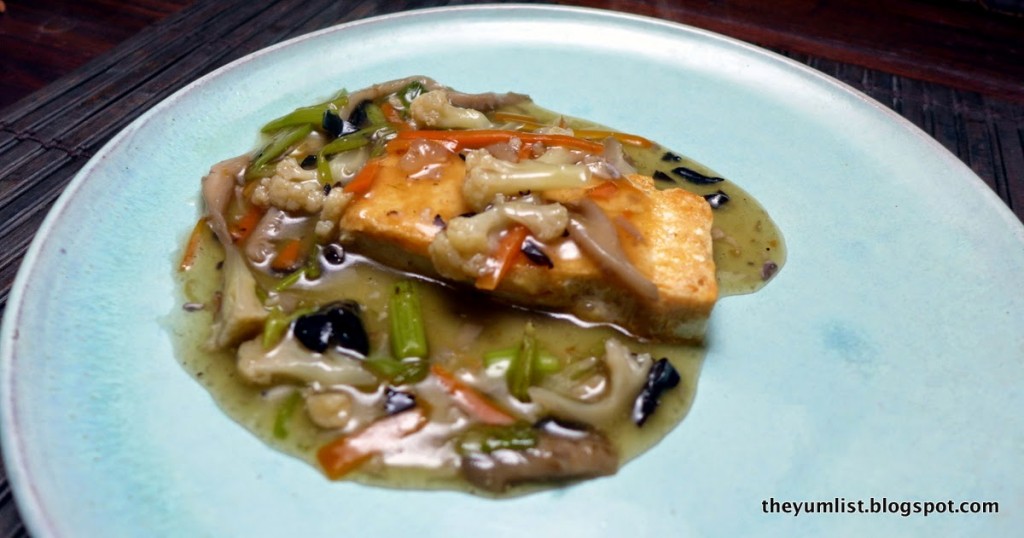 Tofu Ankake
The garden's freshest are highlighted in the Vegetable Tempura, where they are deep-fried and sprinkled with ocha dust and a pinch of salt. Carrot, spinach leaf, French bean and sweet potato all get the full treatment of being coated in batter and quickly cooked at a high temperature, leaving a friable non-oily overlay. Delectable.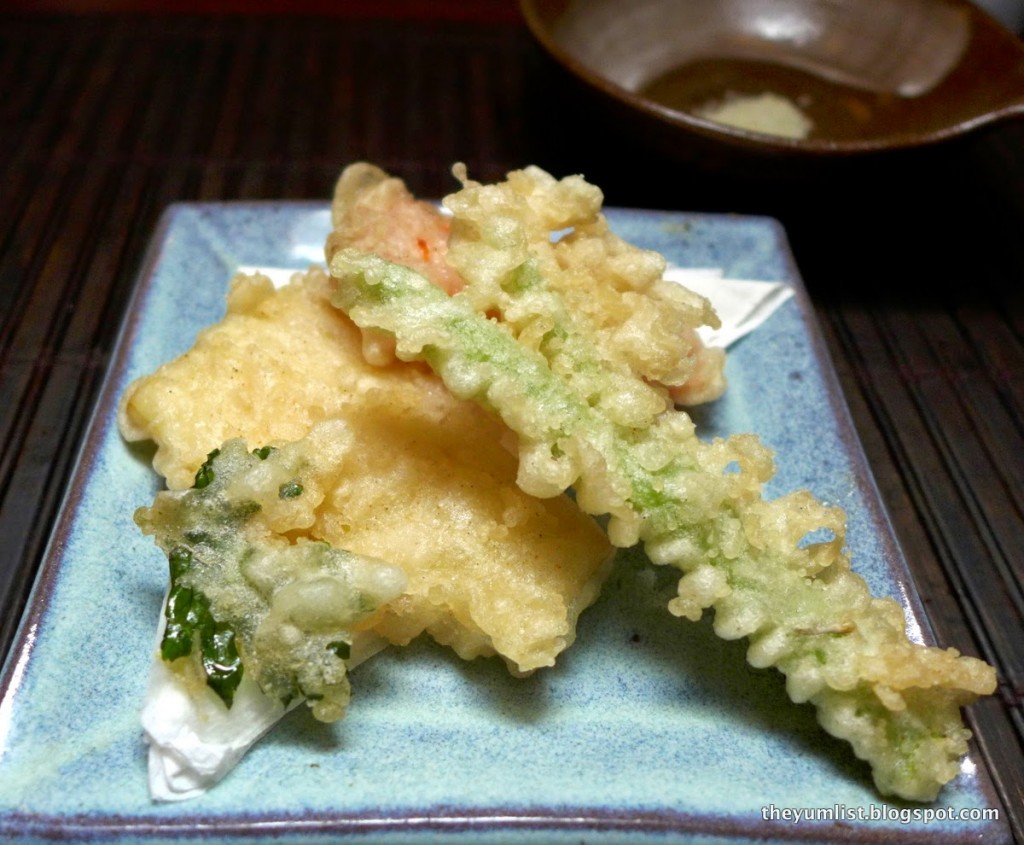 Vegetable Tempura
Osiruko features red beans and sweet potato for dessert. Cooked in sweet sauce and served at room temperature the ending proves just sugary enough to gift a satisfying finish, but not over-the-top, leaving us feeling perfectly content.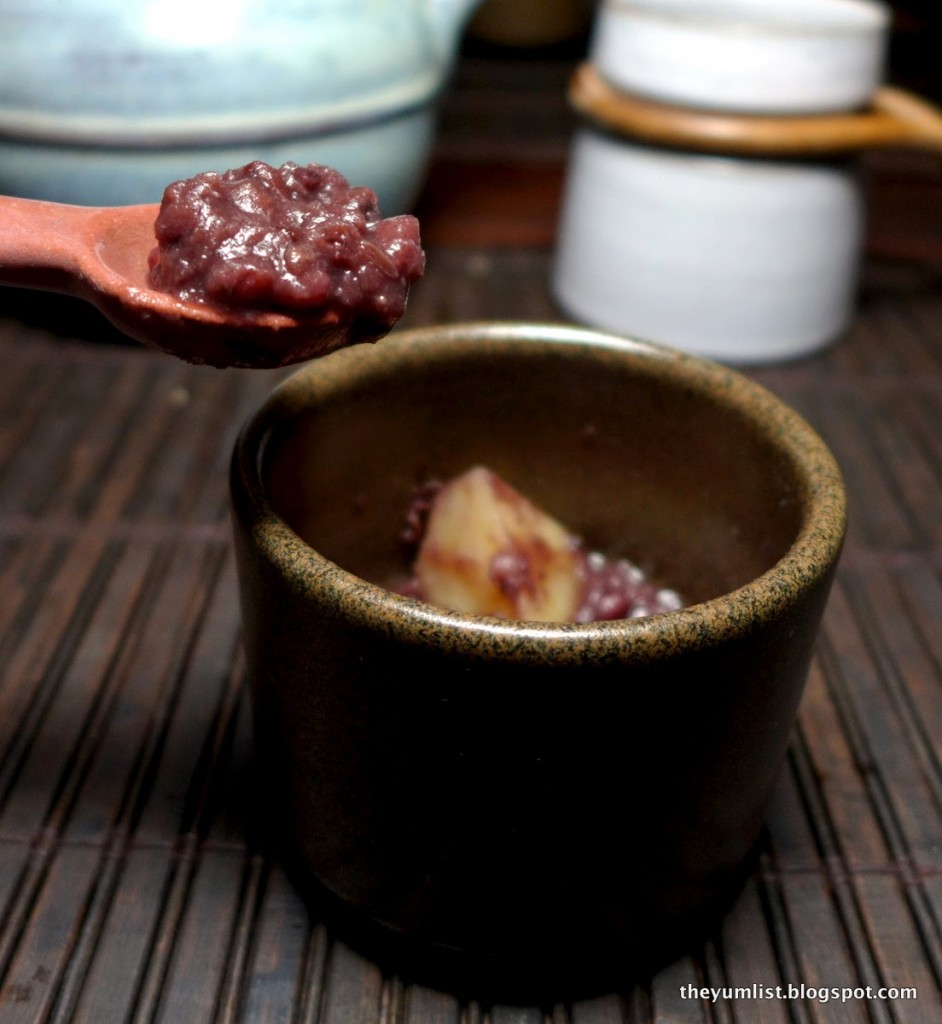 Osiruko
Service has been extraordinary. Not once have our teacups been left empty, and each dish has been served alongside a knowledgeable explanation. The ambience is 'zen' and we feel fulfilled and invigorated after this delicious meal. Are only regret is that we're spening our last night at Dwarika's Resort Dhulikhel and so won't have a chance to dine at Mako's Zen
again. We highly recommend you visit when given the chance.
Reasons to visit: Japanese vegetarian dishes, friendly service, relaxed but stylish atmosphere.
Mako's Zen Dwarika's Resort
Dhulikhel, Kavre
Nepal
977 11 490 612