Terraces Restaurant is one of the pioneers in delighting diners with extravagant seafood buffets on the Gold Coast. Open since 1987 they have a long held reputation for showcasing one of the freshest spreads of the fruits of the sea in the city. Also serving as the resort's all-day dining restaurant, it's here where we enjoy both a buffet breakfast, and indulge in the mouthwatering evening smorgasbord.
*Prices and offerings are from when this article was published in 2015. Obviously, you will need to check their latest deals and menu if you are reading this later in the future.
There's nothing quite like starting the day with warm sunlight and bright blue hues unique to the Australian colour palette. Terraces Restaurant, walled with floor to ceiling glass, captures the magnificence of cerulean skies and the lush green of tropical palms from its cool air-conditioned interiors. Pale floors, and white ceilings, tables and chairs keep the ambience bright and cheery while allowing the vistas to work their magic, relaxing minds and literally assisting us to smile in their beauty.
The beach is at the doorstep of Sheraton Mirage Resort and Spa Gold Coast, as are kilometres of walking trails and parkland that run parallel to the shore. As such, we've been for an early morning run, and are ravished when we arrive for breakfast.
Breakfast
Hubby heads straight for a cooked brekkie (oh so good here Down Under). He piles his plate high with rashers of crisp bacon, eggs Benedict, mushrooms, fat hash browns and a buttery croissant to top it all off. I'm pleased to find an abundance of healthful choices. An entire row of fresh and poached fruits ensures my bowl is rich with vibrant colours. Bircher muesli, yoghurt and nuts make their way to my mound too.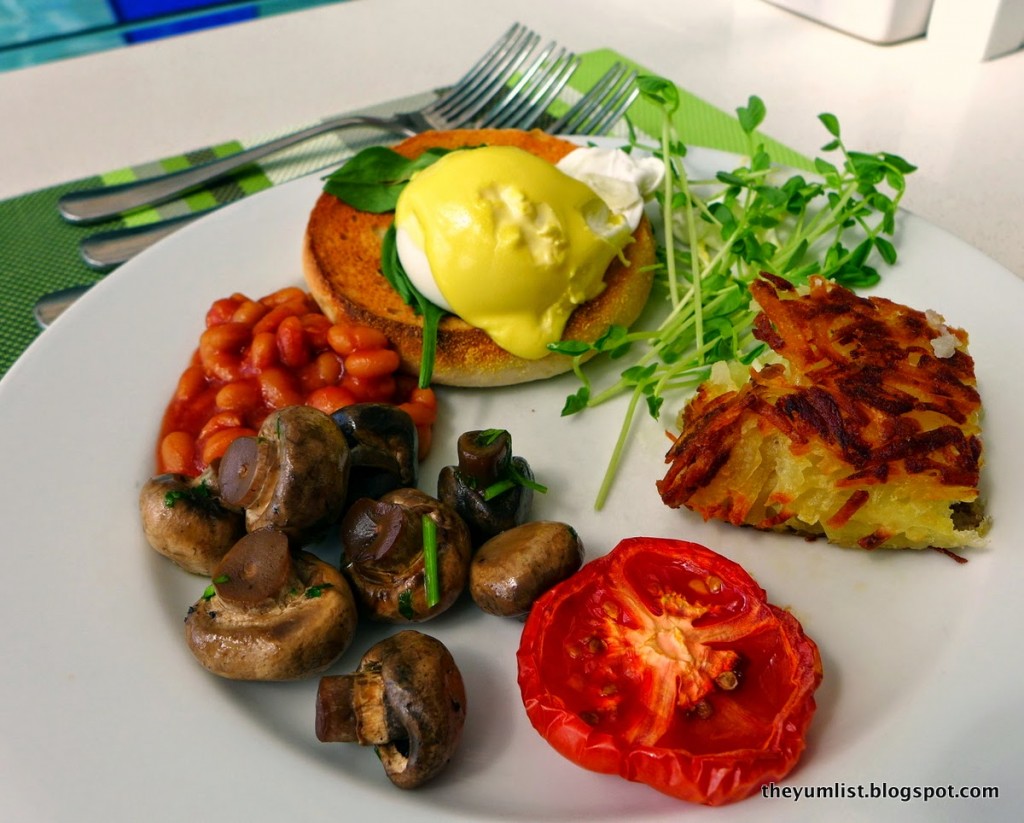 Hot Breakfast
Fresh Fruit
My second round tests out a variety of breads, cheeses and salads, while hubby makes himself a pancake stack drizzled with syrup and finished with fresh banana, passion fruit and a scoop of creamy vanilla  icecream. A hot pot of coffee for me and fresh juice for hubby, and we're happily satisfied.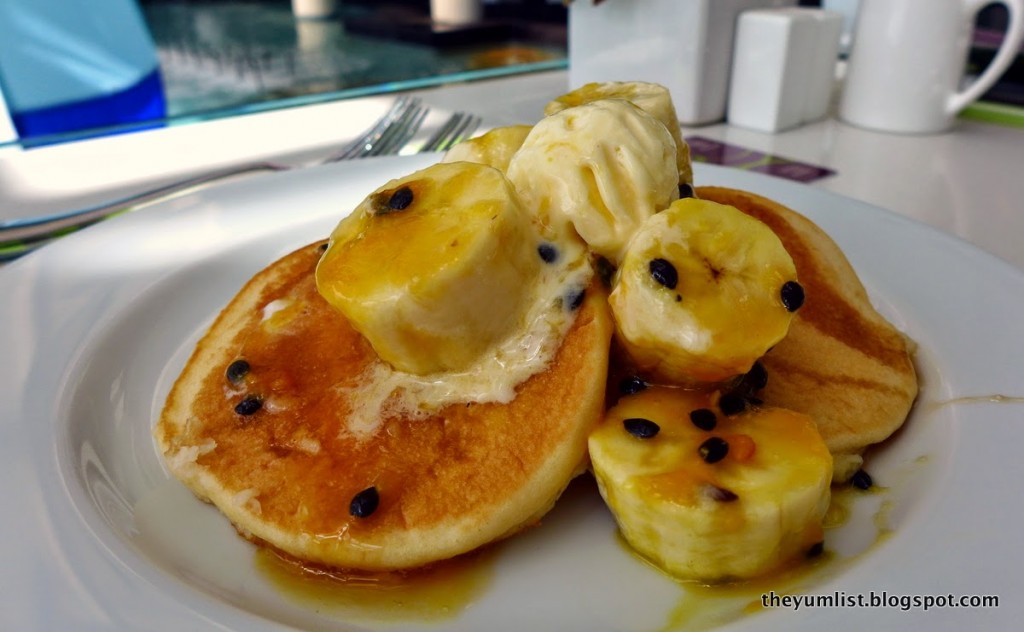 Pancakes
The buffet too holds cereals, and a small number of Asian options including dim sum and porridge. A cooking station sees eggs made a-la-minute to individual preference and we note that it gets a good workout over the morning period. A late breakfast here could easily see us over to an early dinner, especially in the heat of summer when appetites are often reduced.
Dinner
Dinner showcases top quality Australian produce across the displays. For the most part ingredients are sourced regionally with many coming from Queensland farms and seas. Items that are not made in house, such as the wonderfully creamy gelato and smooth sorbet, are sourced from local producers. In general the theme is contemporary Australian, prepared in local tradition with international infusions.
The highlight for sure is the incredibly fresh seafood. King prawns, tiger prawns, spanner crab and Sydney rock oysters cover the iced cabinets, quickly disappearing and are just as speedily topped up again throughout the night. Tasmanian smoked salmon, marinated mussels sushi and sashimi accompany the cold selection.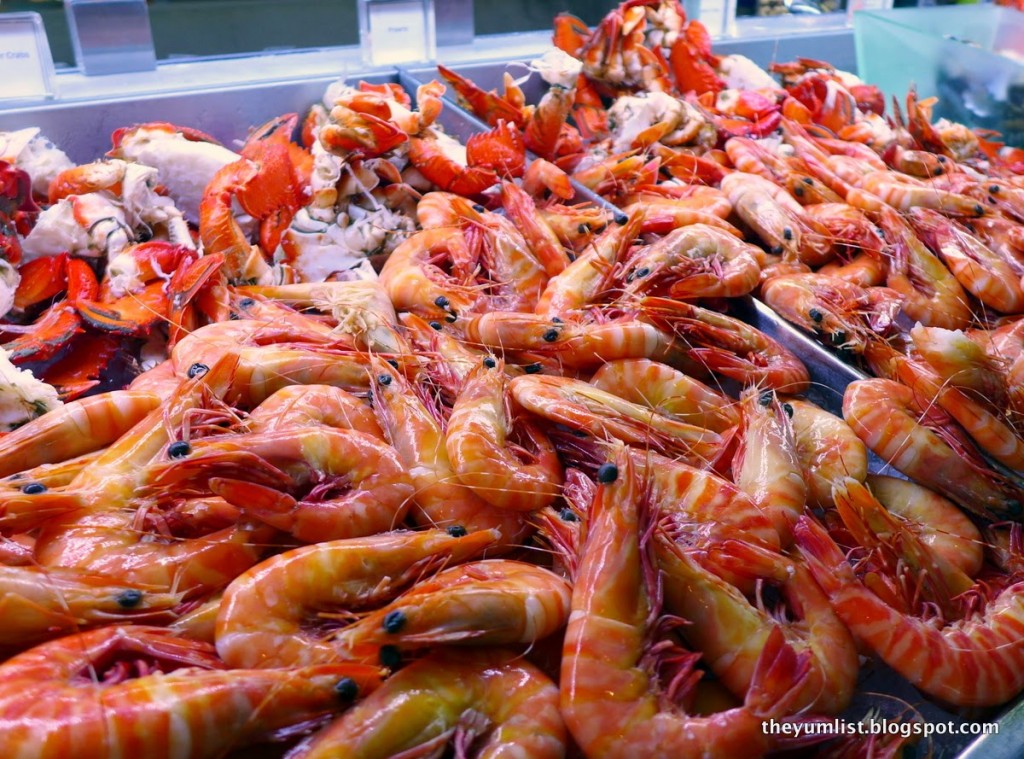 Fresh Prawns and Crab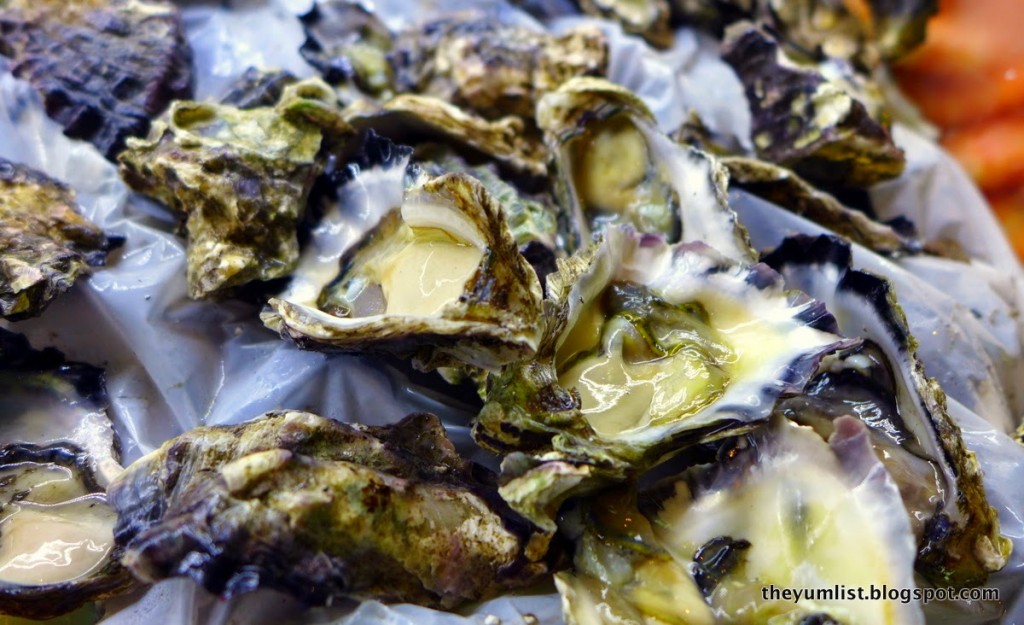 Fresh Oysters
The hot seafood dishes are probably second favourites. Pan-seared fish fillets allow the natural flavours of the ocean to shine through with minimal seasonings, and the fried tempura whiting makes it to the top of hubby's list. Kilpatrick and Mornay Oysters too go like hotcakes.
Mornay and Kilpatrick Oysters
Those not wanting something from the sea can opt for a baked dinner, choosing from a variety of roasts such as honey leg ham, peppered lamb and turkey, with roasted potatoes and root veggies (pumpkin – yum!). A handful of internationally inspired numbers spice up the scene with just enough to add interest, but not too many to overwhelm with excessive choice.
While there's a robust antipasti array including a lovely collection of salads and cheeses, house made breads and soups, most diners skip over these giving the seafood their full attention. Do save space though for desserts.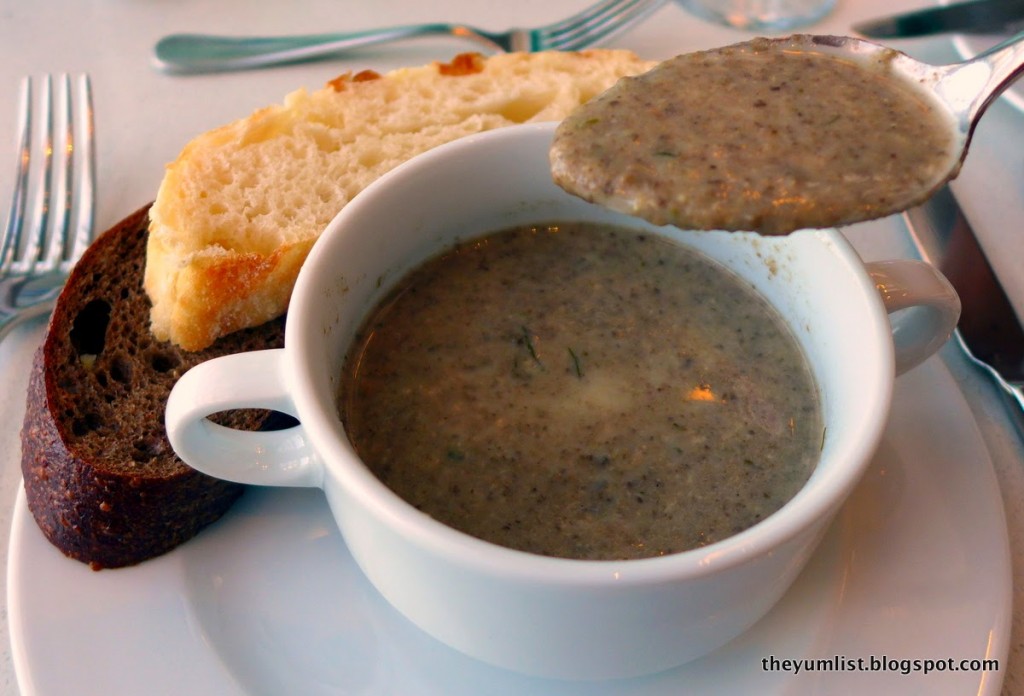 Mushroom and Dill Soup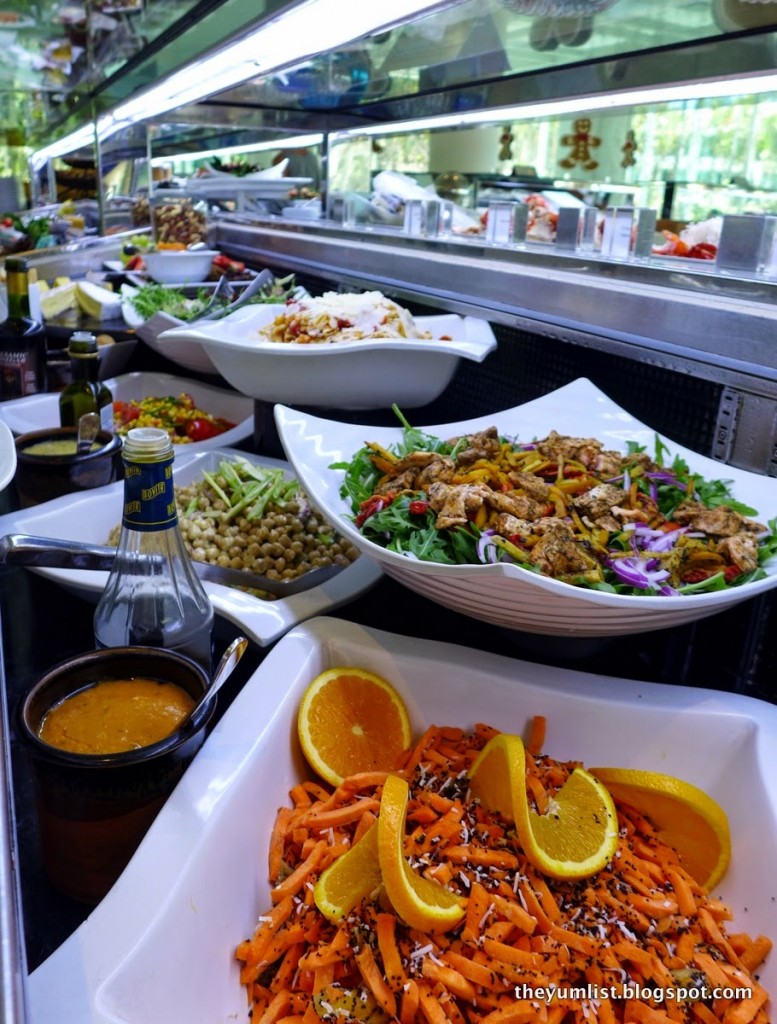 Salad Bar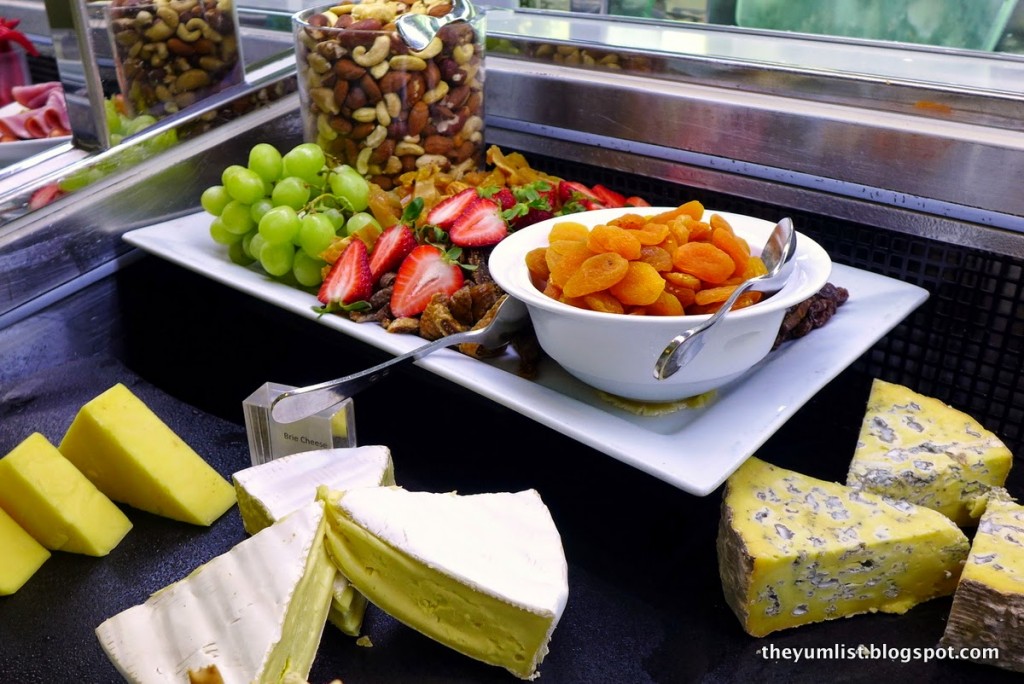 Cheese Display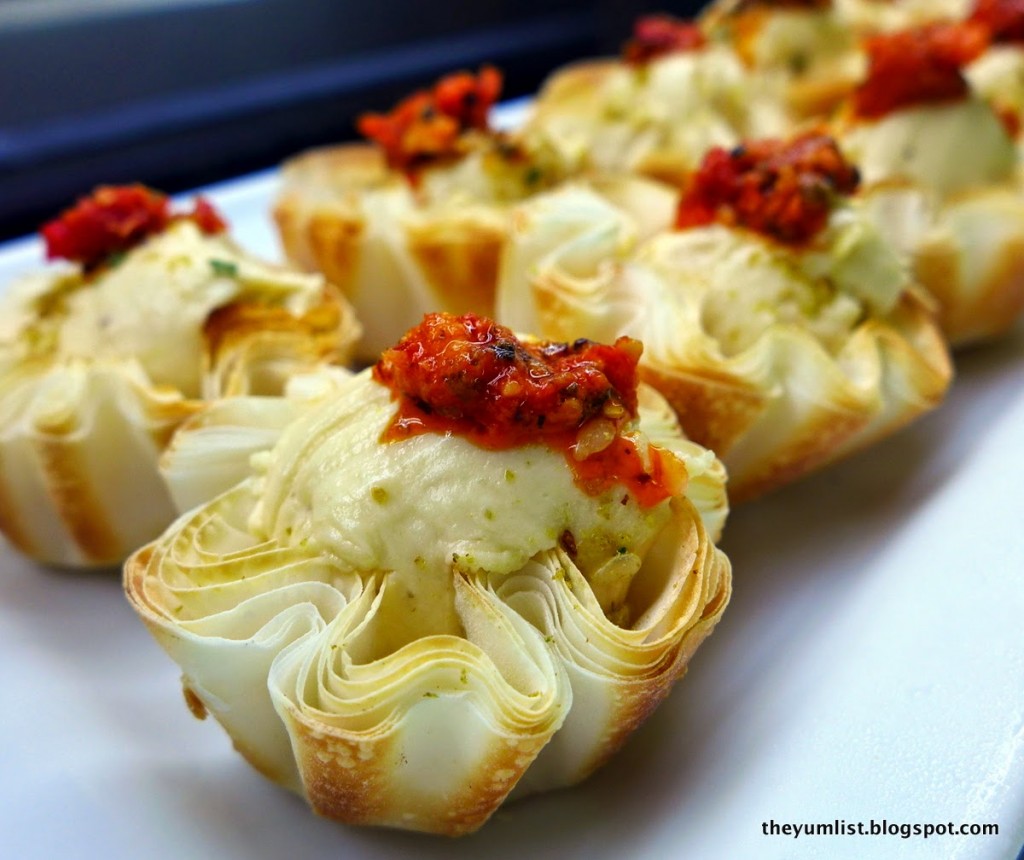 From the Appetiser Buffet
Not to be missed are the creamy locally made ice creams. We're treated to a Christmas spice variety, but hear that the coconut ice cream and Champagne sorbet are both hits receiving repeat requests too. As it's Christmas when we visit, plum pudding, fruit mince tarts and a wonderfully dense stollen are in the line up, besides a rainbow of other cakes and desserts.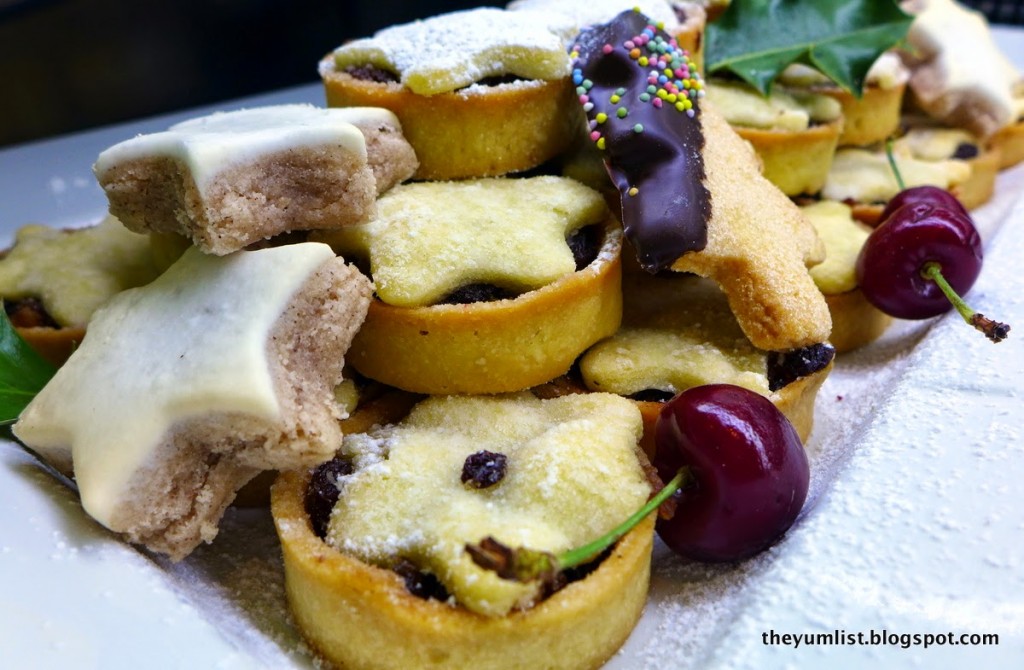 Fruit Mince Pies

Locally Made Gelato and Sorbet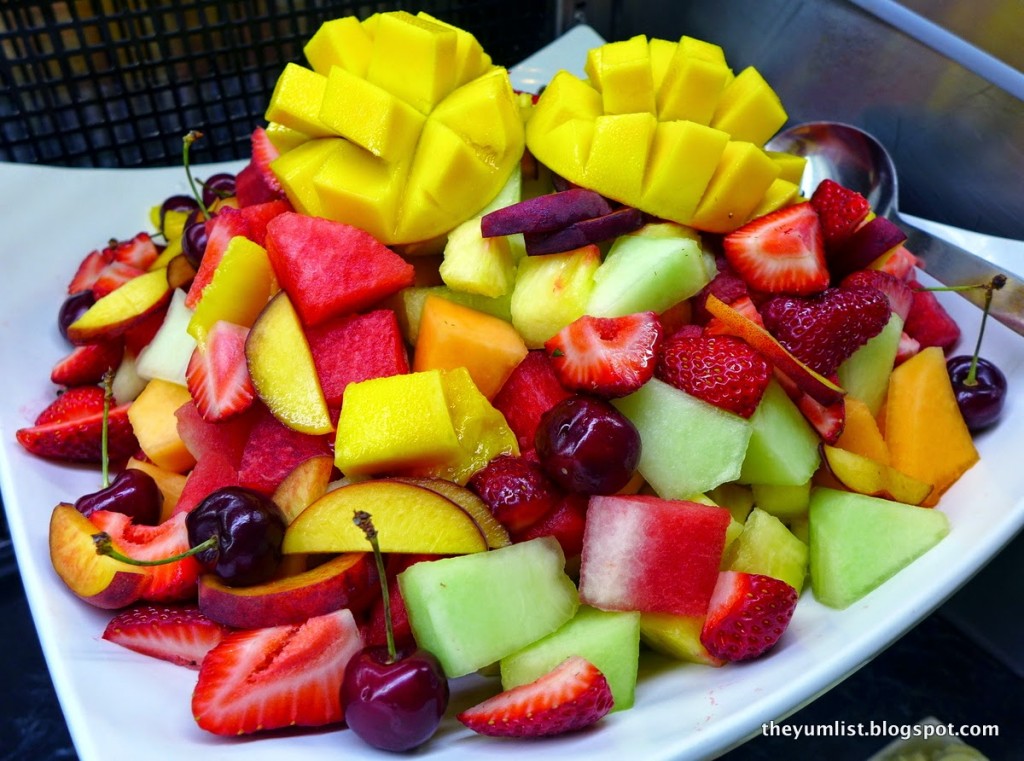 Summer Fruits
Drinks
An extensive drinks list leaves us wondering where to begin.  We're of the opinion that a beach holiday deserves a cocktail, so two signatures are first off the bat. The Orchid ($18) is a fruity mix of strawberry, passion fruit, lime juice and vodka served in a martini glass with a sugar rim. I detect hints of marzipan in the Golden Fruit Nut ($18) and soon discover its secret of Amaretto Disaronno mixed with Smirnoff vodka, passion fruit and lime juice. Both are refreshing, well-balanced and seem to be evidence of an excellent bar. We're excited about the quality of the cocktails and look
forward to discovering some more tomorrow.
For dinner however, wine is usually my choice and old habits die hard with my order of a glass of Villa Maria 2 Valley's 2013 Sauvignon Blanc ($13). With its rich tropical fruit aromas and dry zesty palate, it pairs nicely with the mountain of seafood I dig into. Hubby is a sucker for bubbly, so a glass of Moet et Chandon ($25) is soon in his grip. Its vibrant fruity palate also does well with the fruits of the sea.
A comprehensive list of red, white and sparkling drops can be ordered by the bottle, with a good number available by the glass. Beer, cider, spirits and liqueurs buff up the menu. Bringing the meal to full completion, I digest dessert with a light sweet dessert wine, 2012 Hollick 'The Nectar' ($13) and hubby with a Frangelico ($11).
Buffet breakfast is available daily from 6am to 10:30am at $42 for a full breakfast and $37 for the continental brekkie. Lunch hours are 12 noon to 3pm with the spread priced at $62 weekdays, and $79 on the weekends. The evening buffet runs from 6pm – 10:30pm daily with pricing at $79 Sunday to Thursday, and $82 Friday and Saturday. Children from 4 to 12 years old are charged half the adult price, while children under 4 years dine for free with any adult dining.
*Prices and offerings are from when this article was published in 2015. Obviously, you will need to check their latest deals and menu if you are reading this later in the future.
Reasons to visit: great breakfast with both healthy and indulgent choices; excellent seafood buffet; beautiful contemporary setting.
Terraces Restaurant
Sheraton Mirage Resort & Spa Gold Coast
71 Seaworld Drive
Main Beach
Queensland, 4217
Australia
+61 (0)7 5577 0001