Terraces, A la Carte Menu, Sheraton Mirage Resort & Spa Gold Coast
Colour Your Plate, Vegetarian and Some Decadent Dishes Too!
For our second night at the Sheraton Mirage Resort and Spa Gold Coast we opt to try the a la carte menu at Terraces. Check out our previous night's experience at their seafood buffet and some background on the restaurant in yesterday's post.
*Prices and offerings are from when this article was published in 2015. Obviously, you will need to check their latest deals and menu if you are reading this later in the future.
Cocktails
You must agree that summer holidays deserve a cocktail kick-off: well we think they make a virtuoso launch. Lychee and Rose ($18) combines, you guessed it, lychee and rose flavours with Smirnoff vodka in a martini glass. Elegant and harmonious, it's a perfect sundowner.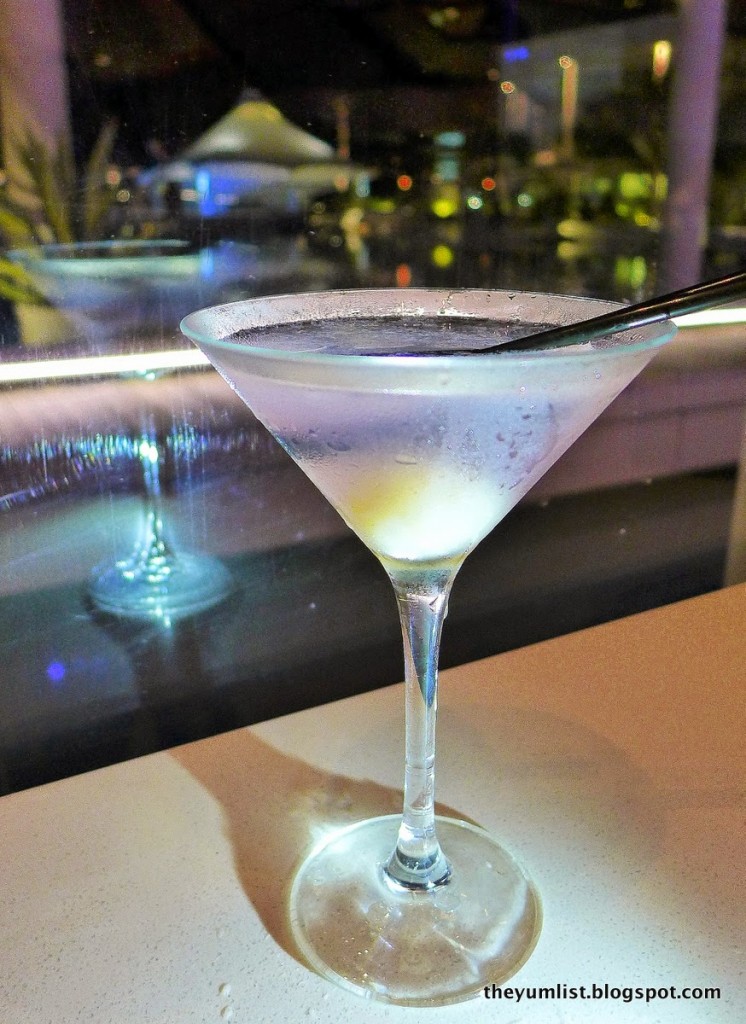 Lychee and Rose
Lady Lagoon ($18) sees Absolut raspberry, elderflower and cranberry stirred and served icy cold in a martini glass. Although the flavours are distinctly different, they're just as graceful and an equally affable start.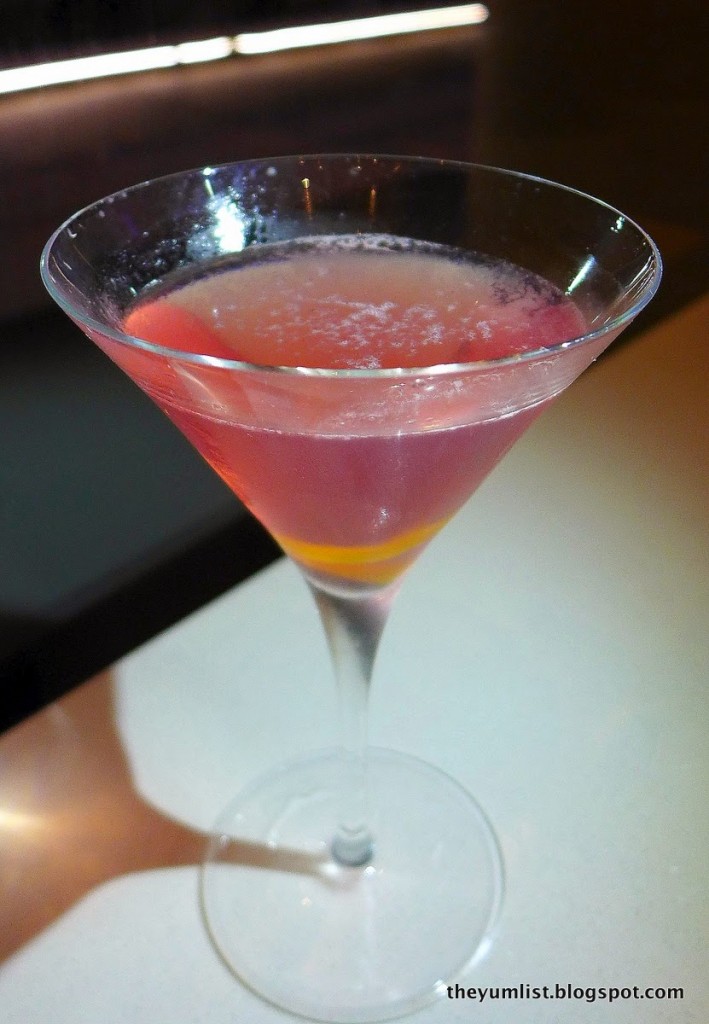 Lady Lagoon
As you might already know, Hubby is a junkie for bubbly so can't resist another cocktail once he spots the Sparkling Cocktails menu. Proclaiming, "It's our last night at this beautiful resort," as justification for his second cocktail, he soon has a flute of Classic Champagne Cocktail ($20) in hand. Combining sugar, brandy, bitters and Moet et Chandon Champagne, I have to admit it is very pleasant sipping and indeed a fine order.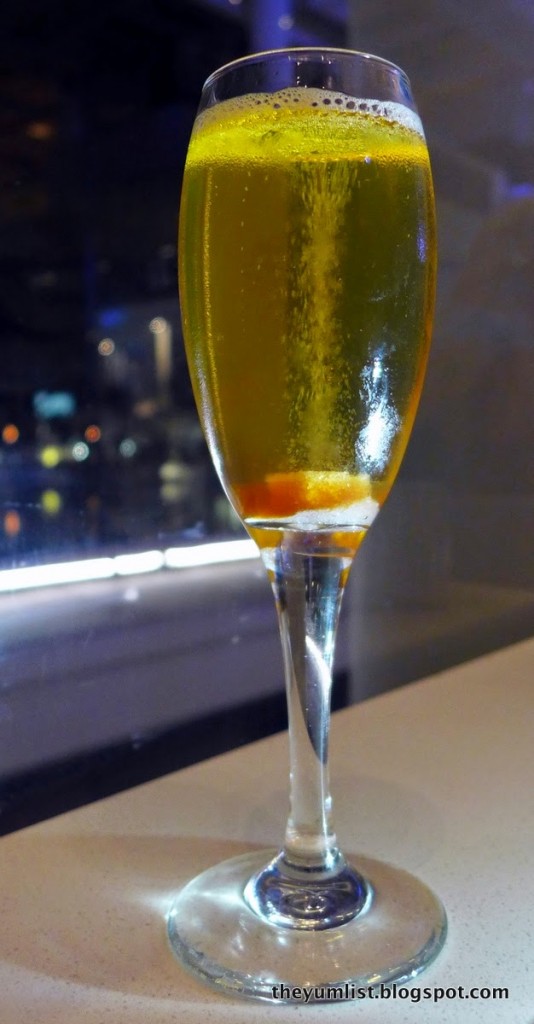 Classic Champagne Cocktail
The a la carte menu comprises a simple two pages, making ordering reasonably straightforward. Colour Your Plate dishes are marked with a rainbow wheel denoting items that encourage guests to eat colourful, nutrient dense meals as part of a well-balanced diet to increase energy and performance. Vegetarian dishes are marked too with a number of meat-free items available in each section. In an attempt to balance out our love for wine and cocktails, we agree to make our choices mostly from the Colour Your Plate and Vegetarian selections.
Entrées
Tomato Caprese (V $24) is not your ordinary tomato, buffalo mozzarella and basil arranged across a plate. It's given a delicious oomph with sun-dried tomato quarters, a drizzling of dressing, a sprinkling of herbs, and a fabulous pesto of sundried tomatoes and red capsicum as the base. Cheese is soft and creamy. We'll have another of these please! Aged balsamic and olive oil sit in a separate dish, but really are not necessary. A good slice of crusty bread or spongy sourdough however would do nicely to sop up the very last drops of the delicious dressing.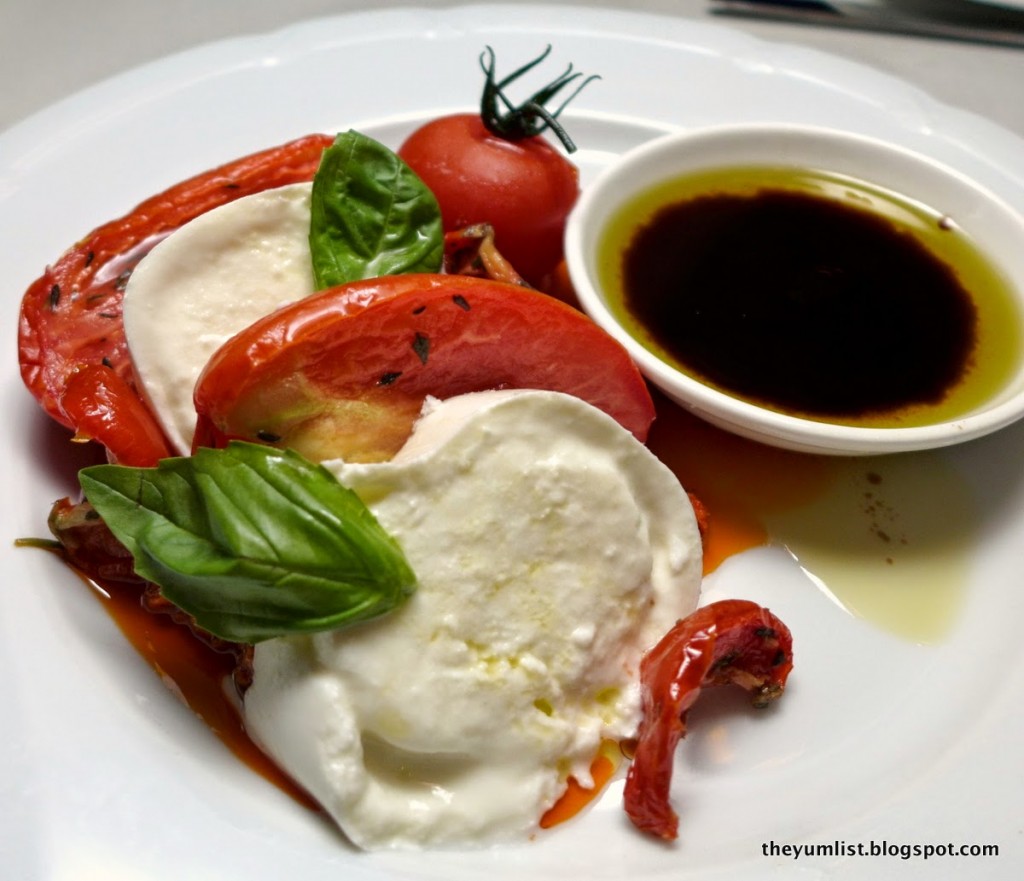 Tomato Caprese
Upon first bite of the Cornflake Crumbed Squid Rings ($28) hubby begins congratulating himself on this order (even though it's not part of the 'healthy' plan we'd agreed upon). Tender flesh is coated with a wonderfully crispy batter, cooked to perfection, not a drop of oil in sight. Seaweed chips have been given the same treatment and deliver another wallop of flavour. Coriander dressing and Japanese mayonnaise offer additional levels of complexity. Another success.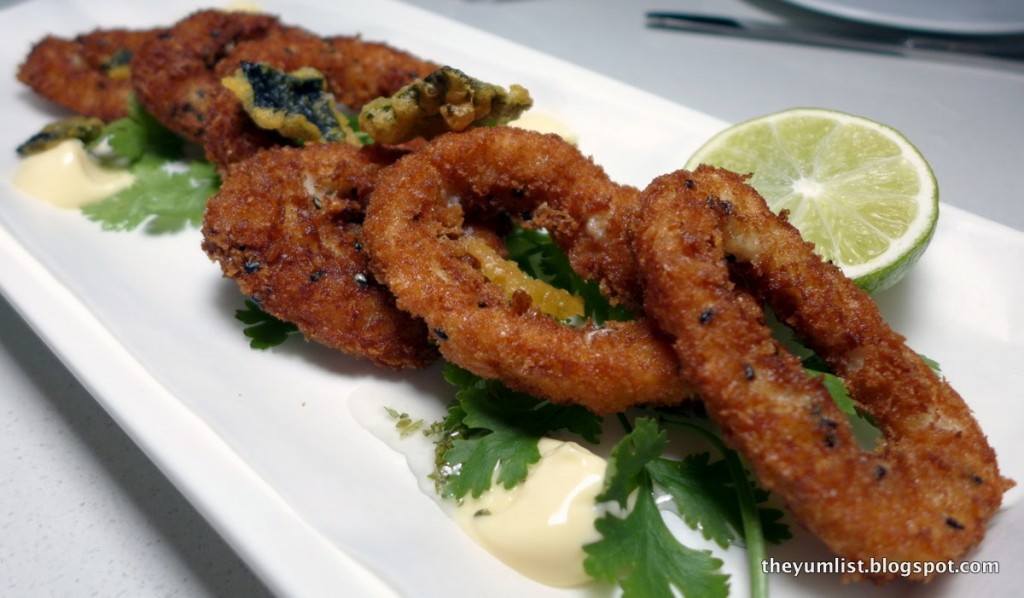 Cornflake Crumbed Squid Rings
My Clare Valley Leasingham Bin 7 Riesling ($11) makes a stylish accompaniment to both starters. White flower petal and tangerine aromas form a pleasant bouquet. Dry and citrusy in the mouth, its crisp finish complements both our seafood and salad appetizers.
Mains
Curiously we both order Asian inspired dishes for our mains. Steamed Local Snapper ($46) is dressed with a sweet soy, apple and black sesame sauce. Hijiki (wild sea vegetable) salad, mixed with finely shaven cucumber and carrot, forms a crunchy fresh topping. The broth the fish sits in is full-flavoured and does well with a side order of rice to even out its strength.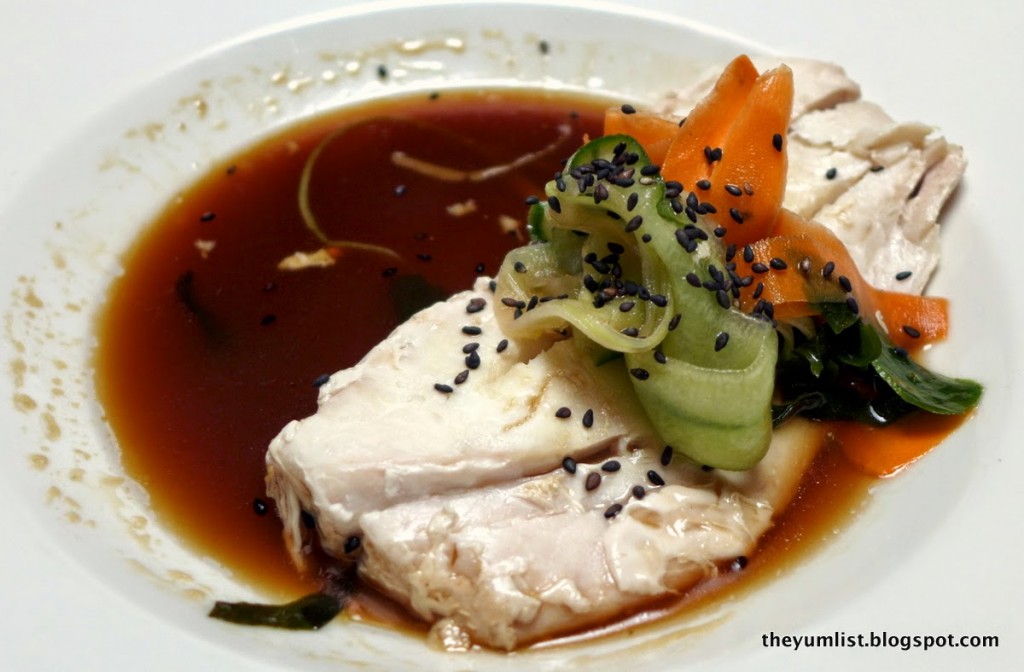 Steamed Local Snapper
My vegetarian choice, Green Sweet Potato Curry ($34), turns out to be a hit with both of us. Although not brandishing the common viridescent colour we're accustomed to, the distinct green curry flavour is infused throughout, gifting the dish with a solid kick. An abundant amount of whippy coconut cream turns it into a decadently rich plate. Luckily we're sharing, as the intensity of the flavours might be too much for one person to polish off an entire bowl. Fried eggplant, Thai basil, peanuts and coriander accompany the potato, and a steamed white rice pilaf side is very useful for soaking up the velvety sauce.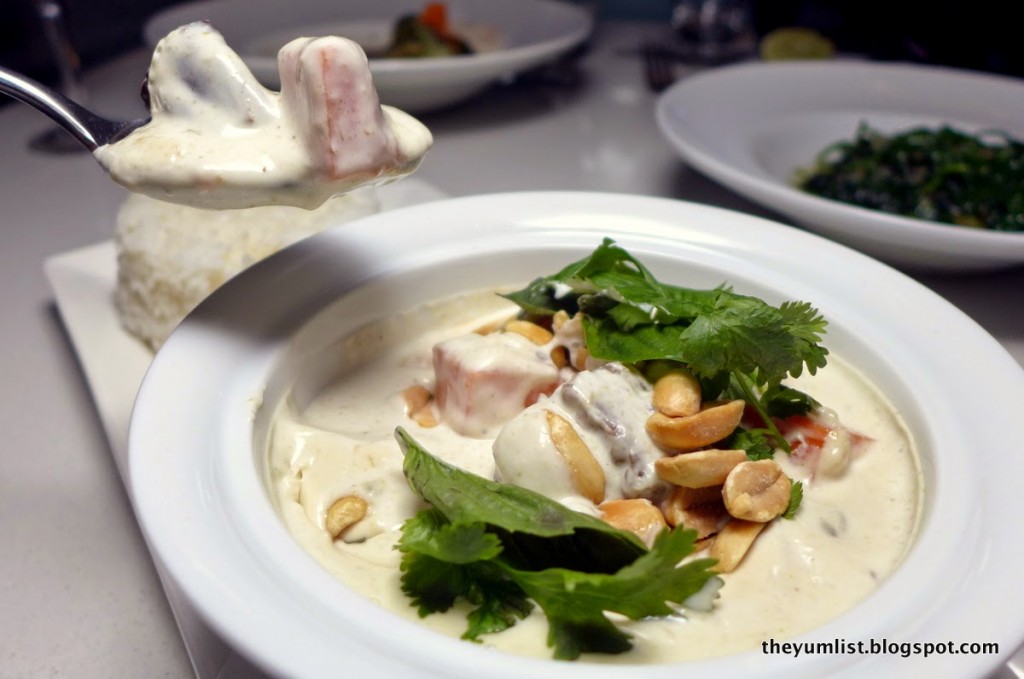 Green Sweet Potato Curry
Sides
Sautéed Spinach with Quinoa ($9) makes a healthy dose of green. It's well cooked with a great texture, but a little on the salty side for our delicate palates. I imagine my dad would find it 'just right,' but if you don't personally use a lot of sodium in your cooking, asking for a reduced salt version is an easy fix.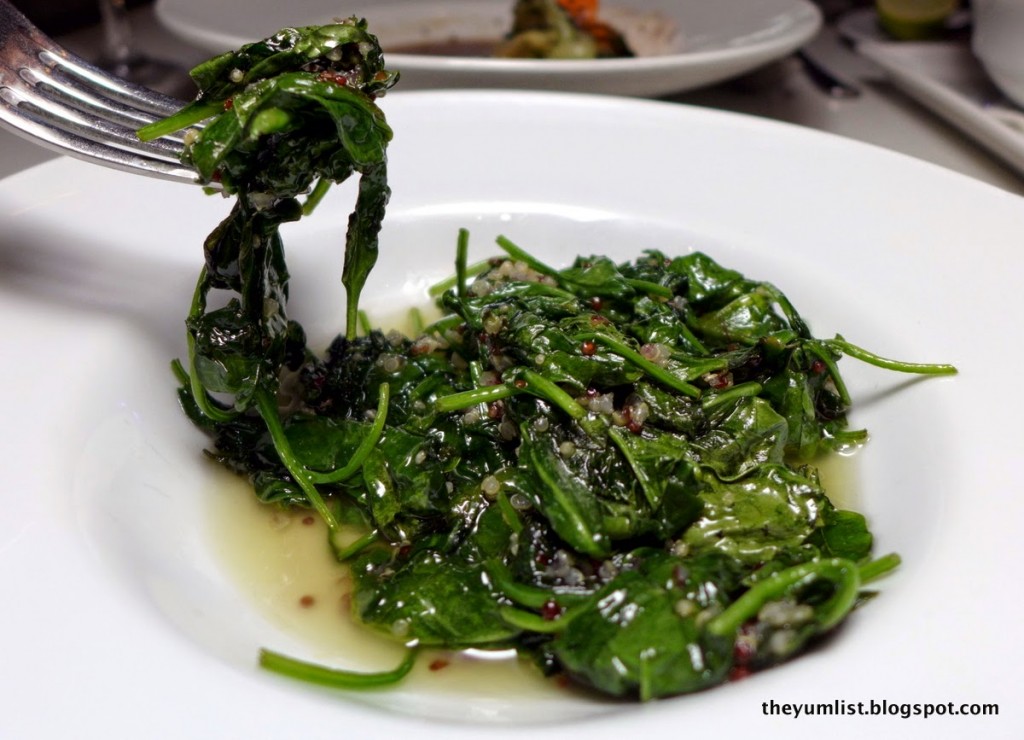 Sautéed Spinach with Quinoa
Desserts
A vivid bowl of colours is displayed in the Berries and Fruit ($21). The natural sweetness of fresh fruit is boosted with cherry honey essence, and balanced with creamy tangy Greek yoghurt, almonds and basil.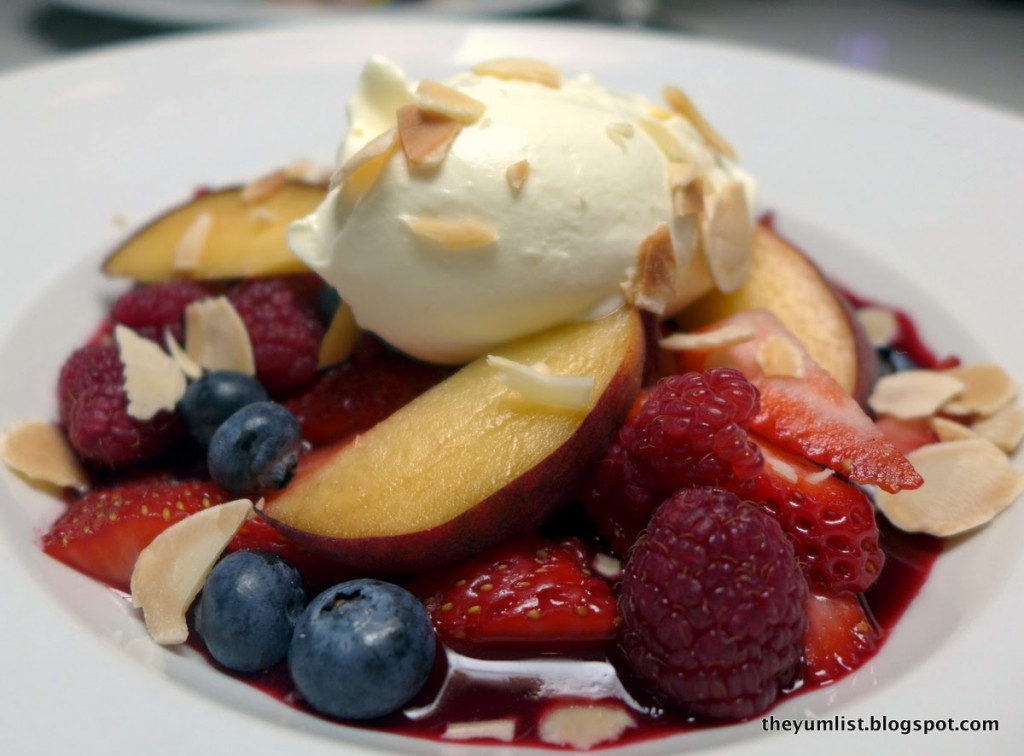 Berries and Fruit
If cheesecake is on the menu, it must be ordered and so we end up with Bellini Mascarpone Cheesecake ($21). A dense creamy wheel is rolled in Graham cracker crumbs and topped with a pink Champagne sorbet. Yum!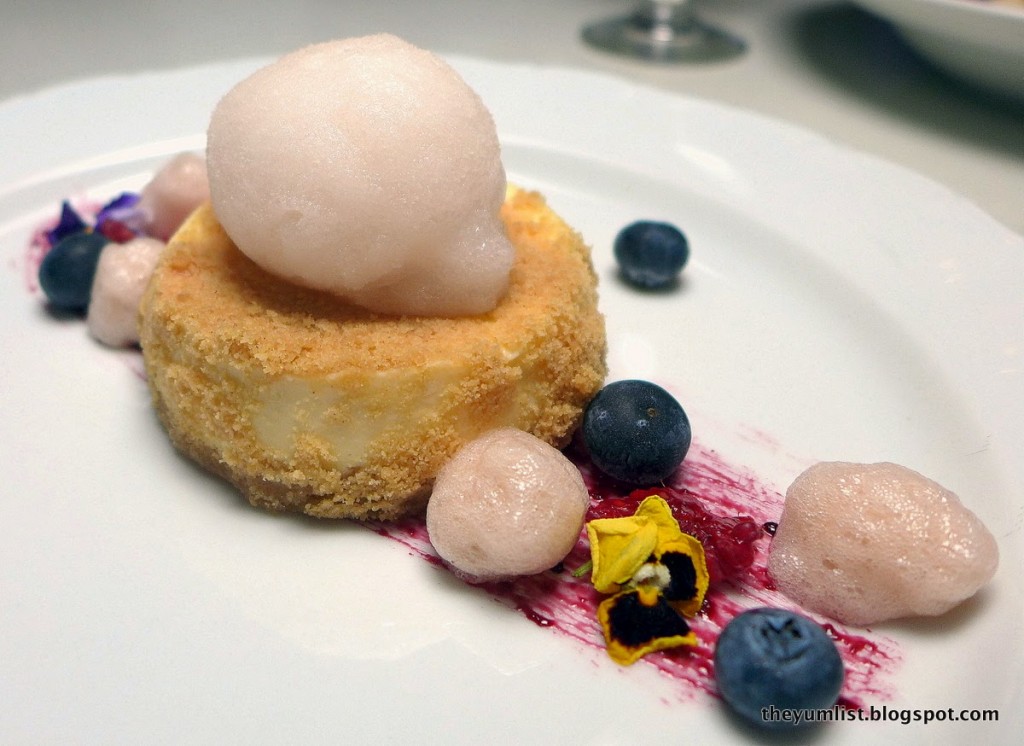 Bellini Mascarpone Cheesecake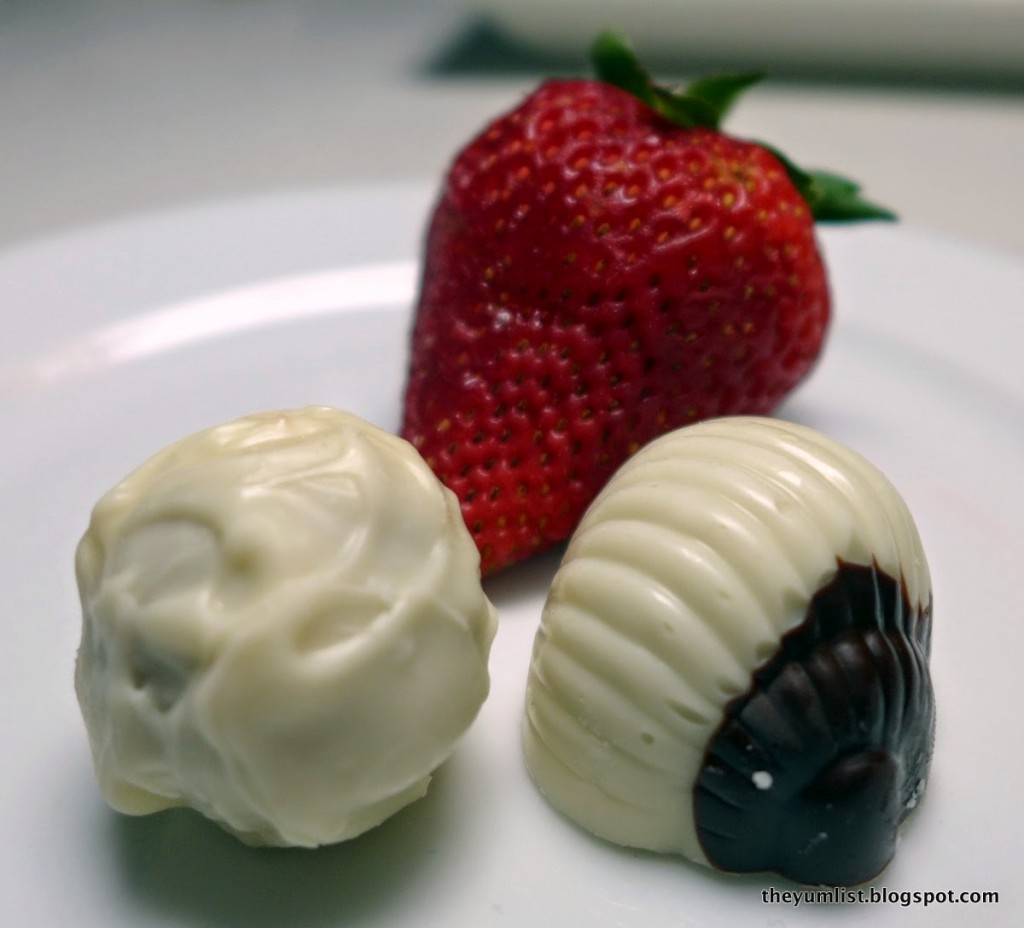 After Dinner Chocolates
Reasons to visit: light bright contemporary ambience, Tomato Caprese, Cornflake Crumbed Squid Rings, Sweet Potato Green Curry, Berries and Fruit, Bellini Cheesecake, good wine selection, yummy cocktails.
Terraces Restaurant
Sheraton Mirage Resort & Spa Gold Coast
71 Seaworld Drive
Main Beach
Queensland, 4217
Australia
+61 (0)7 5577 0001