It's a clichéd beginning, but our breaths are truly swept away entering the Sheraton Mirage Resort and Spa Gold Coast's stunning lobby. The open expanse is stylishly but minimally decorated, leading out to three-storey floor to ceiling windows framing views of a shimmering aquamarine lagoon and further beyond to the deep blue sea. Tall slim palms stand proudly at the edges of the oasis, their fronds gently swaying with the ocean draft. And… the blue sky, that blue sky, those heavens that are only found in this part of the world, so brilliantly blue, so shockingly clear is the thief slowing our respiration and filling our minds with awe. We're straight off the plane from South East Asia, which has been overwhelmed by haze for a good six of the past eight months, so this environment is a treasure.
An extensive refurbishment valued at $26 million sees the Sheraton Mirage Resort and Spa Gold Coast in tip-top contemporary condition. Six hectares of lush landscaping holds glistening lagoons, verdant gardens, 295 rooms and suites, and a host of dining and play facilities. The only five-star resort beachfront resort on the Gold Coast is our first stop, and we're already congratulating ourselves on the decision.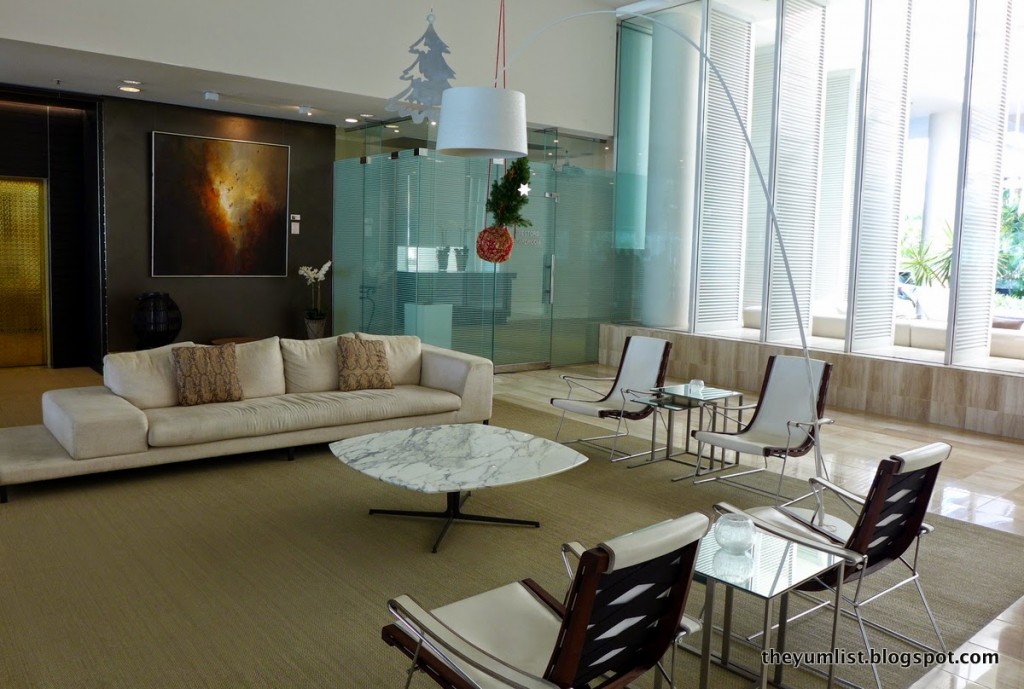 Lobby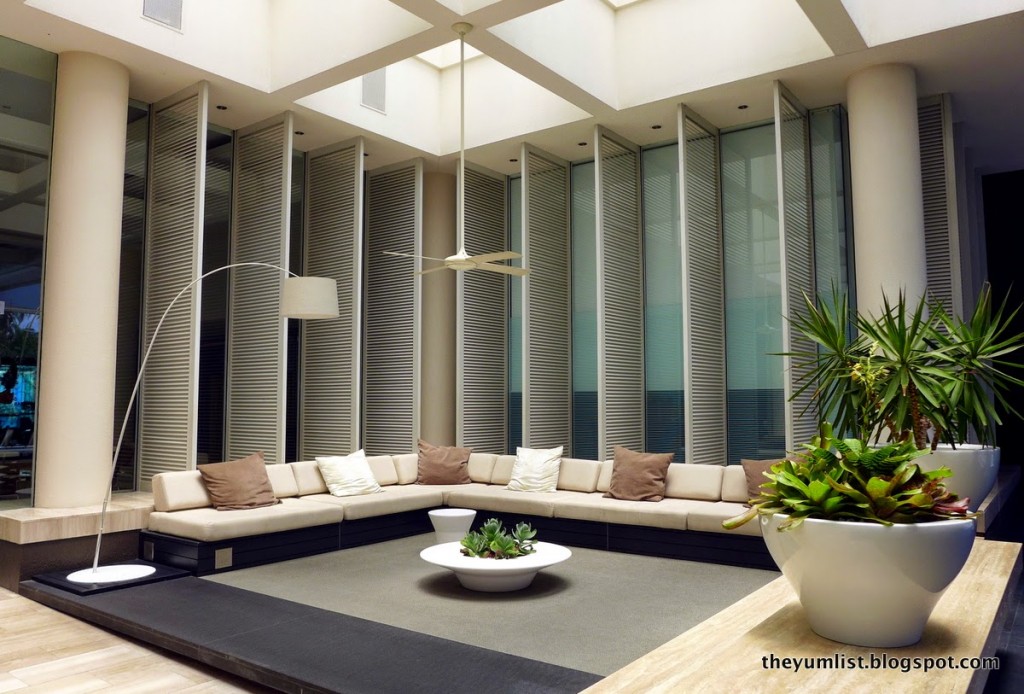 Lobby
Location
A spectacular belt of golden sand and magical blue water stretches as far as the eye can see in both directions from the doorsteps of the resort. Running parallel to the country's most famous waterfront are parklands and walkways. Turning south, they're paved and manicured. To the north dirt tracks are lined by native bush land fetching a more rugged feel. Surfing, swimming, running, cycling – any number of activities – have a ready-made playground. For people with a fondness for the outdoors, the name 'paradise' is well deserved.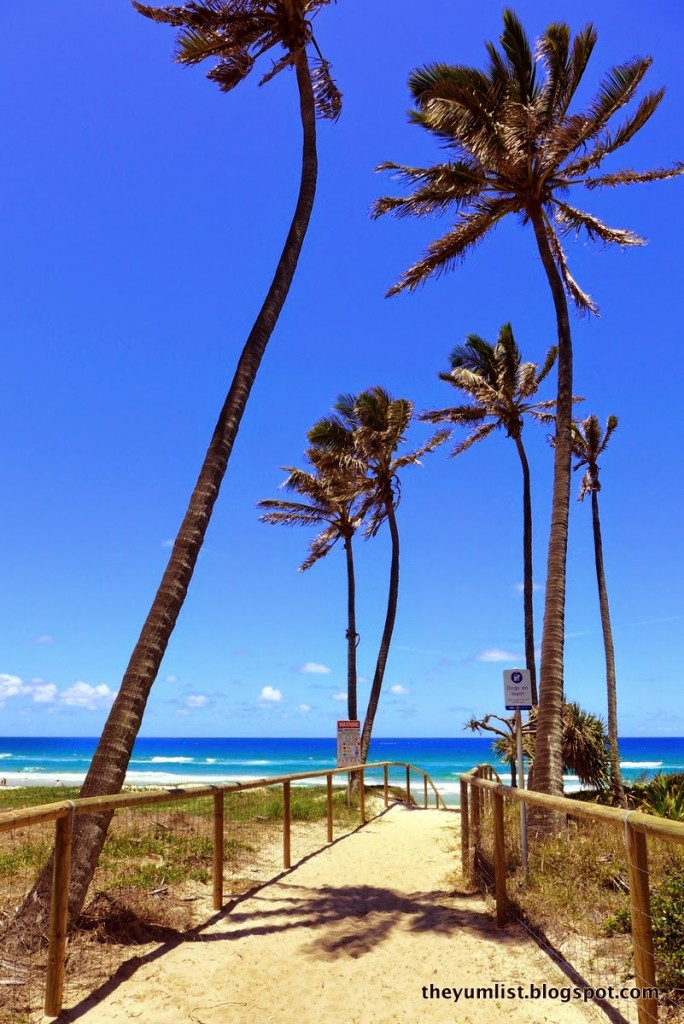 To the Beach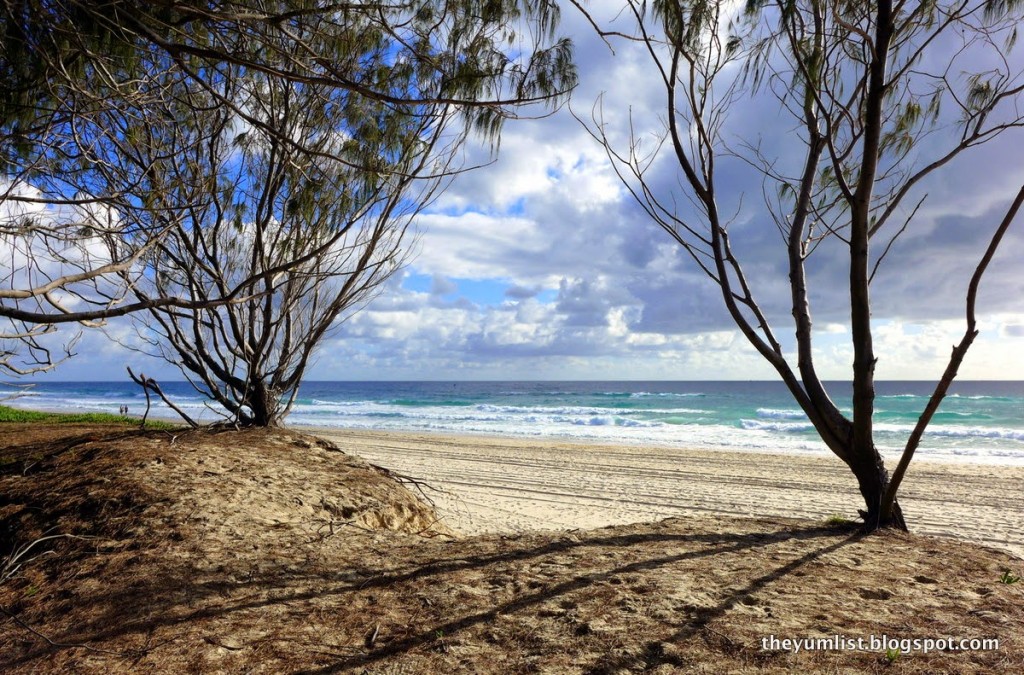 Mirage Beach

Mirage Beach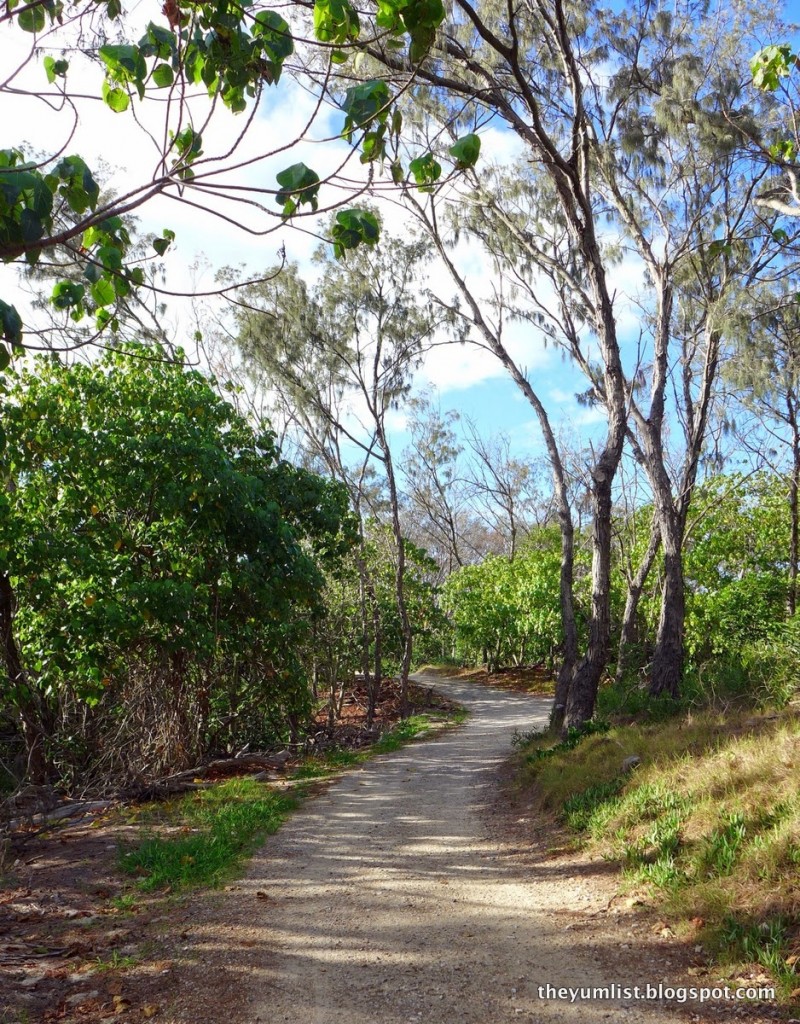 Federation Walk
Put on your heels and take your credit card to cross the street in the other direction where a slew of entertainment, dining and high-end boutiques await in the Marina Mirage. Gawk at the luxury yachts bobbing at dock, indulge in a wine-paired menu on the boardwalk, or update your wardrobe with the latest fashion. It's all accessible via a footbridge linking the resort to the mall.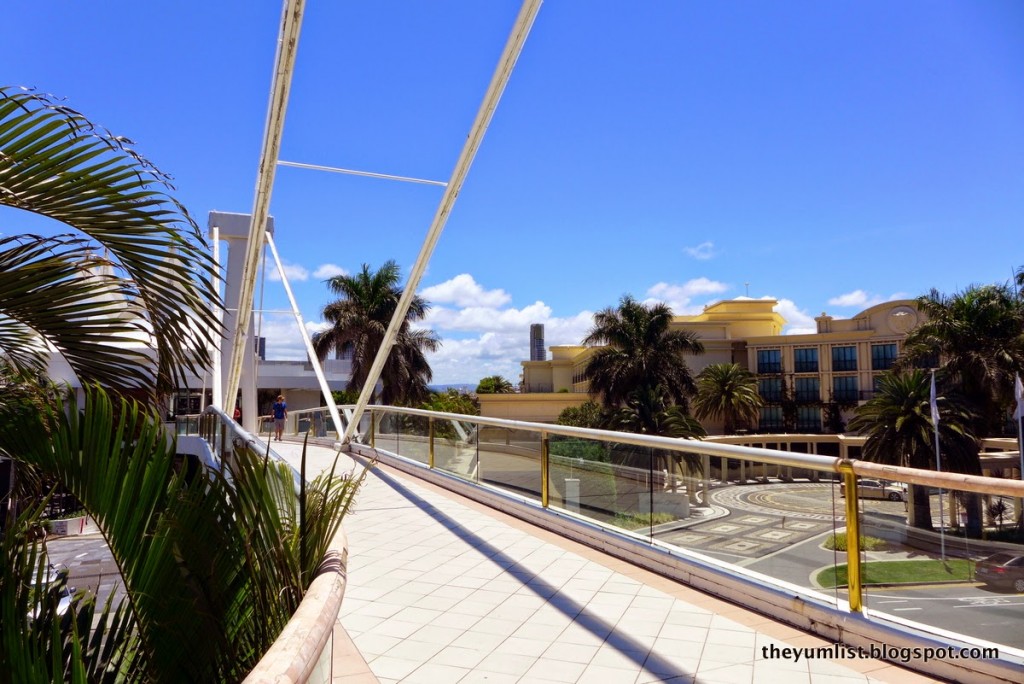 Bridge to Shopping, Dining and Marina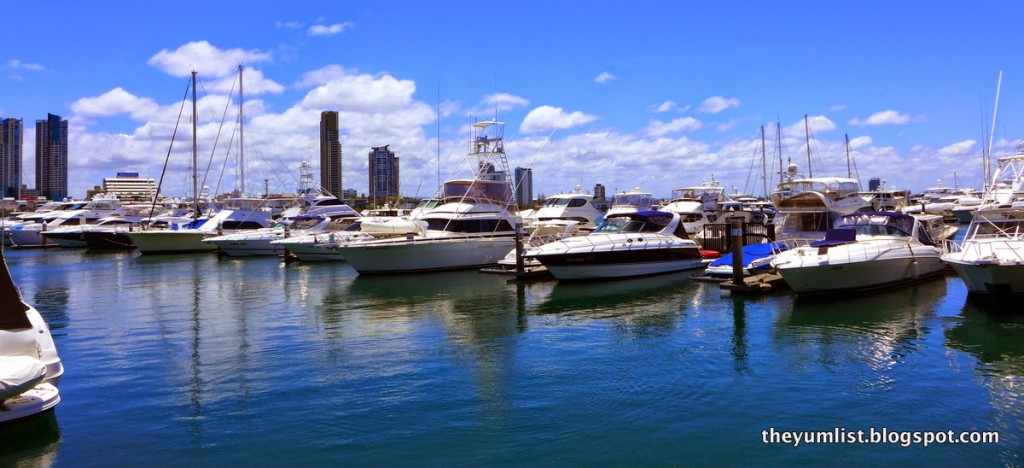 Marina
Also a minute's walk away is the renowned Peter's Fish Market – the go-to place for locals to buy fresh seafood. A few minutes drive up the road and Sea World theme park is at your call. Head south and Surfers' Paradise beach, restaurants, bars and shopping are found. But broaden your travels and the entire Gold Coast and Hinterland are ready to amuse. Theme parks, mountains, waterfalls, rivers, beaches, walking trails, animal sanctuaries, wineries and gourmet cottage industries ensure thrill seekers,
gastronomes, sports enthusiasts and nature lovers are all well-catered for.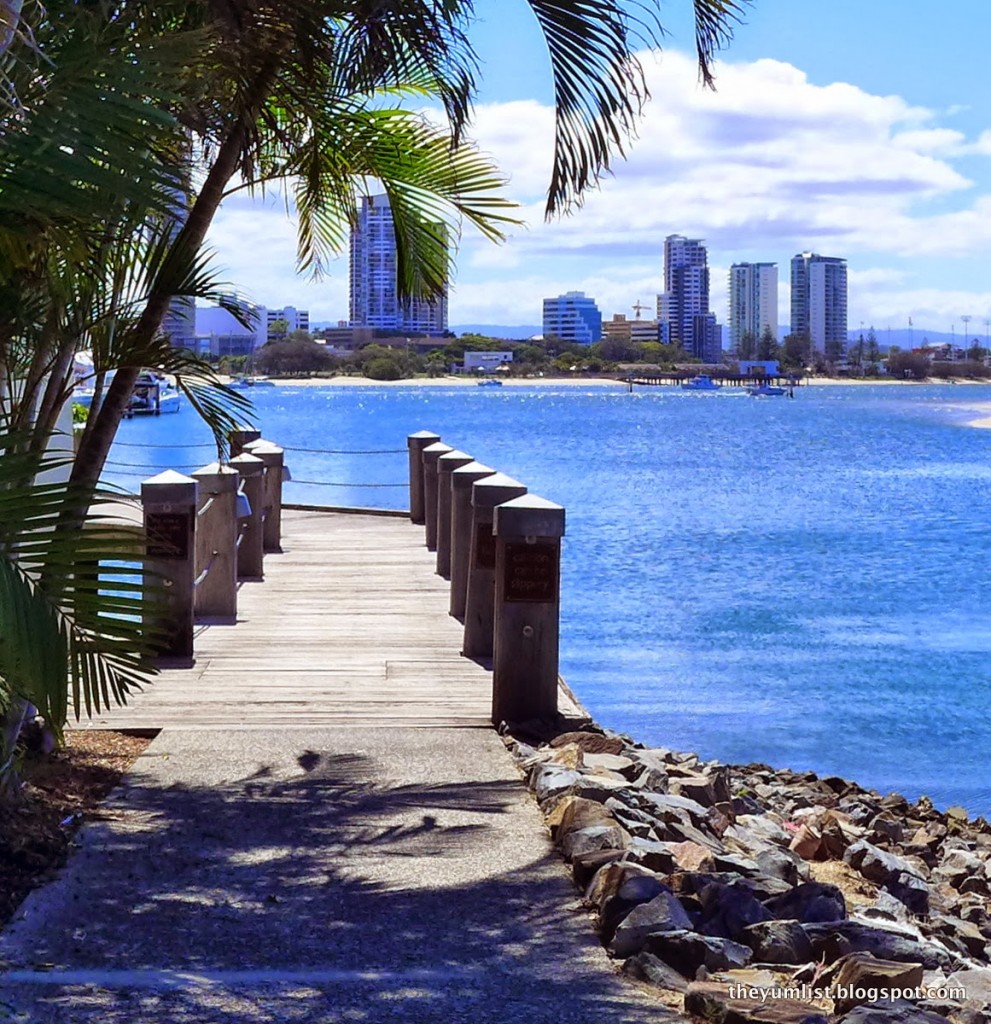 Across the Road
But… you just might find, surrounded by the beauty of Sheraton Mirage Resort and Spa Gold Coast that you muster no desire to leave.
Recreation and Entertainment
Besides the obvious – a stunning beachfront – the property has a host of facilities keeping busy bodies moving and unsettled minds diverted. Hubby is pleased as Punch with the lit outdoor tennis courts and too has his eye on the 25 m lap pool located at the shared facilities of the Golden Door Spa and Health Club next door.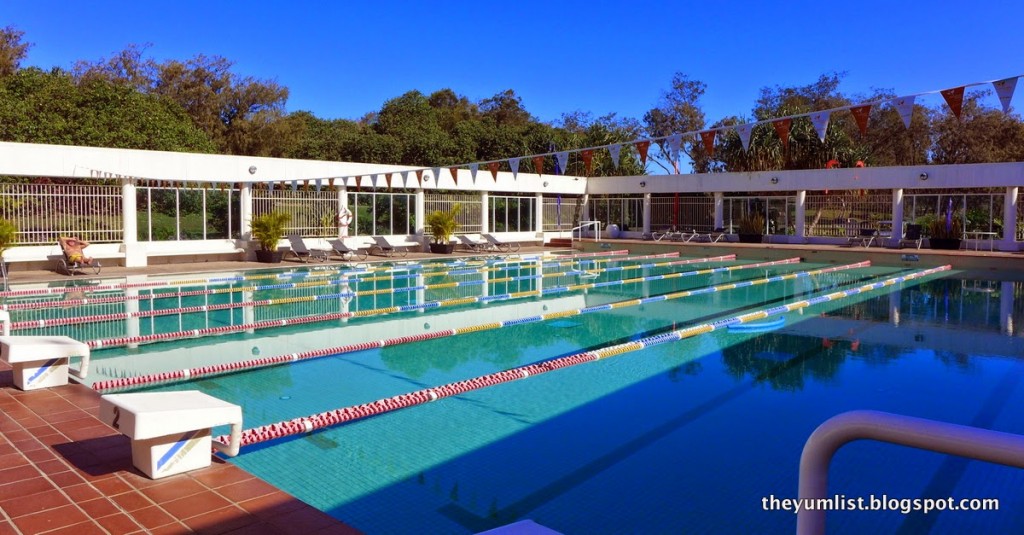 Health Club Lap Pool
While my preferred exercise in this attractive location is a run along the extensive stretch of beach, it's good to have the fitness centre as a backup plan in the case of inclement weather. We note both strength and cardio training equipment are in excellent condition, and a number of classes are available for those who prefer group exercise.
After you've worked up a sweat, the Golden Door Spa and Health Club provides a comprehensive menu of treatments: including relaxation sessions such as massage, and beauty treatments such as manicures and facials. Guests at the Sheraton Mirage receive complimentary access to the lap pool and gymnasium during their stay, and can book in for desired spa treatments in consultation with staff at the facility.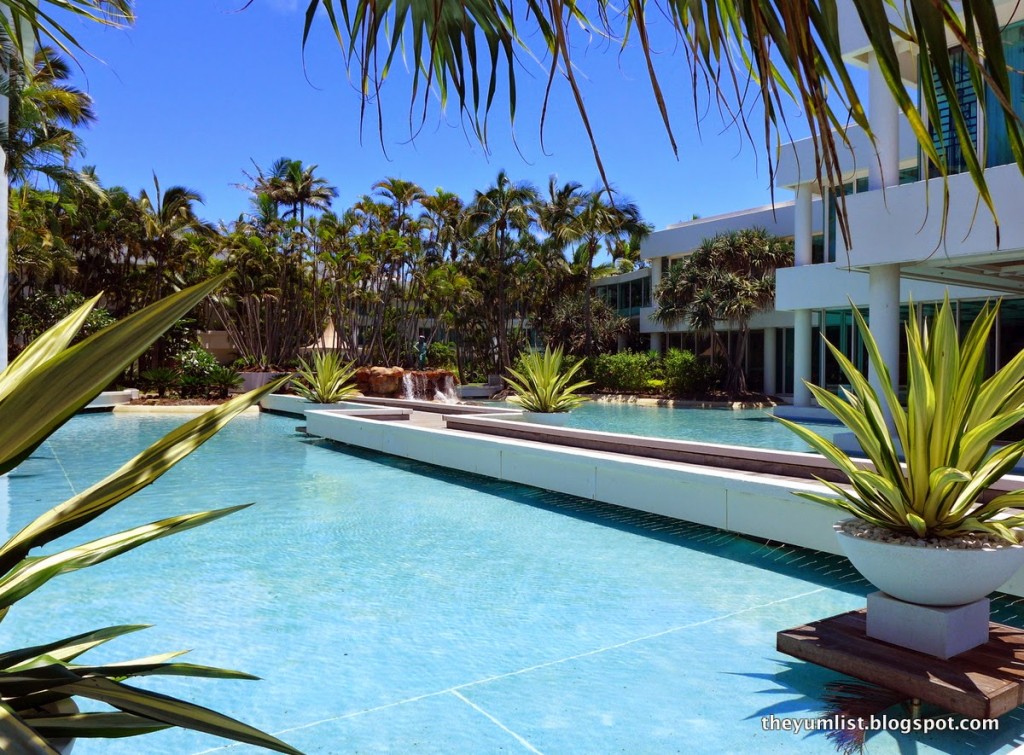 Lagoon
The resort's own swimming oasis is a striking feature. Recently undergoing a quarter of a million dollar refurbishment, the pool is in tip-top condition. Lined with sandstone, grassy slopes and an abundance of deck chairs and umbrellas, some stake a perch early morning and pleasantly spend an entire day splashing, lounging and sunning. Australia is known world wide for its alluring weather so it might surprise many that the sea, and in general pools, are actually quite chilly! A self-sustained heating system (powered by a state of the art air-conditioning and building management system) keeps the lagoon at an agreeable temperature year round. A shallow children's pools caters to the little ones and we're happy to locate a spot far from it.
Heated Pool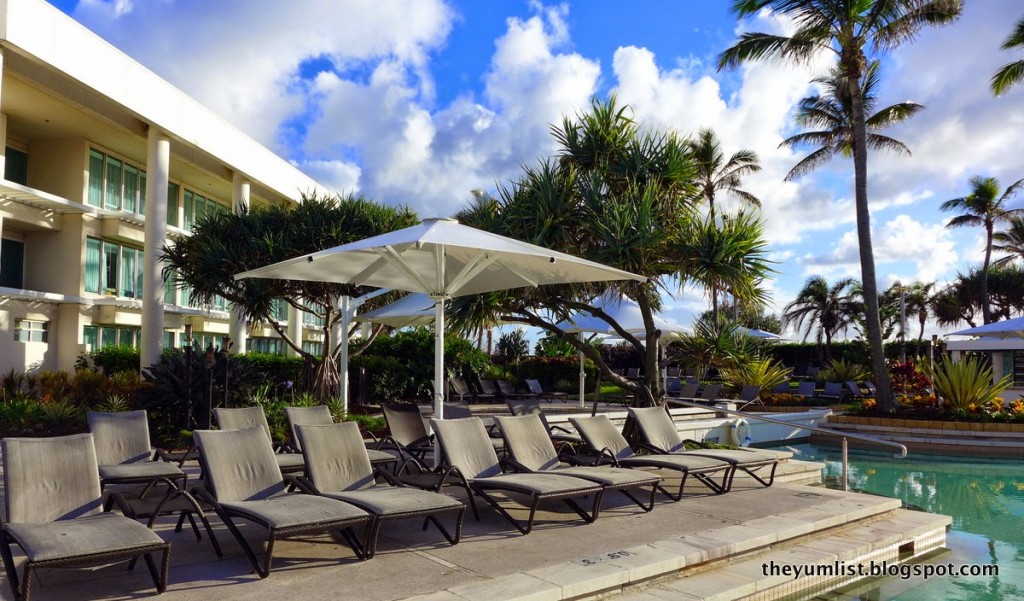 Pool Chairs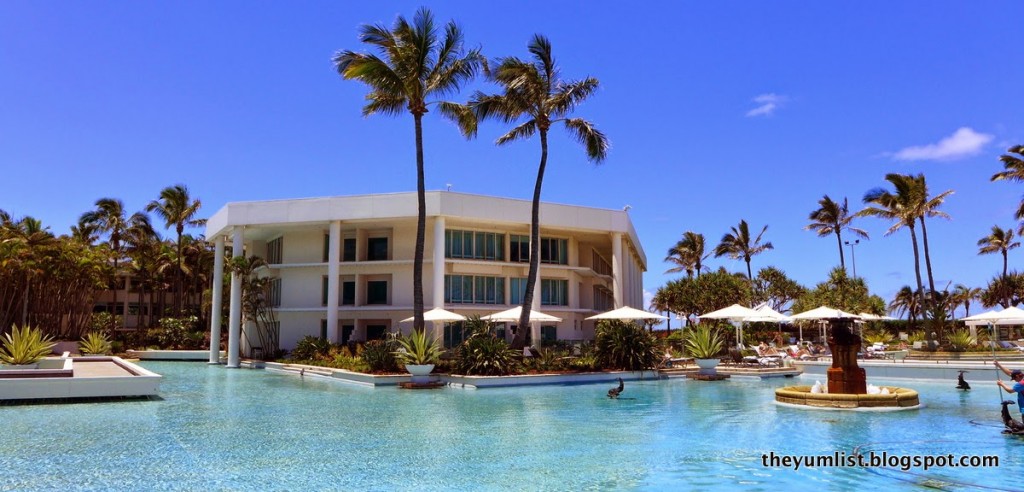 Lagoon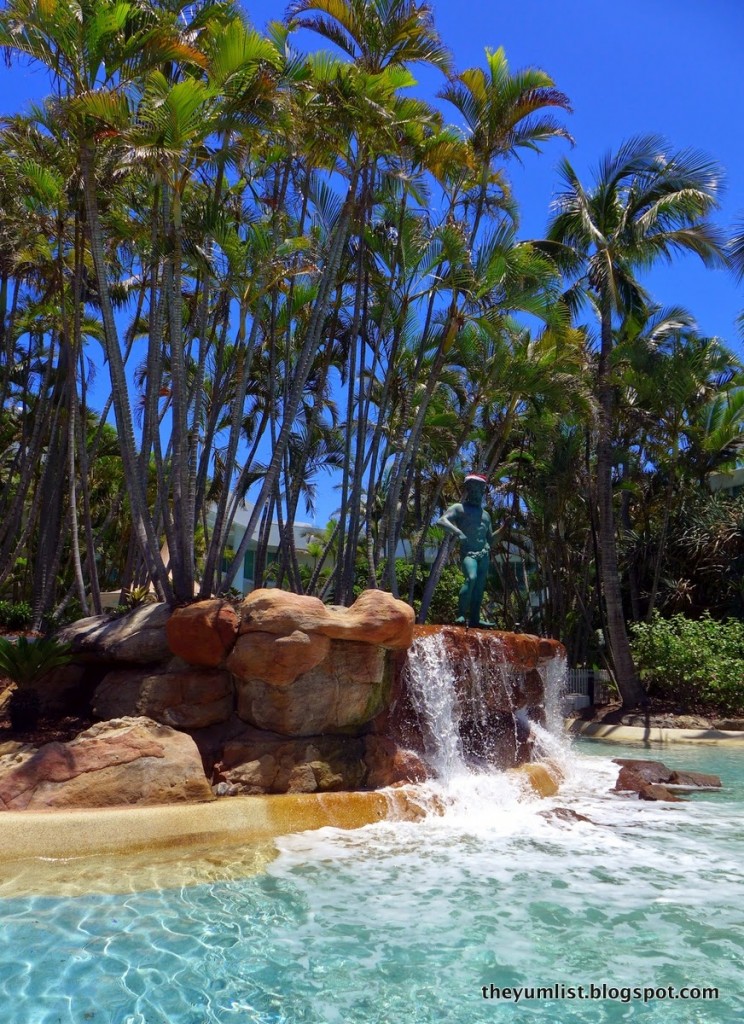 Resort Grounds
Food and Beverage
Taking advantage of a wealth of quality local produce, meals at the Sheraton Mirage Resort and Spa are fresh and contemporary. The all-day-dining restaurant,
Terraces
, serves both a la carte and buffets, and is known especially by the locals for its super fresh seafood spread. Breakfast is full of colour and keeps both 'healthy' me, and 'wicked' hubby, equally amused with its display of fresh fruits, yoghurts, nuts and cereals, and the similarly filled hot breakfast selection.
Read about our experience, see photos and find prices via this link.
Delicious a la carte items are also available, of which we found a number of items we'd recommend reordering.
You can check them out here.
*Prices and offerings are from when this article was published in 2015. Obviously, you will need to check their latest deals and menu if you are reading this later in the future.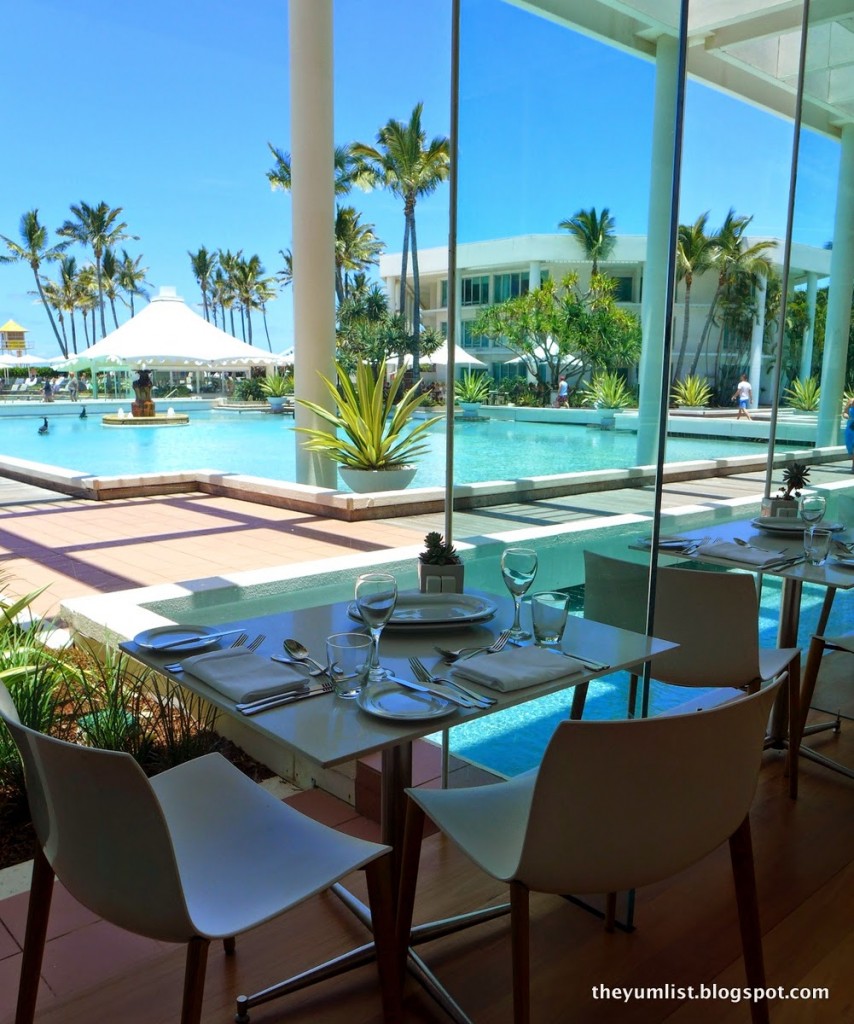 Terraces Table for Two
An extensive drinks list is provided throughout the resort with a wide variety of red, white and sparkling wines, liquors, liqueurs, beers, ciders and cocktails making us thirsty. We tried a number of different mixed drinks, finding them brimming with fresh ingredients and quality spirits. Find our preferred creations
here
and
here
.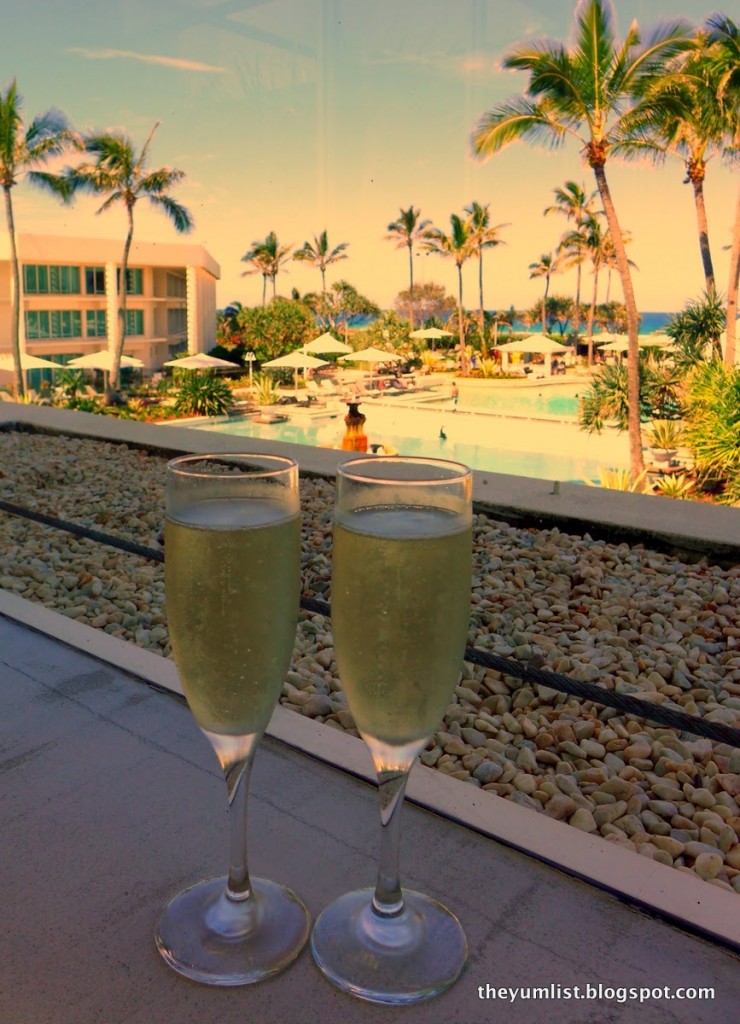 Bubbly with a View
High tea is turned into a rather plush affair at
Pearls Bar
. Kicking off an afternoon with a glass bubbly and a three-tiered platter of sweets and savouries will make most gals happy. Add to that a stylish elevated spot with views over the pool and out to the ocean, and it becomes something drawing outside guests into the resort as well.
See what we recommend, along with prices, via this link.
Be sure to sign up for the Starwood Preferred Guest (SPG) program if you're yet to do so. It's free, but offers great deals on food – sometimes couples can receive up to 50% off their dining bill during some promotions.
*Prices and offerings are from when this article was published in 2015. Obviously, you will need to check their latest deals and menu if you are reading this later in the future.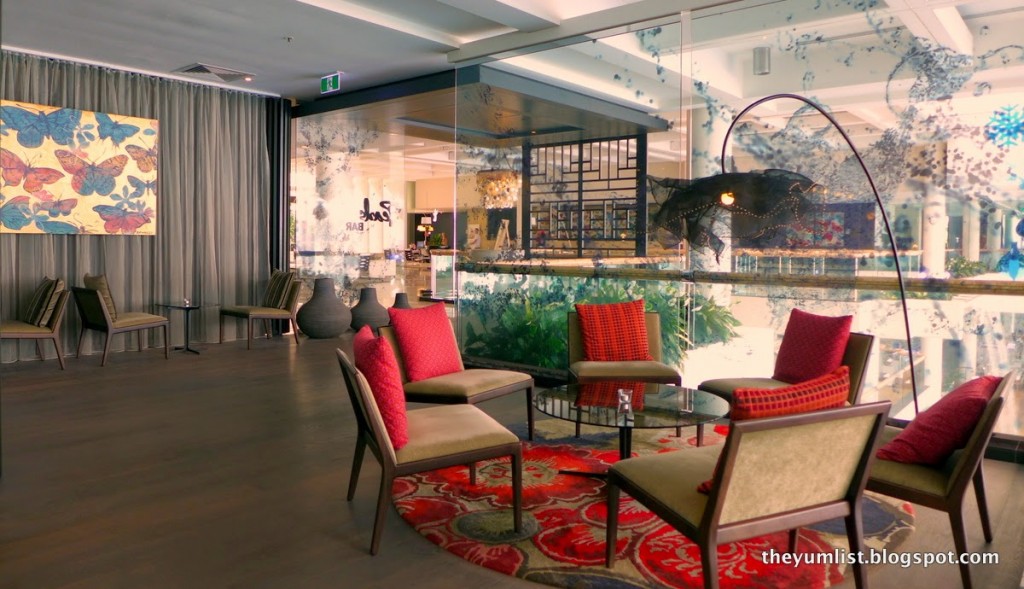 Pearls Bar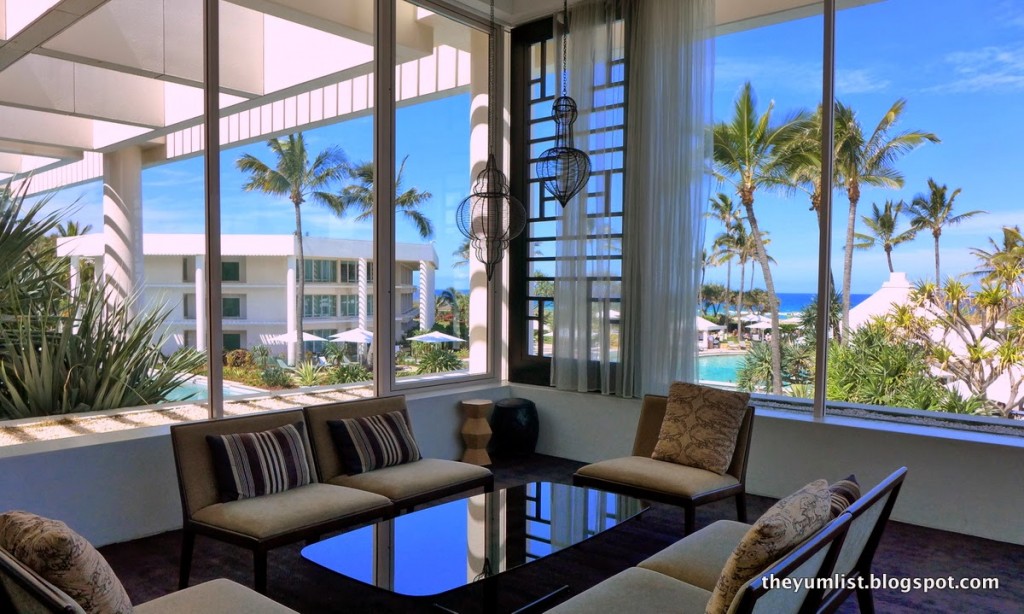 Pearls Bar
The Oyster Bar was closed during our visit (Monday and Tuesday), and we didn't have time to check out the Oasis Pool Bar either. As you might imagine, the former promises fresh oysters with drinks to match, and the latter a range of light fare and beverages. There's room service too for those not willing to the leave the comfort of the newly refurbished rooms.
Rooms and Suites
Starting at 43sqm and swelling up to a very generous 185 sqm, all accommodations boast the latest in luxuriousness with the Sheraton's signature Sweet Sleeper bed, flat screen television (with Movielink TV and Entertainment), iPod station, designer furnishings, Wi-Fi access (fee applies, but is complimentary for SPG members) and large opening windows overlooking the garden, lagoon or ocean and beyond.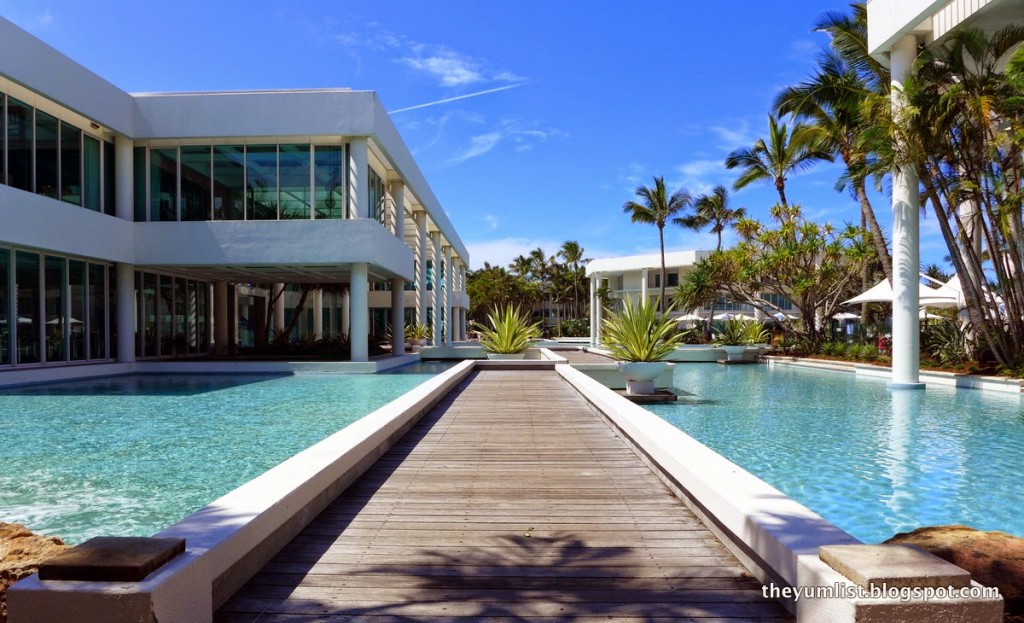 Walkway to Rooms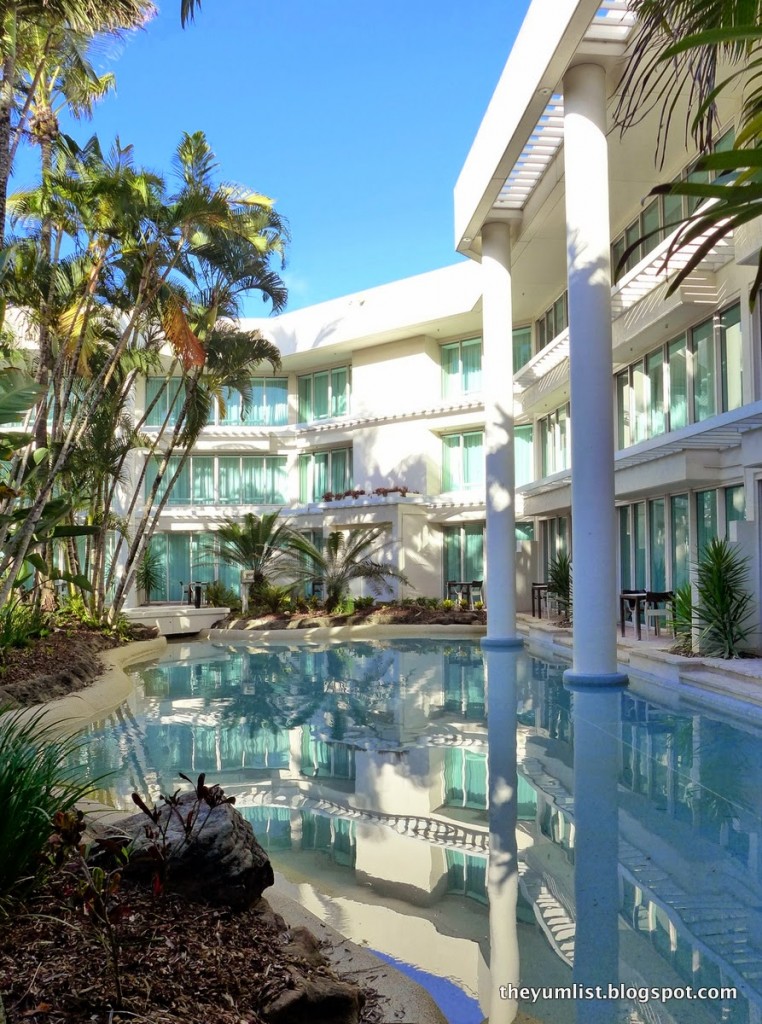 Lagoon Access Rooms
Our Spa Studio sleeps up to four guests covering 48sqm of space. Pale walls, ceilings, curtains, bedding and upholstery are broken with stripes of black and grey. Lines are clean and decoration minimal, serving to foster a contemporary beachside spirit. The highlight of this room however is the marble bathroom with spa bathtub. Frosted glass windows let in natural light, while still maintaining privacy, and Jacuzzi jets invigorate the senses any time of day.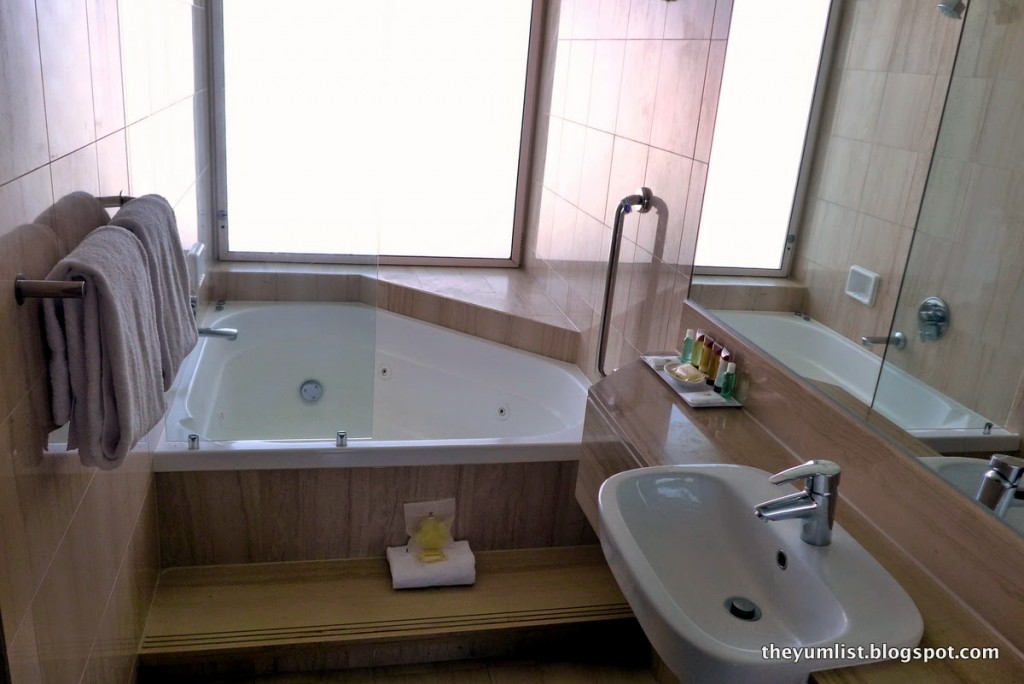 Bathroom
Appreciated details include a powerful hair dryer, and hot beverage making facilities that go beyond instant coffee and cheap teabags. Plunger coffee makes my day and hubby gets a kick out of sampling French handcrafted teas. Turn down service leaves Belgium chocolates on our pillows paving the way for sweet dreams.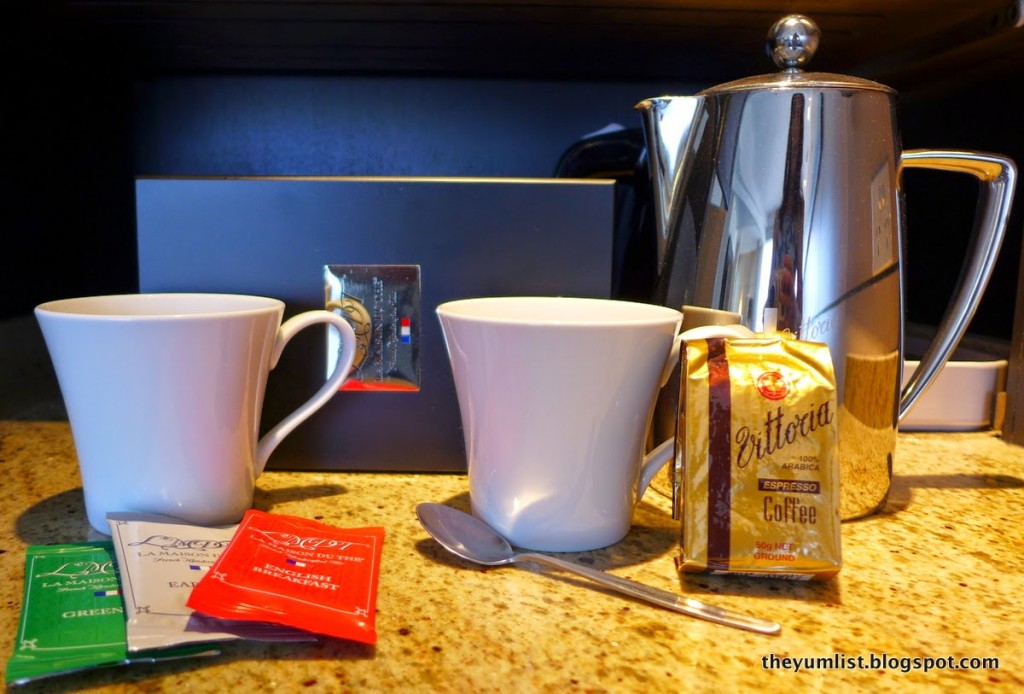 Tea and Coffee Making Facilities
Spa Studio Room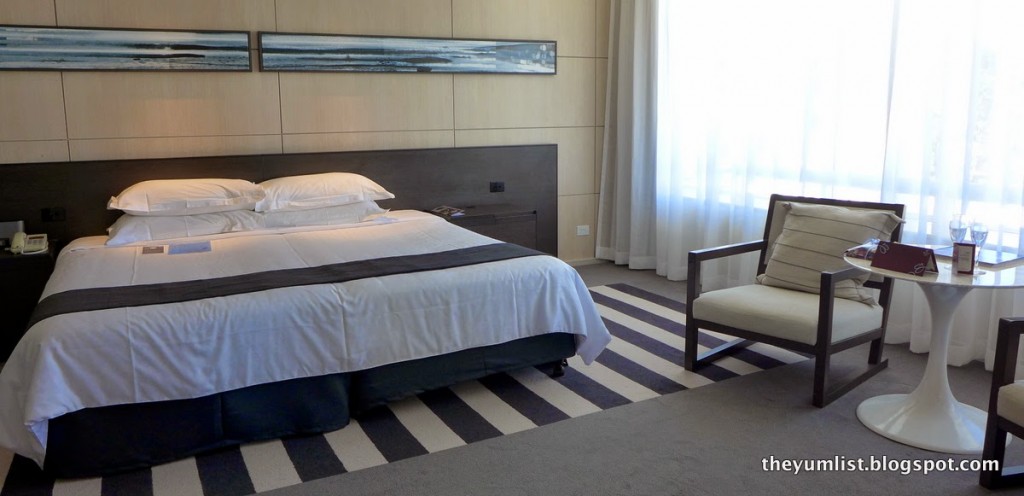 Spa Studio Room
Corporate Social Responsibility
Staying in such a beautiful location reminds us of how important is it to protect the natural surrounds and we're pleased to see a few initiatives in place by Sheraton Mirage Resort & Spa Gold Coast that show a shared philosophy. LED lighting and intuitive air-conditioning aid in reduction of energy usage, while sourcing of local produce further reduces carbon miles. Guests who decline daily housekeeping, which saves resources especially in the laundering of towels and sheets, are rewarded with a $15 dining credit as appreciation. A comprehensive sustainable meetings package encourages organizations hosting conferences on the property to get on board. Starting with paperless meetings, green rooms, sustainable transport and food choices, and even involvement in socially conscious activities as part of team building can all contribute to a group's social responsibility goals.
*Prices and offerings are from when this article was published in 2015. Obviously, you will need to check their latest deals and menu if you are reading this later in the future.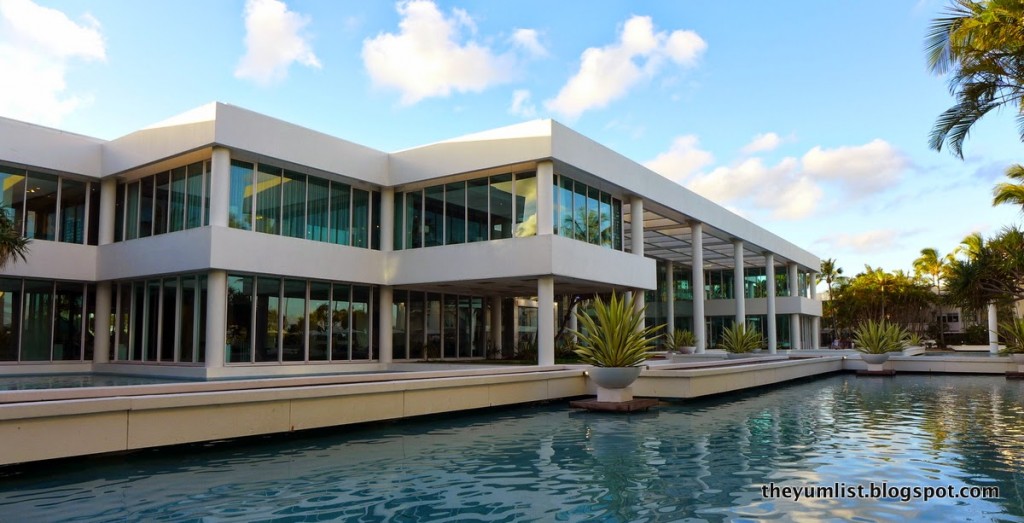 Early Morning
Two nights is not enough. We love the great outdoors and comforts supplied by this property. Next visit we'll make it a week. Sheraton Mirage Resort and Spa Gold Coast definitely makes The Yum List.
Reasons to visit: stylish contemporary property; stunning location; the only 5-star beachfront resort on the Gold Coast.
Sheraton Mirage Resort & Spa Gold Coast
71 Seaworld Drive
Main Beach
Queensland, 4217
Australia
+61 (0)7 5577 0000