The stunning surrounds of Spicers Hidden Vale retreat is home to the highly-reputed Spa Anise. Around an hour's drive from Brisbane and 90 minutes from the Gold Coast, it makes for a brilliant day out, alone, as a couple or with a group.
The journey from the city follows a picturesque change in scenery. The dense concrete labyrinth thins into more widely spaced houses. Yards become bigger. Distance increases between buildings and soon we're driving for miles without seeing a man-made structure. The highway narrows from three lanes, to two, to a slender country road, which in its final stretch, winds in undulating waves through hills and eventually to the gates of Spicers Hidden Vale retreat.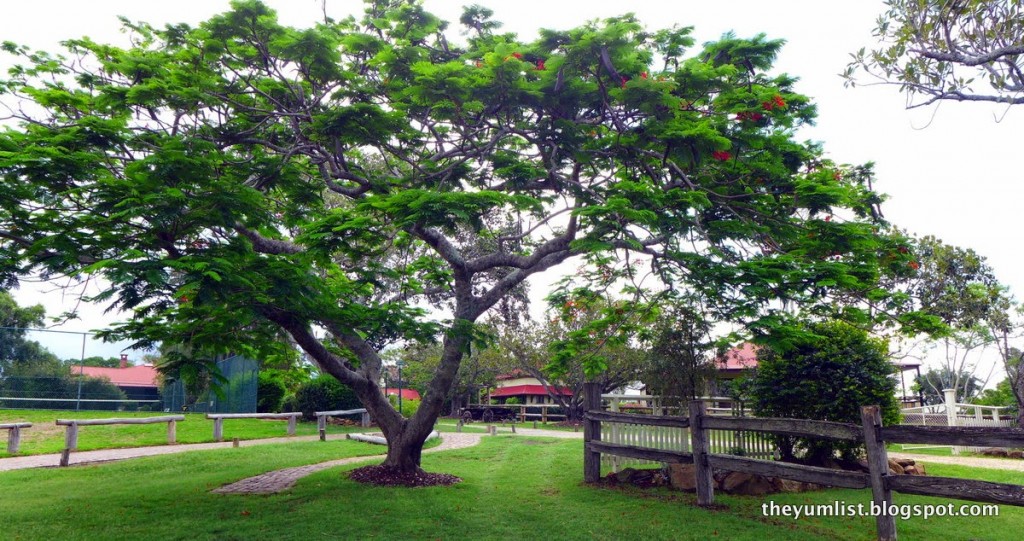 Grounds of Spicers Hidden Vale
The scene is grand. Rolling hills extend as far as the eye can see. Fenced paddocks are bordered with native bush. Luxuriousness in space is only outdone by the almost deafening absence of artificial sound. Birds chatter, frogs croak and crickets chirp. Cottages are spread across the main living area with lawns and magnificent old trees shading the in-betweens. Spa Anise has its own petite abode at the top of a hill, but it seems the peregrination and immediate environs condition guests into a state of relaxation, almost as if the treatment begins long before the destination is reached.
A comprehensive approach to wellness is found at Spa Anise. Not only is an extensive range of treatments offered, but health through yoga, nutritious eating, thoughtfulness into products used, and an environment conducive to relaxation and reinvigoration are too key components.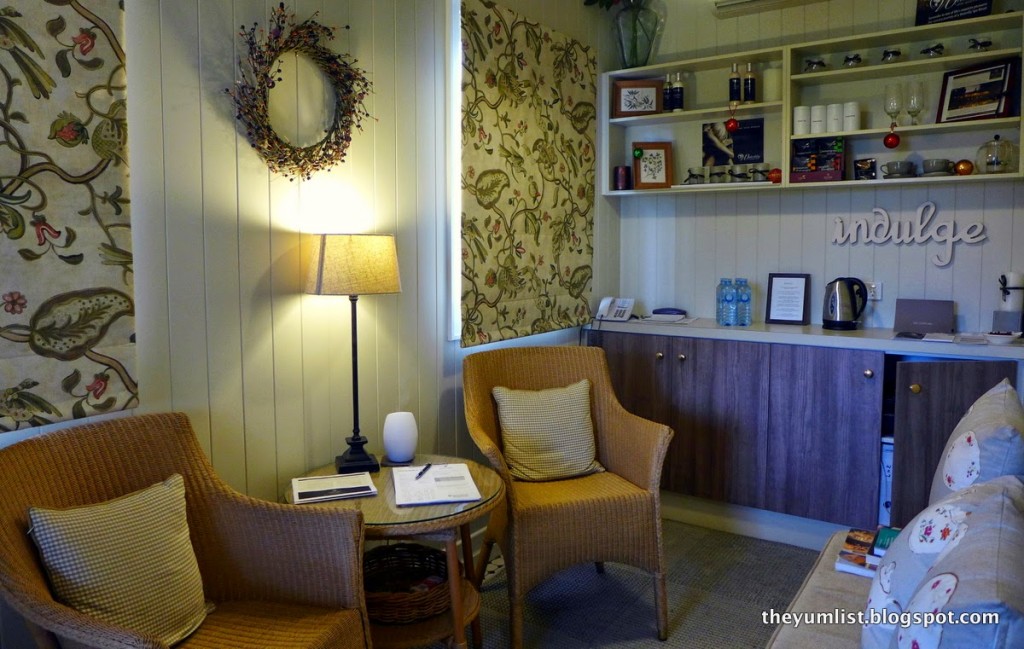 Reception
The wonderfully aromatic Waterlily brand are the products of choice at Spa Anise. A local Brisbane company makes them using only the purest of active botanical ingredients – no nasties in these creams, lotions and serums. Essential oils, organic clays, cold-pressed plant oils, anti-ageing vitamins, healing herbs, and exotic fruit, floral and marine extracts compose the Waterlily Collection. Staff choose based on clients' skin type and needs at the time, individualizing every selection.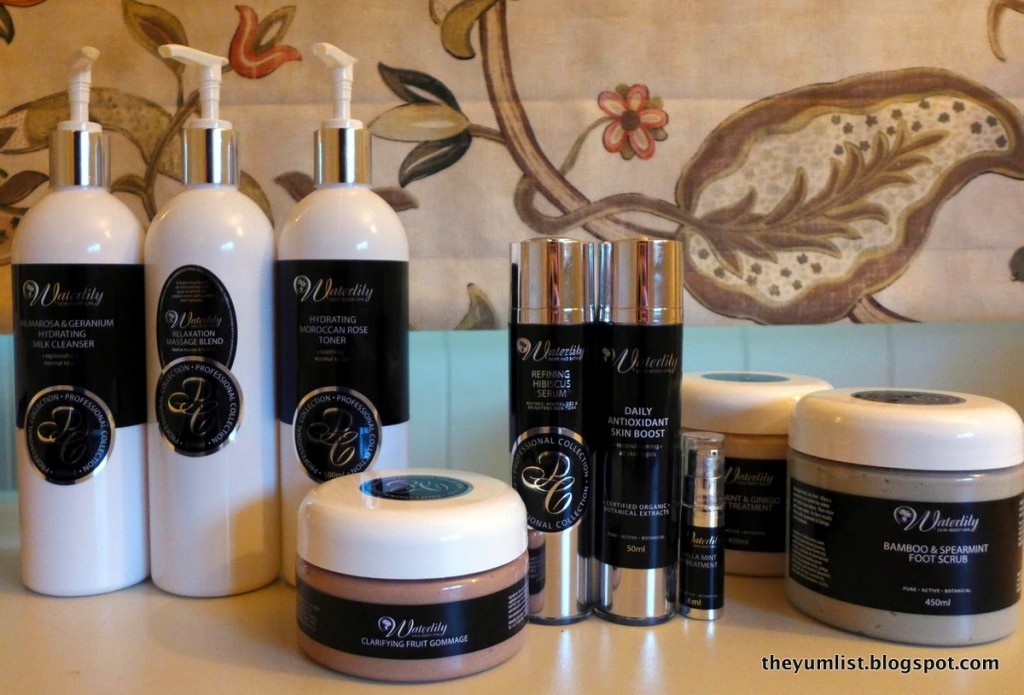 Waterlily Spa Products
Hubby has had a competitive slog on the tennis court the morning of our visit, so his muscles are aching with the exertion. He's keen on a massage and consults first with our therapist Jani about a suitable therapy.
Aromatherapy Relaxation Massage Treatments (1hr $120, 1.5hrs $165) utilize aromatic essential oils to massage away tension and revitalise the 'mind, body and soul.' The menu lists Relaxation and Remedial techniques as options. The former, a light to medium pressure massage, eases away aches and pains. The latter uses firm pressure to dig deep into tissue, and focuses on specific areas of need. The Remedial is recommended and hubby merrily complies.
The reality however is that Jani, spa director, is so expert in her profession that every session is individualized catering to client's goals, physical and mental state. The few minutes that I cross paths with hubby as we take our sequential appointments tells me all I need to know. He's beaming like a small child who's just got off a merry-go-round: a little dreamy eyed but fervently exhorting the quality of technique and admiration for Jani's skillful hands.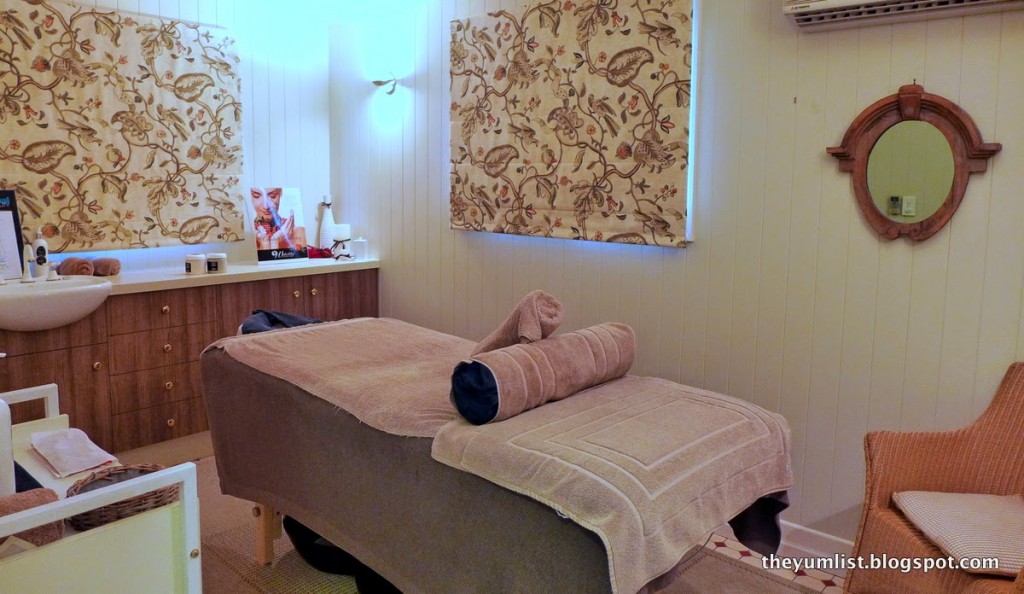 Treatment Room
Taking advantage of the personalized approach to every client, I engage in a 30 minute Relaxation massage, mini Replenishing Moroccan Rose facial and a Fabulous Feet treatment. Derobed and lying prone on the soft and supportive massage bed I soon discover for myself Jani's masterful technique. It truly is an intuitive massage taking into account my size, health and muscle needs. Her hands feel their way along the surface of my back and neck, analyzing as they go. Soon firm consistent pressure moves deeper into my muscles and the knots that occupy my shoulders are authoritatively nudged out.
Supine next, the mini-facial has me breathing deeper with each new product applied. They all have a common thread of freshness but each scent is unique encouraging profound respiration with every new aroma. Geranium, palmarosa, rose and hibiscus, cleanse tone and moisturize. A luscious fruit gommage, that smells good enough to eat, is left to do its work on my face while attention is moved to my feet. A relaxing foot massage is followed by exfoliation with an invigorating bamboo and spearmint mix. Gingko and shea nut balm leave my feet nourished and feeling fab. Deliberation returns to my face where the mask is removed, my eyes brightened with a marine collagen eye infusion, and my lips invigorated with a vanilla mint treatment.
It has been a heavenly and expert treatment. Hubby says my skin looks brighter and my dark eye circles reduced. I feel so clean, smooth and even-toned that I don't wear make-up to dinner, and my dinner companions even comment how my skin seems to glow.
In the coming months personalized yoga sessions will be introduced to the list of possibilities. Homage, the retreat's restaurant featuring a paddock to plate concept with a contemporary menu of almost 100% locally sourced produce, is a must on any visit. We highly recommend spending a few nights at Spicers Hidden Vale, but if time doesn't allow, a day program at Spa Anise is an attractive alternative.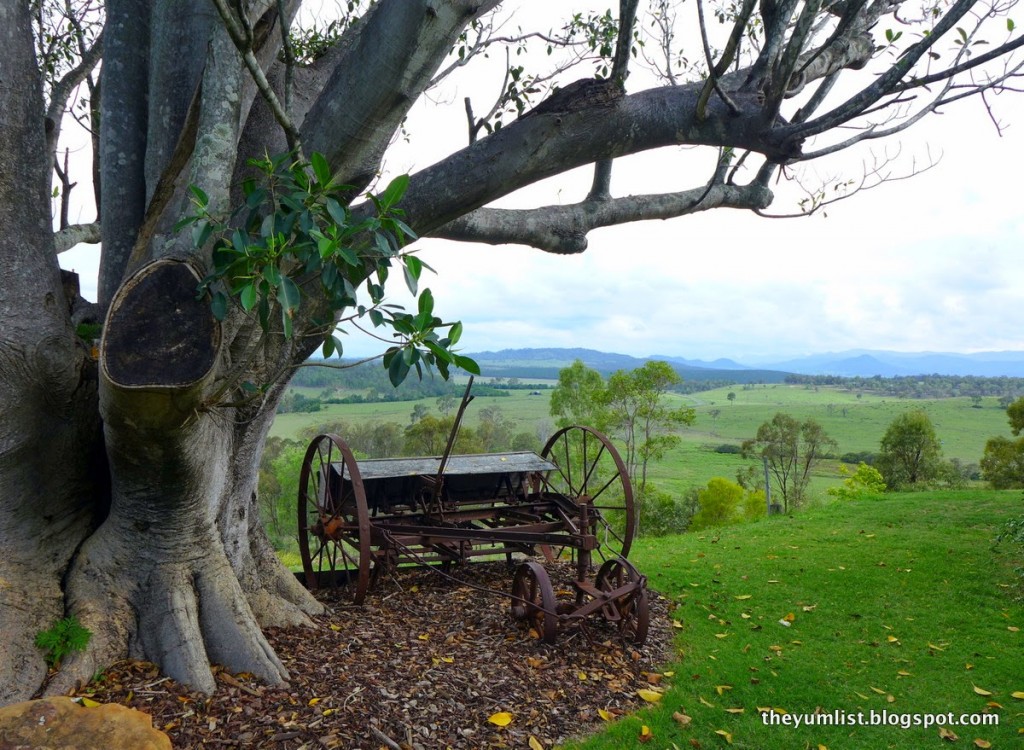 Grounds of Spicers Hidden Vale