"Eat to live, and live to eat."
Continuing our search for nutritious and trouble-free eating, we try out Rebellious Chickpea. I smile and find myself nodding in agreement as I browse their Facebook page. "The Rebellious Chickpea gets a little upset when she hears that healthy food is dull. What nonsense. Food, as long as it's natural, fresh and cooked with love, is always delicious and healthy, and never dull." I have to agree and can't wait to place an order.
Combining mindfulness in eating and convenience of service, Rebellious Chickpea brings healthy portion-controlled and minimally-processed lunches to folk working or residing in the KL city centre. The lady behind the cuisine shops for produce daily in the morning local market, ensuring dishes are fresh and made with the best of ingredients. She insists on only purchasing kampong chicken and eggs, using no nasties such as preservations, additives and monosodium glutamate, and living a sustainable lifestyle, so only purchases exactly what is needed to make the pre-ordered dishes to avoid wastage.
Menus for the week ahead are posted on a Sunday so clients can plan their week in advance. One lunch option is available daily and the menu changes on a weekly basis. We note there's usually at least one vegetarian choice most weeks. I sign up for a four days' worth of lunches.
Monday
Vegetarian Quesadilla
The quesadilla is a generous serving with five triangles of cheese and roasted vegetable filled flatbreads. The dish is a simple one, in line with my thinking that if you have tasty ingredients you don't need to overcomplicate them with sauces or too much seasoning. A light salad with leaves, cherry tomatoes and shaved cheese accompanies the lunch. My only recommendation for this one is to eat it immediately. As the balsamic dressing is already on the salad, putting it in the refrigerator to be eaten later will leave the bottom quesadilla a little soggy from the dressing. So eat it up as soon as it arrives!
Monday – Vegetarian Quesadilla
Tuesday
Lamb Rogan Josh with Brown Rice
From meatless Monday to meaty Tuesday, today's lunch features pieces of lamb in aromatic gravy. We taste garlic, ginger and cardamom in the mix. A light yoghurt is drizzled across the top. What potentially could be a rather non-diet friendly dish is made a bit more amicable by keeping the portioning of the meat to a few large spoonfuls and a switching of white rice, for more nutritious brown. A few pumpkin seeds are strewn across the top.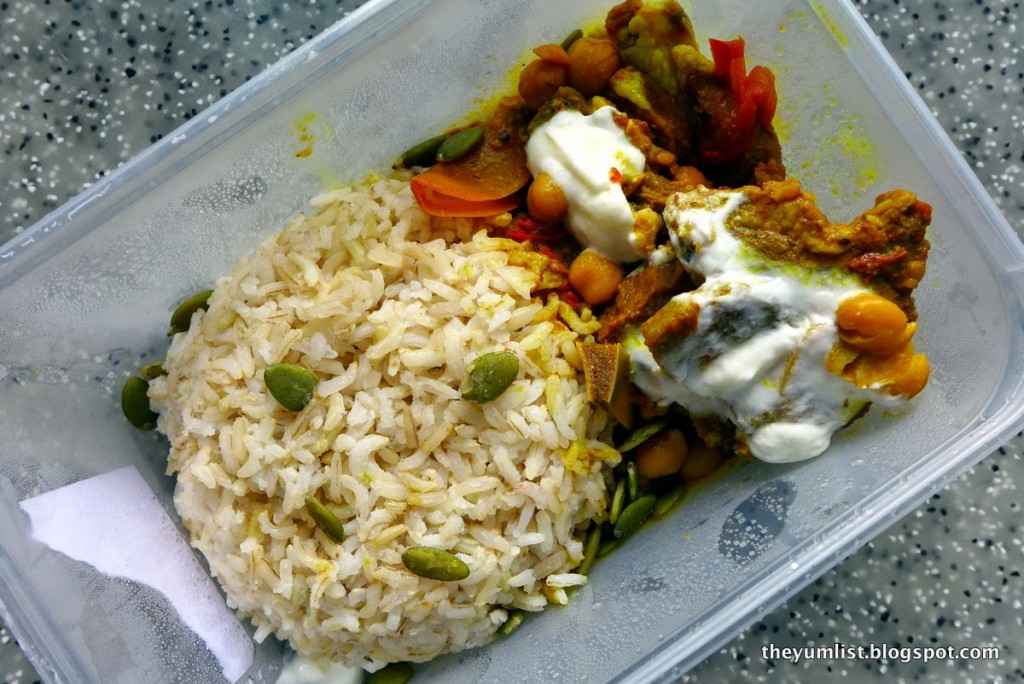 Tuesday – Lamb
Wednesday
Surprise Me Wednesday!
Oh, I do like surprises – especially healthy ones! Wednesday's meal turns out to be Charcoal Noodles with Seafood in a Tofu Cream Sauce. Noodles are soft, and the sauce is unexpectedly rich for a healthy version.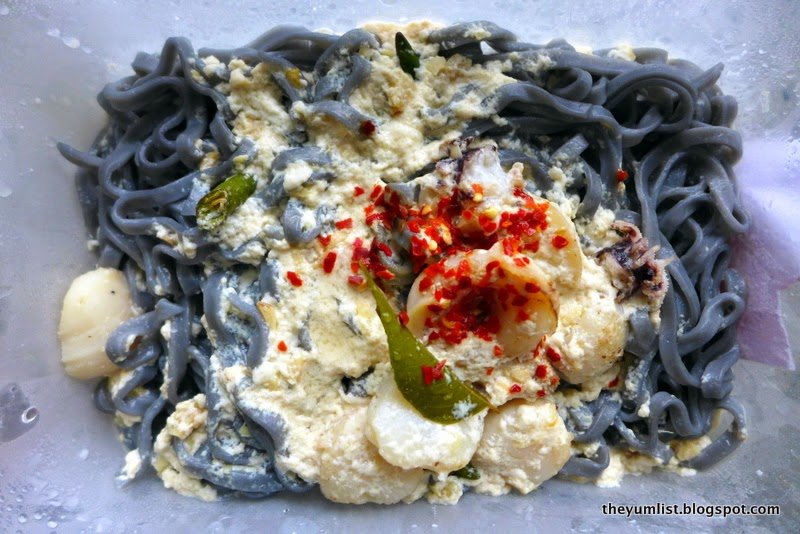 Wednesday – Surprise Me!
Thursday
Cranberry Kampung Chicken with Salad
Thursday's meal sees East and West making a friendly mingling. The use of kampong chicken is appreciated, and I'm sure Malaysians will enjoy this darker piece of meat with the skin and bone still on. Cranberries add a sweet tang.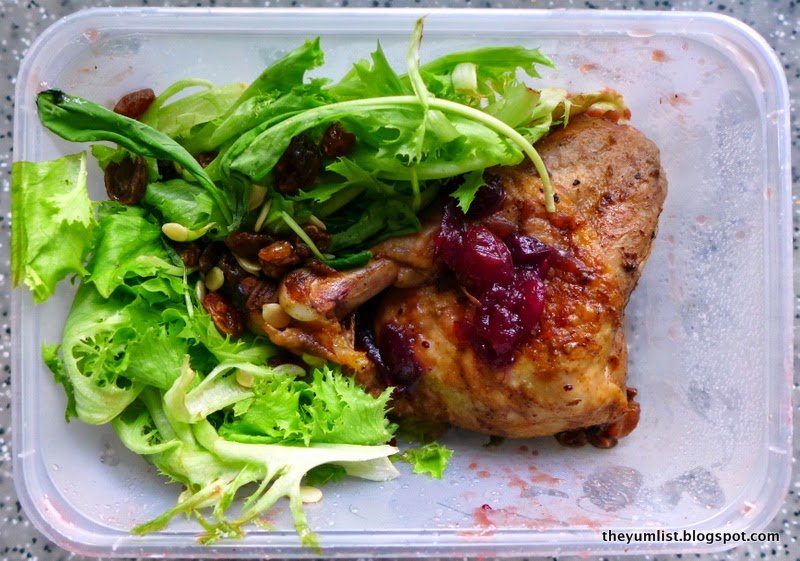 Thursday – Chicken
While the recipes we've tried resemble comforting favourites, they've been made mindfully using less salt and oil. It surprising that our taste buds don't even notice, but our bodies will certainly grateful.
Rebellious Chickpea lunch delivery service is available Monday to Friday between 11am and 2pm with an advance order. At only RM16 for a hot home cooked meal, it's quite a good value option.
Reasons to order: good value; hassle free lunches; all produce and ingredients come from Halal vendors.
Rebellious Chickpea
+6 012 695 3803/ 017 7452 137