Dwarika Das Shrestha is credited with recognizing the great importance of Nepal's cultural heritage in its future success, and as such the beginning of a revival and celebration of ancient traditions and craftsmanship across the country. Back in the 1950's he began collecting ancient wooden pillars and carvings – saving many from the doom of being used a fuel for fires. "His ability to see a role for the past in the present" has made this man the inspiration he is to many today.
Run today by Dwarika's family, the boutique hotel houses one of the largest private woodwork collections in the world. Hundreds of decorative carved windows line the borders, and the making of the building's façade by local potters revived designs from the 15th century. Rooms are built around internal courtyards, facing away from the noise and dirt of the city, turning instead towards a peaceful sanctuary of beauty and culture.
Decorative Door Handle
Carved Window Frame
Lounge
Water Fountain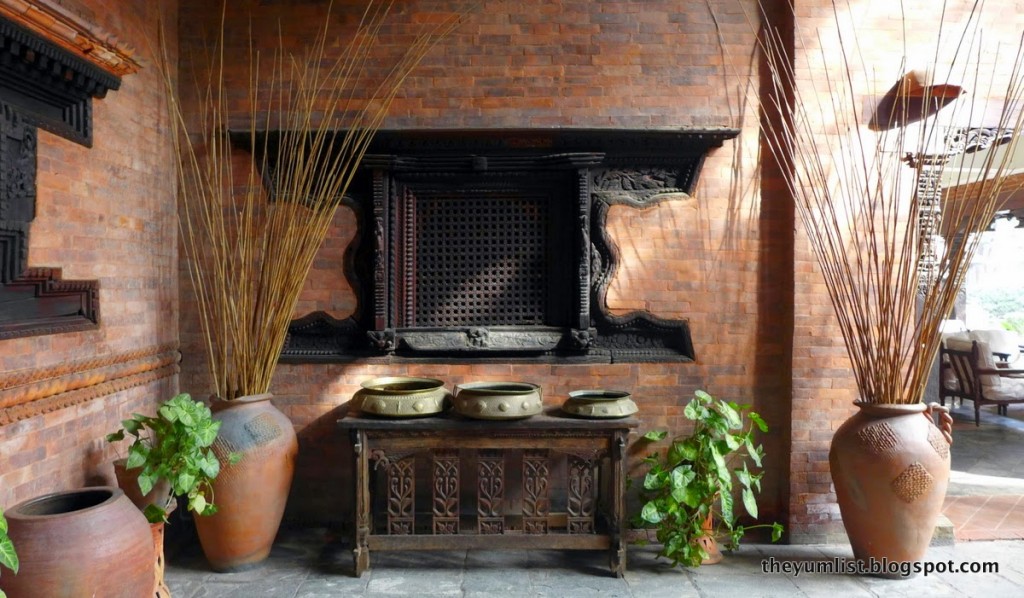 Decor around the Hotel
Rooms and Suites
Nepal's diverse cultural heritage is showcased in the fashioning of the interior spaces too. Traditional carpenters crafted the furniture, and fabrics were hand woven by local artisans. The goal was to create a 15th – 17th century environment, and we believe this was achieved with much success.
The 86 rooms and suites mirror the rustic nature and connection to the earth of traditional life in the valley. Exposed wooden beam ceilings, terracotta floors, custom designed furnishings and fabrics bestow an authentic ambience, while luxurious amenities gift guests comfort and convenience.
Ranging in size from a Heritage Deluxe Room up to a Royal Suite arranged over three floors with a bathroom bigger than most hotel rooms, there's something for a variety of luxury travelers. Our stay in an entry level Heritage Deluxe Room affords us splendour in space often not found even in the executive suites of many large hotels.
Heritage Deluxe Room
Carved doors, secured with ancient wooden sliding locks guard the ingress. Opening centre inward, a grand entryway reveals a sunlit bathroom to the left and separate dressing, double vanity and luggage area on the right. A few steps further in and the sun streams through the wall length windows, bordered by ancient sculptured frames, shedding light on a bedroom and living area full of charm and character.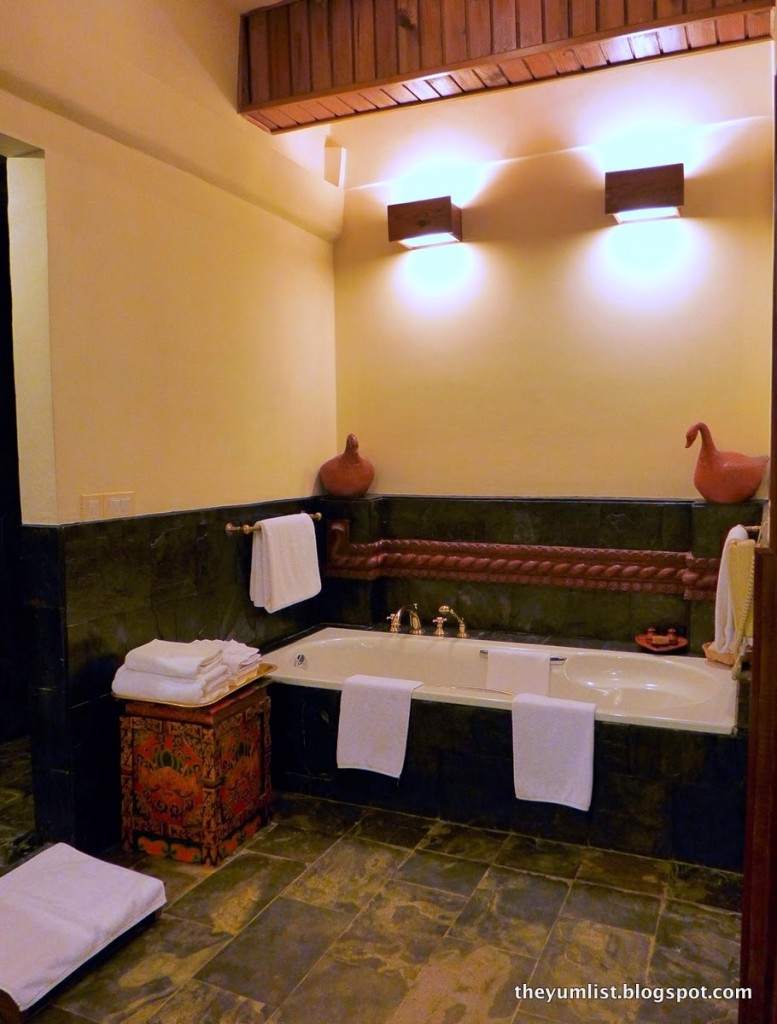 Bathtub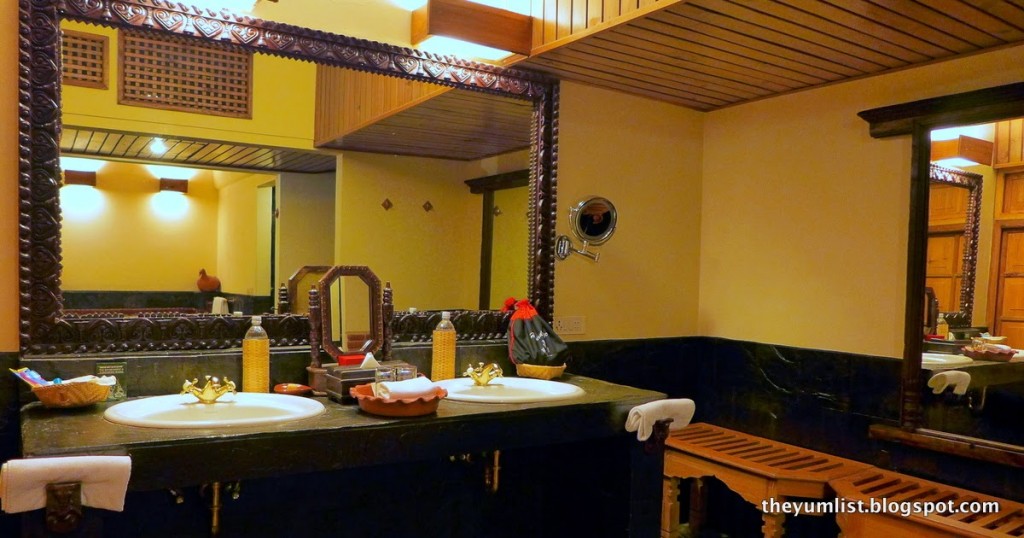 Double Vanity
Furnishings, all commissioned by Nepalese tradespeople, enhance the elegance and romance of bygone eras, but too extend functionality of modern day: king bed, garbed in soft crisp organic cottons; desk stocked with the basic necessities; mini-bar with French press and tea steeper for ground coffee and a range of loose tea leaves; entertainment cabinet with a large moveable flat screen TV; chairs rimming a coffee table set with a local game and instructions on how to play; and a fabulous day bed, low and lushed up with an abundance of cushions.
Facilities/ Activities
While most guests spend the daylight hours seeing the surrounding sights, Dwarika's Hotel houses a good assortment of amenities within its grounds.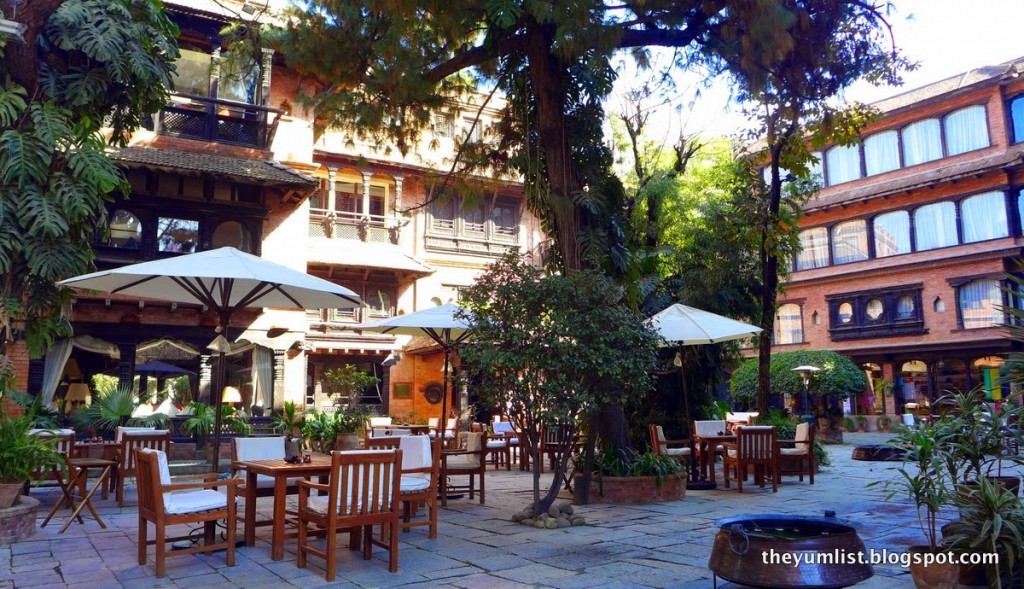 Courtyard
Pool and Courtyard
Pancha Kosha Himalayan Spa, modeled on time-honoured practices of care in the region, proposes in itself a tourist attraction. A treatment at the spa, bestows a chance to partake in the ancient wisdom of the Vedas in an authentic experience of beliefs and traditions surrounding wellness.
Pool
The pool is a central feature of the hotel. While far too cold for us to take a dip at this time of year, it's a beautiful pond reminiscent of 12th century Malla Dynasty baths. Chairs lining the area, shaded by manicured gardens, are an inviting locale for a warm beverage and a few moments of tranquility before beginning a day of sightseeing.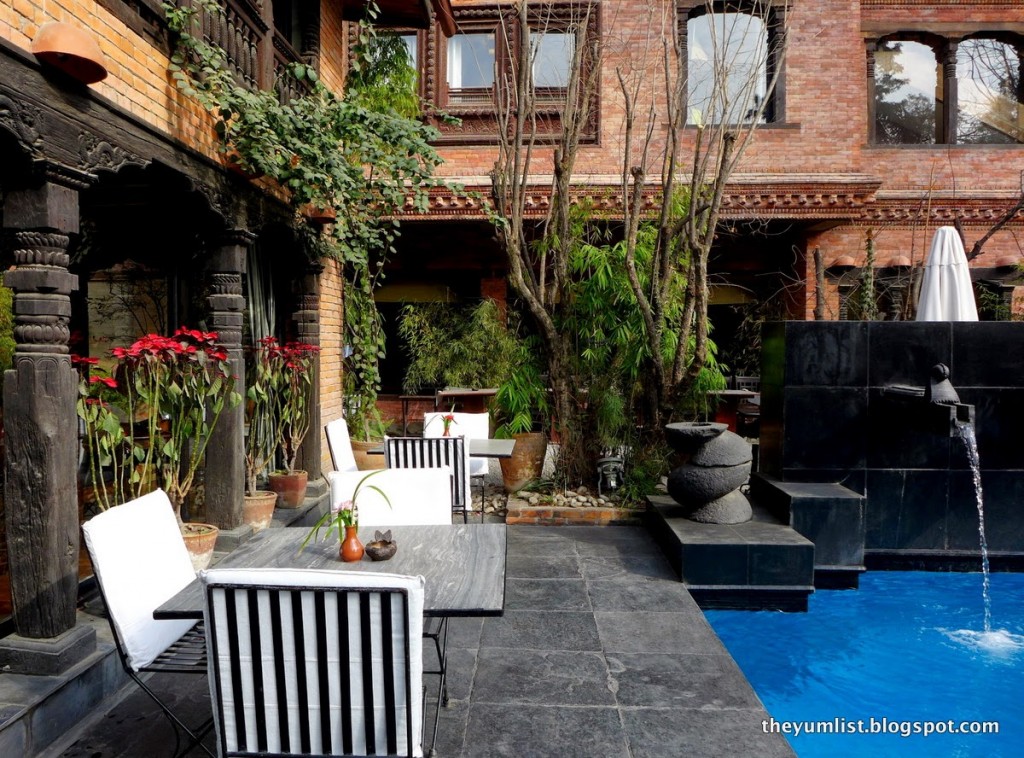 Poolside
Although we find the best way to discover the city is on foot, and as such get in quite a bit of movement during the day, it's nice to have the yoga and fitness centre as a space for more specific training with a compact but well-conditioned range of cardio and strength equipment. Complimentary yoga at 7am daily is a fine way to start to the day with an infusion of Nepali spirituality.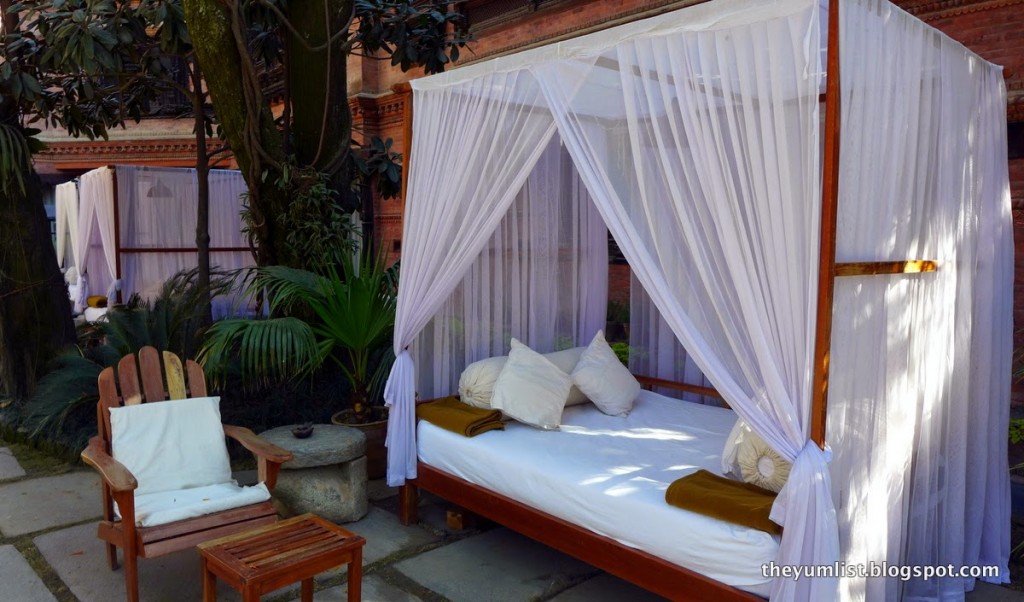 Day Beds
A business centre, library and meeting rooms are hooked up with complimentary Wi-Fi, as are other common areas in the hotel. Suites are provided with a connection free of charge, while guests staying in regular rooms can purchase an Internet connection for a small surcharge.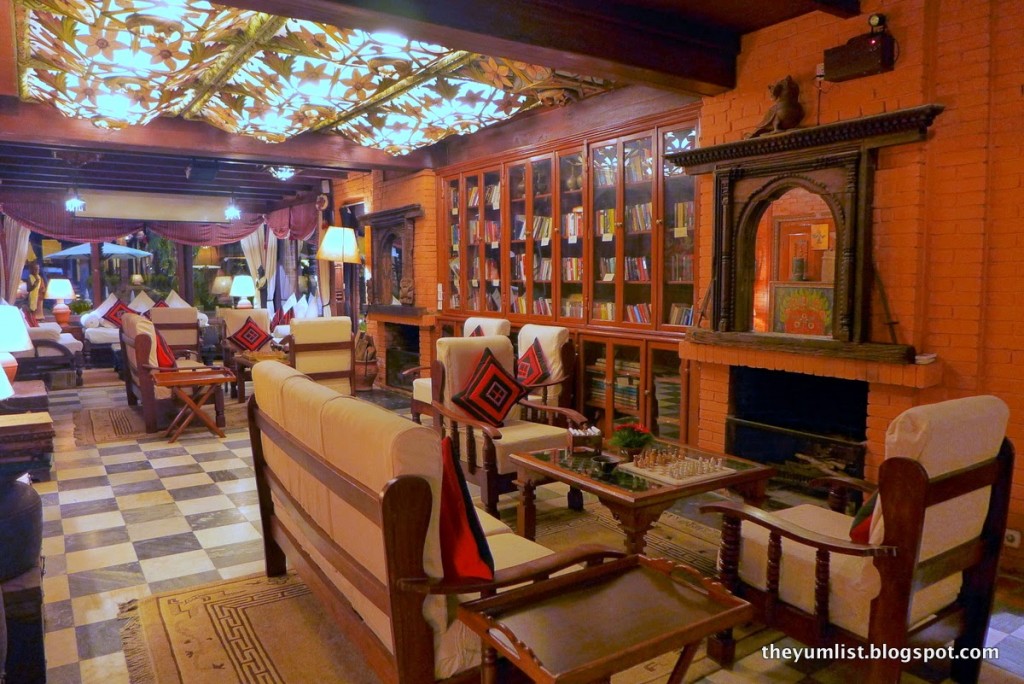 Library
An in-house workshop employs craftspeople to preserve ancient skills, and some of their wares are sold in the hotel's gift shop. Purchase of high quality jewelry, Thanka paintings, handicrafts and Pashmini shawls helps to support local artisans and producers.
Food and Beverage
As with their sister resort in Dhulikhel, a surprising number of dining options are available for a small property. The focus of all outlets continues the theme of fresh, local and organic, with much of the produce coming from their own farms. At Krishnarpan, guests dine as if participating in a ritual feast of Kathmandu Valley's Newari community. Six to twenty courses are served on traditional brass and earthenware, highlighting a culinary journey through the terrains and cuisines of Nepal. This is 'must do' when staying in Kathmandu.
Read about our incredible introduction totraditional food and culinary customs via this link.
Mako's offers a fine dining Japanese experience, and Toran, the all-day dining outlet produces dishes from around the world. Fusion Bar, with its brick walls, parquet flooring and ornately carved stone spouts overlooks the swimming pool, making a terrific spot to relax with a beverage and contemplate the day's adventures.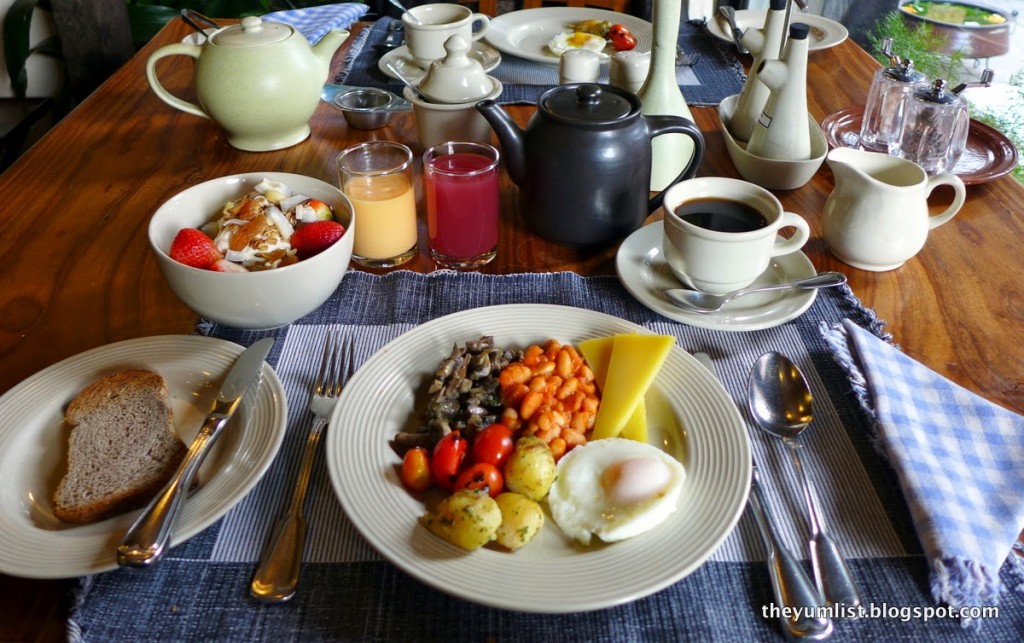 Breakfast at Toran
Mako's
All Day Dining Restaurant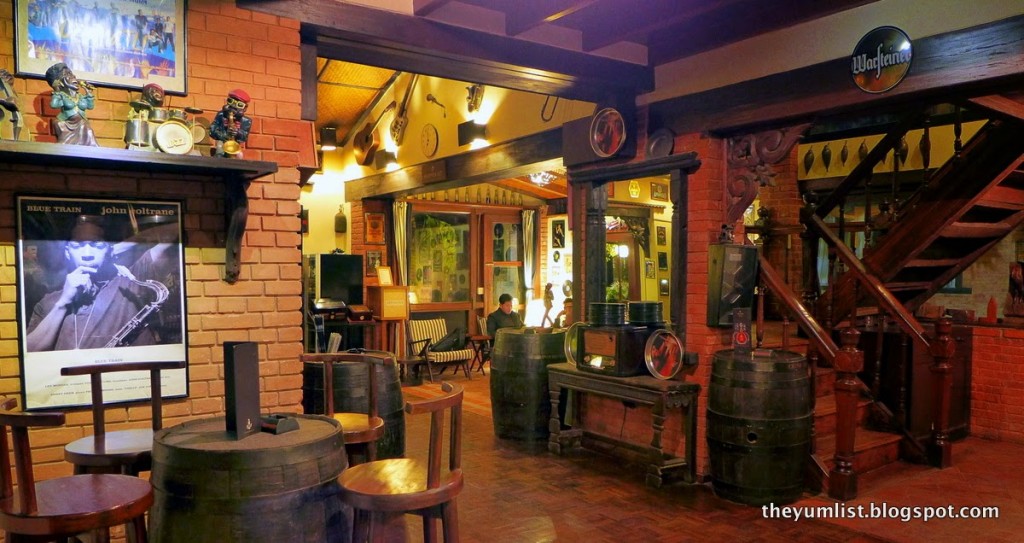 Fusion Bar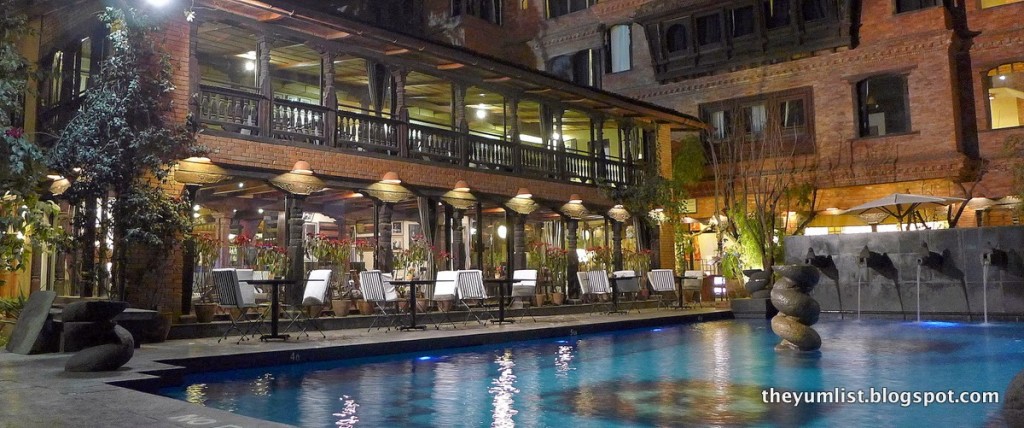 Fusion Bar and Pool
Dwarika's hotel is much more than just accommodation in Kathmandu. It's a piece of heritage itself. Local food, arts, and the Nepali way of life are showcased in this beautiful property, making it a top-choice of stay in the nation's capital.
Reasons to visit: boutique hotel full of charm and character; a stay here contributes towards the preservation of Nepali craftsmanship and culture; a 'must do' journey through Nepalese culinary traditions at Krishnarpan restaurant.
The Dwarika's Hotel
P.O. Box 459, Battisputali
Kathmandu, Nepal
+977 1 4479488/4470770