Healthy Ever After: Healthy Eating Plan Delivery Service
"Health is Vogue"
The team at Healthy Ever After not only have a wonderful way with meals, but with words too. Proposing their eating plans as "spa treatments for the insides of your body, without the scrubs and wraps!" they promise to deliver three meals a day made from natural, fresh and minimally processed ingredients. Super foods are given a good spotlight, and customers can be assured that each course is nutrient dense, nourishing the body and massaging the conscience.
I try out a three day eating plan, where the day's meals are delivered fresh each morning. The daily loot arrives in an insulated cooler bag with suggestions for consumption, some general good-health tips, and information on how to reduce impact on the environment through some simple measures such as returning glass jars to Healthy Ever After for sterilizing and reuse. Dishes are clearly labeled with ingredients and their touted health benefits.
Day 1
Breakfast
Super Dragon Bowl
This earthy tasting jar of brilliant red is given its hue by red dragon fruit, and flavoured with apricot, banana, fresh coconut meat, avocado and goji berries. There's another taste in there too, and when I take a look at the inventory of ingredients, conveniently listed on the jar, I see a drizzling of raw cacao nibs have been tossed in – no wonder I find this beverage so satisfying.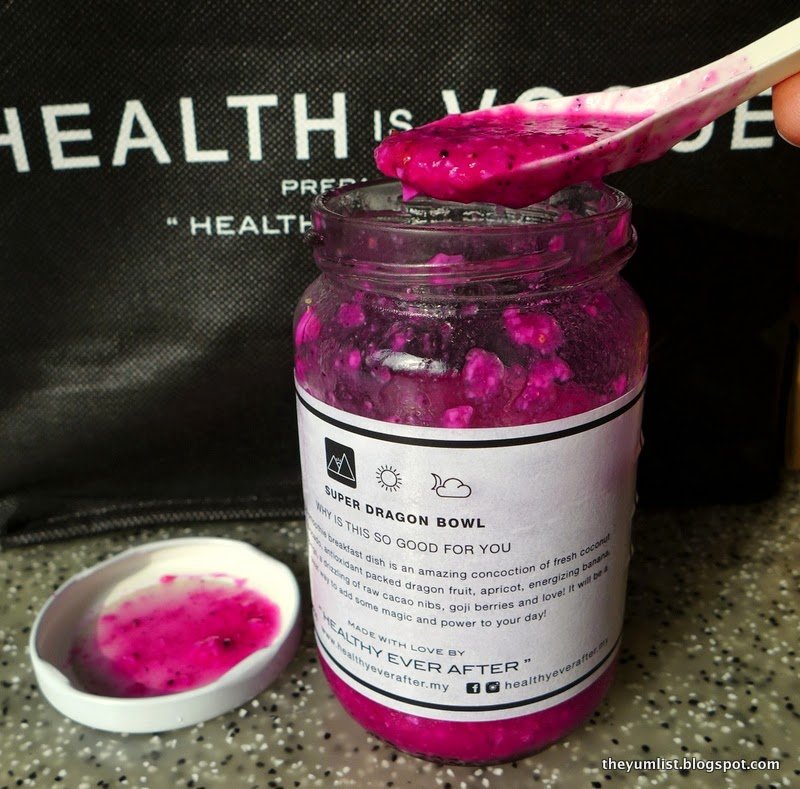 Breakfast: Super Dragon Bowl
Lunch
Pesto Pasta
Strings of zucchini pasta turn out to be my unexpected favourite dish of the day. A creamy avocado liquid sauces the veggie, and a pine nut crumble gives an added boost of flavour and texture. Informative facts on the lunch box enlighten me to the fact that zucchini only has 17 calories per 100 grams, so I eat away with a huge smile hugging my hips.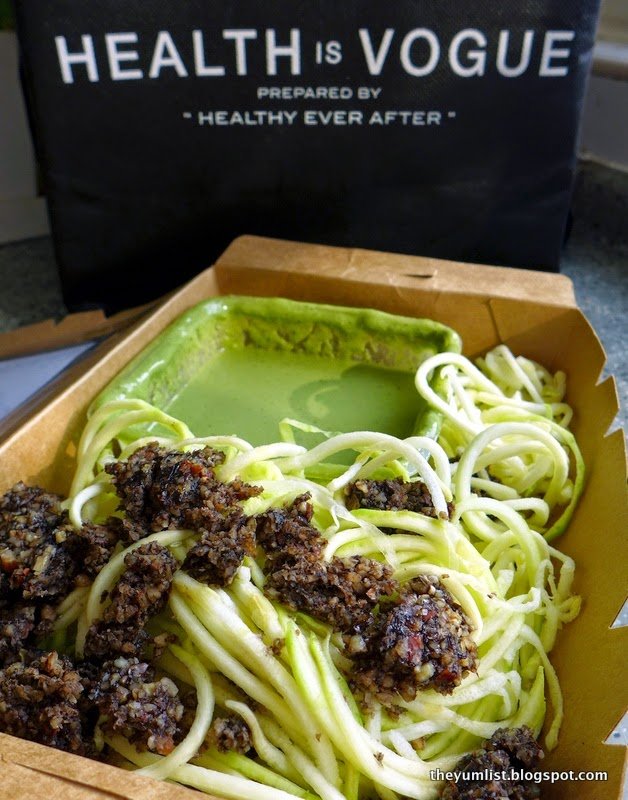 Lunch: Pesto Pasta
Dinner
Quinoa Fruity Salad
Made with the wildly trendy grain, quinoa, this box combines the superfood with apples, oranges, avocado, celery, strawberries and goji berries. A light fruity dressing can be added as desired as it's conveniently packed in a separate holder.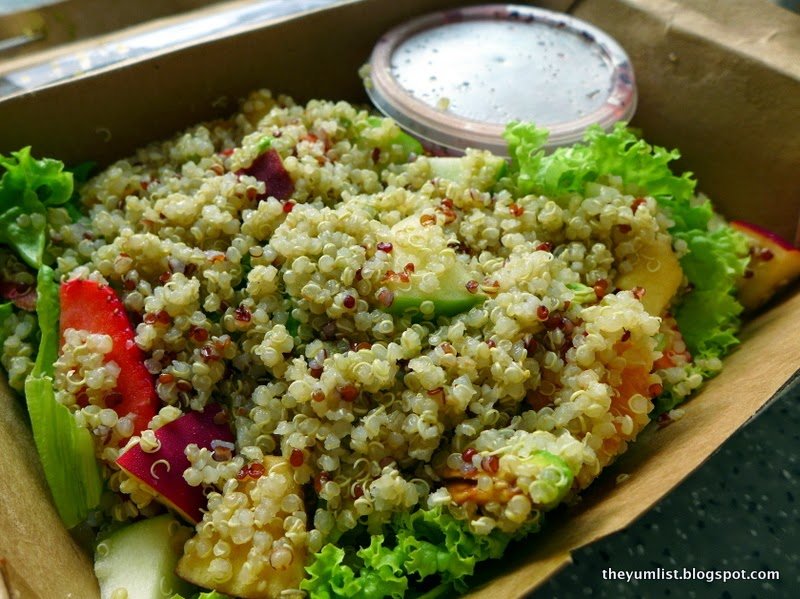 Dinner: Quinoa Fruity Salad
I'm rather an active person so find that I'm a little peckish in the late afternoon. The Healthy Ever After team advises to drink lots of water, which I do already, but find having a little fresh fruit in between meals gets me through to the evening.
Day 2
Breakfast
Chia Coconut Porridge
The second day's brekkie may be a plain contrast in colour to the first, but not so in taste. The smooth flavours of fresh coconut milk, vanilla and chia seeds are spruced up with juicy blueberries. Packed with omega fats, protein, calcium, fiber and lauric acid, this start to the day vows to have me glowing from within.
Lunch
Mushroom Pizza
The midday meal today brings a hint of 'bad' without the calories. The raw pizza base is made from a mix of herbed pumpkin, sunflower seeds and almonds. Spread with a delicious pesto, and covered with small chunks of red capsicum, dehydrated mushrooms, pineapples, carrots and zucchini, it's rich in vitamins C, E and B6: great for the immune system, skin, hair and nervous system, and even better for my taste buds – this one is scrummy!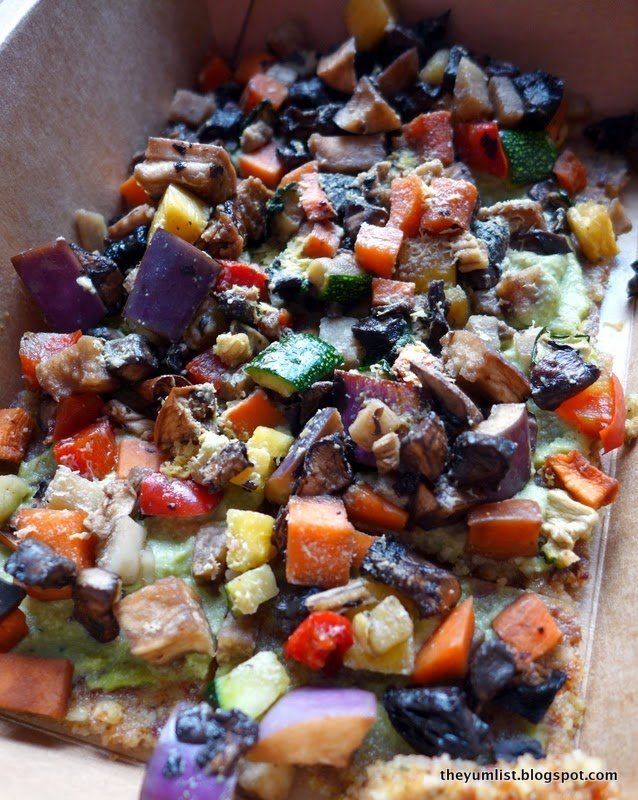 Mushroom Pizza
Dinner
Raw "Tuna" Salad
I'm confused at first reading the evening's offerings. "Tuna?" I thought this was a meat-free menu… Looking more closely however I discover what resembles a tuna salad, is actually finely chopped sunflower seeds and almonds mixed with celery, red capsicum, spring onions and herbs. Plentiful sprigs of dill mark the top and a bed of lettuce holds it all in place. Gorgeous! This is my type of food!
Day 3
Breakfast
Amazing Parfait
The final breakfast in this three-day plan is the Amazing Parfait, so named for its wholesome taste and ability to fill up the tummy. Layers of blueberry jam, cashew cream, seeds, nuts and house-made granola do indeed make a hearty jar full. This is the most solid meal of the brekkie trio presented, and I could just as happily eat it as a dessert as I do to start the day.
Lunch
Almond Pâté Nori Roll
Lunch is another recipe typical of the style I personally enjoy. Nut pâté of almonds and cashews is rolled around a core of fresh raw veggies and wrapped in edible seaweed. The nori sheathe is more than generous with no less than three layers encasing each bundle. Perhaps it was used as extra precaution so as not to dissolve with the moist stuffing, but it does mean a slightly chewier texture than I'd prefer. Easy solved though: a semi disrobing and I've got my perfect roll.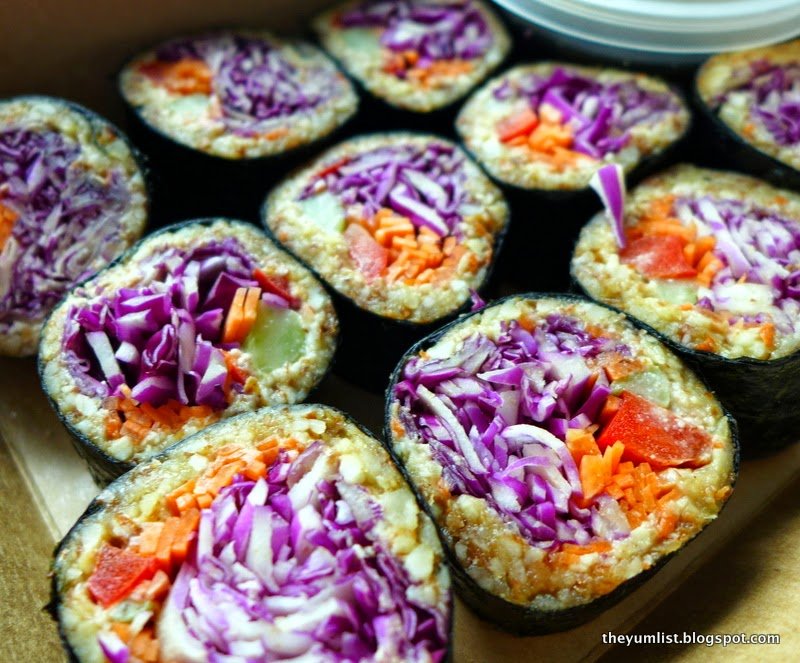 Almond Pâté Nori Roll
Dinner
"Turkey" Burger
When reading "turkey" I'm on to them today and know already that it's not going to be meat. Made from chickpeas, Portobello mushrooms, onion, sage, rosemary and cashew nuts, the patty is just as satisfying as any poultry version could be. A bed of lettuce and zucchini spirals surrounds the orb, and a cucumber salad and fruity relish are tasty condiments.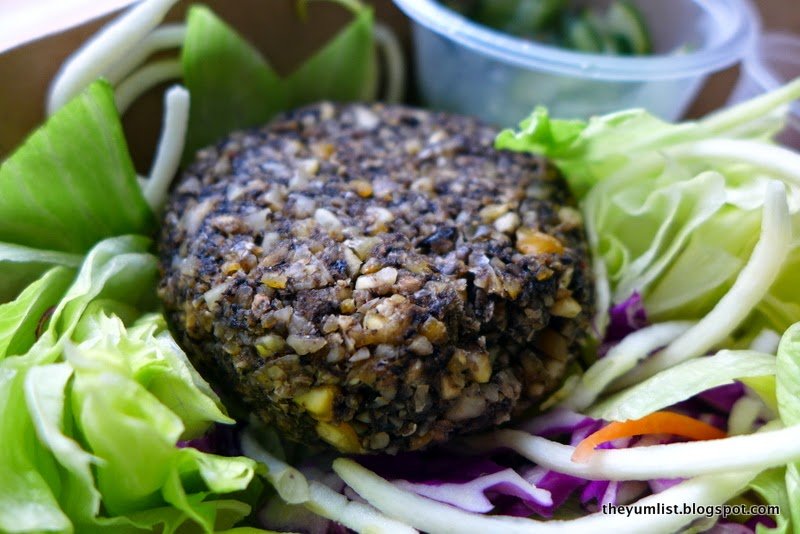 Turkey Burger
The concluding meal leaves me smiling, and after three days of clean eating, I feel more energized than usual. I habitually make fairly healthy choices anyway, but I di find sticking to this program was not only easy, saving me a massive amount of time in thought and preparation, but a wonderful change to the dishes and flavours that I normally prepare. It gave me added inspiration in that I was able to look forward to tasting something new at every meal.
The Three Day Healthy Eating Plan that I trialed above is priced at RM260. One day plans are RM99, five days plans RM360 and there's even a one day Hangover Survival Plan for RM120.
Reasons to order: 
complete eating packages that take care of all meals for the number of days signed up for; a great way to kick off a promise to healthy eating and a better you; lots of raw and vegan options.
Healthy Ever After
+6 019 600 8998
[email protected]
www.healthyeverafter.my