Words: Louise Miller
Within seconds of stepping foot in the Ritz Carlton, all the tension that had accumulated from having spent far too long in KL rush hour traffic had dissipated and was replaced by a sense of well-being and anticipation of what promised to be a fabulous evening of delicious Chinese New Year fare and great entertainment.
So what exactly was it that turned my frown upside down? It may have been the chatter of happy people milling around sipping a trio of colourful fruity cocktails,  or perhaps the enticing aroma of the Roast Suckling Pig that was already attracting a queue of hungry diners. To be fair, this dish rarely fails to put a big smile on my face but when served with plum sauce, mustard and chunks of crunchy cucumber, the smile is a little wider and lasts a while longer!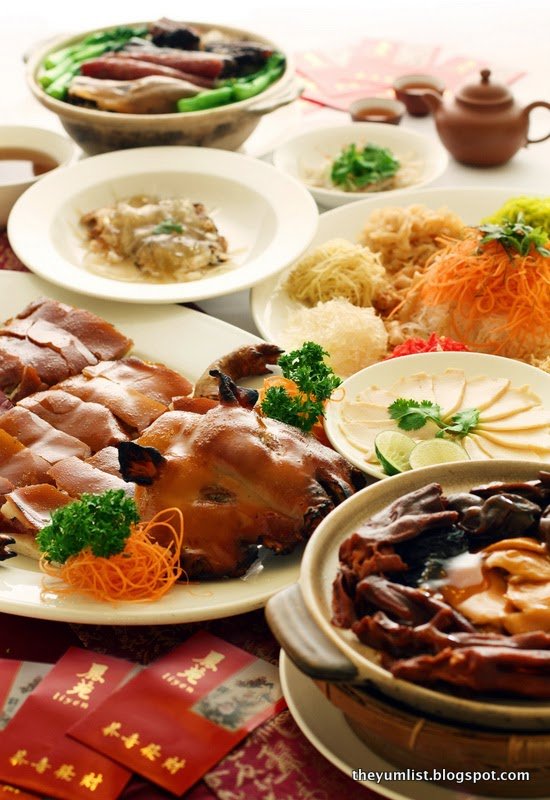 Roast Suckling Pig with other CNY treats
Although the cocktails and pork both undoubtedly played a significant part in lifting my mood, what stood out above all else was the incredibly warm welcome offered by every member of staff I encountered between the car park and the venue of the preview meal. I was quickly made aware that the Ritz Carlton is a hotel where hospitality and excellent service are taken very seriously and with this, all memories of bumper to bumper frustration were speedily erased.
The festive spirit and sense of anticipation were further increased by a traditional lion dance. As the two golden lions frolicked to the beat of crashing cymbals and drums, dinner guests waited patiently for them to approach each table to touch the lions for luck. After the departure of the lions, the entertainment continued with a live band. A cover of The Carpenters' 'Close To You' provided melodious background music to the arrival of our first course which, as tradition dictates was one of the Ritz Carlton's many interpretations of Prosperity Yee Sang.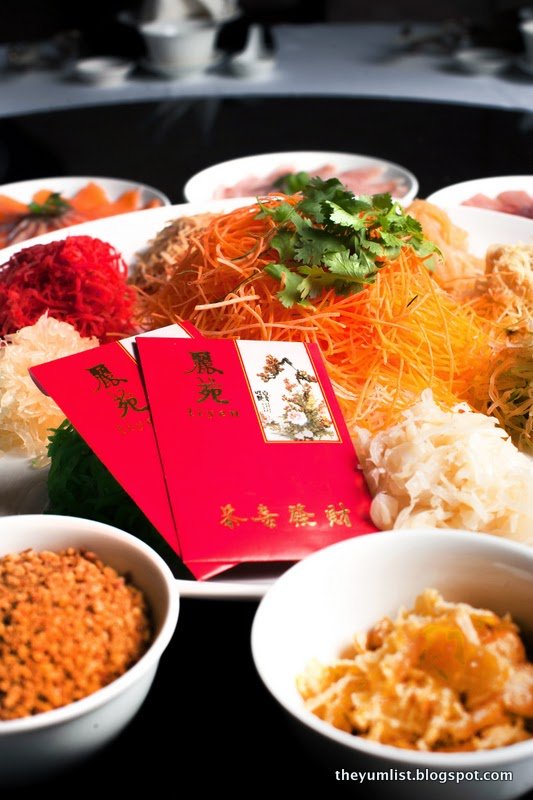 Yee Sang
Beautifully presented with the perfectly rectangular slices of raw fish fanned around the circumference of the plate creating a ring around the mound of grated vegetables, snow fungus, jellyfish and crispy deep fried flour crackers, this dish was welcomed at our table with enthusiastic oohing and ahhing. We followed instructions to stand and with the special extra long chopsticks began to toss the ingredients as high as we could producing a noisy clatter of chopsticks and loud exclamations of 'Loh Hey' (toss high).
I have concluded that in addition to the wonderful flavours of this salad, the ritual of the toss is the perfect way to start a meal with a group of people with whom you have yet to become fully acquainted. Throwing a load of food high into the air and watching some of it miss the desired landing spot whilst greeting each other loudly is a great ice breaker and an activity certain to enhance the already convivial ambience!
Mixed with sesame oil and plum sauce, the combined ingredients created a toothsome balance of sweet and tangy flavours with powerful undertones of mustard and ginger. The marriage of textures; the crunchiness of the fresh grated vegetables and the crackers combined with the soft fish and jellyfish is another factor that contributes to the perfection of this dish. My only complaint is that it's just too good to be available only during the CNY period but then I suppose it would seem less special if served all year round.
Our second course was Double-boiled Superior Soup with Baby Abalone and Wonton and was for me, the epitome of comfort food, each spoonful of the delicious meaty broth feeling like a soothing hug! The delicate wonton stuffed with a tasty herby minced pork filling provided a pleasant contrast with the sweet and tender abalone and sea cucumber.
The soup was followed by Steamed Chicken with Chinese Herbs and Shao Xing Sauce. Another comforting dish, the meat was tasty and succulent having absorbed the delicious rich, sweet flavours of the rice wine.
Next up was the Steamed Clay Pot Rice with Chinese Wax Meat, a quintessential Cantonese CNY dish well known by its Cantonese name, Lap Mei Fun. Contrary to its name, no wax is used in the preparation of this dish but it is so called due to its tough glossy surface created by a cooking method devised, before refrigeration, to make the meat impervious to bacteria and mould. Glistening slices of three different meats were presented along with tasty steamed greens. The chewy and sticky meat slices burst with caramelised smokiness which when combined with the fluffy rice, created satisfying and moreish bites.
Our meal concluded with Pan-fried Glutinous Rice Cakes with Sesame Seeds. The neat little cake slabs were gummy as their name suggests and coated in sesame seeds, imparting a tasty toasted and nutty flavour.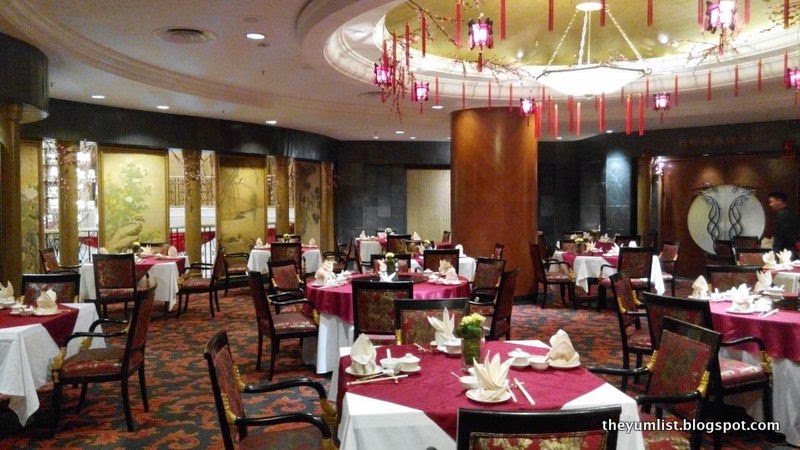 Shanghai at JW Marriott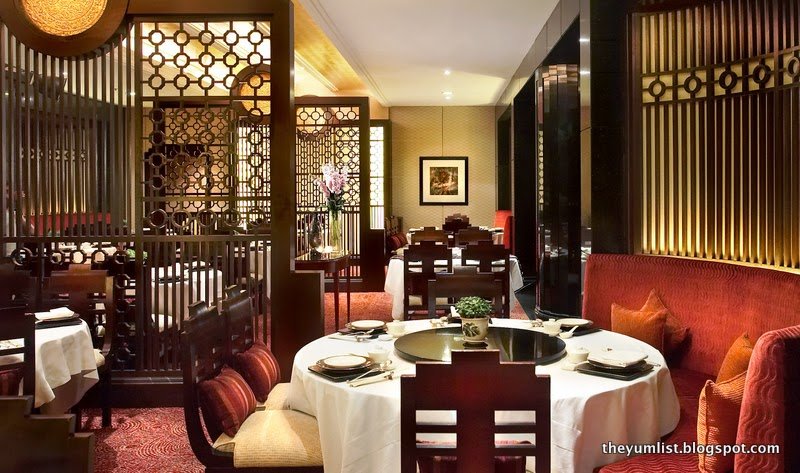 Liyen Restaurant at the Ritz Carlton
Our evening at The Ritz Carlton confirmed my suspicions that any Chinese New Year at either of the hotels' restaurants will be a memorable experience not only due to the high quality of the food but also, the ambience, entertainment and outstanding service. The food we sampled during the preview meal was merely a snapshot of the sort of fare that will be offer throughout the Chinese New Year period. The Shanghai restaurant is proposing three different 9 course set menus priced between 1998RM++ and 3688RM++ per table of ten people, along with a Prosperity set menu priced at 188RM++ per person for a minimum of two diners.  Liyen's five Chinese New Year menus range from 1488RM++ to 3038RM++ per table of ten. Smaller parties will be able to choose either of the two nine course Splendid menus priced at 328RM++ or 398RM++ per person, again for a minimum of two diners. Both restaurants also offer Yee Sang menus for those who want to choose or design their own Prosperity Salad and an extensive choice of à la carte options. CNY menus are avalailable in both restaurants until March 5th from 12:00pm to 2:30pm and from 6:30pm until 10:30pm.
Reasons to visit: Delicious Yee Sang, Roast Suckling Pig, Double-boiled Superior Soup with Baby Abalone and Wanton, outstanding hospitality, service and entertainment.
Shanghai at JW Marriott
183 Jalan Bukit Bintang
55100 Kuala Lumpur
Malaysia
+6 03 2719 8288
www.marriott.com

Liyen Restaurant at Ritz Carlton
168, Jalan Imbi
55100 Kuala Lumpur
Malaysia
+6 03 2142 8000
www.ritzcarlton.com