Words: Kristin Cosgrove    Photos: Monica Tindall
No fewer than three coffee houses grab our attention as we cross from Publika's main mall to the row of Block D, and several more had beckoned on our way from the parking garage. But judging by the crowd on a recent Sunday morning, Coffee Société is a clear favorite of the mall's hip and arty clientele.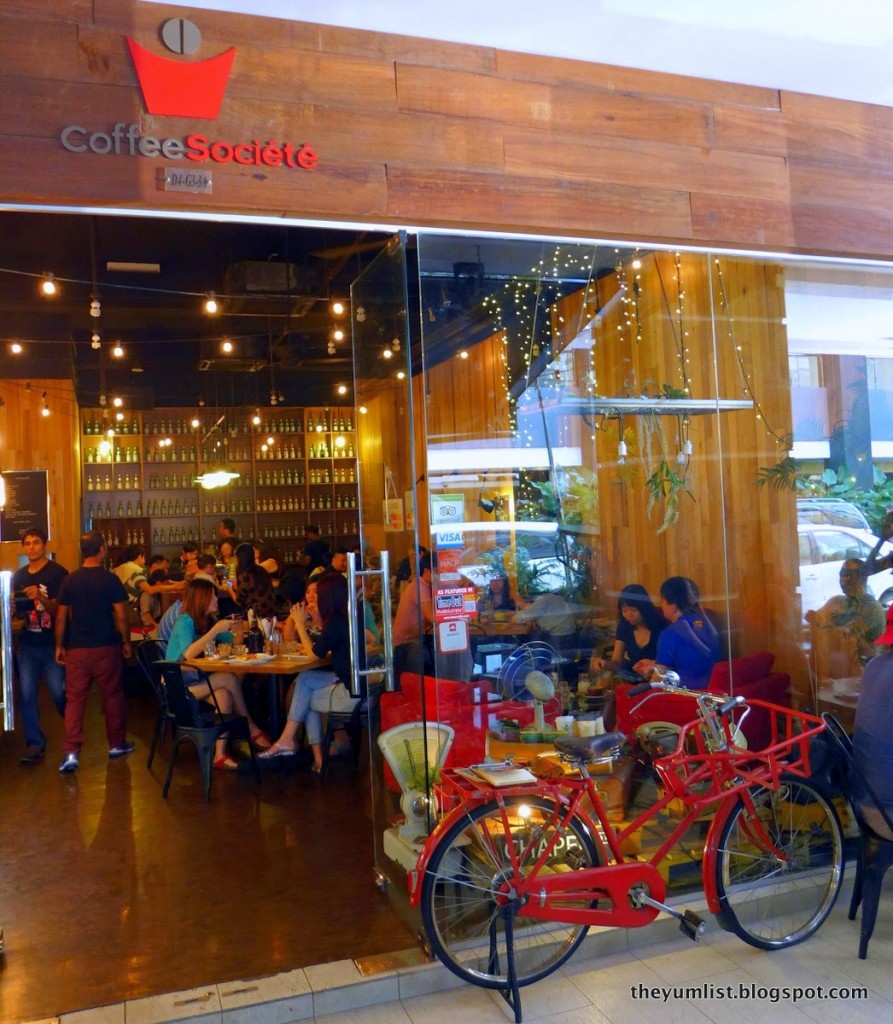 Coffee Société, Publika
Coffee Société, Publika
Brunch goers and coffee hounds lazily chat with friends in the comfy surrounds of the café's interior.  The wood paneled walls, industrial bare-bulb lighting and a chalkboard wall menu makes for a cozy, cafe-kitsch interior, reminiscent of the Australian coffee scene. And that's no coincidence.
Coffee Société is the brainchild of Malaysian brothers Kar Wai and Kar Heng who fell in love with the laid back coffee culture while studying in Melbourne. They dreamt of reinventing and redefining the KL coffee scene, and have since opened three outlets: Coffee Société, Garage 51 and
Underground 
Société
 (which offers coffee on tap)! To authentically bring their vision to life, the brothers even flew staff Down Under to experience their dream first hand. The result of their vision is a friendly hangout, offering good value food and great coffee at reasonable prices.
With the indoor seating filled, Monica, Caning and I stake our spot at one of the large bar tables outside, perching comfortably on artfully reclaimed wooden stools. Ceiling fans keep us cool enough to still enjoy a hot cup o' Joe, but we begin with the Coffee Société's icy signature drink, the Mochatella. Hazelnut fans will swoon over this concoction: coffee ice cubes swimming in a thick layer of Nutella with a small pitcher of milk on the side for mixing. Dessert, anyone?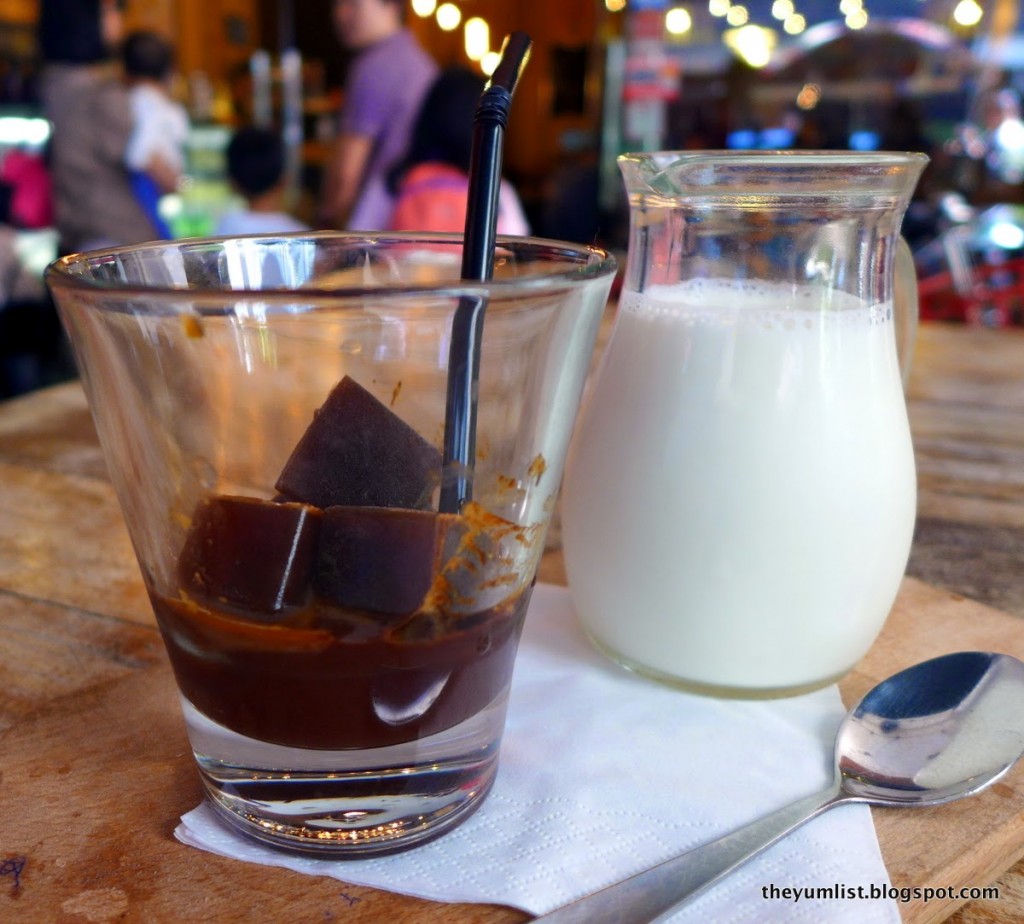 Mochatella
If your tastes lean more toward vanilla, be sure to order a Société Latte, not really so much a latte as a full-on milk shake. Two shots of espresso are blended with two scoops of thick, rich vanilla ice cream making a frosty glass of sweet goodness.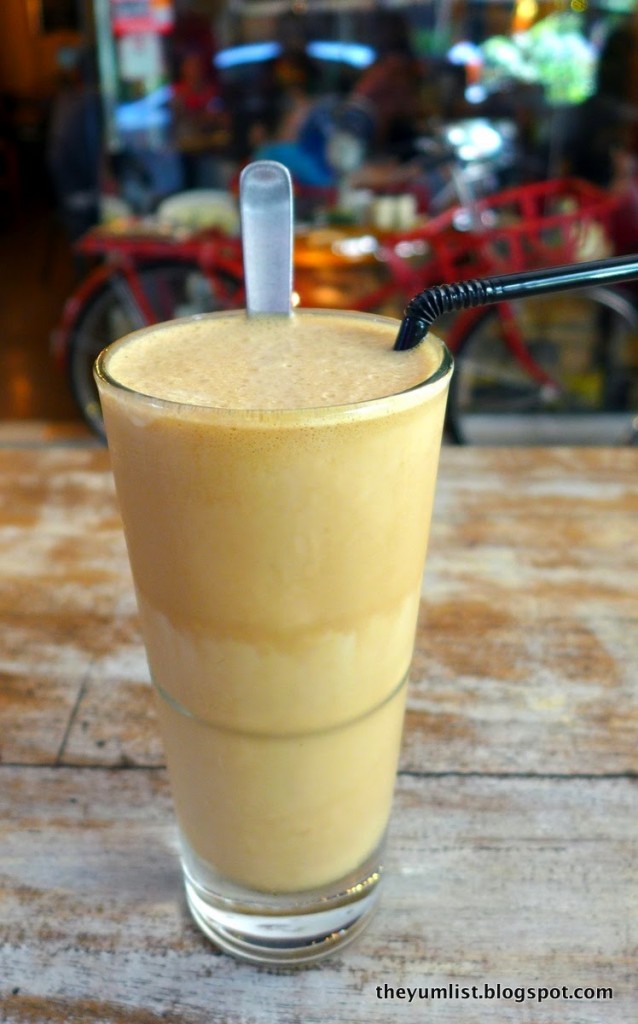 Société Latte
Coffee Société coffee drinks are more than just fun gimmicks (of which I am admittedly fond), but the coffee itself is taken seriously here, a fact plainly obvious when talking to the manager on duty. He is always on hand to do quality control, tasting the coffee several times a day to help tweak the tamp and grind to make sure his staff can make perfect drinks each and every time.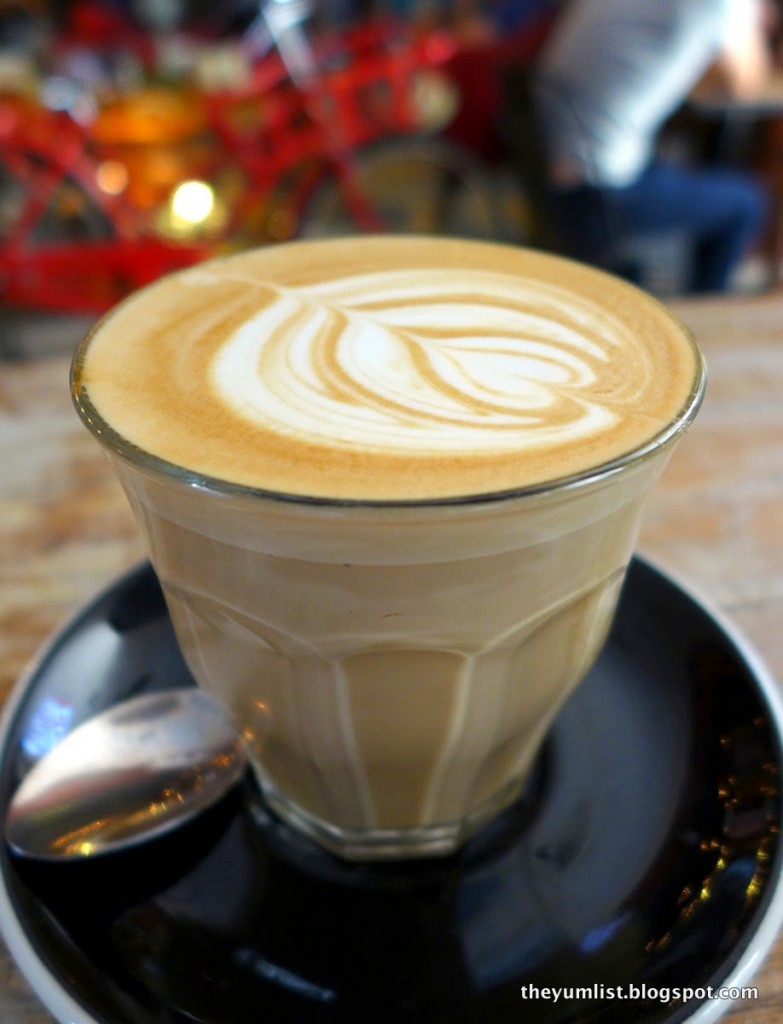 Latte
To sample a more pure version of Coffee Société's blend, we are served the Black and White, consisting of one espresso and one piccolo. The drinks highlight perfectly pulled shots, nutty overtones and a clean finish. A glass of sparkling water balances the two, allowing a palate cleanse between sips.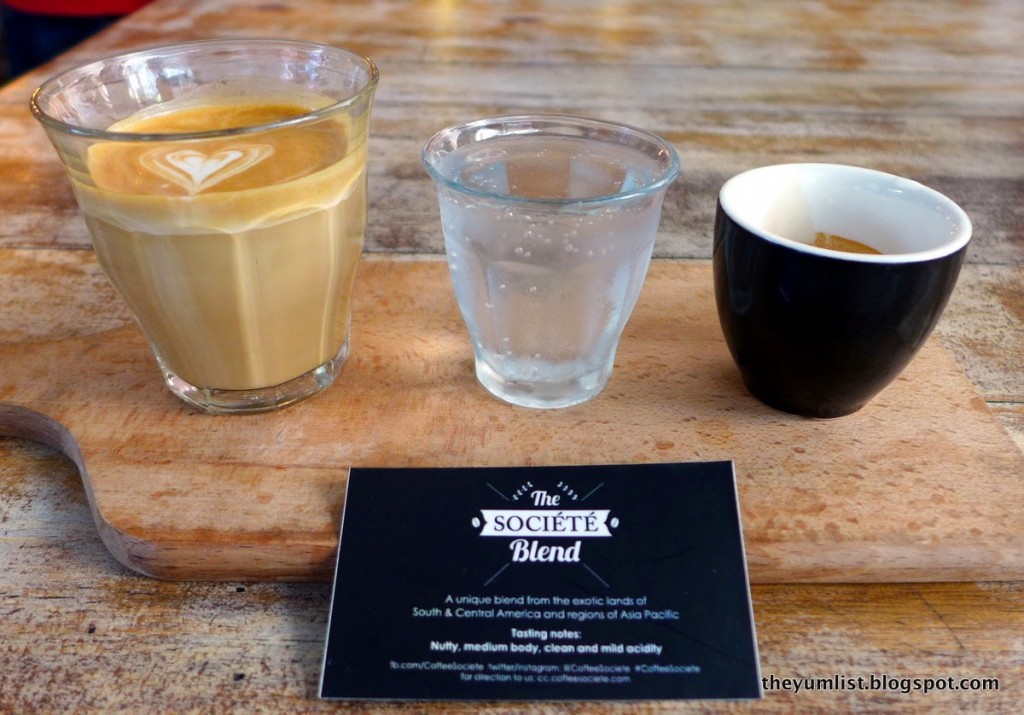 Black and White
Coffee is obviously king, but Coffee Société serves lunch and dinner as well, and brunch on weekends. Perusing the menu we are struck by a weekday special lunch set for RM10 nett.  The set includes a main such as Stuffed Baked Potato with Chicken Meatball along with a coffee/iced lemon tea/soft drink. Each day of the week highlights a different dish, and the menu changes every two weeks. Lunch crowds flock here on weekdays and now it's no secret why!
But we are here to try brunch, much to my delight. The menu isn't huge, but the western standards are present with varying combinations of bagels, eggs, salmon and eggs Benedict, etc., along with a few specials. We try the Awesome Breakfast (RM24) in which a chewy bagel base is layered with smoked chicken, free range poached egg, dense and hearty homemade hash browns, and even a layer of baked macaroni. The attractive stack is then drizzled with a light hollandaise sauce that was rich, but not overpowering.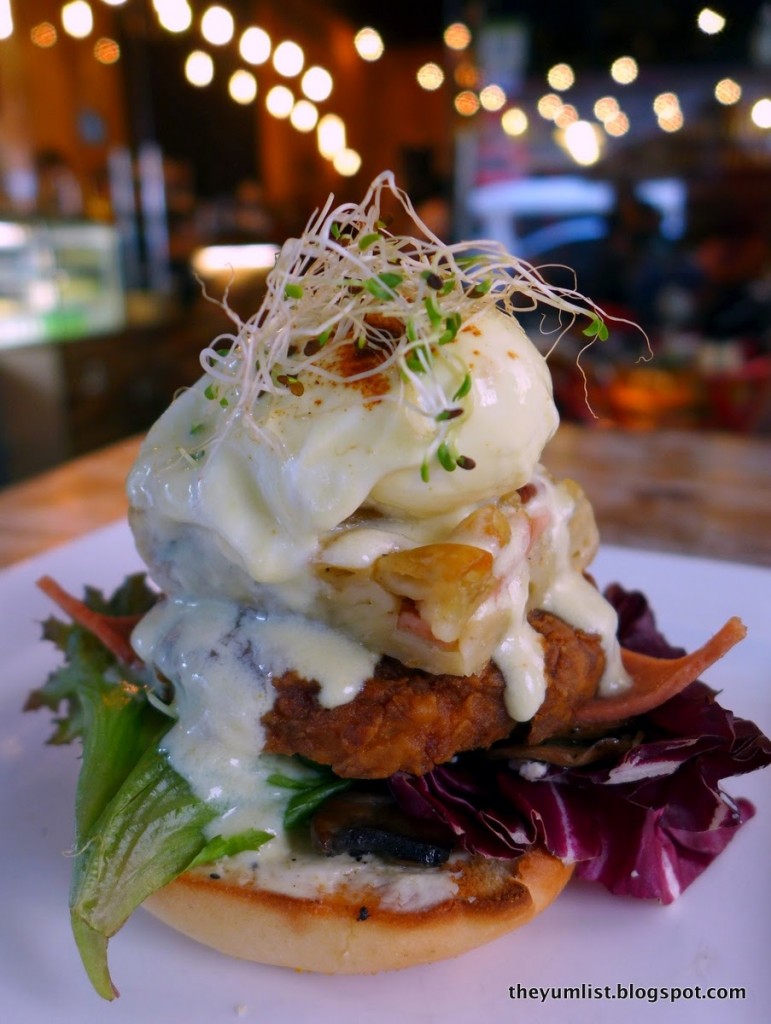 Awesome Breakfast
Croissant with Smoked Salmon (RM24) is also a winning regular menu item. A fresh and flaky croissant is stuffed with delicious smoked salmon, a wonderfully sweet avocado salsa, hardboiled egg slices, Mesclun mix and hollandaise.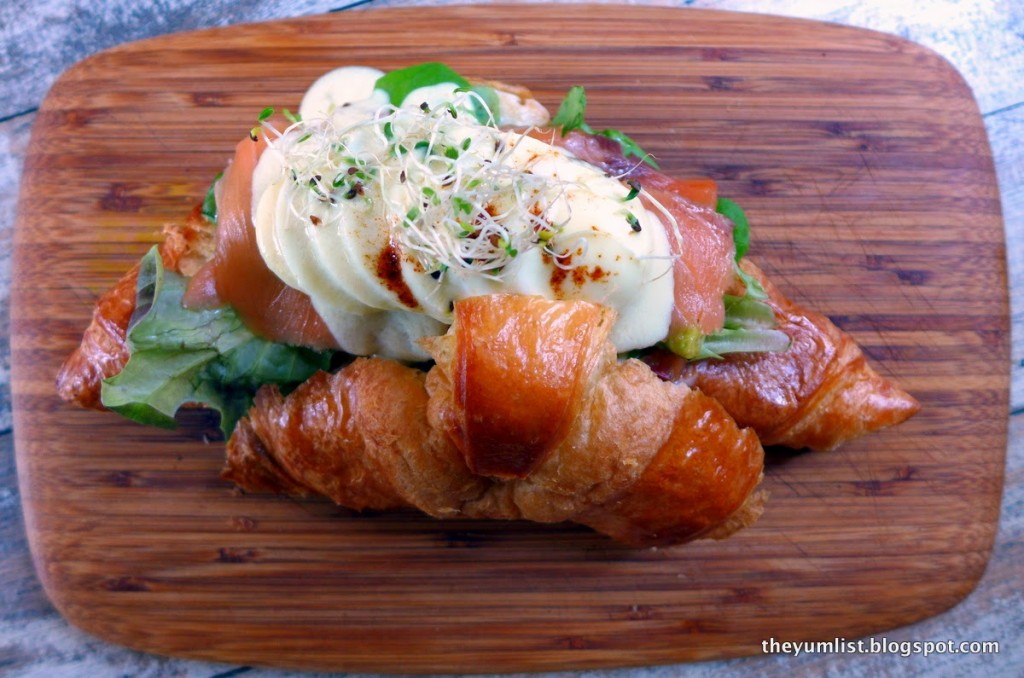 Croissant with Smoked Salmon
On the Specials Menu the Turkish Baked Egg called to us. A ramekin is lined with a beef salami base then filled with caramelized onion, roasted red pepper, a little cheese and of course a poached egg on top. The onion and red pepper mix beautifully on the palate, adding sweetness to the salty salami and egg. Divine! On the side are beef meatballs with hollandaise and sprouts, and a refreshing cold quinoa salad with corn and green onion with hints of lemon.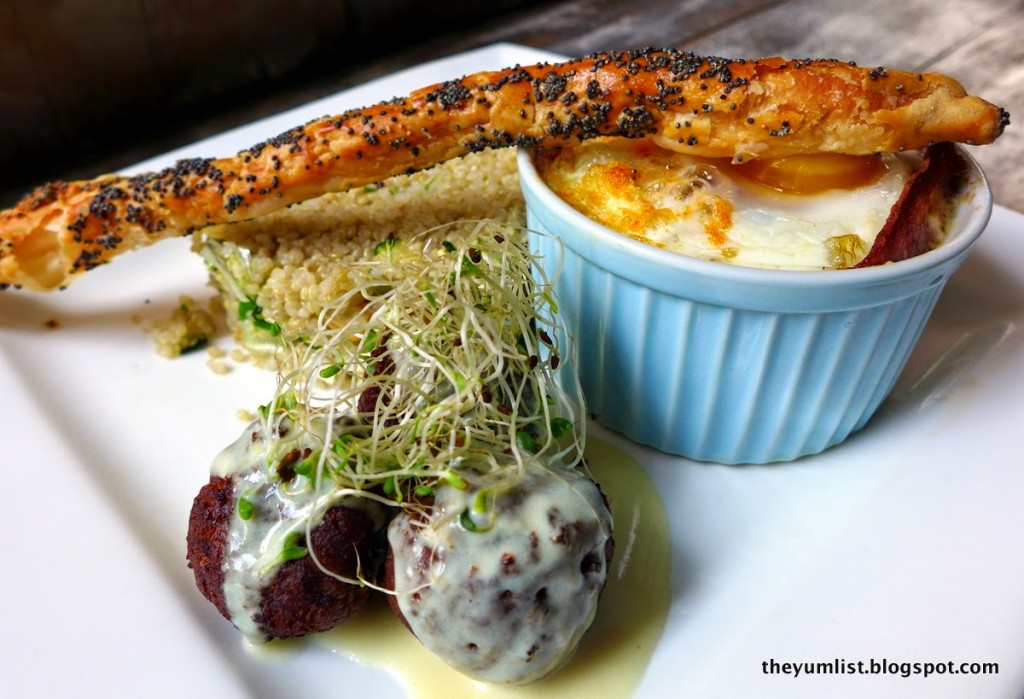 Brunch Special – Turkish Baked Egg
We were lamenting the fact that Coffee Société had sold out of a favorite, the Oreo Cheesecake, but as though on cue, the deliveryman showed up to save the day and we were served a fresh and utterly mouthwatering slice of heaven.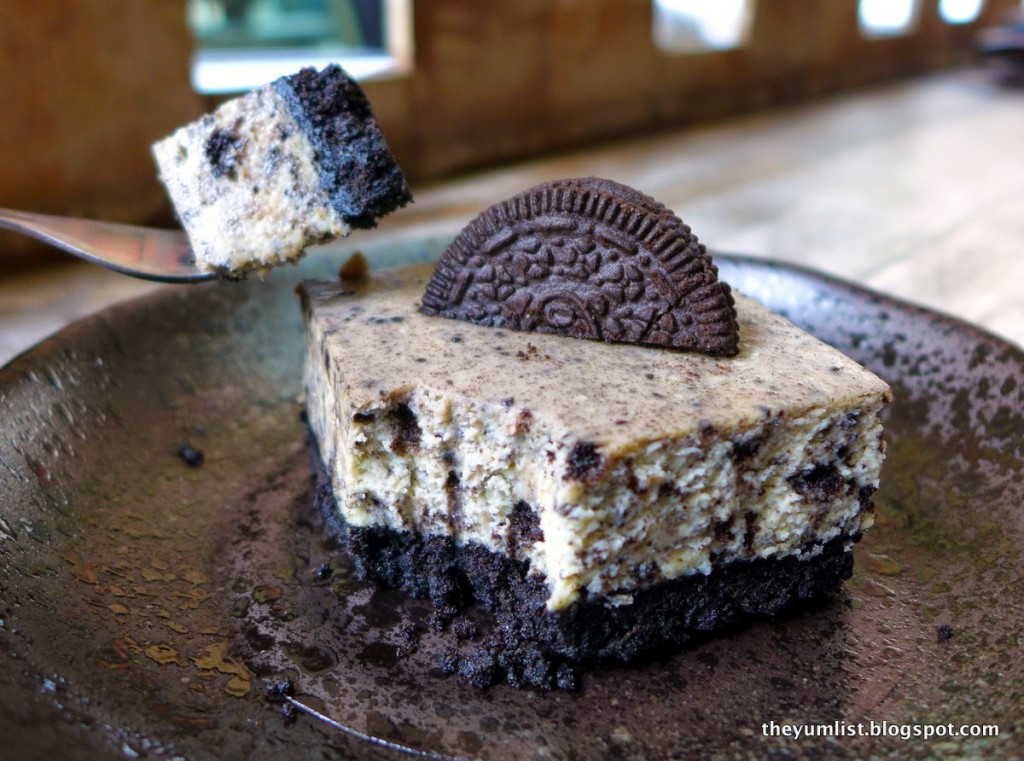 Oreo Cheesecake
If that doesn't suit your fancy, then don't miss tasting one of the cakes baked fresh daily by the owners' mother.  Both the Red Velvet Cake and the Carrot Cake are so moist they almost don't even need frosting, but the little that is added enhances the their flavors even more. The carrot cake is particularly robust; olive oil gives it a rustic, hearty flavor. The Red Velvet's flavor is smooth and natural, perhaps because the color is given by beetroot rather than food coloring.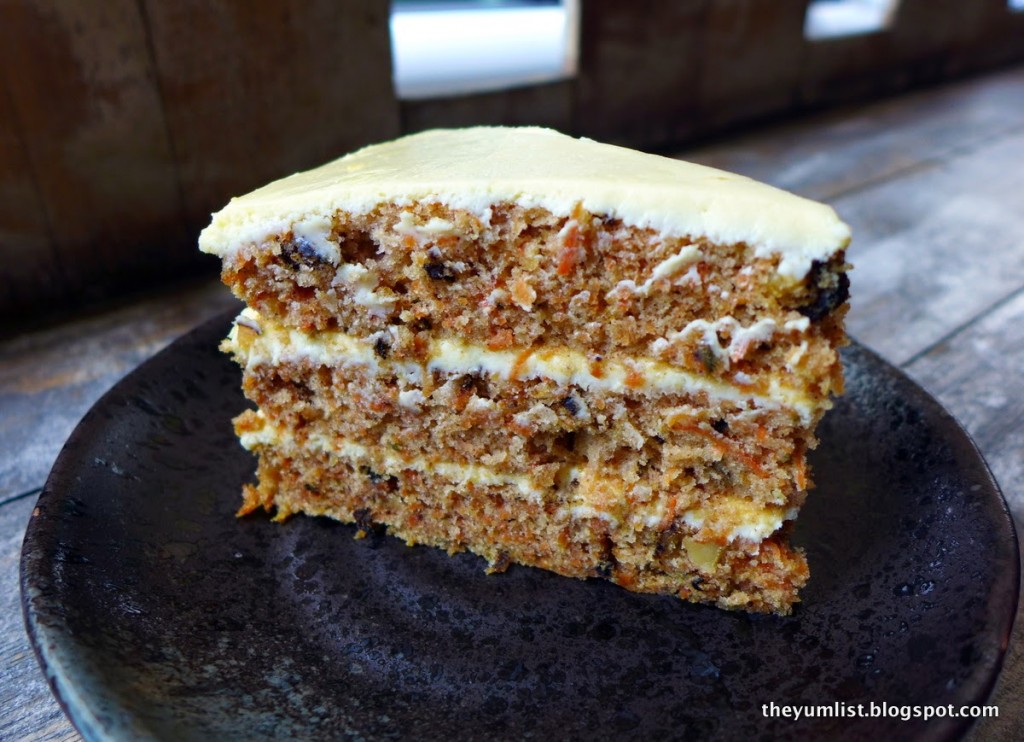 Carrot and Walnut Cake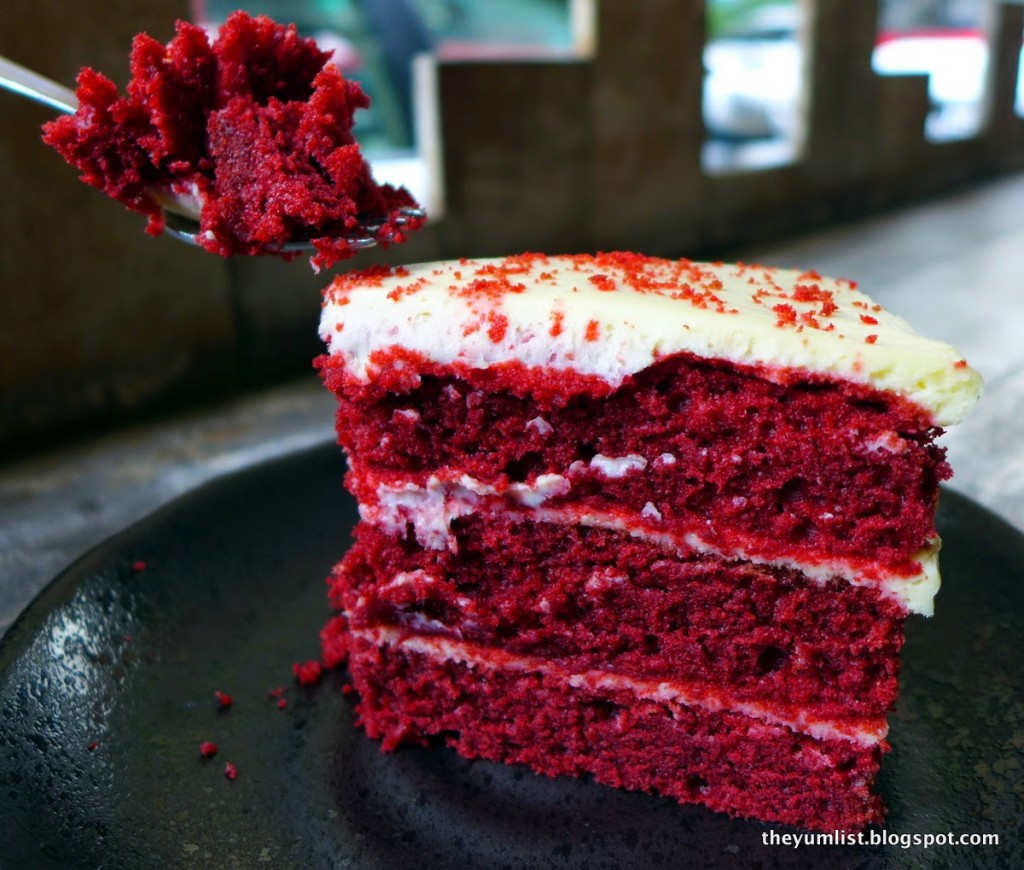 Red Velvet Cake
As the coffee culture explodes in KL there are many places to grab a cuppa, but I know I'll be returning to Coffee Société for the laid back Sunday brunch atmosphere, good value coffee and excellent cakes.
Reasons to visit: Coffee culture vibe with good value brew, brunches that make you want to linger and homemade, mouthwatering desserts.
Coffee Société
3A, Level G3, Block D4
Publika
Jalan Dutamas 1
Solaris Dutamas
Malaysia
+6 03-6211 5523