Take your love to new heights (literally!) with a Valentine's date at Marini's on 57. Soaring above all other restaurants in KL, not only in terms of location (on the 57th  floor of the third tower of KLCC looking down over the sky bridge), but in an overall fine dining experience (complete with strict dress code), this elegant Italian restaurant offers breathtaking views and a heartfelt line-up of the finest cuisine for February's celebration of amore.
A glamourous beginning is found with beverage in hand, and a stool by the floor-to-ceiling windows of the bar, (jump starting the heart into a minor flutter before the date has progressed too far along from a possible hint of vertigo), admiring the magnificent silver structures of the Petronas towers, mere metres from your nose.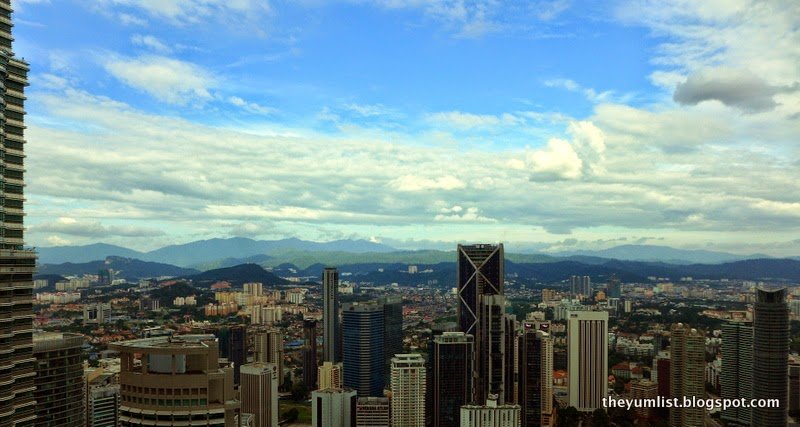 View from Marini's on 57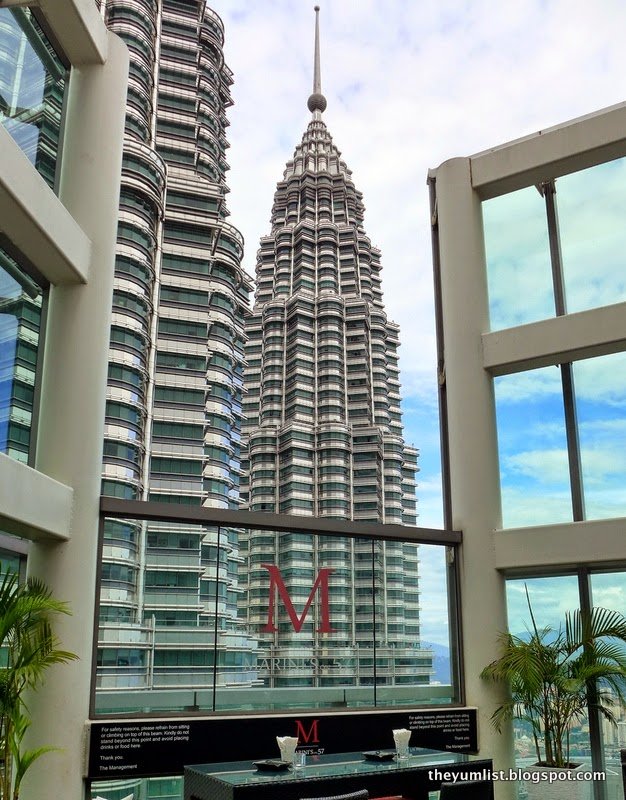 Marini's on 57 Patio
A duo of Romeo and Juliet cocktails have been designed especially for the occasion: Two and Forty Hours for the lasses; and Star Crossed Lover for the lads. The fairer of the two blends, gin, Aperol, chamomile tea, beetroot juice, peach syrup, sugar and lime, while the more masculine mate features Tequila, Fernet Branca, honey lime paste, pear juice, cardamom and lime. You must know already that hubby prefers the sweeter fruiter, supposedly 'girly' option, and myself the one with a full kick. But you can cross roles, or not, as you please.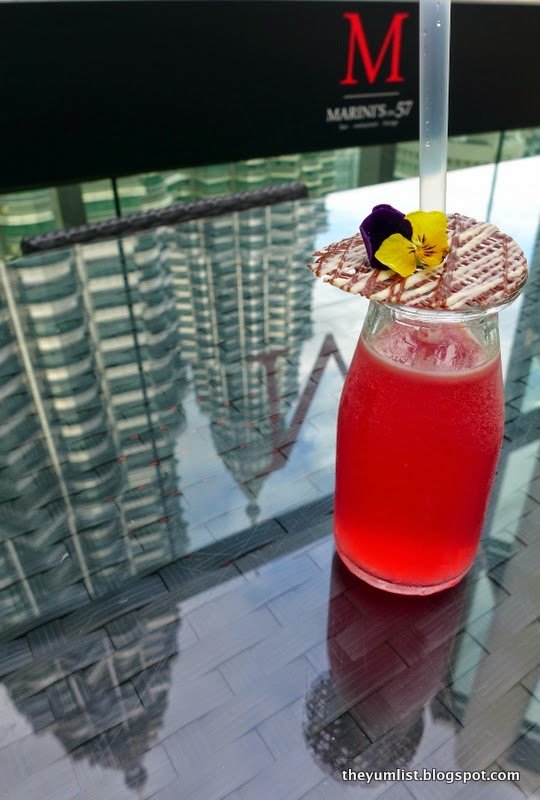 Two and Forty Hours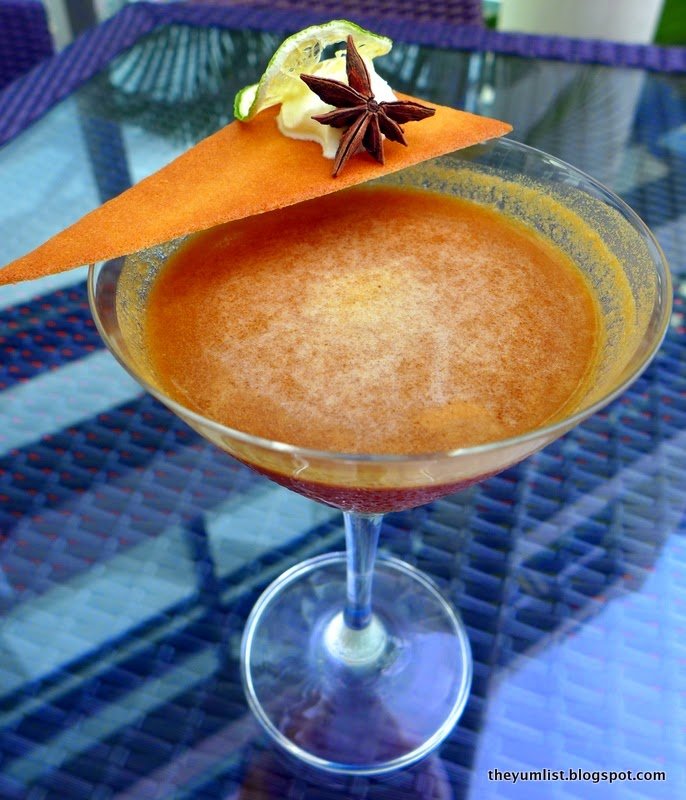 Star Crossed Lover
St. Valentine's Day Menu at Marini's on 57 Restaurant
Moving across to the very exclusive restaurant (DO make sure you have a reservation well in advance!), tables are clothed with white linens, crystal glasses dot the tables, and shiny silverware reflects the last glimpses of natural light as the sun fades behind the KL tower to the left, and illuminates the twin towers to the right in a final show of resplendence for the day.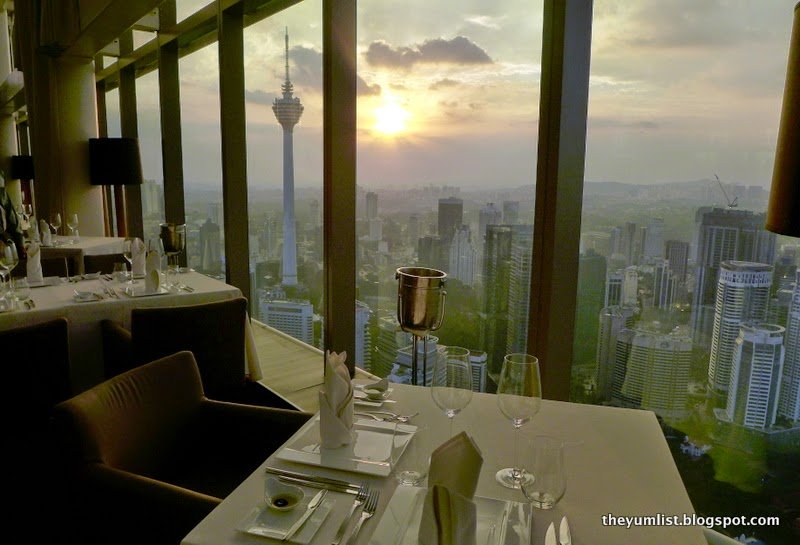 Sunset Marini's on 57
Cocktail
Guests are greeted with a lightly effervescent cocktail, Passione, ripe mango in colour and given its fizz with a splash of Prosecco.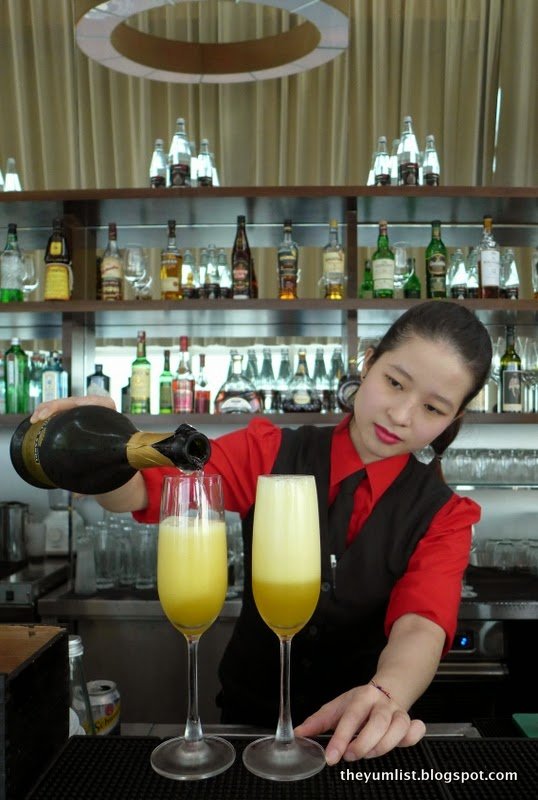 Bartender Preparing Passione
We're impressed that Marini's on 57 offers a complete and separate eight-course menu for both vegetarians and meat lovers, and as such are delighted to sample items from both.
Intro
Formaggio Fritto
Fried Taleggio cheese is a perfect rectangular prism that seductively oozes with lovely melted cheese upon cutting into a beetroot sauce that encircles the plate. It's a delicious savoury start.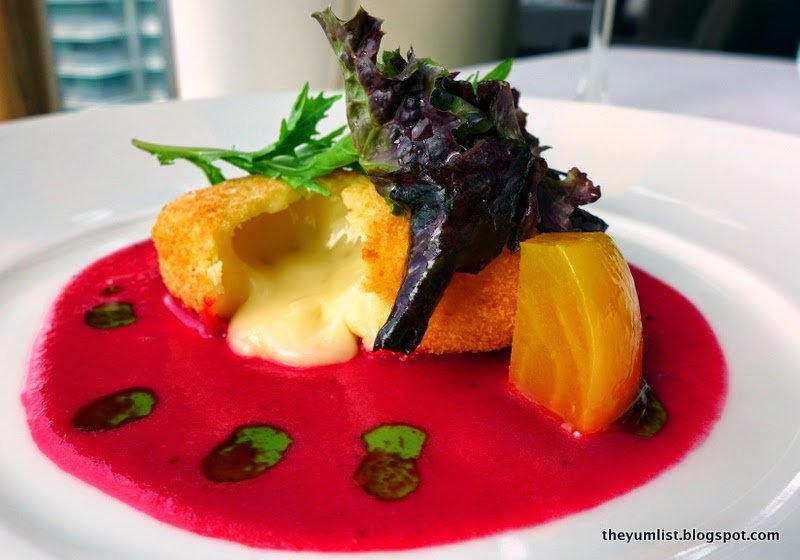 Formaggio Fritto
Piatti di Mezzo
Gamberi Della Puglia
Butterflied pink prawns are up next luxuriously draped across the plate. Dill oil and caviar dust are deluxe toppings, but don't forget to sample the icy tomato granita on the side for a boost of chilled freshness.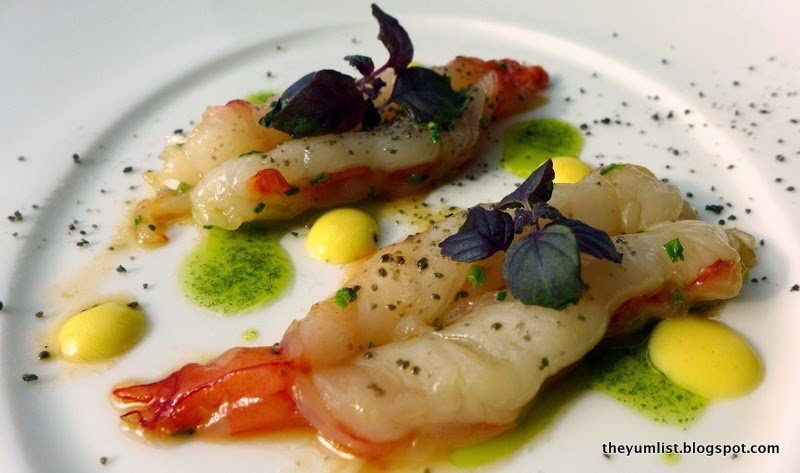 Gamberi Della Puglia
Antipasto
Uovo di Parisi
Presented on a white plate resembling the soft curves of an unmade bed, the 62-degree boiled Parisi egg with green asparagus is a delicate centerpiece. A slight jiggle and the white fractures open, spilling runny yolk all over the plate. Green and white asparagus sprigs add plump strokes of garden freshness and an intriguing truffled maple syrup bestows a hint of sweetness.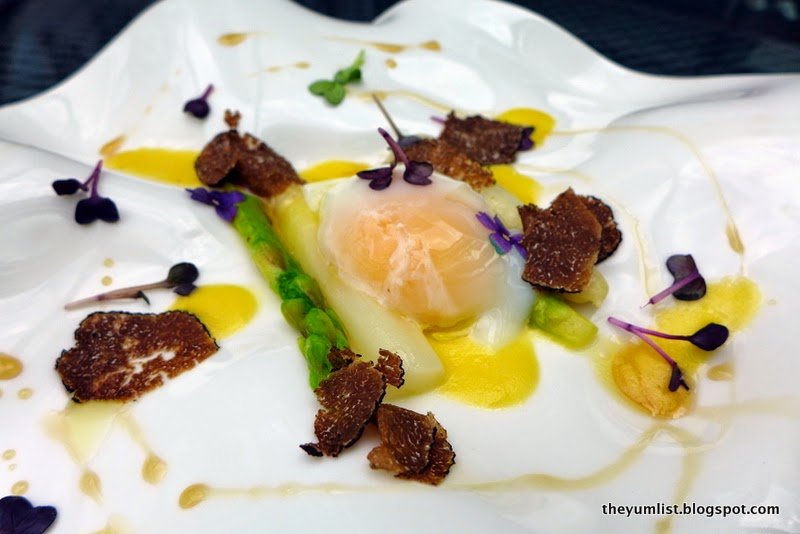 Uovo di Parisi
Pasta
Ravioli Di Zucchine
An enormous shredded meat and goose liver stuffed ravioli balances amid a pond of sauce and below a deep fried zucchini flower. The insides are luscious – full flavoured and rich in texture and taste.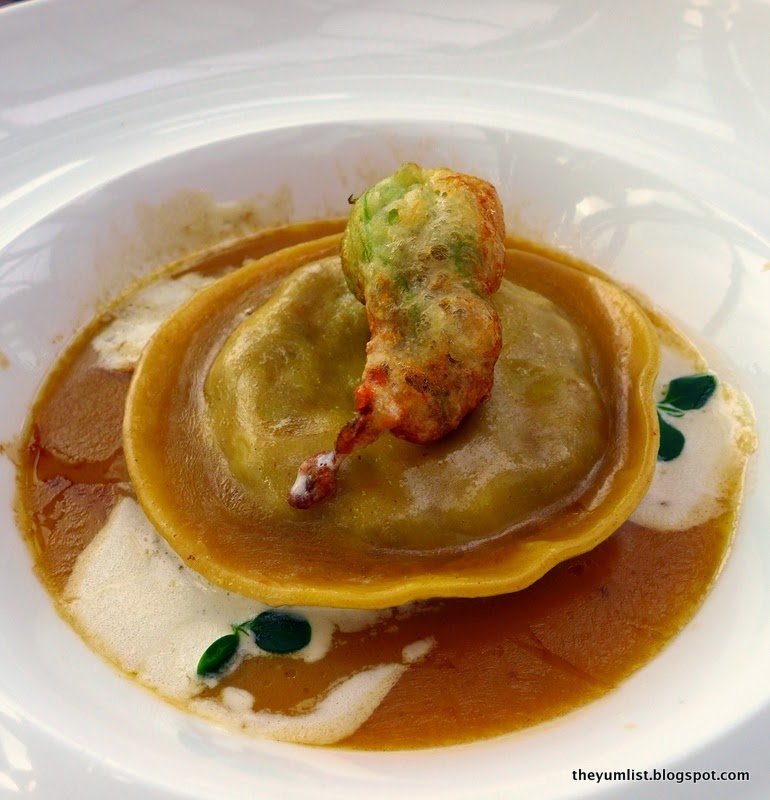 Ravioli Di Zucchine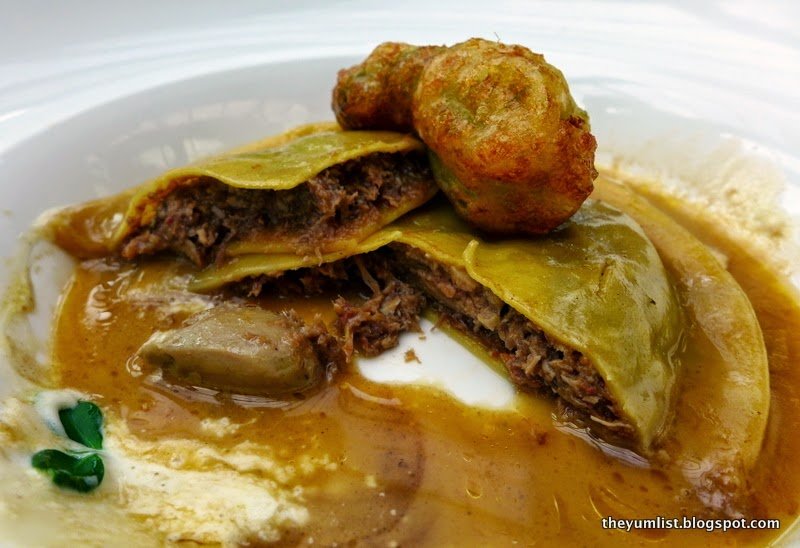 The Interior
Secondi
Pappardelle al Tartufo
Wide ribbons of pasta fold the length of an oblong plate, coated with a lush buttery sauce, an aged 32 month old Parmesan cheese, and decadent shavings of truffle. The serving seems endless, but at the same time my tummy appears bottomless. I keep diving in for the pasta, but also mop up the sauce with delicious crusty house-baked ciabatta.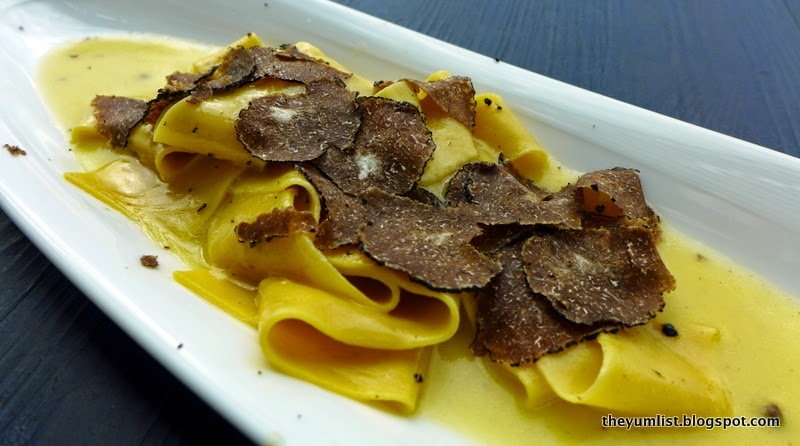 Pappardelle al Tartufo
Carne
Tagliata
The star of the meaty menu is without doubt the succulent pieces of dry-aged Wagyu beef tenderloin topping a fleshy slice of mushroom and seasoned with porcini essence. Melt-in-the mouth tender, all conversation ceases while these gems are thoughtfully appreciated.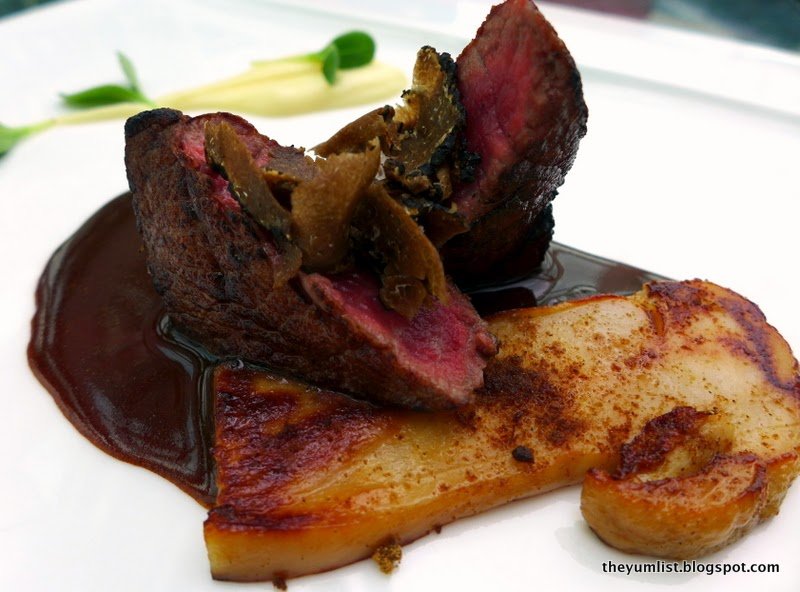 Tagliata
Pre-Dessert
Lavender Flavoured Cotton Candy
A giant ball of fluffy spun sugar makes a direct contrast to the preceding savoury plates, and elegance in petite portions and presentation. It's a fun transition to dessert.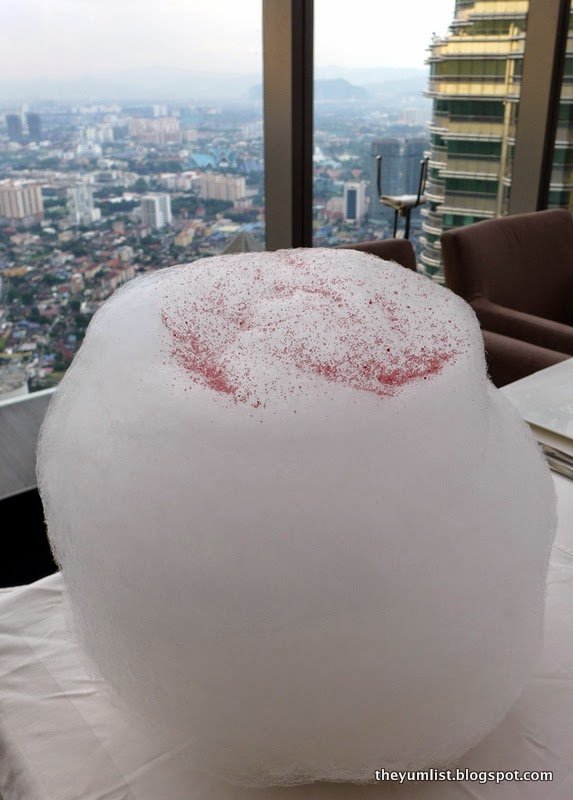 Lavender Flavoured Cotton Candy
Surprise
Petite canelé pastries are too passed around as an interlude before dessert. These soft-centred caramelized custard bites are yummy, so be careful not to eat too many so as to save room for dessert!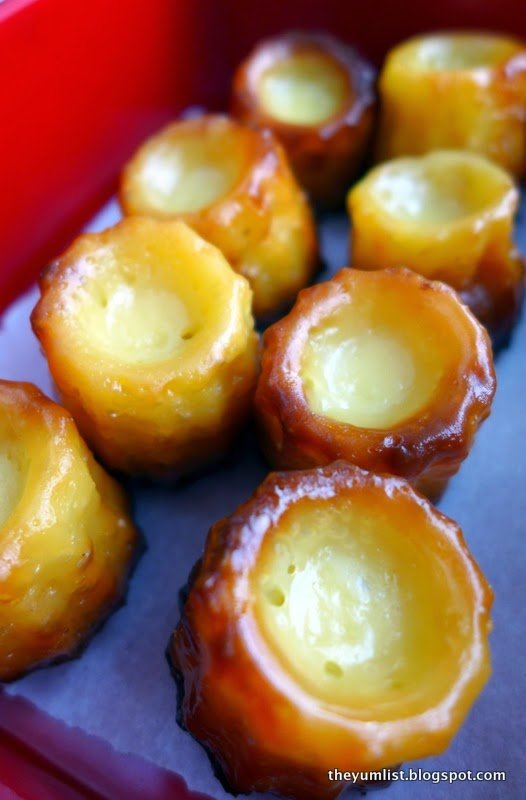 Canelé
Dolce
Amore Di Cioccolato
Love in chocolate paradise showcases beautiful shiny dark chocolate covering layers of chocolate mousse topped with a miscellany of adornments. Edible flowers, nut brittle, honeycomb, berries, a white chocolate stripe and chocolate hearts are all wedged on the surface, each contributing their own texture and bit of bling. But… don't fill up completely just yet! There's one final treat to come.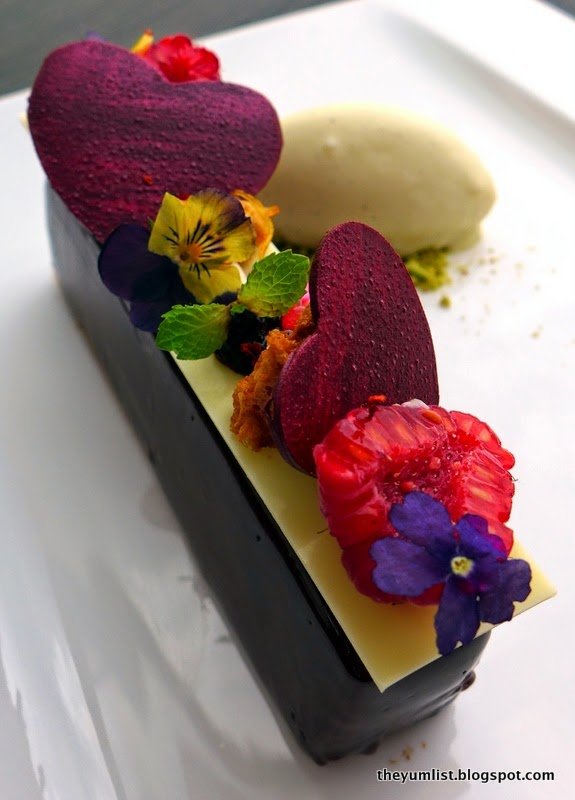 Amore Di Cioccolato
Chocolate Praline
Composition
The Chocolate Box is the standard conclusion at Marini's on 57. Wait staff open a fairytale wooden box of hand-rolled pralines at each table for guests to choose a last extravagance for the evening. I'm sure they've heard more than a few excited squeals as the contents are revealed. Seems the team at Marini's have everything in order to guarantee a dulcet conclusion.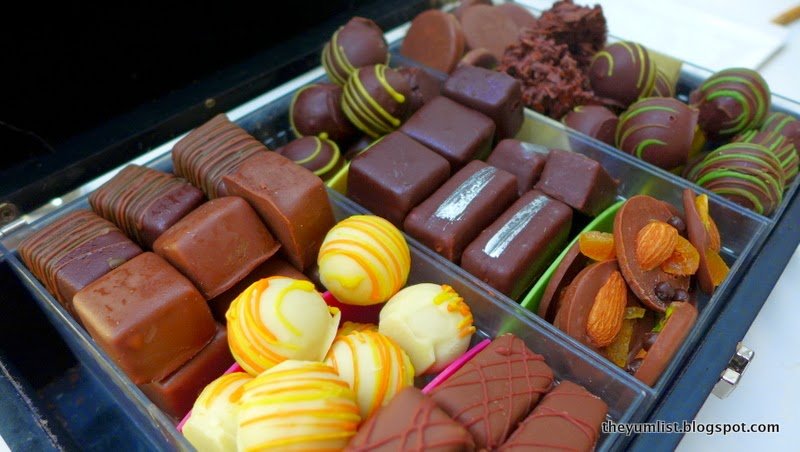 Chocolate Box
Both the meaty and meatless line-ups for Valentine's Day are priced at RM1599++ per couple for a regular table, and RM1999++ per couple for a window seat.
Reasons to visit: stunning views; a thoughtful vegetarian Valentine's menu; the finest of ingredients; an unbeatably sweet ending.
Marini's on 57
Level 57 Menara 3 Petronas
Persiaran KLCC
Kuala Lumpur City Centre
50088 Kuala Lumpur
Malaysia
T +603 2386 6030
F +6 03 2161 2998