Looking to make an unforgettable impression this Valentine's Day? Imagine: having a reservation at one of the most talked about restaurants in the city; waiters attired in suits offering superb service; dining tables dressed with the finest cutlery and glassware; a menu made with the highest quality ingredients money can buy; and spectacular views of the twinkling twin towers from your window-side table. Marble 8 embraces the luxe lifestyle with full gusto at any time of year, but this Valentine's Day they've injected extra bling into their menu to help you woo your darling in glamourous style.
Marble 8 Bar
St. Valentine's Day Menu at Marble 8
Welcome Drink
The experience starts with a welcome cocktail, Cupid Greetings. Made with raspberry and rose syrups, lemon juice, egg white and vodka, it's a pretty pale pink in a Champagne coupe. Fairy floss makes a fun garnish, and a stippling of Japanese sansho pepper keeps a lid on the sweetness. Decide whether to dunk it, dip it or pop the whole thing in your mouth: whatever your choice, the garnish is a playful beginning.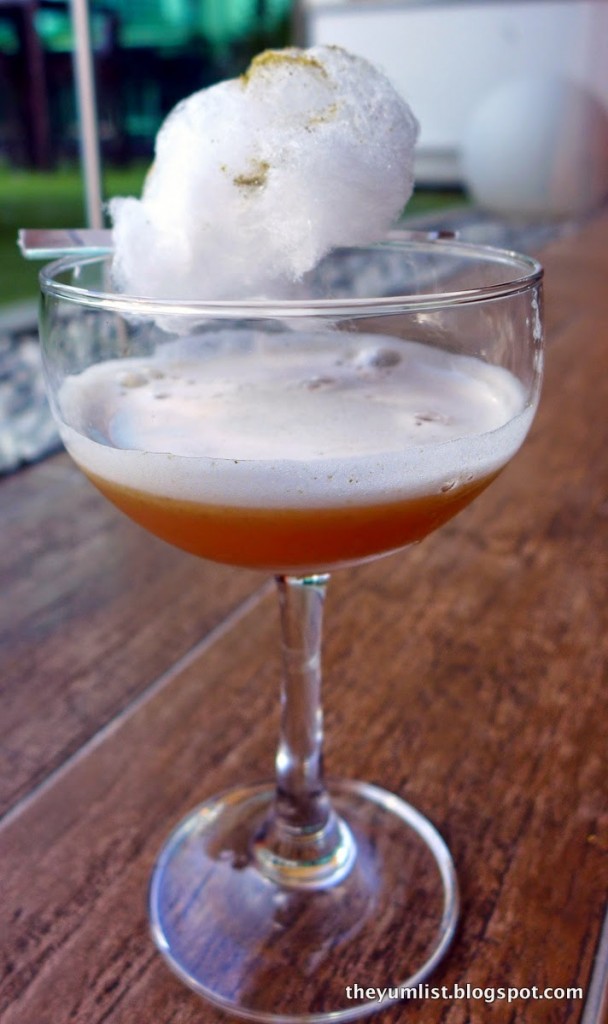 Cupid Greetings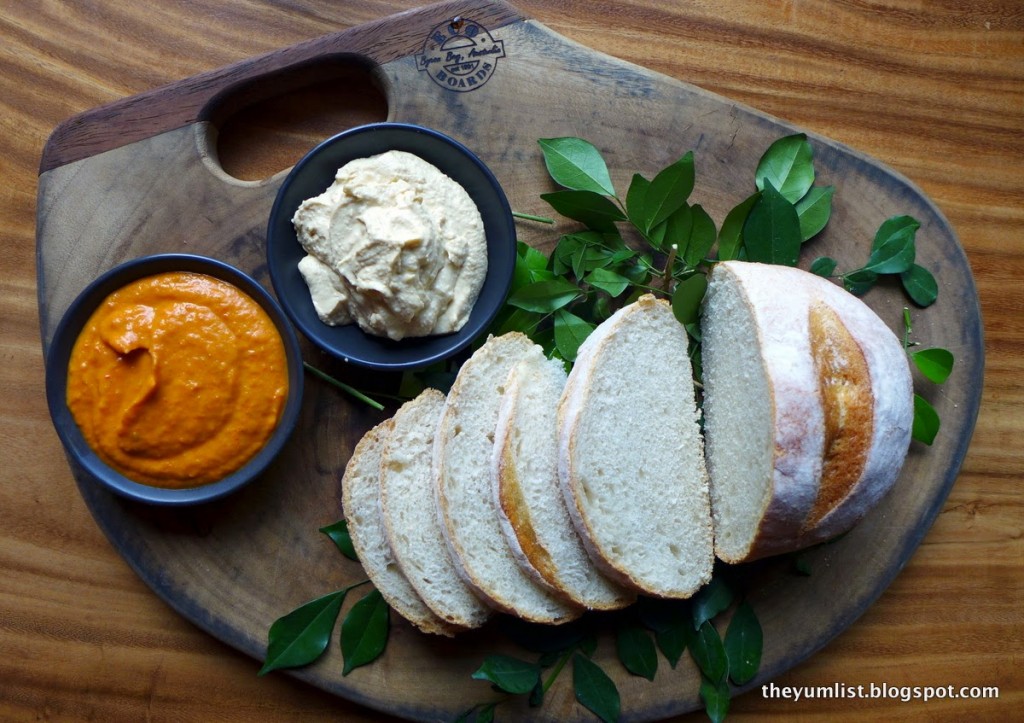 Bread and Dips
Amuse Bouche
An amuse bouche jumps straight to what Marble 8 is known for – meat – with the Mini Wagyu Burger. I think it's a bit of a cheeky lead – meaty and fleshy and a tease of what's ahead. A black charcoal bun hugs the rich patty, cheese, and tomato filling. A line of mustard sauce and miniature greens frame the bun. It's quite a substantial bite for this part of the meal.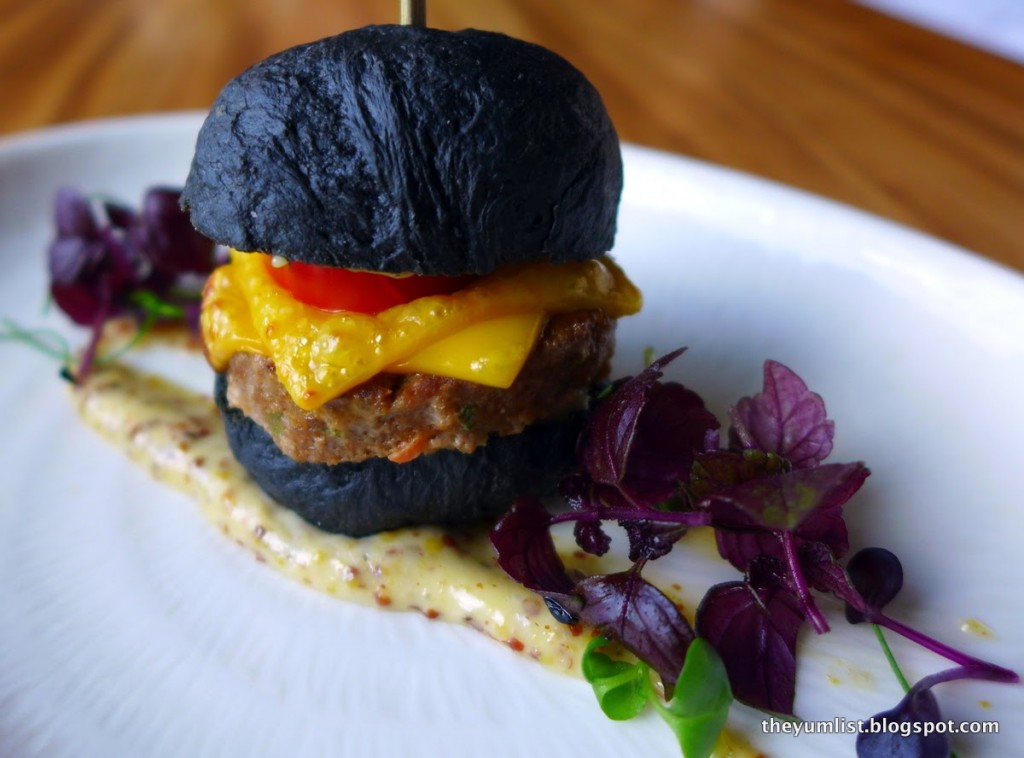 Mini Wagyu Burger
Appetizers
In another bold entrance, appetizers bring out the bling in the Cold Pasta with Caviar and 24-Carat Gold Leaves. A beautiful wave-shaped plate is sprinkled with a decadent amount of gold dust, and the top of the spaghetti is crowned with an even more shiny display of gold flakes. A white sauce is rich enough that the lean coating is more than sufficient to fill the mouth with the taste of cream. Fine herb sakura leaves make a green appearance on the crown, alongside an indulgent blob of black caviar.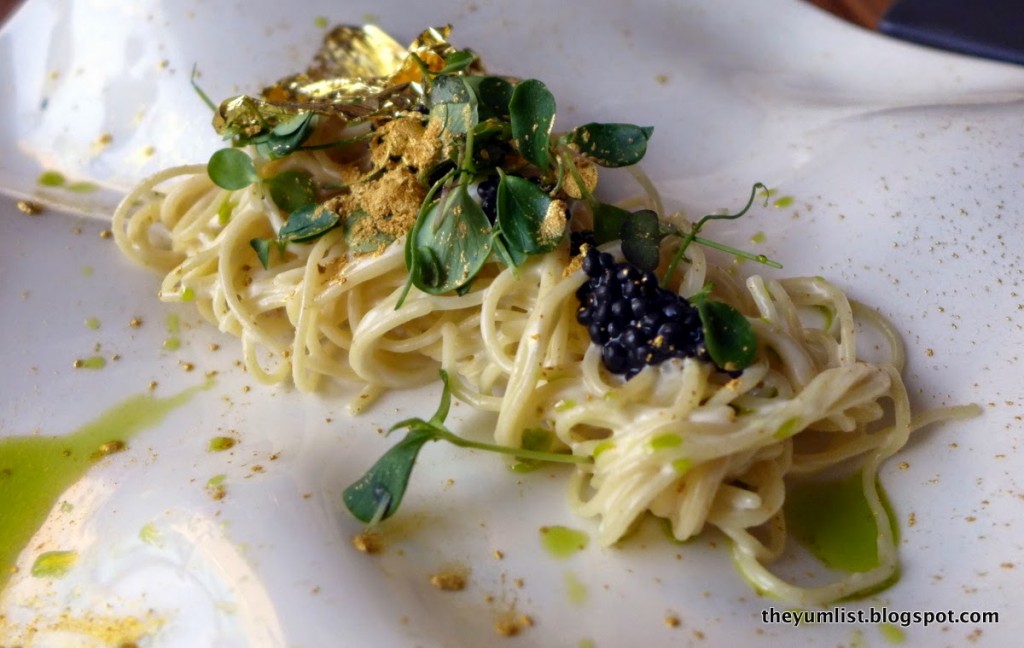 Cold Pasta with Caviar and 24-Carat Gold Leaves
Tomato-Based Crab Consommé is given substance with Mushroom Ravioli and unique flavour with Gingko Nuts. Micro-greens and shredded crab garb the surface. It's a surprising combination of tastes: the Asian nuts and Western pasta. I believe these newly made friends however will have a long and happy relationship together.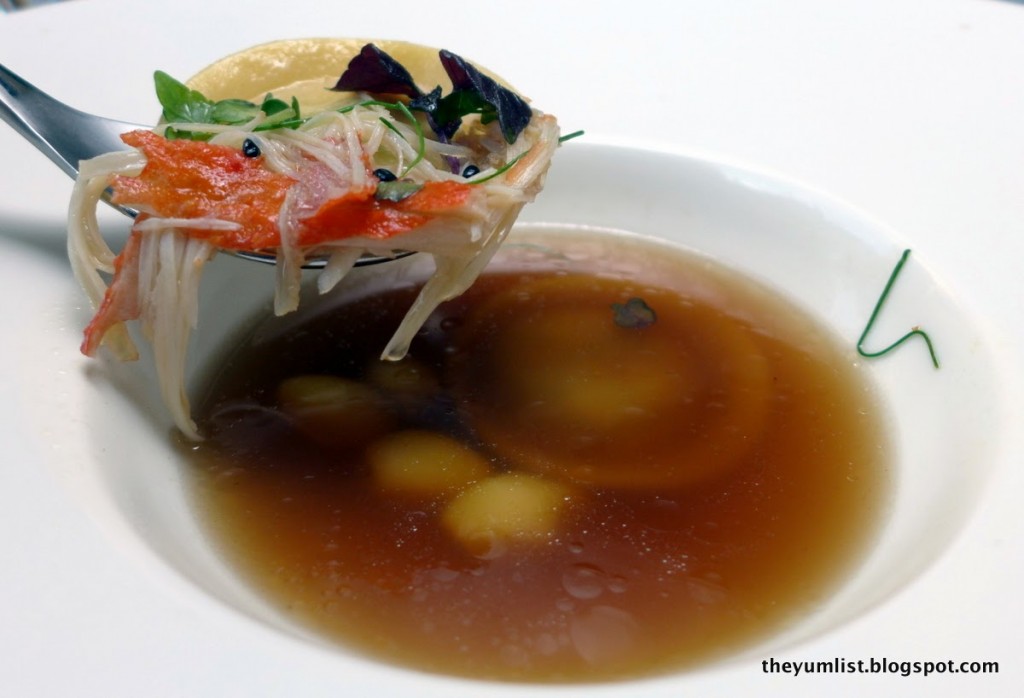 Tomato-Based Crab Consomme with Mushroom Ravioli and Gingko Nuts
The third appetizer, Pan-Fried Hokkaido Scallops with Dill Oil is topped with ample fresh herbs and leaves, and sided with a strip of parsnip puree. The shellfish, with its lightly golden skin and succulent interior, is a fine example of cooking perfection. The parsnip puree however causes a mixed reaction amongst our dining buddies. Some like the pairing with its pasty sticking-around-the-mouth feel, others would prefer a more traditional match desiring something lighter and fresher as an accompaniment. Either way, it's an interesting match, and a conversation point at the very least.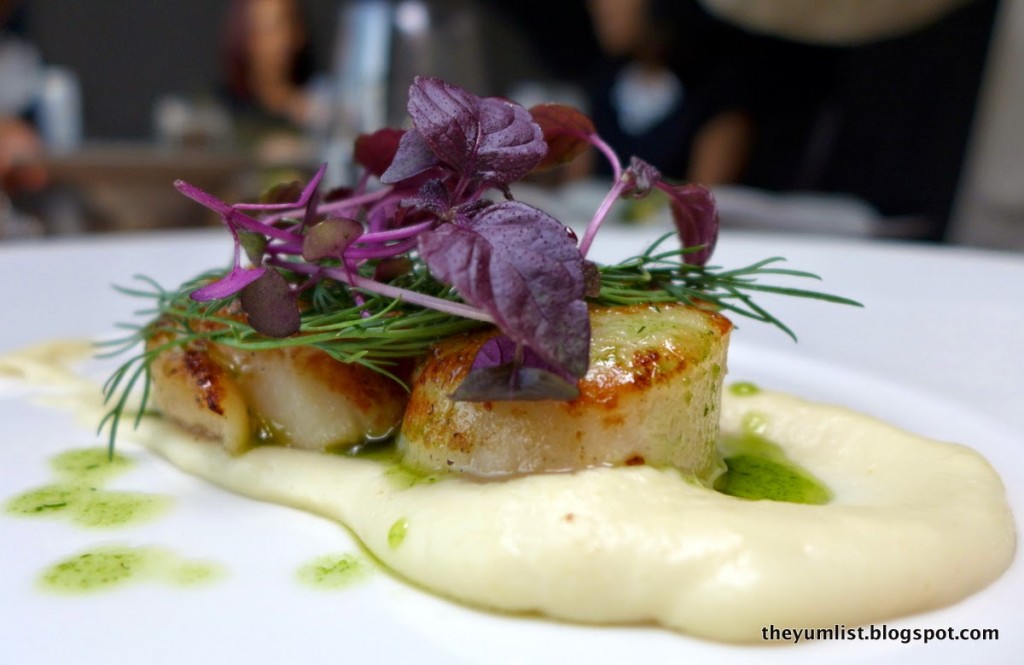 Pan-Fried Hokkaido Scallop with Dill Oil
Main Courses
Guests can choose from a variety of mains on the Valentine's Menu. There's even a complete vegetarian menu boosting the selection.
36 Hours Slow Cooked Beef Cheek is amassed in a mouthwatering mountain of tender fatty and stringy beef in gravy. A parsnip cream rings the plate with sticks of asparagus and carrots protruding from the edges.
36 Hours Slow Cooked Beef Cheek
Roasted Honey Glazed Chicken Capon is well coated in a sticky sweet sauce. The sauce infuses the entire bird making it soft and powerfully flavoured. Roasted potato cylinders, soft within, sit on the side begging to be rolled in the glaze.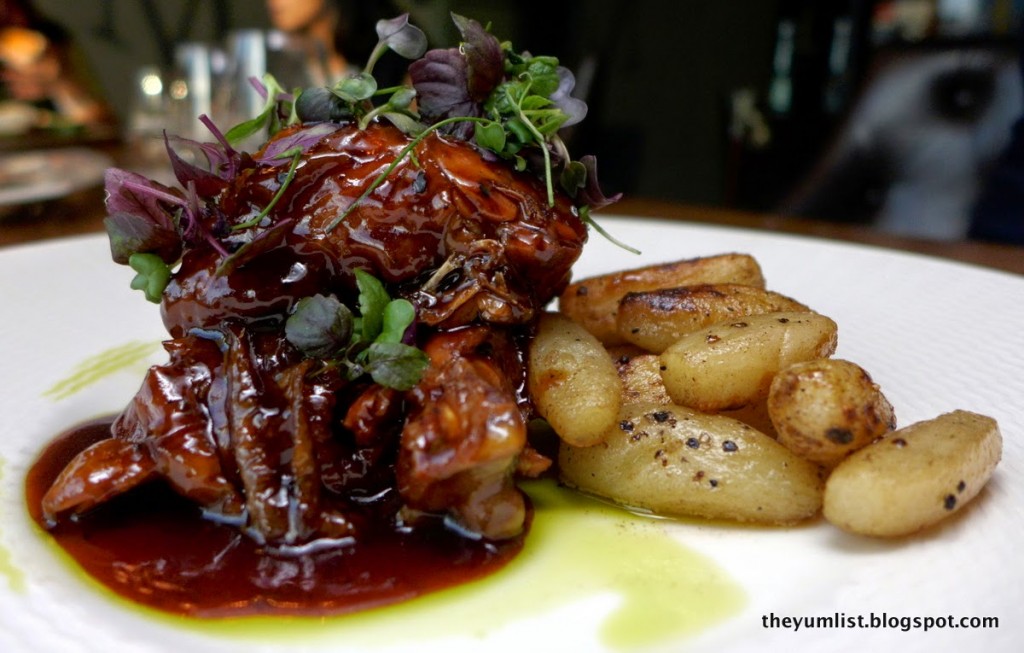 Roasted Honey Glazed Chicken Capon
An enormous rectangle plate presents the 52-Degree Boiled Boston Lobster Tail. Sprawled across the platter the red shell is butterflied revealing its white luscious flesh. It's another example of model execution: tender, relatively easy to remove from the shell, and boasting a clean yet intense lobster savour. The texture of the flat yellow round of Saffron Risotto on the side is moist yet firm to the bite, making a great complement to the crustacean.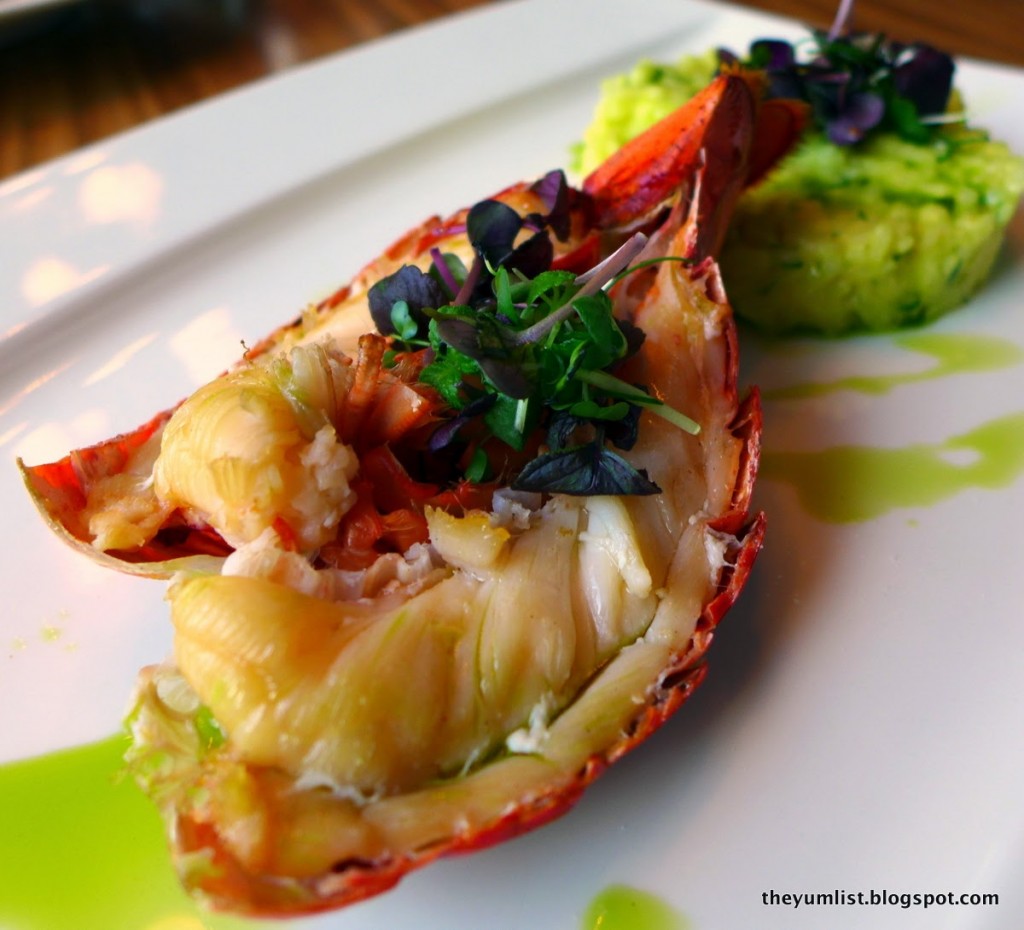 52-Degree Boiled Boston Lobster Tail
Now the meat is what has given Marble 8 its formidable reputation and so I guess this will most likely be one of the top orders from the menu. Grilled Fillet Mignon is of the wet-aged kind and very moist. Nicely charred around the crust, the interior is soft, pink and juicy. The Steak Fries and Truffle Mayonnaise are the bomb, and stacked in Jenga game pile style, making them fun pickings.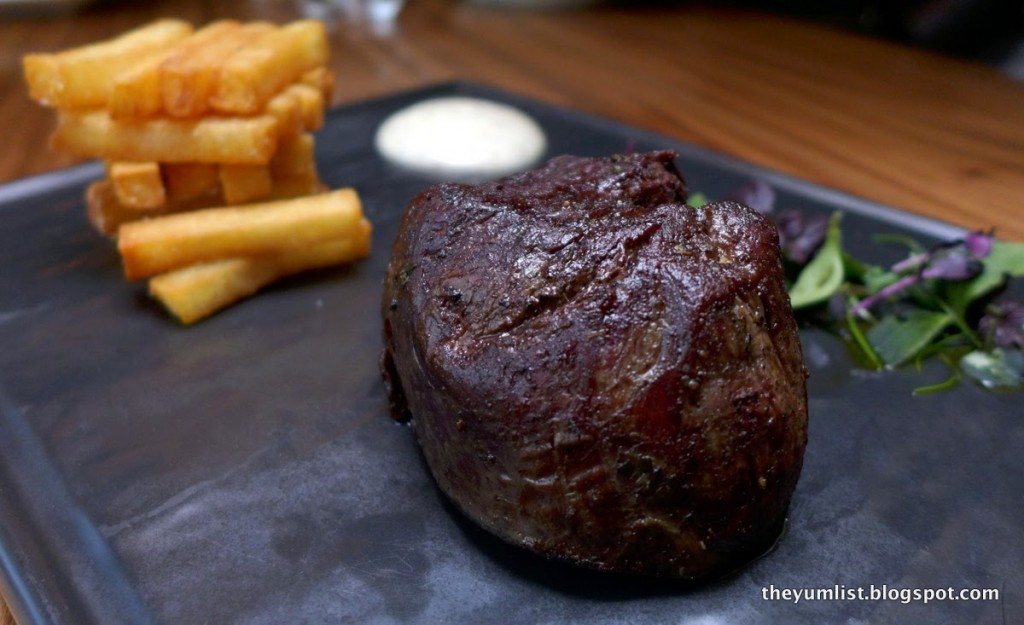 Grilled Fillet Mignon with Steak Fries and Truffle Mayonnaise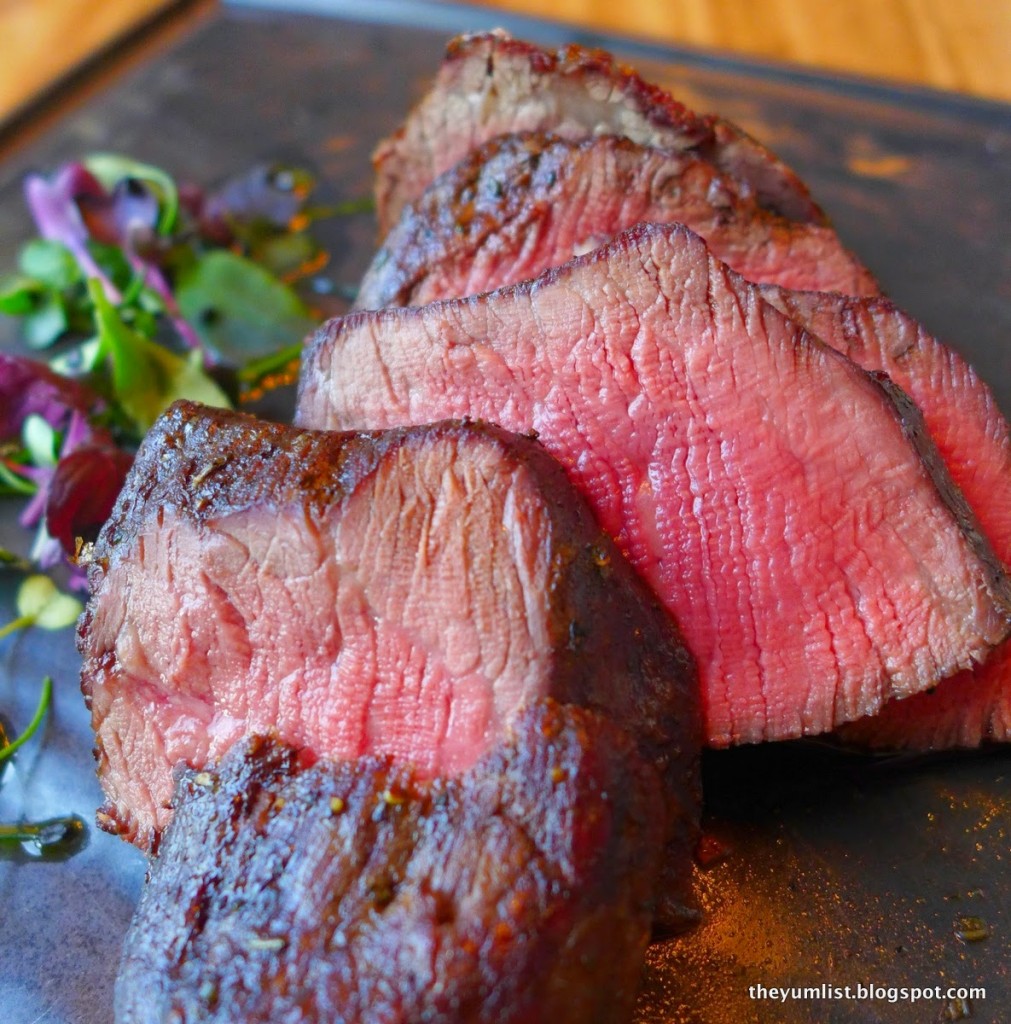 Up Close with the Meat
We try an option from the vegetarian menu and find it wonderful. Al dente strings of pasta are flavoured with mushrooms, olive oil, and sun-dried tomatoes in the Bavette Aglio Olio with Sundried Tomato and Mushrooms. Topped with a hedonistic amount of shaved truffles, this meat-free alternative puts up a mighty contest for being just as (if not more so) satisfying as its omnivorous counterparts.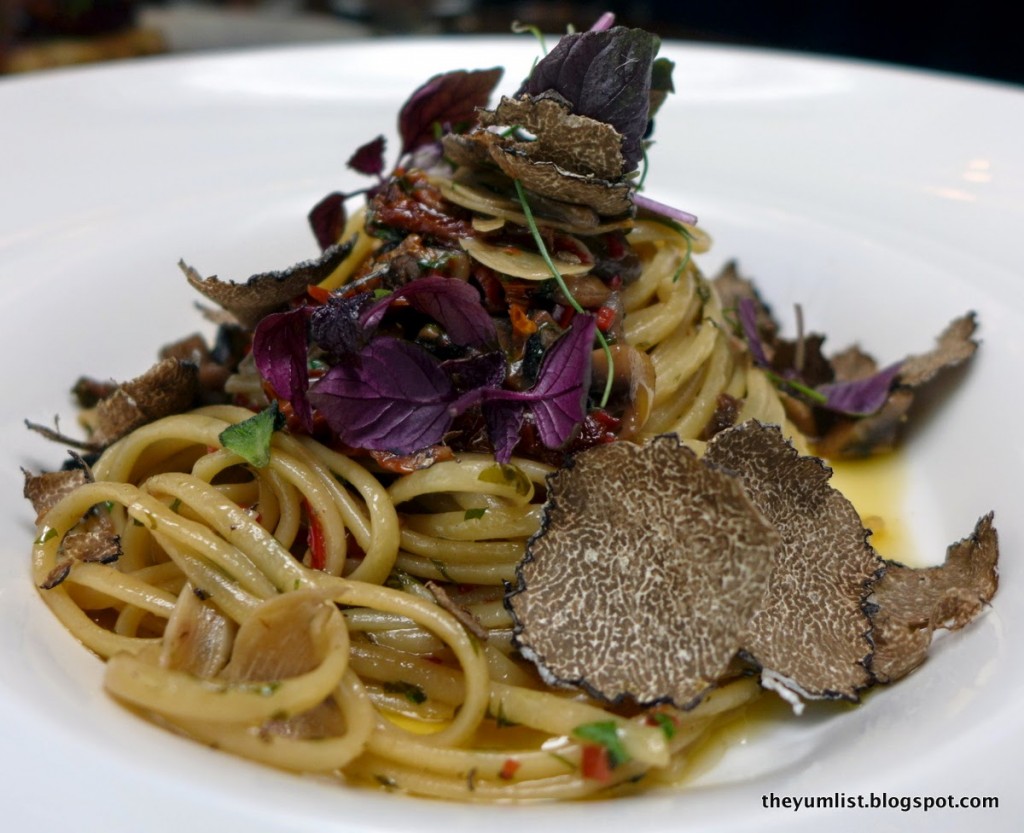 A Vegetarian Option – Bavette Aglio Olio with Sundried Tomato and Mushrooms
Pre Dessert
More diversion is infused into the menu with a pre dessert spectacle in an enormous ball of Lavender Flavoured Cotton Candy. The monster-sized ball provokes some giggles as we pull it apart and relive childhood memories. I challenge you to finish the entire ball!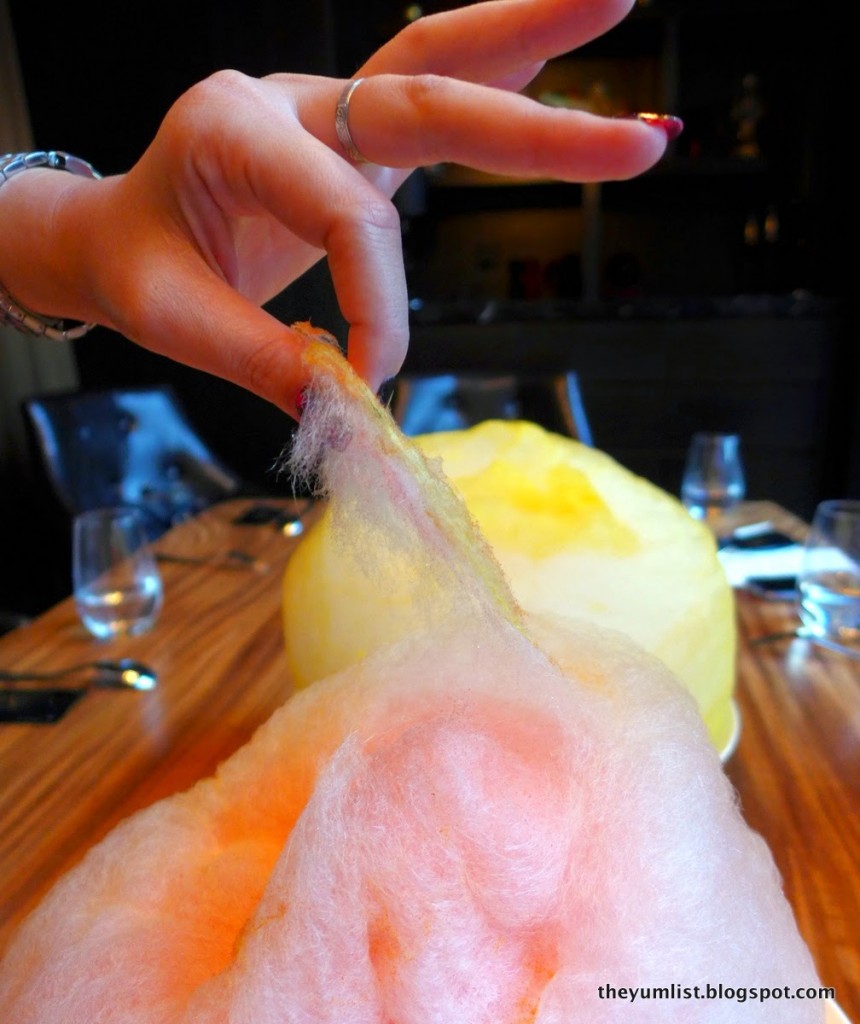 Lavender Cotton Candy
Dessert
The climax does well to be chocolate, especially on Valentine's Day. A gold dusted Chocolate Sphere encloses a thick dense mousse, which is only revealed when a hot chocolate sauce is poured on top. Crunchy white chocolate balls and wafer flakes provide variance in texture, and a Pure Vanilla Gelato scoop on the flank is a cold creamy contribution.
Chocolate Sphere
The St. Valentine's Day Menu is priced at RM999++ per couple, and a complete vegetarian menu is also available for the same price. Advance reservations are highly recommended.
Reasons to visit: superb service; premium ingredients; a table by the window.
Marble 8
63 Jalan Binjai
Persiaran KLCC
50088 Kuala Lumpur
Malaysia
 +603 236 6030