Kirsten Durward & Monica Tindall
If you are seeking a 'beyond tapas' evening but feel like something looser than a formal dinner, if you are waned of saccharine drinks and sky bars, if you want to try something fresh and new, then I can only suggest that you head to Drift Dining and enjoy some of the best food and service that KL has to offer.
Above the bar an impeccably dressed gent floats in a bath of bubbles. It's a beautiful picture and encapsulates the driving concept of Drift Dining… 'Let it go, fall in and float, let us take care of you.' And oh – they do! Drift is the long-nurtured heart child of Australian Robert Gilliland. I can barely write fast enough to catch all the enthusiasm and energy that races from his lips. We instantly feel this is a passion, not a business.
'I want people to come in their flip flops or come in a tux, feel comfortable just how you are. It's all the same here. I want people to get the idea, drift in, drift through a menu, drift through a drink, drift through a conversation.' Robert has persuaded an impressive team of experienced Australians to set up with him. Donna, Drift's sunny sommelier, interrupts his flow in straight forward Australian fashion. 'Robert, they're probably gasping for a drink.' Thank you Donna. Astute observation. I like you already.
Cocktail Time
We begin with a Drift Jar. Brandy and Vodka infused with ginger and lemongrass, fresh mint and fruit added before serving. Oh you can keep your Sangrias and Planter's Punch, THIS is the way to start an after work chill out. Fresh and light and full of flavour, we're both sipping this with smiles. The Drift jar is priced at RM68 ++ and you easily get four full glasses to share from this. Bargain.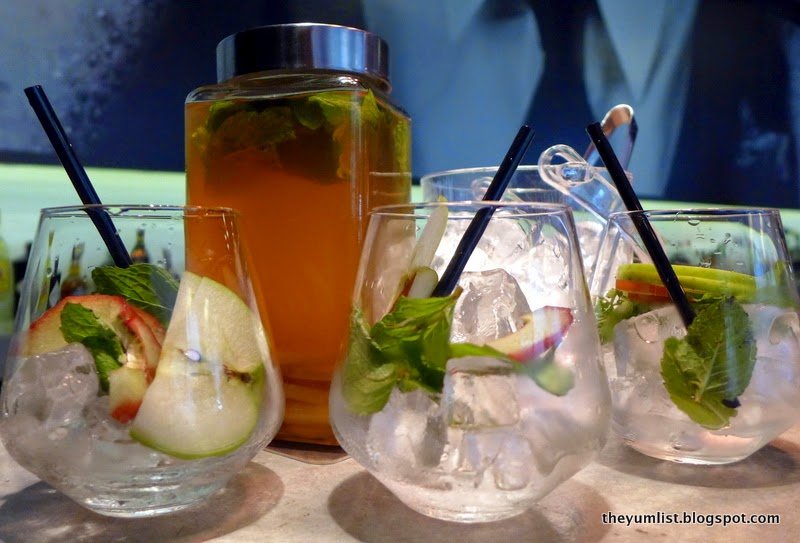 Drift Jar
While waiting for the first dish we are given a quick tour. A quite sexy soundproofed private room can be opened on demand and booked with a DJ to raise the roof into the early hours. I have no doubt this will be a hit with the 'in crowd.' We also see the beginning of the next stage of Drift, soon to open; Ebb and Flow is a providore and lunch concept, featuring amongst other delights pork sandwiches and a range of fresh salads. If you work in the area, I'd wander down within the month and see what is happening there during the soft opening.
Two bursting Pork Sliders (RM12++ each) are now at the bar, demanding our attention. I'm not a fan of buns generally but this is a very light, slightly buttery brioche that melts in my mouth. The plentiful fronds of pork are emboldened by a crunchy coriander-dressed Asian slaw delighting with bundles of moist filling and subtle flavours.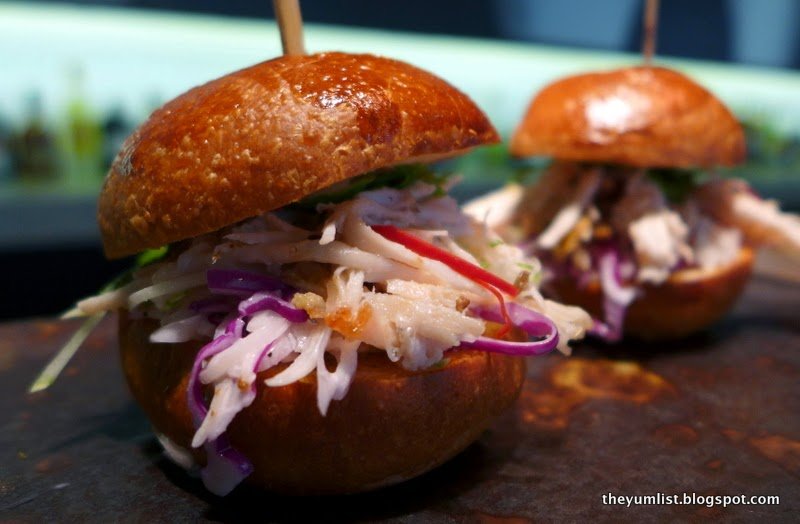 Pork Sliders
Torched Salmon (RM24 ++) presents a delicate picture. Tumbles of cucumber and horseradish lie atop slender slices of succulent salmon, glistening in juices and very slightly torched. This dish is wonderful for those with a lighter palate. The vinaigrette is finely blended with only the faintest hint of heat.

Torched Salmon
Keeping the menu simple and light enables the visionaries at Drift to deliver an extremely high quality of freshly prepared food, but also allows for diners to share dishes as well as compose a full meal. 'Deconstructed dining,' Robert calls it. As he continues to wax lyrical we test out another couple of original cocktails.
Ahu Ahu, (RM32++) is a subtle blend of brandy, ginger, cucumber and lemon. It's resonant with the distinct tinge of ginger not overwhelming the strong liquor; a drink with a gentle kick that refreshes and stimulates at once. The concept with the drink is to infuse local ingredients into original creations and to pack a decent punch.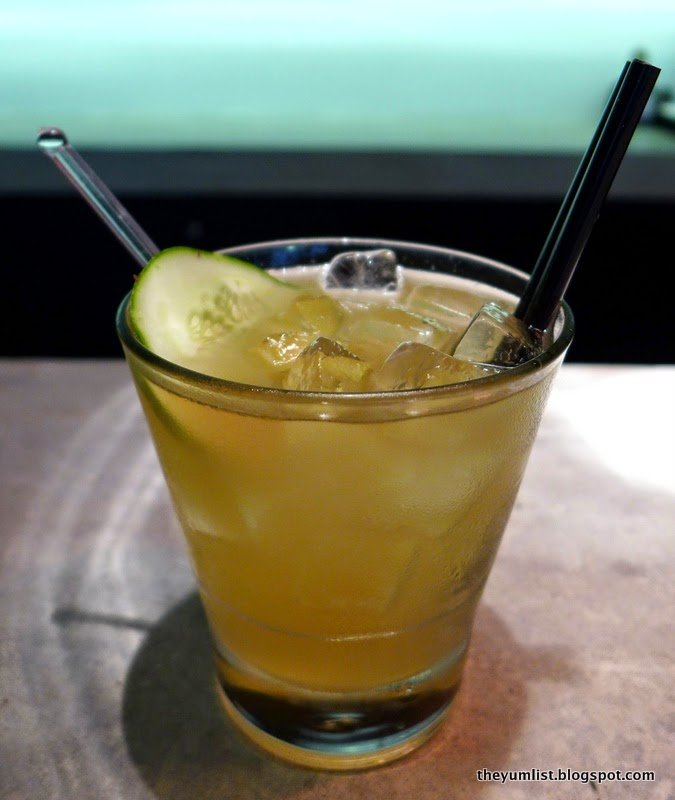 Ahu Ahu
Crystal Mary, (RM34++) at first confuses me, until Donna reveals that the mix has been strained through muslin, enabling the flavourful essence of tomato to come out without the thickness found in a traditional Bloody Mary. Worcester and tabasco is enhanced by fresh horseradish, sherry and a secret Mexican spice. I love that they've brought the taste of a Puerta Vallarta holiday back to us here in Malaysia. In sum, the slightly fiery boost more than tickles my tongue before dinner, and would wake up the senses for an afterwork chat. Although Donna tells me it works any time of the day.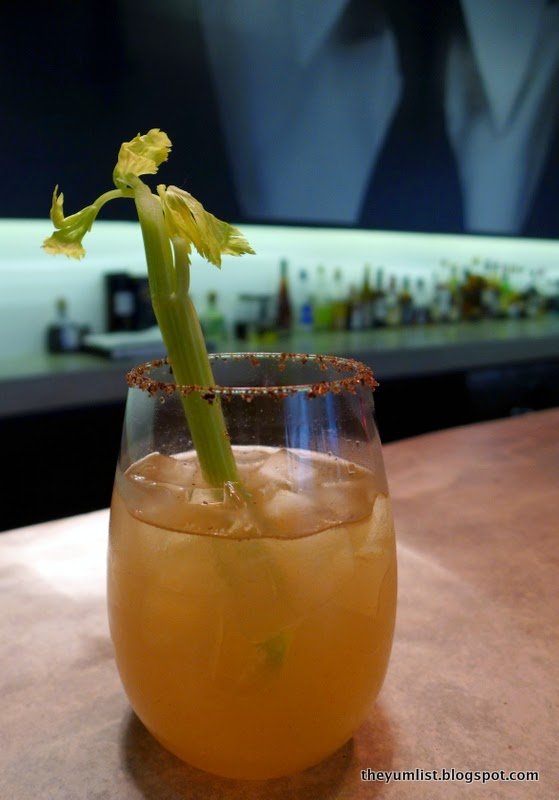 Crystal Mary
A starter portion of Pumpkin Ravioli (RM19++) glistens in front of me. I bite into to the dense house made al dente parcel and the sweet smoky centre fills my mouth with fun. Crumbles of tangy goats' fetta cut through the oozing butter sauce that crinkles with crispy sage: a boosting mouthful to accompany our aperitif.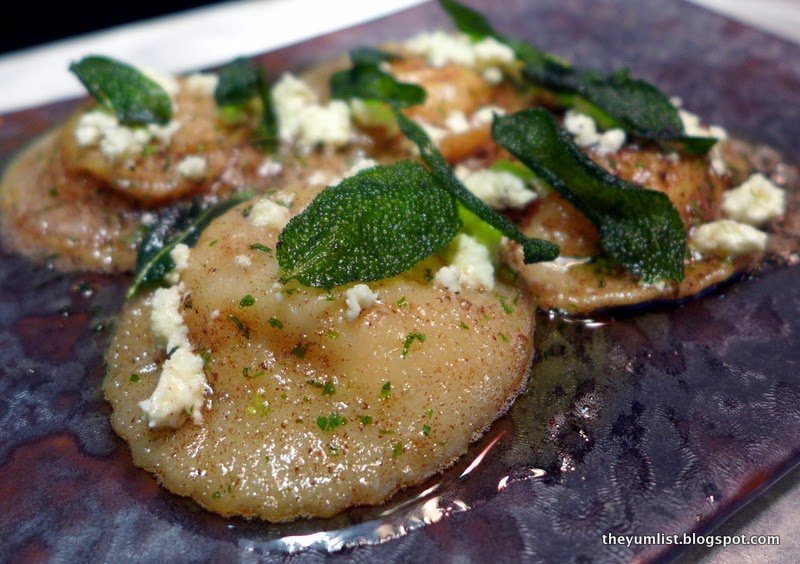 Pumpkin Ravioli
We try small portions of the salads, just to taste, and are so glad that we did. Cherry Tomato Salad (RM25++) brings the savoury style to the tongue. Baby tomatoes burst with flavour among slender slices of onion adding texture and tiny bursts of dense flavoured olives. Radish shavings swirl through it all, and it shines with a balsamic glaze drizzled across the top.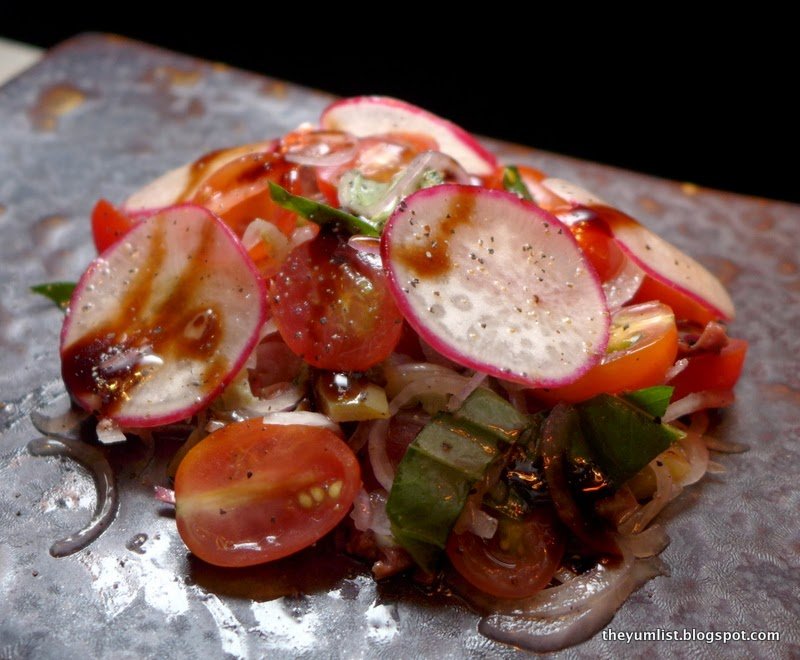 Salad Tasting Portion
Fennel Salad (RM19++) on the contrast is a light, fresh concoction. The crunchy fennel slithers beautifully balance with moist orange slices and crumbly walnuts in a mint lemon vinaigrette. Both salads are layered so lightly it is apparent that they've been constructed freshly on the plate. I'd happily exist for a while on a combination of these two mouthwatering delights. I ask, if on my own I could order half-half. The reply comes, 'there is no cannot here.'  Fabulous… The salads shown are salads 1/3 of regular size as priced.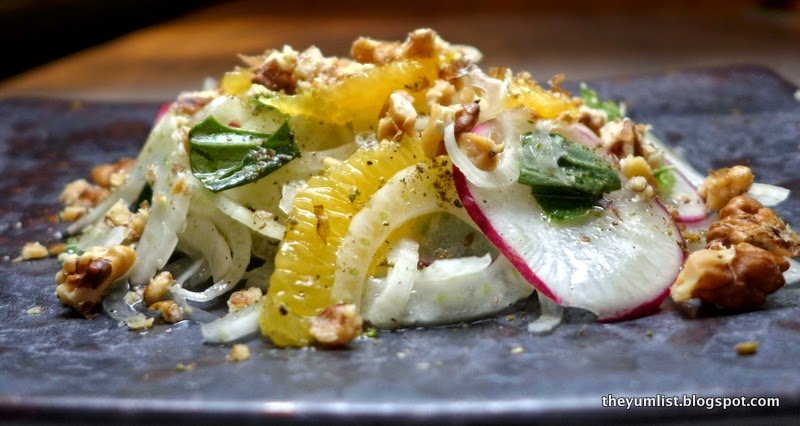 Fennel Salad
Seared Haloumi with eggplant (RM29++) grabs Monica's attention. I am not an eggplant fan, but I do my duty and I taste everything! And then I have to eat my eggplant hating words. It's my favourite dish of the night (one I have to go back for!) The semi dried tomato tahini blended with aubergine is like nothing I have ever tasted. Emotionally it reminds me of plum pudding, that dense rich texture and taste. The combination with the bubbling haloumi is divine. Do not talk when this dish arrives, but eat it quickly before it cools to get the best of that crispy outer and stretchy salty inner. Yum scrum!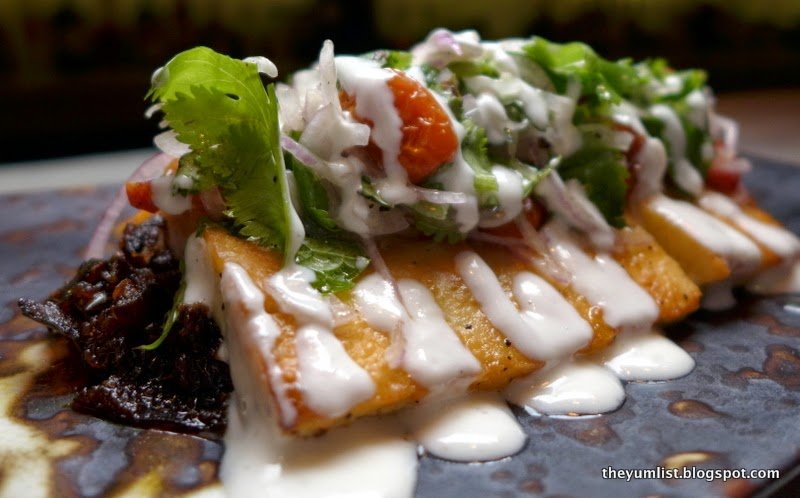 Seared Haloumi with Eggplant
As readers will be aware, one of my perennial look- fors is a selection of wine by the glass. And Drift has a decent selection in each colour, well priced between RM19 – 36: something for every pocket. The 'by the bottle list' has a greater variety, again with a range of prices. We taste a glass of the Santa Ana Sauvignon Blanc 2014. This is a light and dry Argentinian offering: a very decent wine for the price point.
Slow Braised Baby Pork Ribs (RM46++) have been slow cooked over 24 hours and it tells. Fronds of soft meat flake off the bone and unfold in my mouth with unbelievable smoky spicy tastes. The glistening outer is oozing Yakaniku sauce, not just sticky but caramelised and richly thick. As with all the dishes there is a fresh touch on top; red radish apple garnish with coriander hints tops off this generous plate.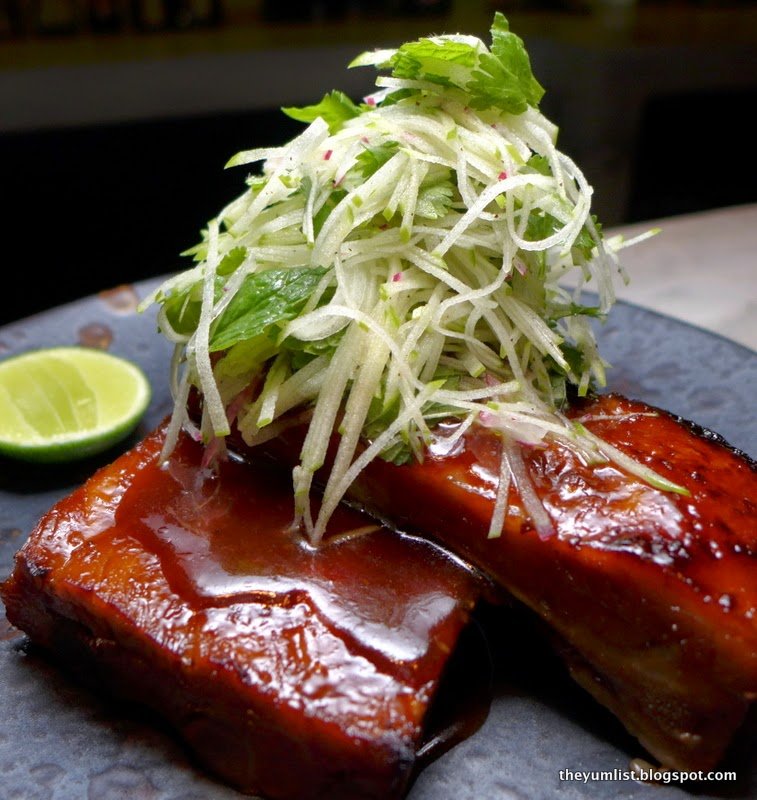 Slow Braised Baby Pork Ribs
Crushed Chat Potatoes are a revelation (RM25++). Tiny baby potatoes roasted in their skins pop soft sweet flesh into my mouth. Coated in a dry slightly tingly dukkah spice, the harissa aioli makes a soothing dipping sauce. Definitely a sharing dish though – we struggle with the bountiful portion. Thankfully Robert nabs a few. As we are eating I note the people drifting in and out: a couple at the bar with wine, friends sharing a weighty charcuterie board, girls on a cupcake cocktail. Everyone seems relaxed and vibrant in the 'come as you are and take it as you find it' atmosphere. We're being talked into trying dessert. I'm full to popping but needs must prevail.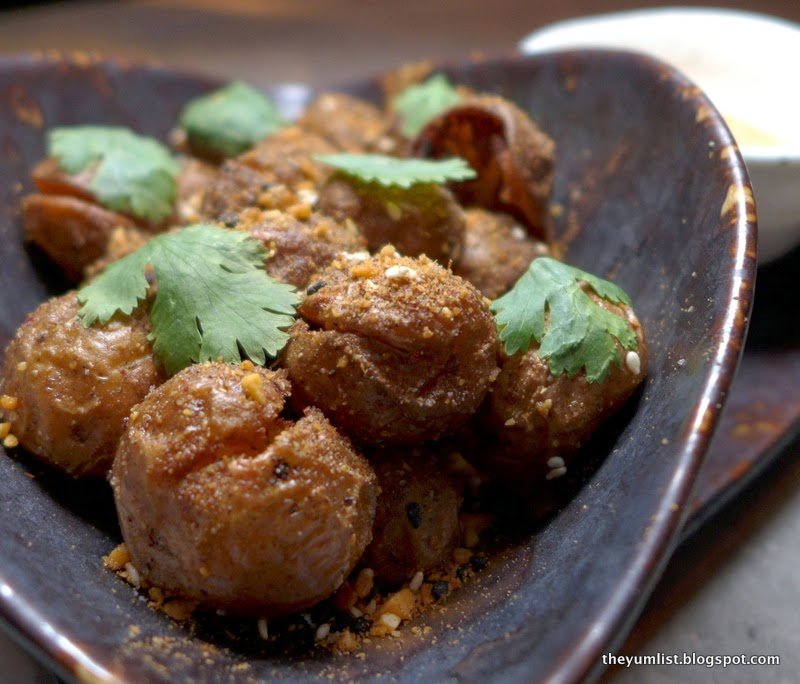 Chat Potatoes
Cinnamon Spiced Spanish Doughnuts (RM24++) is a great interpretation of churros. Another dish to eat quickly, to best experience the crisp crunch into a fluffy centre. I like the offering of homemade strawberry jam. I come from a jammy doughnut country after all. We like the fruit conserve but both sink into the thin viscous dulce de leche. Monica ends up spooning it direct from the dish. And she's so slim! Life is unfair 😉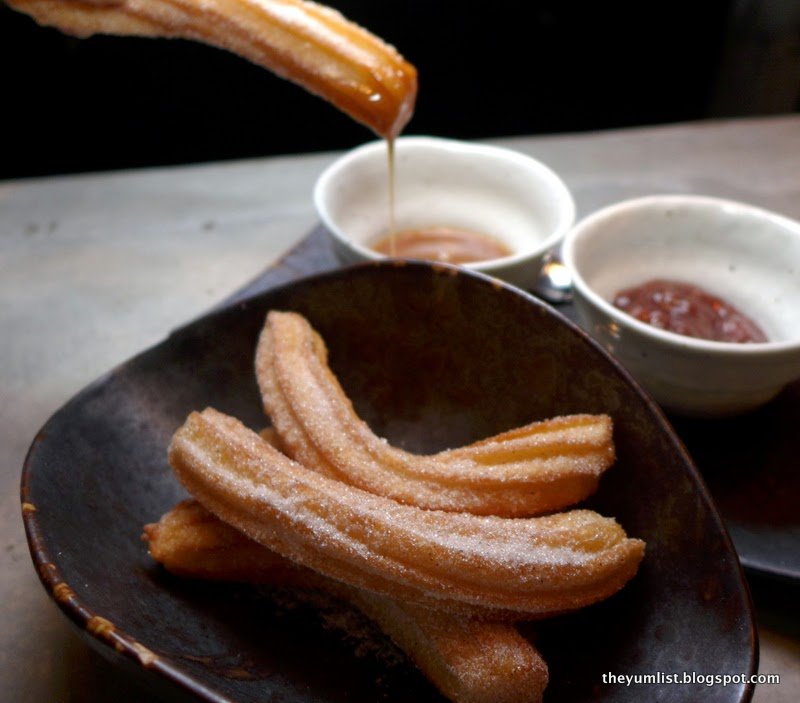 Cinnamon Spiced Spanish Doughnuts
We are treated to a shot of fragrant homemade Pomelo Cello. The sweet taste lingers on my tongue as we bid fond farewells, soon to return, oh very soon! This has been a wonderful treat.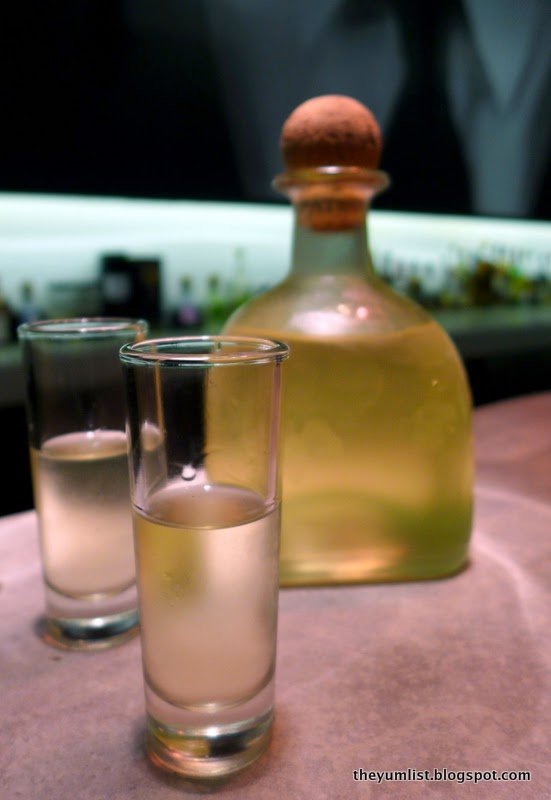 Pomelo Cello
All four partners we meet impress us with their expertise, sincerity and passion for what they are doing. Donna, Rick, Robert and Angus are experienced denizens of the Australian and international F & B industry and they are certainly going to shake things up a little in the city, pushing the boundaries of the food and drink experience in the area. The Drift concept may be laid back but make no mistake, these are serious people with a serious love of food and drink who promise us 'you should never come and not receive the same quality… you don't have to love every dish, just believe in why we do it…'  They wanted to bring the execution of a modern Australian restaurant but what I feel is the energy, and what I taste is the passion.
Honestly readers, I loved this place so much that when dear friends came in from out of town, I could think of nowhere I would rather take them. I was hankering for another taste of that aubergine pate. I started this time with Donna's newly created 'Drift 2', a palate freshening blend of rum and guava. A delightful opening to an evening that continued to unfold in what my friend called 'the most perfect way.' She's not impressed often, but we've had our share of 'food bliss' moments together. I counted five that night. I also discovered my perfect martini in KL. If, like me, you like them dry, and are not afraid to try something different with just a hint of spice, I encourage you to try the golden tones of Rick's imagination in his Sahara Martini. I can only say, 'I'm truly grateful'.
Reasons to visit: (too many dishes to list individually) a taste of Australia in the heart of KL; deliciously original, freshly prepared food; friendly professional service; great drinks.
Drift Dining and Bar
Ground Floor Bidara Condo
38 Jalan Bedara
Off Jalan Nagasari
Directly Behind Hotel Istana
Bukit Bintang
Malaysia
+60321102079 after 2pm
+60192936430
Opening Hours
5:00 pm til late Mon – Sat
Kitchen opens 6:30 pm
Parking is available in an adjacent basement for the reasonable cost of RM10