Patricia Podorsek and The Yum List (Monica Tindall)
As children, we learn that red light means stop and green light means go. But what about a blue light? What does blue light mean?
At Plaza Damansara, the little blue light on the pavement at the foot of the doorway advertising "SCSG Corporate Service" is your clue that the speakeasy Blue Elephant is waiting for you at the top of the stairs. Opened just four months ago, this movie-themed watering hole combines a fun atmosphere with some very original cocktails.
Want to act like a celebrity? After ascending the red-carpeted stairs, you can stop for a photo op, surrounded by pictures of iconic actors. A hidden doorway takes you through a sliding bookcase into the Paparazzi area, where flashing lights make you feel like a star entering the Academy.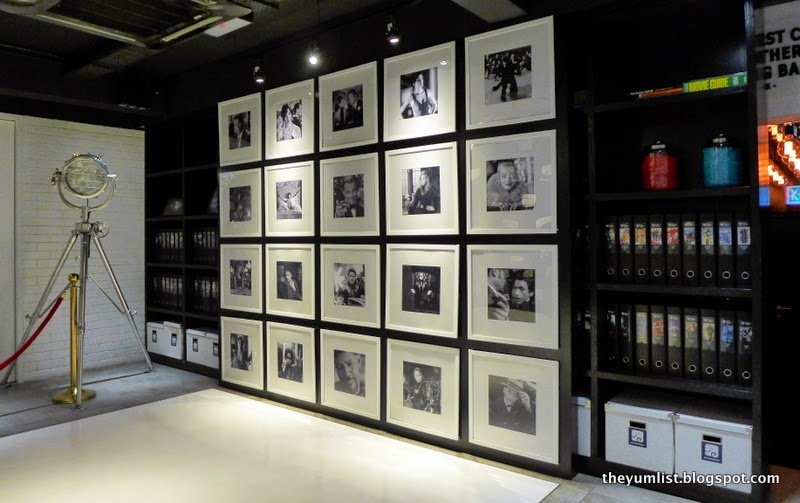 Entrance
Would you like to impersonate a director for the evening? Sit in one of the director's chairs at the bar. How about an actor? Have your picture taken next to the giant Oscar statue. You can even have a Marilyn Monroe moment, standing in the updraft while your skirt flies around your legs!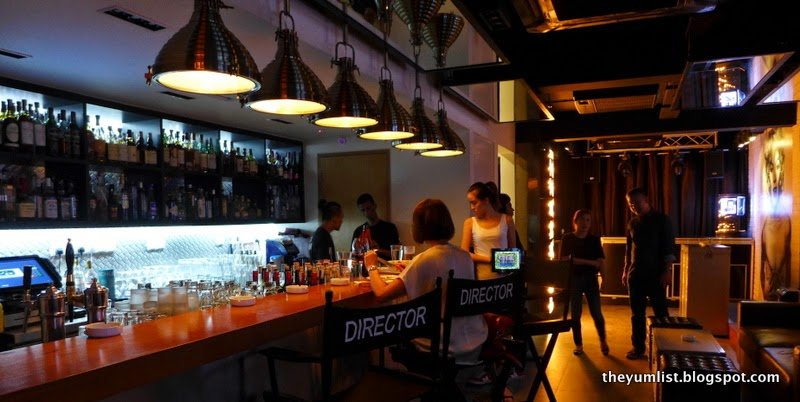 Director's Seat at the Bar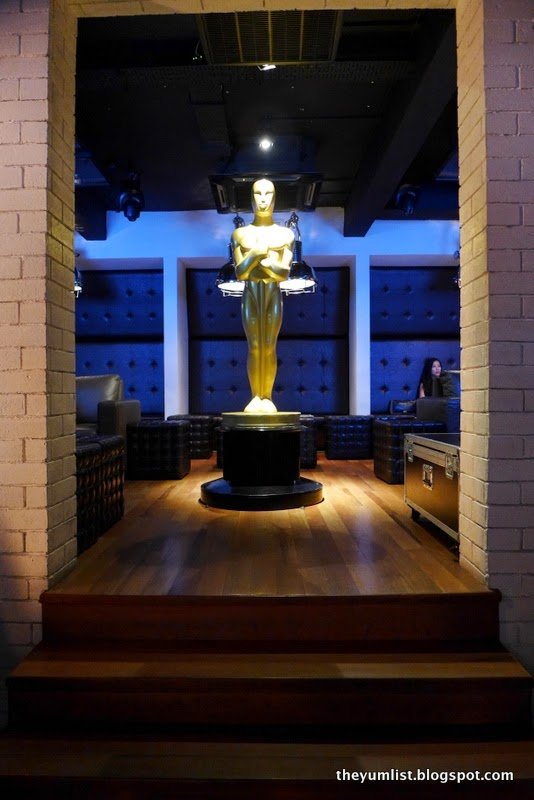 Oscar
But the real stars of the evening are the bartenders, ready to serve up more than two dozen specialty cocktails. The offerings include many old favorites, called "Your Elephants," like Manhattans, Moscow Mules, and Negronis. The nominees for "Best Original Cocktail", however, can be found among "Our Elephants", a set of signature cocktails found only at Blue Elephant.
We began with the namesake cocktail, Blue Elephant, a sweet blend of vodka, several juices and a little wine beautifully garnished with apple and grape. A little sweet for my liking, this is an easy and festive invitation for occasional drinkers who want something light and fruity.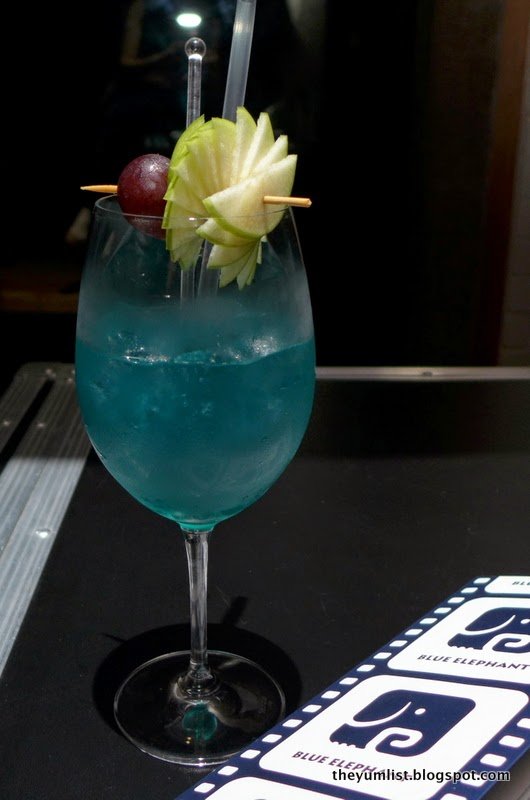 Blue Elephant
Next we sampled the Ginberry Juniper, a complex deeply-colored drink that unfolds in layers of lemon, sugar, pine, and berry. The rosemary garnish adds to the slightly pungent undertone of juniper while the lemon and berry offer a sweet edge to this martini.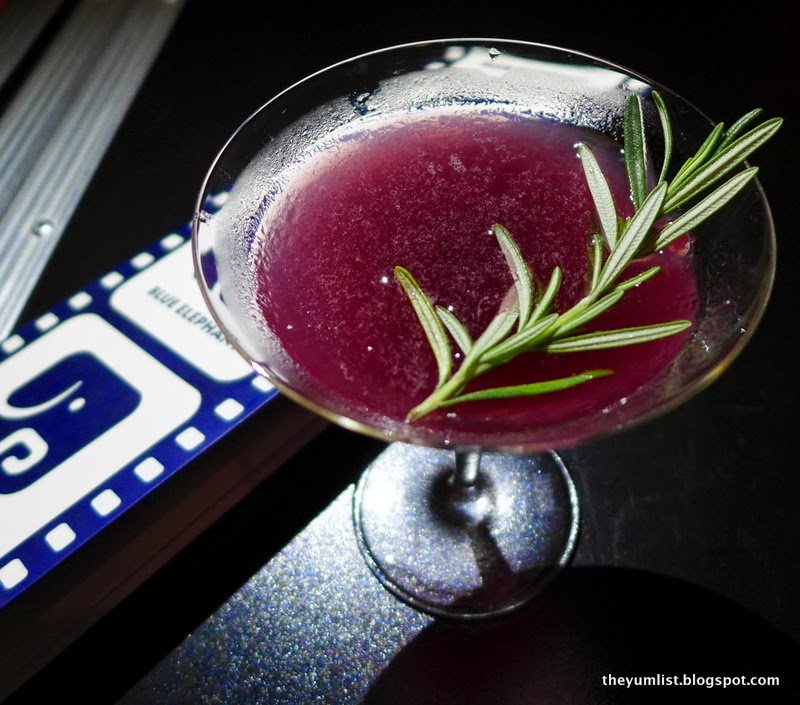 Ginberry Juniper
Tequila lovers will like Blue Elephant's remake of the classic Margarita, a more lemony version called Mr. Don Julio. Sweet and citrusy, this cocktail combines the peppery Don Julio Reposado with lemon juice and a touch of vanilla and raspberry syrups.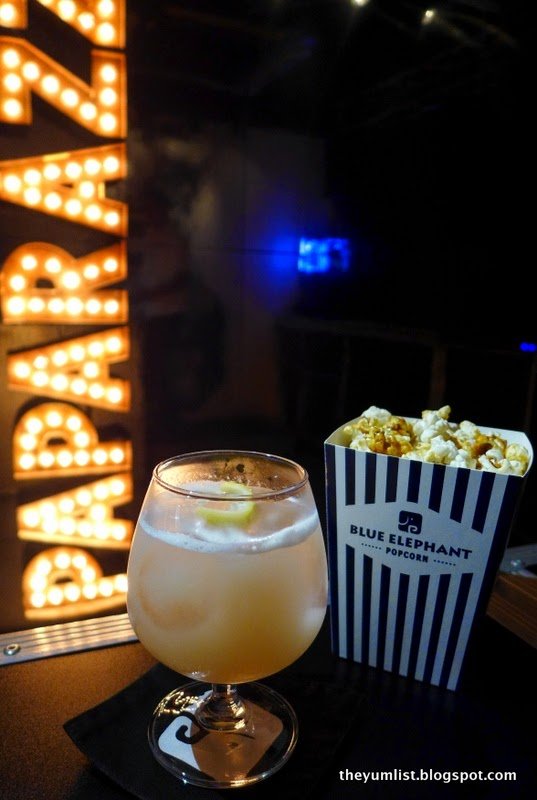 Mr. Don Julio
A variation of an old favorite, the Fragrant Lycheetini at Blue Elephant, is sweet and pink, infusing the vodka with lychee juice and homemade rose pandan syrup. A squeeze of fresh lime and two fresh lychees make this a tasty and popular martini.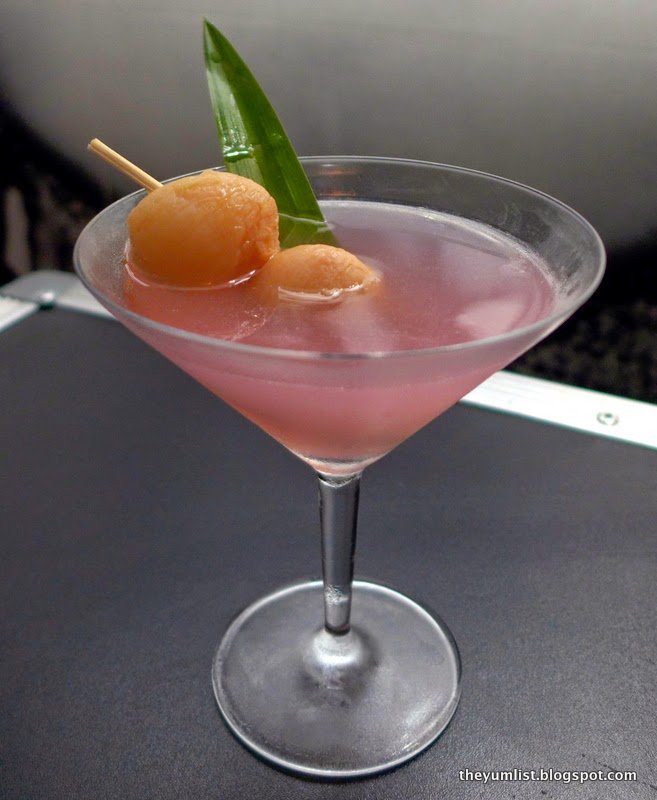 Fragrant Lycheetini
Take Me, one of their best-selling items, is made with unusual fig-infused rum softened by sugar syrup and fresh lime. Garnished with earthy fresh thyme, this delicious drink balances the delicate flavors of fig and citrus for an easy and refreshing beverage to sip throughout the evening. Take Me was my nominee for Favorite of the Night.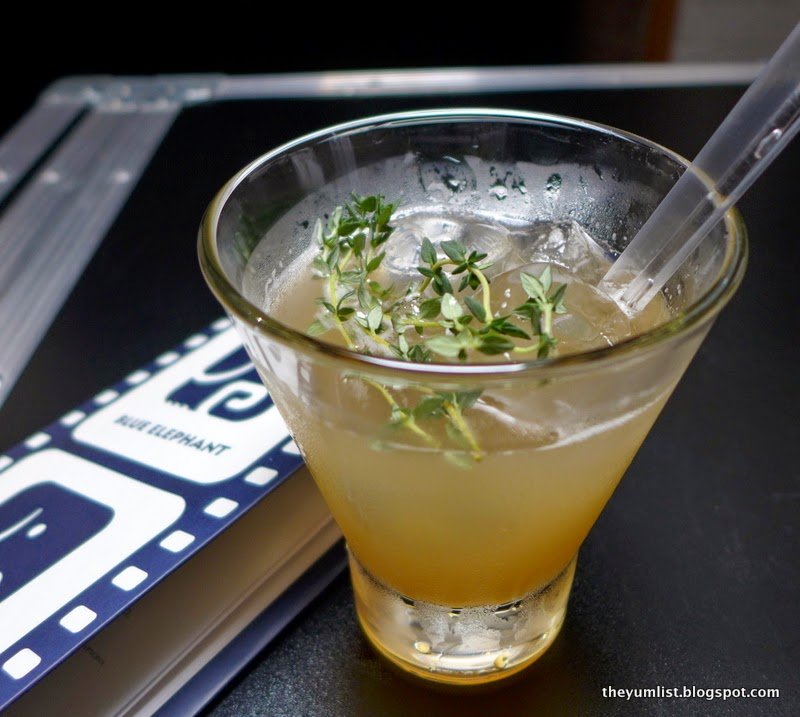 Take Me
Blue Elephant also specializes in single malt whisky, arranged by region on the menu, including a dozen Speysides and many others from the Scottish Highlands, Lowlands, and Islands. Among many, we sampled the smoky Laphroac and the award-winning Kavalan whisky from Taiwan. Whisky lovers will have no trouble finding something to their liking, available by the glass and the bottle.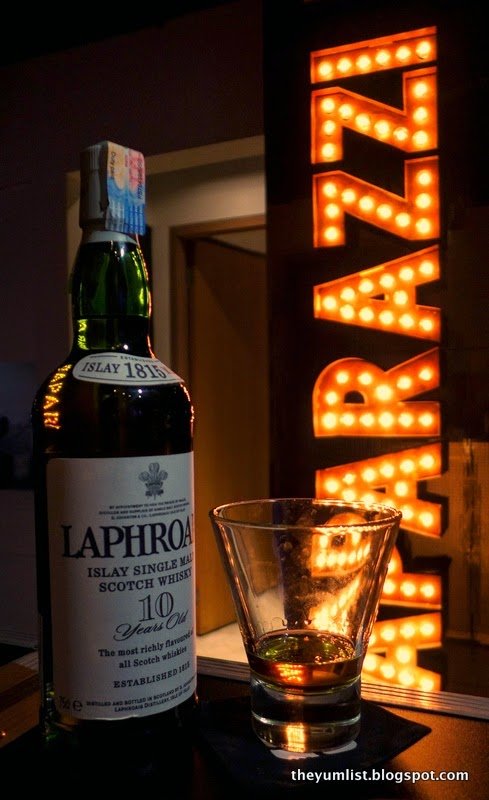 Laphroac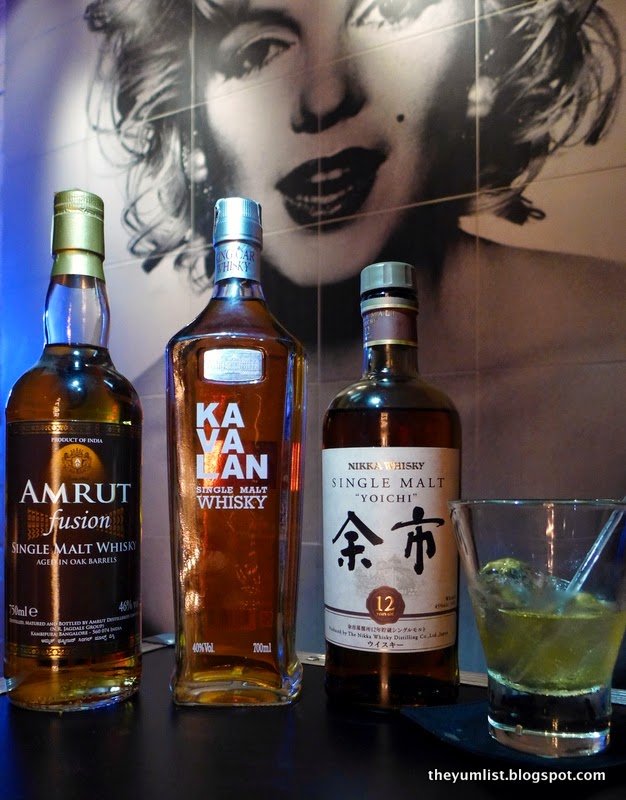 Whisky
True to the spirit of movie-viewing, a popcorn machine sits prominently near the bar, keen to supply caramel popcorn in cinema boxes for just RM4. Those needing something more substantial than popcorn or nuts can order roti, hopper, even a selection of sushi! For even greater appetites, orders can be placed through nearby A Li Yaa or neighboring Neroteca.
Be a star among your friends and head to the easy speakeasy at Plaza Damansara, Blue Elephant, open daily from 5pm till late. Drink specials are offered for Happy Hour every day, with extended hours on Friday and all night Sunday. Ladies' Nights are Wednesday and Thursday where ladies drink free from a limited menu.
Reasons to visit: Feel like a celebrity and have some movie fun over a good whisky or signature cocktail in trendy speakeasy style.
Blue Elephant
Plaza Damansara
Kuala Lumpur, Malaysia
03-2011 7715