Kristin Cosgrove and Monica Tindall
The best keeps getting better as La Scala, a regular on The Yum List "best of" lists, welcomes new chef Emil Sassolini, straight from Italy. Chef Emil has a passion for fresh and wholesome ingredients, sourcing local veggies and choosing healthy, quality meats while cooking only with premier oils. His new menu engages the palate, and sets the standard for the Italian dining scene in KL.
While The Yum List editor Monica and her husband Caning have been to La Scala several times, this is my first visit, and I was surprised I had passed the unassuming restaurant several times without having noticed it. Parking is available out front, and if traffic is a concern, parking at KLCC or Avenue K and walking over is easy and only takes a few minutes.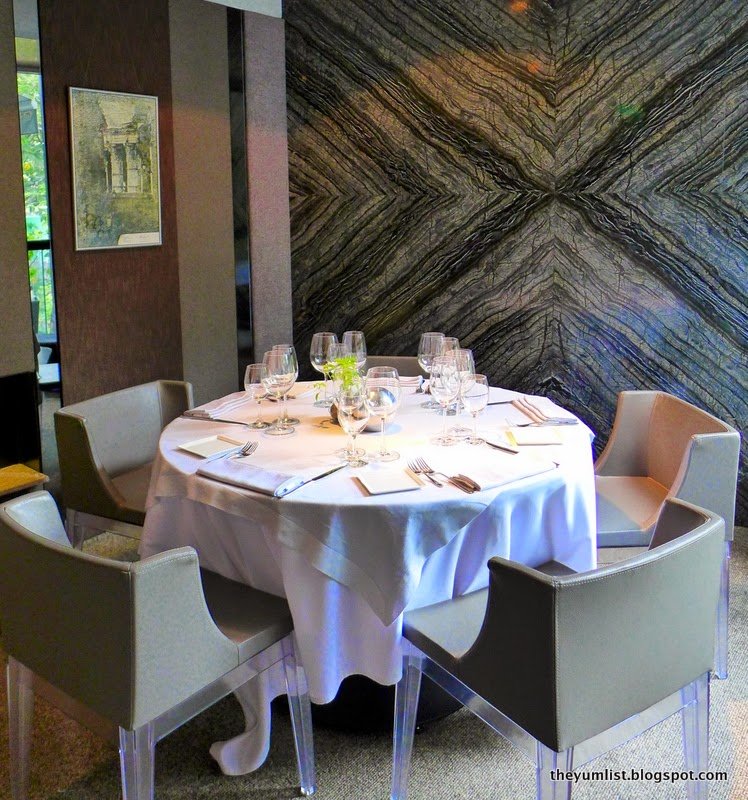 Dining Table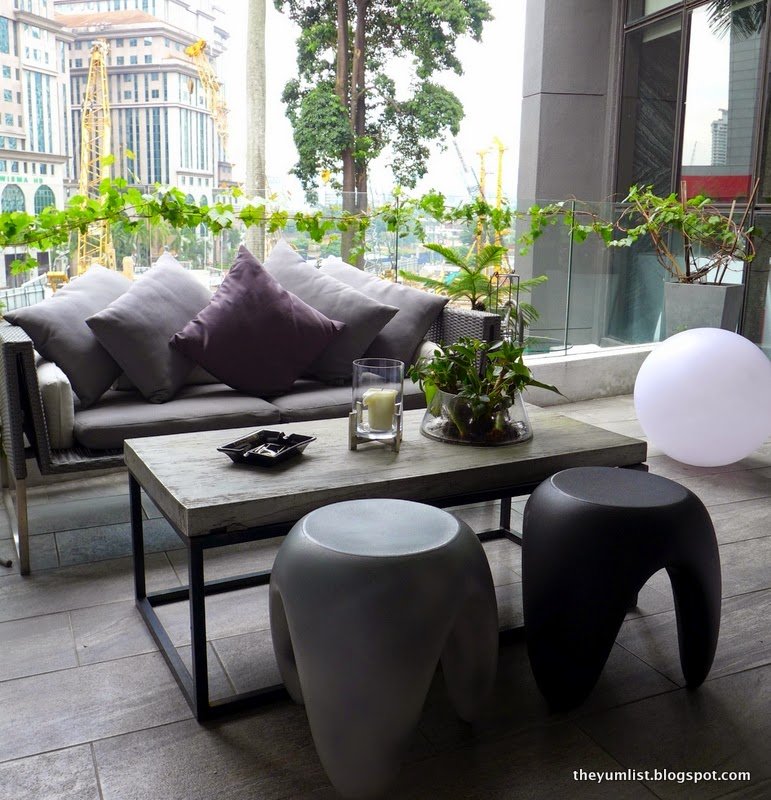 Outdoor Patio
As we step off the elevator and into the dining room, impeccable décor greets us; clean lines and subtle tones are complemented with crisp, table linens, which are noticeably of very fine quality. Elegant, private rooms boast hand-painted murals, and an al fresco patio with balcony glass is fringed with grape vines.
Private Dining Room
The quality of the décor sets high expectations for service and food, and we are not disappointed. The service from staff was beyond reproach, unobtrusive but always on hand.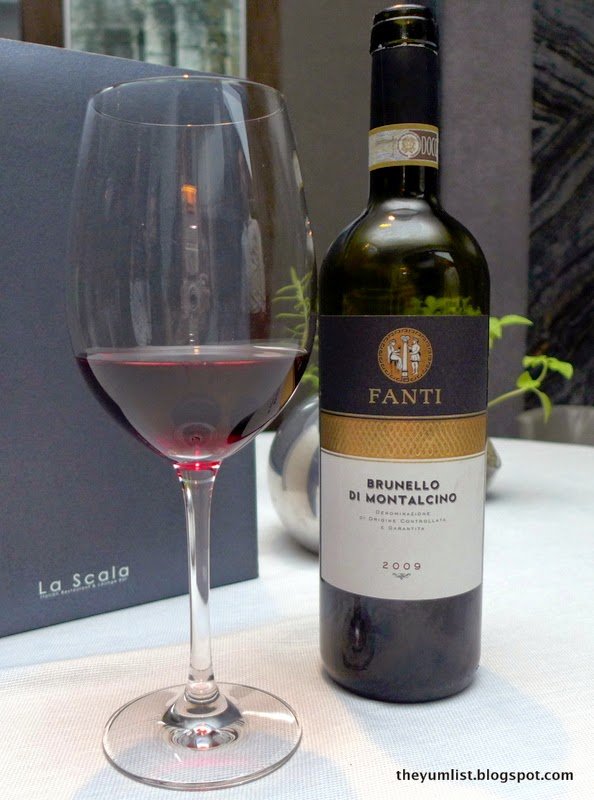 Brunello di Montalcino 2009 – Some very fine wines are kept in La Scala's cellar
A huge sangria in the style of south Italy quenches our thirst as we take our seats. Delicious and zippy, it's the perfect antidote to a hot Malaysian day. We especially liked the detail of the fresh and pretty garnish of berries across the rim of our glasses. These fine details are seen throughout the meal – even the still water is ameliorated with an infusion of lemon and strawberries.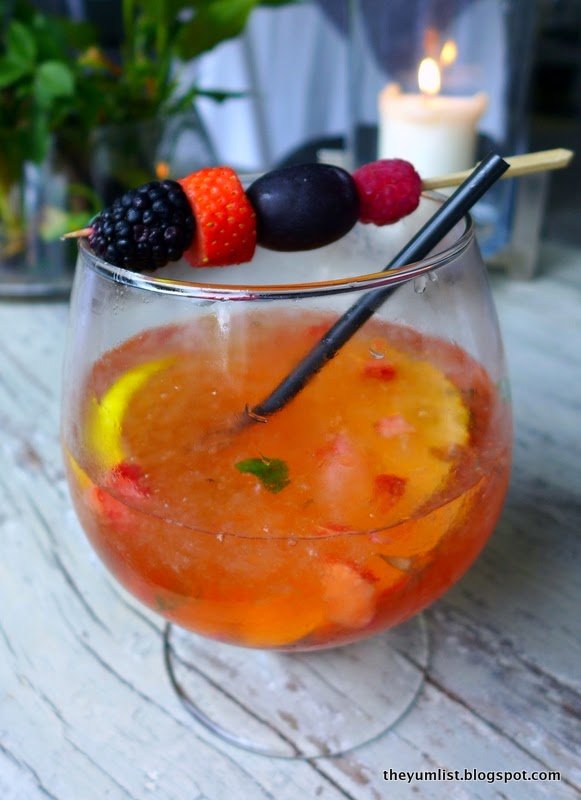 Italian Sangria
Anxious to taste what Chef Emil has in store, we are tantalized by the amuse bouche of burratta, a mix of mozzarella and cream, augmented with finely diced cucumber and tomato, drizzled with olive oil and a dash of salt and pepper. This invigorating bite sets the stage for a memorable meal to come.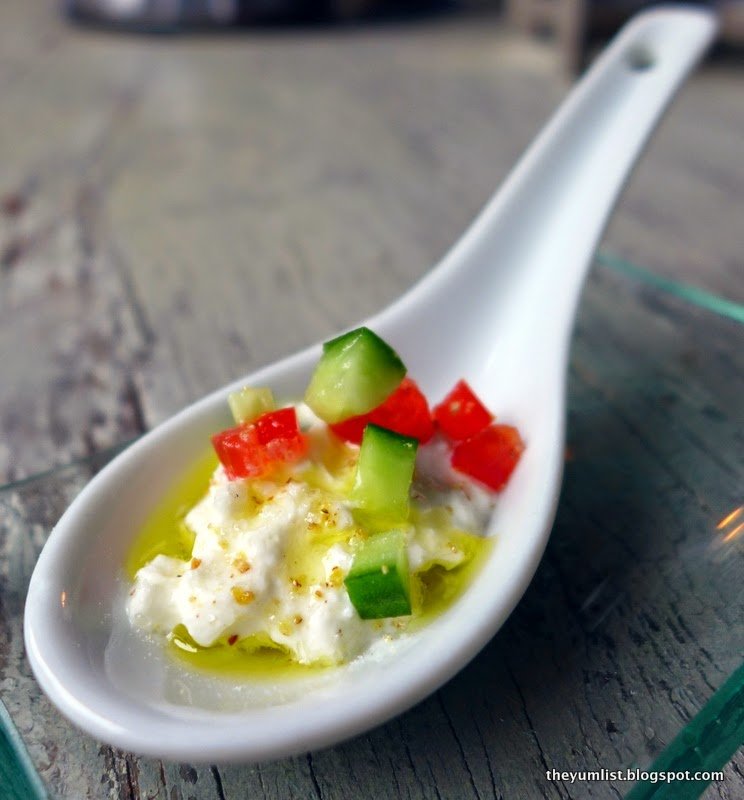 Amuse Bouche
The Insalata Vitamina is a fresh and healthy appetizer, with tart green apples, sweet orange segments and a sprinkle of toasted pumpkin seeds. The simple salad is elevated with a zesty balsamic reduction and lamb's lettuce, a tangy and delicate green not seen very often in KL.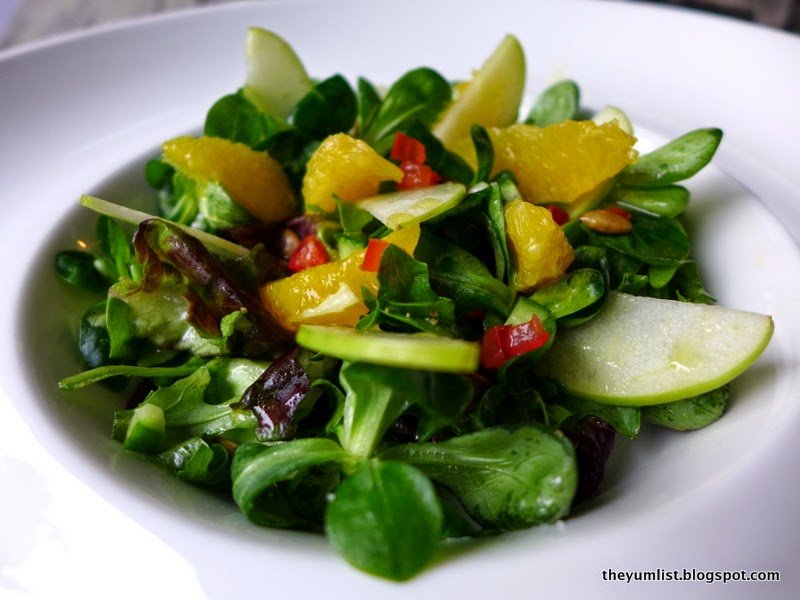 Insalata Vitamina
Chef Emil's delicious gnocchi is exquisite. A colorful blend of potato and beetroot gnocchi makes for a beautiful plate, and the walnuts add crunch and an earthy taste to the dish. The dish is finished with an amazingly delectable and creamy Gorgonzola fondue, the salty and aromatic blue cheese blending perfectly with slightly bitter taste of the walnuts.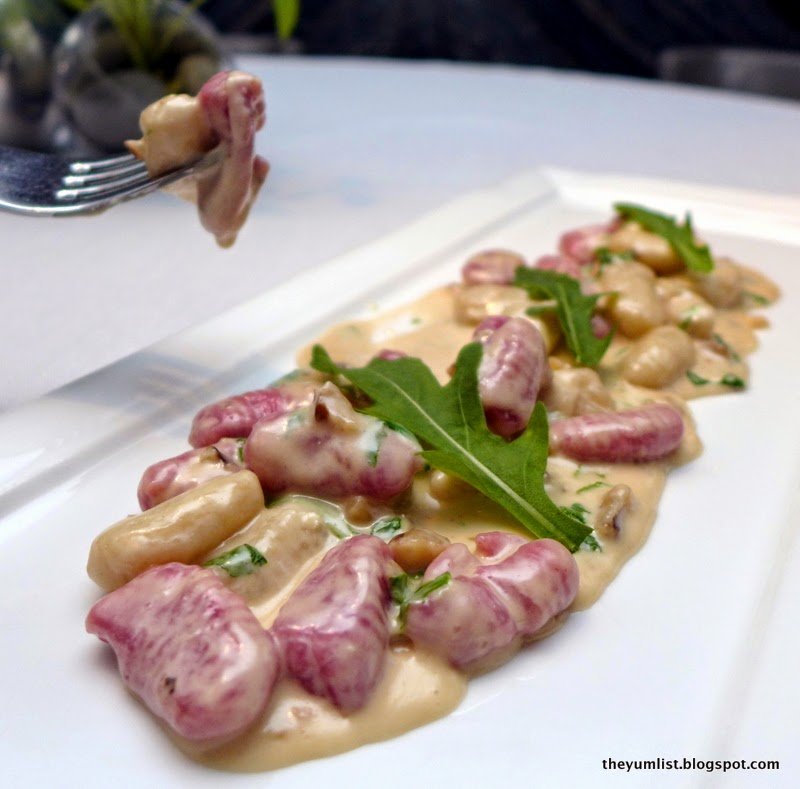 Gnocchi Noci, Gorgonzola e Rucola
Risotto Zafferano Asparagi e Foglie d'Oro holds in perfect balance the flavor of the impeccably cooked asparagus, the al dente rice and a rich and buttery cream sauce with a barely-detectable touch of saffron. The gold leaf is an especially elegant touch.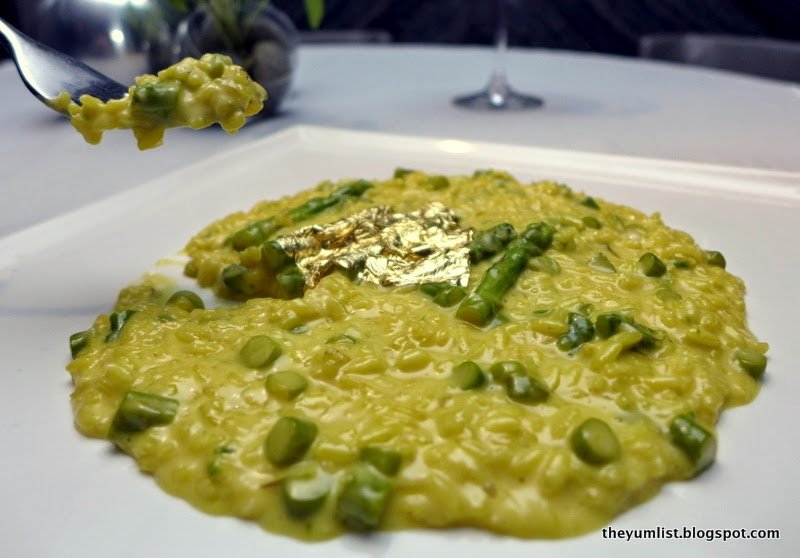 Risotto Zafferano Asparagi e Foglie d'Oro
My favorite dish of the night has to be the Italian twist on a shrimp purse. A crepe is filled with a savory béchamel sauce and tiger prawns, baked to perfection and then perched amidst a thick sauce with a rich tomato paste base. The combination of rich béchamel and tomato paste is absolutely sublime, the prawns are tender and juicy, the crepe is a perfect density with crisp edges.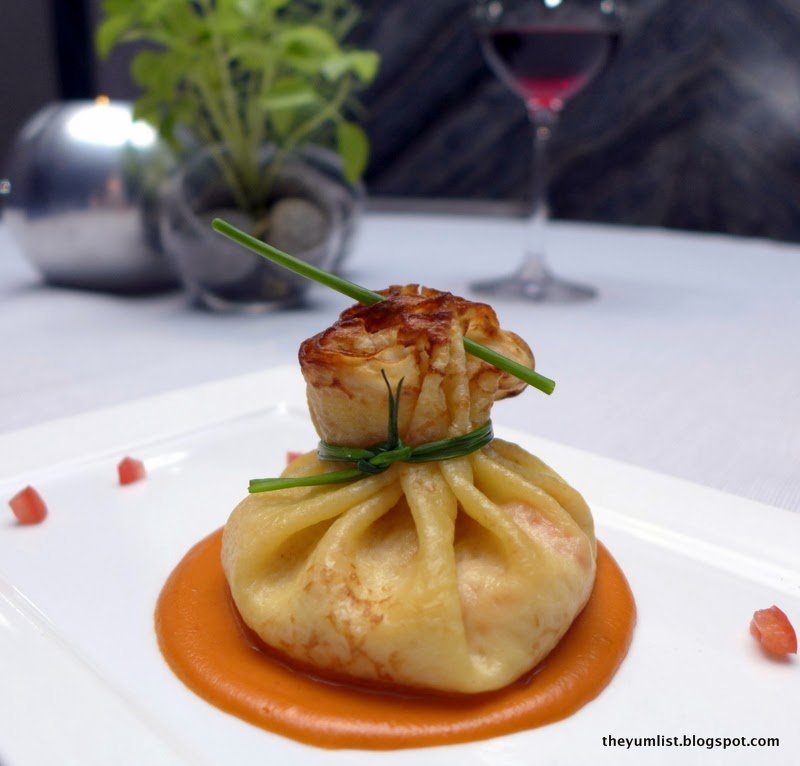 Crespelle Oven Baked with Prawn Ragout
Roasted "Haikkaido Bay" Scallops were also perfectly tender and flavorful, served in a dollop of truffle dressing with hazelnut and complemented with the distinct flavor of a truffle shaving and sprig of Italian thyme. Served on a black slate plate, this whole presentation is as beautiful as it is flavorful.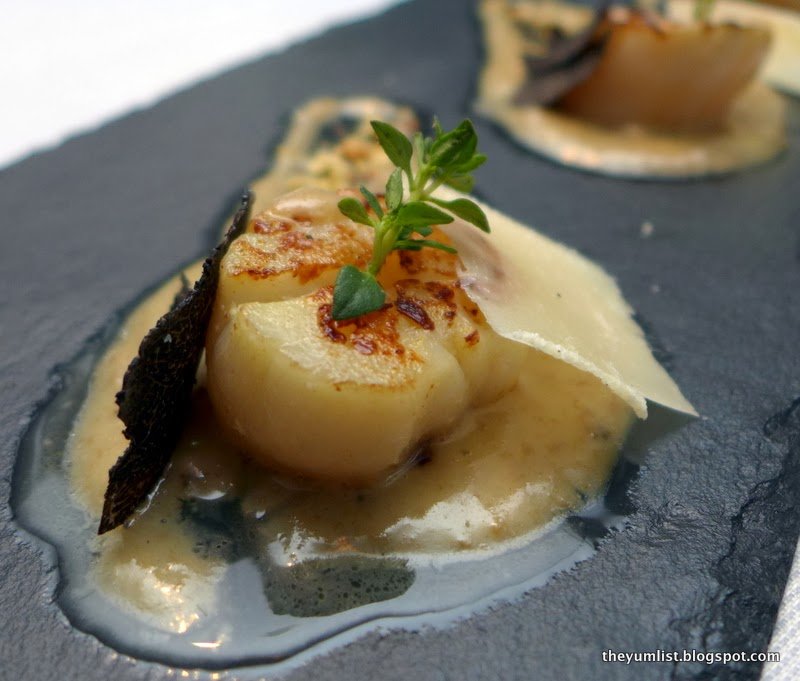 Capesante con Creme di Tartufo Bianco Parmigiano Reggiano e Nocciole Tostate alla Menta
Chef Emil's lamb chops are to be admired, then devoured, what with a handsome crust of white and black toasted sesame seeds accenting the pink center. Topped with a scattering of floss-thin fried onions and set atop a bed of mixed greens, the meat is exquisitely cooked and melts in the mouth.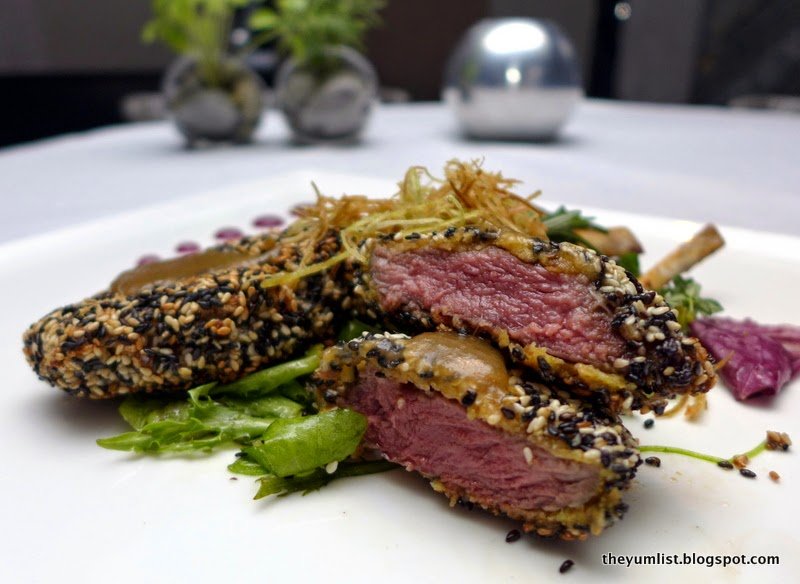 Costolette di Agnello con Salsa di Melograno
Dessert is a must at La Scala, especially if you have an eye toward the chef's special, Ricotta Mousse. This whipped dessert is a trio of mousses, each topped with a different flavor of chocolate, made in-house from Venezuelan cocoa. The vanilla mousse sports a milk chocolate and goji berry wedge, the strawberry mousse a nutmeg chocolate piece, and the pistachio mousse contains a 75% chocolate with curry to add spice. All three are tremendous and we have trouble picking our favorite.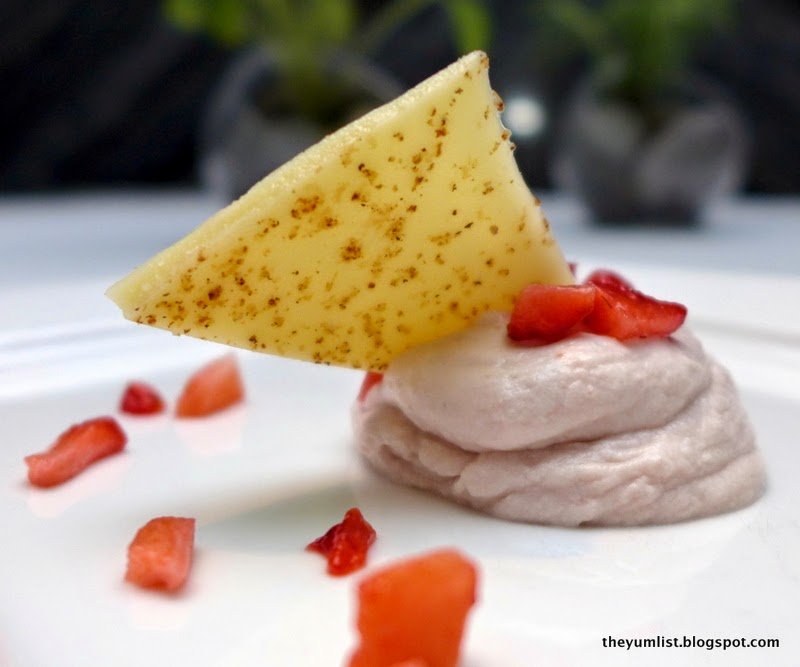 Strawberry Ricotta Mousse with White Chocolate and Nutmeg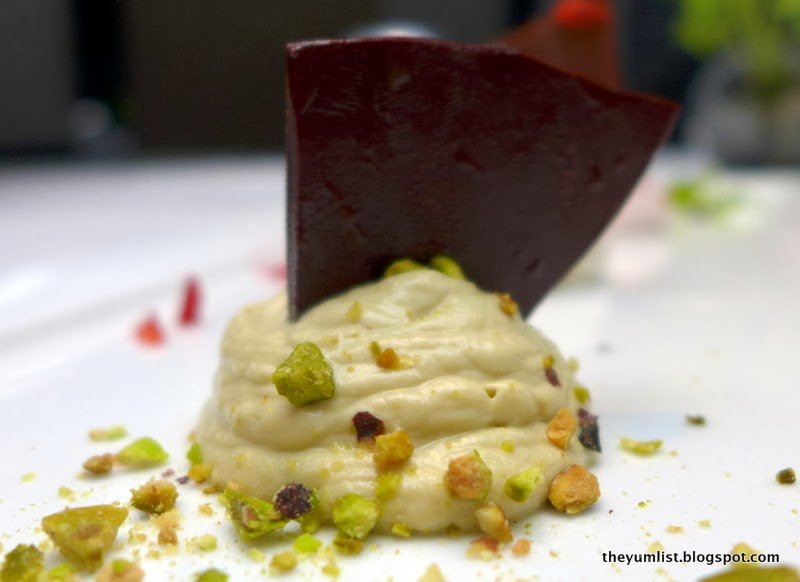 Pistachio Ricotta Mousse with Dark Chocolate and Curry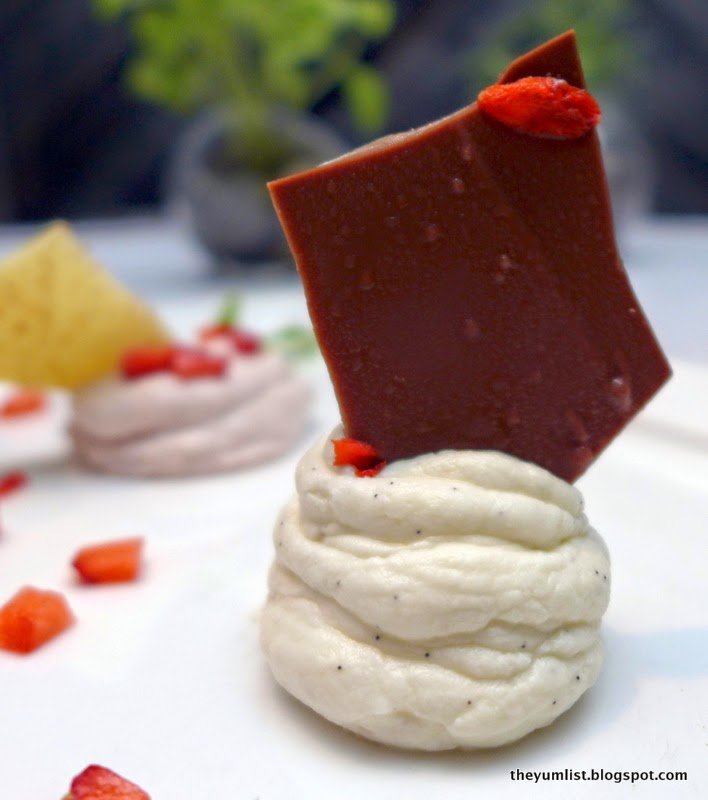 Vanilla Ricotta Mousse with Milk Chocolate and Goji Berries
For those looking for quality food during the lunchtime rush, or a place to take a client or hold a lunch meeting, La Scala offers a two or three-course quick lunch, at only RM58 or RM68 respectively – very good value for money!
After dinner we make our way upstairs to La Terazza, La Scala's al fresco rooftop terrace and bar, covered with a sweeping tent roof and offering a lovely evening view of the sparkling city and the twin towers. Expectedly more casual than its fine dining sister, La Terazza is the perfect after-work place to imbibe or get together with friends. Plus, it's said that the pizza Chef Emil crafts here is one of the best in the city, though we are simply too full to sample it on this night. All the more reason to return!
Reasons to visit: Italian food at its finest; quality ingredients; attention to detail; a perfect place to impress a date or client.
La Scala Italian Restaurant
183 Jalan Mayang (off Jalan Yap Kwan Seng)
Kuala Lumpur 50450, Malaysia
+6 03 2161 2291
Lunch:  Monday to Friday 12noon – 2:30pm
Dinner: Monday to Saturday 6:30pm – 10:30pm
Pork free
Parking is on site with the entrance either via Jalan Mayang or Jalan Yap Kwan Seng.
La Scala is also walking distance from KLCC and Avenue K.