Louise Miller and Monica Tindall
Anyone who has dwelled long enough in Kuala Lumpur to have delighted in its culinary richness, may well also have realised, a little more woefully, that 'Malaysian cuisine' and 'wholesome, healthy salads' are rarely seen in the same sentence, far less on the same menu! These two loves of mine, with so much potential compatibility, had been total strangers for far too long, that is of course until Dennis Lee and Edward Wong of Chai Bar decided that salads with Asian flavours were the way forward and created matches made in heaven that are sure to please expat and local palates alike.
On the particularly scorching hot day of our visit, the light and airy coolness of the café's interior and the array of refreshing drinks with which we were greeted were very welcome indeed.  They were all fantastic: packed full of delicious fruity flavours, each with an interesting twist provided by an added herb or spice and absolutely no sugar.
We tried the Carrot & Orange (RM7.50) which was complemented by the warmth of fresh ginger, the zingy Mango Passion Smoothie (RM8.50), sweetened by honey rather than sugar, Caning's favourite, the Watermelon & Mint (RM7.50) and the drink that had Monica and I in raptures: the Apple & Pear that tasted like liquid apple pie with all of the comforting flavours enhanced by cinnamon and none of the pastry naughtiness! The biggest surprise of the lot though was the Avococo (RM8.50), an avocado and cocoa smoothie about which I was a little dubious: I'd never tried avocado in a drink before but this was a delightful revelation  – thick, sweet and very tasty, this is a must try!
All of the salads that followed were designed with rigorous attention to nutritional balance, calorific reduction and 'wow factor' flavours. We began our leafy journey with Chicken Rice (RM14), a healthy interpretation of the traditional Malaysian staple but with half of the calories. The rice in this dish was the nutty and wholesome red variety and was balanced with chunks of crunchy cucumbers, bean sprouts, fresh spinach leaves and seriously succulent poached chicken breast all amalgamated in a sesame soy dressing – this was pure perfection!
Next at the table, was Bibimbap (RM18)  – a low calorie variation of the signature Korean dish, this salad contained baby spinach with red rice, cucumber, carrot, mushrooms, bean sprouts, hard boiled egg, sweet gochujang  (a spicy Korean pepper paste) and sprinkles of kimchi and Korean anchovies atop super tender slices of perfectly pink grilled beef.
We now understood why Dennis had been keen to emphasize that although a salad café, Chai Bar takes its meat very seriously, priding itself on the quality of both the chicken and beef served here.  They use chicken breast and topside beef for their leanness and painstakingly slow cook both  (up to 4 hours for chicken and as long as 12 hours for the beef) to ensure utmost flavour and tenderness.
The next two salads provided a meatless interlude. California Girls (RM23) was an ingenious deconstruction of a Japanese California roll with its mixed lettuce and red rice, avocado, carrot, cucumber, cherry tomatoes, hard-boiled egg, pickled seaweed and kaori-hako, or crab sticks. Dusted with roasted seaweed and ebiko or fish roe, this salad was full of crunchy texture and came with an appropriately Japanese inspired dressing made with Japanese mayonnaise, mirin and wasabi which was delicious if a little fiery – I recommend pouring with moderation!
The following salad is unsurprisingly proving to be a real favourite amongst health conscious herbivores. The Superfood (RM16) is composed of mixed leaves with sweet potatoes, beetroot, avocado, dried cranberries, pine nuts, pumpkin seeds and quinoa and is utterly transformed by the incredibly tasty dressing. Packed full of nutty textures and goodness and complemented by the tang of the accompanying peanut, garlic and honey dressing, this was another highlight that had us contentedly grazing until that the bowl was clean.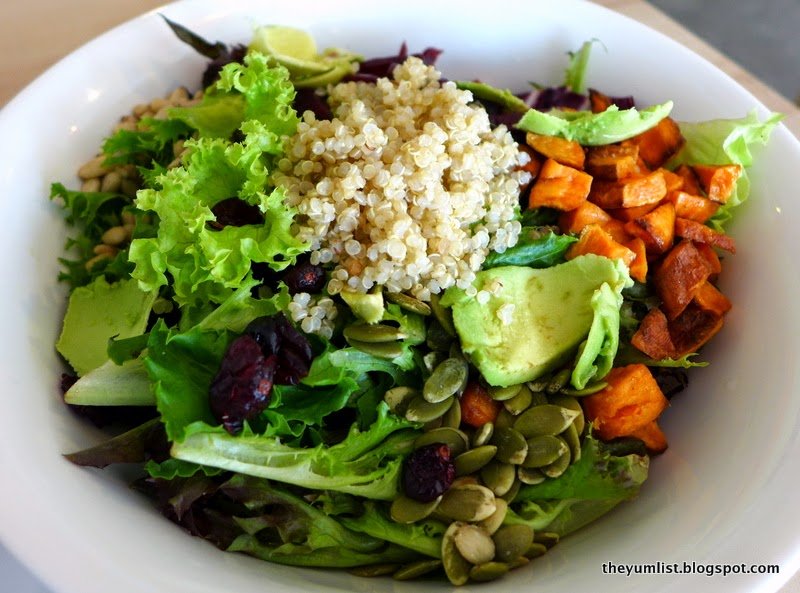 Superfood Salad
Dennis was eager for us to conclude our meal with a salad featuring grilled chicken so we opted for the Caesar Salad (RM19) since this is a good crowd pleaser and a personal favourite. This classic was made up of crisp Romaine lettuce with croutons, onions, hard-boiled egg, beef bacon, Parmesan and the eagerly anticipated grilled chicken which, on first taste, met our unanimous and enthusiastic approval and exceeded our high expectations.  Having been initially slow-cooked, the meat was finished under the grill and was served piping hot and just as succulent as the meat in the first two salads. We agreed that it was the best chicken we'd ever eaten in a Caesar Salad (and I've eaten a lot of those!)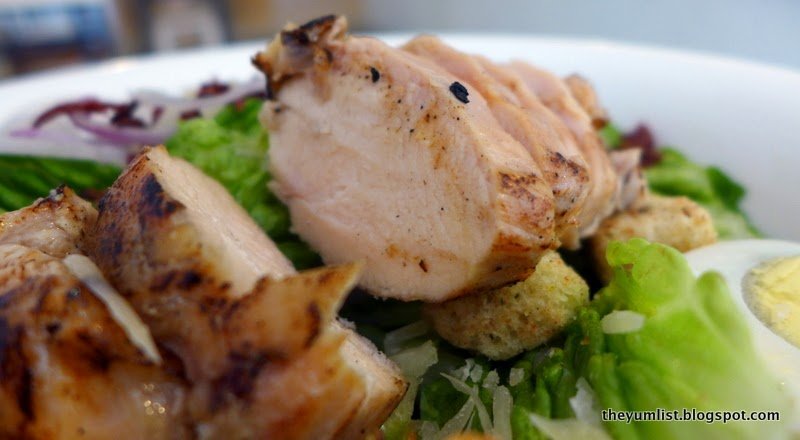 Grilled Chicken
Since Chai Bar isn't really close enough for us to travel to every time we crave a fabulously tasty and healthy salad, we spent the last part of our visit trying to convince Dennis to open a second branch at a location closer to home. I'm sure I would be a frequent visitor! I will, however, despite the distance, return to Chai Bar to try the remaining five of their  'Fab 10 Salads' (perhaps not in one sitting) or indeed to compose my own, choosing from their extremely extensive list of ingredients.
One of the most impressive features of this great little place is the fact that all of the salads notch up fewer than 500 calories and that all of the nutritional information for the items at Chai Bar is printed on both the menu and on their great website. Dennis and Edward are clearly very committed to providing the health conscious and weight-watching residents of KL with tasty options and to raising awareness that a healthy and low calorie diet really need not mean compromising on flavour. We think they're on to a winning formula!
Reasons to visit: Apple & Pear Juice, Avococo Smoothie, tasty  low carb and low calorie salads, especially Chicken Rice,  Superfood and Caesar Salad.