Han Sen Hau and Monica Tindall
Speakeasy is a term that has been thrown around a lot lately when describing taphouses with bartenders who dress like characters straight out of a Fitzgerald novel, but there's nothing prohibitive when it comes to the wondrous den on the second floor of Ril's Bangsar. The entire room is an anachronistic pastiche of some of history's most intoxicating exhilarating artistic movements as seen through its décor. From florid Rococo mirrors, to Privat-Livemont's Absinthe Robette and Gil Elvgren's cheeky pin-up illustrations, it isn't too difficult to imagine Bohemian artists occupying fauteuils in one corner devouring green fairies while American G.I.s sidle up to Betty Grable by the bar. Disparate motifs, yes, but they all work together to create this heady illusion that the room on the second floor of Ril's Bangsar is unravaged by time, and exists beyond its grasp.
It's like stepping into a circus, or a Woody Allen movie. The stage is set, the seats are drawn, and the lamps light up, illuminating the surface where incredible feats shall be performed on. We, the audience, meekly take our seats with anticipation like beleaguered souls consulting a crystal ball as master illusionists take centre stage in bow ties and all. They are ready for the initial conjuring, and our gaze is already transfixed upon swift movements of their hands as they toss, spin, twirl, and flick silver shakers before our unblinking eyes. As quickly as it began, the trick ends, and they reveal their hands. Four of Hearts.
Adding a Garnish
"It's Thyme to Get Lucky".
Our first tipple of the evening, Thyme to Get Lucky is a zesty concoction of wild honey, lemon, thyme, grapefruit, and ginseng root that's spiked with Angostura bitters. The cocktail is wonderfully creamy due to the unexpected addition of egg white, and we enjoy the signature ginseng bitterness creeping from the roof of our palates to the tip of our noses that complements the shot of lemon enveloping the tongue. The drink is incredibly complex for its distinct herbal notes and for leaving a spicy kick at the back of the throat, while the incorporation of wild honey, chrysanthemum syrup, and buttery thyme add a touch of sweetness to the experience. It should be noted that all of the syrups carefully labeled and stored in antique glass bottles are made in-house and displayed like cure-all serums at a Victorian apothecary behind the bar counter.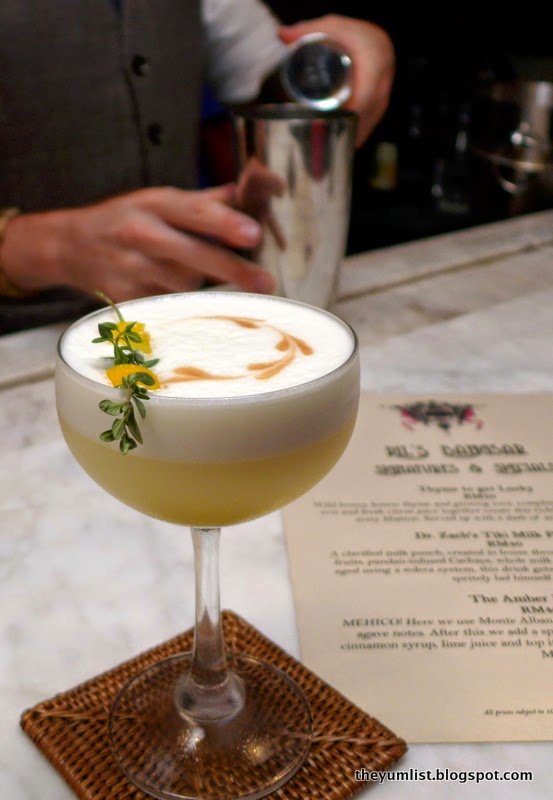 Thyme to Get Lucky
Resident alchemist Zach Luther is the inventor of our next cocktail, aptly named Dr. Zach's Tiki Milk Punch. Described as a drink that predates cocktails due to its formulation that banks on the clarification of milk, the concoction betrays its deceptively clear appearance and is remarkably nectarous. With tropical fruits and a cachaça base infused with fragrant pandan, this after-dinner drink invokes the familiar euphoric satisfaction of savouring perfectly ripened mangoes that melts on the palms of your hands and dribbles all over your fingers: it may make a terrible mess on the table if you're too excited but heaven forbid if you should be denied of the pleasures that swirl in this petite goblet.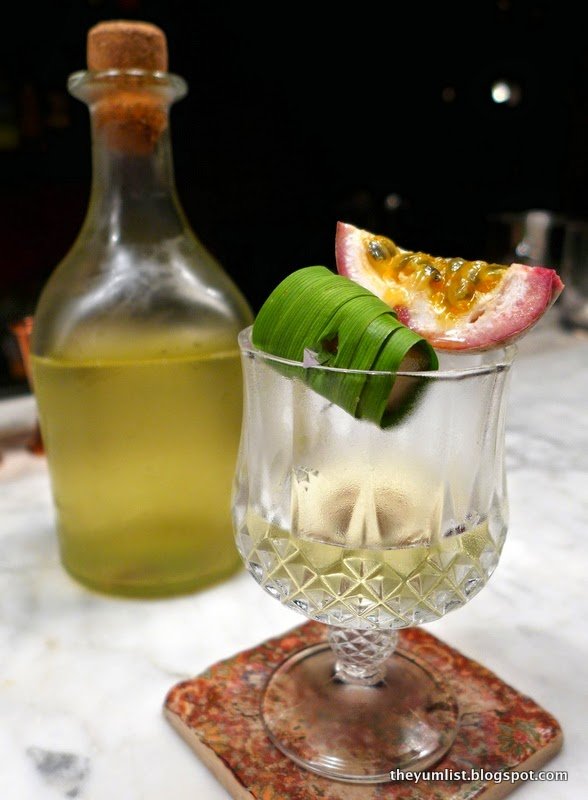 Dr. Zach's Tiki Milk Punch
Despite its name, the Amber Nectar is actually less treacly than the preceding drink. With a Monte Alban Mezcal base, a splash of Tepache, a dollop of cinnamon syrup, a trickle of lager, a spritz of lemon, and some mint leaves for garnish, the Amber Nectar is more refreshing than it is honeyed. Its sweet flavour arrives in pulses with every sip, but dissipates quickly to reveal a minty aftertaste that's reminiscent of mojitos. The greatest surprise about the drink lies in the Tepache, which smells exactly like Chinese calligraphy inkwells and complements the Mezcal's smoky agave notes in a strangely delectable manner.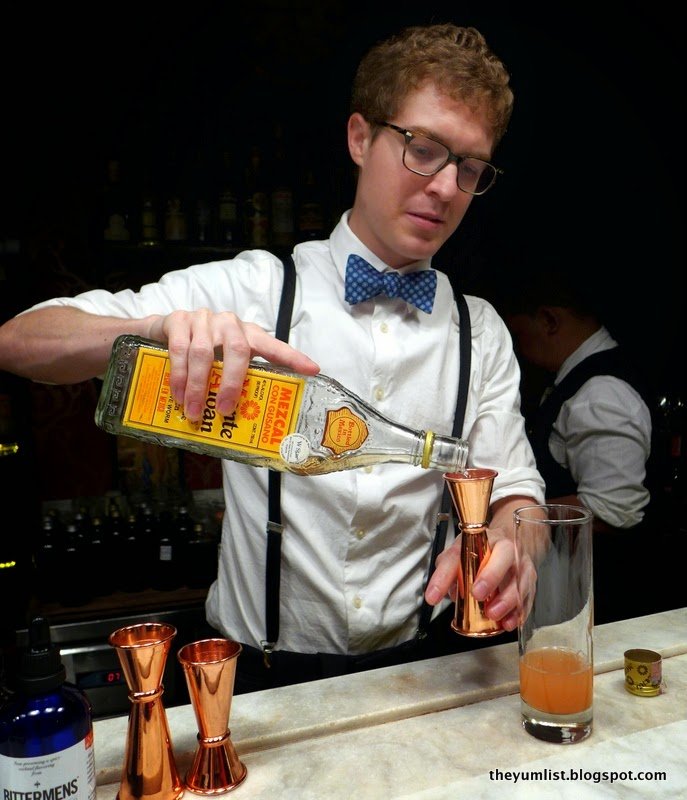 Zach Pouring Some Mezcal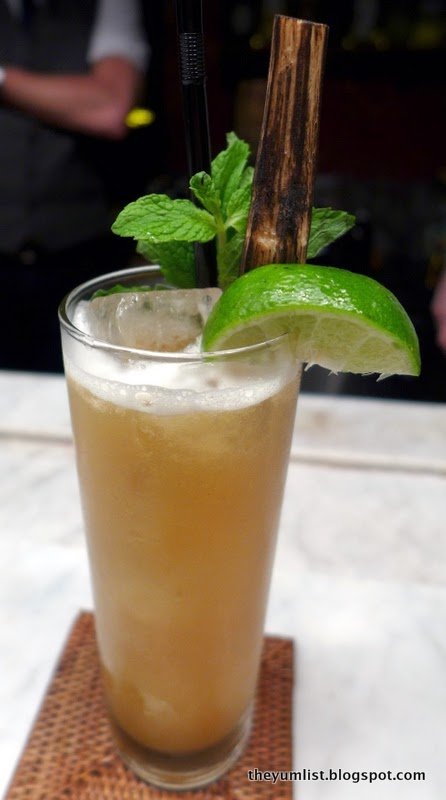 The Amber Nectar
Halfway through the evening and already feeling some steam escaping our ears, we move on to an unadorned beauty dressed in deep, sensual red, amusingly called Kid Creole and the Cococampari. The cocktail is an instant hit for its classic simplicity, though it exudes a sort of playfulness that can only be attributed to its name. Had it been christened Simply Red, we might have constructed a completely different interpretation of it, though we can't say if it would still mix well with "If You Don't Know Me By Now" even if the cocktail has a very memorable bittersweet profile. With Campari, Hawaiian rum, raw cacao nibs, coconut, and chilli gula Melaka mixed in, the cocktail has a sweet and herbal entry, with a lingering bitter aftertaste that bounces from the back of the tongue to the roof of your palate. It's easy to love Kid Creole and the Cococampari as this is one cocktail that could simply glissade its way into any occasion, from a fun night out with the girls, to a melodramatic one without any.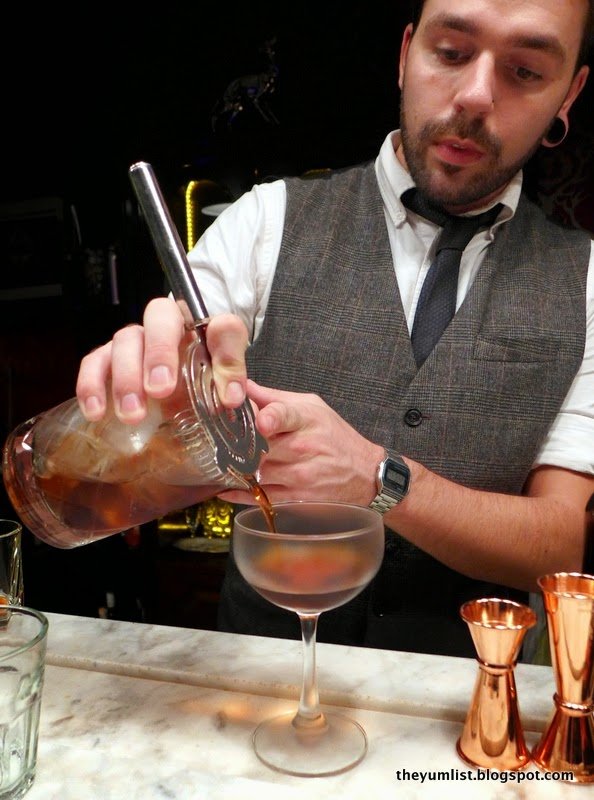 James Barker – Master mixologist of the real Cococampari?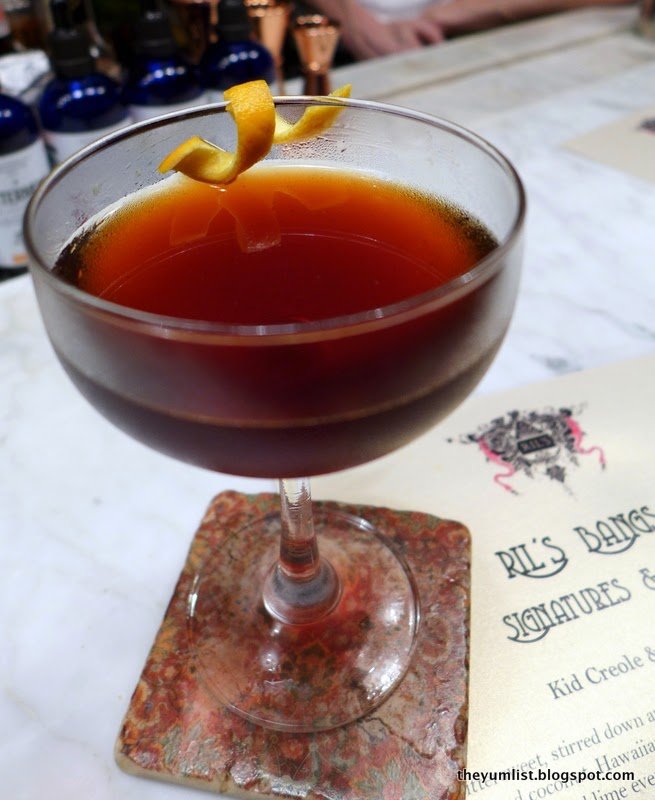 Kid Creole and the Cococampari
The penultimate Anejõmeslice is a real gem, and not just because of the diacritical tilde crowning the "o" which affords the drink instant exoticism by virtue of its spelling; no, for you see, the Anejõmeslice is made up of two very distinct parts, neither of which can survive without the other. At its base, we have barrel-aged Tequila that's aromatised with the addition of Parfait d'Amour liqueur and cardamom spiced Orinoco Bitters, while the top layer is an addictive layer of vanilla gastrique foam enriched with a hint of balsamic vinegar. The drink is then topped off with one final element that's crucial to the cocktail's success: torched licorice root. As you tip the glass towards your mouth for the sip, make sure you're inhaling the licorice root as the gastrique foam and Tequila base forms a perfect union in your mouth. That foamstache on your upper lip? Lick it off. Don't waste any of it! This is the best part! Because now, you get to ask the bartender to fill your glass with more foam! The Anejõmeslice easily tops our list for the experience and its fragrance, though this is contingent on a never-ending supply of foam to blanket the Tequila base.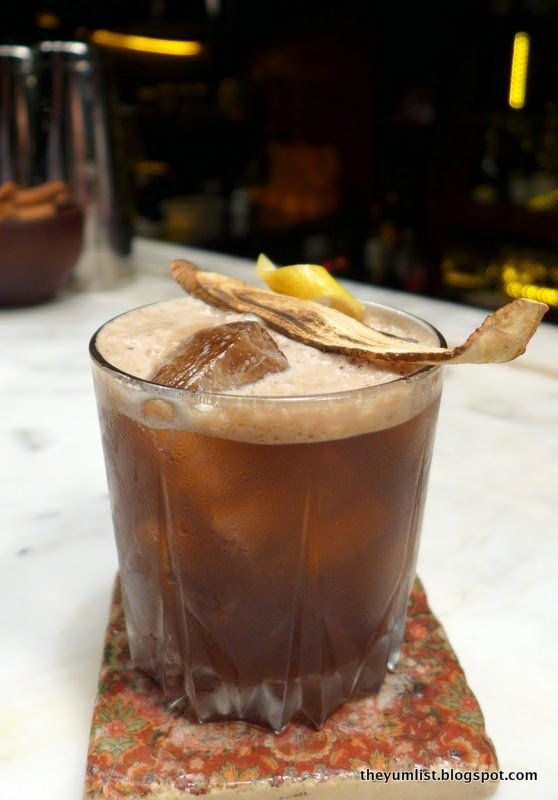 Anejõmeslice
Having thoroughly enjoyed five thought-provoking cocktails, we wonder how the last As Islay on the Beach would be with its mixture of twelve year old Single Malt Bunnahabhain Whisky from Islay, Olorosso Sherry, fresh pineapple juice, maple syrup, caramelised sugar cane, and a sprig of mint for garnish. The marvelous feature of this cocktail is that its flavour evolves over time, beginning with a little pineapple zesty, before progressing into this smoky sensation that tickles the olfactory, then finishing off with a lingering pecan pie… maple syrup combo at the end. In other words, this could be breakfast for some people: you have your pineapple juice in the beginning, you know, to detoxify your system first thing, then you go on to have a cup of really potent coffee as you smoke your pipe while sniffing the ink off the early edition, and finally finishing off with a pecan pie thrown atop pancakes soaking in maple syrup. We're certain some editors live by this diet. And now you can have it all as a highball.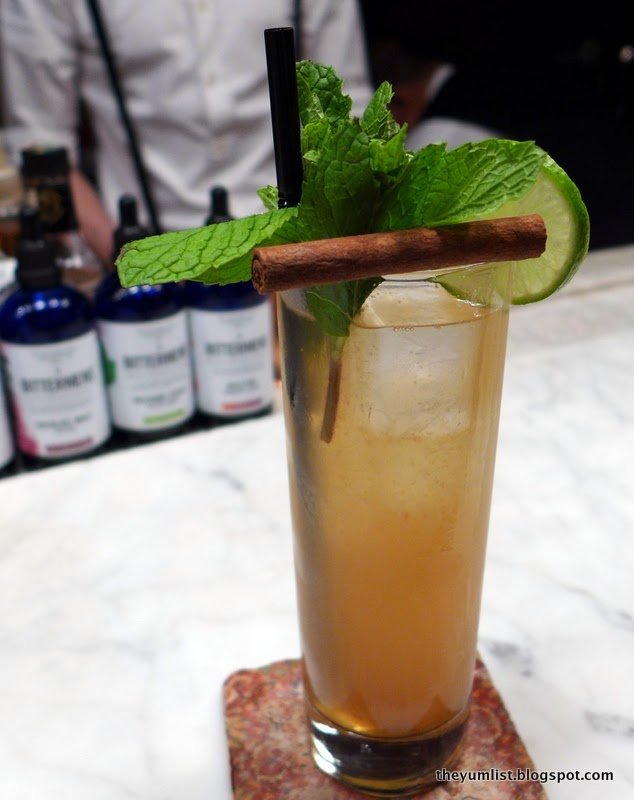 As Islay on the Beach
But in all seriousness, the final cocktail is actually a milder concoction compared to the others and a great conclusion to our colourful journey. Every single glass we've consumed in the past couple of hours have been extraordinary and they've succeeded in asserting their individuality by impregnating this shimmery glimmer of their flavours on our taste buds.
By the time each of us had returned from the washroom, we've verified with each other again and again that the washroom was indeed called 'The Aviary' and that there were parakeets chirping inside. As we performed the miracle of walking down the stairs towards the exit, at least one of us was beaming like a beacon, which, if positioned in the middle of the Atlantic, could probably be picked up by NASA. When all is sung and drunk, our adventure at Ril's Bangsar had been truly a pleasurable one. Like the environment in which they were concocted, the cocktails were a product of unadulterated ingenuity, and we look forward to returning for more imaginative creations that will make us squirm in delight.
Reasons to visit: The fun décor upstairs is definitely worth a peek (a little dark, but fun nonetheless), especially the photogenic bar area; all the cocktails as it's hard to pick a favourite, but if we were forced to give an answer at gunpoint, it'll probably be the Anejõmeslice.
Ril's Bangsar
30 Jalan Telawi 5,
Bangsar Baru,
59000 Kuala Lumpur,
Malaysia.
+603 2201 3846