Margaret Elizabeth and Monica Tindall
As you approach Fahrenheit 600 the exterior immediately welcomes you with a shot of green framing the entrance around the outside eating area. Through the plate glass window you see a modern, yet cosy restaurant design with professional and friendly staff at work, cooking just for you because that is how the staff of Fahrenheit 600 make you feel. Stepping over the threshold a breeze of complex aromas greets your senses and you instantly to want to get down to the serious business of tucking in to food and drink.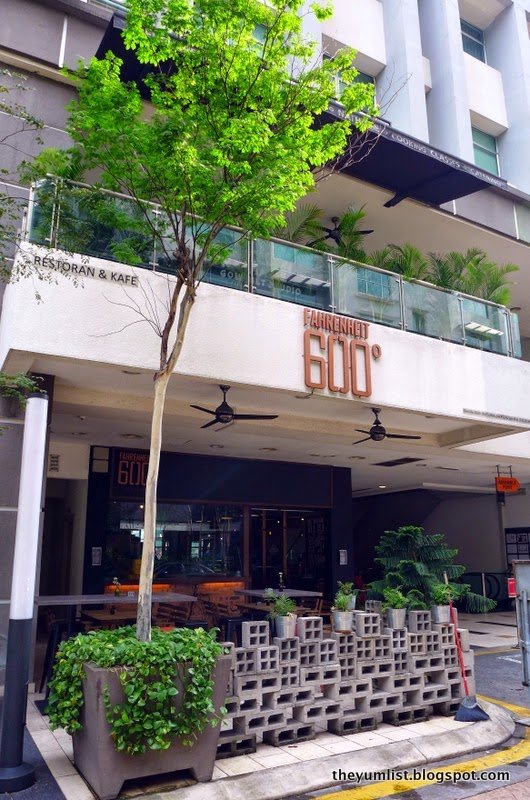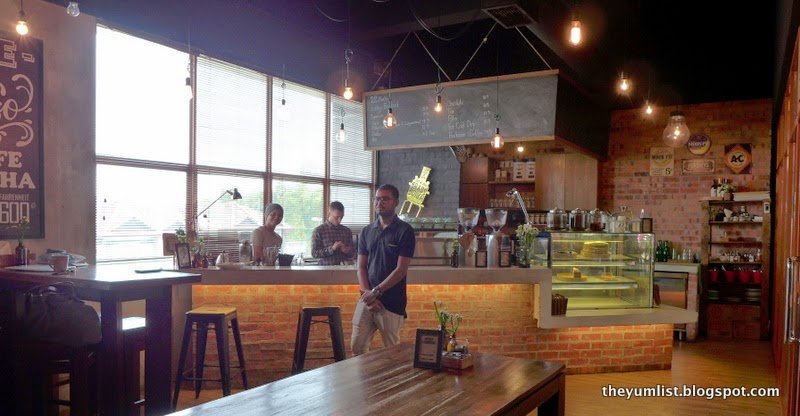 Brass Boiler – where the coffee is masterfully prepared
Channeling my inner hobbit I was delighted by the All Day Breakfast Menu. Aunty Joanna's Baked Eggs (RM18.90) are beautifully presented straight from the oven on a plank with an accompaniment of freshly, baked bread, golden brown and sprinkled with almond flakes. The bread is light and airy in texture with a pleasant hint of sourdough taste that perfectly marries with baked egg. The egg glistens from a pool of molten cheese studded with cranberries, a delightful surprise that accentuates the flavor of the cheese.  A sprig of rocket ties the colors of the fresh, unprocessed ingredients together. Key principles of Fahrenheit 600 are no fried food and no oil other than quality olive oil. This dish definitely feels nutritious, wholesome and tastes great.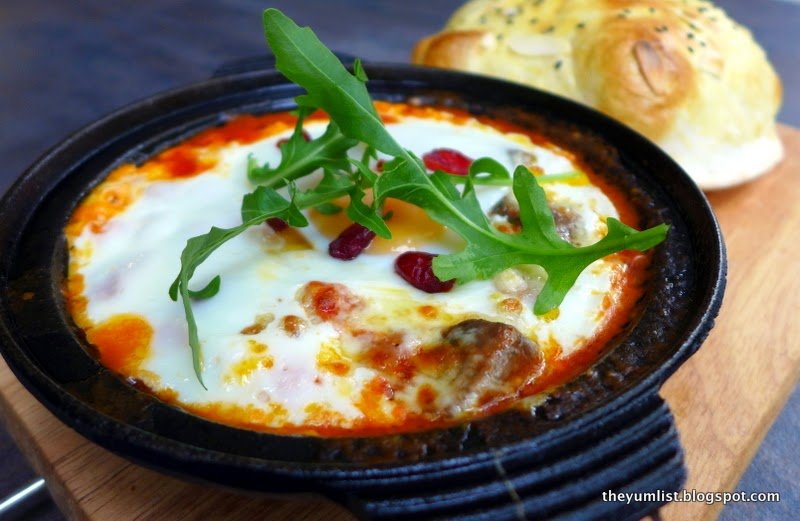 Aunty Joanna's Baked Eggs
Another unexpected flavor is that of the smoked duck. The Giggly Duck (RM 22.90) breakfast is art on a plate. A colorful layering of fresh baked bread generously daubed with Fahrenheit 600's own smashed avocado recipe: white poached egg, slice of fresh orange, pink of smoked duck, brown duck skin and an array of greens and deep reds from a variety of salad leaves. The texture of the smoked duck pays homage to bacon whilst remaining true to the taste of duck. Drizzled with balsamic vinegar and fresh herbs it is a visual delight and wonderful to eat as it is an exploration of taste running counter to typical breakfast menus.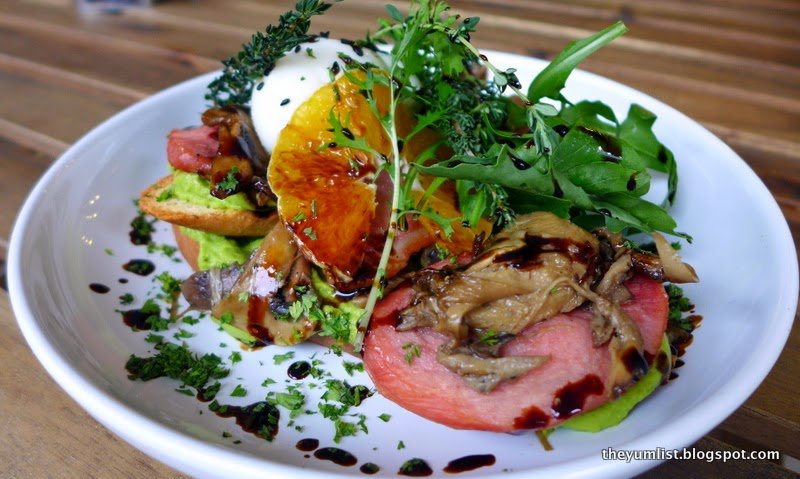 Giggly Duck
Those wanting something lighter, or closer to lunch than brunch, can experience the smoked duck in salad form. Continuing with artful presentations, salad leaves and circular orange slices spill voluptuously over the plate like Dali's melting clocks. Mr. Duck Quack (RM20.90) features the sweetness of dried cranberries with the traditional combination of duck and fresh orange. Homer Simpson famously sang, "You don't make friends with salad," but I think this is a salad that you will definitely want to come to know.
Mr. Duck Quack
Those of you fortunate enough to have already experienced Fahrenheit 600 will know that the name represents their custom oven that is set to 600 degrees Fahrenheit- the perfect temperature for baking crispy, pizza crust. The menu offers a comprehensive choice of uniquely designed, artisan pizzas. Our favorite, this time around was The Big Cheese Pizza (RM25.90 for a 9 inch pizza and RM 28.90 12 inch pizza). The crust was amazing and I could actually distinguish the tastes of the cheeses individually and as a complementary taste explosion of blended flavours in my mouth. If you are a pizza lover this is a pizza menu not to miss.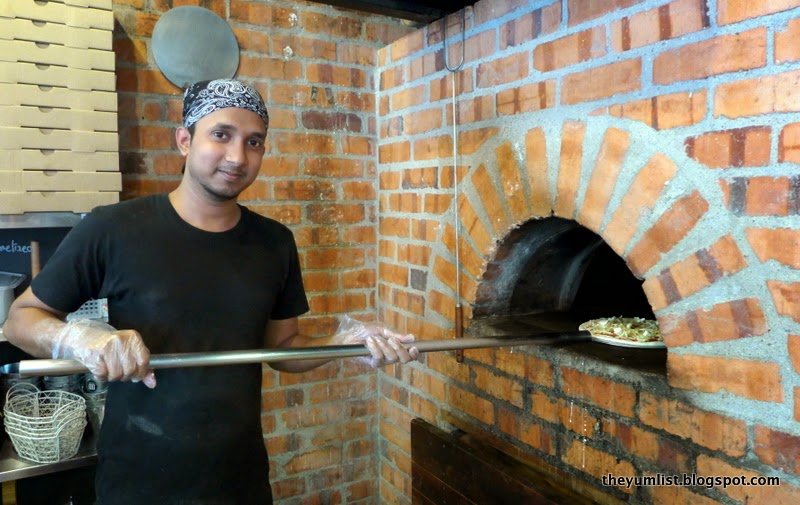 Pizza Oven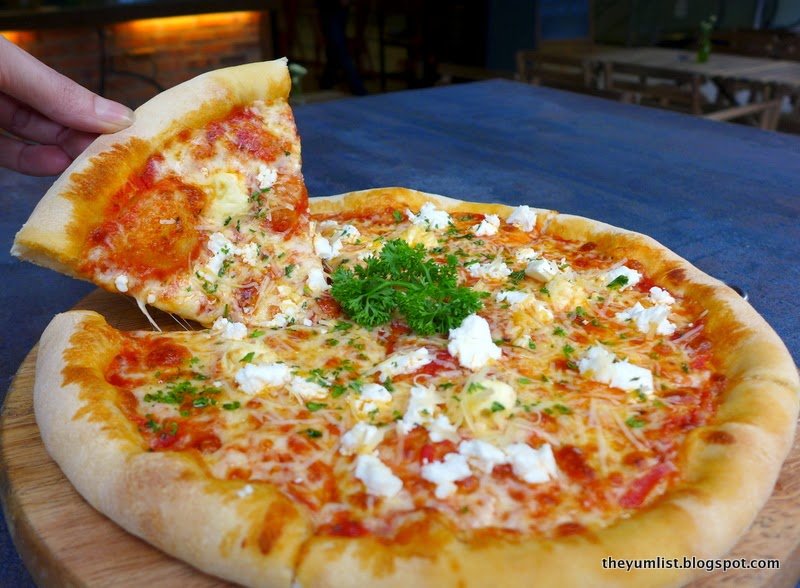 Big Cheese Pizza
Maryam, co-owner of Fahrenheit 600 is passionate about everything that she does and her fascination with coffee not only enables Fahrenheit 600 to share great coffee with customers but also to make a contribution to the education of customers on all things coffee bean. The coffee menu features three styles of coffee, espresso based blends for varieties of coffee with milk, filter coffee for tasting the qualities of premium beans and back room filter coffee (for the true aficionado). Back room filter coffees are made with mostly single origin, premium beans and vary seasonally. These are barista inspired coffees made by a different visiting barista expert every month.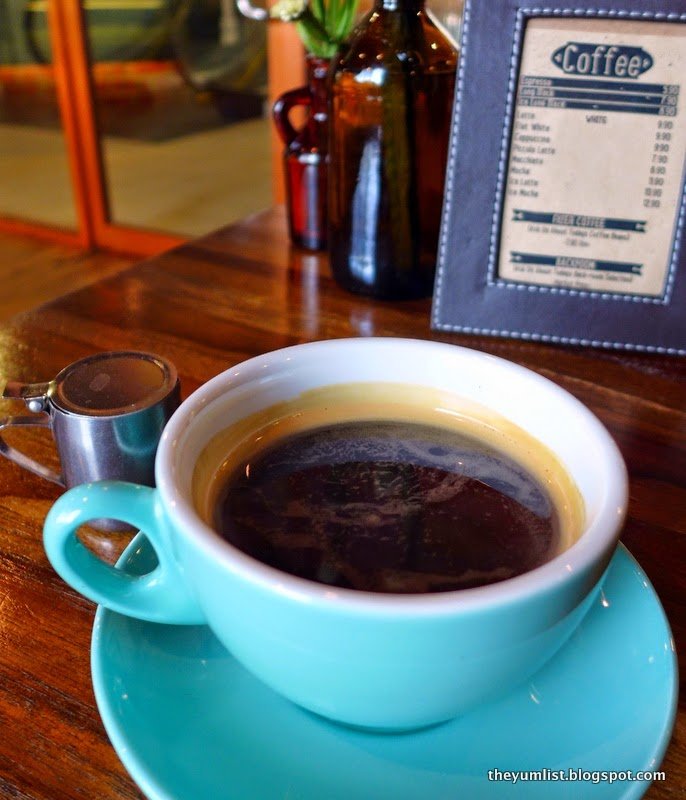 Long Black
We dove right into a coffee education experience and learned much that we did not know about coffee along the way. Choice one was Lucky Bastard, also known as LB, – how could you go past that name? LB was a bright, clean flavoured coffee with tangerine, plum, guava and chocolate notes. 22 Martin showed hints of grape and plum, displayed good body and left an intense lingering aftertaste.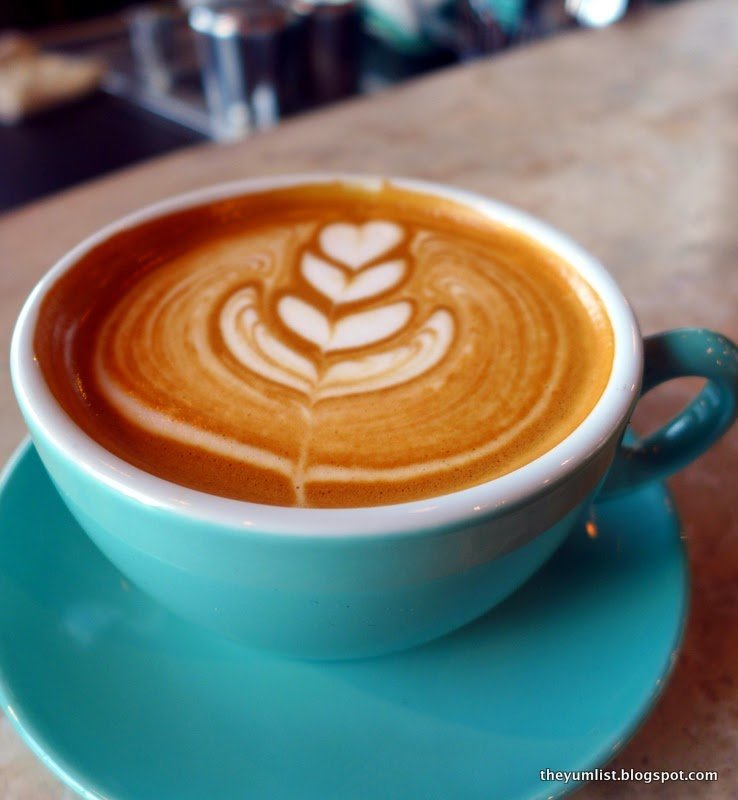 Flat White
Glen, the guest barista from New Zealand via Melbourne, showed how ice drip coffee was made, and between tastings we cleansed our palates with soda water to make sure that we savored each taste point fully. Did you know that it can take an ice drip coffee eight to twelve hours to drip through releasing the highest amount of each bean's intensity? I didn't, but it was so much fun to learn about so I'll definitely head back to Fahrenheit 600, where coffee is made with passion, precision and to perfection.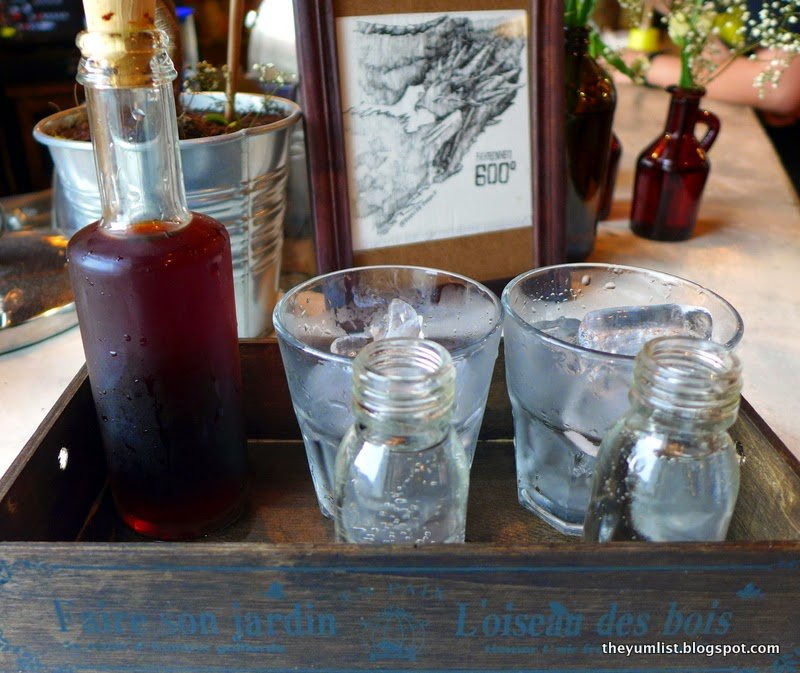 Ice Drip Coffee
Not a coffee drinker? Not to worry there are premium teas in cloth bags to keep the tea dust free and an interesting selection of cold drinks to choose from too.  A special mention has to go to the hot chocolate though. Not being a lover of hot chocolate I was expecting a drink that I would find pleasant but not for me. I was completely wrong this was the best hot chocolate that I have ever tasted. Rich, creamy and all chocolate taste without being heavy or overly sugary, in fact the cane sugar was beautifully balanced at only 30%. Serious chocolate drinkers will likely, appreciate that information I just know that it was delicious.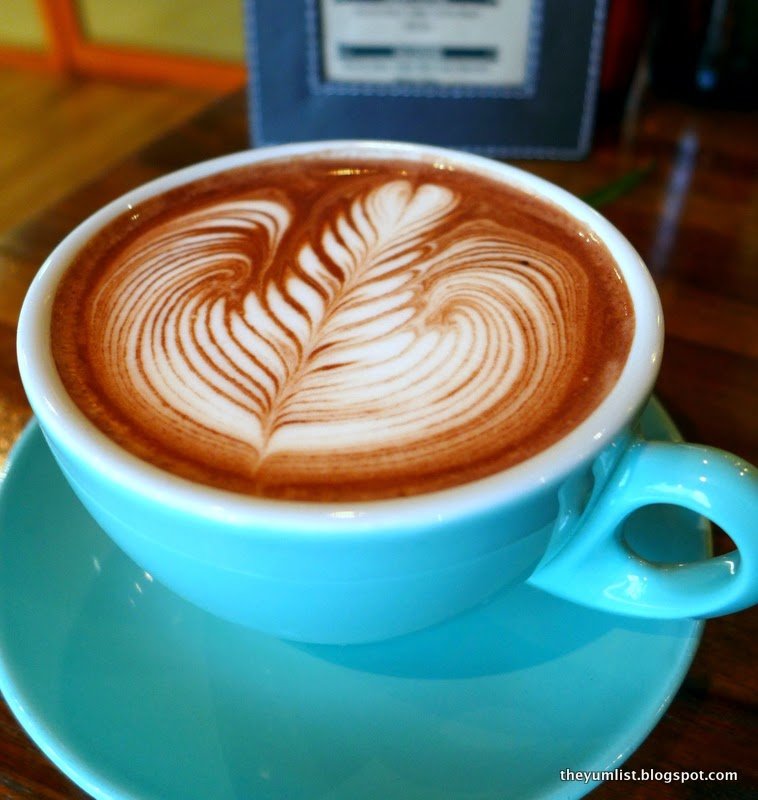 Hot Chocolate – smooth, round and well-balanced – a crowd pleaser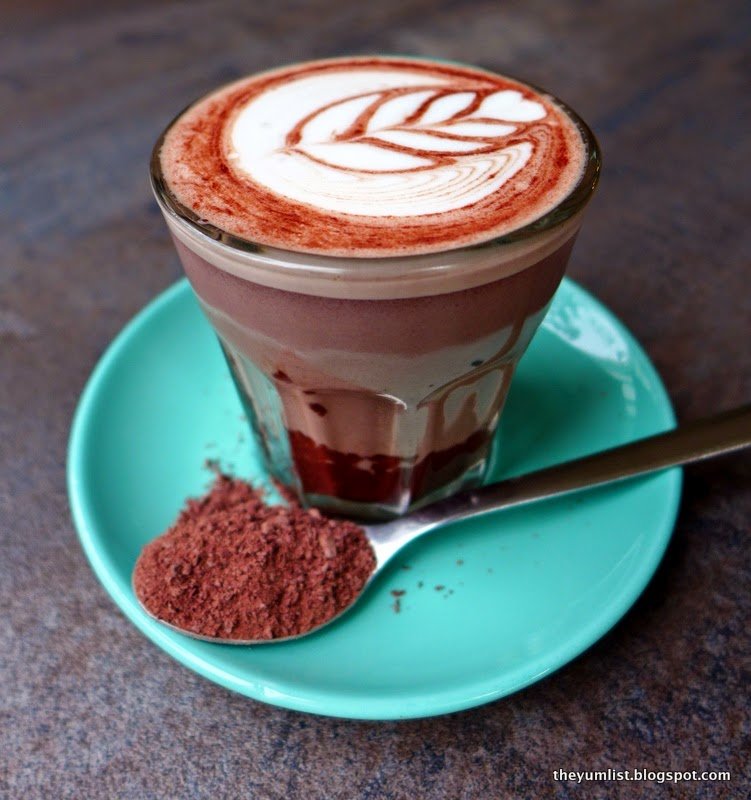 Bahen and Co.'s Premium Hot Chocolate – this one is for serious chocolate lovers with refined palates
Surprisingly we managed to save some room for dessert, and found the portions were well sized and value for money. The Tropezienne Cake (RM8.90) is a French style brioche with a slather of lemon-injected cream. The cake was bready and frothy as you would expect from cakes baked daily by Fahrenheit's pastry chef. The juxtaposition of lemon, sweet cake and cream offers a lighter end to a meal for sweet-toothed diners.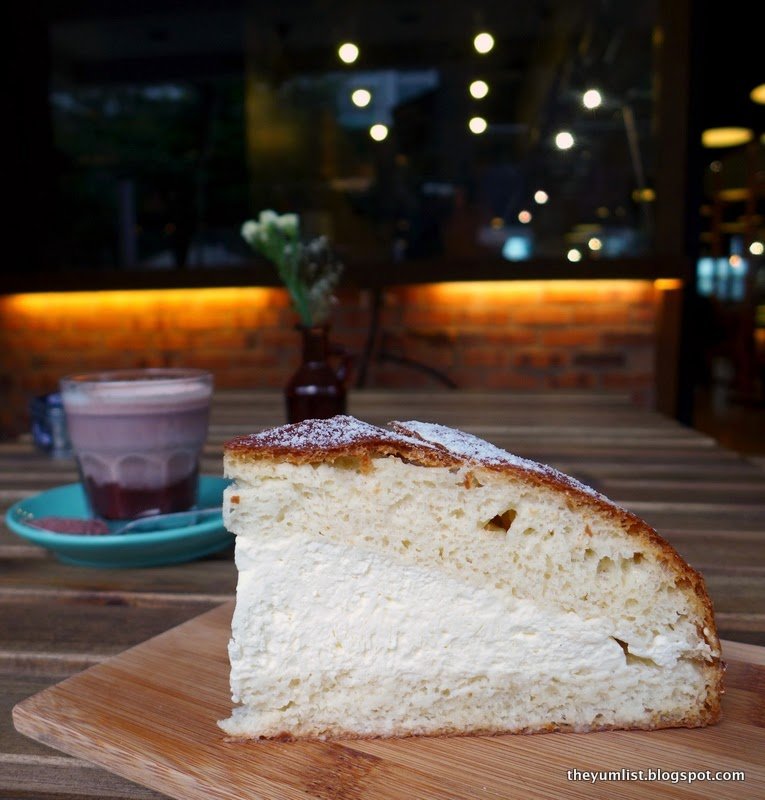 Tropezienne Cake
The piece de resistance, however, was hands down, the Chocolate Mousse tart (RM10.90). A layer of oat and nut crumb based the indulgence with a chewy crunchy foundation. Heavenly airy chocolate mousse topped with a layer of rich dark chocolate completed the sumptuous treat. This is not a cake for sharing, as you will not want to give any away! A truly addictive dessert.

Chocolate Mousse
Reasons to visit: excellent coffee with a range that is sure to please coffee aficionados; Giggly Duck; pizzas; Chocolate Mousse Cake (don't miss!); friendly hipster ambience.
Fahrenheit 600
Solaris Dutamas
1 Jalan Dutamas 1
Kuala Lumpur
Malaysia
+6 03 6206 3417
(Just off the main square of Publika, below the Red Bean Bag, across from Ben's.)