Kirsten Durward and Monica Tindall
New Spanish chef de cuisine, Miguel Huelamo Estrada, has spent the last few months at Svago developing his concept of a refined international menu that features the best in local ingredients. Eschewing fusion cuisine as too confusing, he prefers to think of presenting what he calls 'the unfamiliar familiar.' Chef Miguel has an impressive résumé, having trained at the prestigious Escuela Irizar in Barcelona before traversing the world, gaining experience in many sterling restaurants. Chef Miguel also promises to add Latino zing in the form of crab cakes, ceviche and other a la carte tapas to the menu at Svago.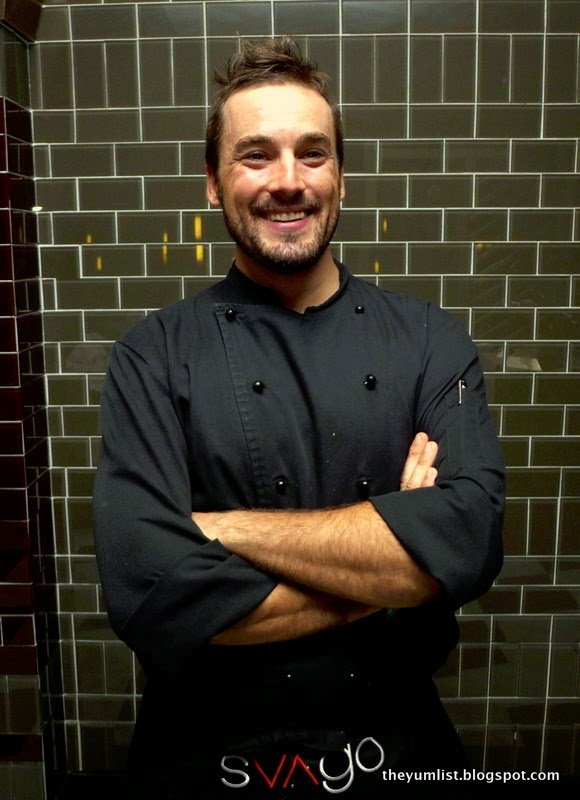 Chef Miguel
We ladies do have to consider our waist measurements, so we choose carefully tonight selecting a light range from the new signature menu. There are so many delightful sounding options, that I'm pressed to select, but in the end feel quite satisfied with the result.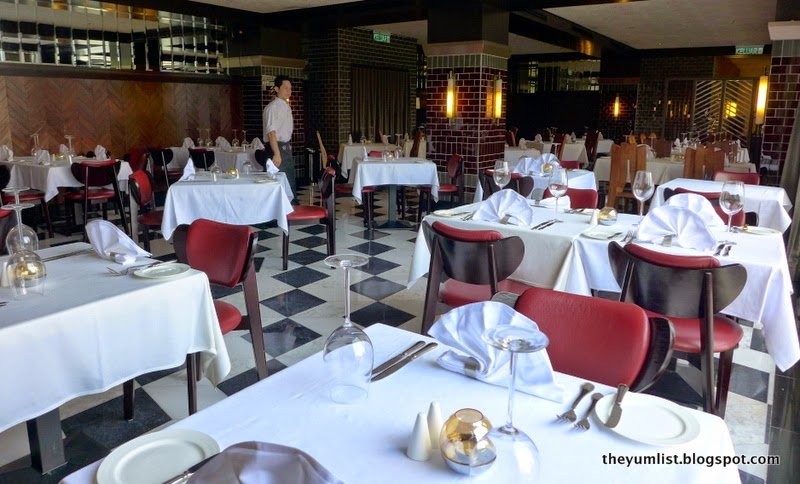 Svago, KLCC
As we wait for our entrée, we sip on a glistening Apple Martini (RM32.80 ++), just catching the last vestiges of the sun in the evening air. I'm delighted to report that, unusually for KL, Svago has nailed the Martini, at least to my particular preferences! None of your sugary sweet light fluff here – instead it's got a real golden boost, and a sharp apple flavour with a good alcoholic kick to wake up the taste buds. That's a drinking yum from me!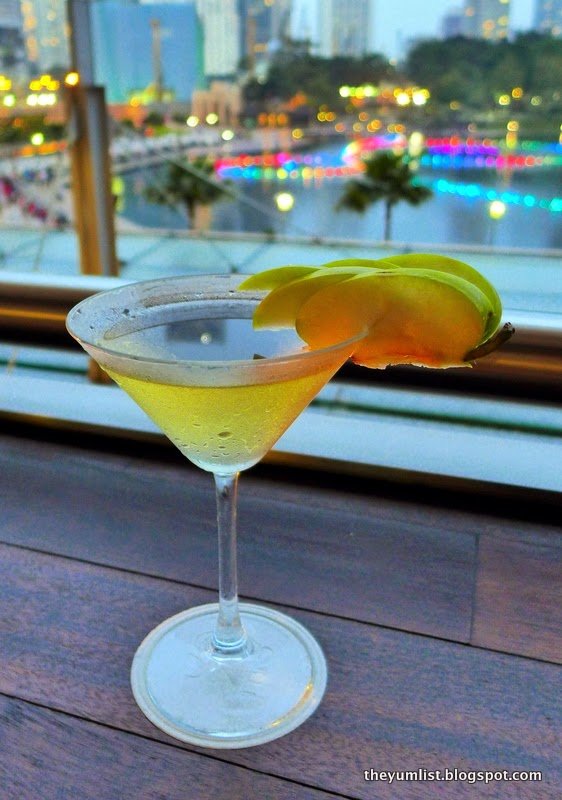 Apple Martini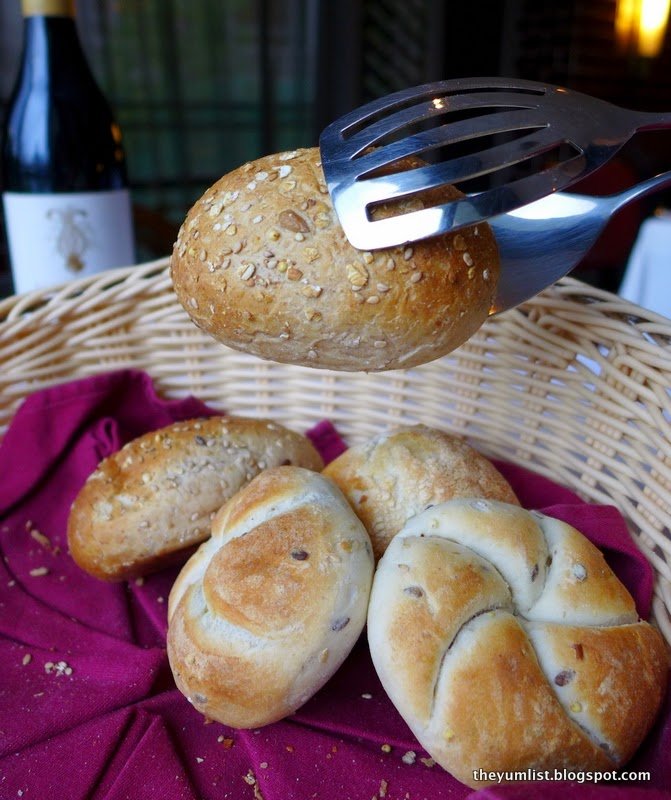 Bread Basket
Seasonal Garden Greens (RM24++) is deceptively simply titled, but we are all in ecstasies as it arrives. Presented in the style of an elegantly scattered garden, every mouthful bursts with different tastes and textures. Round the table murmurings echo, "Oh what is that?" Delightfully tossed in a roasted almond, truffle dressing this masterpiece of a dish is a generous tumble of teeny tiny mushrooms, pickled vegetables, olive tapenade, mini broccoli florets, courgette and carrot, herby flavours, earthy tones and more so much more. A sensational, generous and flavourful platter that zooms straight to the top of our list of favourite veggie dishes. I'd seriously drop in just to try this original creation.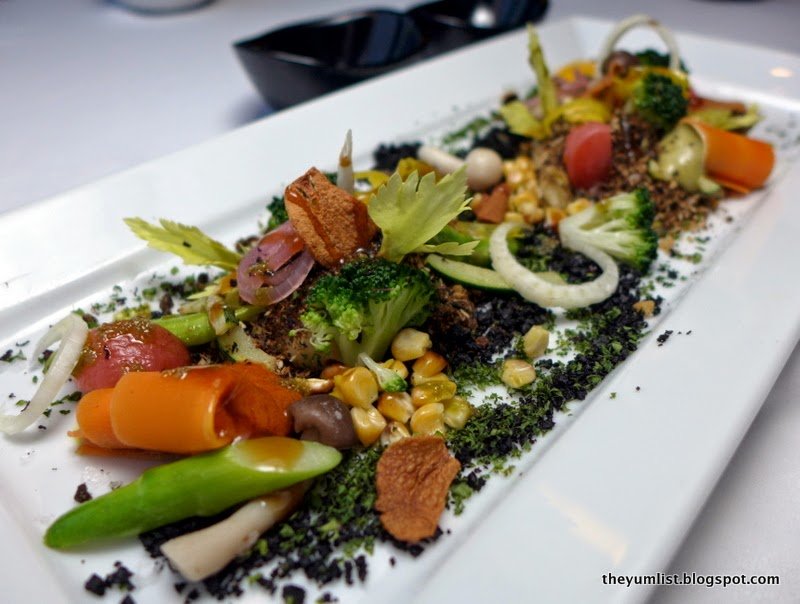 Seasonal Garden Greens
Mushroom Rice in Broth (RM38++), a rustic, wholesome looking dish, with tempting aromas, arrives campesino style in an earthenware dish. Part of the fun is mixing the soupy top through the thick rice that lies below before you dig into the steaming depths. Miguel describes it as between a congee and a risotto. Whatever it is, it's absolutely delicious, with bold truffle flavours that burst in my mouth and keep my spoon digging back for more. Oodles of porcini and shimeji mushrooms tangle in the soupy rice. The base of the dish is a deep chicken stock for extra flavour, but vegetarians can request the dish to be made to their needs too.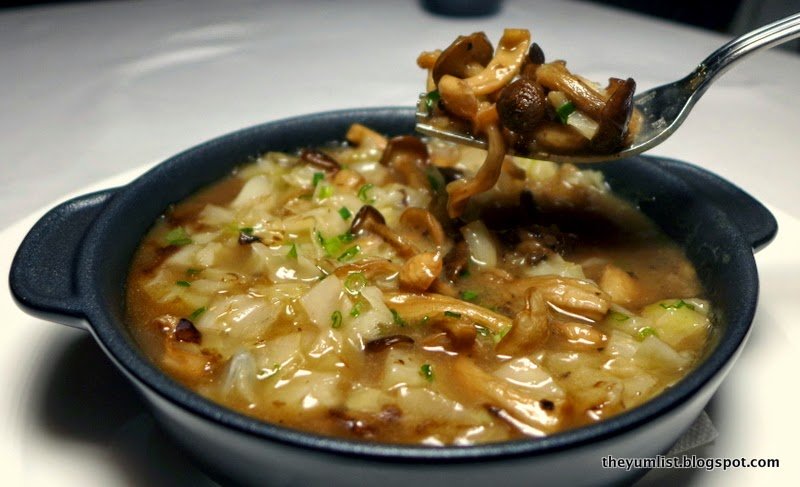 Mushroom Rice in Broth
Miguel insists that we partake of one of his favourite dishes on the menu. The Grilled Lamb Chop (RM98++) demonstrates the same rustic elegance in style as the Garden Greens. Fat, glistening pieces of lamb dominate this appealing looking dish, oozing colours across the plate. Prunes are an unusual choice with lamb, but their dark denseness adds a depth of flavour that is just marvellous. The warm paprika oiled juices of the lamb ooze into the cool Greek yoghurt, giving a sharp contrast of flavours. To top it all there is a scattering of roasted garlic to squish on your fork with each mouthful of moist lamb. We complement the main with an appetizing orange glazed carrot, delightful to slice, cinnamon-y, nutmeg-y notes underpinning the beautiful sweet sauce. In all: delicious.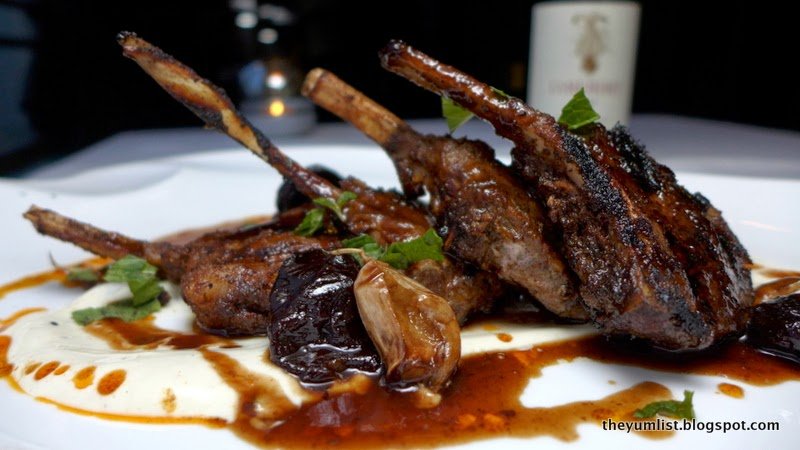 Grilled Lamb Chop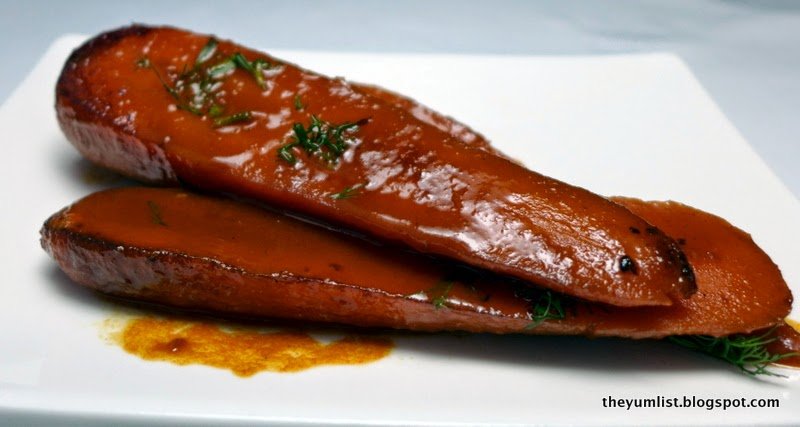 Orange Glazed Carrots
We end the meal traditionally with Svago's house made Limoncello (RM18.80++). The luscious lemon-ness flows lightly over my tongue and slides down my throat with ease.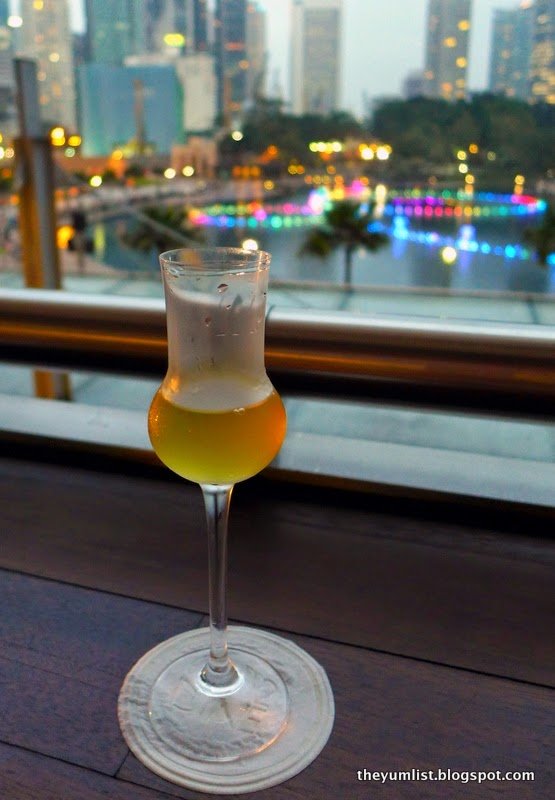 Limoncello
It has been a positive pleasure to spend time tasting these intricate flavours, with the guidance and input of Chef Miguel. Svago's new signature menu is one to try if you enjoy your food with bursts of flavour and have a healthy appetite like I do. No compromises on taste and no scrimping on portions: truly Spanish in nature!
Reasons to visit: fresh, original and extremely delicious dishes; beautifully presented generous portions; elegant ambience with live jazz music each evening from 7:30pm – 10:15pm.
Svago
Lot 136 First Floor
(entrance from Limoncello below)
Suria KLCC
Kuala Lumpur
Malaysia
+603 2163 0188
Hours:
Monday – Saturday
5pm – Midnight
Pianist 6:30pm
Jazz 7:30pm – 10:15pm