RGB Coffee
We're always on the hunt for a good coffee but have only found a few spots in the KL city centre that consistently satisfy our fussy preferences. When one of our go-to places, RAW, closed last year we were deeply disappointed. But… as old doors close new ones open, and sometimes bring even better things to the table, namely RGB Coffee at The Bean Hive in Jalan Damai.
Part of the original RAW crew has made their way to what we deem a more hip environment in the residential area of Jalan Damai (one of the residential streets behind the Intermark), where they continue a similar concept of third-wave coffee and vegetarian cuisine, with the added benefits of having their own kitchen, a bungalow setting, and off-street parking.
Just as inconspicuous as the original, RGB and The Bean Hive has no signage indicating a café from the street. You have to look for the number 35 and enter the compound to be assured you're in the right place. Lack of advertising, however, hasn't stopped a regular following of dedicated customers steadily grow. Seems word-of-mouth, awesome coffee and a great vegetarian menu, are magnet enough.
A relaxed air-conditioned dining room, casual courtyard with lounges and low coffee tables, or a stool at the bar provides a variety of leisurely spaces for a quick cup of coffee and chat with a barista, a seated lunch in cool comfort, or an unhurried afternoon of chit-chat with friends over multiple cups of delicious brew.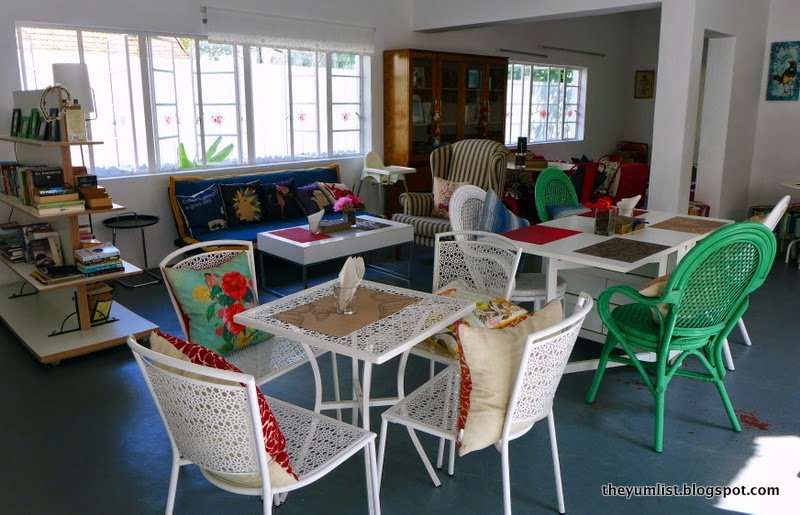 Semi Outdoor Lounge and Tables
Drinks
The drinks menu is easy to navigate with black coffee at RM5 and milky drinks costing RM11. All prices are nett, so we find this an incredibly good deal for the standards of beans, quality of machine and skilled baristas that RGB brandishes. An arrow indicates beverages from less to more milk, and chocolate and ice cream can be added making Mochas and Affogatos into sweeter options.
Roasting their own beans, this third wave coffee house has some of our favourite blends and single origins in the city. Moving away from the commercial South American and African beans, these guys head off the beaten path for sourcing, with a focus on direct trade with coffee farmers in the region. In the end, it all comes down to, "What's in the cup. It's whether it tastes good or not," one of the partners, Li tells us.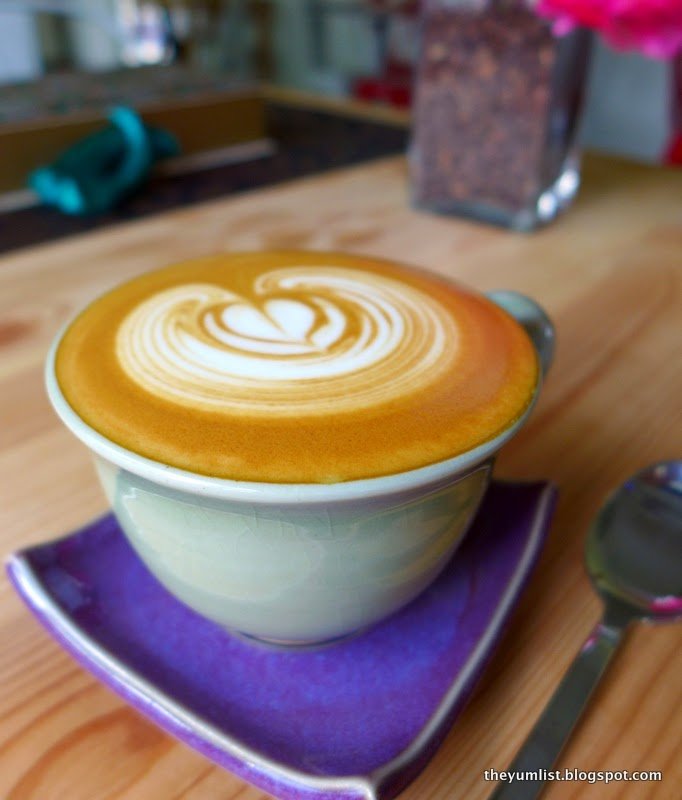 Flat White
Hubby goes with a Cappuccino (RM11) and myself a Flat White (RM11). The first sip is love, but the second is absolute adoration. The temperature is perfect, the taste of coffee well balanced, and the milk is thickly textured. I could end the post here with absolute joy. The coffee at RGB is reason enough to visit, but there is more…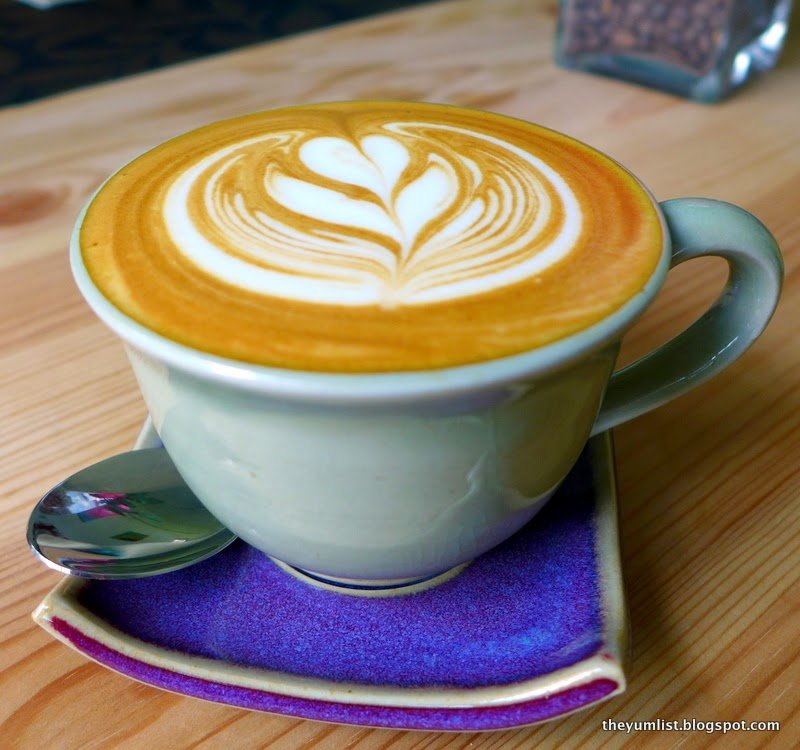 Cappuccino
A small menu of both fresh and bottled organic juices supports the hot beverages. Slow Pressed Pear and Lime Juice (RM12) with a garnish of mint, is a fabulously refreshing blend, while the pre-packed Demeter Organic Traube Gauve Aloe Vera Juice (RM14 bottle) grabbed our attention with the interesting combo of flavours.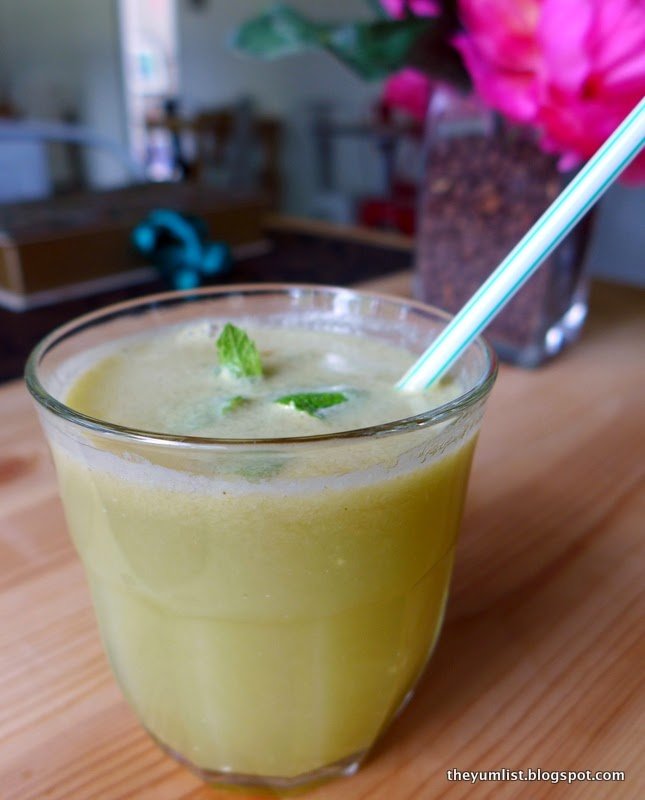 Slow Pressed Juice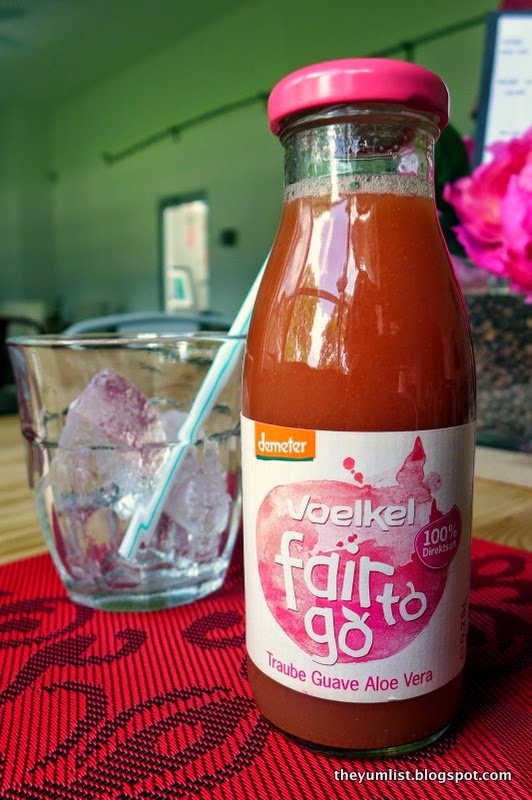 Organic Juice
Food Menu RGB Coffee Jalan Damai
The food menu at RGB Coffee is 100% vegetarian with no MSG or other artificial seasonings, and nothing is microwaved. Items are clearly marked additionally as Vegan, Buddhist Vegan and Gluten-Free. It's a light menu, great for lunch, brunch and in-between meals snacks, divided into Snacks & Starters, Sandwiches, Pasta, Burgers and Rice. A changing cake selection is on display in the fridge.
Prices are reasonable and even more so than we originally think when we discover they're all nett. Some plates are available in small or large sizes. The small portioning option is great for people like me who like to try multiple dishes in one sitting. With these sizes and prices, I can easily have a soup, salad and sandwich and feel comfortably full, and at the same time not leave too big a dent in my purse.
A luscious thick bowl of local Pumpkin Soup (RM7) is our first sampling and disappears with just a few of hubby's enormous mouthfuls. Don't share this one. It's good. You'll want the whole bowl to yourself.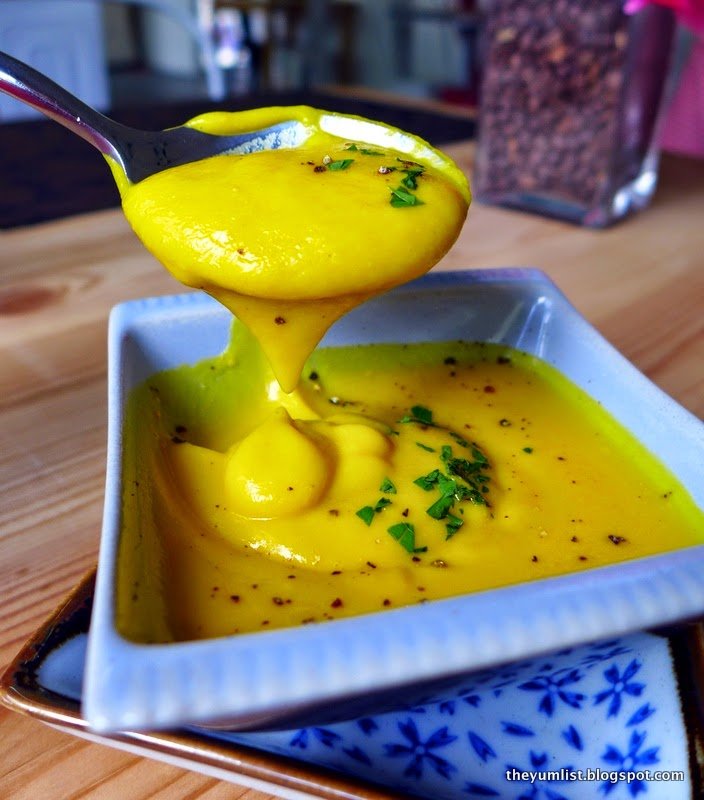 Pumpkin Soup
Broccoli Salad (RM5 small) is mixed with finely chopped green apple and raisins and sprinkled with cashew nuts for a final crunch. A light dressing of homemade mayonnaise provides a thin coat. We both like this one a lot too, and already have plans to bring Tupperware back to buy extra for lunches to take to work during the week.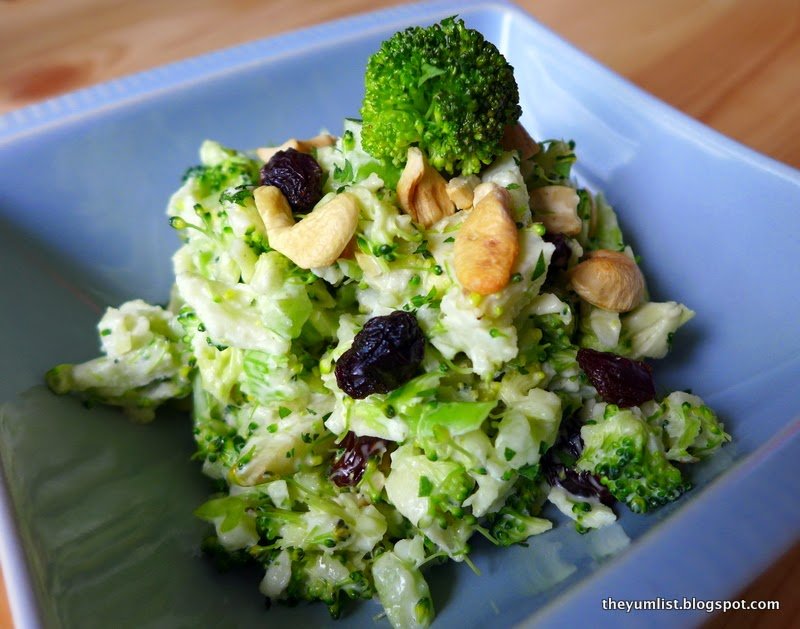 Broccoli Salad
Toasted Rye with Egg Mayo and Watercress (RM9) is a good bite on its own. However, with a couple of marinated tempeh (pan-fried fermented soya beans) slices added on top, it's a real delight.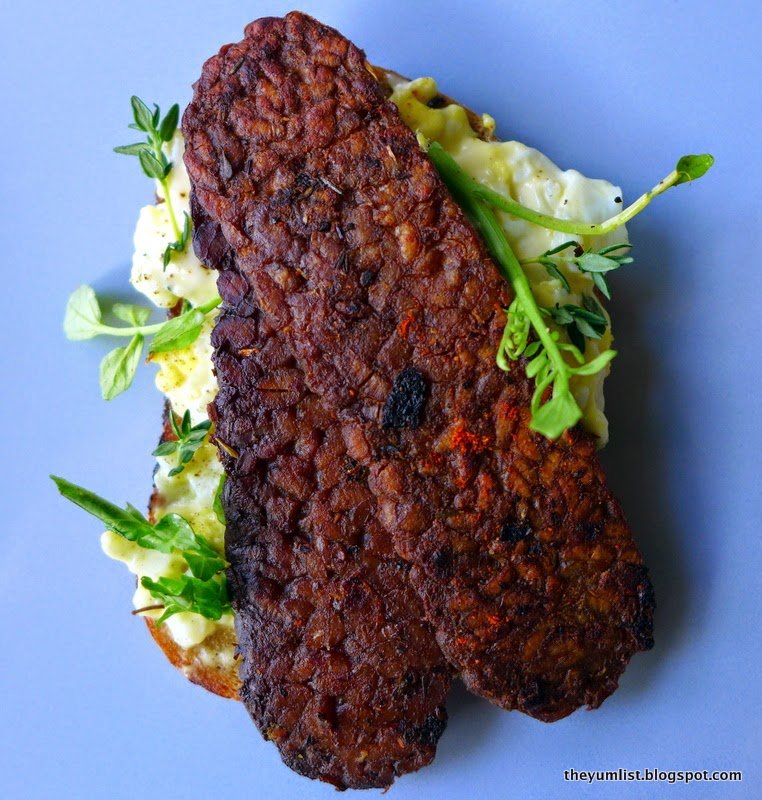 Toasted Rye with Egg Mayo and Watercress with Tempeh
From the sandwich section at RGB Coffee, we have the Mango Masala, Cauliflower, Curry Hummus and Spinach (RM21) on a Coconut Oil Wrap. It's also available as carb-less on a bed of greens, on panini, a burger bun or rye bread. The thin wrap, which is similar to chapatti in texture, is made in house with wholegrain wheat and rye flours and extra virgin coconut oil. Fruity, mildly spicy and savoury, unite producing a filling and delicious lunch.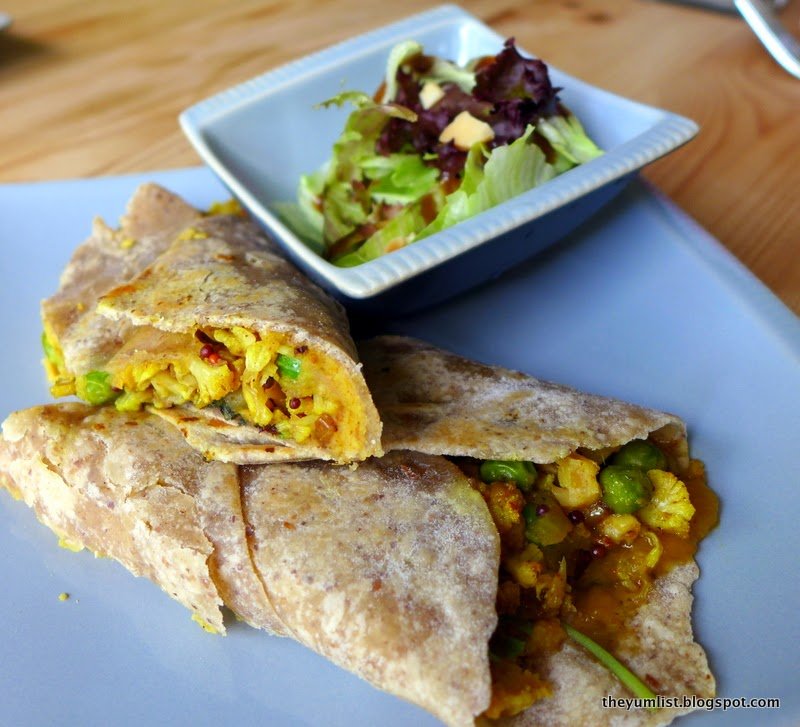 Mango Masala, Cauliflower, Curry Hummus and Spinach on a Coconut Oil Wrap
Tempeh Macaroni Cheese (RM10 small plate) is so good at RGB Coffee, even hubby has trouble believing it's 100% vegetarian. Al dente pasta elbows are covered with a sauce of sour cream, white wine vinegar, Parmesan cheese, garlic, and mustard. Tempeh is marinated overnight, then boiled, roasted, stored, and pan-fried right before serving, caramelizing and crisping the edges. Small pieces are scattered across the surface, furnishing petite bits of meaty texture and a mildly sweet and savoury seasoning. It's not on the daily menu but is a rotating special, so check out the blackboard to see if it's available on the day you visit.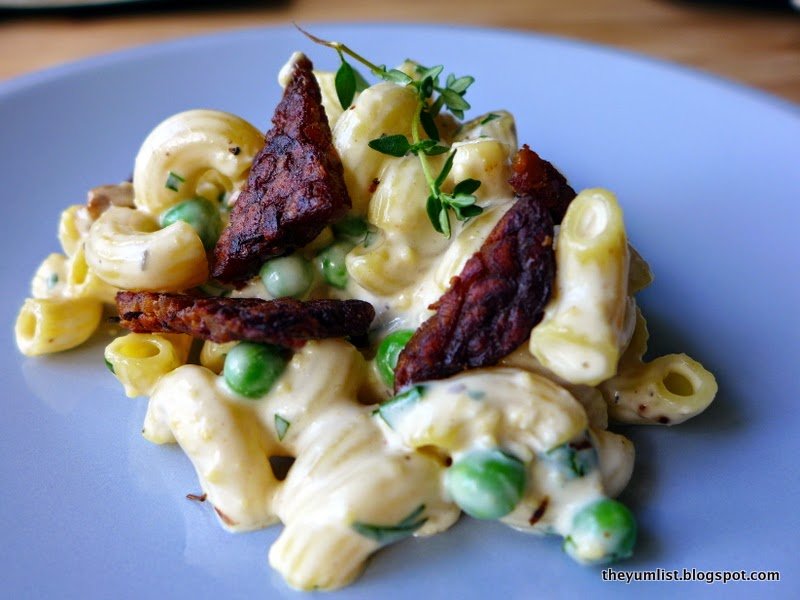 Tempeh Macaroni Cheese
The Spicy Crunch (RM18) is a gluten-free burger option packed with beans, veggies, brown rice, corn, kailan and crunchy hemp seeds. A spicy sauce, infused throughout the patty, leaves our tongues tingling, but a cap of tomato slices, thin spread of house-made mayo, and a fresh tangle of alfalfa sprouts smooth out the kick.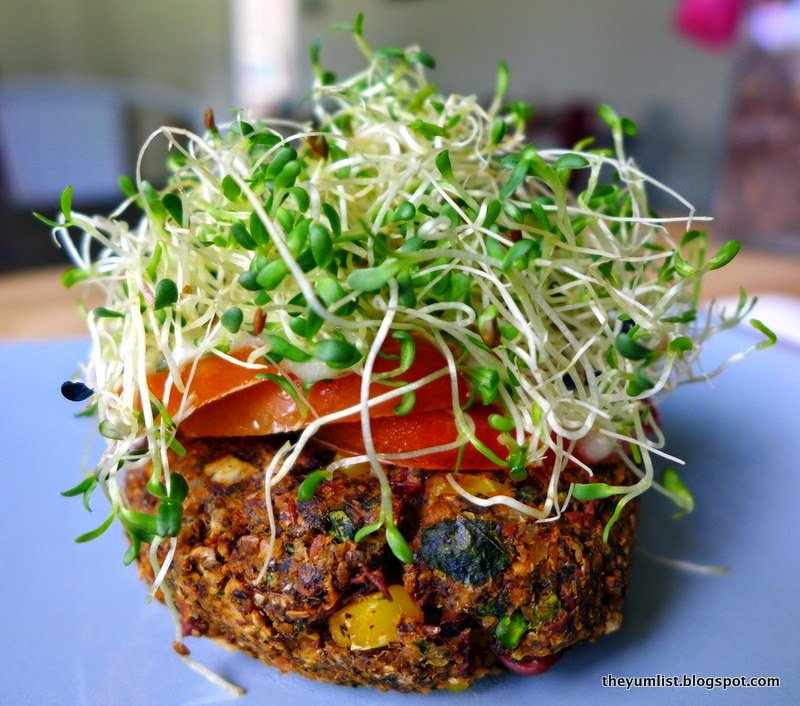 Spicy Crunch
We top up the Thai Basil and preserved Olive Tofu Fried Rice (RM13) with a Sunny Side Up Egg (RM2) for added protein and colour at RGB Coffee. The original recipe is made with onion and garlic, but it can also be made minus these ingredients. Wild and brown rice forms the base and loads of veggies (red and yellow capsicum), French beans and carrot are plentiful in the bowl. A salad of iceberg lettuce, shredded carrot, olives, Brazil nuts, and a balsamic dressing, is plated on the side.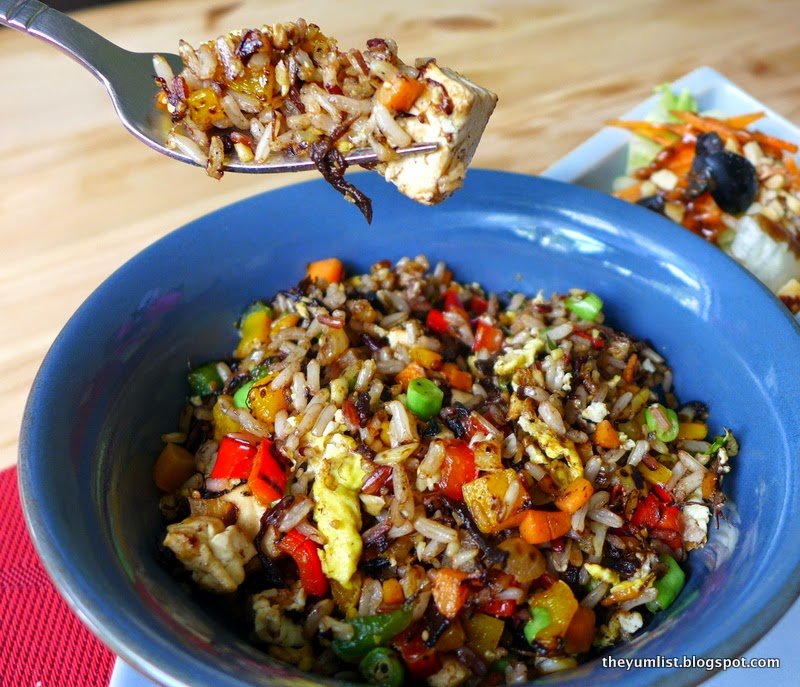 Basil and Olive Tofu Fried Rice
Sweets at RGB Coffee Jalan Damai
Be sure to save room for sweets or even drop in for coffee and cake alone. The gluten-free Moroccan Orange Spice Cake is the most popular item on display. Whole almonds are soaked overnight, skinned, milled, and used as the cake base. A citrus syrup can be poured over the top, and while some find it too sweet, we both enjoy the added tang and moisture. The cake has a dense and grainy consistency, proving a house favourite. Clearly hubby agrees, as he's managed to polish off the entire slice before I've finished a single bite. He just looks up innocently and remarks, "Well, you know I like this one."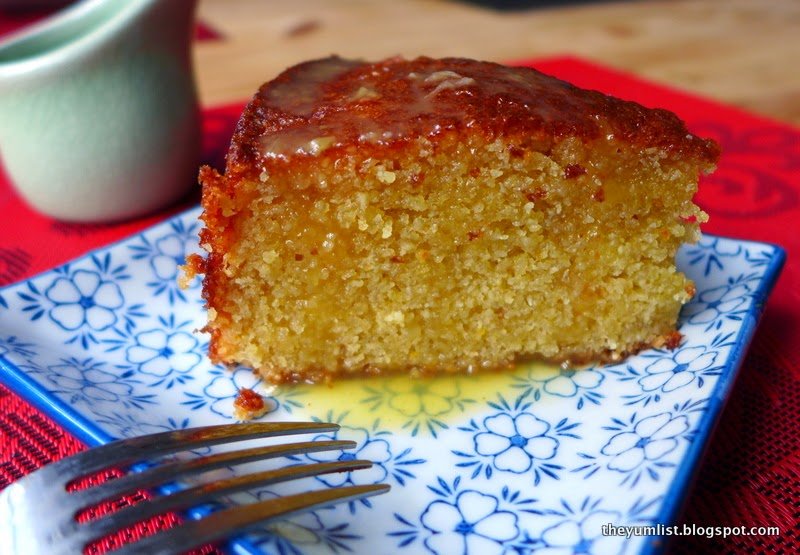 Moroccan Orange Spice Cake
RGB coffee is used in the Mocha Cheesecake, so taste varies ever so slightly depending on which beans have come out of the roaster. It's a decadent velvety thick indulgence, with a strong coffee flavour and faint sour edginess from the cream cheese. A chocolate crumb base completes the experience. This one turns out to be my favourite, and now I'm smiling as hubby's tummy has been filled with the orange cake so I can take my time to leisurely relish each spoonful.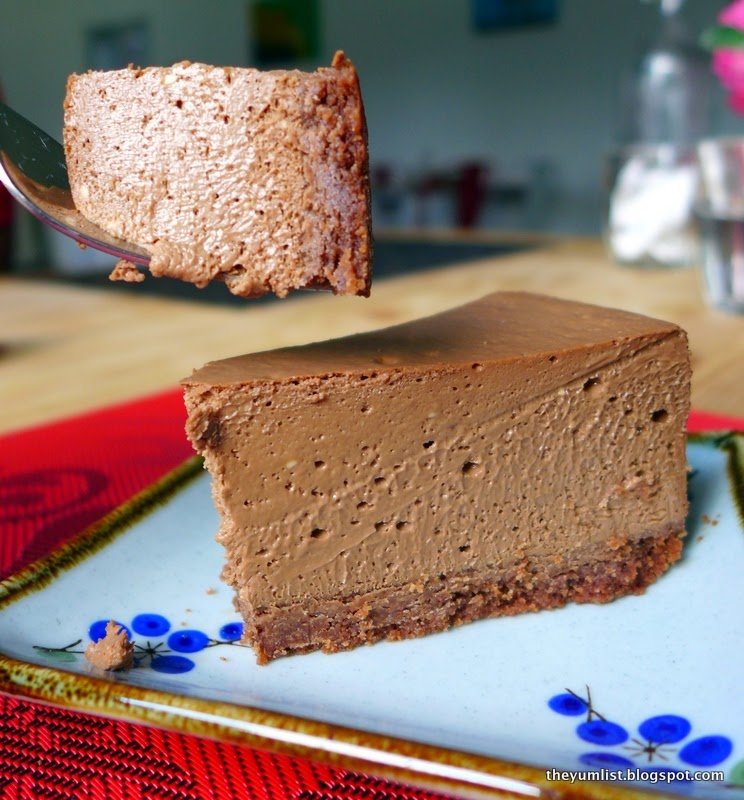 Mocha Cheesecake
Vegan Chocolate comes in layers featuring a dense sponge-like cake layered with a thick chocolate sauce, and tart marmalade which gives a citrusy boost. Topped with chocolate icing and hazelnuts, it too is a rich dense option.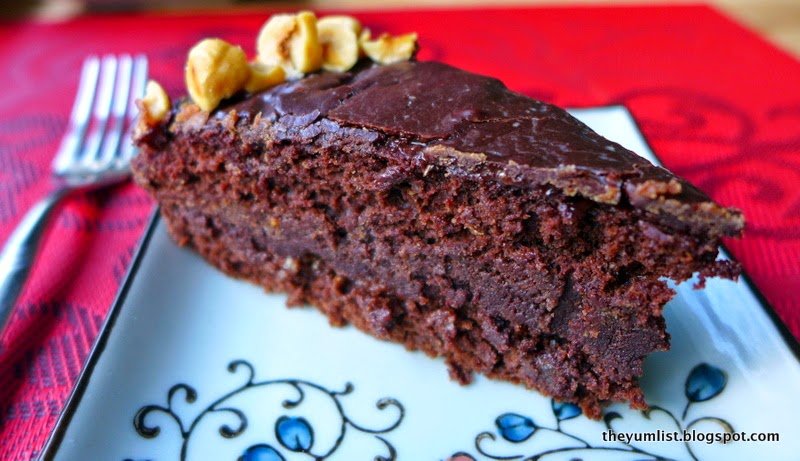 Vegan Chocolate
Great coffee, casual ambience and a whole load of vegetarian options: we love RGB!
Reasons to visit RGB Coffee: excellent house-roasted coffee made by expert baristas; nett prices; a good variety of vegetarian, vegan, Buddhist vegan, and gluten-free cuisine.
RGB Coffee and The Bean Hive
35 Jalan Damai
Bungalow, with parking on the compound
Kuala Lumpur, Malaysia
+6 03 2181 1329