Sungeeta Singh and Monica Tindall
If you enjoy flavoursome, mouth-filling cuisine inspired by grandma's best Pakistani recipes, and some comforting Western meals, you are in for a treat at Trilogy! An inviting, family run restaurant, bar and hostel combine to create a trio of services. Food and beverage can be enjoyed in a comfortable indoor air-conditioned environment or outside in a casual al fresco setting. Sports lovers can have a game of pool or darts, or watch a match on the big screen in the upstairs bar, and backpackers will be very pleased with the inexpensive beds found in the accommodations next door. Located on Jalan Raja Abdullah, it's an easy two minute walk from Dang Wangi LRT station and also benefits from easy parking with numerous lots across the street and around the block.
Trilogy – Hostel, Restaurant and Bar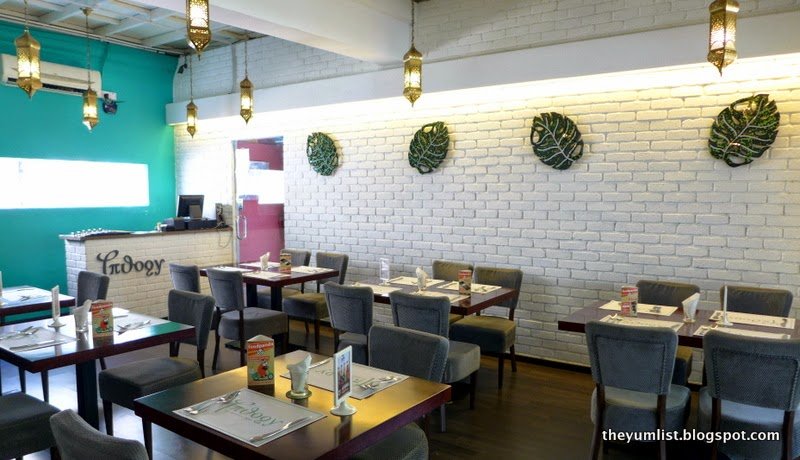 Restaurant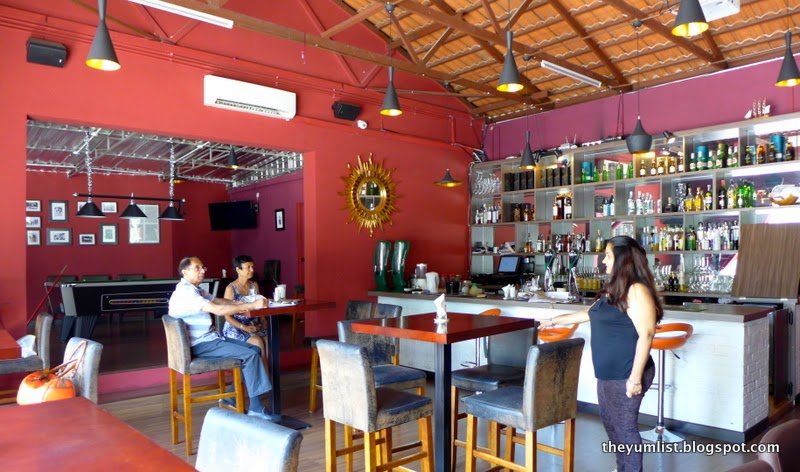 Trilogy Bar Area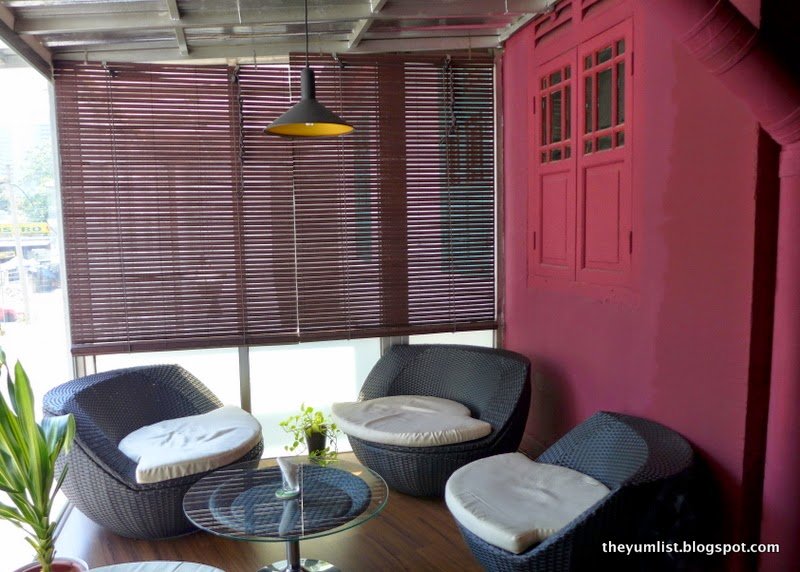 Lounge in Bar
Owners, Sunitha and Puran are inviting, hospitable hosts who enjoy crafting their extensive menu of authentic Pakistani and Western food. It is not often that one can be equally wowed by both cuisines. The Pakistani chef has over 20 years experience, and the management's many years of living abroad ensure a refined sense for international flavours. Sunitha's own passion for good quality food allows her to work closely with the chef and to include her own secret family recipes into the menu. While Trilogy is the only Pakistani restaurant in Kuala Lumpur that serves alcoholic drinks, all meats are halal and no pork is served so the kitchen is friendly to many dietary preferences.
Drinks
Happy Hours at Trilogy must be the longest running in the city. Starting when the restaurant opens at 12 noon and continuing through to 9pm, guests receive 30% off both beer and cocktails. Even better news is that if you arrive before 9pm you are entitled to the discounted prices all night long! Spirits and beer are the focus of the drinks selection, with Australian Alice White Cabernet Sauvignon and Chardonnay as affordable house wines. Wine lovers need not be disappointed however with the compact selection as there is currently no corkage charge if you'd like to bring your own. Both the red and white wines proved smooth easy drinking, and a refreshing Mojito was well executed with loads of mint leaves and only a mild sweetness.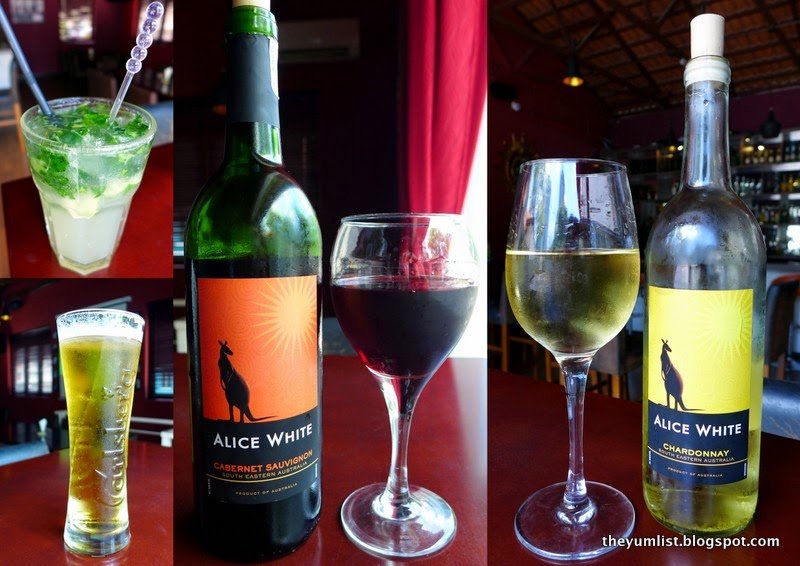 Very Happy Happy Hours
There are a number of non-alcoholic refreshments. Of note are sweet and savoury Lassi, and a local brand of iced drinks by Gems. Bottled iced latte, double chocolate mocha, green tea latte and iced peach tea (RM10) make rich delicious treats. But, the true drawcard at Trilogy is its menu of flavoursome dishes.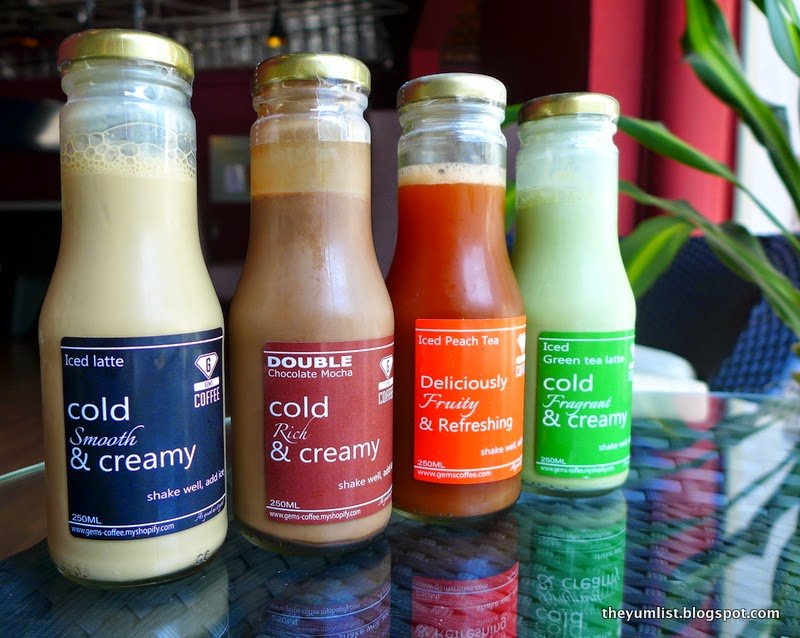 Gems
Brewed Coffee
Barbecue
We began our culinary journey at Trilogy with a BBQ Platter (RM30++), showcasing open fire grilled meats as one of their specialities. Meat is marinated in exotic spices and yoghurt, and then cooked over hot charcoal. Chicken Tikka, Mutton Kebabs and Chicken Malai Boti were all very tender with a subtle smokiness infused throughout. The accompanying tamarind and yogurt sauces were equally delectable and made perfect accompaniments.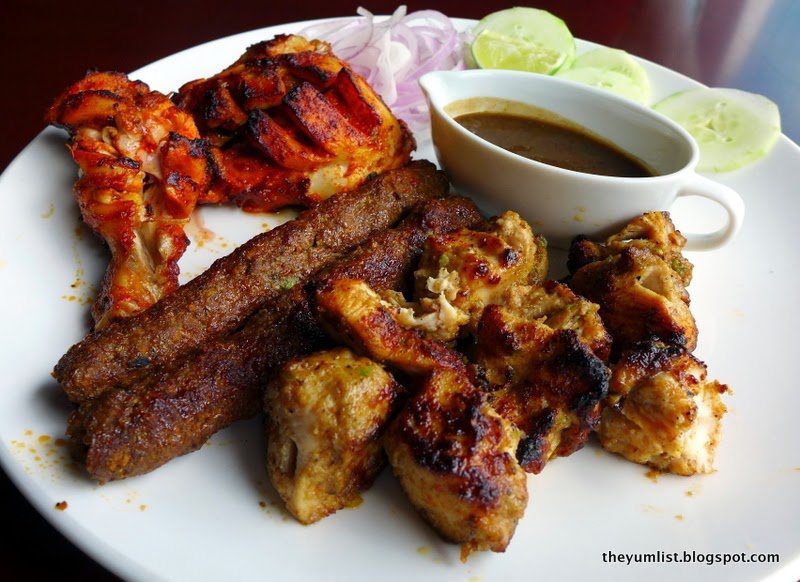 Barbecue Platter
When ordering, you can mix-and-match the meats to cater to individual taste. You can ask for boneless or bone-in meats and the amount of spice can be adjusted too. Lamb and beef are imported from Australia. A glass of cold beer is a perfect match with this amazing platter!
Fish Tikka (RM14++) was tender, succulent pieces of John Dory, marinated in spices and yogurt and gently cooked on hot coals. Dipped in yogurt and mint sauce, it just melted in our mouths in a surge of flavours!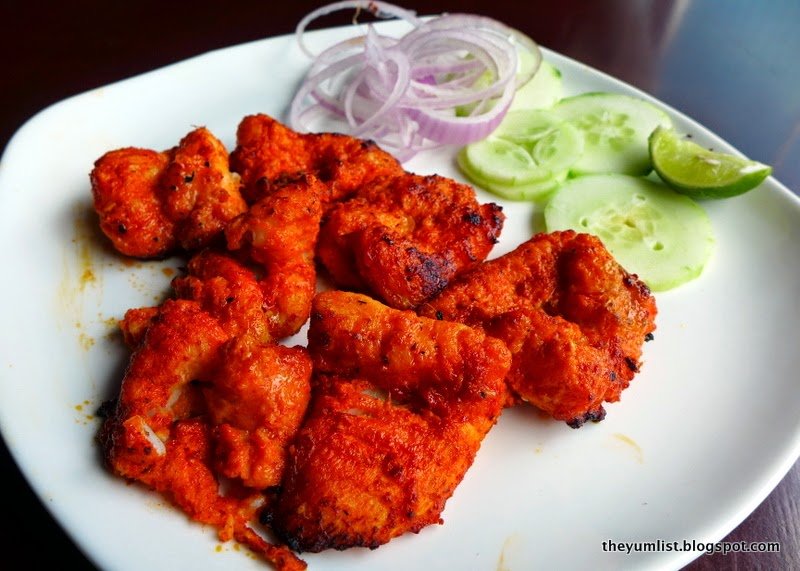 Fish Tikka
Mutton Dagar Kebabs (RM5.00++) was another unassuming dish that just screams flavour and tenderness. Finely ground spiced mince is shaped on a skewer and held by fine thread. The great blend of spices, with good quality mutton gives this dish it's unique flavouring. We will go back for more!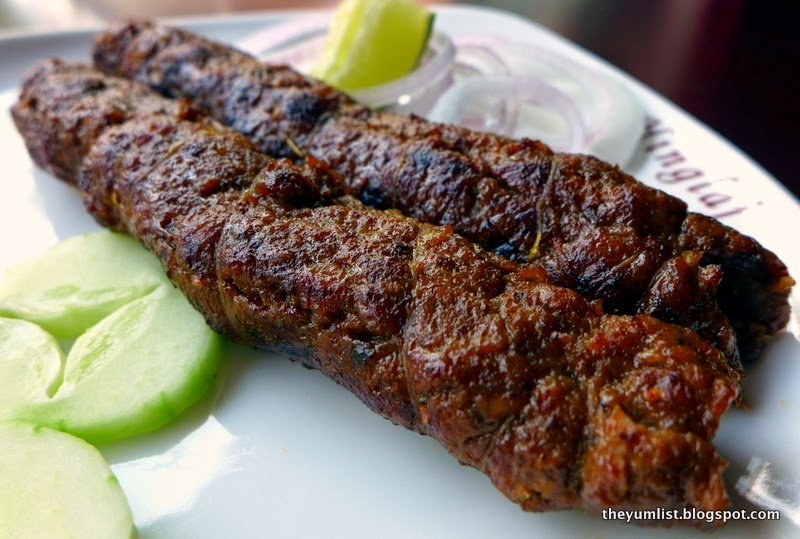 Mutton Dagar Kebab
Curries
We tasted the Coconut Fish Curry (RM16++) and a Fish Hara Masala (RM17++). While both dishes had wonderful flavours, the Coconut Fish curry is a less spicy option. Fish Hara Masala is an infusion of spices, tomatoes and tender pieces of fish. We enjoyed the heat and appreciated that it was not overly done, enabling us to appreciate the many flavours in this dish. Rice or naan are perfect accompaniments with these curries.
Coconut Fish Curry
Kadai Chicken (RM14.80++) was delicious pieces of boneless chicken cooked in a spicy tomato sauce. Again, the blend of spices, onions and tomatoes make this a great curry. The flavour of this recipe sets it apart from traditional chicken curries we've tried in Kuala Lumpur. Chicken Kada Masala (RM16++) was a dish of tender pieces of boneless chicken, cooked with whole spices, onions, green peppers and tomatoes that left us wanting more! The spices are more subtle, and it's great with warm naan.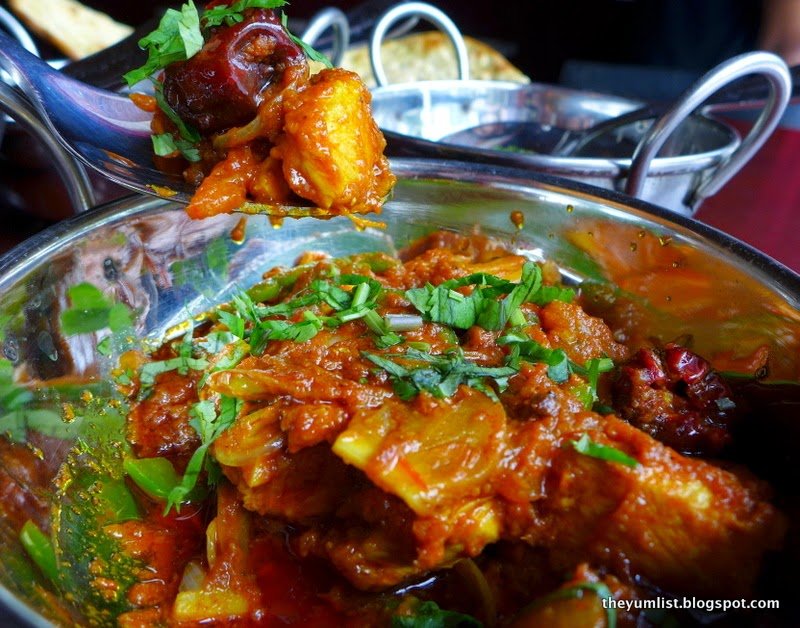 Chicken Kada Masala
The Naan (RM4 – 6++) at Trilogy is a bit different from the regular type offered in other North Indian restaurants around the city. Its elongated oval shape is toasted until it just begins to take on a golden glow. Cooked in the tandoor oven and not too greasy, it's topped with sesame seeds before serving.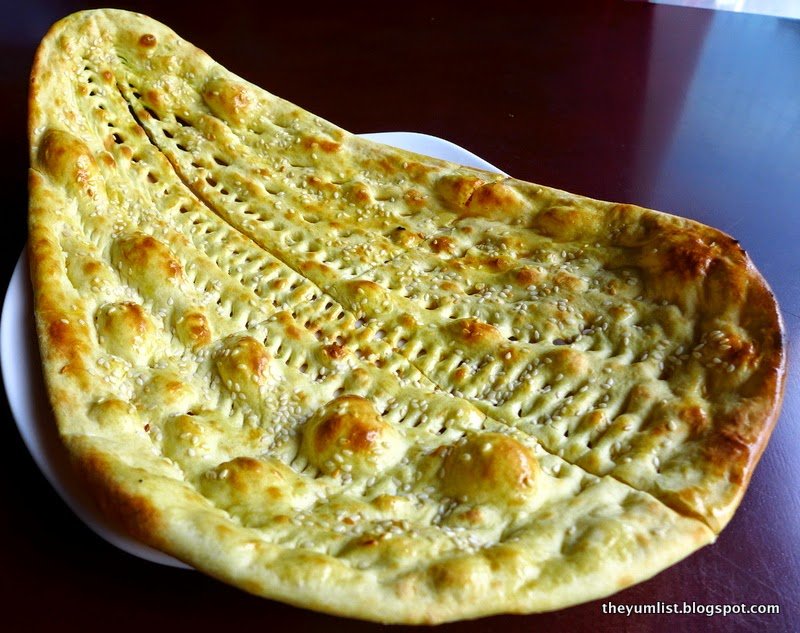 Khandari Naan
Biryani (RM14.90 -16.90++) is a unique rice dish that can have a mutton or chicken base. The meat is marinated in spices, saffron and yogurt for a few hours. Then it is layered with soaked rice and cooked over low heat until the flavour of the meat and spices infuse the rice. The result is tender meat and flavoursome rice mixed together. The accompanying curry sauce and raita (fresh cucumber, tomatoes, onion and yogurt) greatly enhance the dish.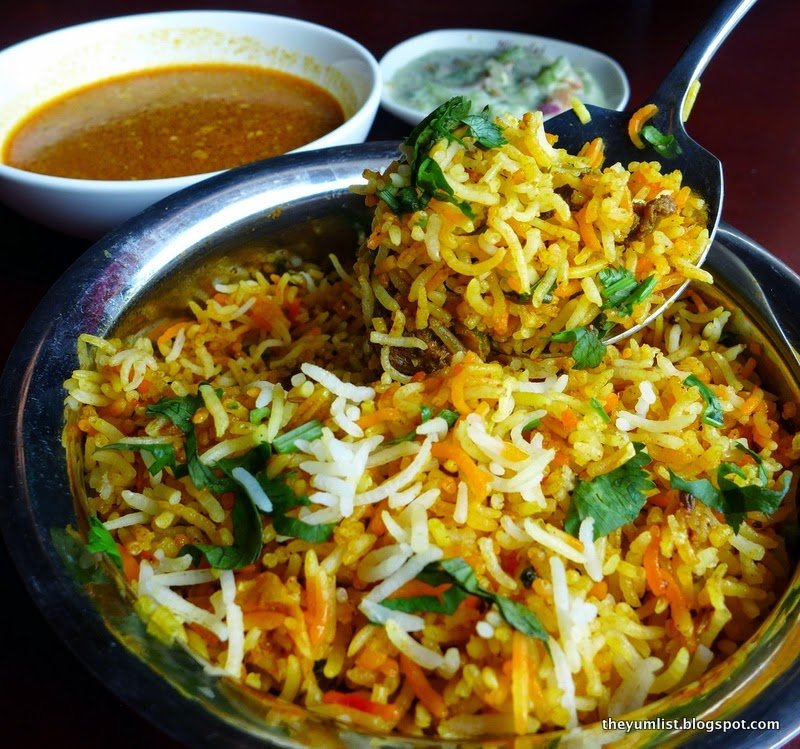 Mutton Biryani
Vegetarian Meals
Trilogy offers an extensive range of Pakistani and western vegetarian food. We tasted a few that we were very impressed with.
Okra and Eggplant Curry (RM14++) was our favourite! Besides being an unusual combination of vegetables, the delicate blend of spices made it a curry we wanted more of. The vegetables were cooked perfectly and garnished with fresh coriander. Delectable!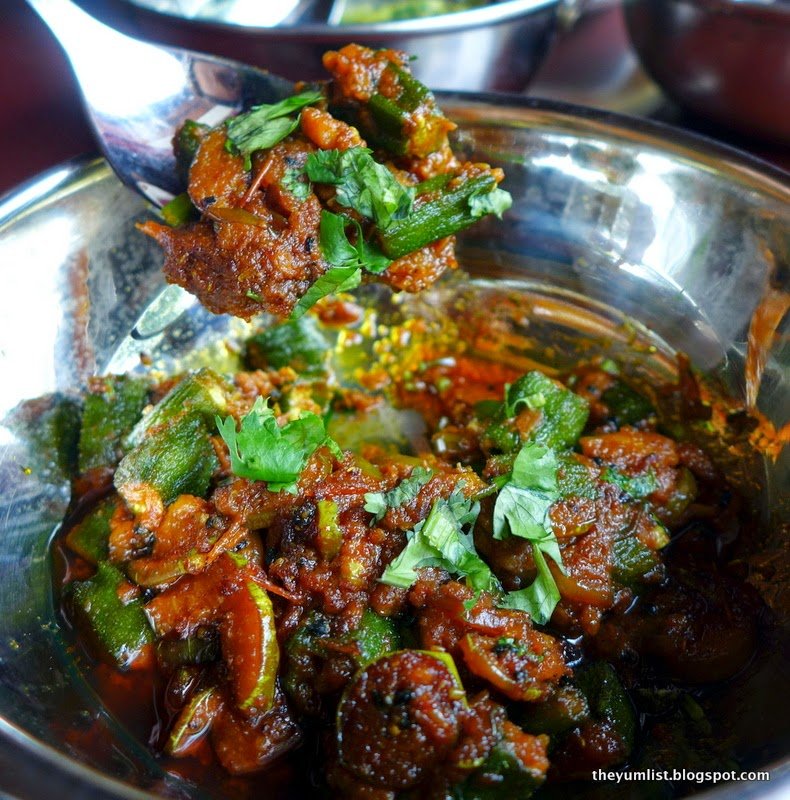 Bendhi Bengan Shabji
Palak Paneer (RM15.00++) is a dish that can be ordered again and again. Generous pieces of paneer are sauteed and seeped in a thick, rich sauce of spinach and spices. Again, Trilogy showcased their uniqueness as they make their own paneer with fresh buffalo milk. Although this dish is seen often on menus in Indian restaurants, this is a vegetarian's delight!
Palak Paneer
Tadka Dal (RM9.00++) is a delicious accompaniment with almost any dish, or also enjoyed by itself! Lentils are simmered with spices until soft and creamy, giving it a unique flavour. This has to be one of the best comfort foods of the east!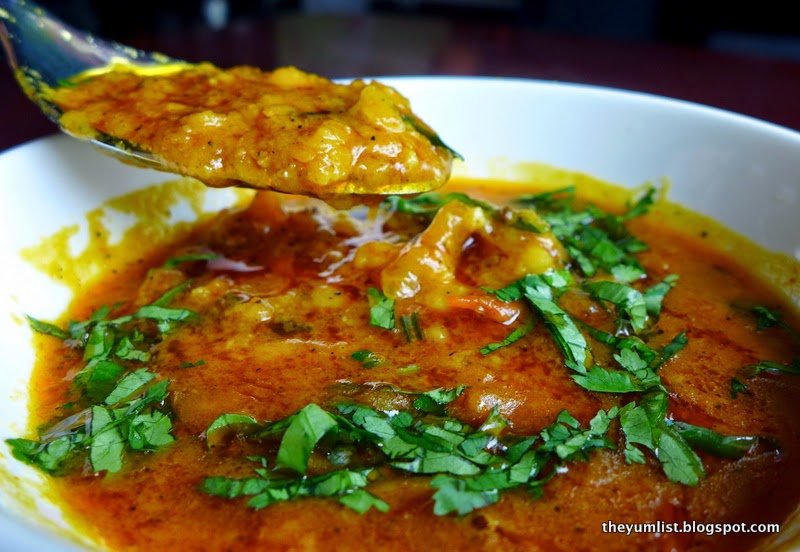 Tadka Dal
Western Dishes
The menu offers great choice for diners who may want a combination of spicy and western food! The Farmhouse Pizza (RM19.90++) has a thin crust, topped generously with mushroom, turkey ham, onion and mozzarella. Apparently this one often gets repeat orders.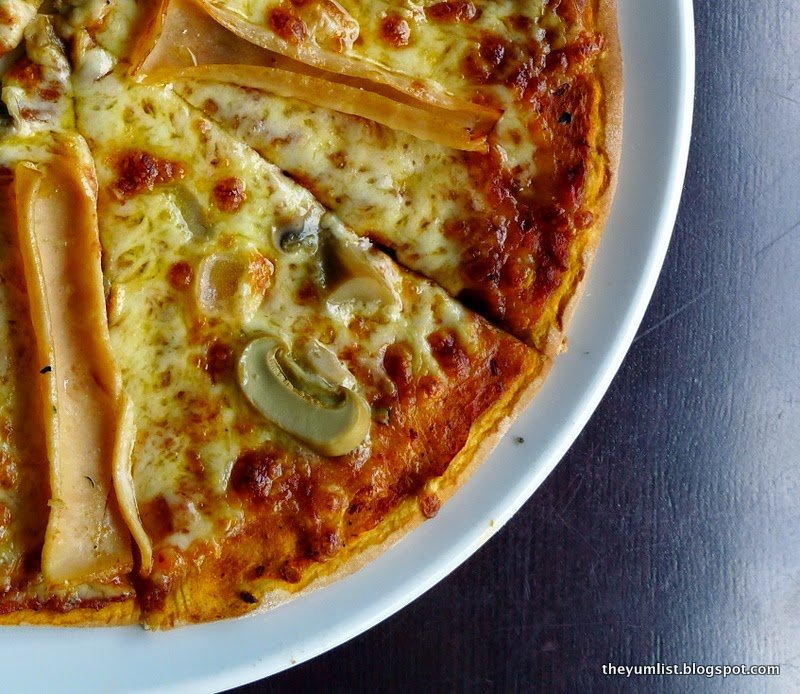 Farmhouse Pizza
Mushroom Bruschetta (RM15.00++) is an ideal starter, light meal or appetizer with drinks. Lightly toasted bread, sauteed mushrooms and grilled cheese blend to give a satisfying mouthful.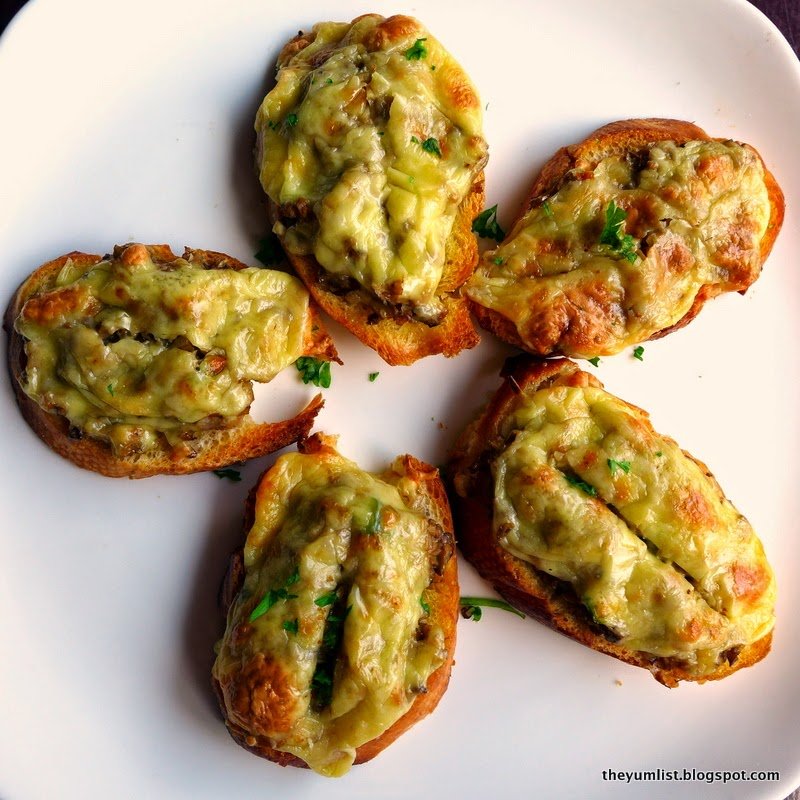 Mushroom Bruschetta
The Cafe de Swiss (RM48.00++) consists of succulent slices of Australian tenderloin, creamy mash, garlic broccoli (or other seasonal fresh vegetables), served with a delectable sauce that includes 13 herbs. This sauce was created over 20 years ago by Sunitha's grandmother and the recipe remains a family secret! The dish is a very generous portion and can easily be shared.
Cafe de Swiss with Australian Tenderloin
Dessert
Kesar Kulfi (RM9.00++) is a saffron infused Indian ice-cream, made on-site and presented in beautiful, miniature clay pots! A spoonful of kulfi in the mouth is an indulgence of cream, saffron and sliced almonds. Just delicious!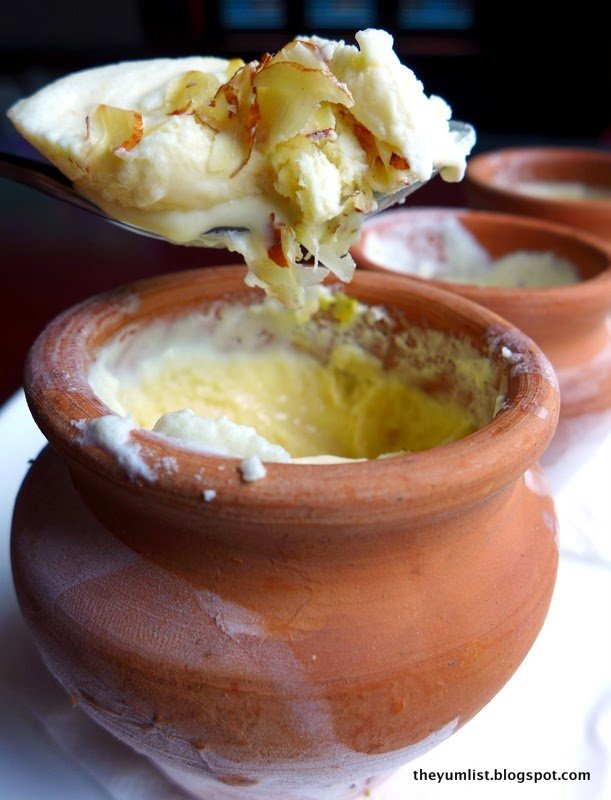 Kesar Kulfi
Gajar Ka Halwa (RM9.00++) is a dessert made with grated carrots cooked for hours in milk and butter, flavoured with cardamom and garnished with sliced almonds – that says it all! Authentic and decadent!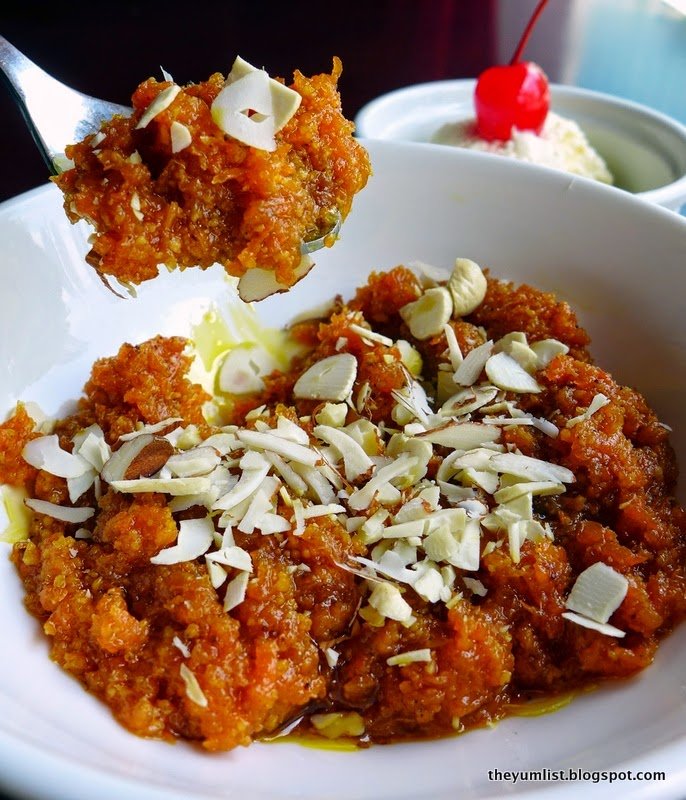 Gajar Ka Halwa
The taste and flavours of the Pakistani food are the closest you will get to home cooked cuisine! I was amazed that each dish had distinctly different flavours – something that's easy to overlook when preparing for a crowd.
Reasons to visit: Barbecue Platter, Dagar Mutton Kebabs, Fish Tikka, Okra and Eggplant Curry, Cafe de Swiss, Kesar Kulfi, and the longest Happy Hour in town!
Trilogy – Hostel, Restaurant and Bar
50 Jalan Raja Abdullah
Kampung Baru
Kuala Lumpur
Malaysia
+60-3-2602 3411
+60-12-277 7677