Patricia Podorsek and Monica Tindall
"Eating in the dark? No thanks."
"Oh, no. I like to see what I'm eating."
"Not interested."
Along with a polite smile and a nod, these are the typical reactions I've received from people when I tell them about Dining in the Dark. "Why would you want to do that?" they ask.
The experience is certainly like nothing you've ever done before. And when they say "in the dark", they mean, IN THE DARK. For the 90 minutes or so once you enter the dining room, you literally cannot see your hand in front of your face. You keep waiting for your eyes to adjust, but they never do.
The adventure begins in full light. A climb up the stairs near Opium on Changkat Bukit Bintang is rewarded with a chilled glass of fresh juice. Like most of the menu items, the ingredients of the drink change monthly. Ours was a delightful combination of citrus and passion fruit. A cocktail would be a nice addition to this introduction as well.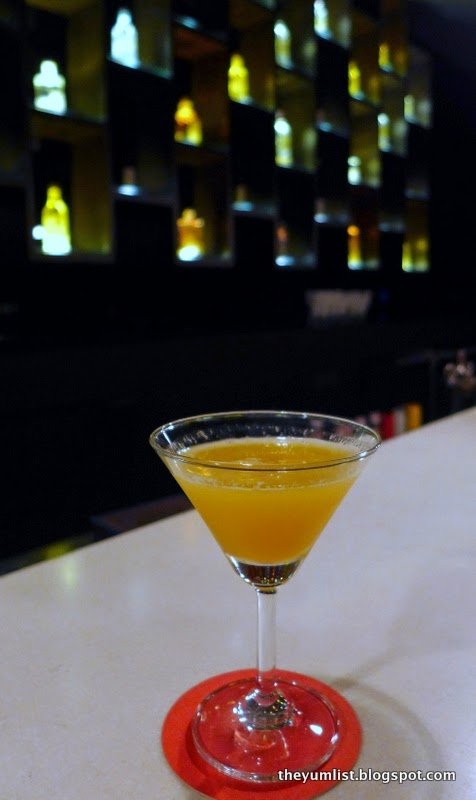 Welcome Mocktail
The host invites you to play warm-up games while you sip your drink, meant to enhance your reliance on using other senses to compensate for your imminent loss of sight. Friends take turns with the blindfold, first listening to different shakers, trying to determine the contents of a can. The second game enhances your sense of touch by asking you to sift through grains of rice looking for paper clips. This is much harder than it sounds. Finally, a third game requires communication from the seeing partner to the blindfolded one, taking her through the verbal steps of reconstructing a three-dimensional puzzle.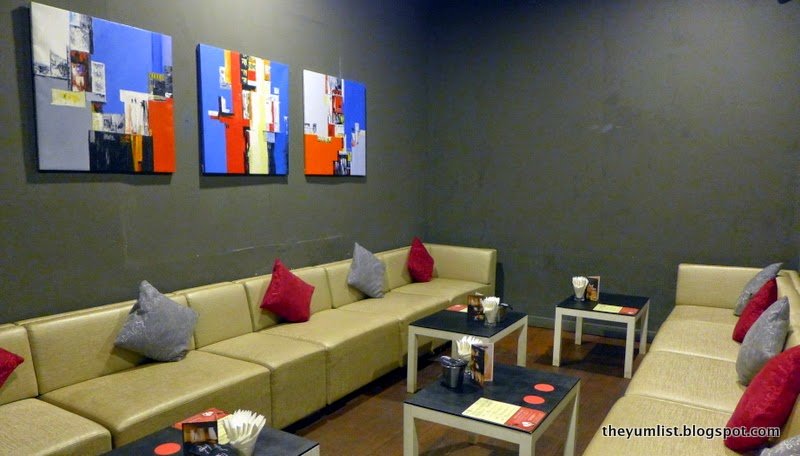 Lounge Area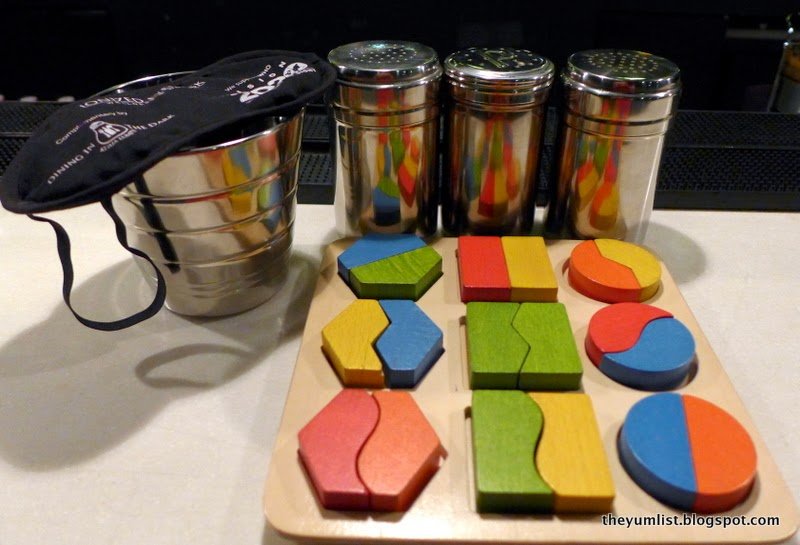 Sensory Warm Up Games
Once everyone is warmed up and ready for adventure, a "darkness expert" arrives to lead you into the dining room. All the servers are blind or visually impaired and their sensitivity guides you into the darkness through a maze of curtains by forming a hands-to-shoulder train.
Small lockers are available for personal items, as no light sources are allowed in the dining room. This means no hand phones, no glow-in-the-dark watches, no tablets, no cigarette lighters. Nothing that might disturb the obscurity of the experience.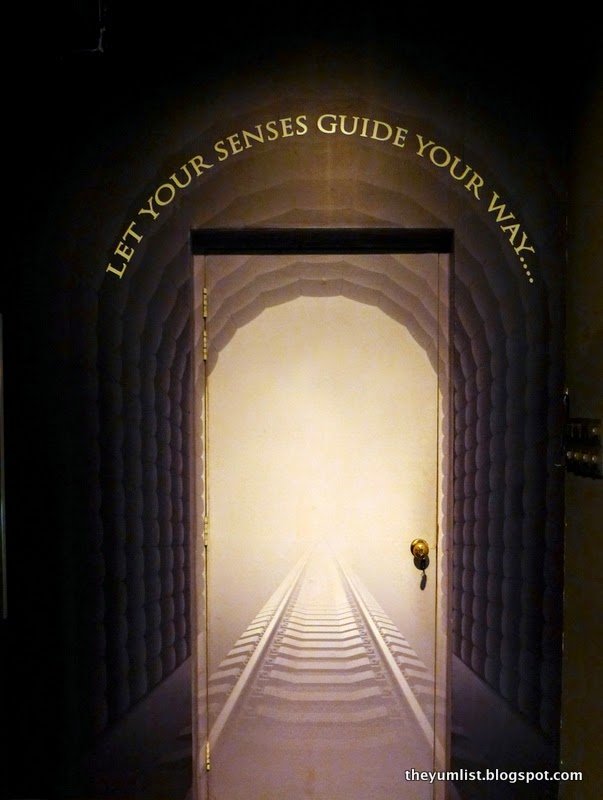 The Entrance – Gateway to a Unique Experience
Heading in, I found myself full of nervous giggles but thankfully our cheerful server, Thong, kept the conversation light and provided a sense of comfort as he led us to the table and helped everyone get seated. With verbal commands, he showed us how to find the edge of the table, the back of the chair, the plates and the cutlery. Feeling braver, I accepted his offer to pour my own water, and found that I could hear when it was nearly full without having to stick my fingers in the glass. Monica was happy for that! More importantly, he told us how to find our wine glasses without knocking them over, and I was happy to have a little something to help me relax.
The classic menu runs RM 118+ for a four-course meal, RM 168+ with wine pairing. With the appetizers, we enjoyed the 2013 Thierry and Guy Fat Bastard, a French Chardonnay. By the time the mains arrived, we had switched over to a 2009 California Cabernet Sauvignon bottled under Mondavi's Woodbridge label. Both were excellent companions to the food and very helpful in keeping our discomfort at bay.
It's strange to sit with friends in complete darkness! At first, our chatter signaled our uneasiness, but as we settled in to the comfortable ritual of food, drinks, and conversation, the darkness created a cloak of intimacy around our voices, which became anchor points in the sea of blackness. We grew surprisingly relaxed with it all.
I'm not going to say too much about the food, as the Dining in the Dark teams stresses the "surprise" element of the menu. This is one of the aspects that can really freak people out, especially those who are less adventurous about trying new foods. But rest assured that careful consideration goes into the tasty combination of Western fare and Asian fusion, and there was very little that I didn't enjoy or find well-prepared.  In fact, the puzzler in me loved the guessing game with each bite. "Mmmm…I think it's chicken…with…mushrooms…and fresh thyme…or is it rosemary? Oh, and garlic. Definitely fresh garlic on the croutons."
The food arrives in four courses, with multiple dishes in each course. As Thong set the plates in front of us, he instructed us about how to find the small embedded bowls each containing a different dish. By advising us to start in one place and work anti-clockwise, we could all sample the same items at the same time. "Oh, it's salad…with pieces of watermelon…oh, and feta cheese…and maybe something citrus. Mandarins?" The entire meal supplies small portions of four appetizers, two soups, three mains, and five desserts, for a total of FOURTEEN different recipes to puzzle your way through. Between the smells and the guessing, my brain was on fire.
The Classic Menu contains items with halal meat and seafood, but substitutions are available to accommodate vegetarians, allergies, and other restricted diets. The innovative chefs change the menu every month or so, which means repeat customers get a new culinary puzzle with each visit.
Dining in the Dark is open daily from 6:00 pm with the last seating at 9:30 pm. They hope to be open for lunch in the coming months. Book and prepay
online
to get 16% discount.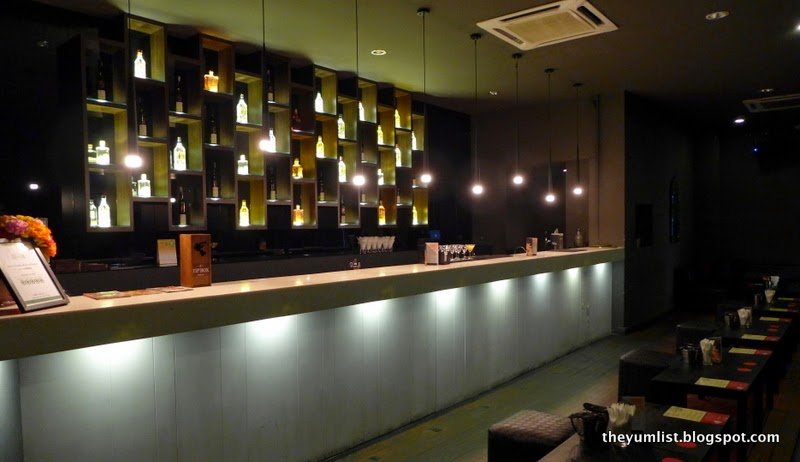 The Bar – a good spot for post experience discussion
Reasons to visit: A culinary experience that will set your brain on fire by enhancing the other four senses and igniting the food fun in all of us.
Dining in the Dark KL
50A Changkat Bukit Bintang
50200 Kuala Lumpur, Malaysia
+603 2110 0431 / +603 2110 3099