Words: Han Sen Hau      Photos: Monica Tindall
"Making the strange familiar and the familiar strange" comes second in a long list of clichéd expressions used to describe the creative writing process, trailing just behind the omnipresent "show, don't tell" advice that's invoked at the beginning of every fiction writing course. It exists because it persists: it is familiar because it describes a common experience many people share. When we're introduced to a foreign sensation, our first instinct is to compare it with ones we're accustomed to, and if for some reason we are unable to draw upon a reference, we withdraw from it. Tickled, perhaps a little frightened, and yet, consumed by our curiosity; we find ourselves drawn to it no matter how much we may try to shy away from it.
3 Bags Full
Our trip to 3 Bags Full at Kota Damansara had been filled with such promises of the atypical, and we were enthusiastic about the unconventional offerings we've heard so much about. There was nothing unusual about the restaurant with its slate grey paint, wooden panels, and framed segments of sheep decorating the walls, a nod to the nursery rhyme the venue takes its name from. The menu, which seemed harmless on the surface, was more revealing in its description of curiously named dishes such as the French Toast Kebab, which raised our eyebrows with its medley of Nutella, turkey ham, strawberries, and red wine reduction. Less enticing than it was intriguing, reassurance arrived in the form of poorly concealed smiles on the faces of our hosts, who seemed pleased by our puzzled expressions.
We started off easy with a variety of drinks, the first of which was a refreshingly cold Honey Lemon that's perfect for the torrid weather we were experiencing, followed with a quartet of stimulants that are worth returning to: Dark Chocolate Mocha, Ice Blended Cappuccino, Flat White and a house special Lavender Latte. Each arrived with a distinct personality, with the Dark Chocolate Mocha being the broody sibling full of depth while the Ice Blended Cappuccino's chilly countenance is, ironically yet thankfully, a welcoming one. It was hard to believe that the Flat White contained two espresso shots for it had great balance and didn't hammer the head at each sip, but the undisputed champion of all was the Lavender Latte.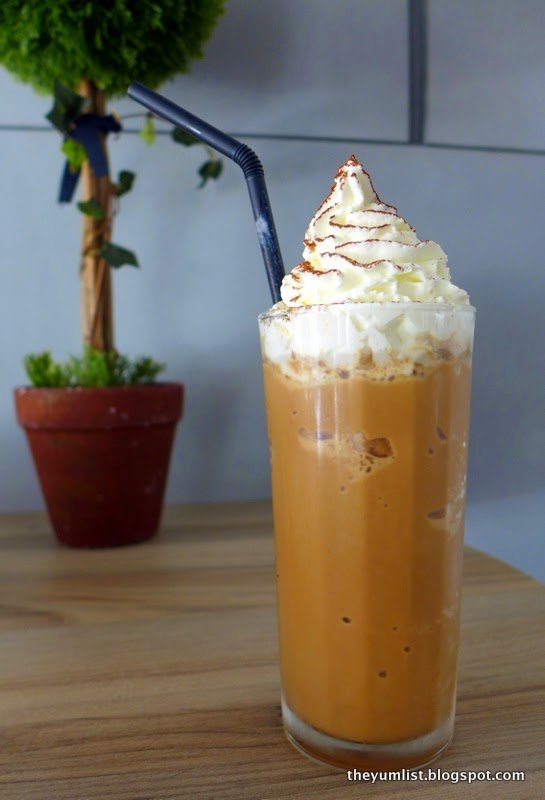 Iced Cappuccino
Flat White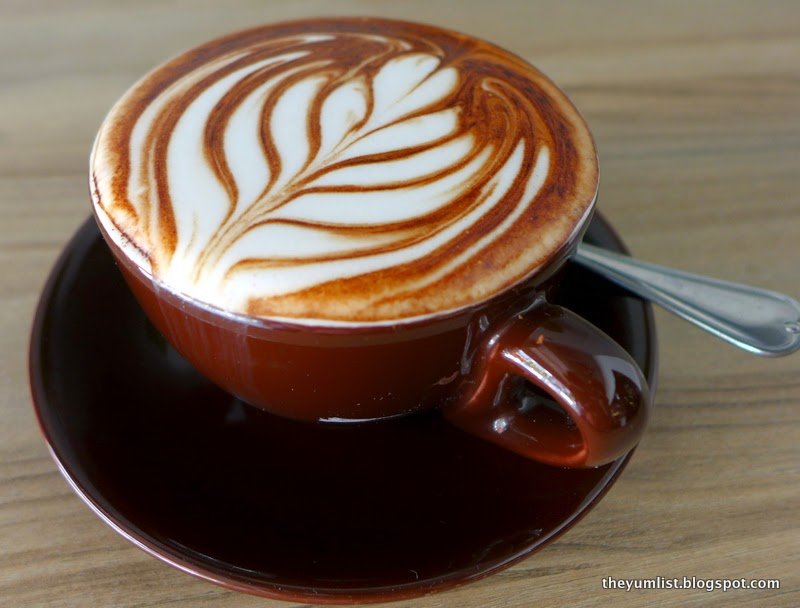 Dark Chocolate Mocha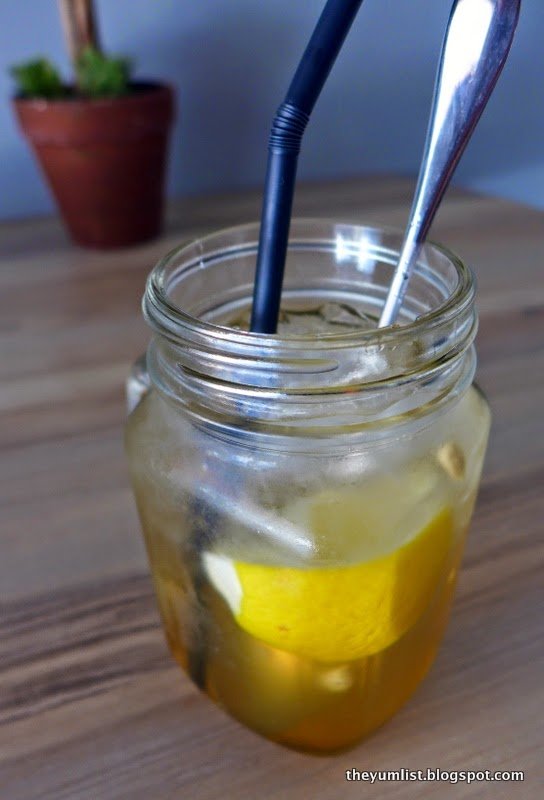 Honey Lemon
The best thing about the latte is its sapid fragrance, which is a wonderful marriage of soothing lavender and invigorating coffee. Its effect on us is similar to that of catnip to felines, where a blanket of imperturbable serenity descends upon our table and leaving us smiling with our eyes closed as we sighed in satisfaction. If you're a fan of L'Occitane's lavender range of products, you're in for a treat.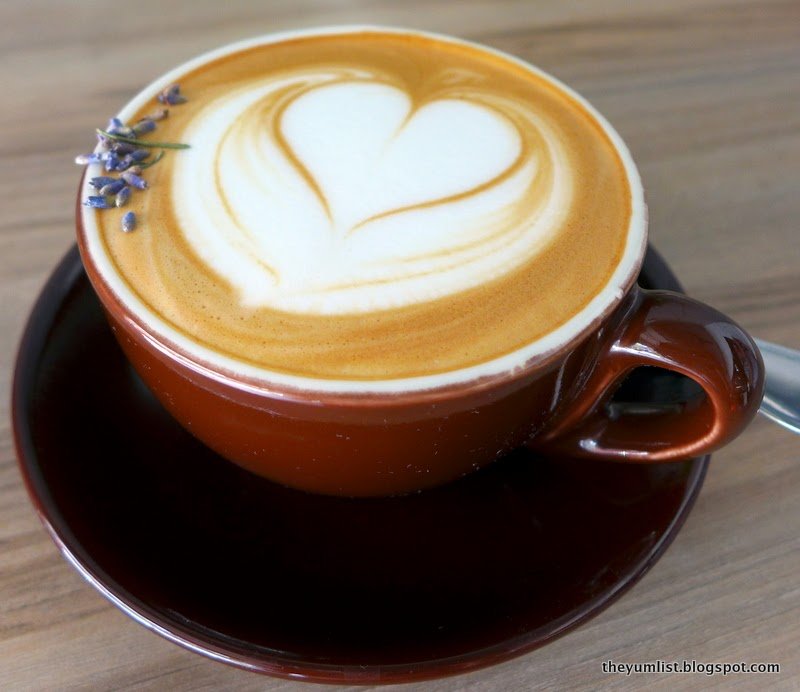 Lavander Latte
Next, we sampled their brunch selection, and we commenced with the French Toast Kebab that caught our attention earlier. Far too often, we reward practitioners of the craft in making things delicious for exercising a certain restraint with their ingenuity, so much so that we are quick to dismiss a truly special dish based on its quirky description on the menu. The French Toast Kebab was one such example. Served on a wooden rhomboid plate, the French toast looked like deep fried tofu, but a stab through its core reveals its gooey Nutella contents and dispels any notion that its made with soy beans. While we expected the bananas to add a little sweetness to complement the hazelnut spread, the strawberries for a burst of zest, and the pepita seeds for that crunchy texture, we were surprised by how well the turkey ham fit into all of this. Like salt to caramel, the turkey ham provided a much needed balance to this dish to prevent it from becoming a cloyingly decadent crêpe. While it can be difficult to dissect each of the individual components (and to shove everything into the mouth), these skewers were truly the surprise of the day.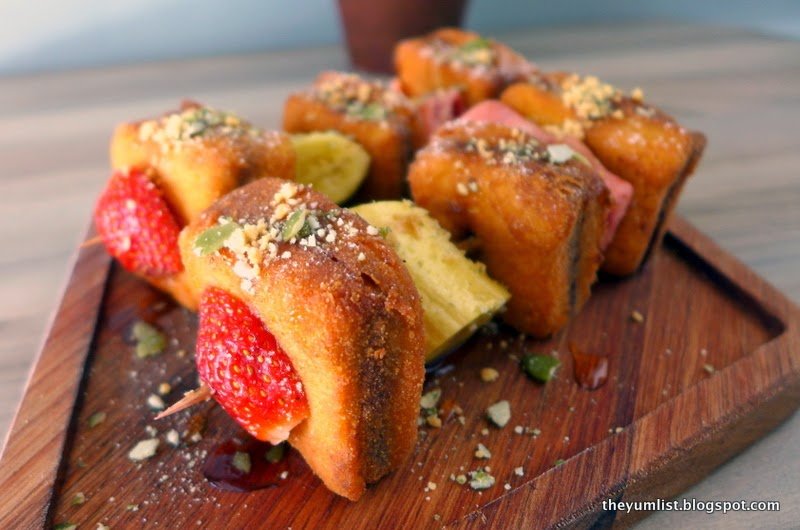 French Toast Kebab
The following Salmon Croquette was similar to the kebabs in its complex composition. Served with breaded French toast, seared mushrooms, spinach, poached eggs, fried peaches, and a shot of Guinness and red wine reduction, the combination rolls around the tongue nicely, though the spinach disturbs the mouthfeel a little with its texture. The reduction is a fun thing to have on the side, but we wouldn't recommend pouring it over the dish for fear of overkill. The highlight of this is the fried peaches that infuses a touch of sweetness to a savoury combination, which, interestingly, is an antithesis of the preceding French toast skewers.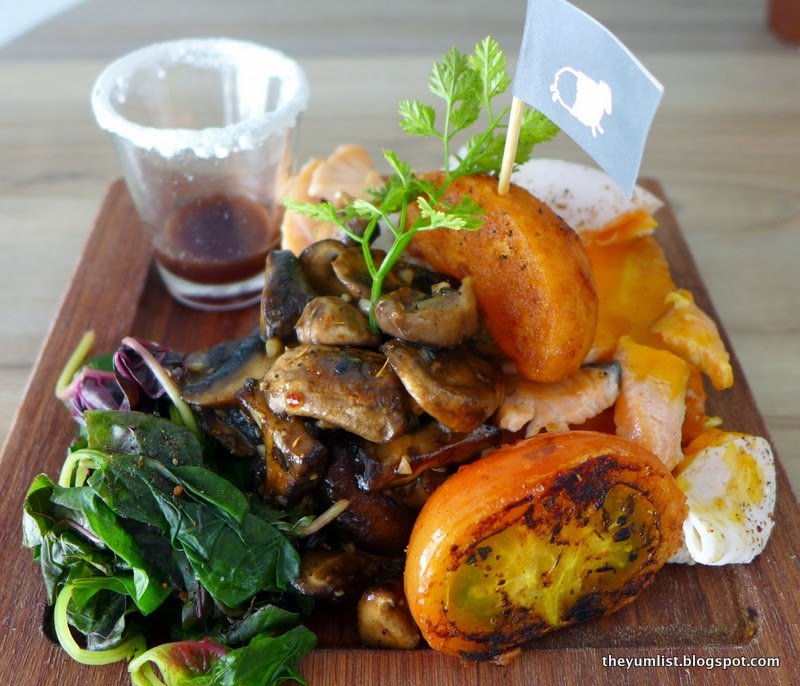 Salmon Croquette
To wrap up brunch, we decided to go for the Granola Parfait that's a colourful mélange of fruits, nuts, yoghurt, and strawberry gelato. Although parfaits have evolved to become a symbol of healthy eating and weight loss with a greater emphasis on yoghurt instead of cream, the pretty looking thing at 3 Bags Full is a more sugary variant and can be a dessert on its own.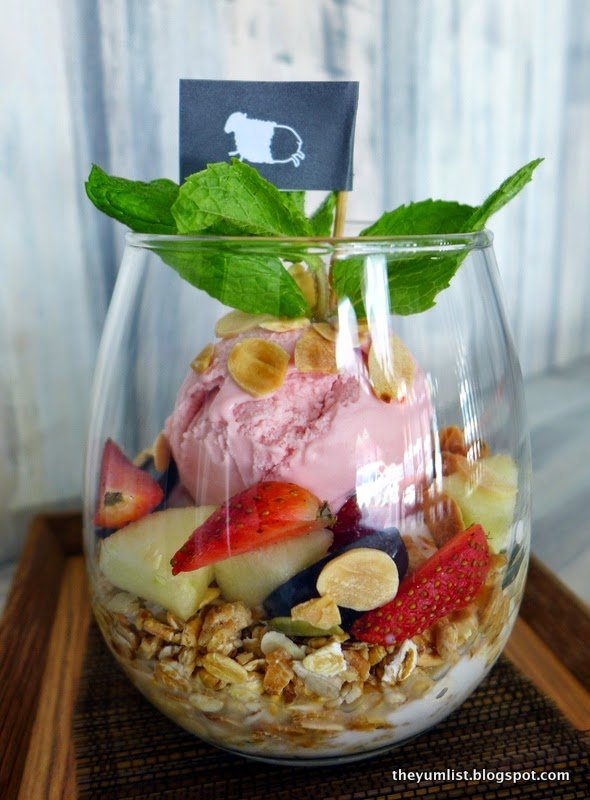 Granola Parfait
Having completed our warm-up, we then moved on to the dinner menu, where we began with an oh-my-goodness-can-I-please-have-another Griddled Salmon Fillet. The salmon is fabulous with its crisp exterior and silky flesh that just slides off the blade as you slice through it. Here's a tip (that you have to take): pierce the accompanying avocados, coat them in the excitingly piquant red pepper pesto, and savour them together with the salmon to make your eyes roll back in your head. The French Toast Kebabs may be the surprise of the day, but the Griddled Salmon Fillet is one heck of a sexy dish that just makes you want to awkwardly squirm and moan your approval of it to the whole restaurant.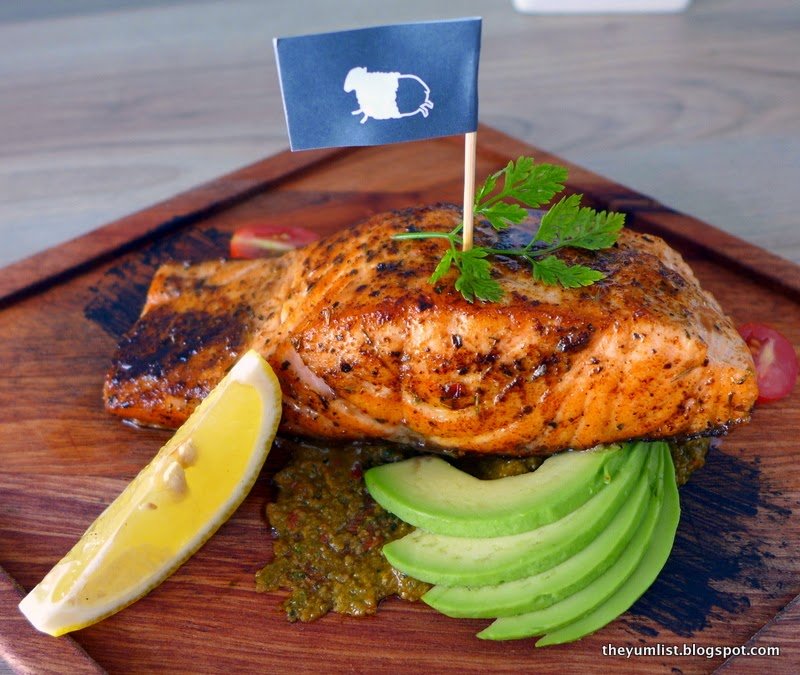 Griddled Salmon Fillet
The Spaghetti Aglio Olio Vongole that followed suit was most puzzling of them all, and it was the one dish that divided us. Though a pretty standard Italian fare, we were initially divided over the clams' quality and wondered if the chilli flakes were simply masking a fishy flavour, but when we had the clams separately, they were perfectly fine. After a few more bites, our palates seem to have adjusted to the flavour and the experience became progressively more pleasurable, though it still remains an enigma of the lot.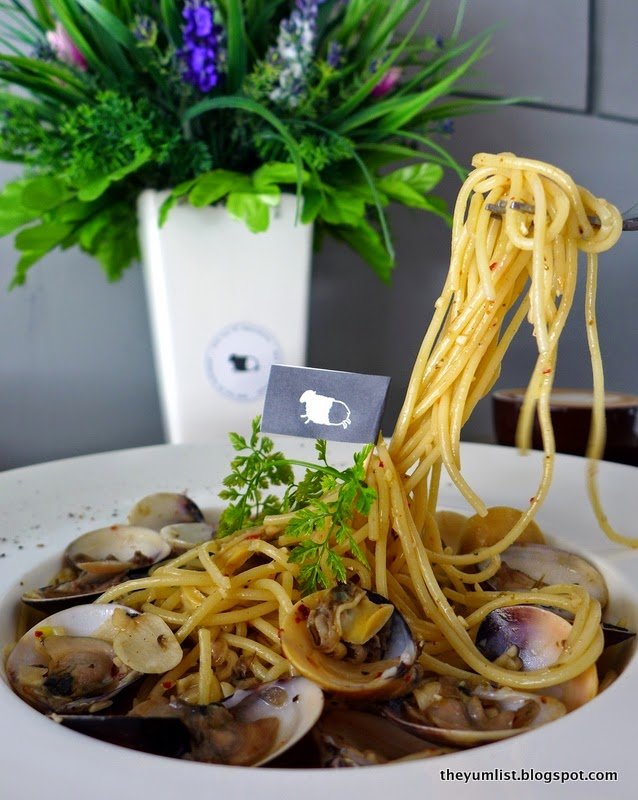 Spaghetti Aglio Olio Vongole
Our final dish was a heavyweight: 280g worth of Black Angus Rib-eye. Served medium rare with a most ravishing black pepper sauce, the beef doesn't disappoint with its tender flesh and charbroiled aroma. We also couldn't get enough of the fantastic potato wedges served on the side, which didn't lose its crunch even after being left on the table for some time. These were so good, we were surprised to find out they weren't an option that came on their own, for we imagine they would've been great for snacking with a glass of cider, of which the restaurant has plenty of Kopparbergs to pass around.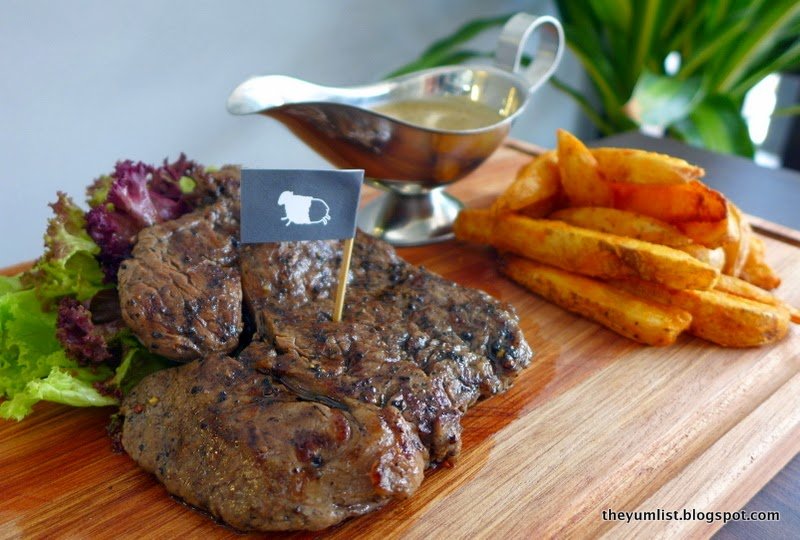 Black Angus Rib-Eye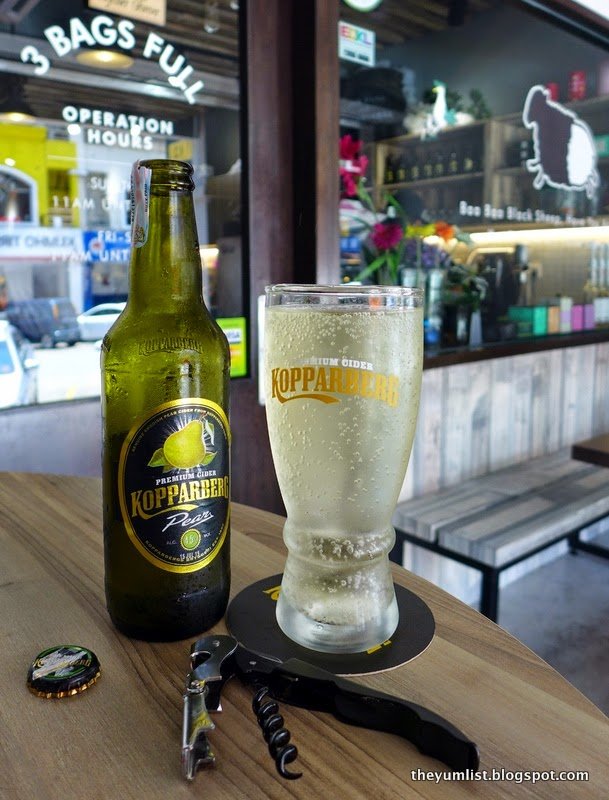 Kopparberg Pear Cider
We're also glad that 3 Bags Full stocks up on house pours, and we select a fruity 2013 Will McPharlan MPC South Eastern Australia Shiraz as our choice tipple for the afternoon. The red was smooth and tickled the back of the throat with slight peppery notes, making it suitable for light drinking and a decent companion to the rib-eye.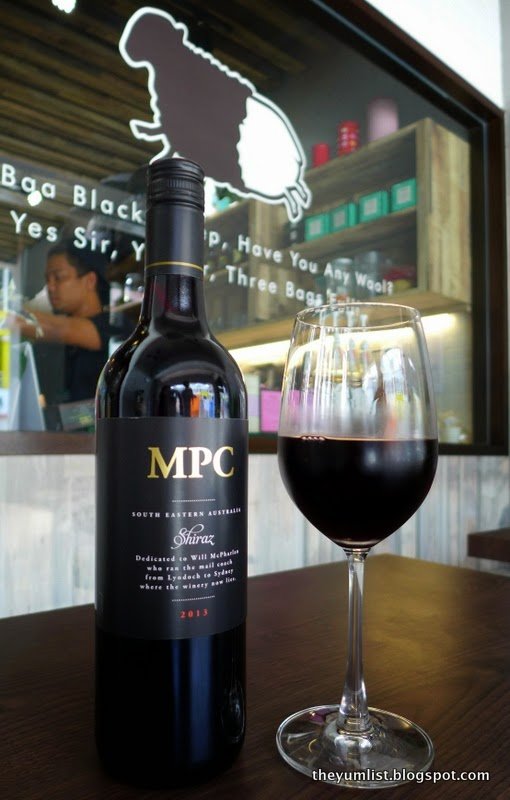 MPC Shiraz 2013
We had to end with dessert, of course, since the earlier Granola Parfait didn't completely mitigate our appetite for the sweet and creamy, so we ordered the Hampshire Waffle that has to be consumed immediately after it's served on the table while the waffle base was still warm and crumbly. This was a cheeky one as the colour of the blueberry mascarpone and coffee gelato deceived us: the mascarpone lacked the blueberries' signature purplish hue and looked a plain beige, while the coffee gelato was completely disguised under a layer of berry compote. Yet, it was this simply deception that elevated the experience, and we found ourselves enjoying the waffle all the more because of it.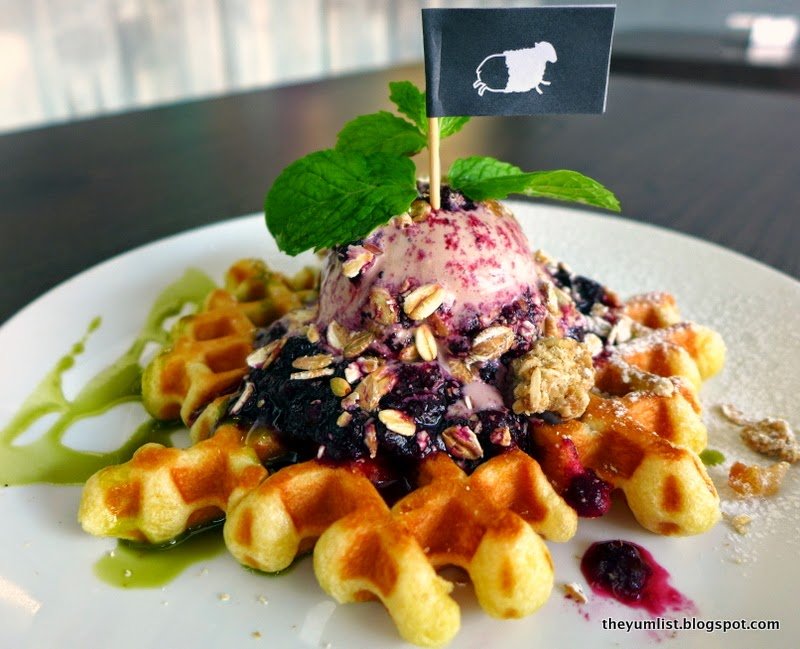 Hampshire Waffle
As we laid down our forks and took our final sips from our glasses, we've come to fully appreciate what the place has to offer: it wasn't three bags full of fluff, but three bags full of surprises. The experience had been rather educational, and we left feeling a little humbled having been reminded to never pass judgement on a dish simply based on its description. On that note, we look forward to returning to smack our lips over more of these strange familiars that we've had the privilege to enjoy.
Reasons to visit: Lavender Latte; French Toast Kebab (you have to try this at least once); Griddled Salmon Fillet (we'd happily return to this anytime); great option for dining out with friends.
3 Bags Full
38A-1 Jalan PJU 5/10,
Dataran Sunway, Kota Damansara,
47810, Petaling Jaya,
Selangor, Malaysia.
+603 6150 2831