Louise Miller and Monica Tindall
Given the recent (and very welcome) proliferation of healthy food places popping up all over KL, Ashley's by Living Food, is a comparative veteran in this field: Serving delicious and nutritious food for almost a whole year now, this delightful little eatery on Bangsar's Jalan Telawi 3 where Ashley and her team bake their own bread and make their own sauces (all free of MSG and other nastiness), claims to be all about 'real food, done right.'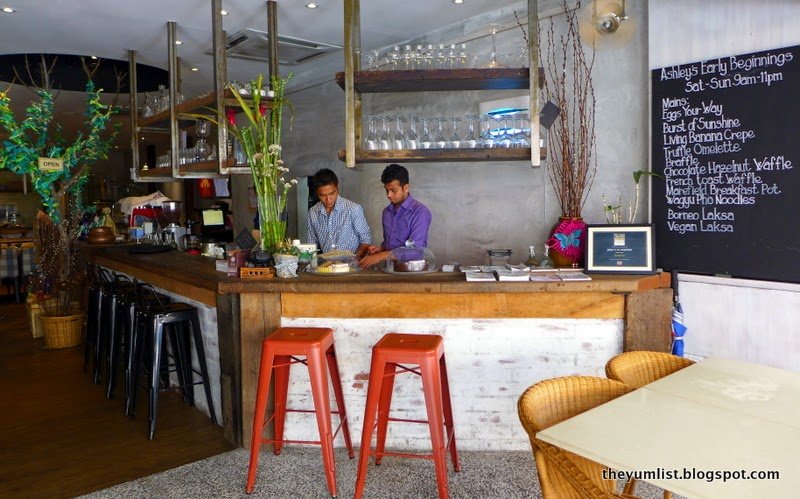 Ashley's by Living Food, Bangsar
The ambience at Ashley's is as warm and welcoming as you would expect from a family run business where the team of siblings are deeply passionate about what they do. Added to this familial warmth, is the cosiness of the rustic décor: chunky driftwood beams and shelving, large pale blue and white chequered upholstery and walls painted blue and white with thick crude brushstrokes and decorated further by the collection of plants suspended in their metallic pots and vibrant paintings available for purchase to benefit Tibetan and wounded animal charities.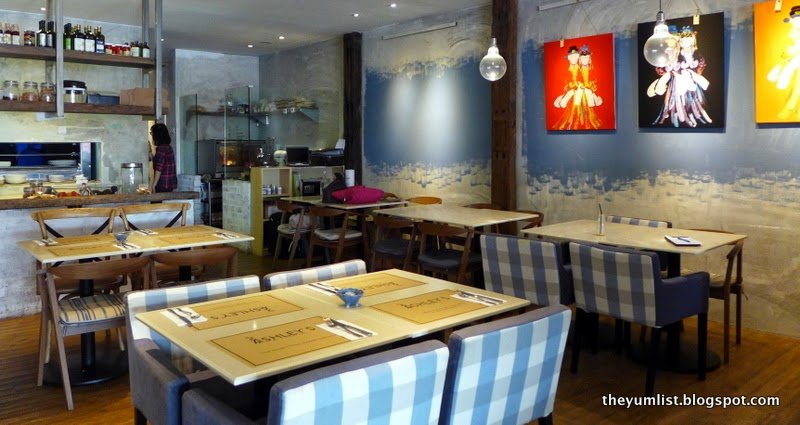 Ashley's by Living Food, Bangsar
We settled in to embark on a feast of some of the menu's highlights and began with a plate of beautifully presented and equally tasty Living Pulled Eggplant (RM15): dainty rolls of wafer thin slices of eggplant that had been marinated with chilli, dehydrated, rolled and stuffed with velvety nut cream on a bed of roasted sweet red pepper slithers atop the wholesome flaxseed crackers.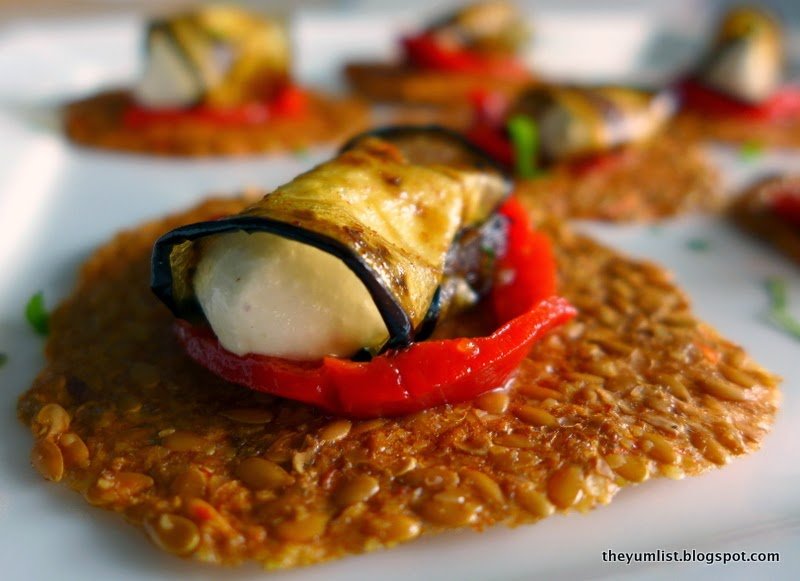 Living Pulled Eggplant
We followed this with a bowl of hearty Lentil Soup (RM12) – comfort food at its best: this was thick, soothing, high in protein and packed full of the goodness of Le Puy lentils, hemp and chia seeds and walnuts. The flavour was rich and complex with hints of mushroom seasoning and coriander, and made even more interesting by the crunchy textures of seeds and nuts.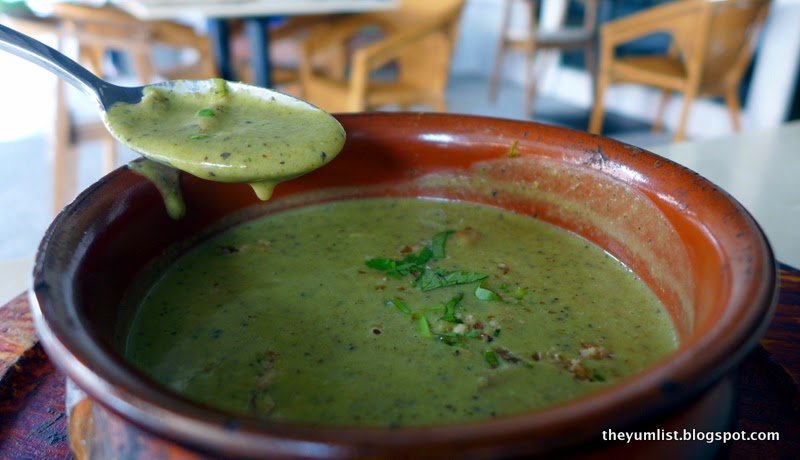 Lentil Soup
Having been delighted by our 'First Impressions,' we were ready for 'The Engagement' section of the menu and the first of its offerings to tantalize our taste buds was the Portobello Mushroom and Buckwheat Stack (RM42).  The marriage of flavours and textures here was sublime: the Portobello mushroom was juicy, meaty and delicious sandwiched between the savoury Buckwheat patties and accompanied by a tangy pink peppercorn and rhubarb purée, a creamy pumpkin sauce and mushroom ragout.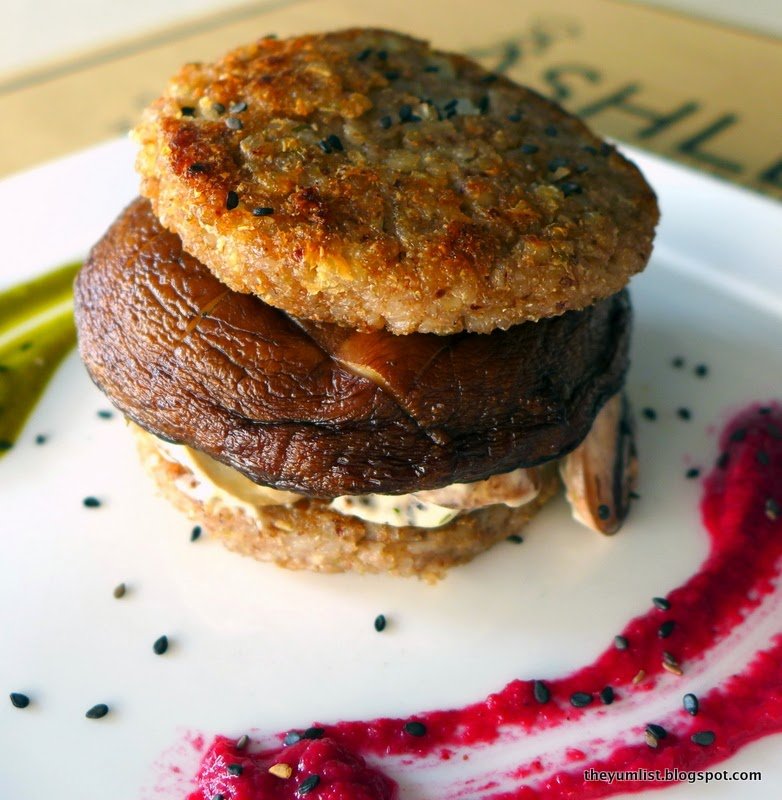 Portobello Mushroom and Buckwheat Stack
The next dish saw a departure from the current menu with Green Eggs & Green Fritters, and although this was created especially in honour of St Patrick's Day, we are hoping that it will be made a regular feature of Ashley's menu. The carrot and zucchini fritters had been shallow fried in rice bran oil and were topped with spinach that had been marinated in a little olive oil and salt, and perfectly poached eggs just set with bulging golden yolks ready to burst forth at the lightest nudge of a fork.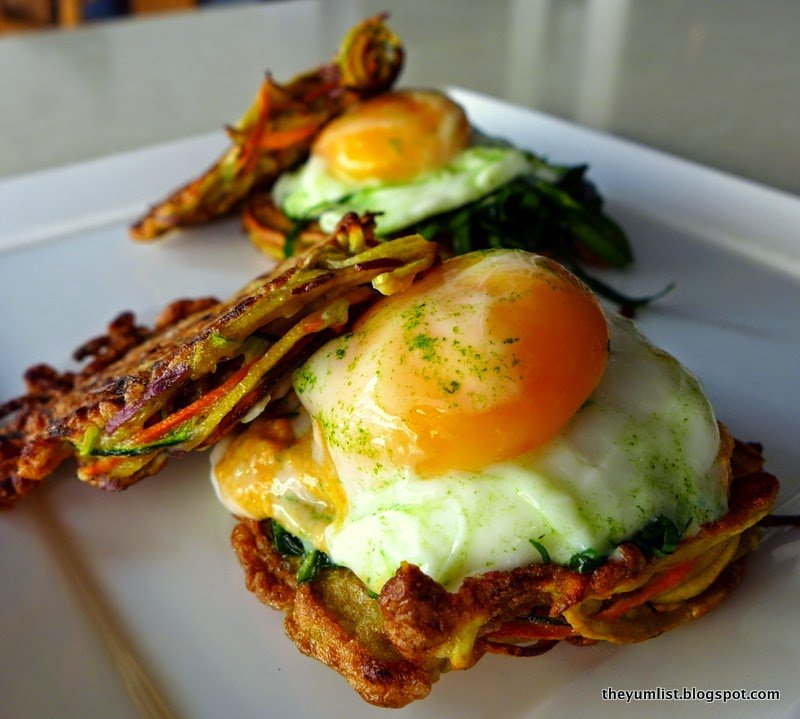 Green Eggs & Green Fritters
The arrival of the next dish enchanted us all with the unmistakable truffle aroma it wafted into the air as it was delivered to our table –  mmm… I knew, before I had even glimpsed the Mushroom Foie Gras (RM38) that I was going to really love this! Despite the warning that, unless used to raw food, this should be eaten in moderation, I couldn't get enough of this silky smooth, earthy pâté. It was just so deliciously rich and creamy, yet incredibly healthy as I was assured that this was made from raw white button mushrooms and untainted by cholesterol filled butter and cream. The fresh and crunchy slices of raw carrot and cucumber, gluten-free rosemary flat bread, sun-dried cherry tomatoes and flaxseed crackers all drizzled with the pungent truffle oil made a perfect match for the Mushroom Foie Gras which was delicious spread on any of the accompaniments or just on its own.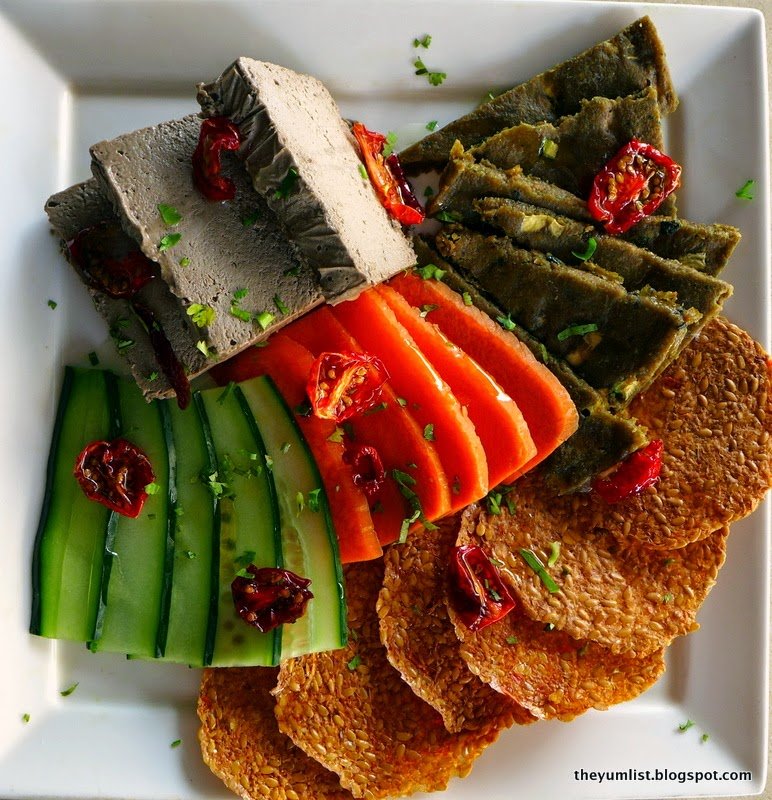 Mushroom Foie Gras
Genmai Lu Cha was served next. This herby and nutritious stew is accompanied by either Barrio rice (RM28) or quinoa (RM38) and is made up of leek, spinach and French beans mixed up with the grain of choice and delivered to the table in big white bowl with a teapot of the herby, green tea broth on the side. As the broth (containing nine different herbs) is poured into the bowl with the other ingredients, the wholesome aromas fill the air, entice our olfactory senses and have us salivating once again. The accompanying little triangular tofu parcels with a tamari reduction further enhance the layered flavours of this complex dish.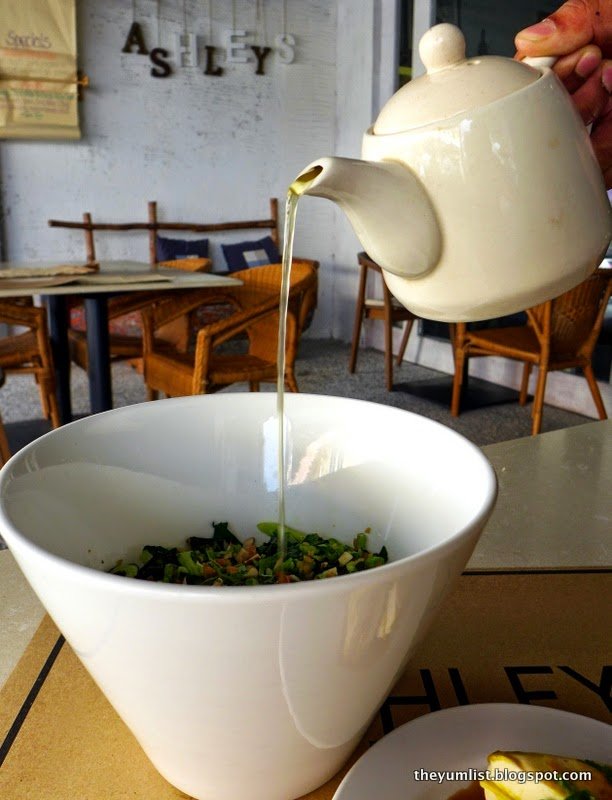 Genmai Lu Cha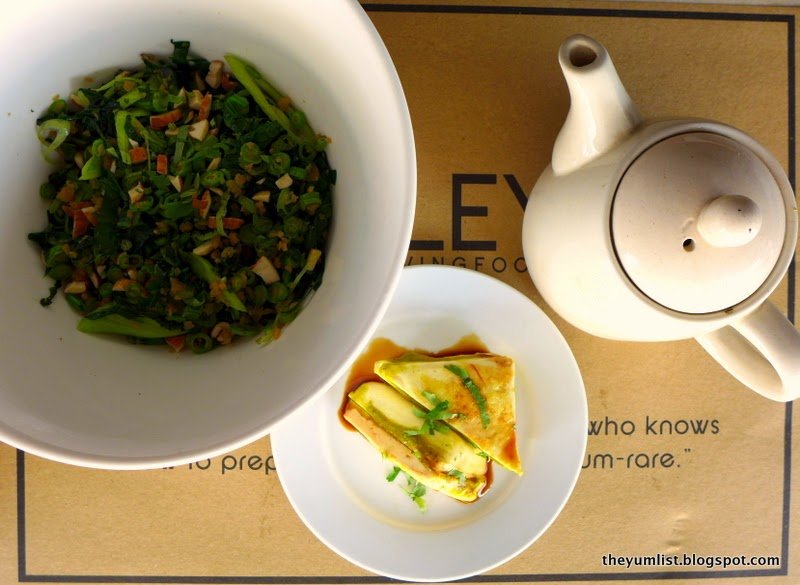 Genmai Lu Cha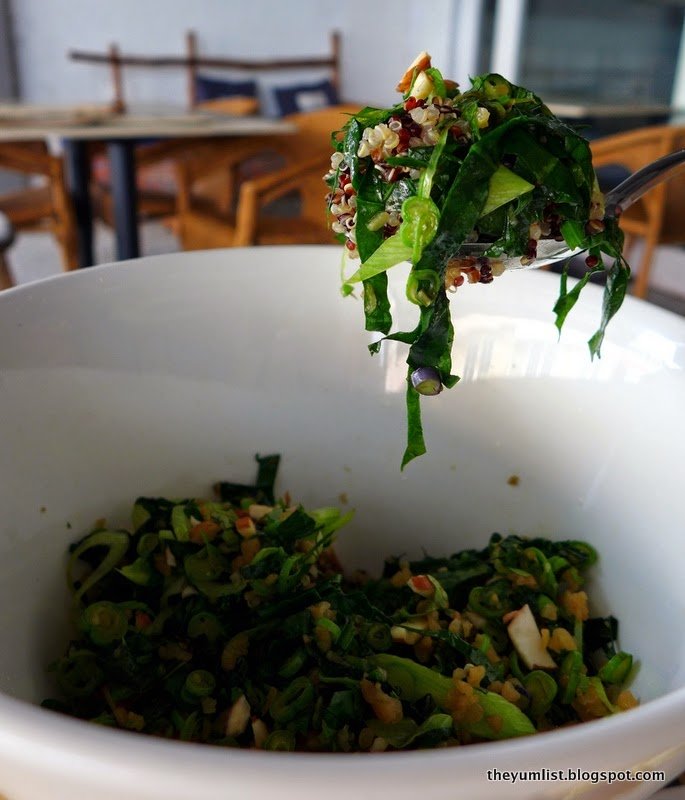 Genmai Lu Cha
The arrival of the Pescatarian Burger (RM42) at our table shortly after, inspired gasps of delight from the three of us. This was a sight to behold: A thick and juicy fish and prawn patty, topped with rich red and orange cucumber kimchi, sandwiched in a forbidden rice bun was as stunning to look at as it was to eat. The fish patty was rich and succulent made with pearl snapper and prawns sourced from Borneo. The kimchi provided a complementary fresh, gingery kick and the dollop of golden sauce made with salted egg yolk added a creamy richness to the burger. The accompanying salad was divine – simple and super tasty, this was a mound of raw grated vegetables drenched with a tangy pineapple and sesame dressing – yum!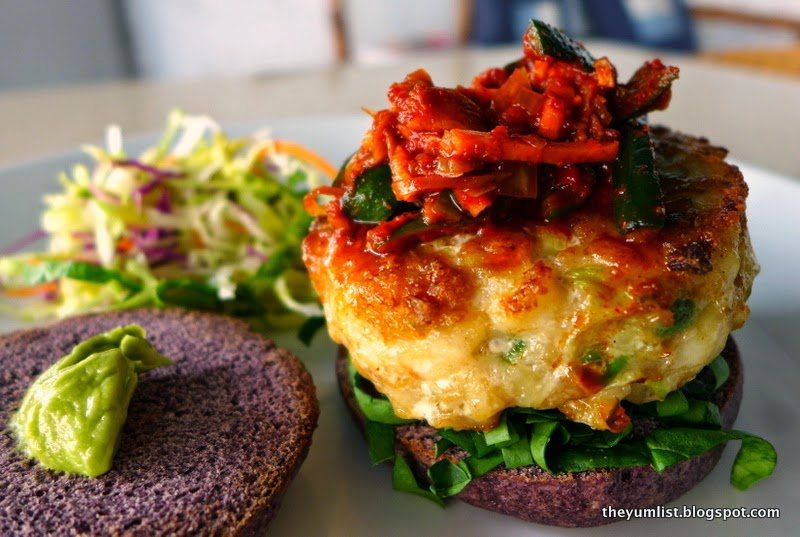 Pescatarian Burger
Our final savoury dish of the meal was another comfort food treat: the Ratatouille Congoogly (RM28) was composed of layers of mini pasta sheets, Japanese pumpkin stew and melted Spanish cheese. It reminded us of lasagne due to the winning combination of pasta, sauce and cheese  – we highly recommend to the seriously hungry in need of a food hug!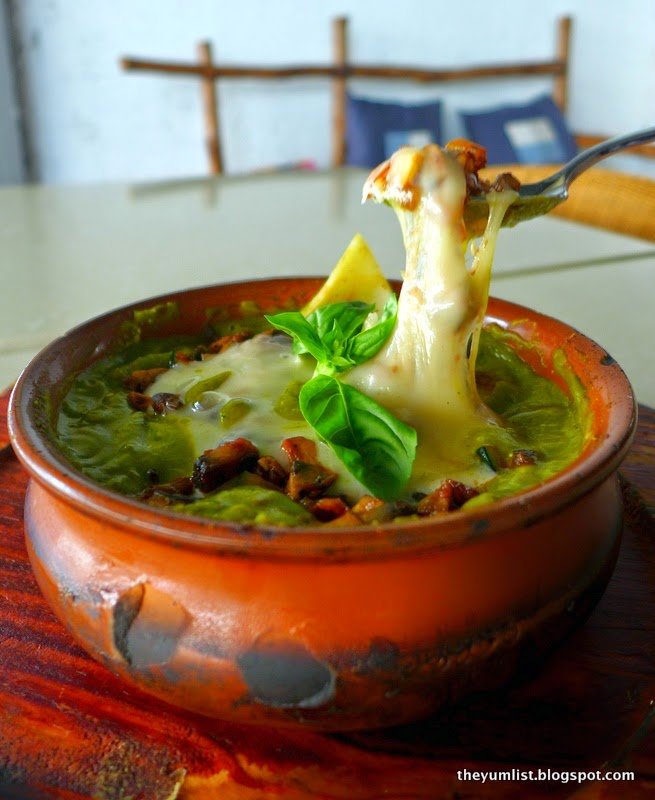 Ratatouille Congoogly
Having dabbled with 'First Impressions', The Engagement' and even delved into the 'Feeling Adventurous' section of the menu, we had now qualified for 'The Lasting Relationship' whence came the Gluten Free Chocolate Cake (RM12).  Like my ideal man, it stood tall, dark, handsome (and ridiculously rich!) and was moist due to layers of ganache and slightly grainy in texture due to the almond flour.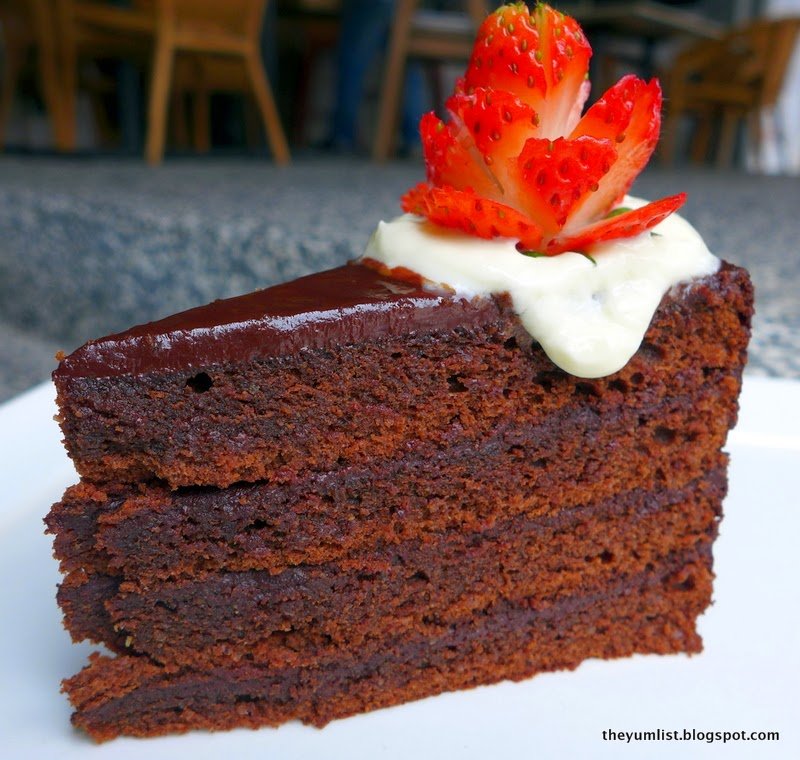 Gluten Free Chocolate Cake
Monica and I tucked into the cake and managed, despite feeling rather replete from the previous courses, to put a significant dent in it without any help from Caning who proudly informed me that chocolate isn't really his thing.  That was of course until the arrival the Living Chocolate Tart (RM18).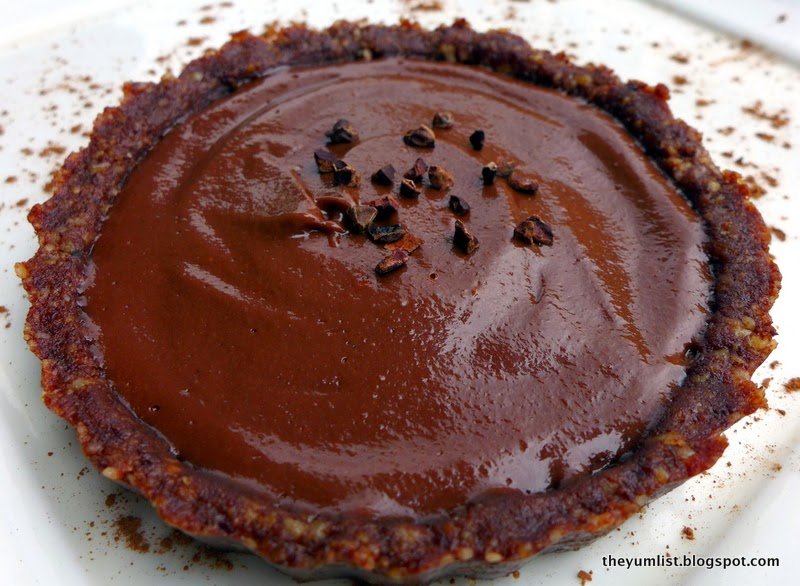 Living Chocolate Tart
This was, quite frankly, the most delicious dessert I have had for a really long time and would easily convert the staunchest of chocophobes out there. Proof of this was indeed in the pudding as Caning plunged his spoon in with an enthusiasm that matched Monica's and mine.  I know that any description I write here won't fully do the dessert justice but it was utterly delicious with its unctuous chocolate filling in the sweet and salty biscuity macadamia pastry. We scraped the very last remnants of sauce and pastry crumbs off the plate in a bid to savour the perfection of the tart for as long as possible.
Ashley's by Living Food is well worth a visit for anyone in the mood for really tasty and satisfying food with the added advantage of being packed full of natural and wholesome goodness and plenty of vegetarian, vegan and gluten free options.
Ashley's is open seven days a week between 11:00am and 11:00pm from Monday to Thursday, between 11:00am and midnight on Fridays, from 9:00am until midnight on Saturdays and from 9:00am until 11:00pm on Sundays.
Reasons to visit: wonderful vegetarian, vegan and gluten-free options; the Portobello Mushroom and Buckwheat Stack; the Mushroom Foie Gras; the Pescatarian Burger; the Lentil Soup; and the Living Chocolate Tart.
Ashley's by Living Food
11 Jalan Telawi 3
Bangsar
Kuala Lumpur
Malaysia
+60 17-325 3663
www.facebook.com/ashleysbangsar
www.ashleys.my