Words: Sarah and Ross Jones     Photos: Courtesy of KLGCC
The Friday night Pool Side BBQ at KLGCC is not just a dinner, but a complete eating experience. The "patio restaurant" is surrounded by a beautiful setting (and countless Ferraris in the carpark) of Kuala Lumpur's Golf and Country Club's well manicured grounds and palatial buildings. Like many buffets in KL, KLGCC's is set up into well organized stations offering an extensive variety of cuisines, but this buffet's setting overlooks a beautiful swimming pool and further beyond to their pristine golf course. Dining al fresco at such a fine quality buffet is a rarity in this tropical paradise in which we live, and to add to the appeal of the well-rounded buffet, it is very reasonably priced.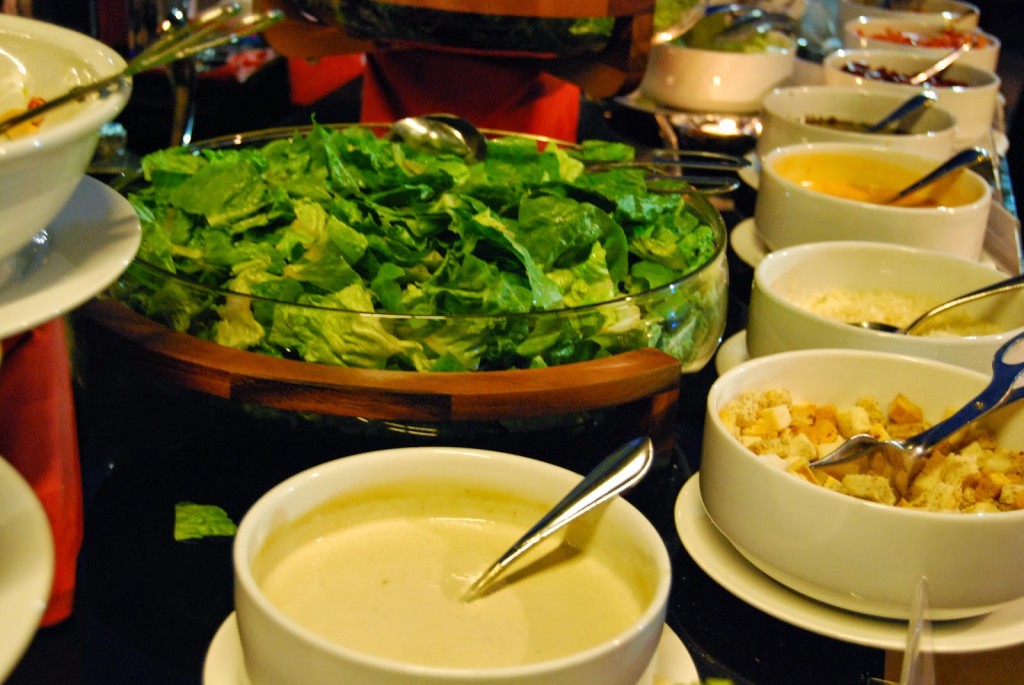 Fresh Salad Station
The first station we visited was the colorful, fresh salad bar full of variety and unique flavors. We found this station not only to be fresh, with crisp vegetables for salad toppings, but also interesting salads that weren't far fetched with their selections. We particularly enjoyed the Vegetable, Egg and Coconut Milk Frittata – the coconut milk added a sweet twist to a familiar dish. Other highlights of the salad station were the Cucumber with Jicama, Almonds, and Sesame Salad (Sarah's favorite) and the Sweet Potato Salad with Pumpkin Seed and Egg. There were many standard selections as well- Caesar Salad, Tuna Nicoise Salad, and a garden salad. There was a plethora of salad dressings, toppings, and also a fragrant tomato soup.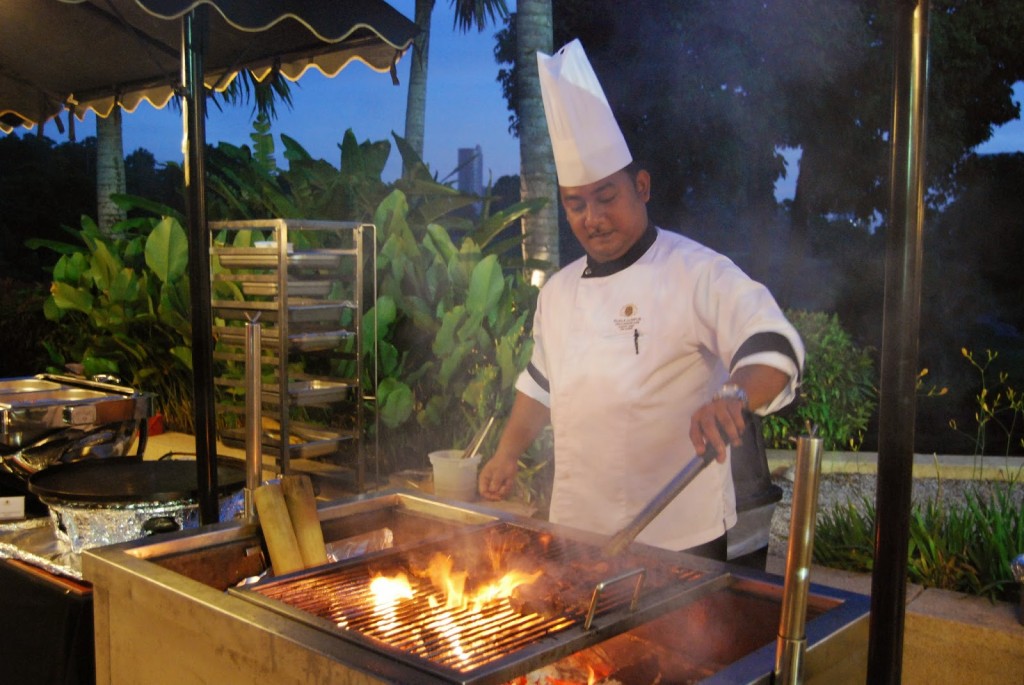 One of the chefs grilling tender meat
On our second trip orbiting the patio, we went for seafood. The chef has done a nice job selecting an accessible selection of seafood while not trying to cook everything in the ocean, and instead opting to do a few selections very well. The flavors the chef has chosen to complement the seafood are Southeast Asian, Continental, and South African. A few of our favorites were the Mint and Cilantro Snapper Tikka with coconut chutney, the Braai Apricot Chili Jam Mackerel, and the Griddle Squid Aglio Olio Chili Padi served with a Tomato Salad. There was also Salmon served with a dill, cucumber salsa and Spicy Butter Prawns grilled on skewers with tomatoes and lemon to add to these highlights. We have found that very often the seafood in buffet situations are overcooked, but these were not and were obviously carefully monitored to prevent drying out. We found the squid to be spicy and excellent (like three trips back excellent) and the Tikka Snapper to be worthy of a return trip too.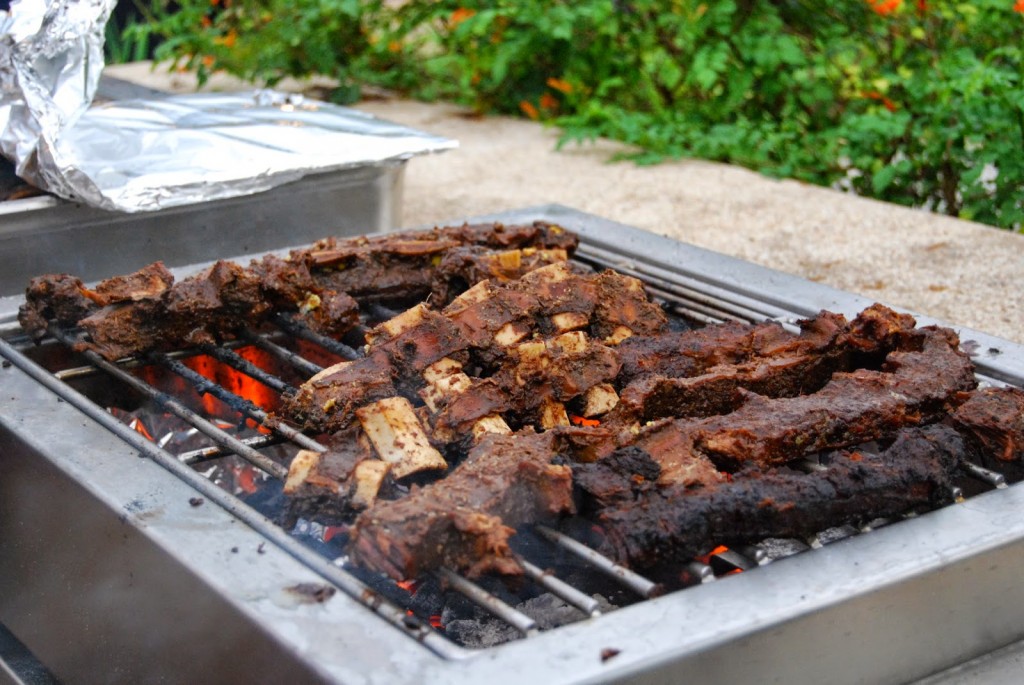 Short Ribs
To pair with the seafood, the chef had chosen a variety of Australian meats to BBQ. A whole spit roasted Lamb, Beef Striploin, and Beef Short Ribs were served with a variety of sauces. The Beef Striploin was particularly well cooked and retained its juiciness and flavor, despite being cut off a particularly large piece. Not normally a beef eater, this melt in your mouth meat had Sarah back for seconds. Along with these red meats the diner can find chicken prepared in a number of ways: Chicken Satay served with the traditional peanut sauce, Chicken legs in Indonesian Golek Bumbu (chili seasoning), and a milder Balsamic glazed chicken leg. Along with the variety, the meat was succulent and accented nicely with the flavorful, but not overpowering, toppings and sauces.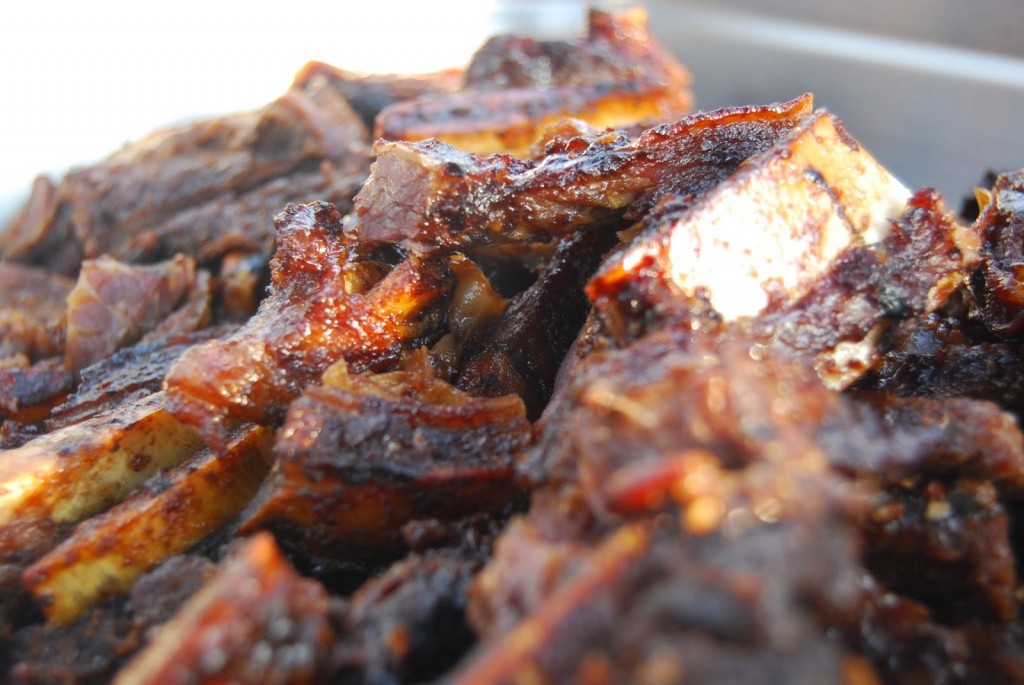 Fall-off-the-bone BBQ
We found the BBQ desserts to be particularly interesting and delectable. Really, it was Sarah's most adored part. Grilled Chocolate and Brown Sugar Bananas (with ice cream!), Grilled Cinnamon Pineapple, and a Grilled Apple and Almond Caramel Pie (a South African treasure) were the highlights of this station. All were just as good as they sound and ironically enough, we found them not to be too sweet, but a perfect ending for all the grilled mains that were available to us. There is also a table of accompanying sweets like Malaysian Kuih, Creme Caramel, and Coconut Cake that are sure to meet all sweet tooth needs.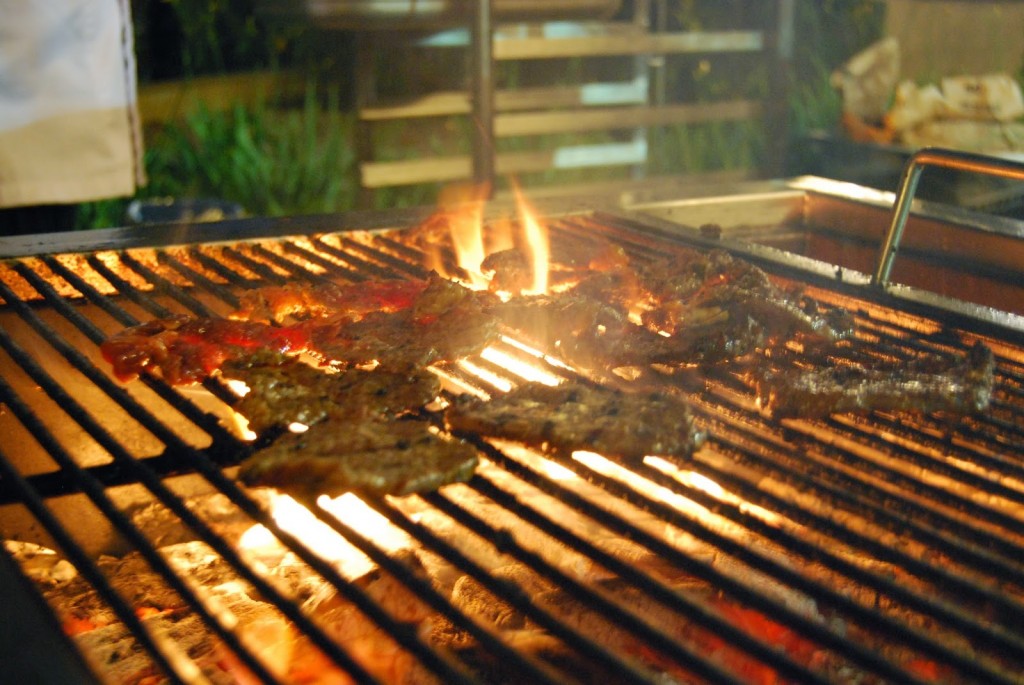 Grilled Meats
The price of this experience is the true bargain for the quality that the diner receives. The food is of high quality, full of flavor, and fresh which pairs nicely with the poolside ambiance and friendly, attentive staff. All children below six years of age eat for free, older children are charged RM37.50 nett, and adults pay RM75 nett. This includes musical entertainment from the house band, Acoustic Fourplay, and the invitation to take a swim in the pool. This is only available on Friday nights, and is open to both members and non-members of KLGCC.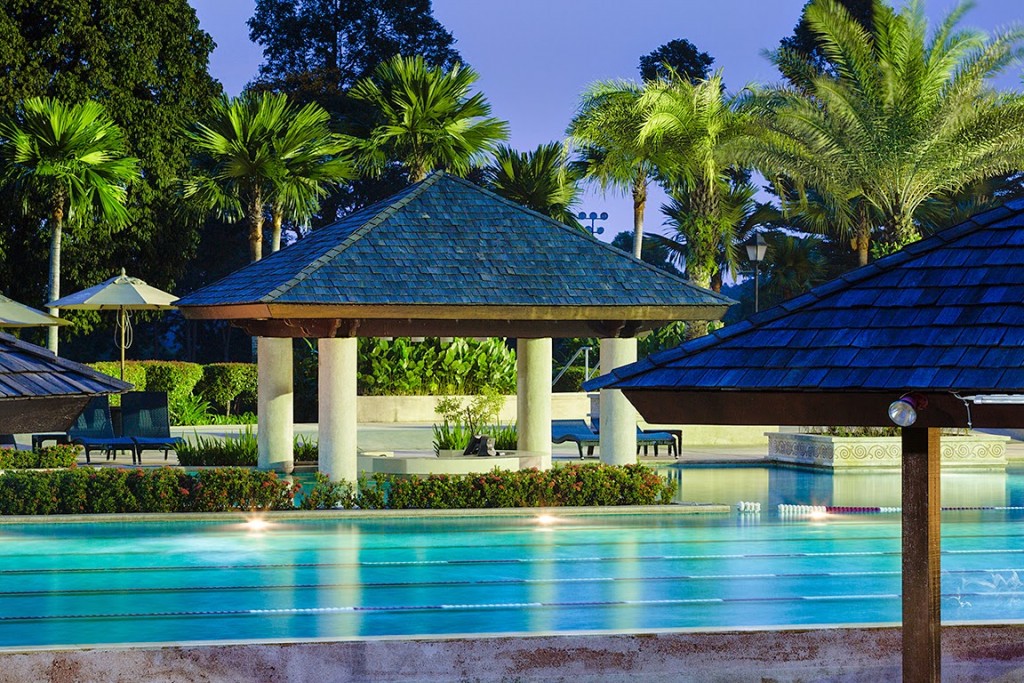 View from the patio while dining
Reasons to visit:
Expertly grilled meats; fresh seafood; and delicious desserts; reasonable price; relaxing ambiance and beautiful surroundings.
Kuala Lumpur Golf and Country Club (KLGCC)
10 Jalan 1/70D (off Jalan Bukit Kiara)
60000 Kuala Lumpur
Malaysia
+6 03 2092 1111
www.klgcc.com